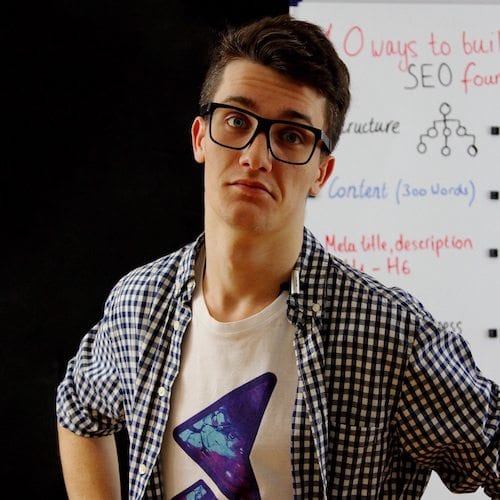 Dmytro Spilka
If you are a small business owner or a manager of a small business, you've probably seen tons of "Cheap SEO" emails in your Junk mail that state ridiculous promises like "Rank Number 1 in Google for only $199".
This is funny because I also receive these "SEO Services" emails, despite the fact that I run an SEO company myself… Well, this leads us to think that these emails are not even filtered by human beings, they are literally sent to every business email in their "database". This is quite frustrating to me, as it puts pressure on my agency, and people are starting to think that every SEO company is fake and should be avoided. However, that's not true. Therefore, I've decided to put a list of 6 ways that you can use to test your potential SEO firm.
By the way, this is quite straightforward but, please, never reply to these emails and never go ahead with their services :).
Let's now assume that you are searching for a quality Search Engine Optimisation firm to increase your organic rankings and all of that. You start your research process by Googling for SEO companies/consultants in your area. Even though they might be ranking well, you should still check their legitimacy, and whether they are using "white hat" techniques.
Okay, let' get started.
1. Their own website
The first thing that you'd want to check is the website of your potential SEO agency. SEOs that claim to be "professionals" should have an appealing & well-optimised website. I have seen many "self-claimed" SEOs that stuff their websites with "SEO related" keywords, which looks very unnatural and incompetent. That's not what professional SEOs do.
Here is an example of a website that ranks on the first page of Google but, overuses the keyword "SEO". Just in case, I have covered their brand name and removed any links pointing to their website. Just not to make them upset :). I'm not claiming that this is an example of a fake SEO agency, but, they have clearly overused their main keyword.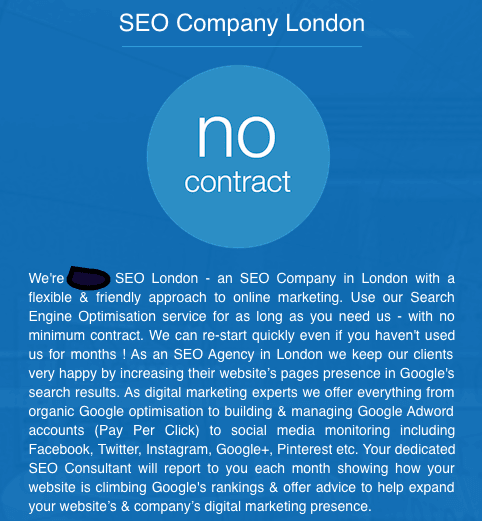 2. Guaranteed Ranking
Nobody can guarantee rankings! This is the easiest way to differentiate a real SEO from a scam. As soon as you hear such a statement, you should run away. These people are likely to be using dodgy and "black-hat" techniques, or will rank your website for a very long-tail keyword (which has no traffic). Nobody has access to Google's algorithms, and agencies that claim to have some sort of "special" relationship with Google, are telling lies.
3. Tools
Ask your potential SEO what tools will they be using to track and improve your website's performance. Ask them if they'll need access to your Google Analytics and Search Console, if they say no, you should stop the conversation right away. They can't retrieve your website's historical information and any technical issues without using these essential tools.
4. Price
Quality SEO service can cost a lot of money. If your potential agency/consultant charges less than $600-1000 per month, this could be another red flag. Quality SEO requires a lot of time, dedication and hard work, and certainly can't be cheap. If they claim to charge $200 per month, this indicates that they are likely to be using prohibited and outdated techniques.
5. Strategy
It's completely acceptable to ask your potential SEO agency/consultant about their strategies and tactics. If they are unable to tell or unwilling to reveal their plans, it's another big red flag. There shouldn't be any secrets to what they are planning to do with your website to make it more visible. You can also ask them about their Link-Building strategies, if the answer involves phrases like blog commenting, article spinning and paid links, you should spit in their face and run away (that was a joke, don't spit in their face) :).
6. Reporting
When signing up with an SEO agency, you should get a clear understanding of their reporting system. Every SEO agency/consultant should, at least, provide you with monthly reporting (sometimes even weekly updates). These reports should clearly state the work carried out and result achieved. Having ranking analysis isn't good enough, reports should indicate traffic overview, leads, links and other essential information.
Conclusion
Choosing the right SEO provider can be challenging, and you have to be prepared to pay good money (at least $600 per month). I hope that by reading this article, you will get some ideas on how to filter fake SEO companies/consultants.
---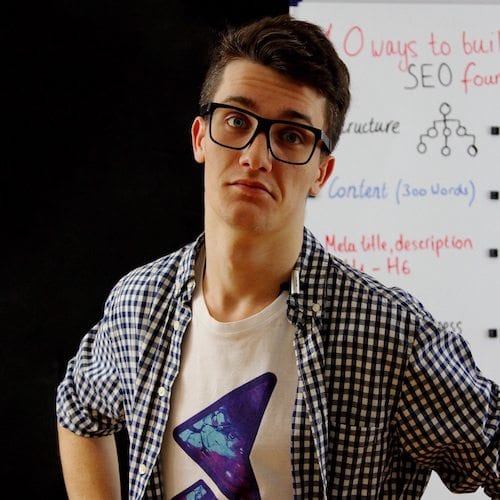 Dmytro Spilka
Head Wizard
Get free online marketing and blogging insights
Unsubscribe at any time