We help businesses, agencies and bloggers skyrocket traffic with attention-grabbing .
WE'VE HELPED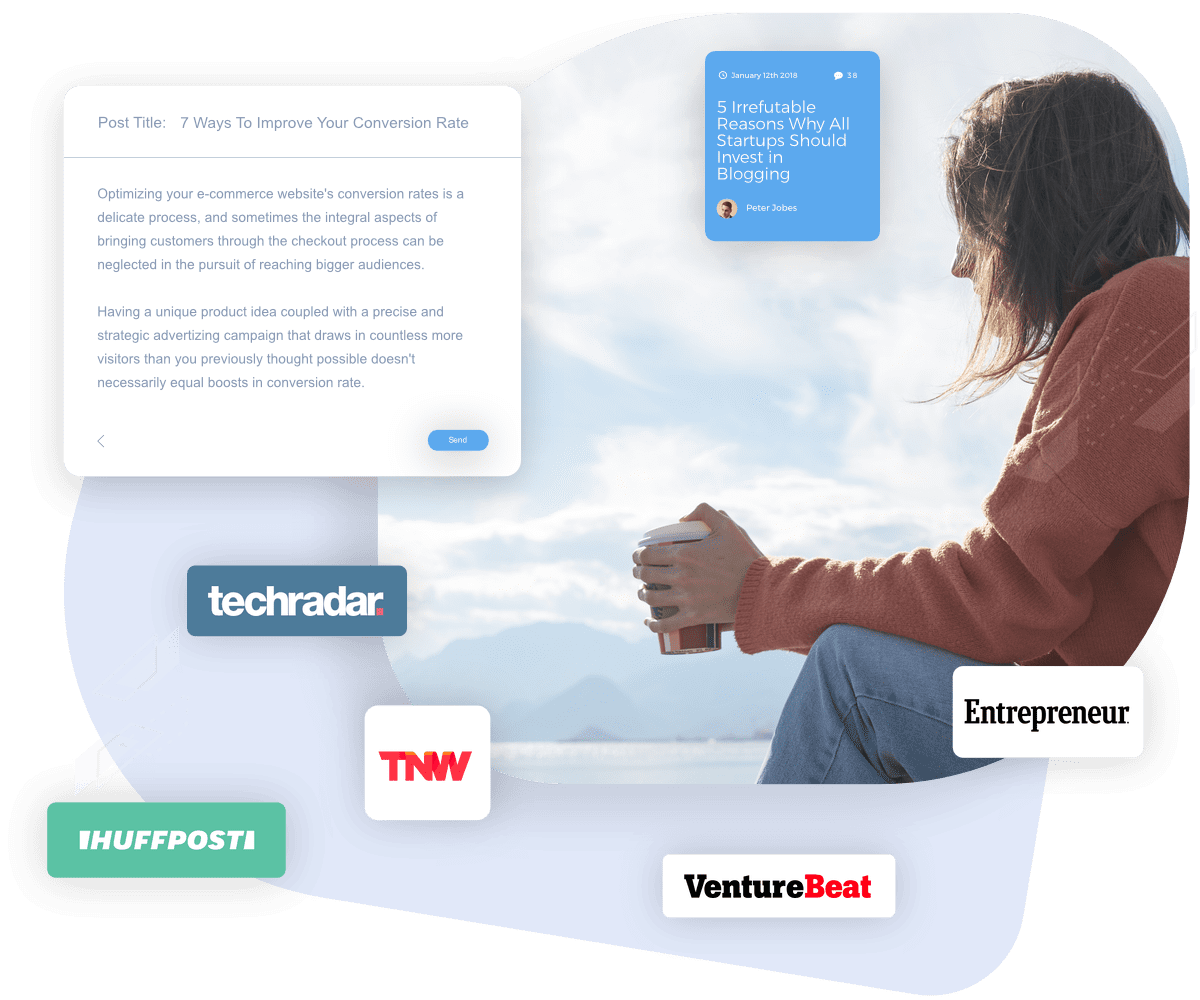 COMPELLING CONTENT
Our content team has a proven record of writing compelling, engaging copy that relates to the customer's audience. By fully understanding the client's needs, strategising and researching, we produce copy that inspires and educates.
CREATIVE INDIVIDUAL APPROACH
We start by understanding your needs and requirements. This involves extensive analysis of your audience, industry research, selection of the tone, style and format. Our personalised approach is what differentiates us from others.
SEARCH OPTIMISED
We realise the importance of content when it comes to SEO, traffic and conversions. Hence, when producing any type of web copy, be it an article, blog post or press release, we always keep search engines in mind.
EXPERIENCE & COMPETENCE
Our portfolio speaks a thousand words – check it out below! Our work has been featured in numerous publications, including Entrepreneur, The Next Web, Huff Post, BuzzFeed, GoDaddy, Business2Community, Business.com and more.
UNLIMITED REVISIONS
Unlike many other copywriting service providers, we don't put limits on revisions and edits. This means that we'll edit, proofread and amend the copy until you're fully satisfied with the outcome.
FAST TURNAROUND
We're committed to achieving an industry beating turnaround time of 3-4 days for a single, 1,000-word piece. We infuse content with in-depth research, audience analysis and extensive preparation.
Intriguing content for all purposes
We produce copy for various purposes, including blog posts, articles, guides, white papers, press releases and web pages.
Experience and individual approach
Individual approach is key. This is why research, analysis and preparation is a big part of our job. Check out our portfolio! Click on the image links on the right (or bottom if on mobile).
INDUSTRIES WE SPECIALISE IN
We work in many industries, here's a list of some of them
Digital & Traditional Marketing
Affiliate Marketing & Paid Ads
Social Media, Content Marketing & SEO
Business, Banking, Economy, Finance & Insurance
Entrepreneurship & Startups
Technology, AI, VR, Gadgets & Computing
Blogging, Writing and WordPress
Website Design, Development & eCommerce
Coding, Software Development & Programming
Photography, Video & Art
Entertainment, Games, Movies & Music
Health, Fitness & Sports
Motivation, Self-Development & Productivity
Food & Travel
Weddings & Parties
Beauty & Fashion
Auto & Transportation
Charities & Non-Profits
Lifehacks, How To & DIY
Interior Design & Home Improvements
Lifestyle & Parenting
Science, Environment & Energy
Education
Adult, Pharma & Gambling
Simple pricing. £0.15 per word.
Place your order in minutes.
STEP 1
---
Provide the necessary details, place your order and pay online using our intuitive system. The process hardly takes 5 minutes to complete. 
STEP 2
---
Receive your order summary, payment confirmation and access to our project management system momentarily. Your order is then assigned to the most suitable in-house writer. 
STEP 3
Sit back and relax while our writers do the magic. Use our project management system to track progress, comment and download the finished piece.
Once you place the order, you will receive access to our project management system where you'll be able to track the progress of the order, make notes, contact the writer, upload documents, and download the finished piece.