You Press The Button, We Do The Rest. Over 130 years have passed since George Eastman came up with Kodak's bold tagline in 1888, and it's something of an understatement to say that photography has changed over time.
Throughout the 19th, 20th and 21st Centuries, innovation after innovation has seen photographs become colourful, quick, instant and digital. From hazy, shadowy, long-exposure shots of inanimate scenery to 48-megapixel camera phones in the palm of your hand; the world of photography has never sat still – at least not since the days where it took 20 minutes to capture the portrait of a subject.
But one facet of photography, aside from the pictures themselves, survives to this day: You Press The Button, We Do The Rest. We're taking more pictures than ever before and need somewhere to store them, and the internet makes for the perfect photo album – easy to access and available via a click of a mouse.
Today, we're capable of accessing thousands of our images at the press of a button, and there are plenty of places in which to store our pixelated memories. But where's best? Here 15 of the highest quality and most effective free image hosting websites and platforms for you to choose from: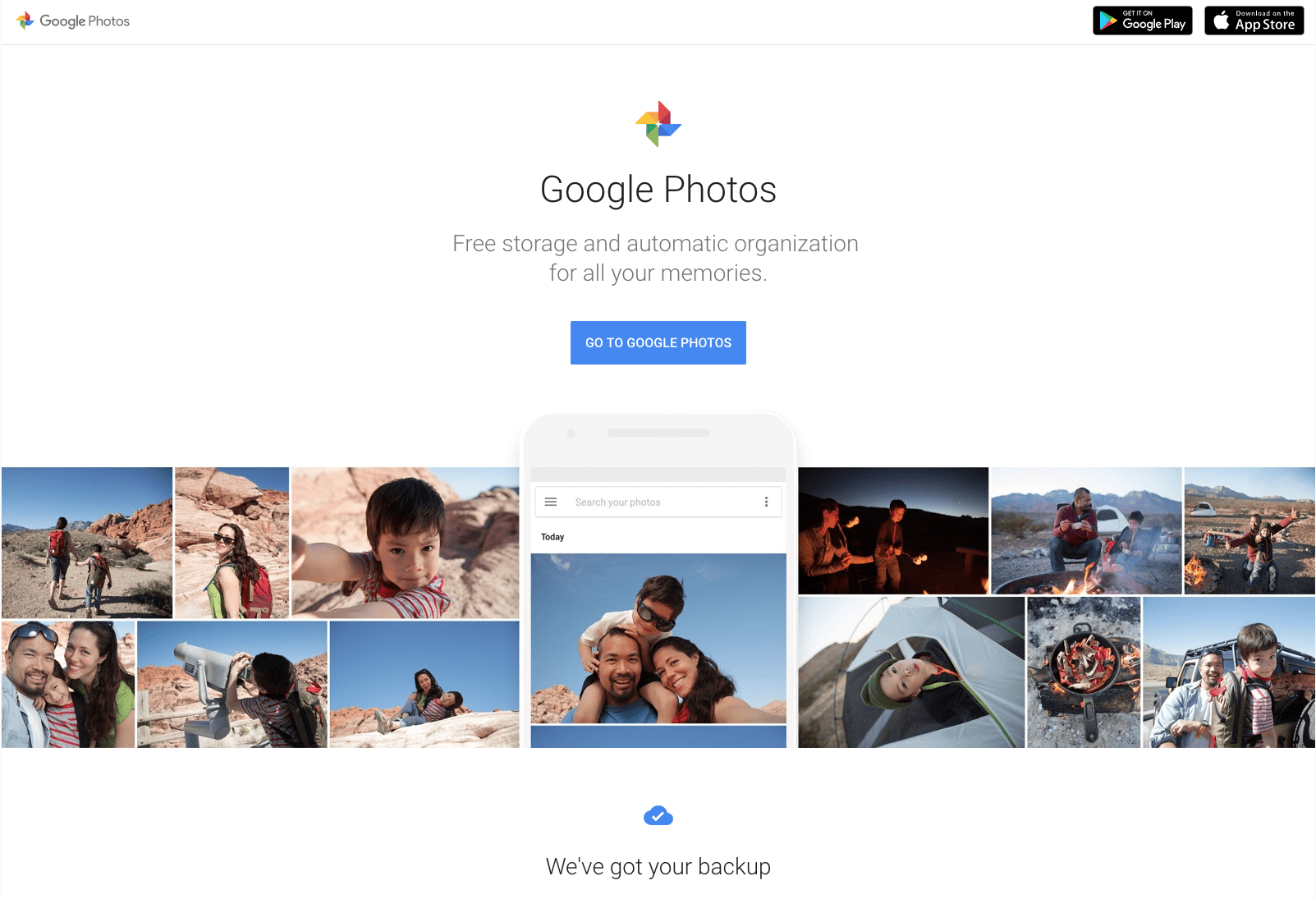 You'll rarely see Google failing to top the charts of just about any area in which the seismic company dips its toes. Here, Google Photos offers users unmistakable familiarity, refreshing simplicity, and great performance to boot.
Google Photos has unlimited storage space for pictures uploaded by smartphones and automatically creates backups of the images uploaded onto the platform. There's even the option to edit and organise pictures with ease.
The most outstanding feature of Google Photos is a recognisable one: convenience. If you use Google (and let's face it, it's fairly hard not to), then chances are you have set up an account with the company. If so, it means that all the images you upload to Google Photos can be easily accessed and shared across all of your other Google accounts – from Gmail to Docs.
While the platform allows unlimited storage for uploads by smartphone and point-and-shoot cameras (16-megapixels or less), it's possible to use the limited space on your Google account for photos taken by the more sturdy DSLR cameras.
The icing on the cake here is that Google Photos extends beyond the realm of storage for budding shutterbugs. Users can also upload full HD 1080p video onto the platform. Pretty neat? Definitely. But then this is Google, and we've come to expect a few tricks stowed away up their sleeve.
Dropbox looked set to become a staple for every smartphone and PC user during the midway point of the 2010s. The ease in which users could simply drag, drop, and arrange an array of files into a handy, interconnected icon in the corner of a home screen seemed revolutionary before other players muscled their way into the cloud-scene.
Today Dropbox remains an excellent resource for storing essays, spreadsheets, cash flow forecasts, as well as images in a place that can be accessed with ease no matter what device the users is opening them from.
The great thing about Dropbox, aside from its ability to create automatic backups of every image stored, is the fact that the platform doesn't change, edit, resize or tamper with your photographs in any way.
It's easy to create folders and sub-galleries in order to organise your photos appropriately. It's also possible to import your contacts and invite them to take a look at any, or indeed all, of your galleries. Visitors even have the power to download your photos or albums. This represents an unsung perk of Dropbox: while some platforms offer absolute privacy from prying eyes, while others position your pictures in a place where the whole world can see and pass judgment on them, Dropbox takes the best of both worlds and blends them so that you can keep your pictures entirely secure or share them with only your most trusted family, friends and acquaintances.
Dropbox's free package offers 3gb of storage and represents one of the most straightforward and reliable platforms on our list. Dropbox may well be the industry leader if you're intent on uploading photographs from a range of devices.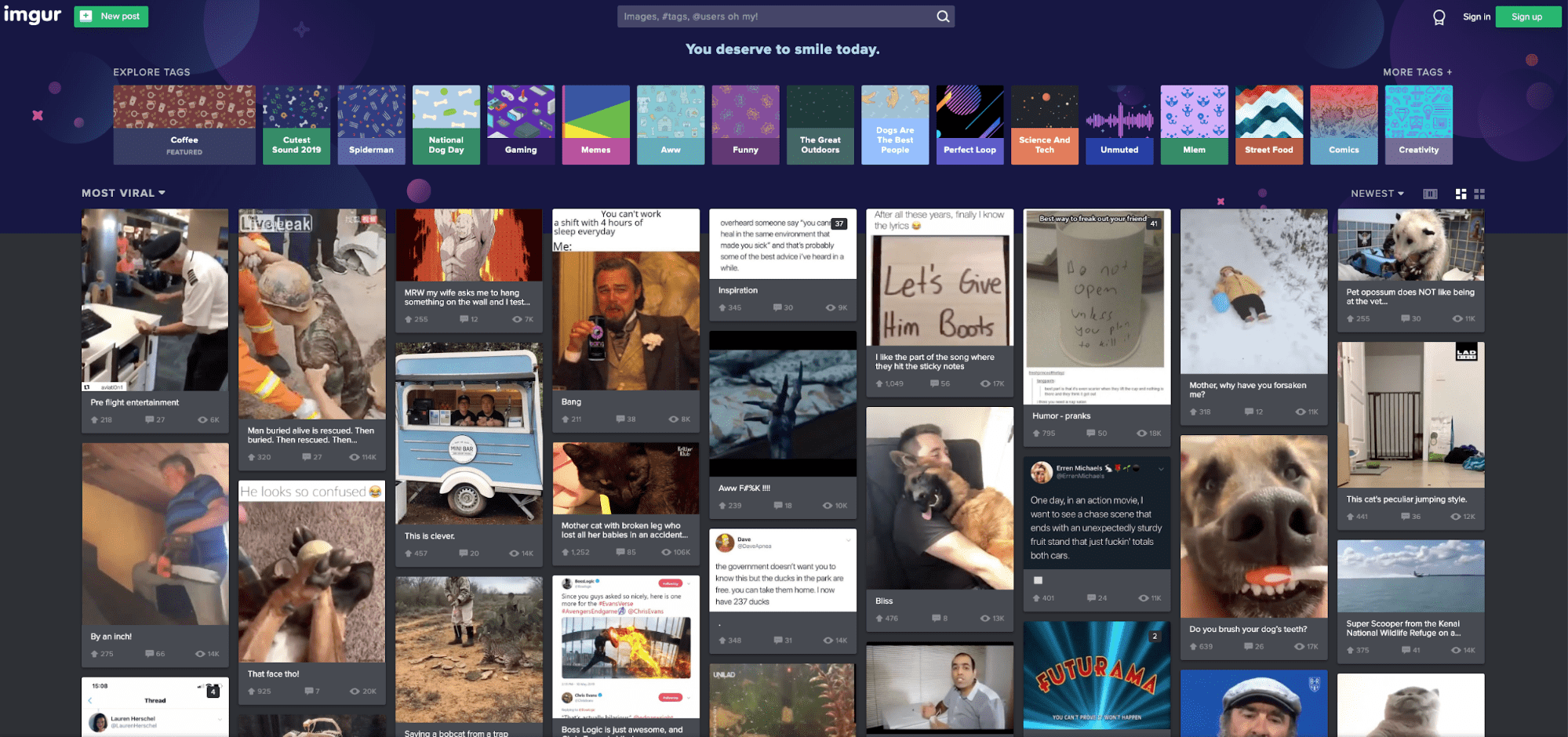 Imgur – which I'm reliably informed is pronounced 'image-err' rather than my presumptive 'im-grr' – has forged a wonderful, supportive and passionate community online and is certainly the place to go if you want to share your pictures with the world.
Today, Imgur stands as the most popular image-hosting site for Reddit and allows users to upload their pictures with very little effort. Don't be deceived by the array of memes littering (and sometimes gracing) Imgur's landing page – the website caters to just about any form of photography and image sharing.
Importantly, the platform allows users to upload files in JPG, JPEG, PNG, APNG, BMP, PDF, GIF, Animated GIF, TIFF and XCF formats – providing a level of flexibility that a lot of competitors couldn't match. Imgur also supports non-animated files of up to 20mb in size and GIFs of up to 200mb.
Shutterbugs can sometimes be enigmatic people, and Imgur recognises this by allowing users the chance to upload their pictures without the need of creating an account – however, if you were planning on uploading albums and add captions, you'll need a username to do so.
What sets Imgur entirely apart from any other image hosting platform on this list is its sense of community. Images that are uploaded can be upvoted or downvoted by fellow account holders, with the highest-ranking pics placed on the front page of the website. Such a set up could pay dividends in bringing exposure to emerging photographers – however, with the internet being the internet, you'd need to fight your way through piles of cat images first.
Furthermore, Imgur makes it easy to upload pictures to just about any social networking site, allowing you to broadcast your portfolio to new frontiers easier than ever.
Unlike some of the darker corners of the internet, Imgur's active and bustling community of over 300 million users tend to offer plenty of support and encouragement to each other – so if you're more of an extraverted photographer, this will almost certainly be the platform for you.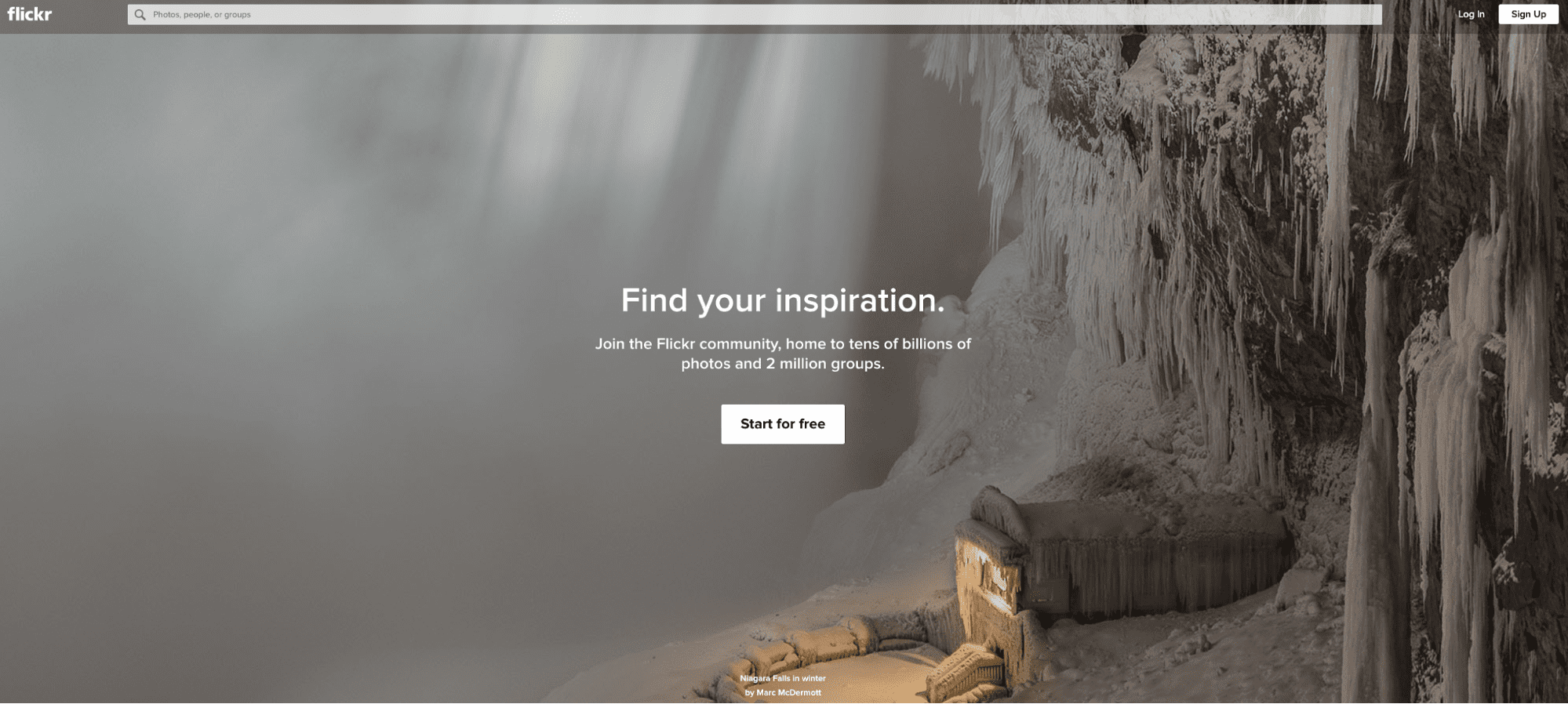 Flickr is tailor-made for people who take their photography seriously. Aside from being one of the oldest and best-known photo-sharing social networks on the internet today, the platform also allows its users to publish their pictures under Creative Commons licencing that allows external use of your images provided that recognition is included.
One of the key strengths of Flickr is, aside from the ease of image sharing, the platform also enables users to edit their content in order to refine and perfect their photos ahead of publication.
Uploaded images can easily be arranged into albums for ease of reference, and the platform is excellent in allowing users to show off their assorted images to Flickr's community of over 90 million monthly users.
Lifewire reports that the dedicated Flickr mobile application, available on both iOS and Android, is one of the platform's greatest features – "You may also want to take advantage of the Flickr Uploader tool that allows you to seamlessly backup your photos from your computer, Apple iPhoto, Dropbox and other places," the tech news giants conclude.
It's important to note that users can scale their privacy settings to keep them feeling comfortable over the pictures they upload. The more bold photographers among us may find great appeal in the ability to have their pictures commented on and 'favourited' by their peers, but if you're looking for a little more privacy, users can also choose to only share their images with select individuals.
Flickr allows users to host up to 1,000 pictures free of charge, providing ample room for shutterbugs to fill their boots on the platform.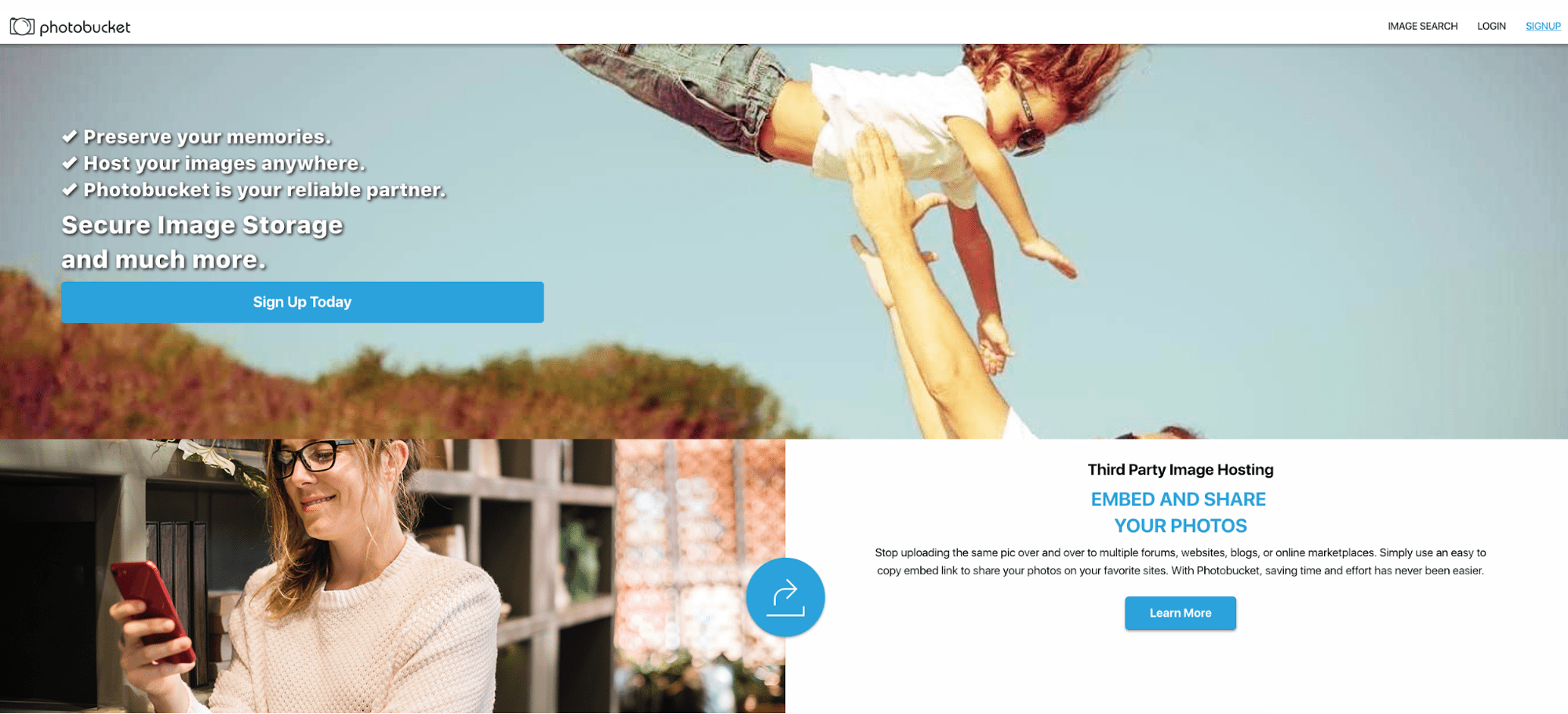 TinyPic is dead. Long live PhotoBucket. Favoured by many users for over the past 15 years, TinyPic shut down for the last time on 16th September 2019. But fear not, because sister-site, PhotoBucket has been hand-picked by the developers as the platform to carry Tinypic's torch from now on.
PhotoBucket champions storage ahead of all else for users, letting photographers pick and choose the privacy settings for each of their uploads – making sure that your family birthday pictures are shared only among relatives, while the breathtaking landscapes on your recent trip to South America can be broadcast for the world to see.
Significantly, PhotoBucket promises to refrain from tampering with your images in any way. The company claims to recognise the importance of photographs as a 'split-moment in time that can never be recaptured,' and pledges to keep all uploaded files exactly the same as the state in which they arrived.
PhotoBucket also carries plenty of photo-sharing opportunities for users, with seamless compatibility for social platforms like Twitter, Instagram and Pinterest, it's easy to share those magical moments with the world.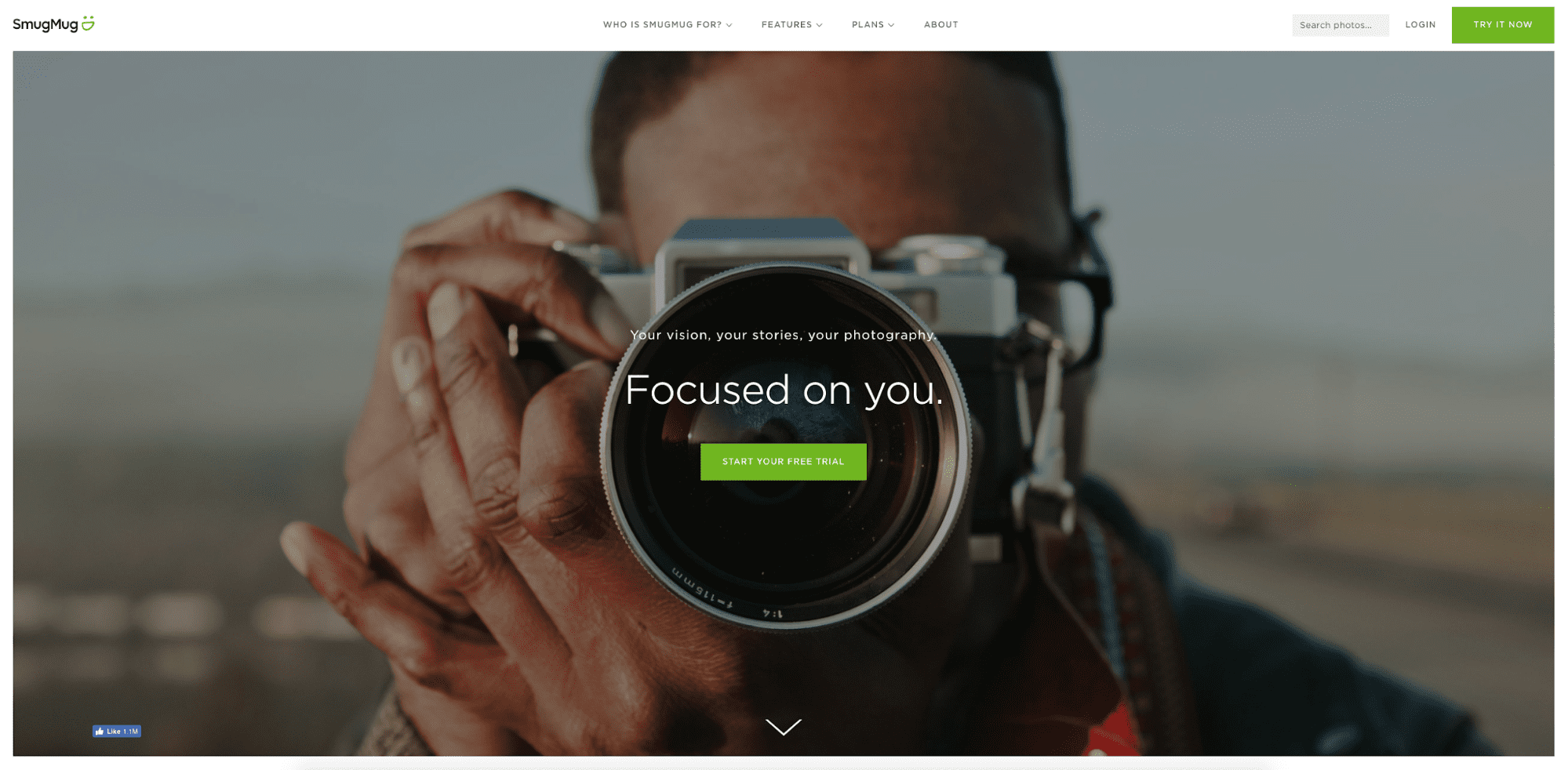 Okay, so SmugMug may not be a service that's free indefinitely for users, but the quality of features coupled with the generosity of the free trial offered to photographers definitely warrants a mention within our list.
The beauty of SmugMug is that the platform essentially lets users create their own individual image hosting website. There's plenty of themes to choose from and there are loads of tools to customise your design templates. For many photographers, the presentation of their images counts for a lot – and with SmugMug, they're well-positioned to showcase their portfolios in style.
SmugMug carries perhaps the most professional emphasis of all the image hosting platforms and websites showcased within this list, and given the ease in which users can share and view each others' work, it's certainly a go-to place to find inspiration from your peers.
Users even have the chance to use SmugMug to set up their very own ecommerce store that sells prints or photos of the images they upload.
Yes, you'll have to pay around $5.99 per month once the trial is up. No, you won't experience the same thriving community that the likes of Imgur and Flickr enjoy. But if you're looking to not only host images online but set up your very own living, breathing portfolio designed to suit your needs, then SmugMug is the way forward.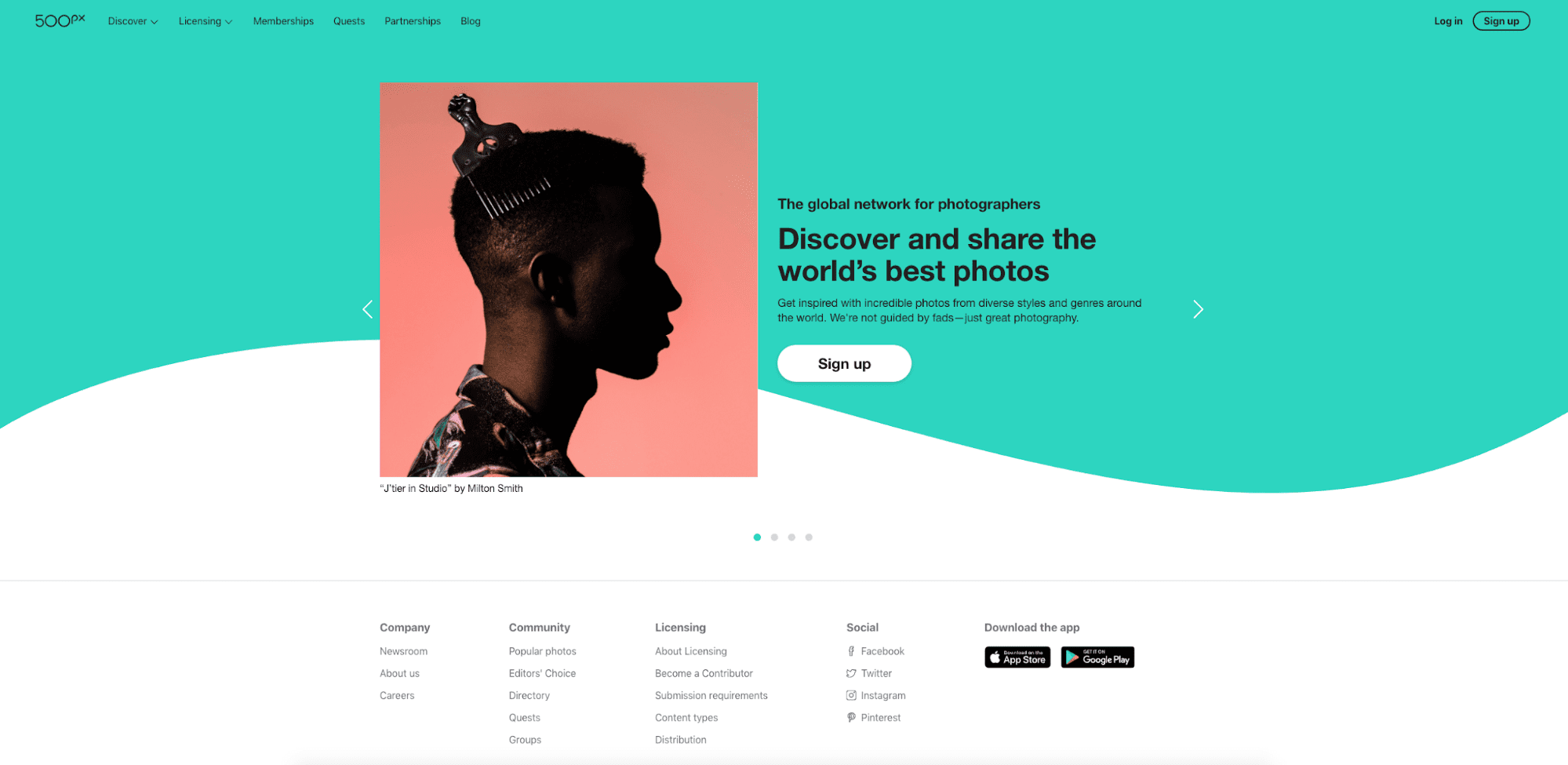 Another platform for the more serious photographers among us is 500px. Like SmugMug, the platform us intent on showcasing the talents of industry professionals and enthusiastic shutterbugs alike. But unlike SmugMug, the website is a lot more welcoming to users looking to access the service for free.
500px allows photographers to upload a manageable 20 images per week for free, with the limit naturally increasing should they decide to become premium members of the site. Such a set up is great for treating users to the company's full field of services without hurting their servers.
Significantly, 500xp allows users to not only upload their photos but also sell the usage rights of pictures to interested parties – thus enabling users to actually profit from their time on the platform.
Photographers are welcome to share their work, comment on each others' uploads, follow users that they like and browse images for inspiration.
While it's important to acknowledge that the free features that users can enjoy on 500px are enough to keep even the most demanding of photographer happy, it's fair to point out that the site's premium features are impressive for their $25 per year price tag. Paid-up members can naturally enjoy unlimited uploads to the platform, as well as access online photography courses and monitor viewing statistics surrounding each of their published pictures.
For fledgeling enthusiasts who would be much happier taking up the option of free usage on 500px, there's plenty to enjoy, too. In particular, the way the website encourages discussion and encouragement between users online could be especially valuable to those looking to find their feet in a fiercely competitive industry.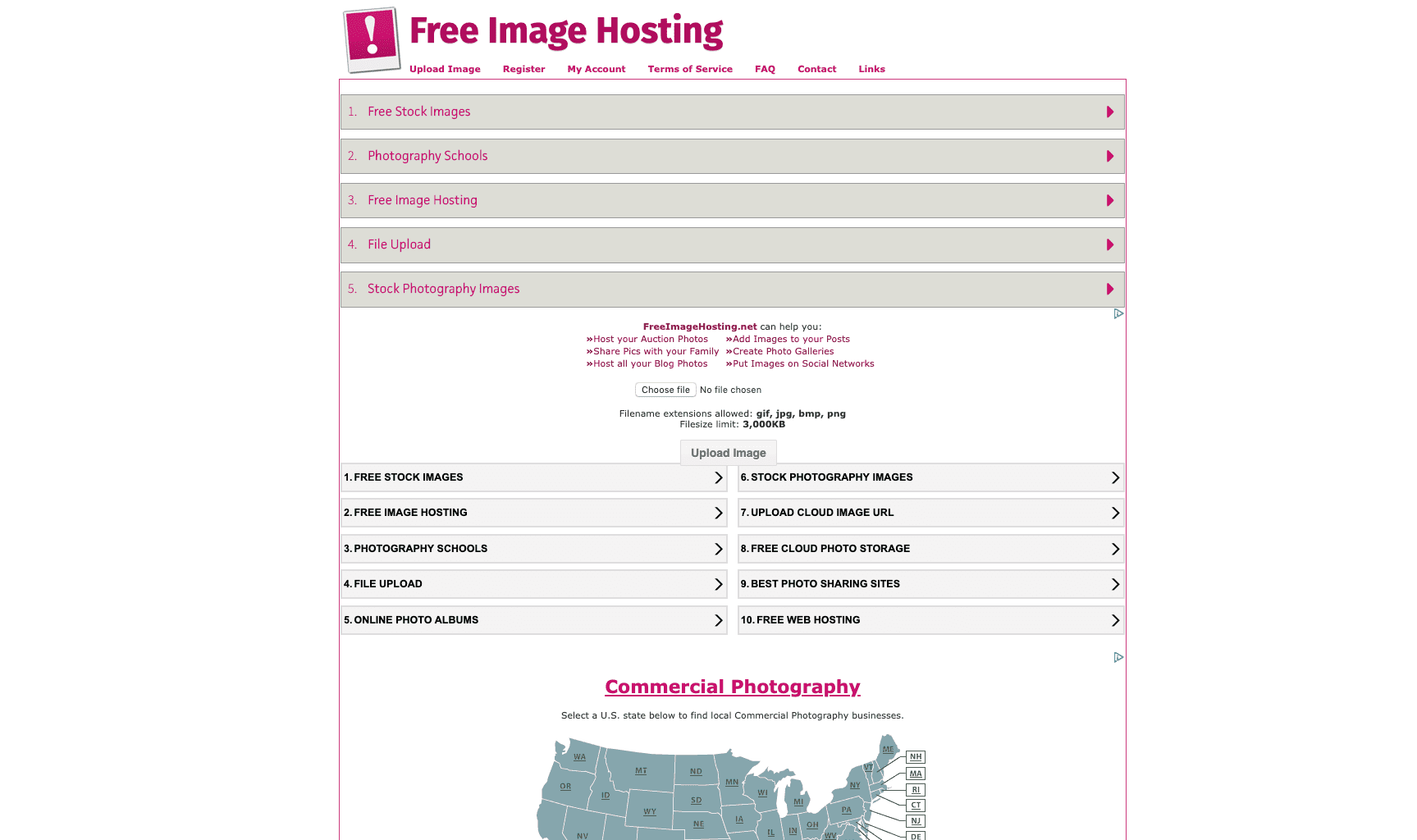 There are beautiful websites out there – and we've certainly seen plenty of aesthetics on show within the landing pages of this list. And then there are websites like Free Image Hosting. Unremarkable, yet arguably the most convenient and powerful platform you'll read about today.
Free Image Hosting conjures memories of the famous riddle about the only two barbers in town:
You've just arrived in a new town, seeking your fortune, and you need a haircut. In this town, there are two barbers. The first barber has a neat, dapper haircut, and his shop is immaculately clean. The second barber's haircut is grotesque, and his shop is filthy—giant tumbleweeds of hair drift across the floor, and the scissors are caked in layers of rust. Which barber do you want to cut your hair?
The answer, famously, is that the barber with the dapper haircut couldn't possibly have worked on himself, so logically he must have his hair cut by the second barber – who's shop is so grubby, presumably, because he has so much custom to deal with.
At the risk of stretching an analogy too far, Free Image Hosting hasn't invested more money into the upkeep of its homepage because its service is so convenient and cost-effective for its users, that there may not be nearly as many big bucks to funnel into such decadent facades.
Speculating that Free Image Hosting may not share the same profit margins as, say, Flickr isn't meaning to do the platform a disservice. It's simply founded on the fact that Free Image Hosting is one of the only platforms available online that allows just about anybody to upload images online with absolutely no need to register and certainly without asking for a fee along the way.
Users can freely funnel just about any picture they want into the website – whether it's a JPEG, PNG, GIF or DMP up to 3mb in size, and the site returns a handy HTML code that links straight to a published version of your file: easy.
You may not be able to create a fully-fledged portfolio of your work, or directly use the site to share your images with a thriving community. But if you're looking to save a picture online forever, there's nowhere better than Free Image Hosting.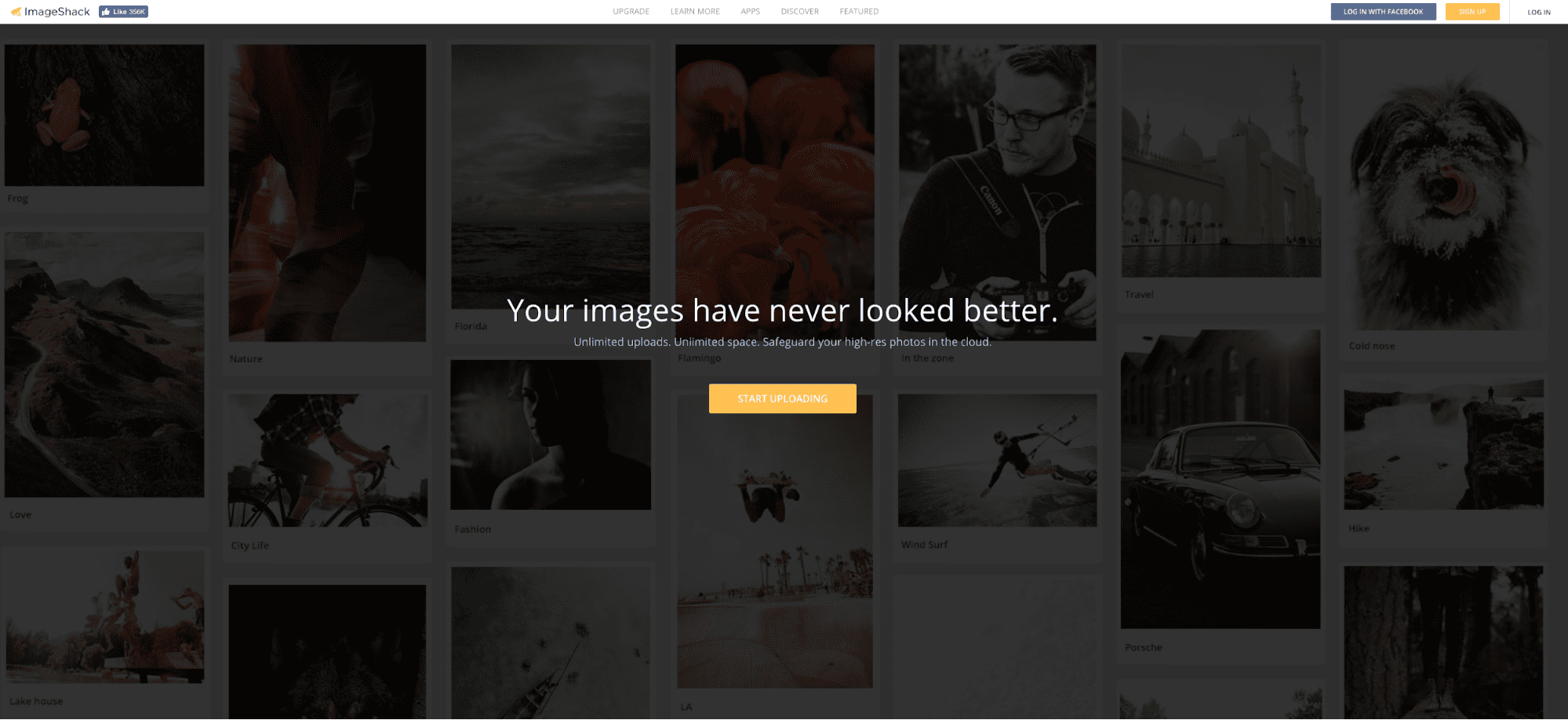 ImageShack has adopted a layout that's similar in format to that of Pinterest. Users are required to create a free account before they begin to upload photos but the features included are very useful for a photographers of all skill levels.
Pictures can be organised into albums with ease, while the ability to add tags to your work not only helps you to keep track of the different types of images you capture but also helps other users to discover your work. However, if you're not so interested in the idea of sharing your photos with the community, you can choose to keep your uploads private – or available only to select audiences.
The best thing about ImageShack is its dedicated mobile and web apps, ShackIt and ImageShack Resize. Through ShackIt, users can instantly upload images without having to go through the rigmarole of accessing the website through a browser.
With ImageShack Resize, it's possible to edit, crop, and of course, resize images before publication online.
The hands-on features offered by ImageShack are impressive for a free website, but if photographers are enjoying the service enough, there's a 30-day free trial of the platform's premium service available to try out – offering extras like watermarking, direct limiting, unlimited upload space and automatic backups, to name but a few.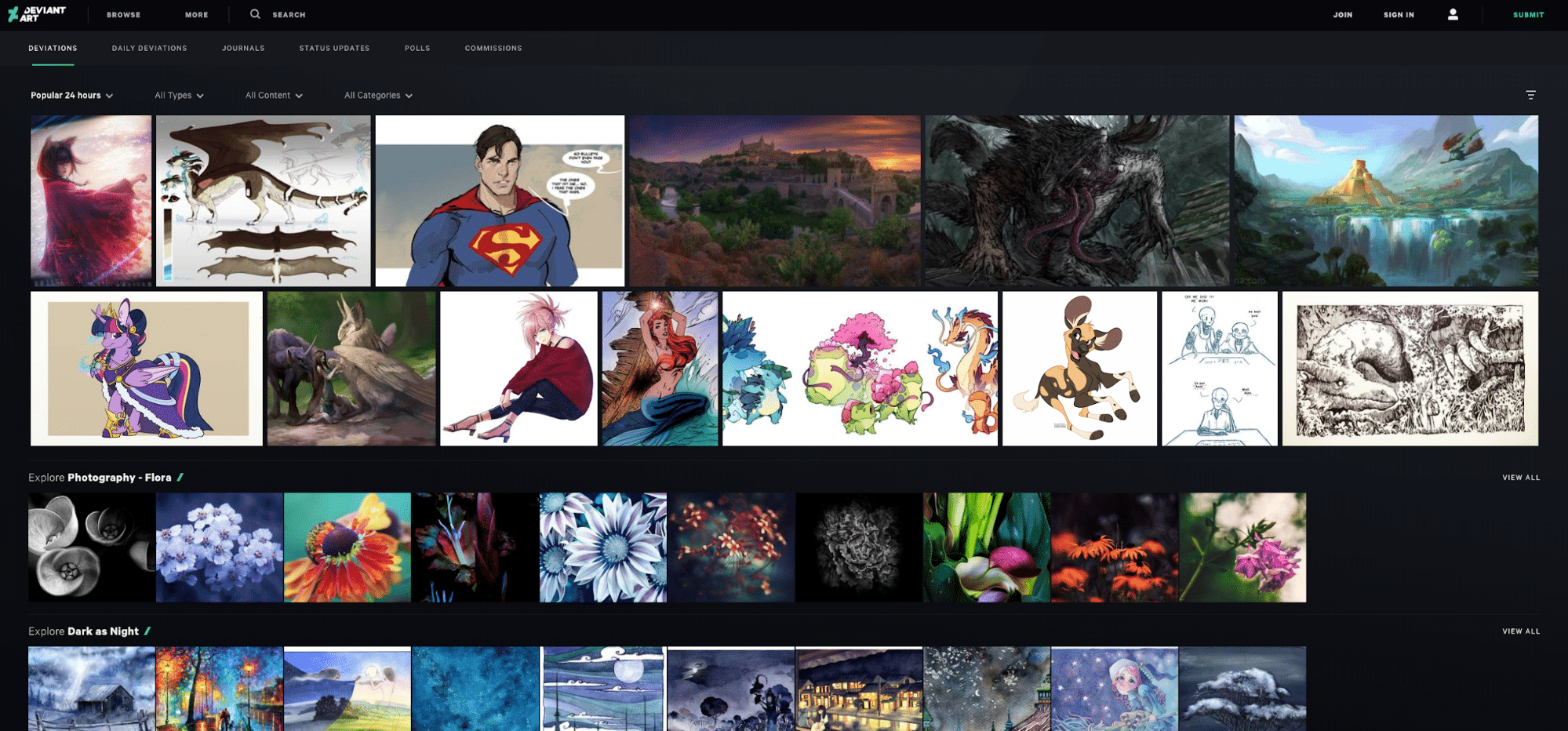 The cool kid sat at the back of the class wearing shades indoors. DeviantArt is certainly the most alternative of the image hosting platforms showcased within this list. The platform's dedicated user base typically encourages more abstract concentrations of photography, but there's certainly room for just about everyone within the website's range of categories – including but not limited to: traditional, photography, body art, street art, sculptures, action, adventure, drama and even poetry.
The platform allows registered users to upload unlimited images but limits the size of each file to a reasonable 30mb.
With a thriving community of over 44 million active users, it's fair to say that DeviantArt is a great social platform for photographers with an interest in counter-culture.
All uploads are available to be tagged and commented on, and popular images can jump to the front page of the site through the use of a 'favourites' feature. It's possible for users to list their works as available to purchase through the website too – meaning that there's potentially a pretty penny to be made for the more ambitious shutterbugs among us.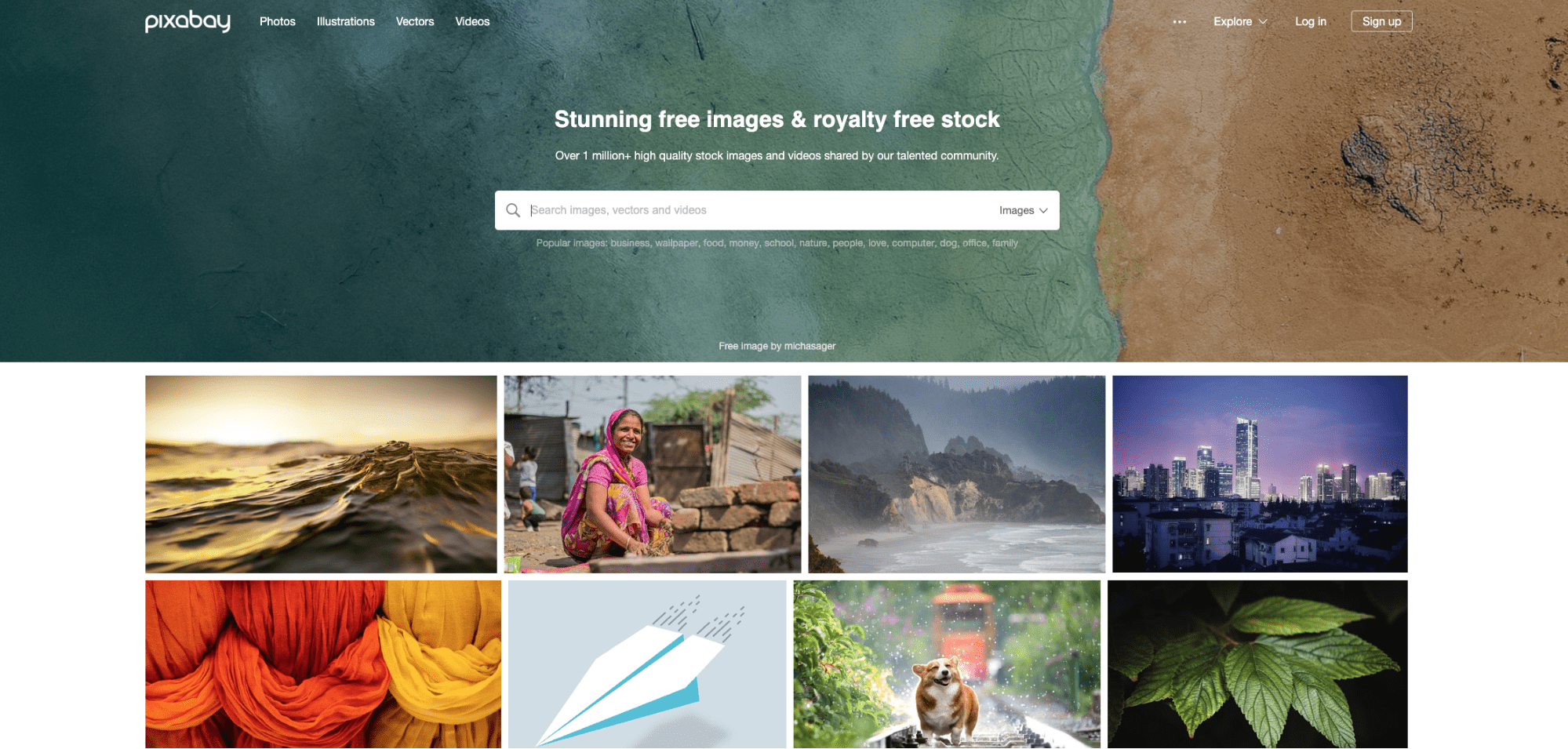 There are few websites more useful than PixaBay – for photographers and for those willing to use high-quality images for their websites and commercial endeavours.
In life, we have a habit of coveting the more exclusive clubs and experiences – and when it comes to online image hosting, PixaBay might be the most exclusive platform out there.
For starters, where the other websites on this list may be averse to larger, high-quality uploads, PixaBay encourages it – demands it, even. Pictures uploaded to the site must be at least 3,000 pixels wide, and up to 40mb in size. Users are permitted to upload up to 100 high-quality images per-day – though if the quality of their images is particularly high, the allotted number could increase further.
If that wasn't enough, Pixabay has an extensive range of Image Quality Guidelines for budding photographers to adhere to. All uploads are vetted by human eyes, so there's little room for chancers squeezing loopholing their way through here.
With such stringent requirements you could be forgiven for wondering why anyone would want to use the platform. However, PixaBay's dedication to quality has become something of an aspirational benchmark to users.
As a result, we're left with thousands of crystal clear, unblemished images that are tagged in a way that helps visitors find exactly what they're looking for. Another great facet of the site is that the images stocked are done so using a 'PixaBay License,' which allows pictures to be picked up and used for free by other users – a useful feature for website owners and photographers who are happy to see their work put to good use. Though unadvisable if you're looking to make some money through selling your best uploads.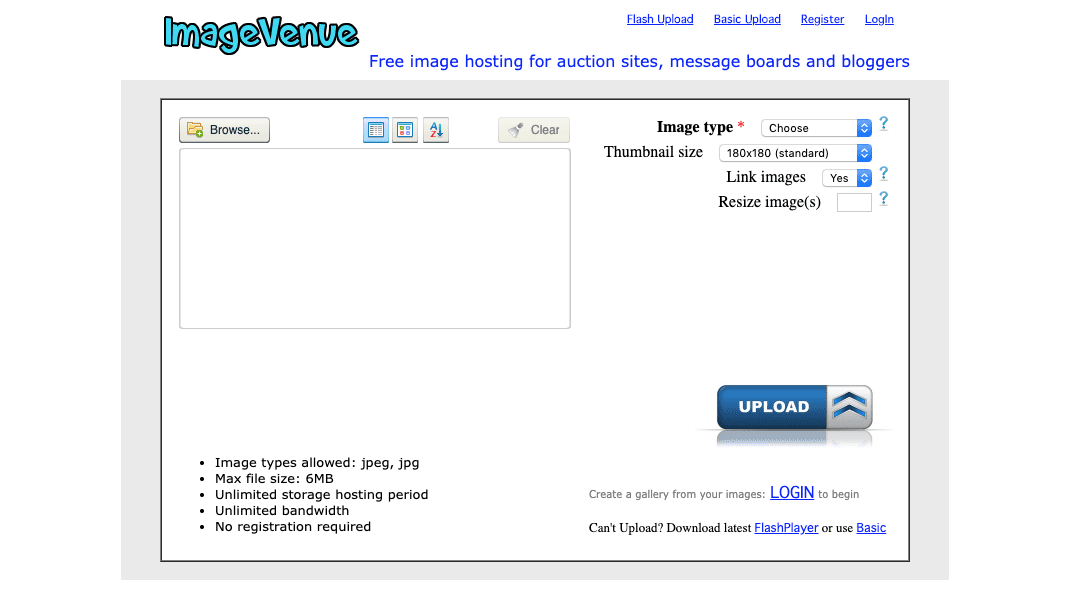 ImageVenue is a contender for the most practical image hosting platform on our list. It may be relatively limited in the types of files it allows – namely JPEGs and JPGs only – but with a file size cap of 6mb along with unlimited storage and bandwidth allowed, the website is an excellent solution for anybody looking to get their pictures online with ease.
The website's set up to make it easy to bulk upload numerous pictures in one go, and users can automatically resize their pictures to a predetermined resolution. By signing up to the platform, it becomes easy to assort pictures into special galleries for ease of reference.
Because of the ease in which users can bulk upload their pictures in one go, ImageVenue has become a popular choice of platform for bloggers, message board users and eBay sellers alike.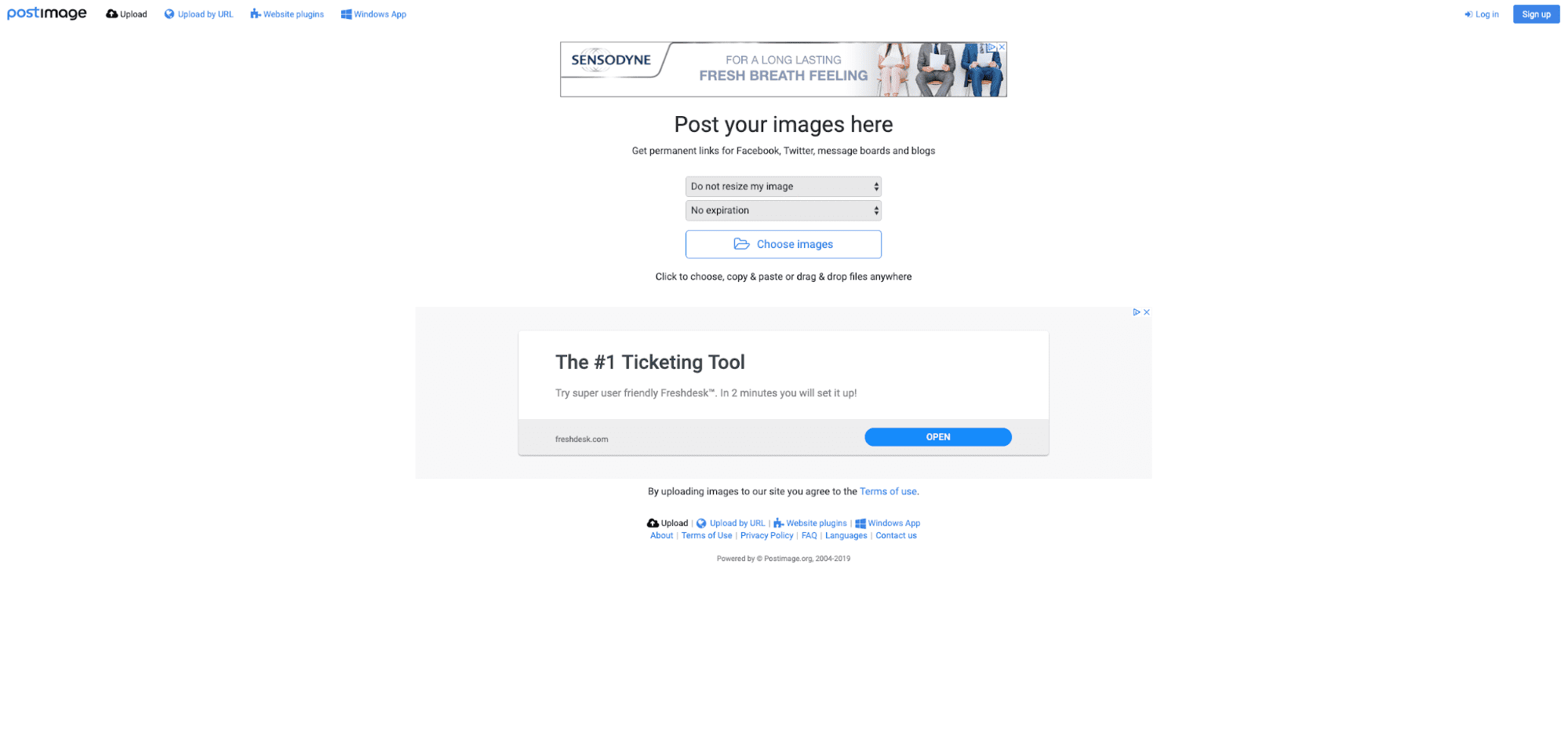 On the topic of convenience, PostImage is a wonderful resource for uploading images from a range of file types and up to a size of 8mb. Users don't need to create an account before getting to work, and it's easy to build a gallery of your favourite images – all with a unique link to help you to share with others.
Much like ImageVenue, PostImage allows users to choose the size that they want their final image to be – and if the uploads are only designed to be shared once, it's possible to set an expiry date of one day, one week, or one month. If you'd rather have your photography skills on show forever, that can be arranged too.
PostImage has found particular popularity within forums and message boards. The platform can be modified so that forum visitors can easily share images amongst themselves – the website's resizing image feature has also proven especially helpful for forum users to resize pictures to be used as avatars.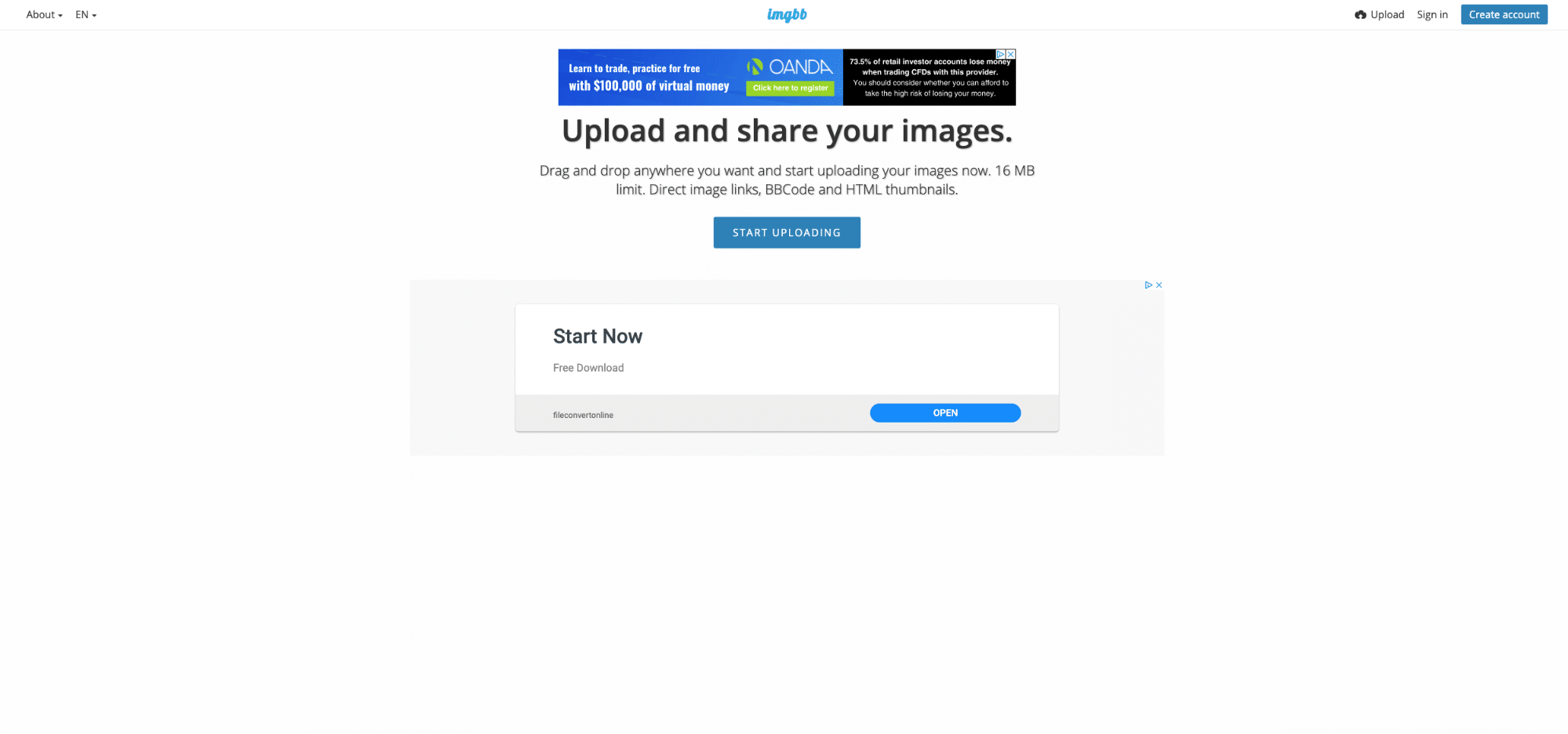 Characterised by its simple interface and easy usability, ImgBB allows users to upload multiple images in a range of formats at sizes of up to 16mb. There are no limits when it comes to how many images you can upload, and your uploads will be online for as long as you want them there.
ImgBB's minimalist design means that users can simply drag and drop their chosen files onto the homepage to start the uploading process instantly. While it's possible to create an account in order to better organise your published pictures, this isn't necessary and it's possible to upload as many images as you want for free.
It's worth noting that while ImgBB is a quick and easy platform in order to get your pictures online, all uploads are reviewed by human editors to ensure that there's no violations of the platform's terms of service within the site.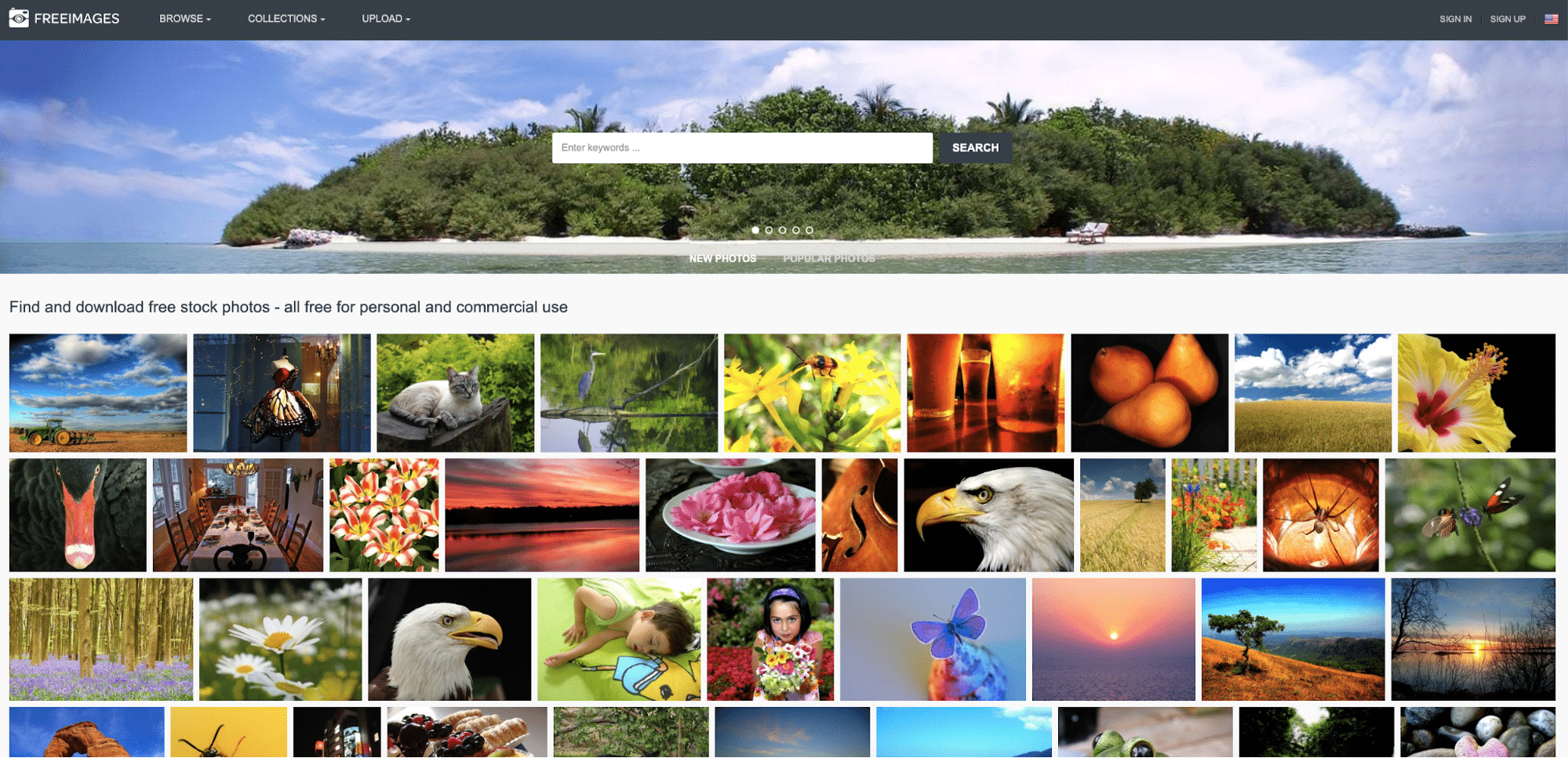 Founded in 2001, FreeImages has become an unmistakable presence online for photographers and photography enthusiasts alike as it closes in on 20 years of operations.
Given its age, it's fair to assume that FreeImages must be doing something right to survive this long – such a suggestion could be corroborated further by its 2.5 million-strong user-base and over 300,000 uploads.
Given its popularity, FreeImages makes for a great platform for fledgeling photographers to showcase their work and make a name for themselves online. The most popular images can be 'favourited' by viewers and rated out of five stars – FreeImages also has compatibility with iStock, a premium platform from Getty Images that helps users make money from their best pictures.
Users can make their work more visible through the use of tags and if a visitor likes an uploaded picture enough, they have the option of downloading it in a range of different sizes to suit their needs – all without compromising on overall image quality.
It's completely free to sign up to FreeImages and the use of photos uploaded onto the site is entirely free in most cases – however it's worth reading up on the platform's license agreement to clarify any prospective grey areas.
Free Image Hosting FAQ
Do I have to register?
Whether you need to be registered depends on the site you use. Some websites allow uploading and sharing images without registering.
How many images can I upload?
It all depends on the scalability of each website. For example, Google Photos does not have a limit to the number of photos you can upload.
Can I use and embed the images?
You should be able to do that with most of these websites. The embedding rules may vary, though.
Are my images secure?
We've handpicked the best free image hosting sites on the web (in our opinion). Hence, your images should be secure, but we can't speak for the security of any 3rd party website. Please note: Some of these sites may not be suitable if you're looking to keep your images private. Some platforms act on the basis of 'public photo sharing'.