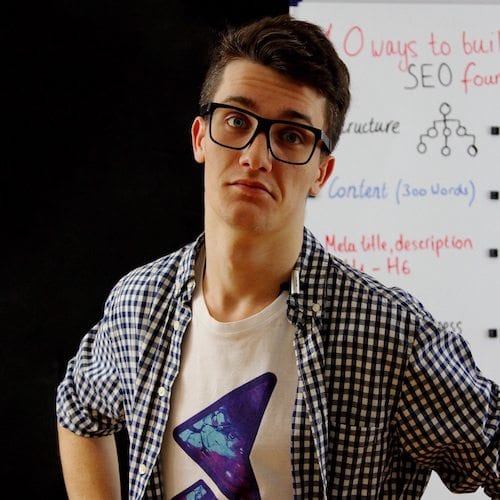 Dmytro Spilka
What is Keyword Research?
Keyword research is the act of finding & analysing the right set of keywords that people use to search for a specific term or a phrase. You would then use this research to plan your campaign & website strategy, whether it's Paid or Organic Search.
Keyword Research is one of the primary components when building an effective SEO or PPC campaign. Without an extensive keyword research, you would not get the feel of the critical data, such as the search volume, competition, potential, CPC (Cost-per-click) and more.
What can Keyword Research Tools tell me?
There is a number of high-quality tools available on the market, and most of them are unique, in one form or another. Keyword analysis tools can be used to gain insights on:
Search volume of the keyword
Competition & Difficulty
Average CPC (Cost-per-click)
Search volume trends
SERP Analysis (to see what websites are ranking for that search term)
Keyword suggestions & ideas
Some tools would even give you the opportunity & potential metrics of ranking for that particular keyword.
Note: Google has recently made some significant changes to the data it shows in Google Keyword Planner, which some of you might find quite odd. Low-spending AdWords accounts now have limited access to the data. So, instead of showing precise search volume, low spending accounts would see ranged data (e.g. 10K-100K instead of 33,100 for the keyword "SEO" in the United Kingdom).
Here is an example that we've made from different Adwords accounts.
Precise data is coming from the account with a good budget: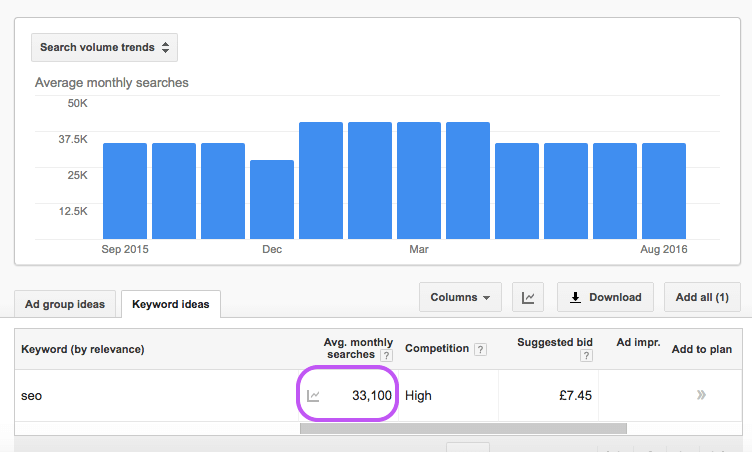 Raw data from the test account with a tiny budget: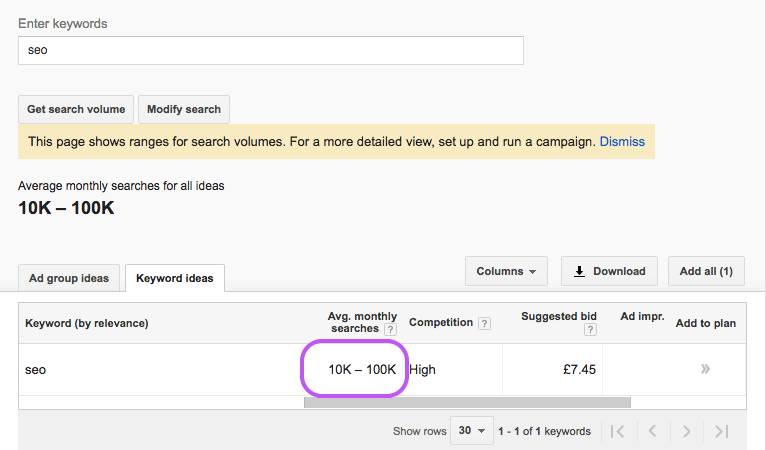 Although we are quite disappointed with the change, the tool is still incredibly powerful for most SEOs and Digital Marketers, so it would have been a crime not to include Adwords Keyword Planner in this post.
Keyword Planner is a tool brought by Google, specifically designed for PPC campaign planning. Nonetheless, SEOs can also find it very useful when developing the organic presence of the site. Keyword Planner supports a number of functions, such as keyword volume, competition level, CPC suggestions, search for new keywords, budget planning, location targeting and more.
Step 1:
Log-in to your Google Adwords account and go to tools > keyword planner
You will be presented with the following dashboard and 3 main ways to get started:
Search for new keywords – enter a keyword and find other related keywords
Get search volume – enter your keywords and get search volume, average CPC and competition level
Multiply Keyword Lists – multiples 2 lists of keywords to get all possible combinations that people use to search.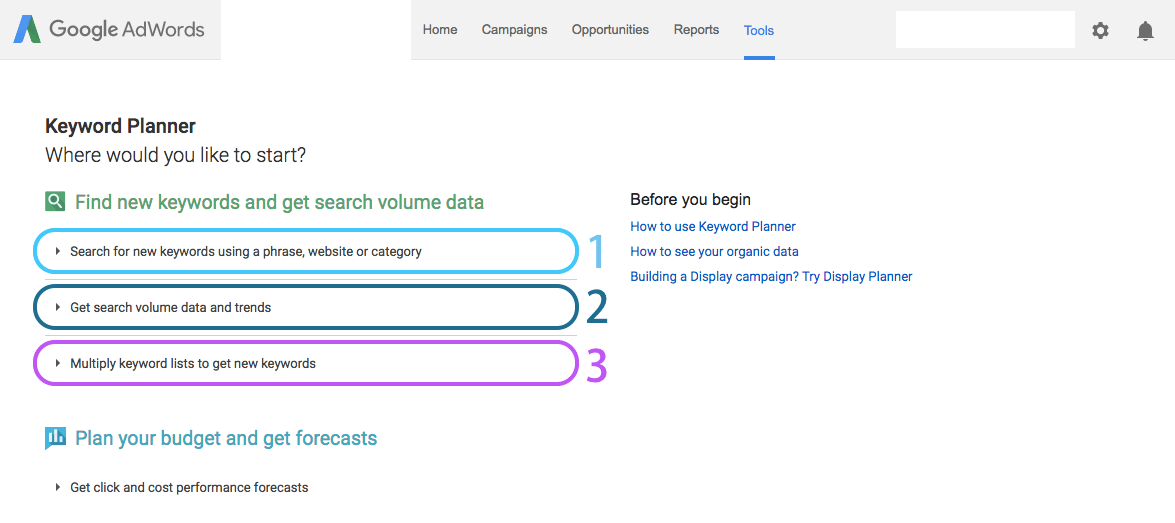 Step 2:
So, let's use the second option to get the keyword volume and trends. Enter your keyword, choose the locations, negative keywords and date range. Let's use "SEO" as an example.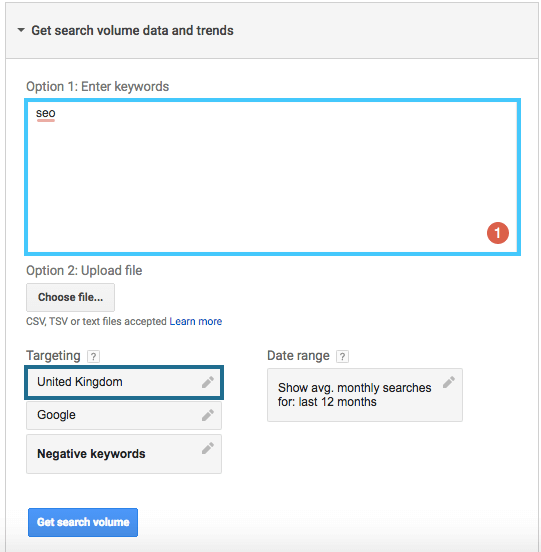 Hit "enter" and you will be shown an average monthly search volume, trend, competition and suggested CPC Bid.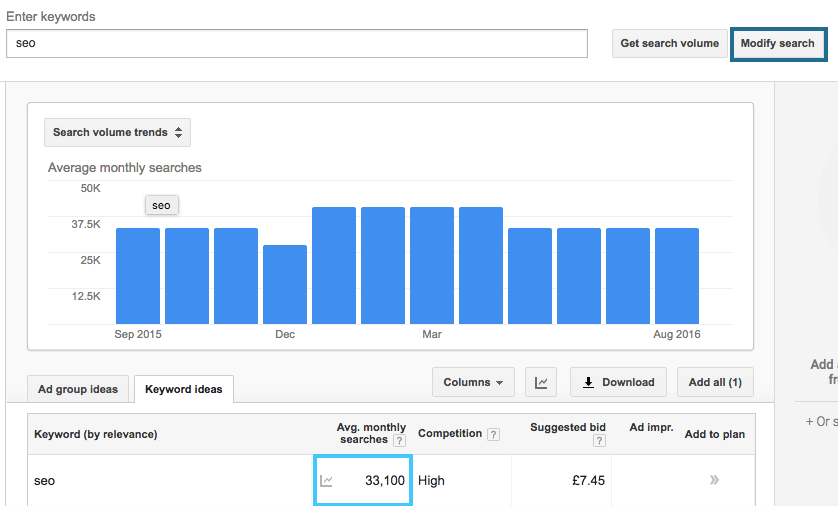 Now, let's find more keywords related to "SEO". Hit "modify search" and choose the first option (search for new keywords). Enter "SEO" as the main keyword.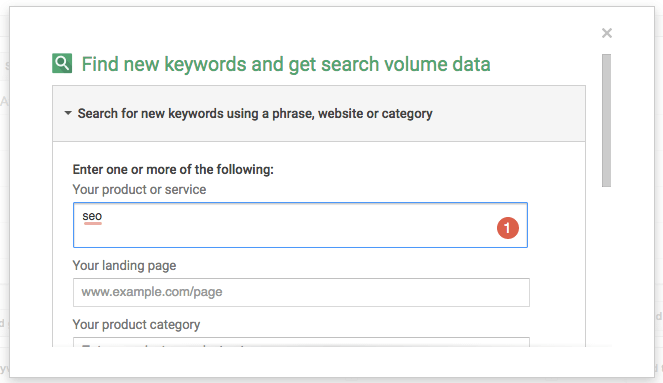 Hit "enter" and you will get a list of suggested keywords that are related to our main term – "SEO".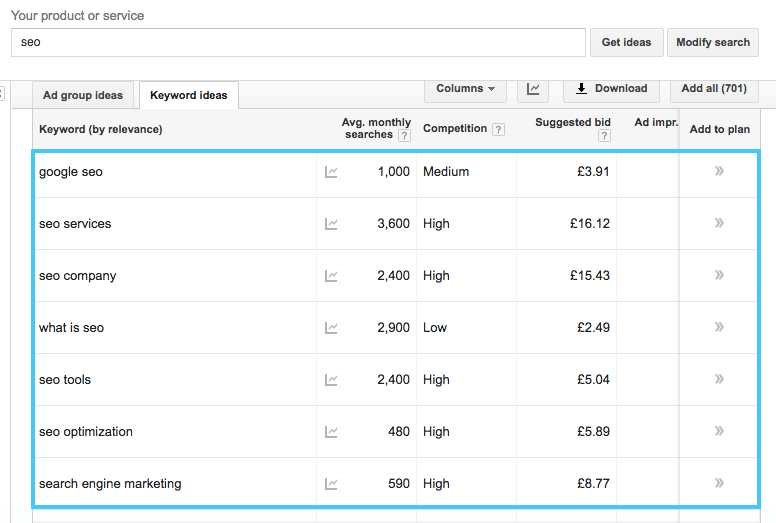 Moz is our number 1 SEO tool that we use more than any other software. Keyword Explorer is a relatively new product on the market, but already incredibly powerful.
What's special about Keyword Explorer is that it doesn't only provide the search volume, but also gives some unique data on the potential, opportunity and difficulty of a keyword.
However, Moz is not completely Free. They offer a 30-Day Free Trial, and then it's $99/month.
How To Use
Go to Moz Keyword Explorer and type in the keyword you'd like to check (you can carry out 2 searches without logging in or starting a free trial).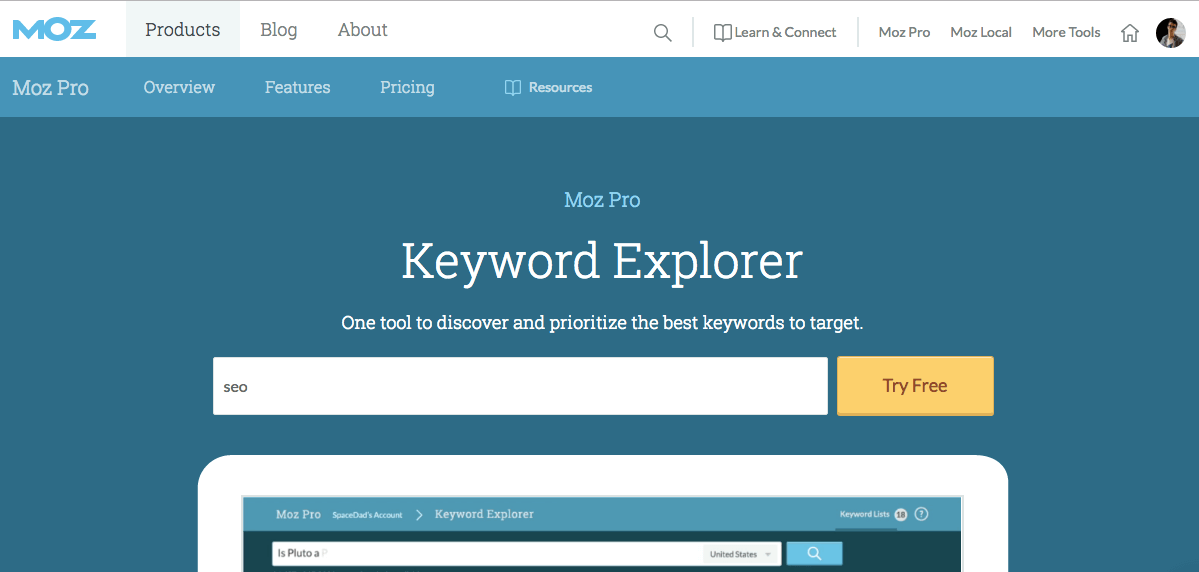 You will then see the dashboard with all the metrics. It will display the search volume range (depending on the target country), difficulty score from 1-100 (based on competition), opportunity score from 1-100 (estimated click-through-rate for the first 10 organic results) and potential score from 1-100 (based on a combination of all other metrics).

Later in the report, you will be shown some keyword suggestions and SERP analysis for the keyword you've searched for.

Keyword Explorer also supports creating and uploading keyword lists.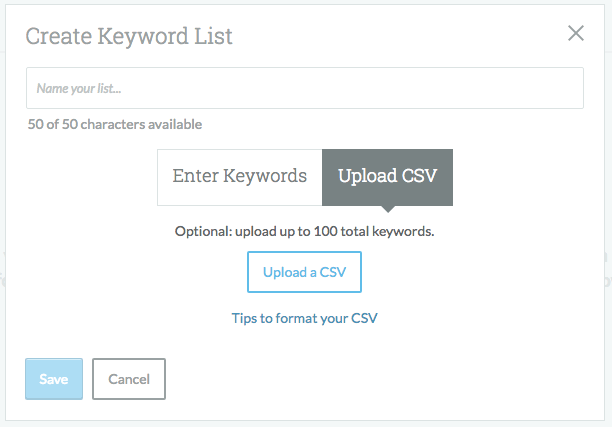 SEMRush is the all-in-one tool that enables you to analyse any keyword, domain or URL in one single place. The tool provides some essential data on the search volume, PPC data & distribution, trend, related & phrase match keywords, as well as SERP analysis.
Unlike its rivals, SEMRush allows you to analyse as many keywords as you wish for Free, with more advanced data available with the Pro Package (starting at $69.95).
How To Use
Go to SEMRush and type in any keyword (we'll be using "SEO" as an example), choose the country and hit "search".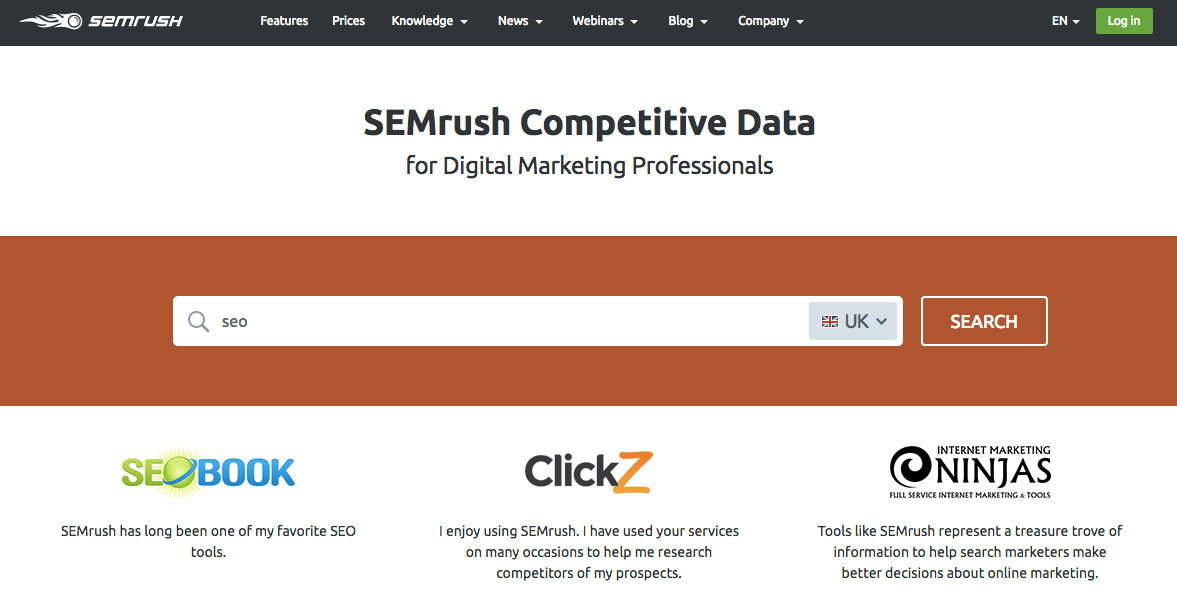 You will then be redirected to the main dashboard with all the data.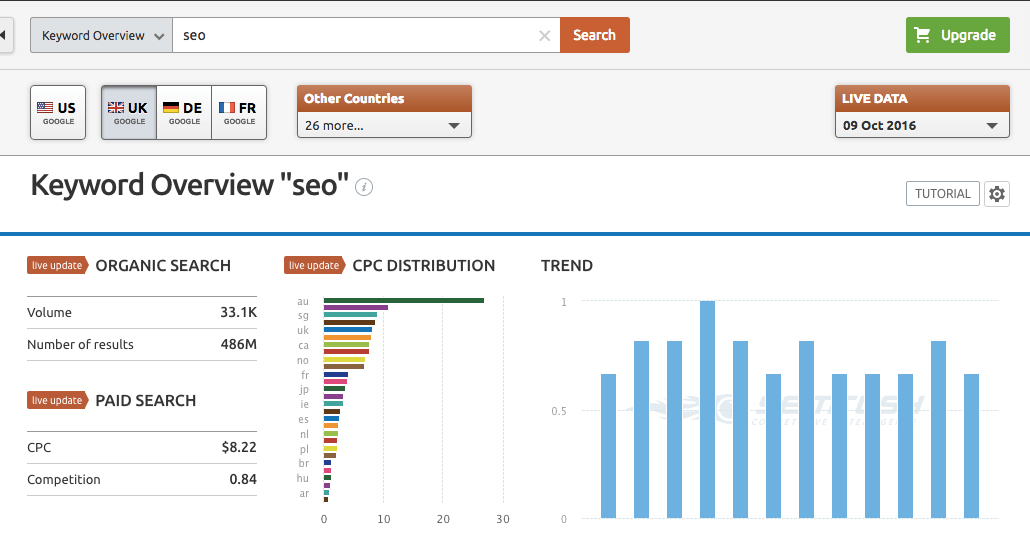 Notice the search volume for "SEO"? It's the same as on Google Keyword Planner. So, what does it tell us? Yes, SEMRush is pretty accurate.
Scroll down to see phrase match keywords, related keywords and organic search results.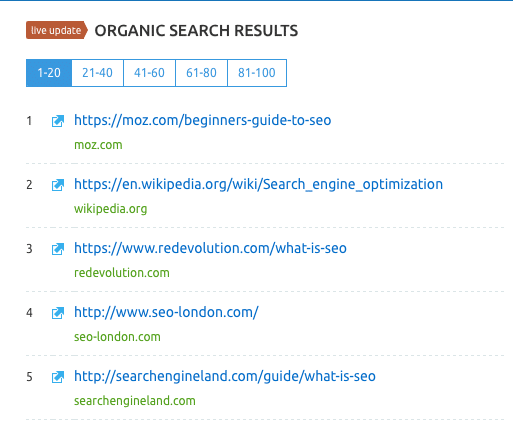 KWFinder is another fantastic tool for researching and analysing keywords. It will present some critical data, such as the search volume, CPC bid, difficulty score, trend and Google SERP analysis. What's unique about KWFinder is that their interface is beautifully designed and is incredibly easy-to-use.
You are allowed to look up 5 keywords in 24hrs. Pro Plans start only at $12/month.
How To Use
Head over to KWFinder and search for any keyphrase. Choose the right location, language and click "analyse".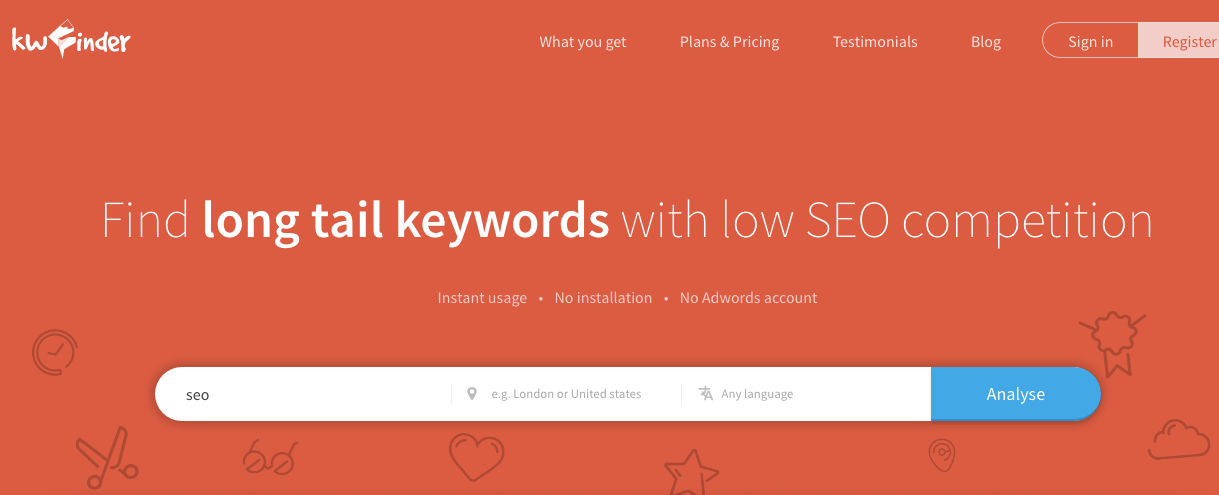 You will then see a nice dashboard showing the search volume, suggestions, difficulty, trend and Google SERP analysis. Note that the search volume for "SEO" is the same as on Keyword Planner and SEMRush.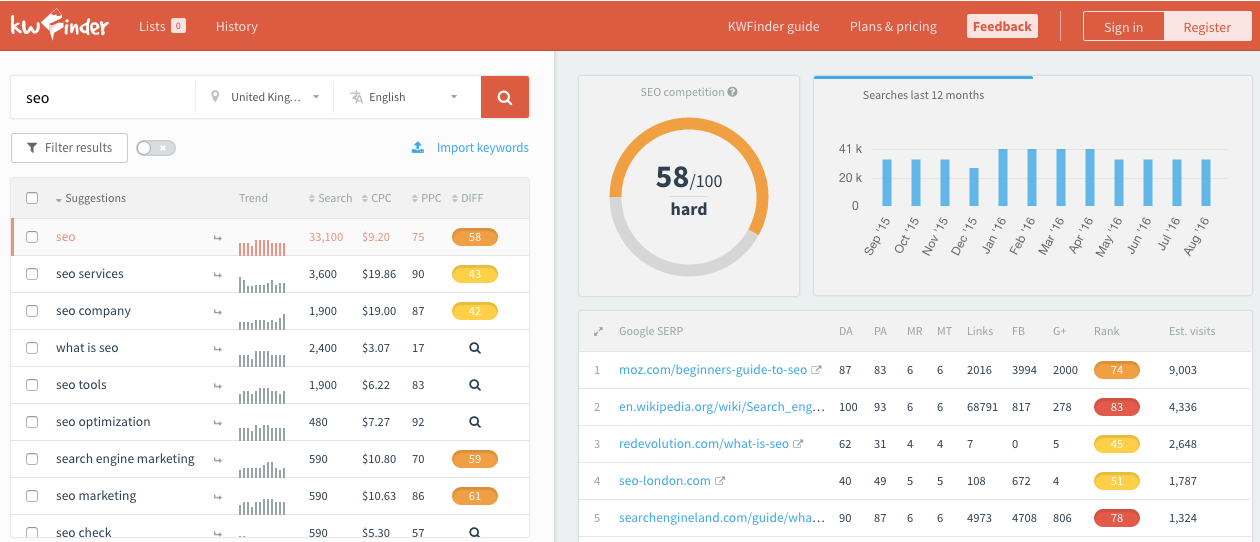 ---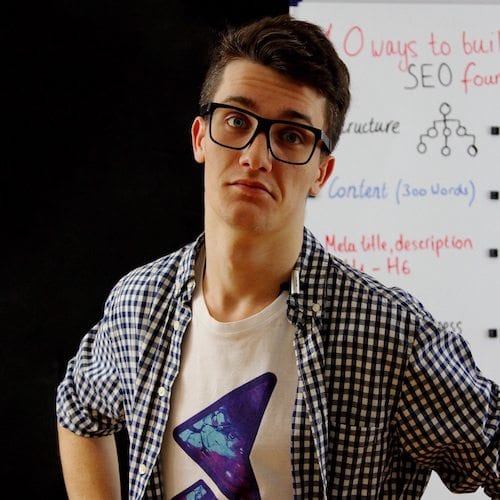 Dmytro Spilka
Head Wizard
Get free online marketing and blogging insights
Unsubscribe at any time