Sometimes you need to check your work's grammar, punctuation and commas in a pinch.
You don't always have the time, resources or willpower to download software, install it, get it all set up and then use it for its intended purpose. It's not always an option, and some services are starting to forget that.
But luckily some other service creators are still keeping this in mind, and they're out there creating tools that you can use online. From any device. To make sure that your writing is looking as good as it could, and should, be. So we've decided to compile a list of these amazing companies – so that you can benefit from them.
Every tool on this list is accessed directly from your browser. Guaranteed. So, let's begin.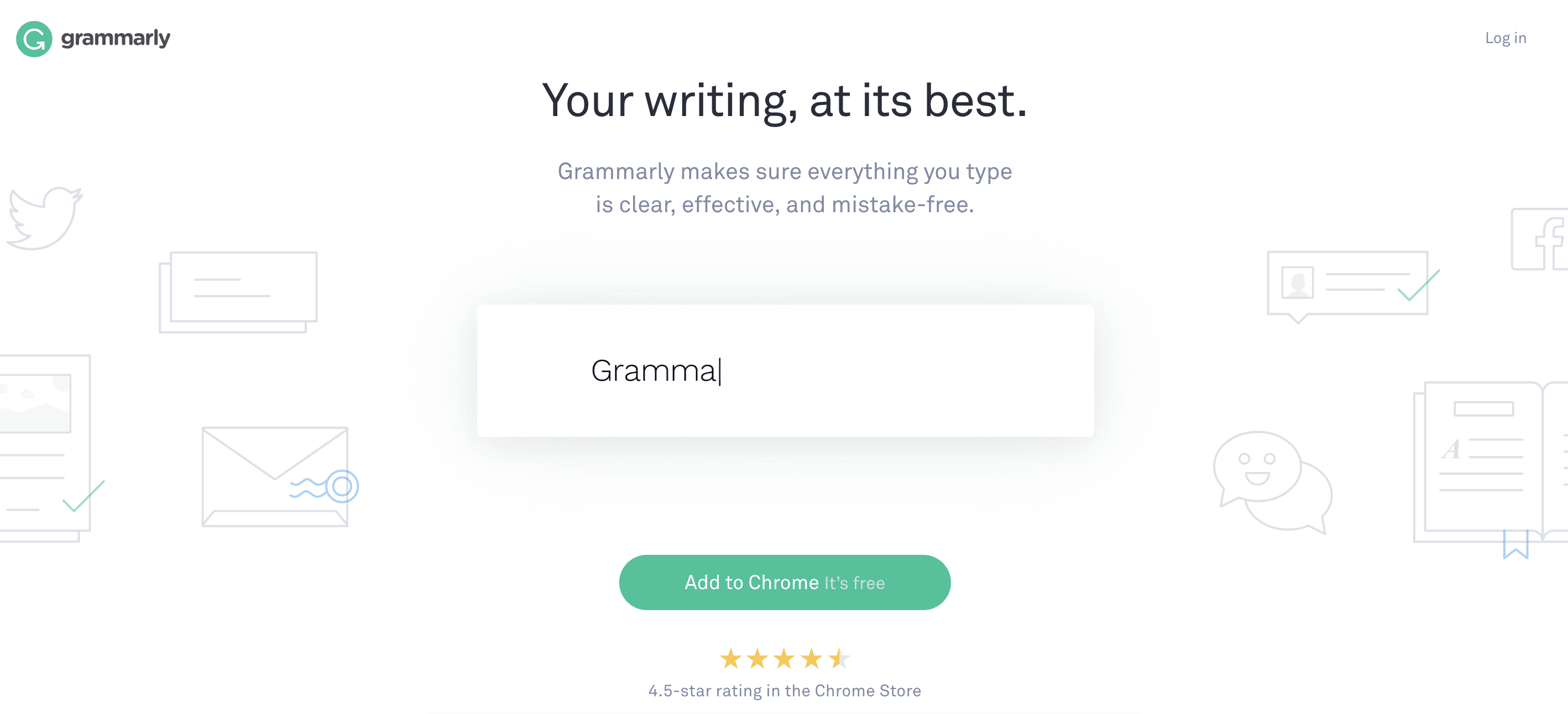 Grammarly is the king of online punctuation, grammar and comma checking. Almost every other service out there of similar effectiveness requires downloads and leaving your browser.
But Grammarly doesn't. Unless you want to, that is – in which case, Grammarly offers that too.
Grammarly's free option provides everything you need to make your writing clear, readable and grammatically correct. In a sleek, easy-to-use package.
Should you decide to upgrade to Grammarly premium, it also boasts a whole host of powerful tools to make your writing better. Such as a vocabulary enhancement option, and a plagiarism detector to make sure your work isn't too close to that of others.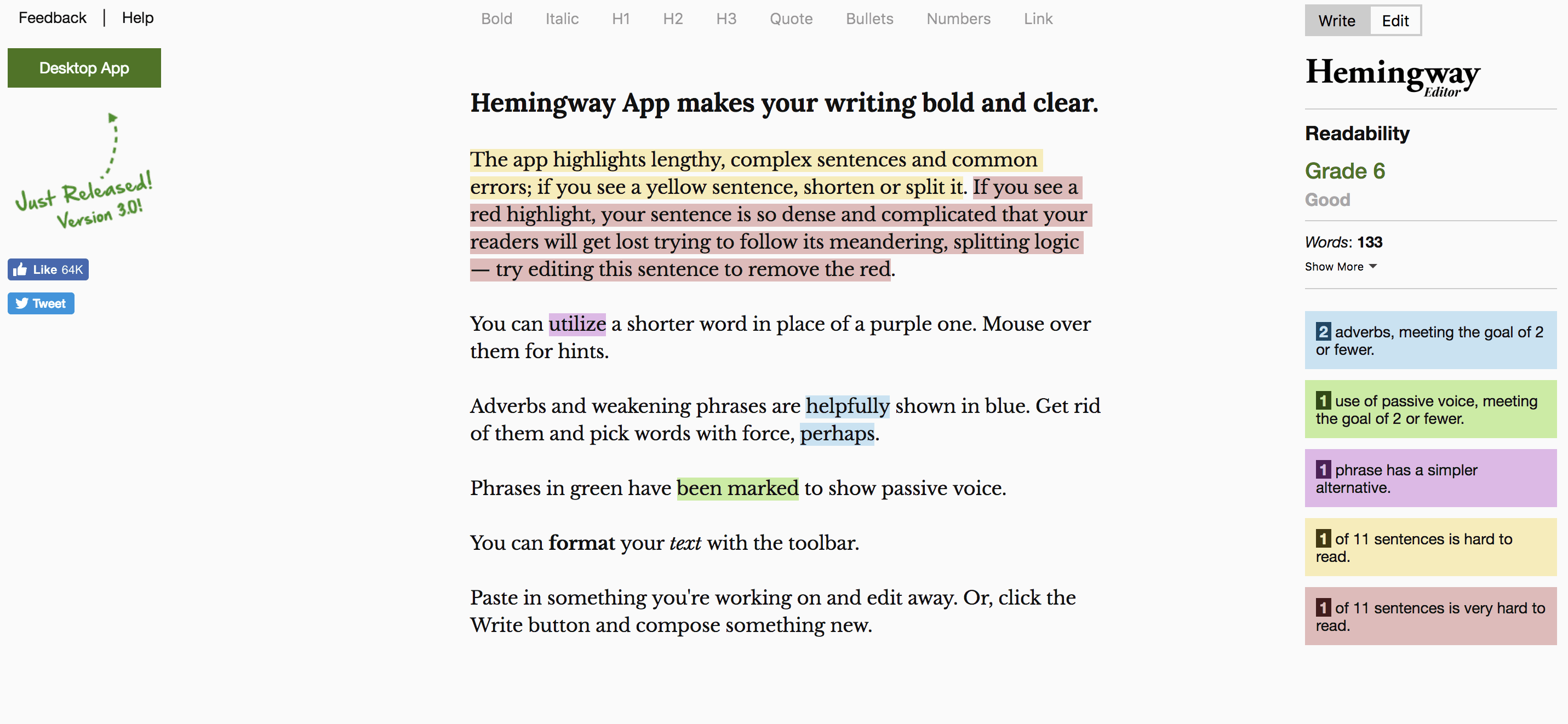 Hemingway is a bit of a directional shift from Grammarly. While it does still provide the basics of a grammar and punctuation checker, its focus is more on the readability of the piece of text.
When it comes to online writing, the easier to read the better. Most people aren't looking to read through a challenging and complex piece of writing when they're reading online. Especially not in the context of blog posts.
This tool allows you to break your writing down into its simplest form. Improving user experience and readability, with all the benefits of a grammar and punctuation checker.
There's a lot to gain from using this tool. Even in conjunction with some other tools on this list, such as Grammarly, to make your writing a far superior experience in every aspect.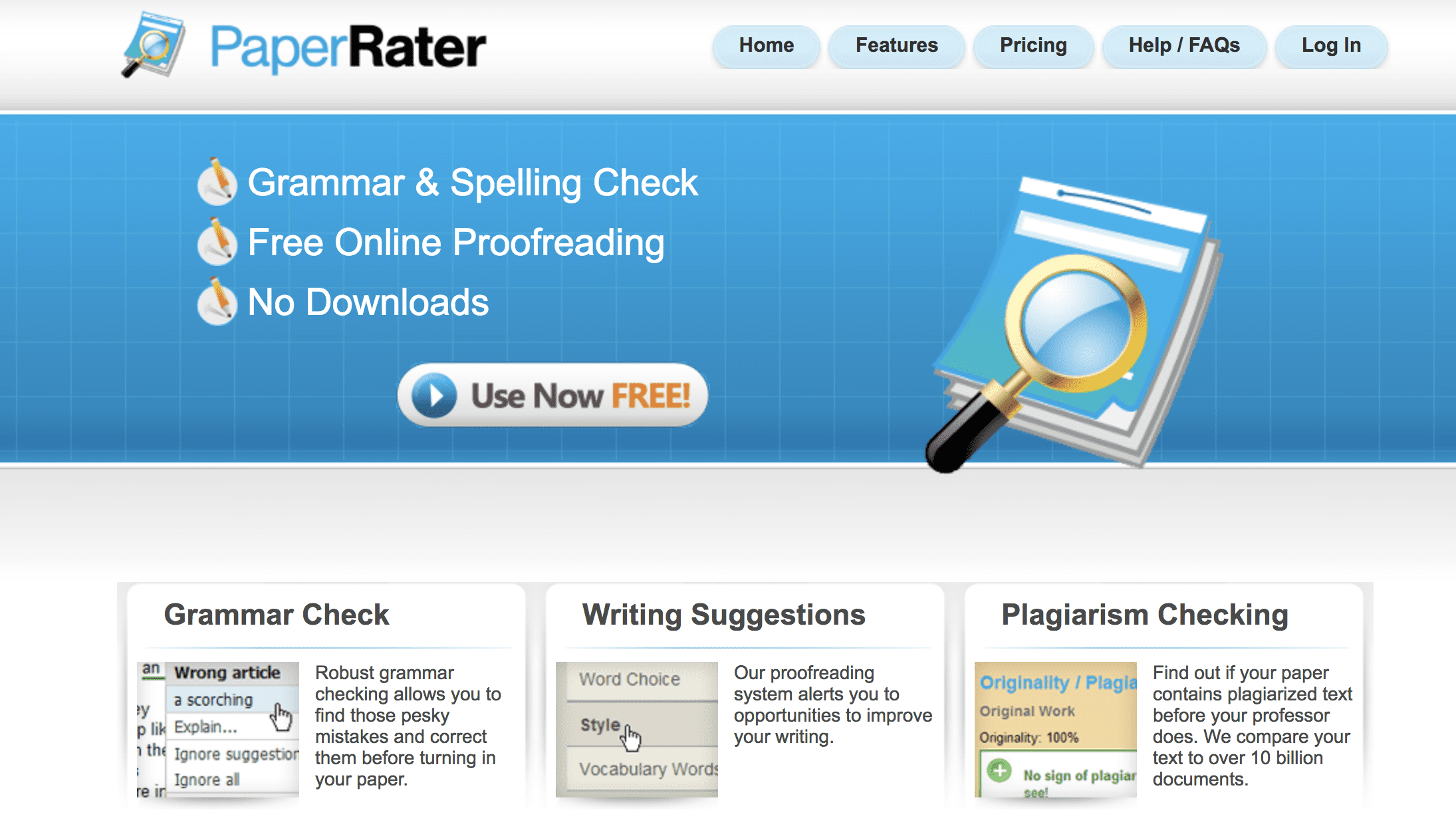 Paper Rater isn't the easiest to work with on this list.
But what it lacks in its ease of use, it makes up for in the powerful features it provides for free. Including format-specific advice, uploading files, style and a grading system to tell you how well your piece of writing stacks up.
Overall, Paper Rater's free features make it one of the best picks on this list besides Grammarly. Its only real lacking side is that the interface is not smooth to use compared to the other options.
Still, once you get the hang of it, it's a powerful tool for you to use.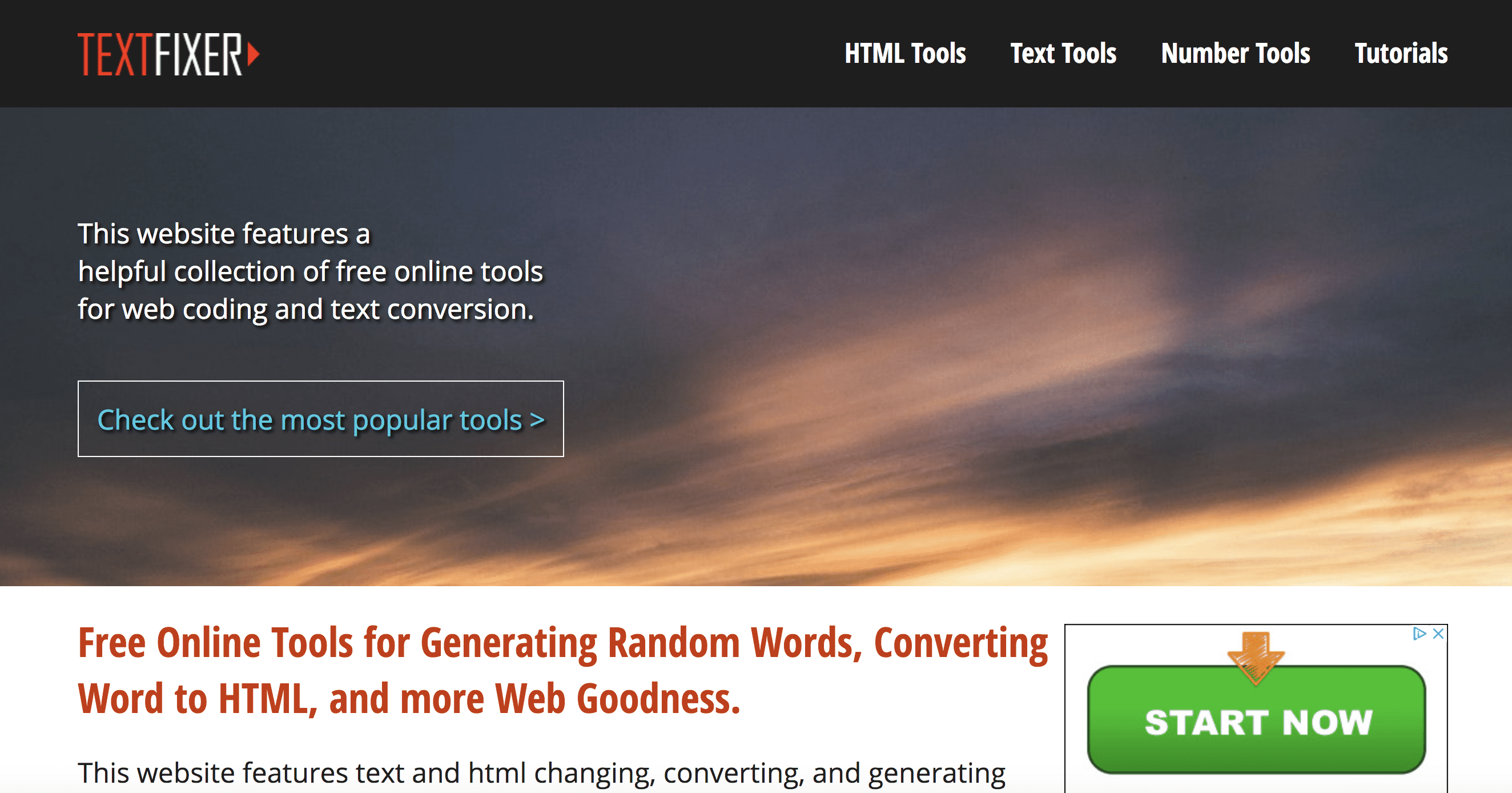 If you regularly struggle with your capitalisation – Text Fixer is the tool you need.
An easy-to-use, simple tool that corrects capitalisation in sentences. Ensuring that your writing reads professionally and appropriately, with capitalisation in check. However, it is the only problem that this tool does fix, so be aware of that.
We like tools dedicated to solving one job properly though, rather than tools trying to do many roles and not excelling at them. Which is why Text Fixer is well worth a mention. If you do have a problem with capitalisation, this is the tool you want.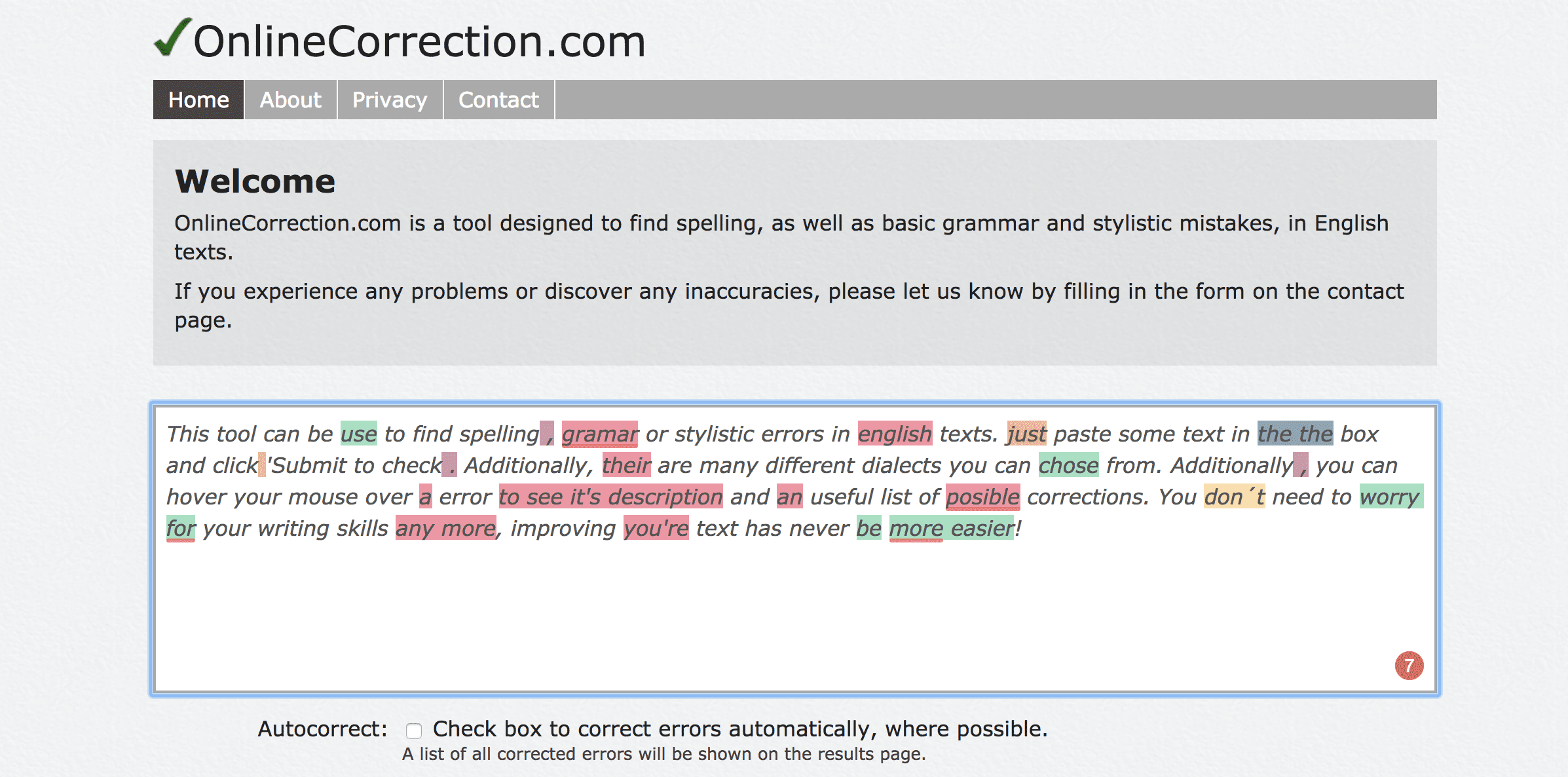 Online Correction does exactly what its name suggests.
It corrects spelling and typographical errors, as well as finding duplicate words. However, it's caveat is that it doesn't correct any grammatical errors. So, you'll have to find another tool on the list if you want more contextual suggestions for correcting your work.
Overall, it's a good tool. If you need a spell check that you can trust, it succeeds in that role.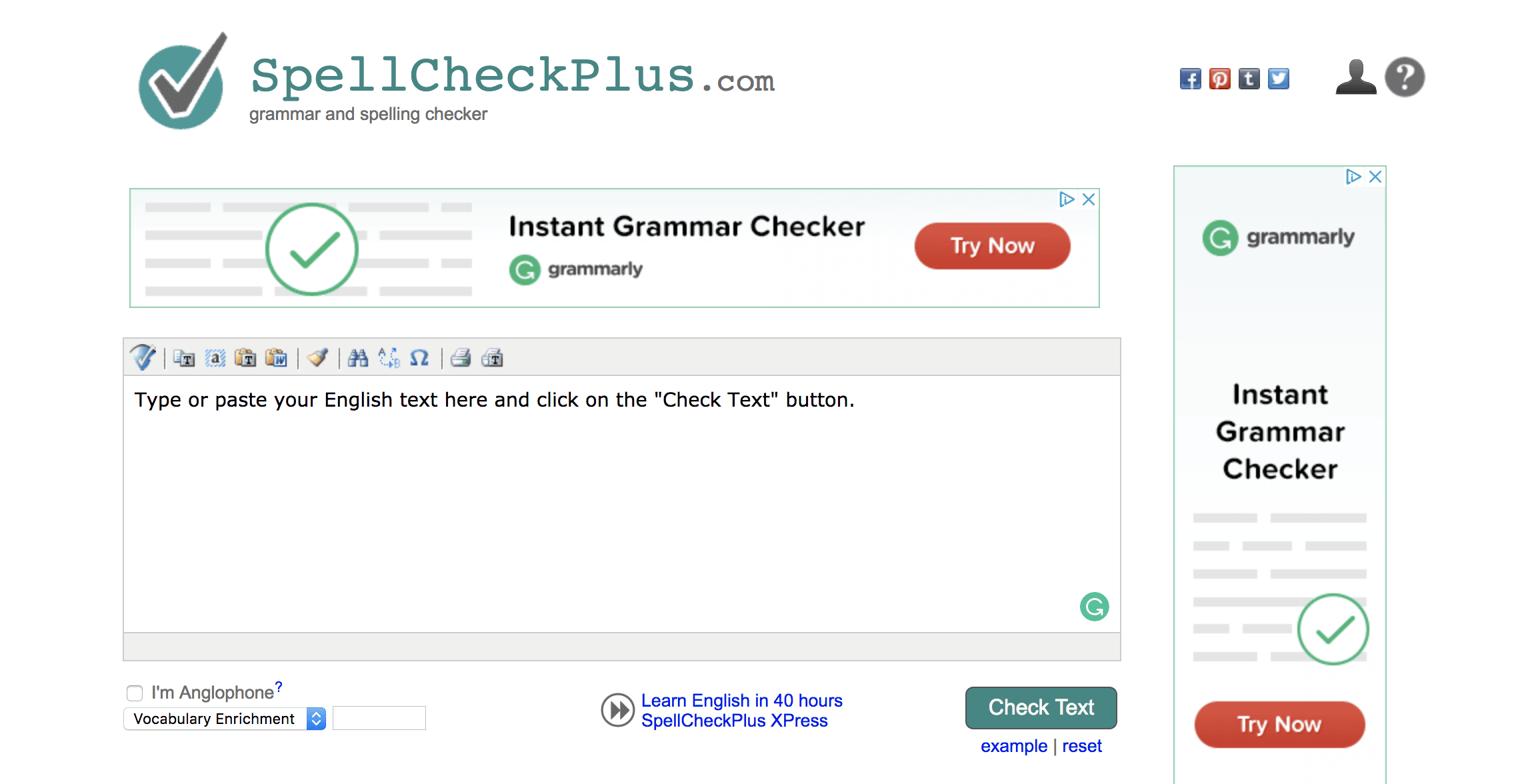 SpellCheckPlus is like the advanced brother to Online Correction.
Not only does it possess the basics of spell checking, but it also has a feature for grammar checking in context. For work that needs a better overview of what's gone wrong and right – SpellCheckPlus does a fantastic job of providing confidence in your written work.
One of the coolest aspects of SpellCheckPlus has to be the given summary at the bottom of the page, telling you how and why the errors you've made are wrong – thus giving you the tools to not make the same mistake again in future.
One of the more powerful, fully online, options available on this list. Without a doubt.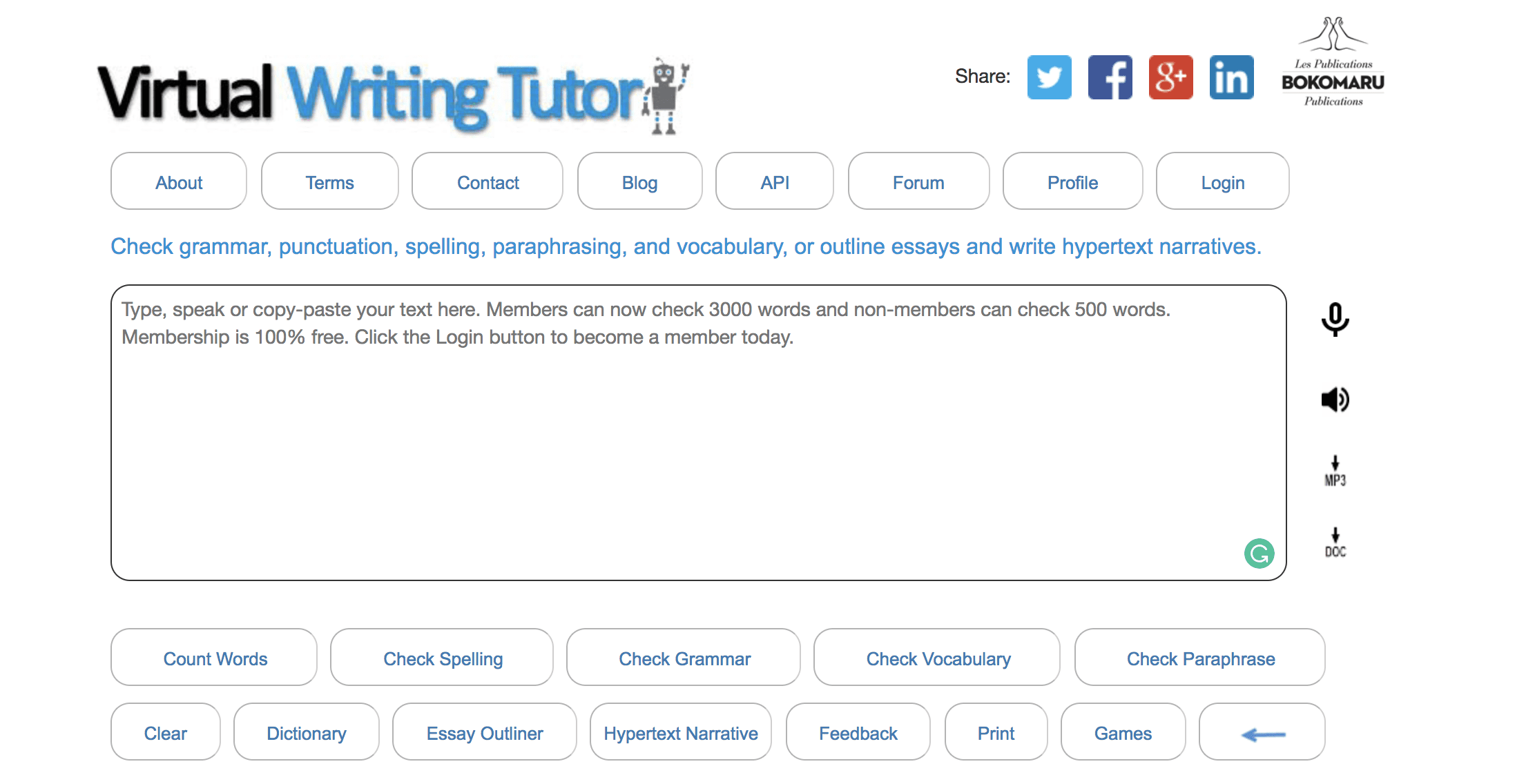 Virtual Writing Tutor is a spellcheck and grammar checker rolled into a teaching format.
The focus of this tool is absolutely teaching. So, if you're looking for a checker and not to improve on said mistakes, there are better tools for the job that'll provide you with easier-to-implement answers on what you've done wrong.
However, if you have the time, this tool will allow you to prevent yourself from making these mistakes again. By explaining in-depth about the specific contextual grammar rules that've been broken in your writing.
As well as providing vocabulary enhancement and plagiarism checking options, just to round out the tools available on the site – making it very valuable and powerful to those with a bit more free time to analyse their mistakes.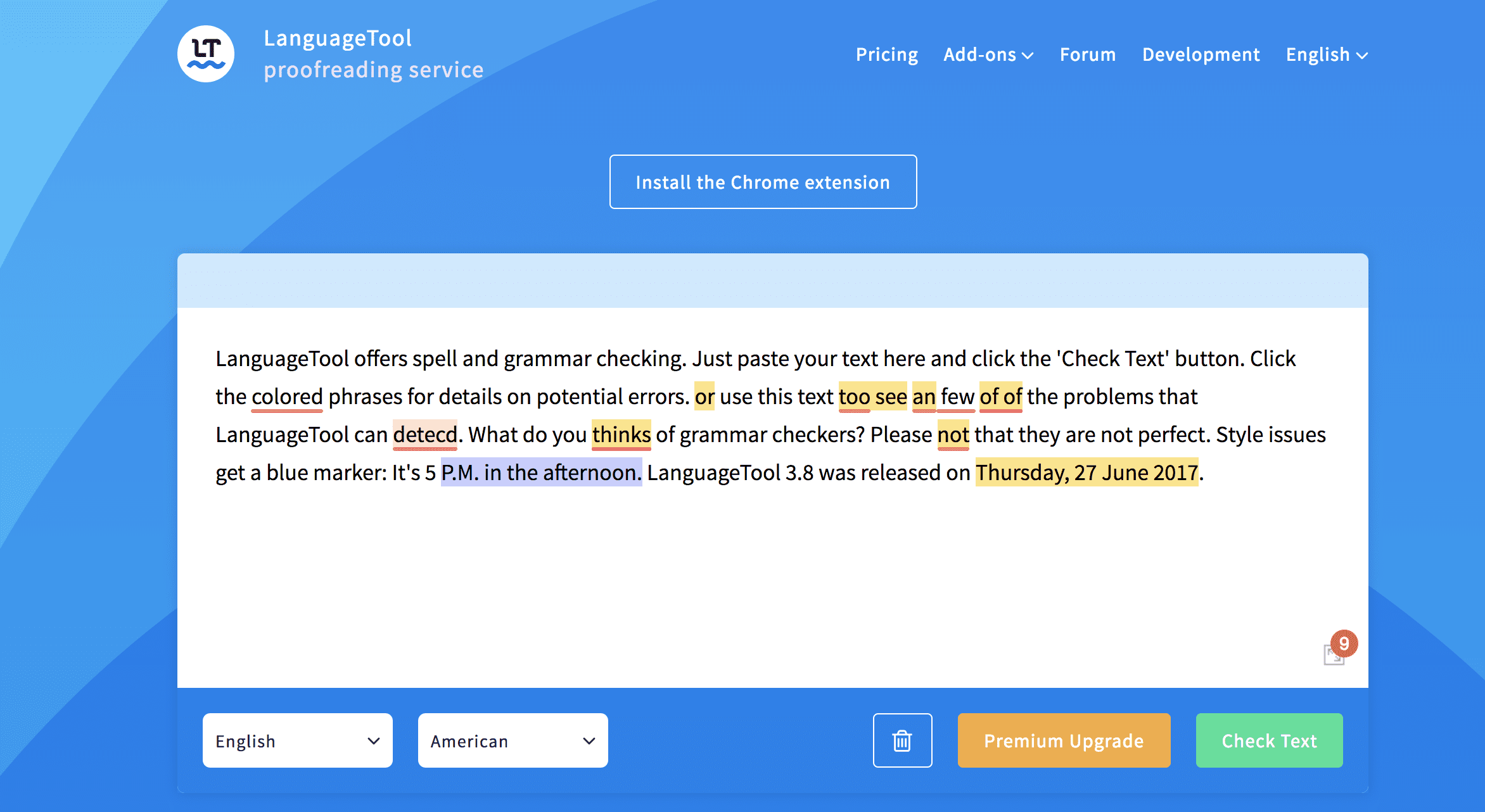 Language Tool is a simple grammar, spell and punctuation checker.
It doesn't do anything particularly special or complex and its features are limited. But what it does do, it does very well – and there's value in that. You can be assured that the feedback you're getting from said checker is virtually always correct.
Another thing that Language Tool does well, that other checkers on this list mostly do not, is the ability to shift their focus beyond the English language. In fact, their main selling point is that they can provide feedback confidently on over 20 different languages.
They also have a cool add-on for browsers if you need an extra little bit of help while you're using the tool.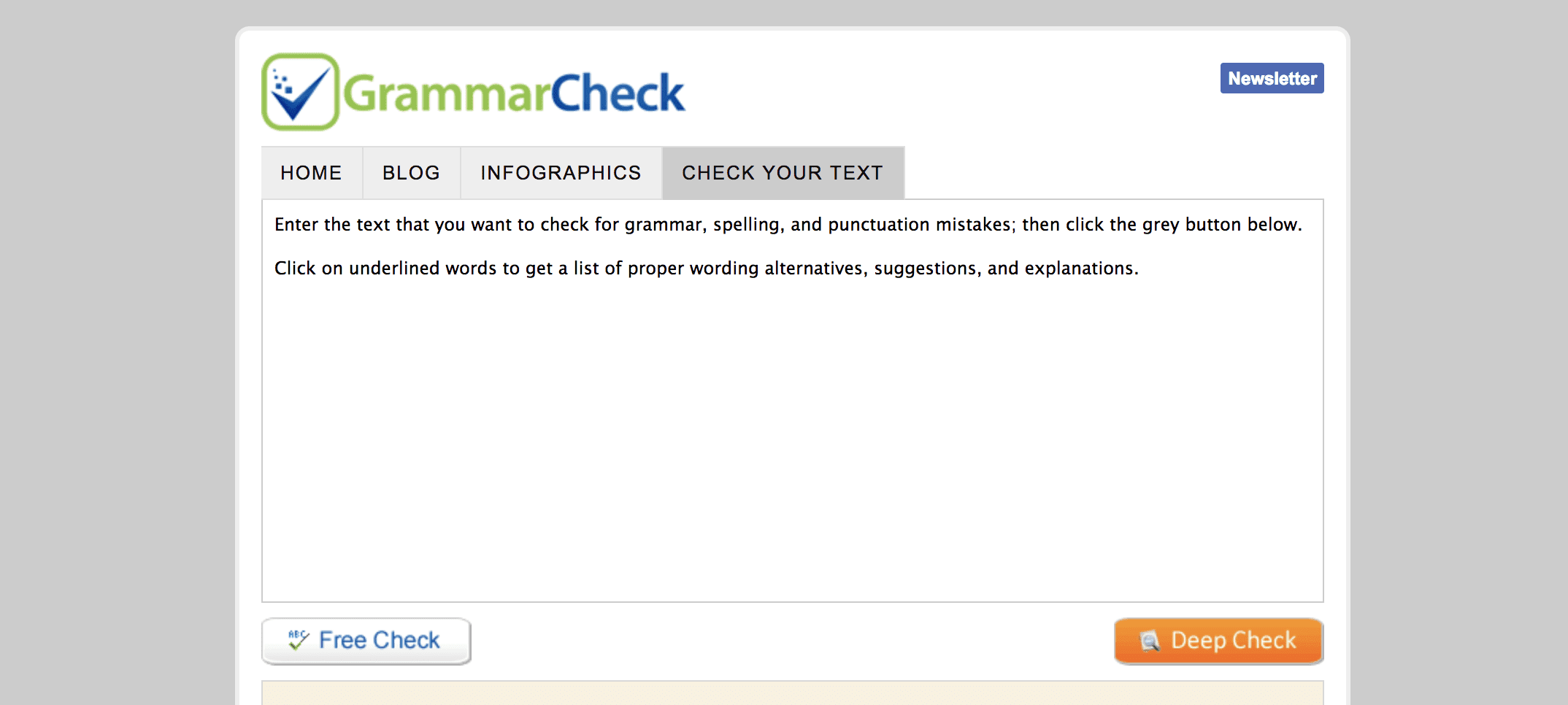 Full disclosure: GrammarCheck is now a Grammarly referral service.
While it still does provide its own independent, free, grammar and spell checking services – the 'Deep Check' option is a referral link to Grammarly. But it still deserves a spot on this list, because while the free check option is available – it works very well.
One of the coolest things about GrammarCheck is that it looks to simplify your work as well as correct it. While this may not be seen as a plus for some, to those that understand writing is a means to convey ideas and knowledge – the simpler the better!
Its interface is also very straightforward, and all occur within one box – which makes identifying problems within the context of your writing a lot easier. So, if you're looking for an easy tool, this is definitely one to still keep in mind.
Another very simple punctuation checker.
Ultimately, this yielded mixed results. Some of the errors that were intentionally thrown in were picked up. Others weren't – even though they were pretty obvious errors. Which leaves us asking, "what is it that makes some errors identifiable and others not?"
With that aside, it does work pretty well for a quick proofread. It's not going to catch everything, in our testing experience, but it will catch a lot of things and keep your text looking neat – which is sometimes all you need.
There are better tools available. But they're often a lot more complex than this one, so that could be put as a plus or minus against Gregory's Punctuation Checker – depending on your specific needs. Nonetheless, it's free and somewhat effective. It's worth having on the list.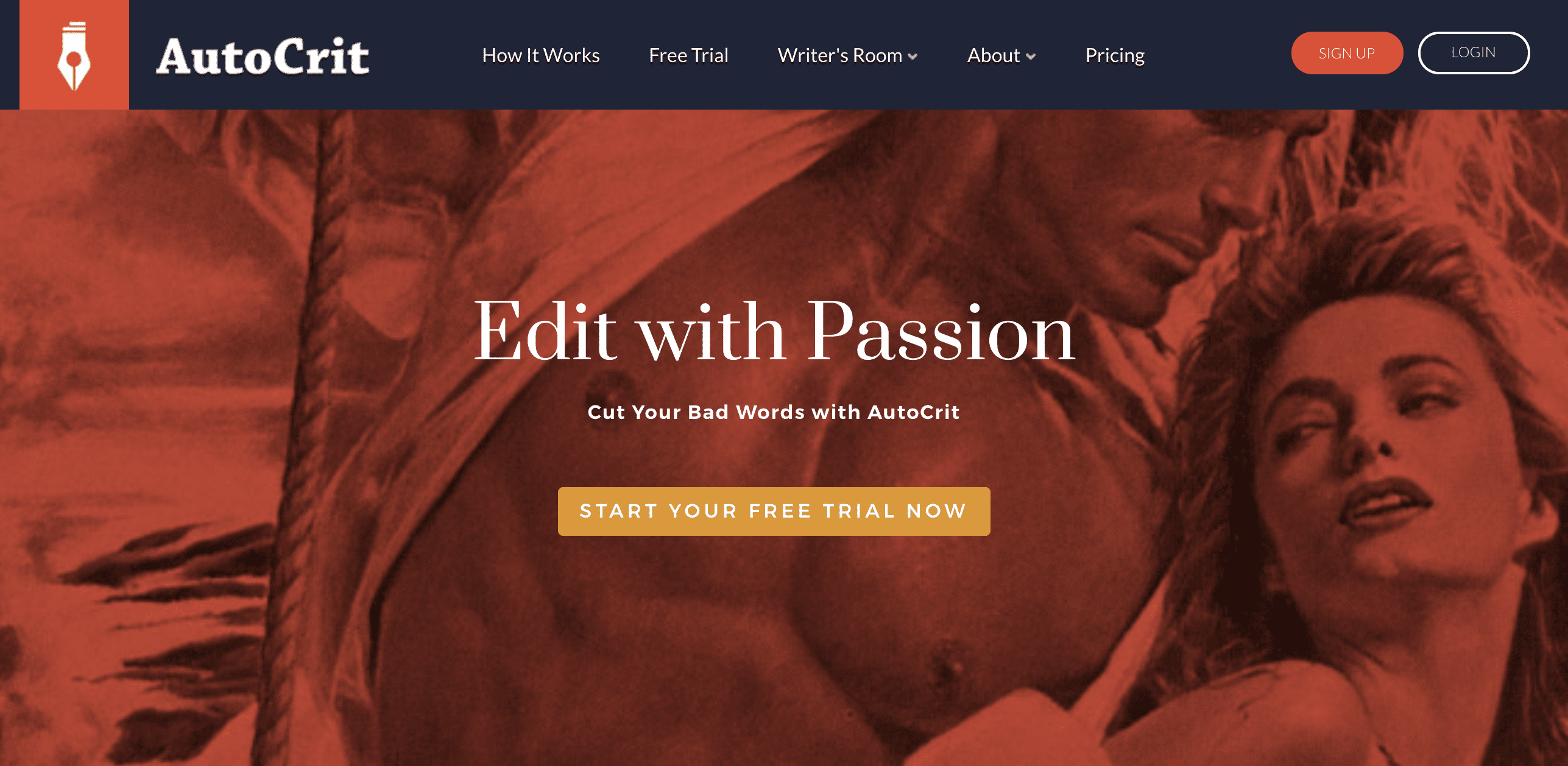 AutoCrit is an interesting service, that provides a very in-depth analysis of your written work.
Immediately, it's not worth using if you're looking to quickly check some grammar and punctuation. This is a service geared more towards professional standards of writing and improving upon them in a literary manner.
It provides a look at many facets of good writing, as outlined in the above picture. Giving feedback and suggested improvements on each of the 5 categories it scores you for. As well as suggestions for any of your grammatical mistakes.
It does hide all of its feedback behind a signup, which is a little frustrating and slows down the whole process. But when you do sign up, the feedback provided is immense and rich. If you wanted to improve as a writer, it would definitely allow you to do so.
It's worth a mention, but it's a little much for quickly fixing a misplaced comma and capital letter.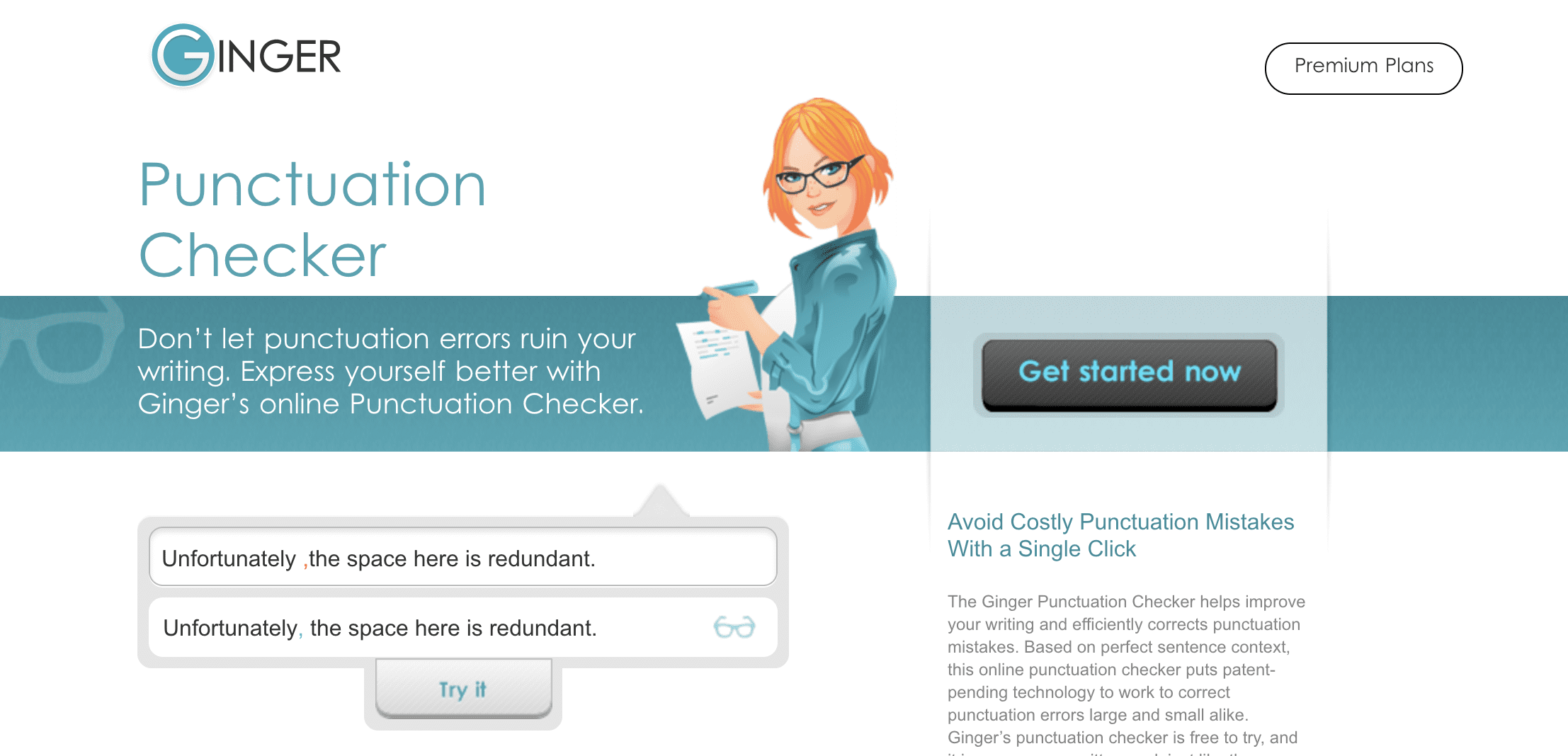 Ginger Software is one of the leading alternatives to Grammarly.
However, Ginger requires a full download and setup to use. No matter what you plan to be using it for. So, it's not really a great competition for Grammarly along with the themes of this comparison article. Which is why it's not mentioned here.
Ginger does provide a brief, free and online tool to entice new users though: their punctuation checker. It happens to work really well too, although that shouldn't come as too much of a surprise considering it's how they entice new users into signing up for their software.
It's clean looking, simple to use and very easy to implement the changes recommended. It seems to catch most errors, even the more complex ones. And if the standard of Ginger is anything to go by, it's absolutely worth using.
But it has the caveat of a 104-word limit, for whatever reason. The questionable limit number aside, if you need to check under 100 words worth of text quickly – this is one of the better options. It's just very limiting.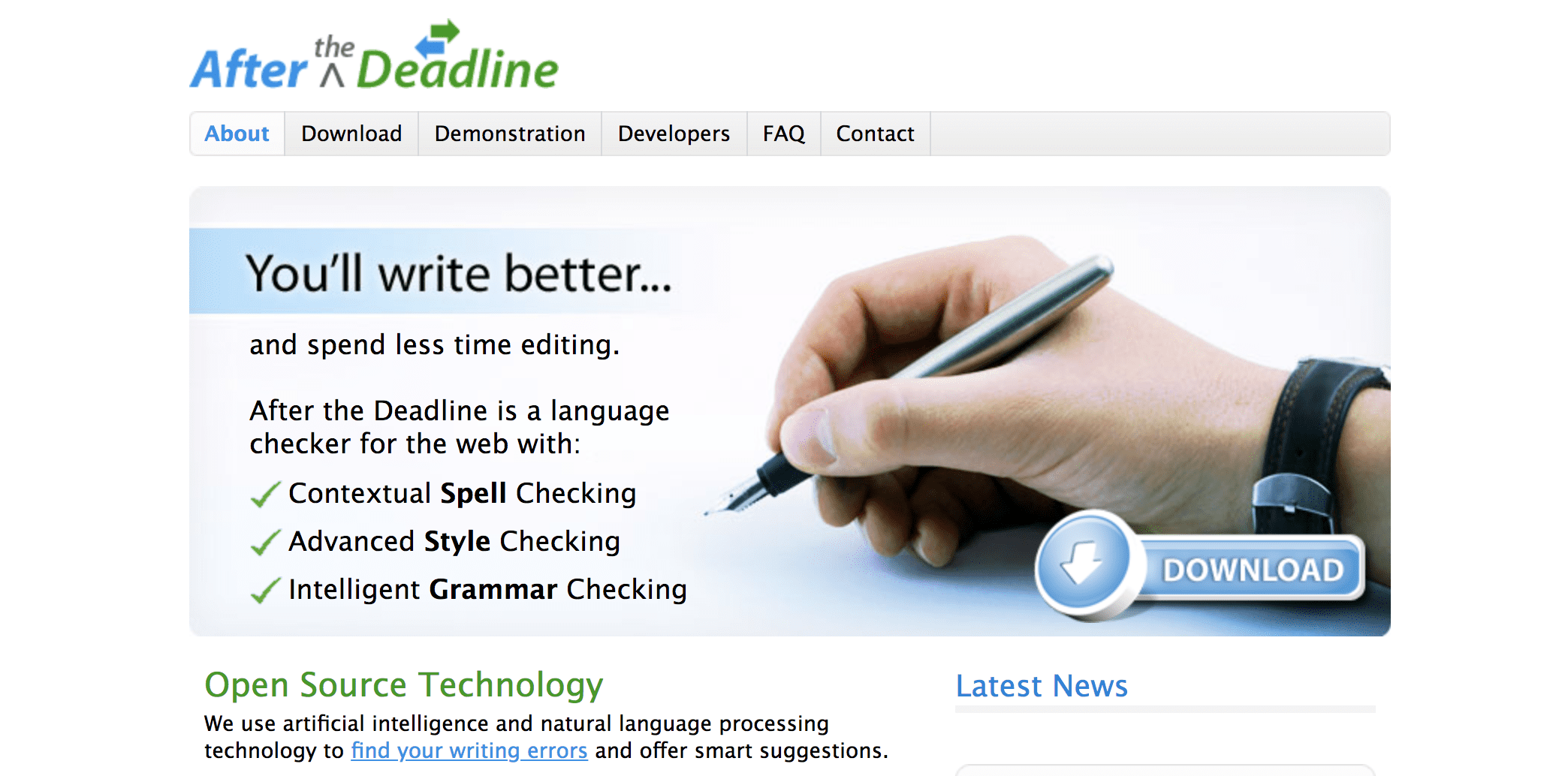 After the Deadline is yet another top contender against Grammarly and Ginger.
Much like Ginger, they require a download, setup, paid fee and whatever else before you can use their service – which doesn't bode well for those looking for a quick and simple clean up for their writing.
Again, likely taking inspiration from Ginger, they have a completely free online tool available to 'try' After the Deadline's simpler features, which works well for spelling, grammar and style issues – catching most basic issues and even some complex grammatical errors.
Luckily for some, it also lacks the word limit that Ginger's tool had. Because of this, it feels the better choice for slightly longer bodies of text, provided you need simple, quick and clear fixes to your content – without much context and input on why/how to correct the issues beyond their suggestions.
It's easily not the best choice on the list, but it is one of the most effective at a basic level.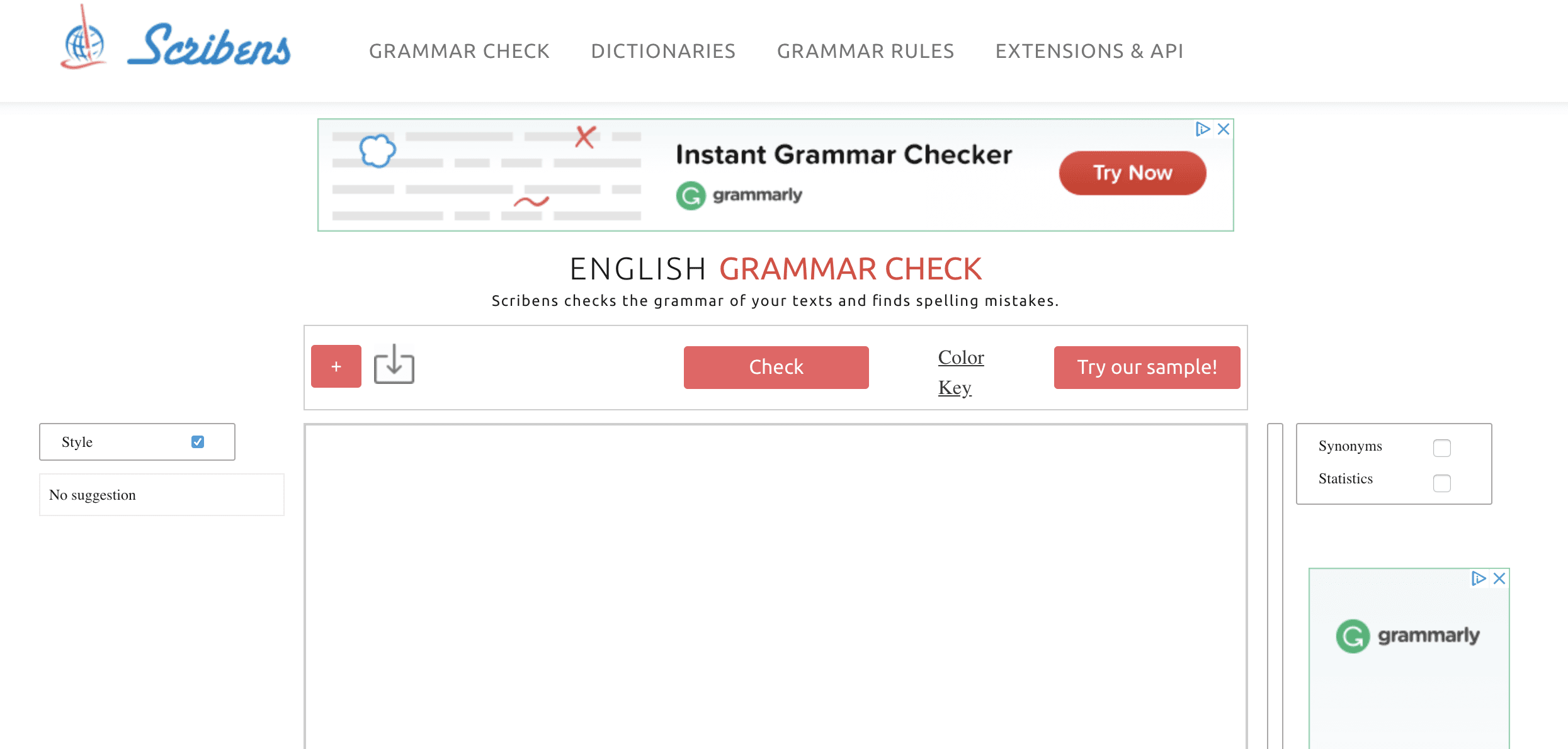 Scribens is a powerful tool considering it's completely free and online.
The display is fairly intuitive, and provides a wealth of feedback at a glance. It would be better if you didn't have to click a button to pull up the colour key, but that aside it's very easy to use. Making the edits is surprisingly quick and easy given how many issues it can flag up.
One downside, however, is that it does seem to flag up issues that aren't actually issues. This is to be anticipated to some degree, as no grammar checker is perfect – but it happened a little more consistently than should be expected.
For an online application, it's definitely one of the more powerful ones out there. It even helps you simplify your work, if that's an attractive feature for you. But that said, it does take a fair bit longer to go through this checker's results compared to others on the list.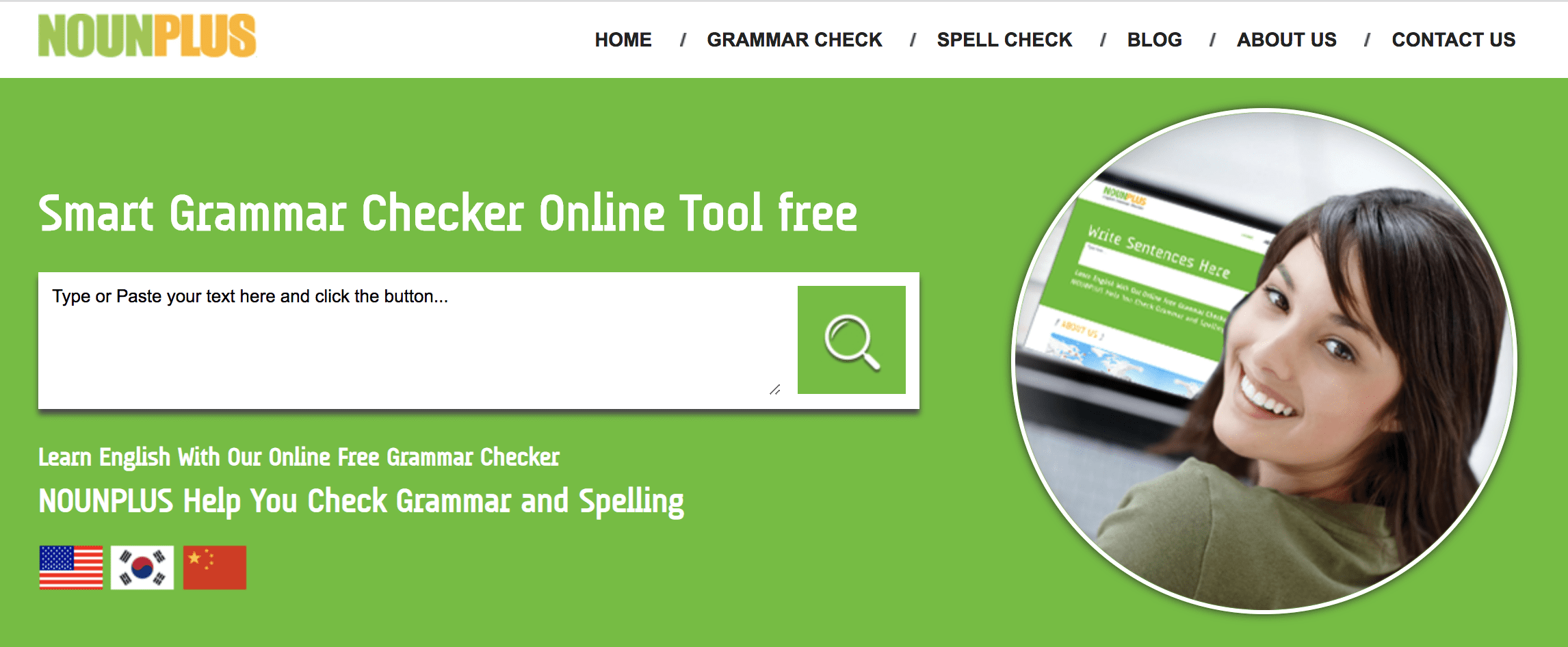 NounPlus is a more basic option that's available, but an enlightening one.
Where they highlight errors in the 'your writing' section, they offer highlighted suggestions to the right on how to fix the issue. This is a great way to learn and prevent future similar errors. Although, it can be a more time-consuming way to go about things.
It's easy to see what you've done wrong and how to fix it. It's also pretty effective, catching most errors that were thrown in with varying degrees of confidence. Quick and straightforward to use, there are not many things to criticise about NounPlus. It does what it's supposed to.
And that wraps up our 15 best online grammar, punctuation and comma checking tools. While we hope that you've already caught your typos mid-work, it's frustratingly easy for even the world's best writers to miss them.
That's why we worked to provide you with this in-depth, unbiased look at some of the best online options we could find. But that doesn't mean this is an exhaustive list – the internet can be a tricky thing to navigate at times, so perhaps we've missed a good one off the list.
If you know of any that weren't mentioned here, and provide their function solely in the browser without a download or installation, we'd love to hear about it. So please, drop it in a comment!