Influencer marketing hasn't really been with us for too long, but its impacts have given it a growing approval among advertisers and marketers. It is a marketing strategy undertaken through a more appreciated and professional template.
Influencer marketing consists of discovering and engaging with individuals who have a huge acceptance and a wide reach on a specific medium and audience, who can use their influence to drive attention, engagement and sales.
Statistics of Influencers' Impact
Influencer marketing is not just promoting businesses and generating leads. Reports have shown that it's massively impacting ROI like never before. In a report published by TapInfluence, it was discovered that influencer marketing generates 11 times ROI than other forms of digital advertising.
In dollar value, the study reported that influencer marketing generates 285 dollars per 1000 impressions. That's about 11 times the amount generated by digital ads.
To lend credence to that research, another report by Convince & Convert indicates that influencer marketing is not just leading in its effective reach and results; it ties with e-mail marketing as the most cost-effective advertising channel.
What Makes a Good Influencer?
In reality, brands have a repulsive history of blasting their messages and products into our faces and ears through television, radio and the print media. They aren't used to listening to the public.
Today, many organisations are still stuck doing almost the same thing through social media. They speak of data, but do not really relate to their audience. That's about the point an influencer comes in powerfully to make a difference.
Influencers have established tight relationships with their audience over a long period of time. They've understood and appreciated their audience and enjoyed a huge dose of trust and admiration from them. So, they've listened and appreciated the communities in such a way that reaching them with precision is natural, a piece of cake.
What makes up a good market influencer? Check out the following list:
Trust: Influencers are a trusted medium for their followers. Their information is believed to be original and dependable. Many followers will simply take their words to the bank.
Relevance: Popular and efficient influencers are mostly interested in a particular niche. They have a massive number of loyal followings on such topic and will wield a huge influence on any issue that concerns this bit.
Engaged Community: These guys regularly interact and engage with their audience on a regular basis. This is a huge leverage to appealing to their feelings.
Strong Appeals: Their knowledge and passion of the topic ensure they drive other influencers along their campaigns and drive actions from the buyers.
Precision of Reach: With their regular tools and social platforms, they are capable of reaching their audience like no one else. These audiences are already glued to their Twitter, Instagram, Facebook and Snapchat profiles. Thus, it takes them no time to get the messages across.
How Influencers are Transforming the Marketing Landscape
Actually, influencer marketing isn't really new in its core concept, but the application is what seemed to have changed. From time immemorial, humans have been known to listen more to people they can trust. That's why the concept of influencer marketing is thriving today.
Most successful influencers are those who have built relationships over time, and their audiences are treated like friends and partners.
The following should carefully highlight how influencer marketing is driving a huge change in the way marketing is done today.
Improve Search Engine Rankings
You should know that a huge chunk of search engine results come from user generated social posts and personal blogs. Getting the right influencers talking about your brand is a positive lead to a massive SEO boost.
The advantage of this, besides coming up as a top search result, is that the influencers' audiences are ready-made prospective clients as the topics posted will be more likely relevant to their needs.
Generate high-quality leads
Another way influencer marketing transforming marketing landscape is its ability to generate not just leads, but high-quality leads.
The unique point of this strategy is that the audience reached are also proven to be interested in your brand and products. You have the right audience in a massive number driven to undertake purchase decisions in a brand they were already interested in. It doesn't get any better.
Engage new, relevant audiences
The use of influencer marketing has recorded a huge success for people who are interested in your brand or widening their brand reach. Besides reaching audiences who are already familiar with your brand, influencer marketing can also help generate a huge brand awareness that breaks through every limit you've encountered in the past.
According to statistics from Influencer orchestration network, 92 percent of customers trust recommendations from individuals rather than from brands. It also said that 81 percent of marketers who use influencers for their campaigns judged it to be effective in driving quality engagement.
Lastly, the statistics illustrates that those using only content marketing had their engagement dropped by 60%, even when content production increased by 78%.
Drive conversions
This is one of the stages that have driven influencer marketing beyond the surface and made it extremely popular among advertisers. It doesn't just pull traffic; it carefully takes the audiences through steps and ensures you drive conversions eventually.
It is only a fraction of the job to create awareness. Getting people interested and driving patronage is the toughest part of all. Influencer marketing goes through all of these and even beyond to deliver the desired marketing results.
If you are considering turning awareness into action, influencer marketing has an incredible depth at generating conversions.
Build trust
It is natural that people trust those who have previously made a positive impact on their life's and still continue to bring value. For instance, look at the famous YouTuber vlogger, Roman Atwood, who produces daily videos of him and his family. Every day, kids and adults come back for another dose of positivity.
Influencers have already earned the trust of their following, so getting them to trust your brand gets a lot easier than using traditional advertising or generic content marketing.
Social Media Presence
Your brand will benefit greatly if a social media influencer pushes it online. Needless to say, you will hardly find an influencer who doesn't command a quality online presence today.
Consumers are consistently engaged on social media, and letting the influencer push your brand as a topic of discourse has an incredible potential of generating a lot of traffic, buzz and conversions for your business.
Though digital advertising works, you should understand that there are many ways to block ads. Obviously, there is no way to block promotions pushed by the influencer. Instead, people are willing to be a part of it. The connection is so real and staying out of a discourse driven by an influencer is like staying off the social media.
Quality Brand Presence at a low price
Remember, when your brand becomes a point of discourse on social media, it enjoys what we refer to technically as "going viral." Most of the people involved will be doing it free to be a part of the discourse, while many will recommend it to their families and friends.
Ultimately, your brand keeps going wide and deep even months after the initial mention by the influencer.
Influencer marketing is transforming marketing landscapes in a way that is beating marketing expectations. Your brand can take advantage of this rich depth and go viral.
How to find influencers in your niche?
No matter what niche you are in, there are influencers in every market you can imagine, anything from popular beauty bloggers, WordPress fanatics to content marketers.
Nevertheless, it's worth noting that influencers are busy people. They receive dozens of pitches every single day. Hence, come up with something creative and never unfold your cards during the first conversation.
Remember, as you're pitching an influencer, you should never start a conversation with asking them to do something for you. Instead, ask what you can do for them first. Whether that's a free product, financial incentive or a free service.
So, how do I find these influencers to pitch to?
As you may be aware, Twitter is a common marketplace for influencers and their audiences. Therefore, we'll be using 2 different tools to find influencers, Followerwonk and BuzzSumo.
Method 1 – Followerwonk
Developed by Moz, Followerwonk is a Twitter analytics tool.
First of all, register for a free account and connect your Twitter with Followerwonk.
Once you did that, proceed to the dashboard and click on 'Search Bios'. This will allow us to search for specific keywords.

Then, scroll down and enter your keyword. We'll be using "WordPress" to find influencers who are tweeting and sharing content around WordPress.
To input your criteria, hit 'More Options'.
We've added 50,000 as a minimum number of followers.

After that, simply scroll down to see a list of popular Twitter accounts that tweet about WordPress. The table can be sorted by the number of tweets, following, the number of followers, age and social authority.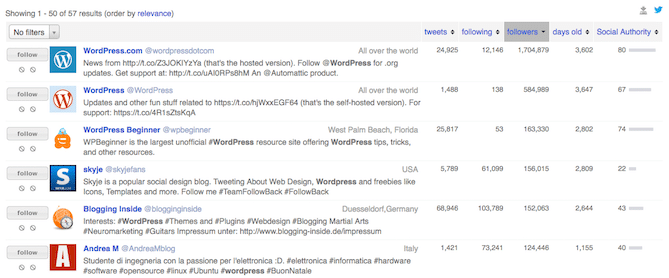 Method 2 – BuzzSumo
Not only this tool is great for finding topic ideas, identifying best performing content and analysing backlinks, it also has a handy feature to detect influencers by using search strings.
First, go ahead and register with BuzzSumo and start your 14-day free trial (no credit card required).
Once you did that, click on the "Influencers" tab and enter your keywords. In this case, we'll be finding influencers that relate to content marketing.
You can filter results by page & domain authority, a number of followers, retweet & reply ratio and more.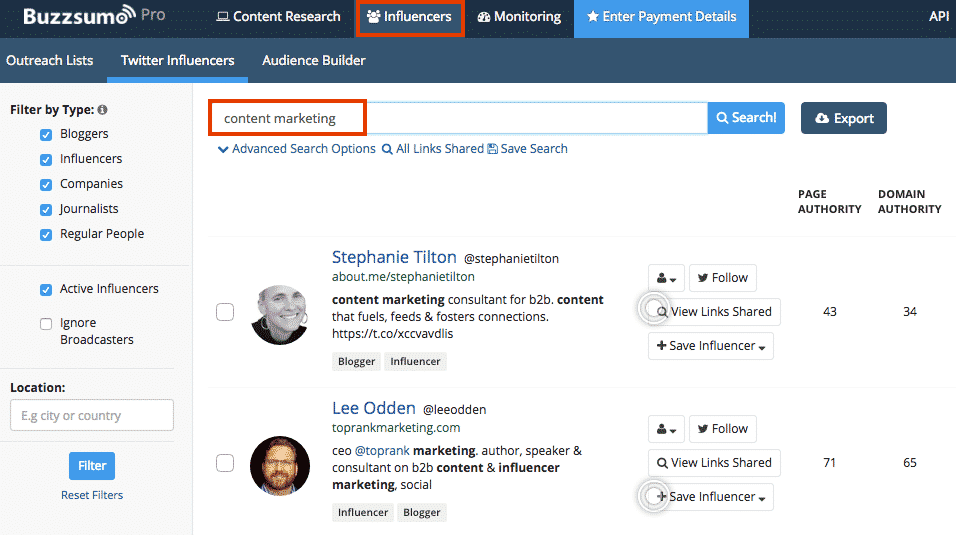 If your primary aim is to find individuals to engage with, you might want to exclude companies & journalists from your list. You can do that by unticking boxes in the left sidebar.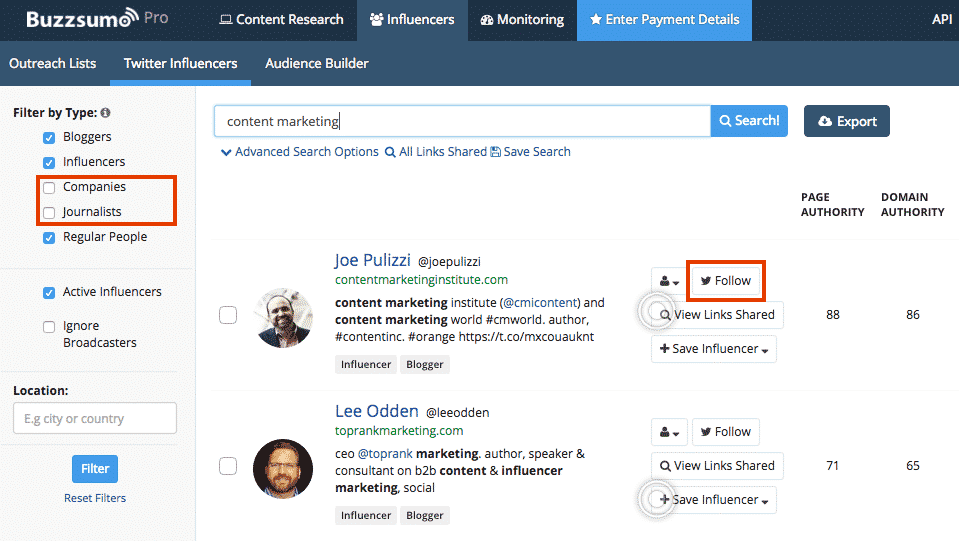 And here we are. We have Joe Pulizzi of CMI at the top of our list.
Once you are ready, follow the people you wish to interact with on Twitter directly from BuzzSumo or use a handy "Export" feature to get the details on a spreadsheet.