"When we say that Leadpages is the single greatest tool to transform clicks into customers—we mean it." The confidence on show within Leadpages' website is palpable, but it's not surprising. 
On Leadpages' homepage, wherever there's a boast about masses of clients (over 40,000 business owners, if you're looking for a ball-park figure) or supreme levels of service, a corroborating quote from a happy customer isn't far behind. 
Leadpages, a landing page building website powered by Avenue 81 Inc, is a leader in the field of lead generation – so it's reasonable to expect them to have an alluring website. 
Thanks to its dedicated client base, Leadpages has become one of the most popular marketing tools available online. But the world of marketing tools is a fiercely competitive one. With rivals like Unbounce and MailChimp breathing down their neck, could Leadpages lose ground over the year ahead? 
Here's a heavy delve into all things Leadpages. In this review, we'll be looking at the company as a whole and the quality of its services. So if you're looking for a website that'll help to make you more marketable to customers, sit tight – we may just have the answers you're looking for. 
Leadpages overview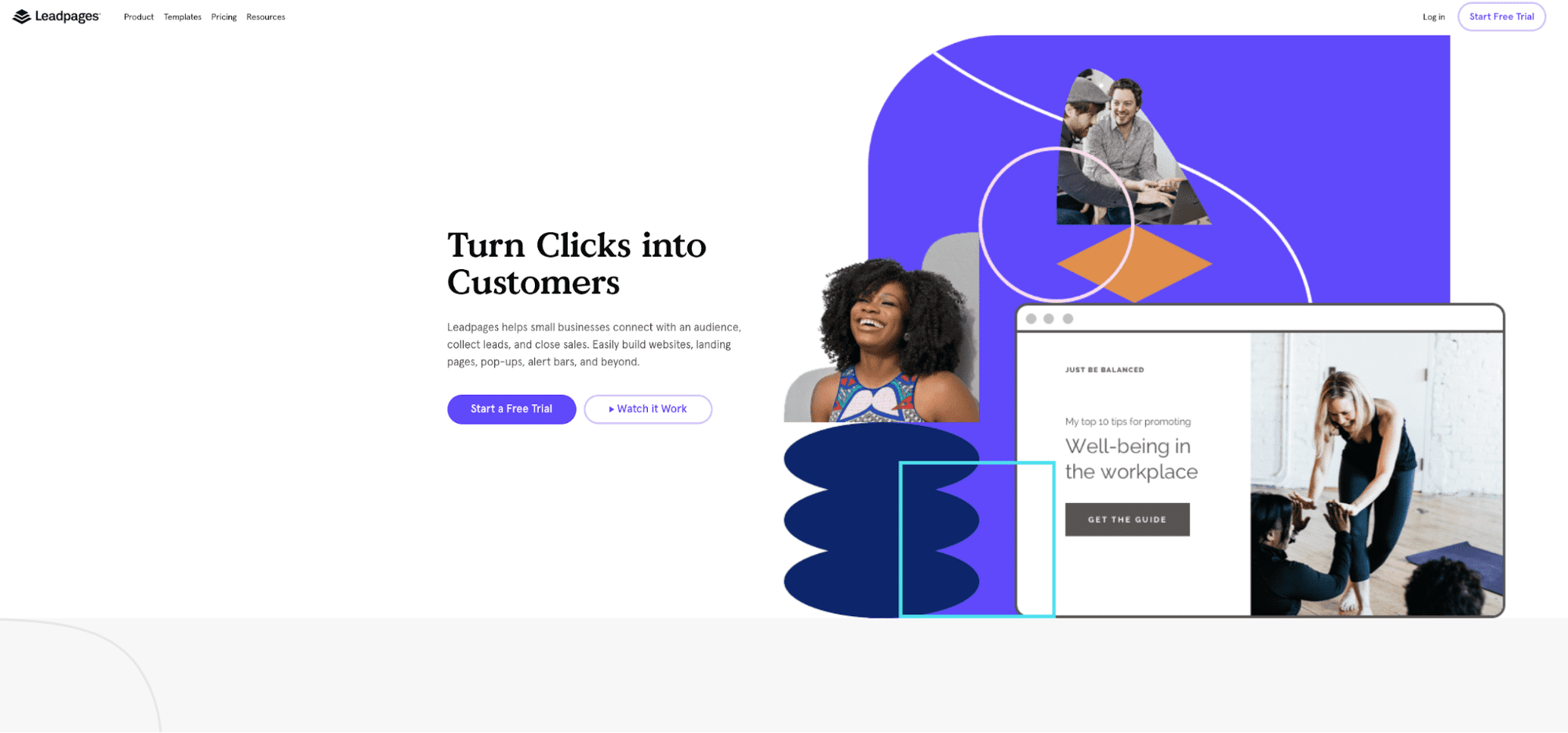 In a nutshell, Leadpages is a suite of web-based software that enables users to build their own optimised landing pages and Call-To-Actions – designed with the primary aim of collecting email addresses of website visitors. 
There are plenty of benefits that users enjoy by signing up to Leadpages, and these include access to over 130 professionally designed drag-and-drop landing page templates, an easy to use drag-and-drop editing suite in order to customise templates, the ability to test landing page designs, the opportunity to create timed exit intent and two-step opt-in Leadbox popups and many more perks.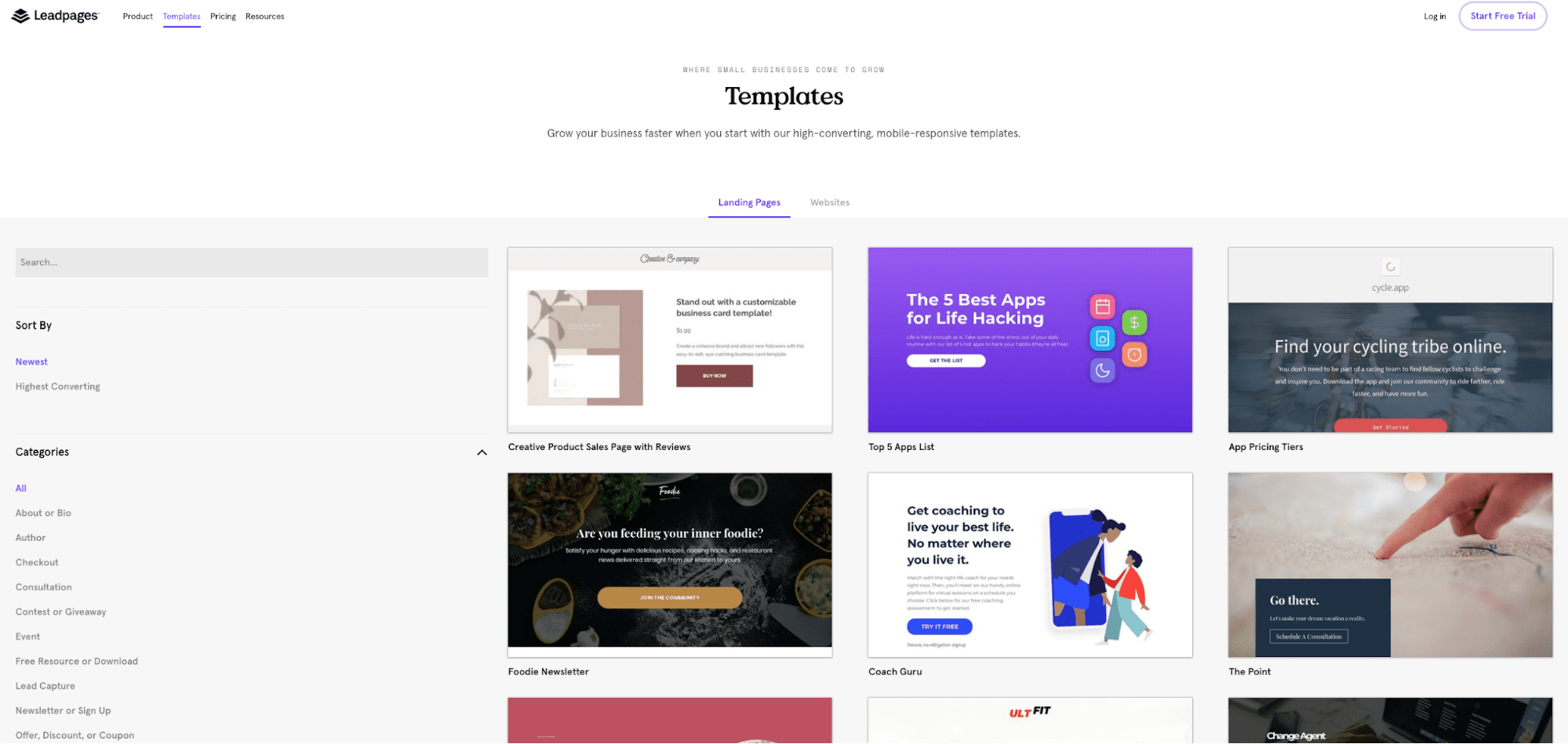 Leadpages' services are mobile-friendly and everything that gets created using the website will be optimised to run seamlessly on any device. The on-page editor makes it extremely easy for users to view their content at various sizes as well. 
The prominence of Leadpages is plain for everyone to see. With over 46,000 paying customers, it's likely that you've already come across a few landing pages powered by Leadpages already today. 
The company has gathered a small army of devotees, and regularly attracts recognition from some of the industry's biggest players in the SEO game. Even SEO guru Brian Dean reserved special praise for Leadpages' role in driving a 785% increase in conversions on the pages of his website, Backlinko. 
Such seismic boosts in conversion rates have only stoked interest from marketers and SEO practitioners alike over the power that Leadpages offers. Is it really possible for a website to experience an exponential boost in the volume of customer emails they attain all from a revamped landing page alongside a fresh Call-To-Action? Before we get to the bottom of this question, let's take a look at what makes landing pages so special when it comes to marketing to fresh faces. 
The art of the landing page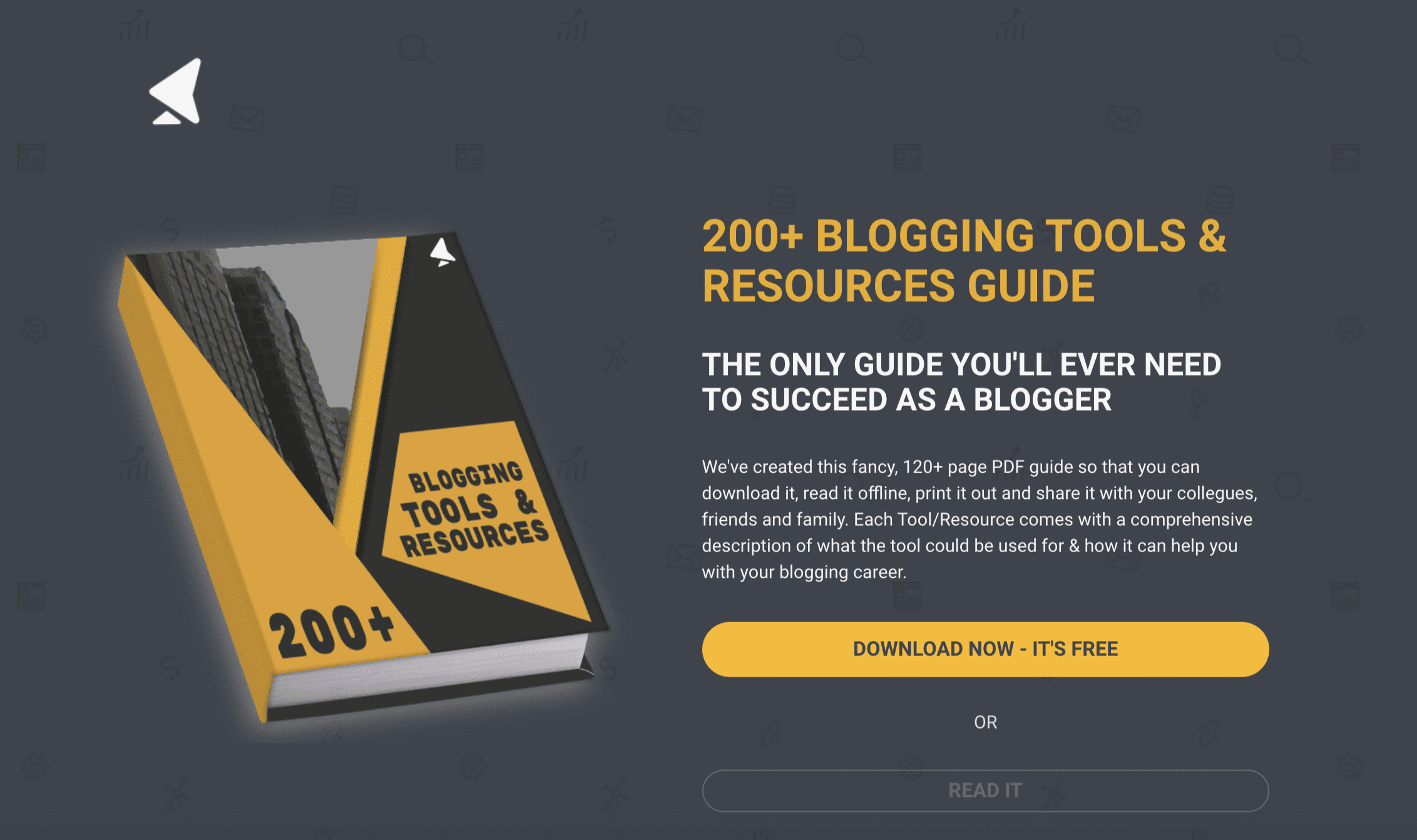 As Square2 explains, your website's landing page is "an indispensable part of inbound marketing, and specifically, of your lead generation efforts." 
Of course, it will be the first thing that visitors see when they navigate onto your website, but a good landing page has the potential to do so much more than simply represent the aesthetics of your site. 
Fundamentally, most websites have two core purposes: to drive traffic and encourage conversions. Landing pages are a vital component in achieving these purposes because of their potential to generate leads and convert them into both prospects and customers. Leadpages is great for capturing visitors' email addresses if you have something to offer.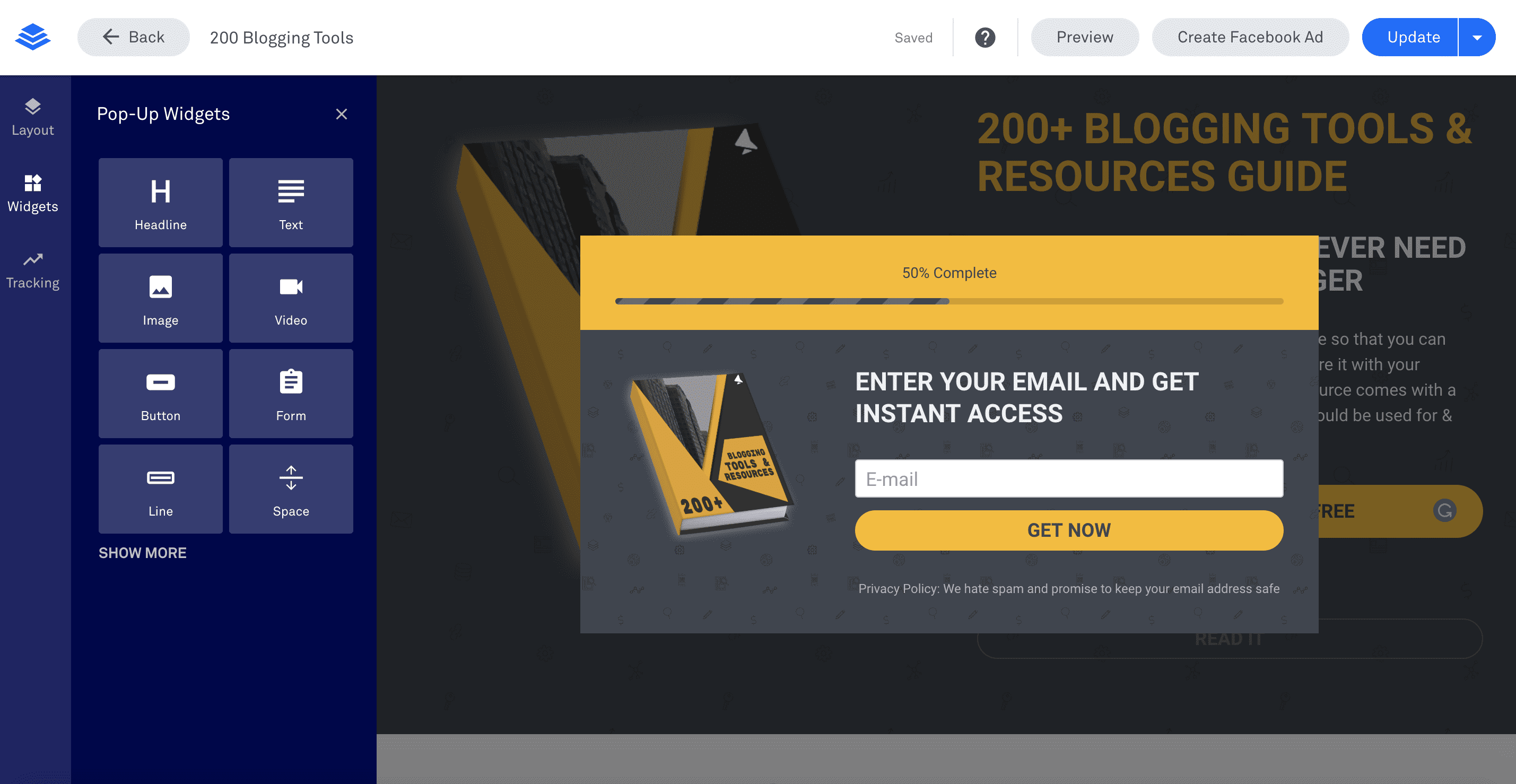 Studies show that marketers are able to capture leads at higher rates by sending them to dedicated landing pages, rather than simply sending traffic directly to a homepage. Due to their pivotal role in providing your website with an unmissable prompt for visitors to subscribe, or book a free trial, or take a tour of your website, it's fair to say that your landing page is the simplest, most effective way to generate leads for your sales team. 
Well-thought-out landing pages can also help you to collect vital information on the demographics of your visitors. By incentivising users to fill out a form embedded onto your landing page, you can learn more about key metrics like your average visitors' ages, their interests, needs and pain points – all of which can be invaluable when it comes to looking at how you can improve the user experience of your website. 
Another significant perk of an effective landing page for your website is the fact that visitors who navigate onto your website will be greeted by a screen that's free from the sort of distractions that can be ever-present above the fold of your homepage. In an effective landing page, you get to avoid the clutter of client testimonies and feature lists and appeal directly to prospective customers in a way that couldn't possibly go unnoticed. 
Due to their relatively succinct nature, landing pages are also great tools for fine-tuning your approach and condensing your offers into short, snappy sentences. This means that taglines and brief but punchy stats can make all the difference in a landing page – a great incentive for website owners who are eager to use some favourable statistics to help drive conversions. 
Fundamentally, the greatest appeal in using landing pages comes from how risk-free they are. Metrics are regularly on-hand to tell you if your approach is working and whether visitors are responding positively to your specific offers or choice in button text. 
Thanks to such deep levels of analysis that's on-hand for website owners, the danger of getting your landing page wrong is drastically minimalised. In the modern world of SEO-infused analytics, if you see that your new landing page is performing below expectations, simply make a few tweaks and road test a new and improved version – easy! 
How Leadpages works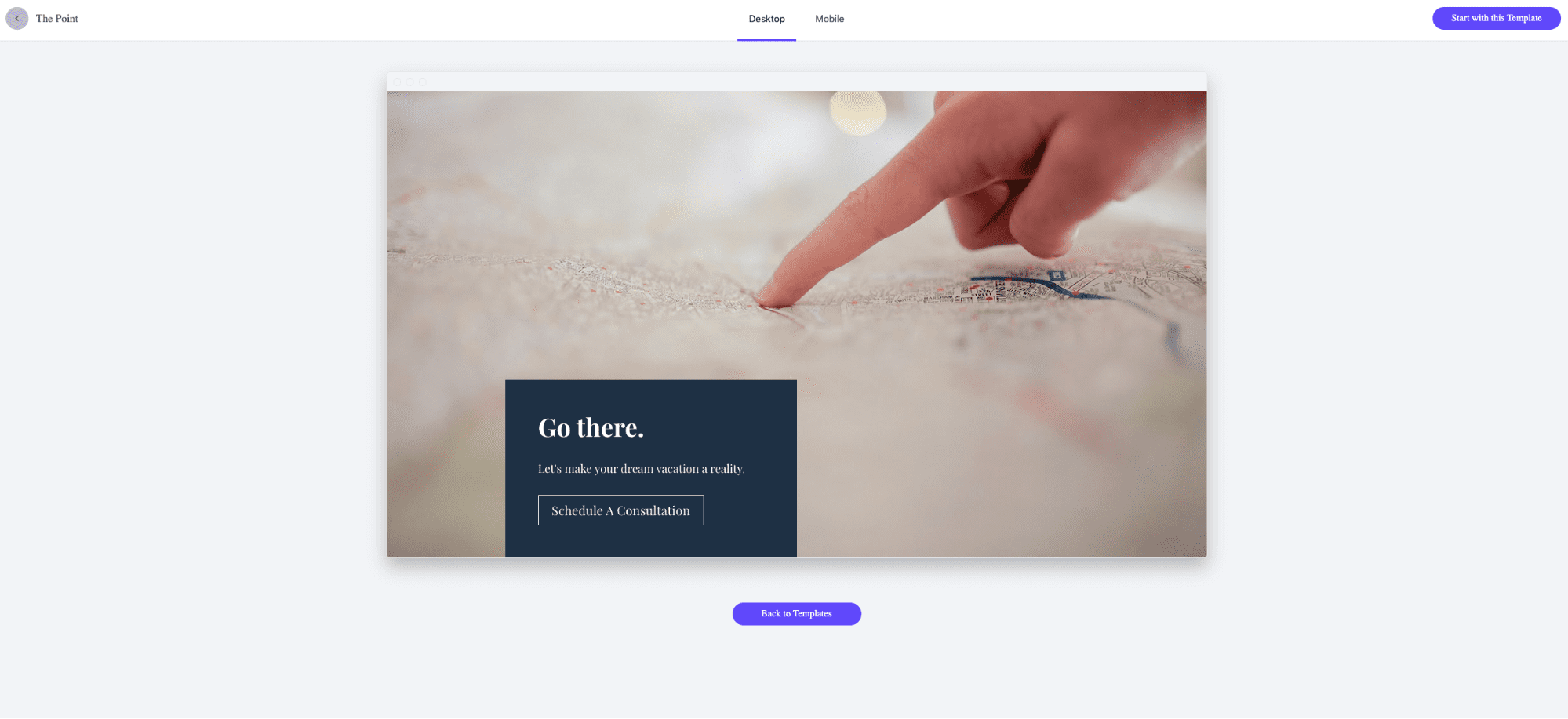 Back to Leadpages. The drag-and-drop format of this website makes it easy for intricate landing pages to be drafted up and tailor suited to the personal needs of each website owner it serves. 
Leadpages' wide range of landing page and website templates can be found a stone's throw away from its homepage, thanks to a dedicated hyperlink on the site's navigational bar. 
Here users will be able to take a glance at Leadpages' full back-catalogue of different landing page templates – along with a prominently positioned tagline inviting visitors to 'grow your business faster when you start with our high-converting, mobile-responsive templates.' 
While it doesn't always feel necessary to sit up and take notice of website marketing one-liners, it's poignant that Leadpages makes a strong reference to the mobile responsiveness of all its templates. In a world that's increasingly connected primarily through the use of handheld devices like smartphones and, to a lesser extent, tablets it's reassuring to know that mobile visitors will receive the same level of responsiveness as someone browsing on their PC.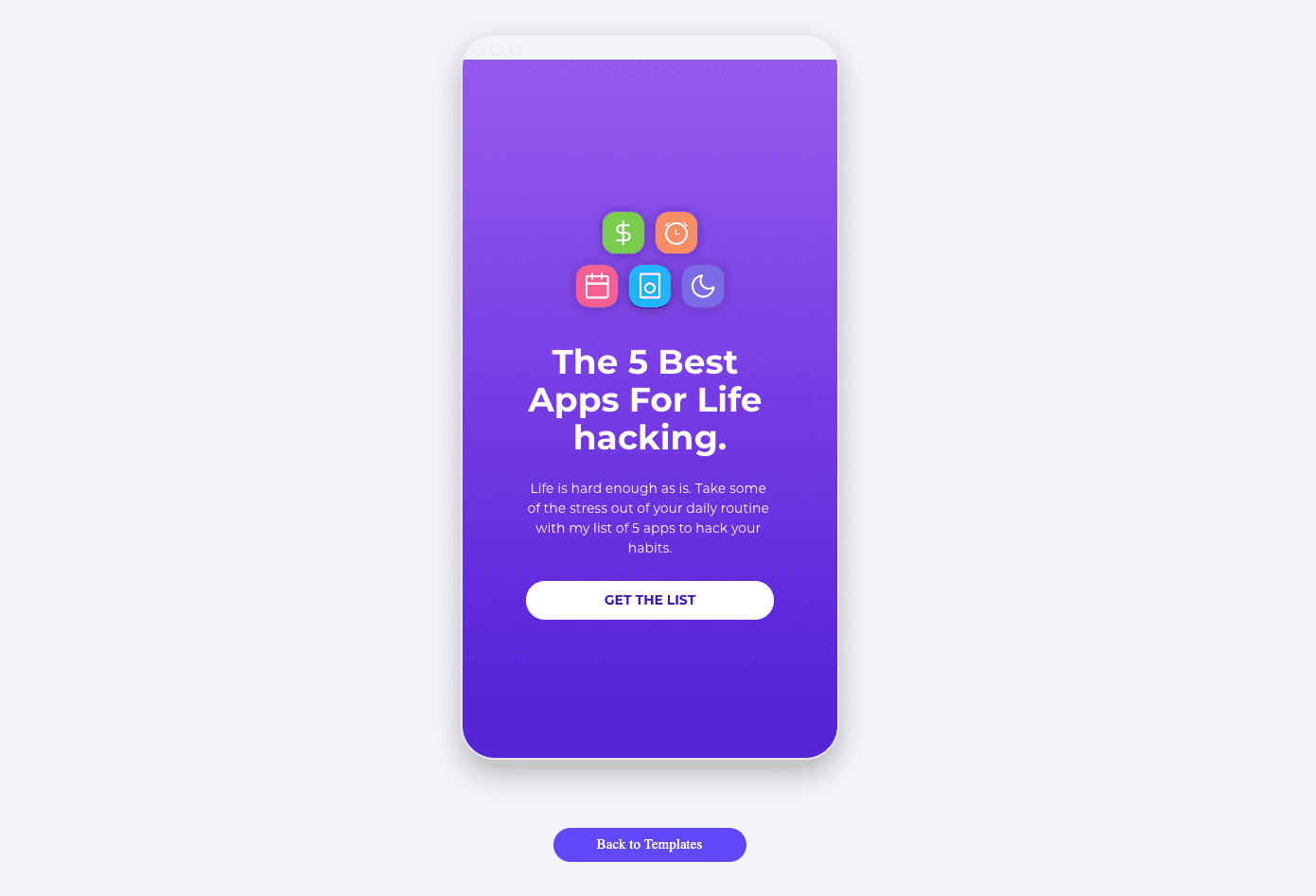 There are quite a few designs for users to choose from when deciding the landing page format that suits their business needs best – over 130 of them in fact. Luckily, to help bewildered users in making their decision, all of Leadpages' landing page and website templates are categorised based on the type of content they're designed to display to the visitor – whether it revolves around consultations, contests, free downloads, coming soon teasers and or plenty more options. 
Website owners can also browse Leadpages' catalogue of landing page templates based on the industry in which they're designed to appear. 
When you've spotted a landing page design that piques your interest, a single click will activate a working preview that's available to get to grips with. Leadpages offers up intuitive previews that are scrollable and are capable of being scaled to provide an illustration of what desktop users and mobile browsers will display for visitors. 
Of course, it's possible to build your landing page using a blank canvas as your foundation, but given the depth of options and editing available, this approach may be useful to experienced page builders primarily. 
Usability
Leadpages uses a smart drag-and-drop builder. While the website also offers users the opportunity to craft their landing pages through a more traditional editor – and it's certainly refreshing to be given a little bit of flexibility when it comes to how you create your pages – the ease of working in a drag-and-drop format is certainly preferable for users who are experienced using this type of tool.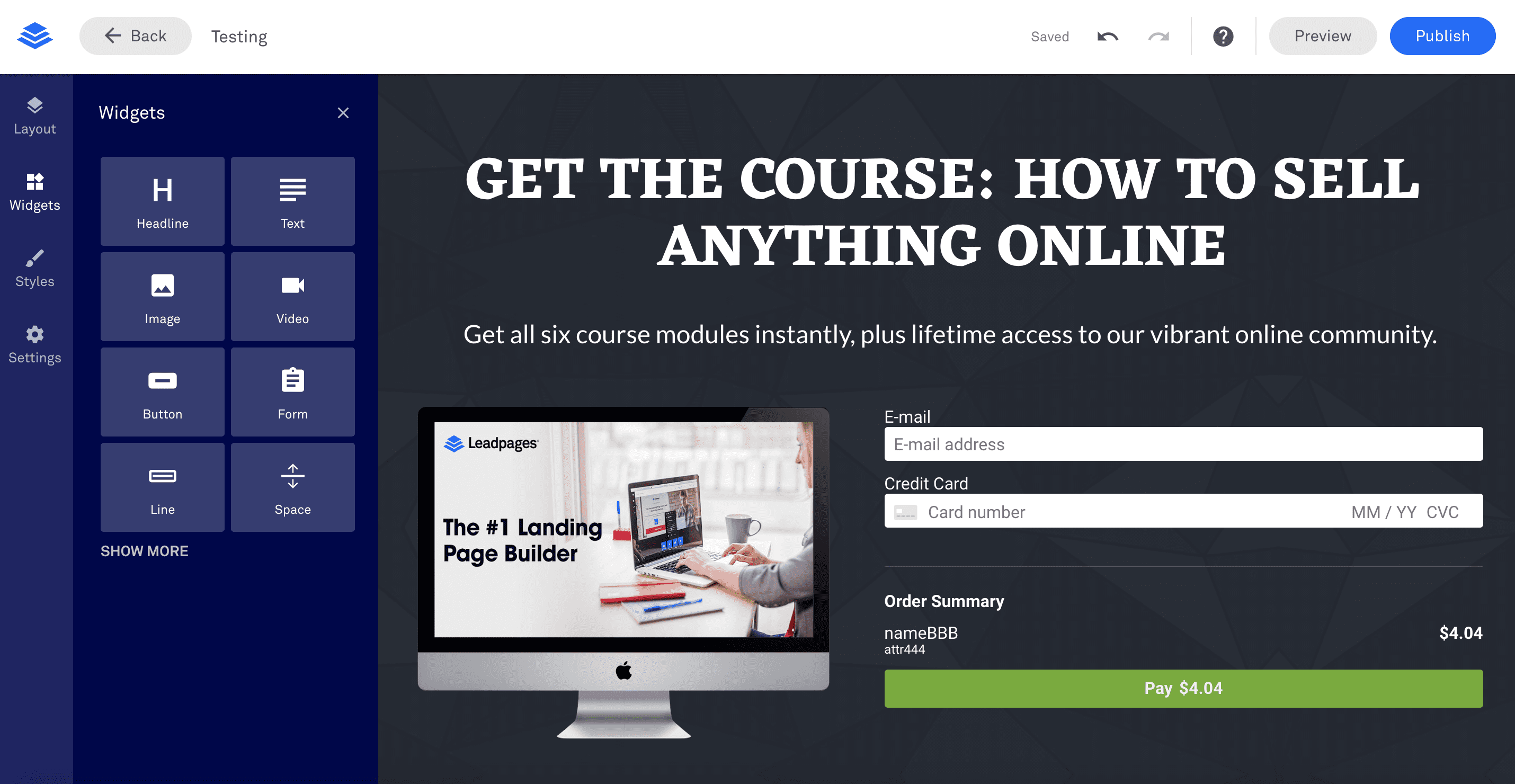 The range of templates offered by Leadpages definitely helps to set its services apart from competitors, and the variety of different themes and features preset into each template paves the way for an excellent user experience, regardless of their native industry. 
Once you've selected your favoured template, Leadpages' drag-and-drop builder kicks into action. When using the builder, users will see a live preview of their work on the right hand side of the screen, accompanied by a left sidebar choc-full of options and tools. Some notable functions include:
Widgets that help to smooth the page building process. If you want to add buttons, interactive features or opt-in forms, they can be added through the use of dedicated widgets. 
Page layout options which let you plot out your page using foundational grids that help to position content with rows and columns. 
Page styles tabs that enable you to customise your fonts, background images, colour schemes and plenty more aesthetics associated with your landing page.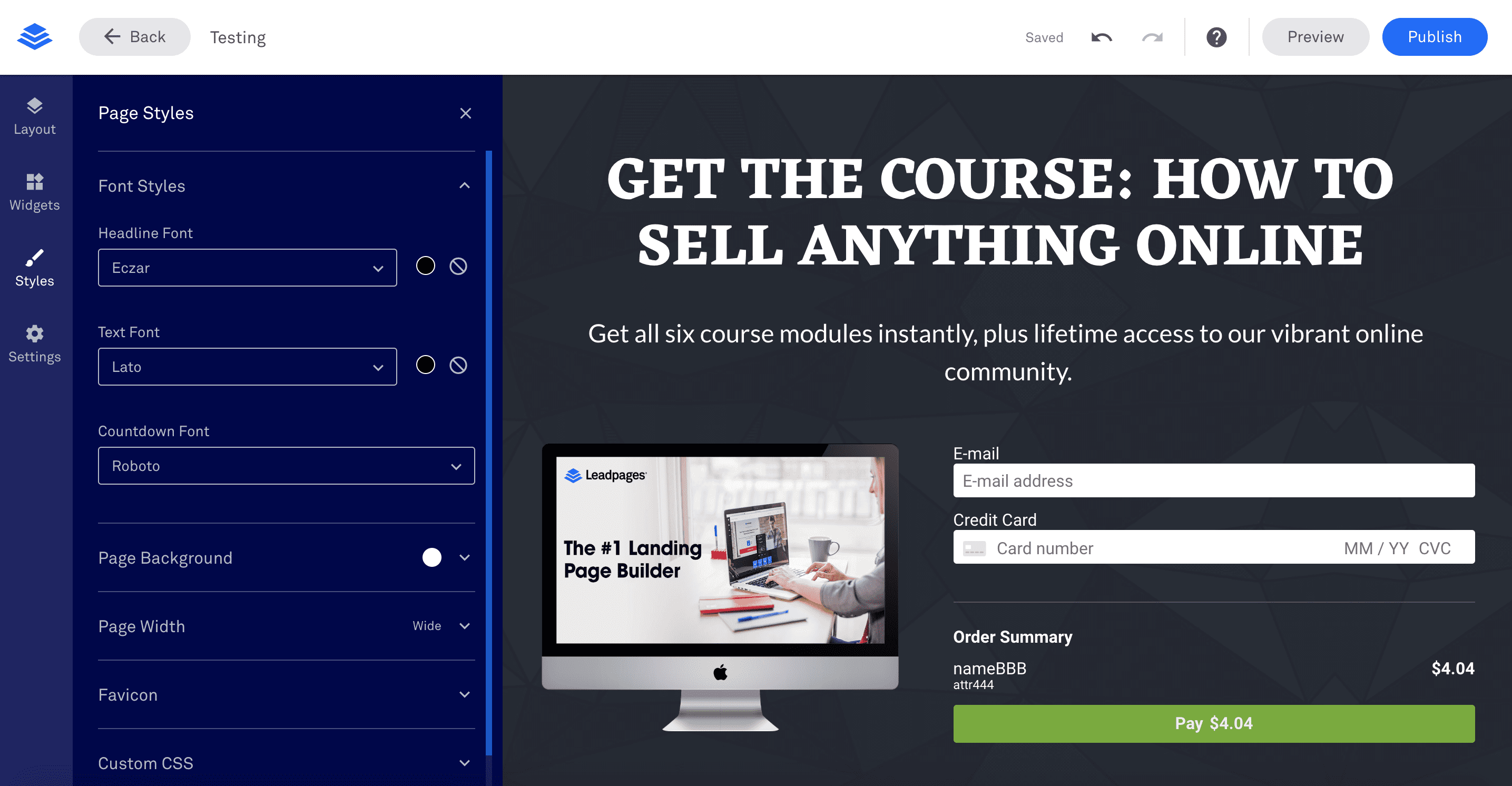 Page tracking which really helps you to get to grips with the SEO mechanics behind your page. Here, it's possible to set up your meta titles, tracking and analytics codes and monitor the performance of your landing pages – enabling A/B testing. 
Each function has its own range of dedicated settings that helps users to customise their experience in a way that suits them. 
Because of its drag-and-drop functionality, the Leadpages editor makes for an extremely easy-to-use tool. It might not be 100% free flowing like the dedicated builder for Instapage, but it's possible to move all of a page's contents by simply dragging them anywhere within a page. 
Leadpages' editor also allows users to resize their text, buttons and other content by simply clicking and dragging as if they were a browser window, for example. 
Significantly, the ease of use within Leadpages' editor means that landing pages and Call-To-Actions can be crafted with absolutely no need for coding – leaving the whole process entirely accessible for users of varying competence levels when it comes to designing web pages. 
The convenience of the Leadpages editor is just as well, because it's not enough to simply use its suite of tools to craft landing pages – to get the most out of the site, it's important to tap into the wealth of Call-To-Action tools, too. 
A Call-To-Action is essential because it forces website visitors into making a decision rather than passively browsing pages. With the inclusion of a bright, shiny button, a prospective customer could either click to continue scrolling, or click to find out more instead. 
If a landing page doesn't feature a Call-To-Action, it's likely to be less effective when it comes to converting interest into purchases. So with this in mind, let's take a closer look at the Leadpages' button widget: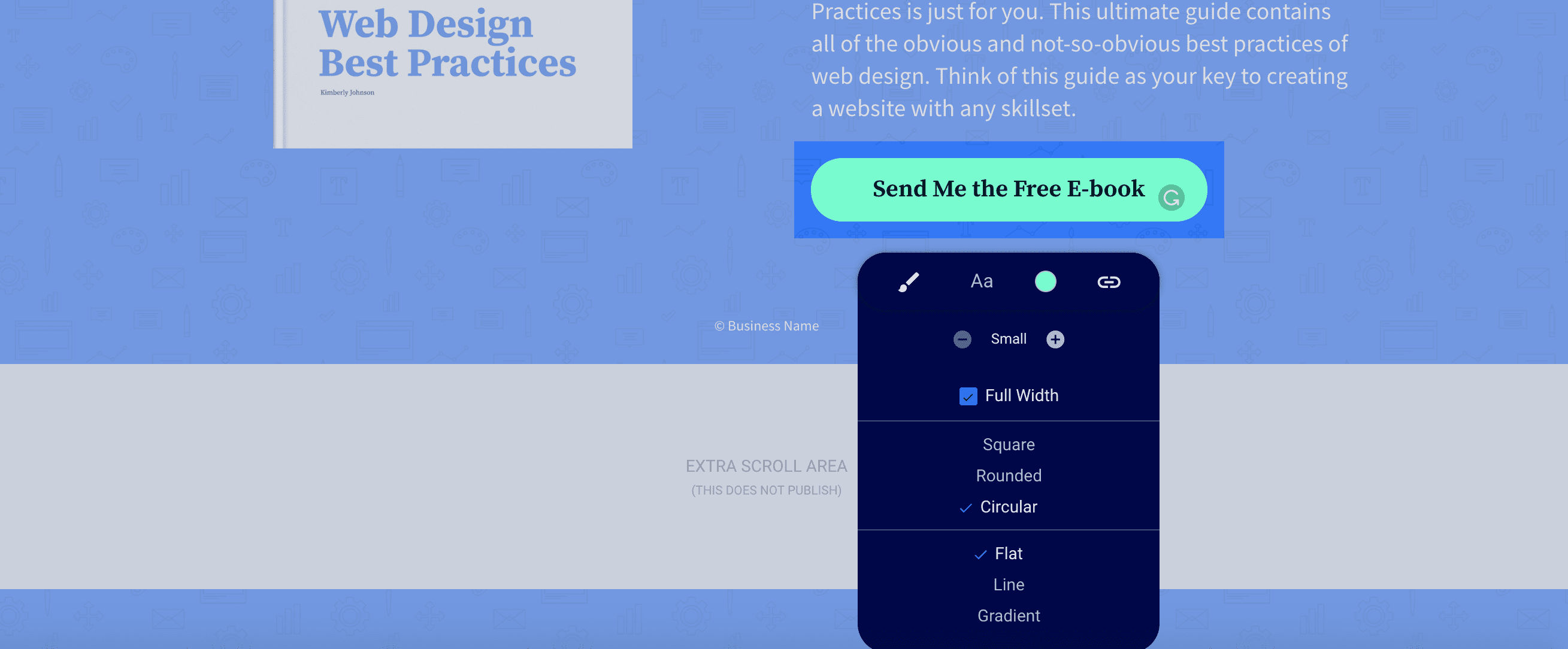 An array of options can be found when you click on any button widget on your landing page. Here you can edit your font and text sizes, as well as selecting the hyperlink that directs users to where you want them to go. 
However, the left option of the button widget may be of most interest to users. Here, it's possible to differentiate between different design styles using a host of preset functions that determine a button's shape, size and style. 
It's clear that Leadpages understand the value of an effective Call-To-Action, and clearly invested plenty of thought into setting up an intuitive suite of options for users – including hyperlink settings that are capable of easily transferring users to other landing pages designed through the site. 
Finally, it's worth taking a look at Leadpages' support for e-commerce stores. Setting up a checkout process for a website can be a tricky task for even the more experienced website builders among us – but through Leadpages' checkout widget, it's possible to direct users to a Stripe payment portal in just a matter of clicks: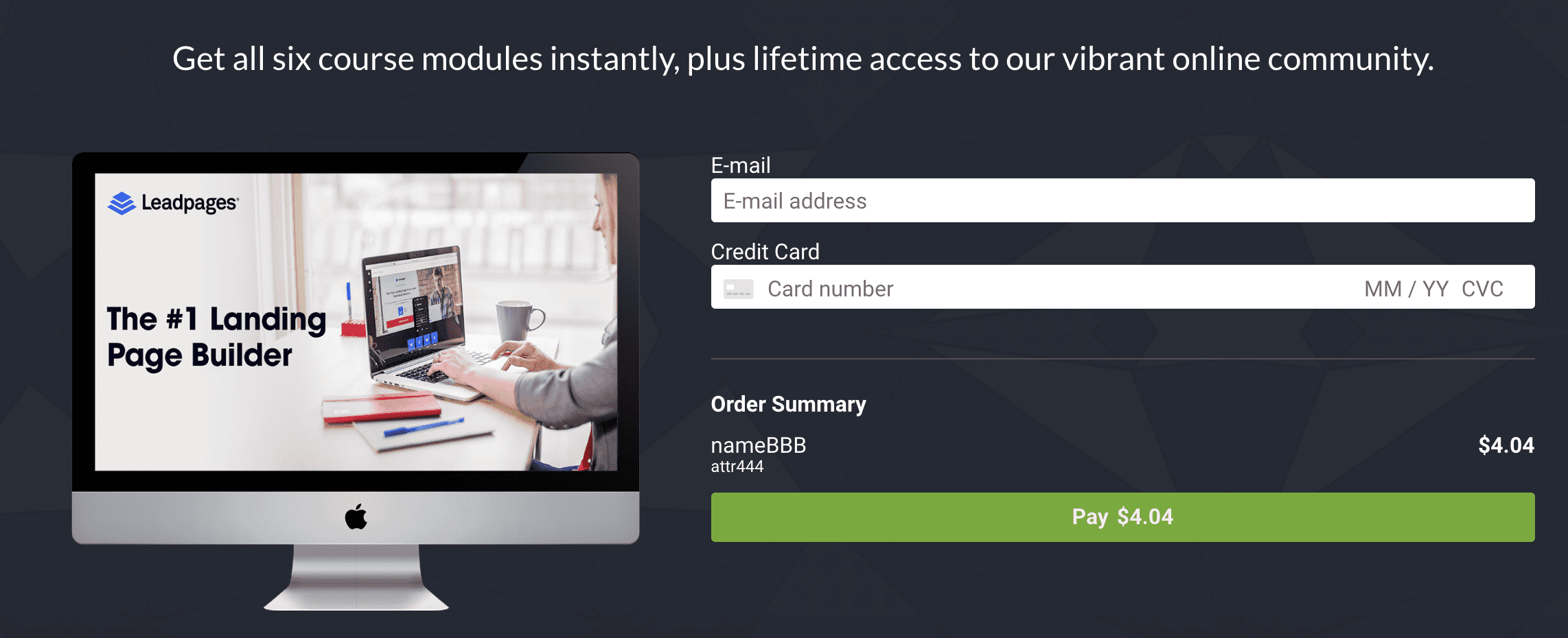 Thanks to this useful feature, it's possible for your website to easily run offers like '50% off eBooks' or various other cut-price deals as a means of encouraging purchases through your landing page. The checkout portal can also be useful in selling tickets for an event or webinar. 
According to BloggingWizard, there are even plans in the works for Leadpages to integrate upsells and downsells in the near future. 
Other features
Naturally, the clue's in the name. Leadpages' main strength comes from easy to create landing pages and Call-To-Actions that are capable of captivating target audiences and encouraging conversions.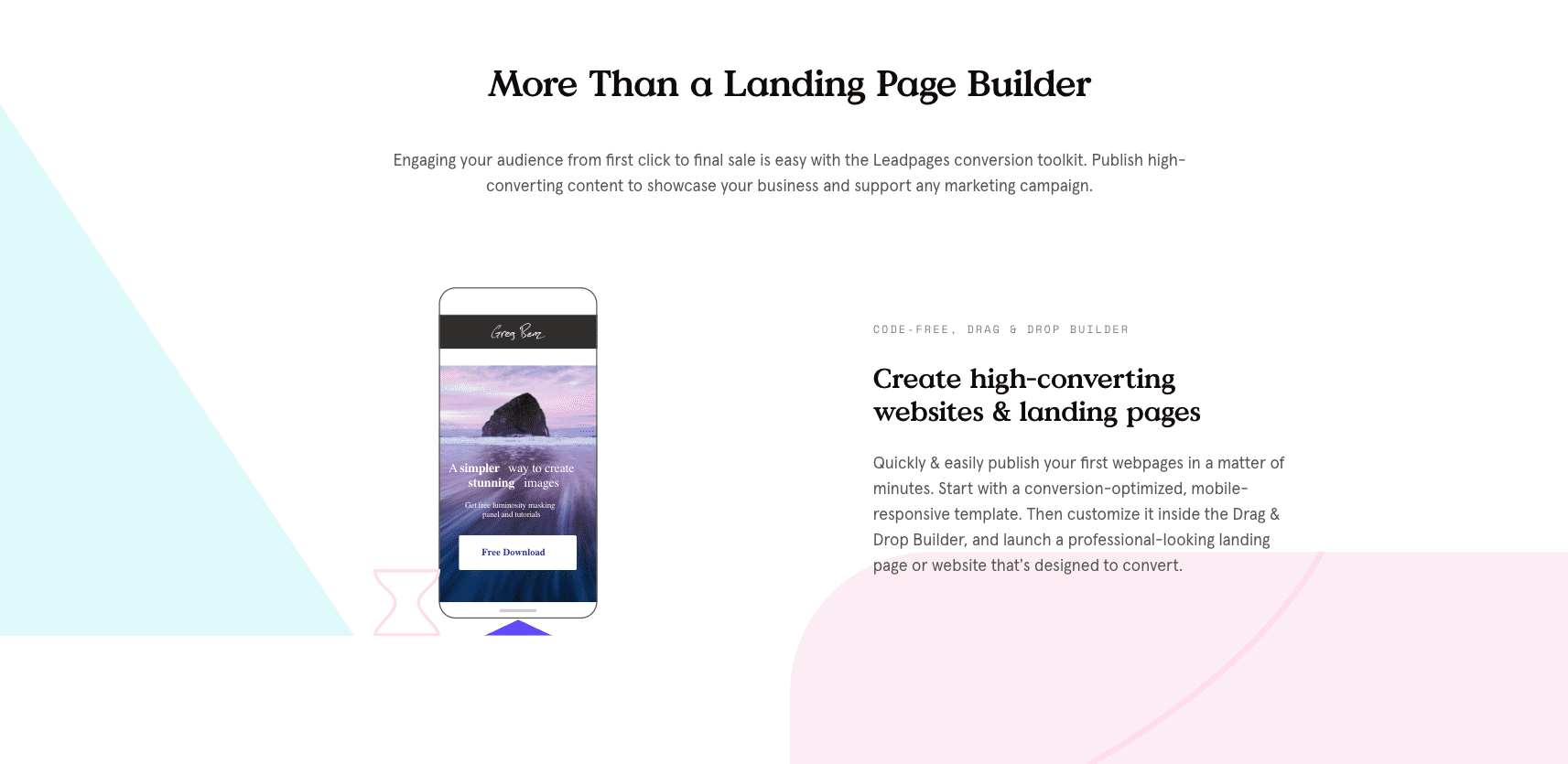 But there's much more to the website than that, just like there's much more to the world of digital marketing. 
Leadpages know this, and offer plenty more features as part of their package – helping to leverage more conversions and interest beyond your website's front door. Below are some highly useful other features showcased by Leadpages:
Advertising features take centre-stage with Leadpages, and the website enables for every Facebook or Instagram ad taken out through the website, a Facebook Pixel is automatically embedded in a prime location as a way of enabling users to track their results and optimise future advertising campaigns. 
Along with Leadpages' Facebook and Instagram ad builder, all advertising campaigns come pre-populated with 'message-matching' content that's taken from your landing page. This function is great in helping users to maintain a consistent voice throughout their content. However, if you're looking to take on a slightly different stance within the text of your landing page, all campaigns are entirely customisable. 
Technical guarantees are everywhere within Leadpages' features. Users are given a 99.9% uptime guarantee along with 'industry leading' loading speeds. All work conducted on Leadpages is automatically saved online as soon as a change is detected and all leads are stored in a backup .CSV file. Furthermore, Leadpages promises that all pages completed on its website are mobile responsive. 
SEO-friendly pages are essential to all websites looking to gain ground on competitors, and Leadpages cater to this need very well. Here, users can find an array of SEO-friendly templates that have easy-to-edit metadata fields to help improve visibility on search engines. 
Clear campaign ROI eliminates the need for spreadsheets and guesswork when it comes to monitoring your campaign performance. Thanks to Leadpages' built-in analytics, it's possible to gain a full picture on how your landing pages are performing – helping you to understand what's working and what could do with some improvement here or there. 
10 Opt-in text campaigns allows a refreshing level of cross-platform functionality. Here you can use SMS text messages to make it easy for your target audiences to opt into receiving a digital file or subscribe to your newsletter (via LeadDigits).
Email trigger links help users to easily engage their existing subscribers by including one-click trigger links within emails (via LeadLinks). Using this feature, it's possible to seamlessly sign visitors up to specified events or subscriber lists. 
Shutterstock Premium Images are fully integrated into the framework of Leadpages. Meaning that users can purchase their images and include them into any landing page design with ease. 
Custom branding allows users to customise every page and popup they design through Leadpages with their website's logo and taglines. Leadpages will even remember your business' color schemes and preload them into any pages you design. 
Video embed widget features can really help bring your Call-To-Action to life. Leadpages enables the use of embedding videos from sites like YouTube and Wistia directly onto your pages and popups. 
40+ standard integrations make it easy to connect your favorite marketing and sales tools to your Leadpages content, too. Through these integrations you can direct leads to your ESP, CRM and webinar app as well as much more. 
Quality of support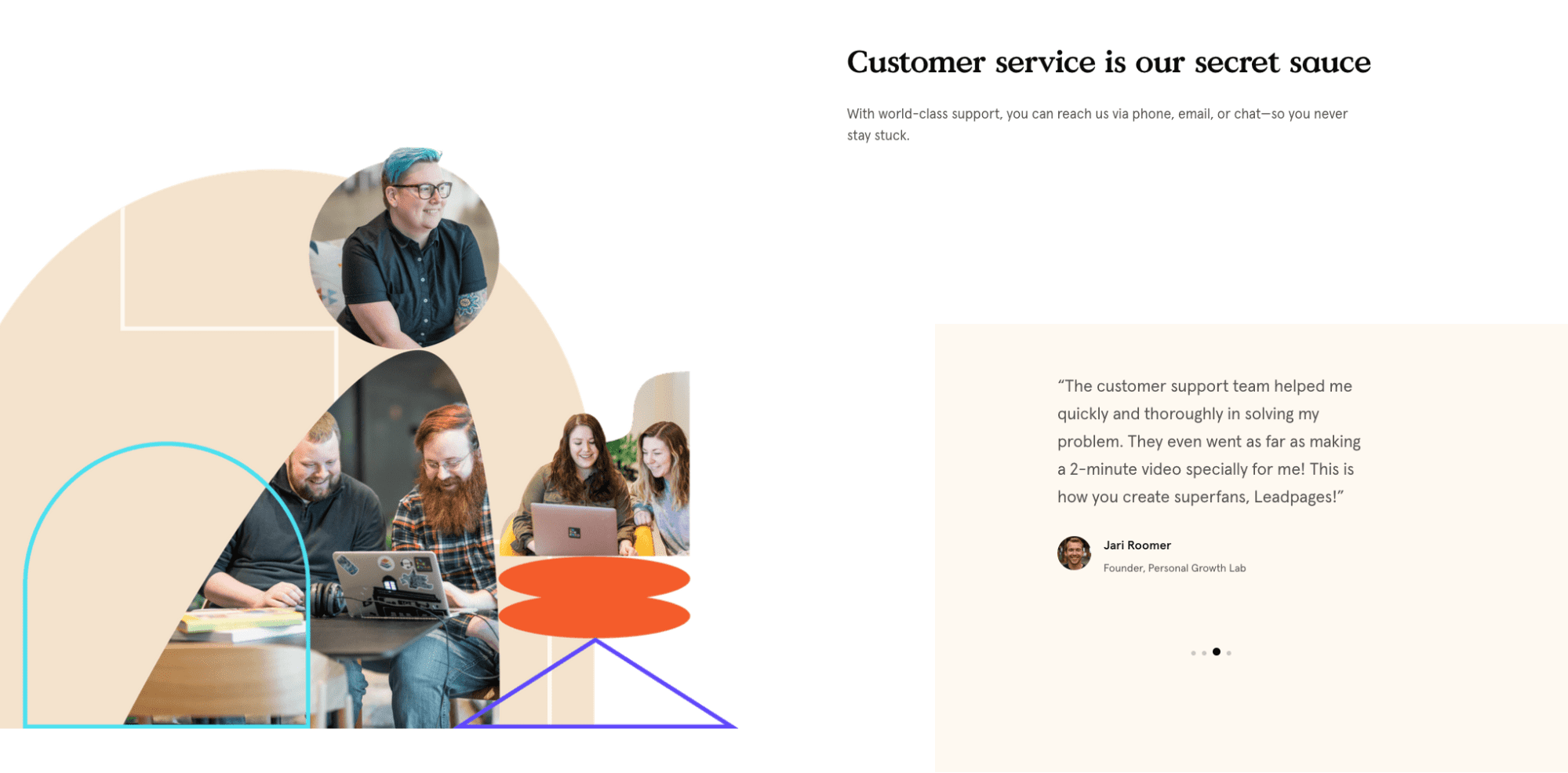 Leadpages has spared no expense when it comes to offering unparalleled levels of support for users. 
If you're inexperienced with the dynamic and challenging world of landing pages and CAll-To-Actions, Leadpages offers a great 1-on-1 quick start call feature that enables users to communicate directly with a dedicated launch specialist who will guide them through the process of setting up their account and getting them up and running with the suite of services at their disposal. 
Some landing page building sites may leave users to fend for themselves once they've bought into the service and began building their pages. But not here – Leadpages offer a range of exclusive virtual workshops that are designed to help users to get the most out of the features and functions on site. The workshops commonly feature plenty of industry professional insights that aim to compliment your marketing nouse with little chance of any user being left behind. 
Furthermore, Leadpages offers Q&A live coaching sessions every week. Basically, if you're willing to invest the time into developing your skills in this industry, Leadpages can transform you into a lead-generating guru regardless of your level of experience. 
Away from the highly useful array of confidence-building educational support, Leadpages offers the kind of customer care that's to be expected from a competent digital marketing suite. Users are free to get in touch through the medium of telephone, email and on-site chatbots at all hours, and "real-human" technical support specialists are available to help out with any problems you may be having online. 
Leadpages also has you covered it you're looking for a quick troubleshooting solution. Their on-site support articles offer dozens of answers to common and less-common problems that users may experience through their use of the website's services. 
Sizing up the competition
Unbounce was one of the earliest arrivals into the world of landing page creation. As a result, they've had a healthy amount of time to invest into creating a successful formula of delivering intuitive landing page layouts and templates at credible prices. 
Weighing in at a cost of around $79 per month for their 'essential' level subscription (catering to websites accumulating up to 500k visitors monthly), Unbounce is more expensive than Leadpages but still a fairly priced service for serious marketers. 
Unbounce boasts over 100 high quality templates. This figure doesn't match up to the likes of Leadpages, but all designs are available at no extra cost – whereas Leadpages can carry some extra charges for certain designs. 
One key strength Unbounce has over Leadpages is the freedom that comes with its dedicated drag-and-drop customisation tools. Where Leadpages uses a grid-system to pin text boxes and buttons within its layouts, Unbounce allows users to move their landing page content wherever they like. 
It's fair to say that Leadpages still rules the roost here in terms of its vast array of features, and the sheer volume of template designs at the users' disposal can be advantageous – even if the quality of designs does vary in places.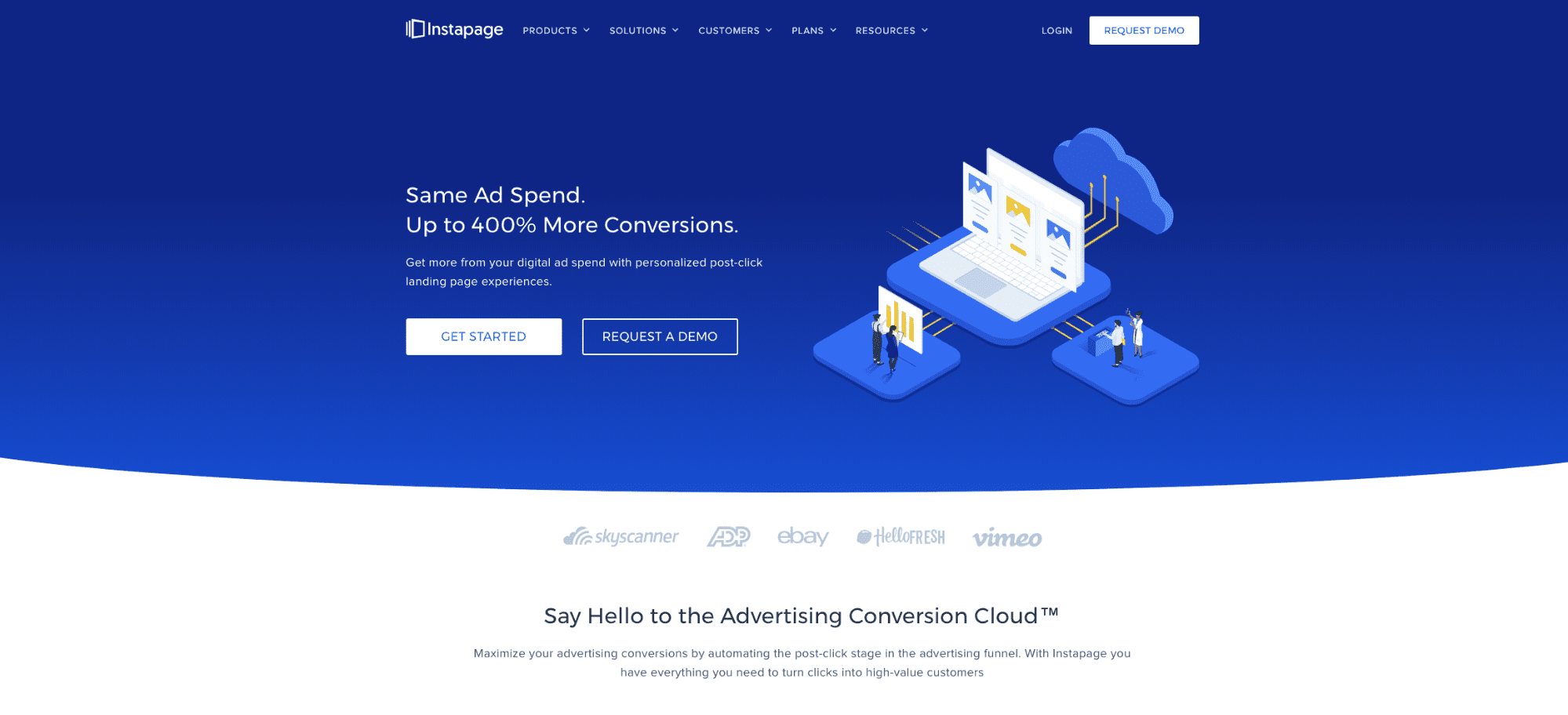 Another tool that offers more flexibility in the customisation of its landing pages is Instapage. At a cost of $149 per month for its 'business' level of subscription (catering to just 30k visitors a month and below), Instapage is pound-for-pound the most costly of Leadpages competitors here. 
Does Instapages' quality of service justify the hefty price? Well, with around 90 good quality templates available the quantity of landing page options is more limited than Leadpages, but feature no surcharges. 
Instapage's main strength can be found in the quality of analytics and reporting that's available alongside users' campaigns. Here, it's possible to not only fully track conversions but also access heatmaps that show where the most users typically click when viewing a landing page (however, this feature is exclusive to premium plans only). 
All Instapage subscription plans come with a healthy range of A/B testing options, which can be considered a strength when compared to the premium-only inclusion of the same functions within Leadpages. 
While Instapage is a good option that offers plenty of support for beginners alongside highly-flexible customisations tools, its price represents a significant increase on that of Leadpages. This coupled with a distinct lack of landing page templates can hinder the viability of Instapage as a cost-effective alternative.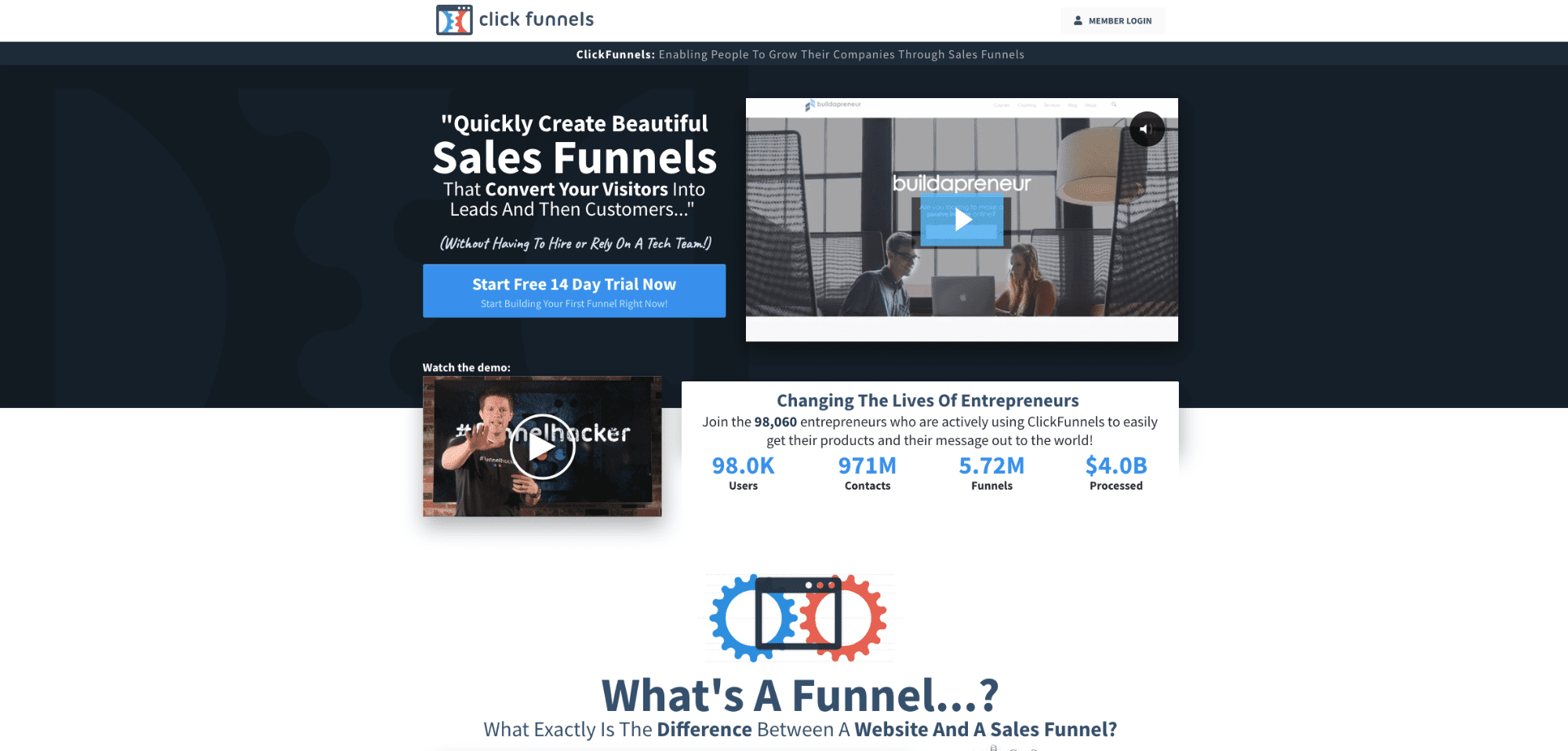 With pricing starting from $97 per month, ClickFunnels is another service that veers towards the more expensive side of the landing page design spectrum. However, it's clear to see that this website offers a few advantages over Leadpages. Specifically – and unsurprisingly – ClickFunnels allows users to not only generate a landing page but also the sales funnel that follows it. 
Leadpages still rules the roost here compared to ClickFunnels respectable but limited array of 100 landing page templates, and the service being limited to 20k visitors per month is paltry in comparison to Leadpages' limitless levels of prospective visitors. 
It's fair to say that ClickFunnels does hold some appeal to e-commerce website owners compared to Leadpages, but the service is somewhat limited in template options and restrictive traffic rates. That said, with nearly 100,000 active users of the software, ClickFunnels superior use of sales funnel integration clearly gives it the X factor for some users. 
Leadpages Pricing
As we've already touched on, Leadpages pricing gives it great appeal in the industry. The base rate of $25 per month is comparatively excellent value for a comprehensive suite of highly-useful tools. 
Many of Leadpages user support features are included in basic plans, however the use of A/B testing is only available through the purchase of a pro subscription. 
If you're only after a website of your own, Leadpages has recently introduced a cut price subscription that enables new users to get started using its services for just $15 per month.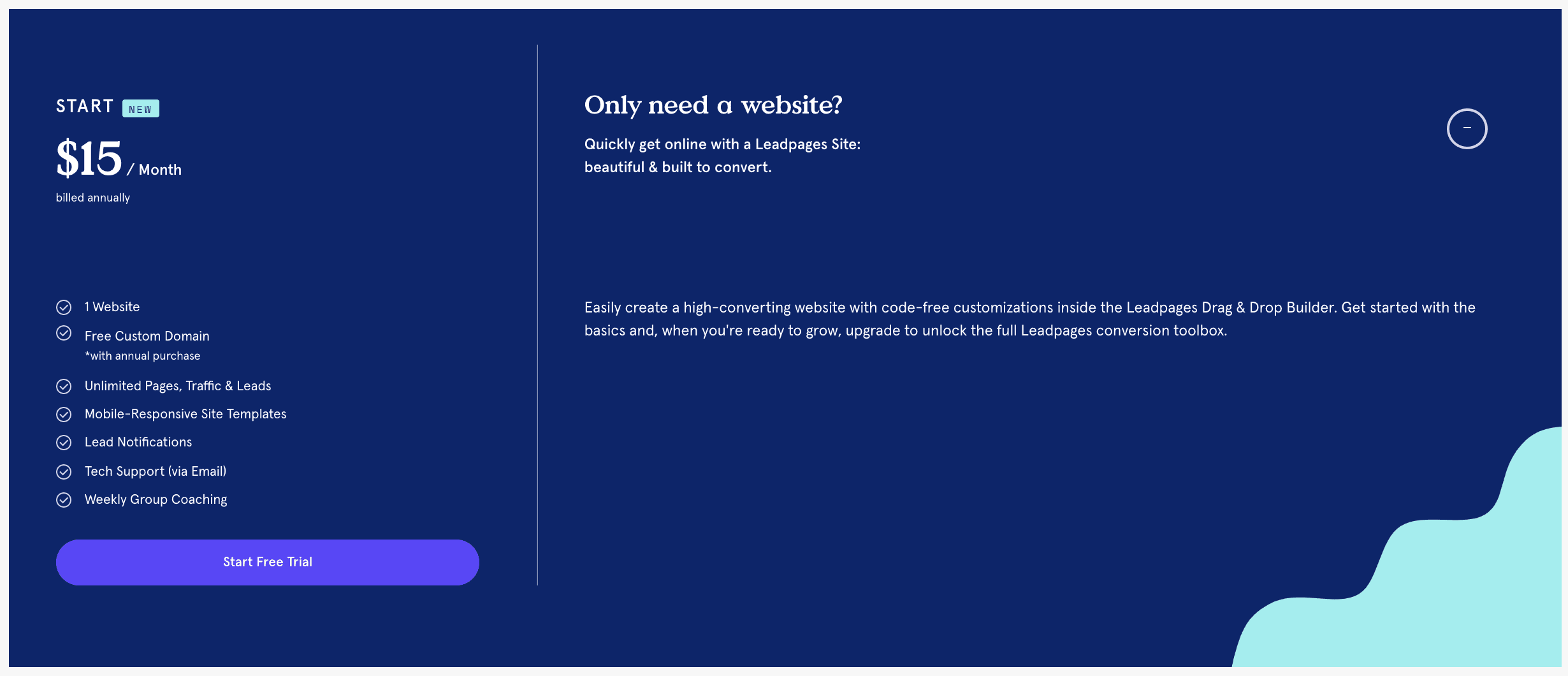 Leadpages subscriptions are billed annually or monthly, with monthly billed pricing starting at $37/month (or $19/month for just a website). 
Leadpages Pricing (Billed Monthly):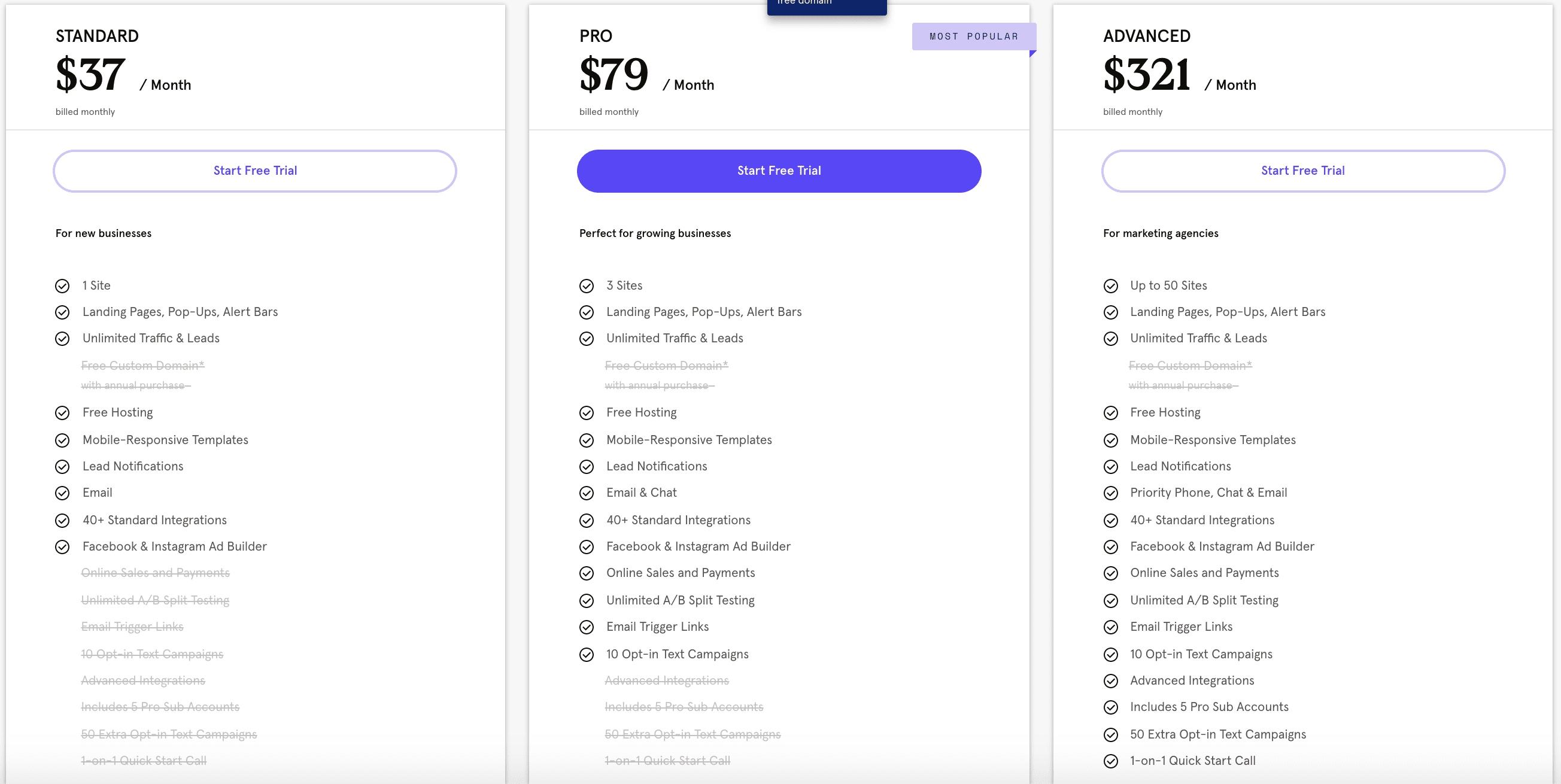 Leadpages Pricing (Billed Annually):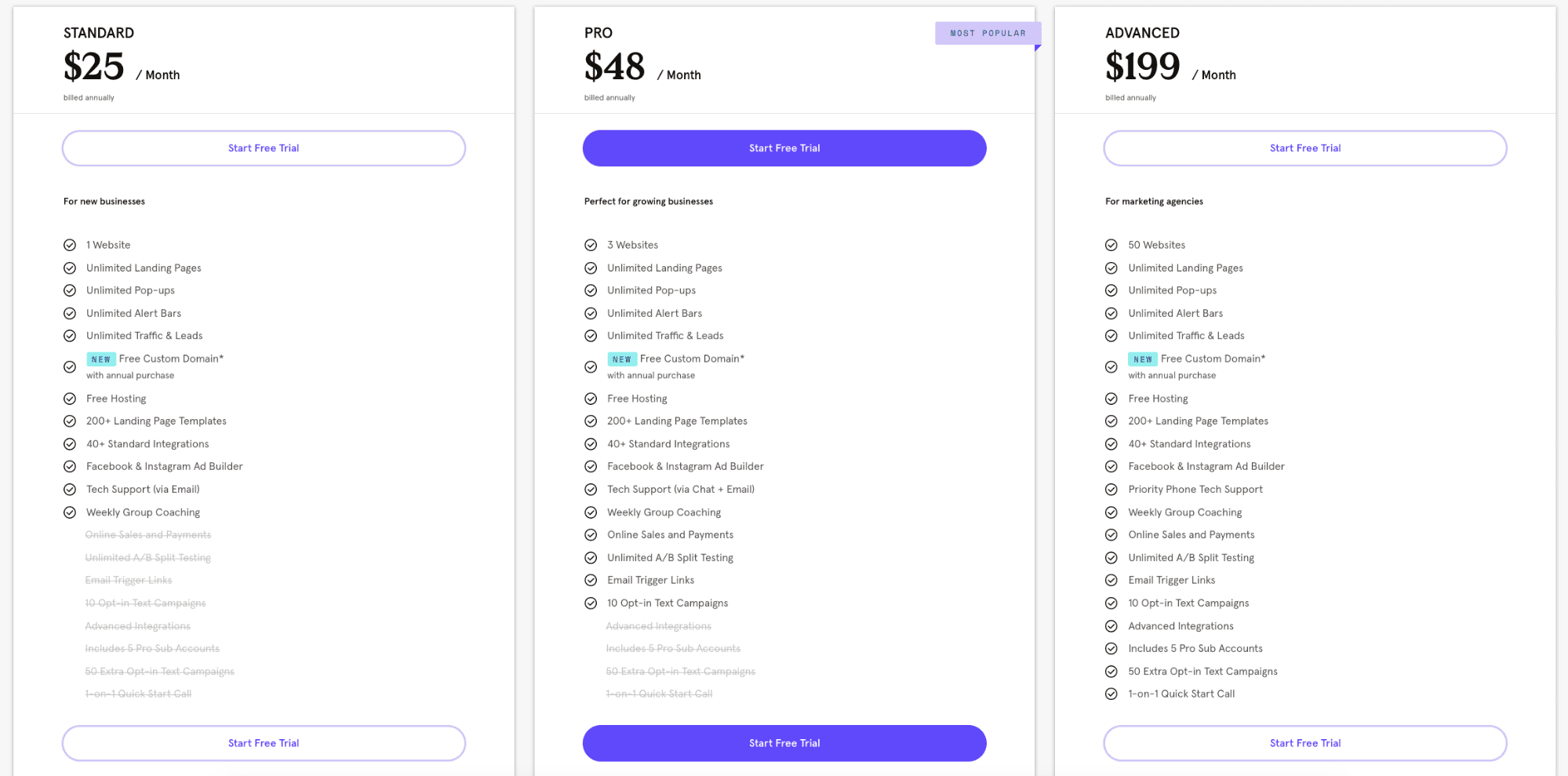 While many marketing suites are offering their services at higher rates alongside capped traffic allowances, Leadpages have opened to door to subscribers with unlimited levels of traffic from an excellent $25 per month. This price coupled with the sizeable array of landing page templates that are available means that Leadpages can be regarded as one of the very best cost-effective solutions online. 
Conclusion
The world of marketing can be a daunting and unforgiving place. While there are plenty of solutions available when it comes to optimising your website in attracting conversions and subscriptions, there are few services out there that cater to such a wide range of experience levels at such a competitive price than Leadpages. 
To access a healthy array of functions and support, it costs a comparatively paltry $25 per month, and for the price users can tap into a vast selection of landing page templates and get to work on their Call-To-Actions. 
Yes, the customisation tools might be a little more rigid than, say Unbounce, and there might not be as much sales funnel functionality in comparison to ClickFunnels, but there's no shortage of designs and integrations on hand to help you to forget any perceived shortcomings. 
If you're a beginner in the marketing and converting landscape, Leadpages' network of digital workshops and live Q&A sessions with experts can transform you into a marketing guru in a matter of weeks, while experts can rest easy knowing their creations will be live 99.9% of the time and automatically backed up as soon as any changes are made. 
With the added bonus of a free trial to help users to make sure the service is right for them, there's little risk involved in taking the plunge with Leadpages. Whether you're looking to encourage mailing list sign-ups or aiming to directly boost your conversions – landing pages can be designed with customisable and eye-catching Call-To-Actions that command attention. 
With the added bonus of intuitive real-time analytics, you can quite literally craft your ideal landing page and then sit back and watch the conversions stack up.
Leadpages FAQ
What's Leadpages' pricing?
Leadpages Pricing (Billed Monthly):
Start: $19/month
Standard: $37/month
Pro: $79/month
Advanced: $321/month
Leadpages Pricing (Billed Annually):
Start: $15/month
Standard: $25/month
Pro: $48/month
Advanced: $199/month
Does Leadpages offer a free trial?
Yes, you can get 14 days of free trial.
Can I integrate Leadpages with WordPress?
Absolutely. Leadpages offers a WordPress plugin.
What are some Leadpages alternatives?
There're some decent alternatives to Leadpages, including Instapage, ClickFunnels, Unbounce and Optimizely.