Web hosting is a fiercely competitive business, and with so many companies trying to invent enticing offers to gain a foothold, it can sometimes be difficult to figure out what providers are best for you in the long run.
The minefield is made trickier to navigate by regimented long-term pricing plans that are designed to keep customers shackled to deals that they may grow to resent. Luckily there are some excellent web hosting providers out there that bill subscribers on a monthly basis. Here, we've decided to list the 17 best monthly billed providers for 2020, so that you'll never have to feel lost in a sea of boobytrapped offers and misleading marketing.
But first, here's a handy summary: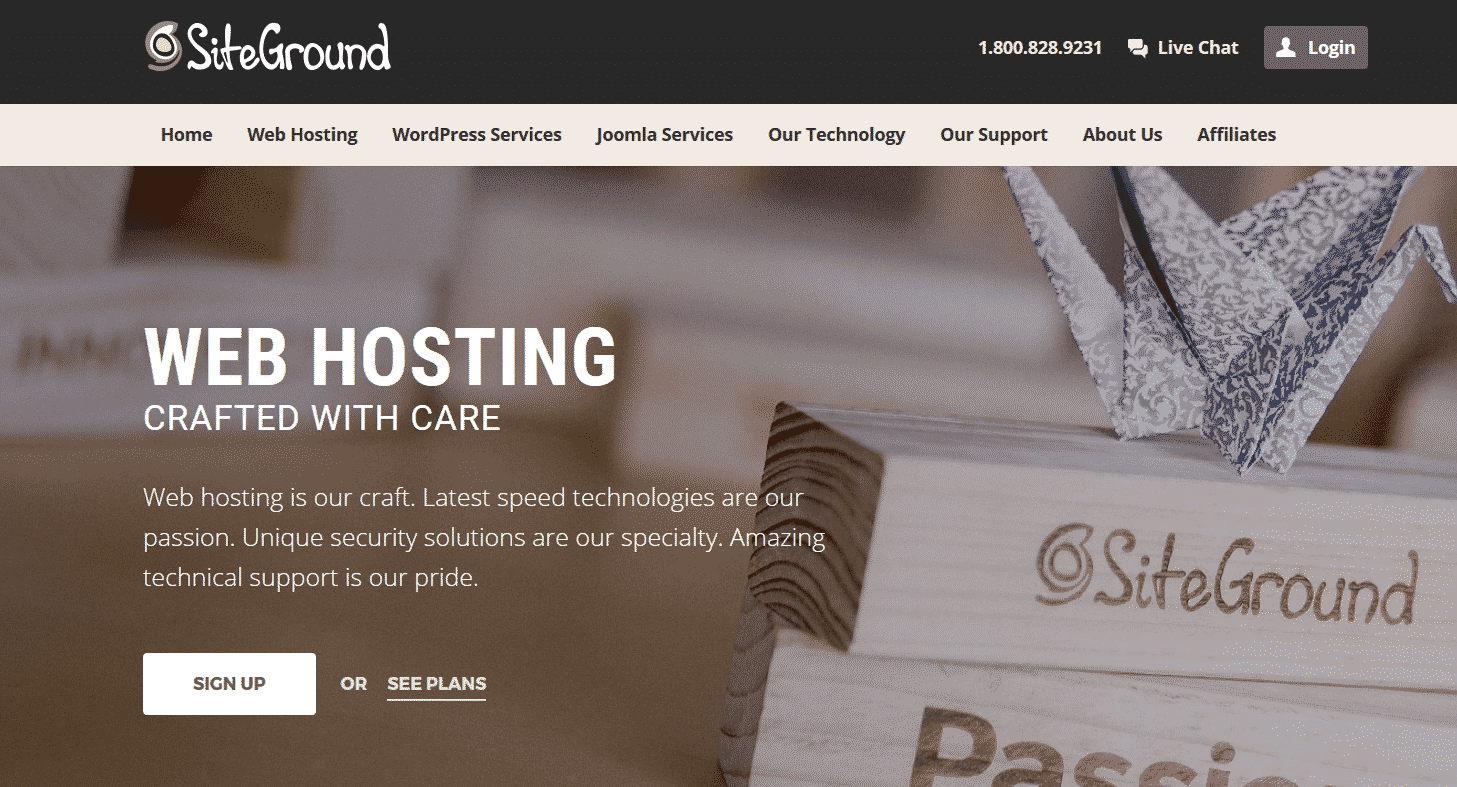 Usability is the key to success at SiteGround. The provider promises that it takes just three clicks to set up a website with them, and there's even an option for an advisor to give you a call to talk you through the process.
SiteGround operates with the popular cPanel user interface and utilises drag and drop functions to make the website construction process quick and easy.
The hosts offer three levels of coverage, with the reasonably priced £2.75 per month (excluding VAT) StartUp plan customers can expect 24/7 support, a 30-day money back guarantee and free automatic backups for your pages as standard.
More ambitious customers may find the £7.95 per month GoGeek service more appetising with e-commerce support and staging tools for WordPress and Joomla thrown into the bundle.
SiteGround's uptime counters provide reassurance that your website will be active without interruption. Their current uptime percentage for the previous 12 months stands at '99.996%' – a fairly emphatic figure.
With no less than eight levels of coverage available to customers, Kinsta really means it when their homepage claims that their premium WordPress-based hosting is designed "for everyone, small or large."
'premium' is a key word here, because monthly prices for the service begin at $30 and range to $900 for enterprise level subscriptions – but when you look at the perks that come along with a Kinsta account, the true value of the providers becomes clear.
Customers are presented with a choice of 15 Google Cloud Platform data centres worldwide from which to operate – with locations from Taiwan all the way to Sao Paulo covered.
Security also comes in the form of active and passive controls, daily backups, regular uptime checks and firewalls, for peace of mind.
Kinsta's allegiance with Google Cloud Platform also paves the way for lightning fast speed online, with MariaDB, PHP 7, Nginx and LXD containers working behind the scenes to bring swift loading times to sites.
Another useful perk of Kinsta's coverage is their optional add-ons packages. For an extra monthly cost, the providers can intertwine excellent services that can help websites deal with growth in popularity. Add-ons like Cloudflare Railgun speeds up network connections and Elasticsearch provides in-depth analytics associated with web performance – and there are many more useful extras to explore.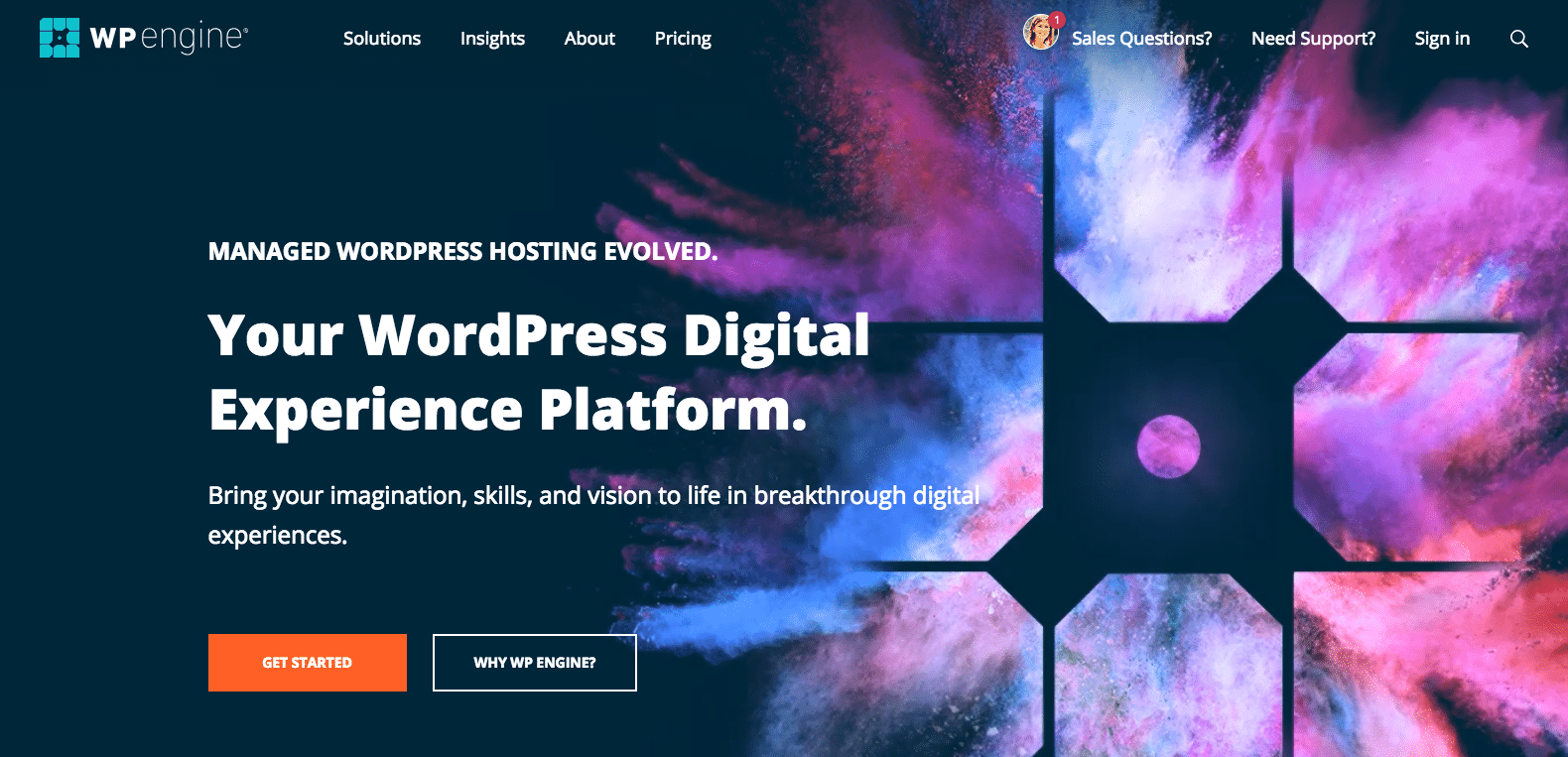 As the name suggests, WPEngine is another host that specialises in WordPress-based solutions.
With 5% of the online world coming into contact with WPEngine sites every day, it's clear that the provider is a force to be reckoned with online. The hosts also take great pride in producing all-encompassing security measures – over two million attacks are blocked from reaching customers of the service each day.
At $29 per month for a personal subscription, WPEngine are a mid-range provider, but with their basic coverage capable of handling 25,000 visits per month and able to provide free SSL certificates, their price represents credible value. Customers also have a choice of customising their features in a bespoke package that's priced according to what you want and don't want – enabling everyone to get the most out of their subscription.
Local storage starts at 10GB and help is on hand 24 hours per day.
Interestingly, WPEngine chooses to word their services differently from your run-of-the-mill providers and see themselves as enabling 'experiences' rather than simply hosting websites. This ethic can be seen in their 'creative agility' solution that concentrates on delivering a marketing vision for your website that's impossible to miss. This includes one-click staging, serviced onboarding, Git and SFTP connections and launch readiness assessments as a means for making their websites as accessible as possible to audiences.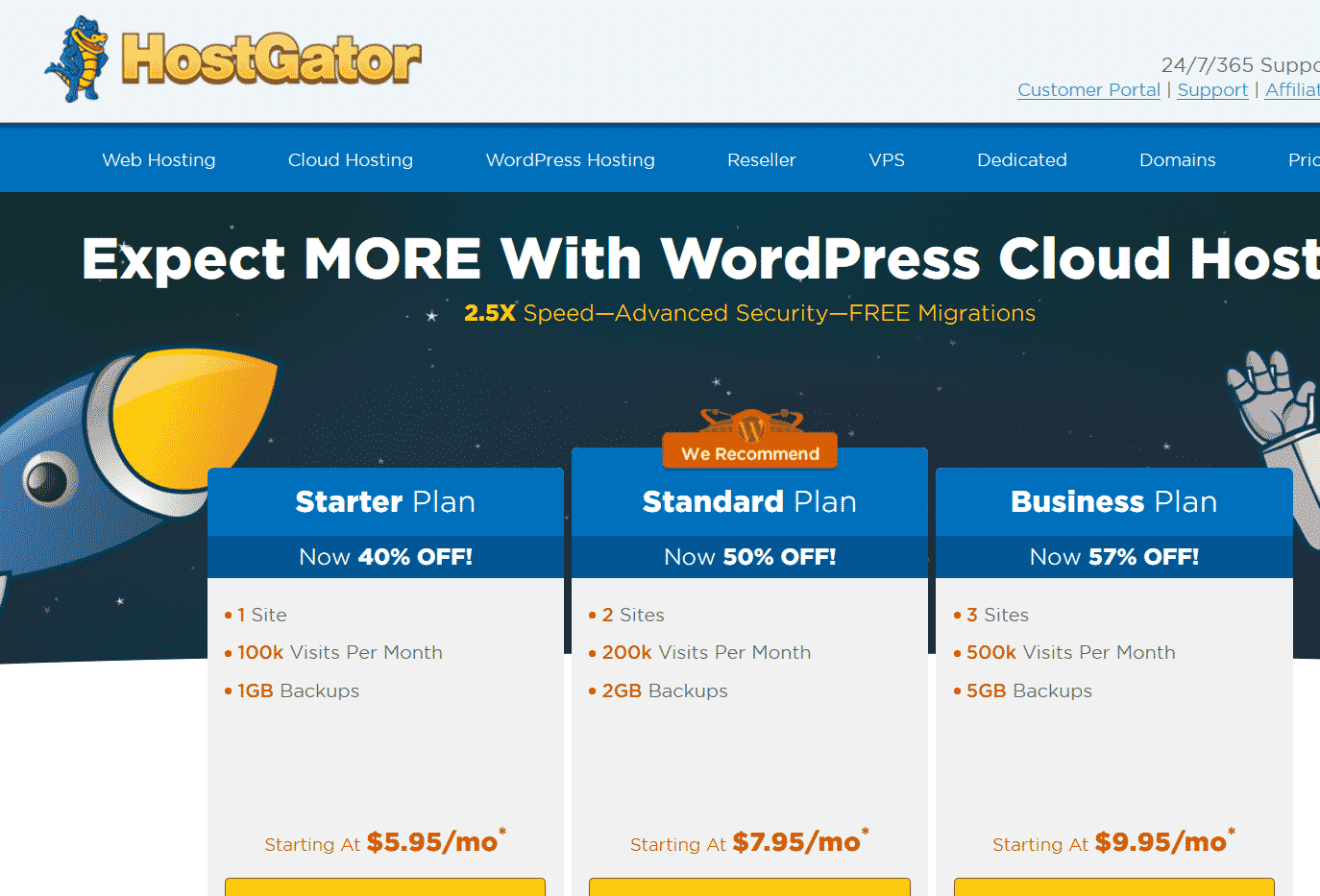 There are few providers out there that beat Hostgator for flexibility. The hosts offer five levels of management in order to put customers in the driving seat when deciding the level of coverage they want for their website.
HostGator prices start at $2.75 per month for their thematically named 'Hatchling' service. This offers customers 24/7 US-based support, cPanel access, unmetered bandwidth and storage space and free website installation.
The provider also gives customers the opportunity to subscribe to cloud-based hosting, for a $4.95 monthly fee. HostGator proudly notes that this service is up to two times faster and four times more scalable.
HostGator also appears to stand head and shoulders above its big-name competitors, with the hosts indicating that their pricing plans offer better value for money than the likes of GoDaddy and Squarespace, while also providing unique quirks like unlimited email addresses and credit offers for advertising campaigns.
One click installations make the process of setting up a site very easy and HostGator sites are compatible with plenty of great applications like WordPress, Joomla, Wiki Hosting, Magneto and Drupal.
With the level of choice that HostGator pledge to customers, it's no surprise that the provider is ranked within the top ten web hosting companies worldwide, with over 8 million active domains.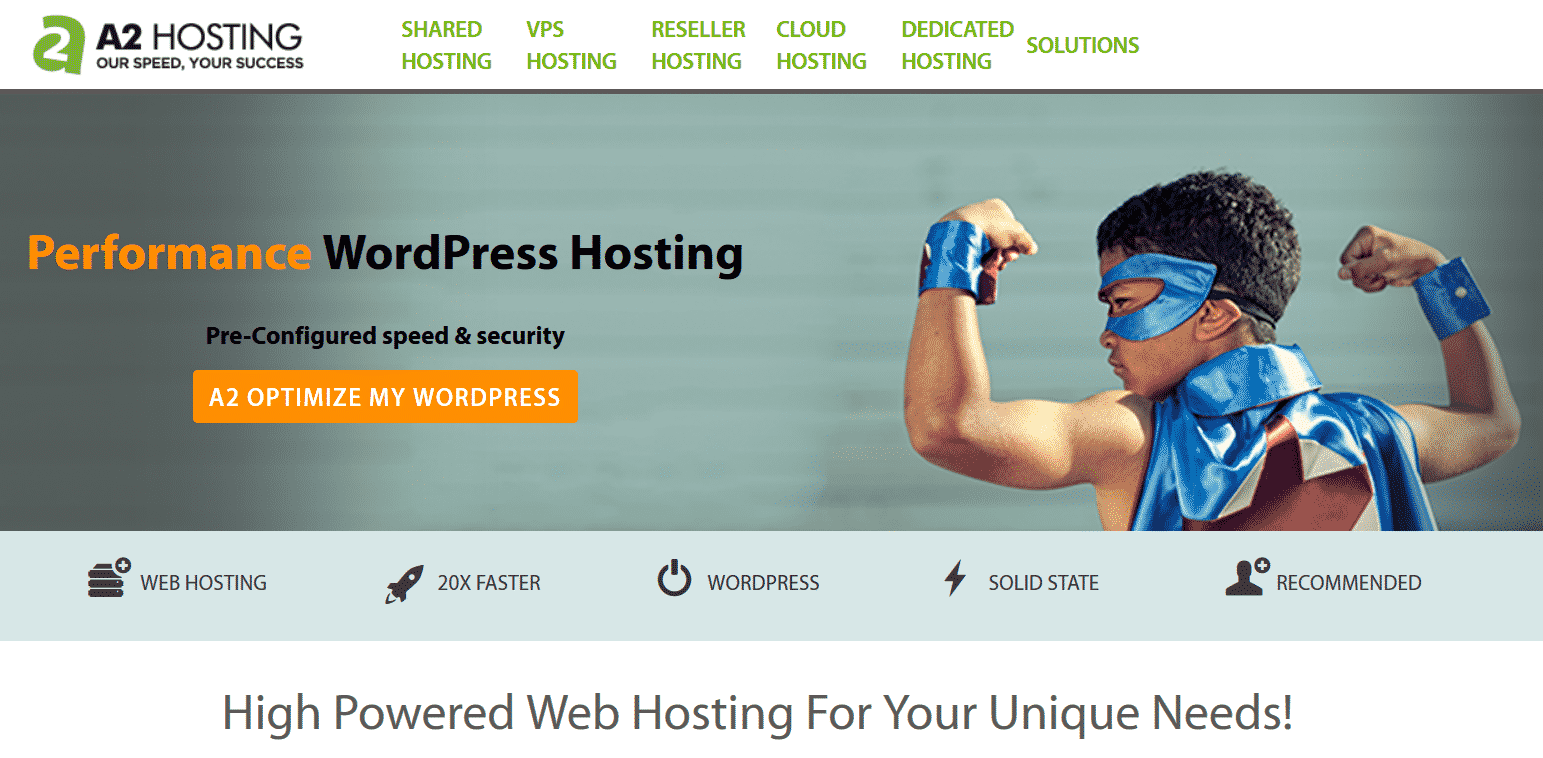 "Up to 20 times faster web hosting" is the bold statement that users are met with on A2 Hosting's web page. The impressive pace comes as part of the provider's 'Turbo' service, which starts at $10.78 per month for Windows users, with a more streamlined services beginning at a competitive $3.92 per month on Linux and $4.90 with Windows.
A2's confidence is plain to see, with the hosts offering an anytime money back guarantee for dissatisfied customers – an incentive that would spell disaster for less competent providers.
The services provided include unlimited storage and transfers as standard and free SSL and SSD support.
Security is taken seriously by A2, too. The hosts not only provide perpetual security along with dedicated hacking scans but a Patchman enhanced security tool, to ensure peace of mind that your sensitive data won't fall into the hands of someone else.
A2 is well positioned to optimise shopping websites. Not only do the providers run CMS packages like WordPress, Joomla and Drupal as expected, but also the likes of Magneto and OpenCart which can be used as a great platform to create a well-supported eCommerce store.

InMotion is the high-end provider that excels in bringing unparalleled service to their customers.
The features provided by InMotion are hugely impressive. Dedicated Linux servers run turbocharged servers that boast between 8gb and 32gb of RAM and at least 500gb SSD – a highly powerful cocktail that enables websites to load 20 times faster.
Uptime is guaranteed for 99.999% of the time, and a 30-day guarantee removes the element of risk from customers choosing to take the plunge.
InMotion also have the unique edge of being richly experienced in using CentOS, a Linux-based server operating system that's optimised to produce peak performance.
The hosts are chock-full of premium services that are bundled into packages for customers. Like with the offer of 1-to-1 Sysadmin time with Launch Assist – where customers can discuss with professionals what they're looking to get out of their site and watch their ideas become a reality. The feature is included as standard, but would separately cost users $300.
The icing on the cake comes in the form of InMotion's server quality. "We are not only close to the Internet; we are directly at the top Internet Exchange Point (IXP) in Los Angeles," explains the provider's home page. Clearly, if you're looking for super-responsive and lightning-quick enterprise-quality servers, then you could do a lot worse than turning to InMotion.

"Usain Bolt doesn't have anything on us," claim DreamHost, and they may have a point – their SSD servers are 200% faster than the HDD hosting that's provided by competitors.
Even more confident is the provider's 100% uptime guarantee and money-back initiative for dissatisfied customers.
The features are impressive, along with the pace and security of being constantly online, DreamHost also promises automatic scalability to cater for your site's bandwidth, just so that you're prepared for any spikes in traffic.
There's also something to be admired in DreamHost's honest and upfront pricing. While many providers hide the true cost of their pricing structure behind introductory offers and asterisks shielding the small print of hidden charges, Dreamhost simply lists their monthly rate at $10.95 per month, with no strings attached for unwitting buyers.
DreamHost allows users to purchase multiple websites with their core service, which is usually an expensive feature for other providers, and WordPress comes pre-installed.
There's also plenty of options for customers wishing to edit their level of coverage from their provider. DreamHost offers the choice of using a shared hosting platform, or their Virtual Private Servers (starting at around $15 per month), or their own dedicated servers (for a premium price of $169 per month).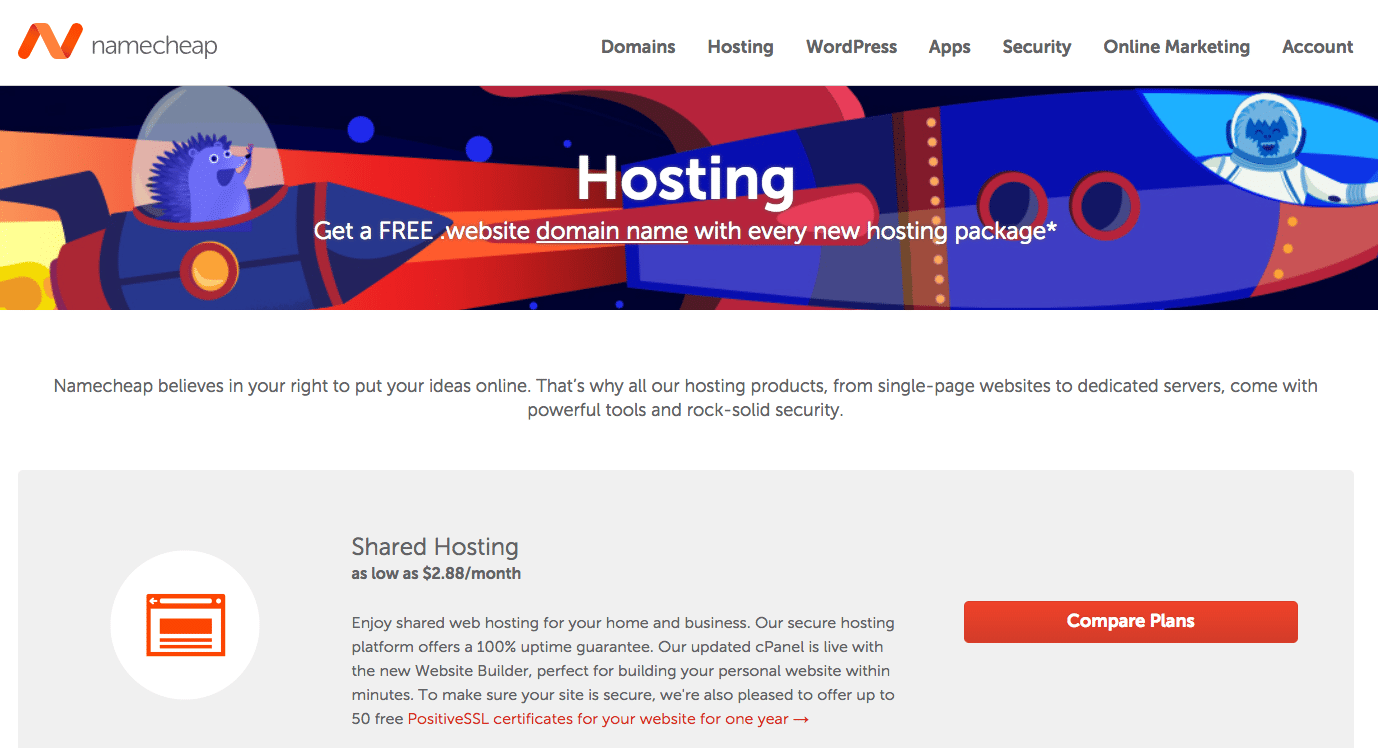 The combination of resourceful web building and security that Namecheap offers is probably why they recently won a Readers' Choice Award for their work in hosting.
While the provider generally operates on yearly contracts, Namecheap has released an impressively powerful option that's available on a monthly plan. The Business SSD shared hosting option starting at £14.20 per month offers supreme quality, along with the option for users to pick their own server location – just as long as said location is in the US or the UK – to best cater for their visitors.
The choice of servers is a perk that's available on all Namecheap payment plans, but the Business SSD really excels when it comes to its power. 20GB 'pure' SSD disk space is available to subscribers while a 5,000 GB bandwidth makes a customer's website seemingly able to withstand Amazon-on-Black-Friday levels of visitor traffic at any given time.
Additionally, cPanel comes with all subscriptions, along with a 100% uptime guarantee and an in-house website security package ensures that your intellectual property remains safe from intruders.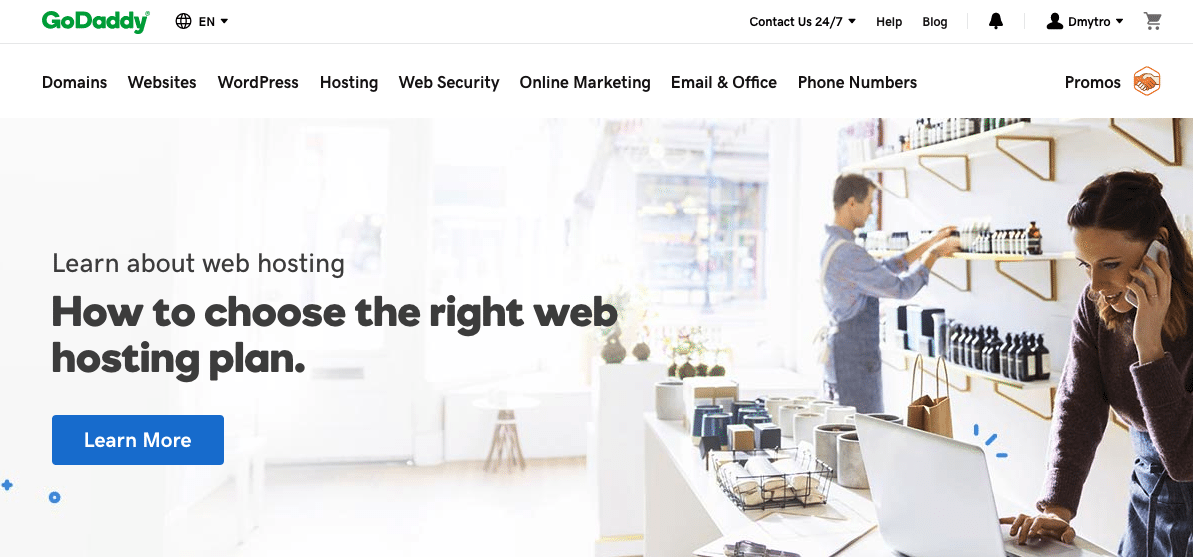 With 17 million customers and 73 domains already cast across cyberspace it's fair to say that GoDaddy is firmly established among the market leaders in the business of web hosting.
With prices beginning at £2.99 per month, it's easy to see why so many customers are keen to trust GoDaddy with providing them with a piece of digital real estate, and the list of perks and features complement the price further.
The provider's economy package gives customers the essential foothold they need to build a website, with unmetered bandwidth and 100GB storage space to boot. Subscribers are also treated to a free Microsoft Office 365 Business Email package as standard too.
All plans put the ease of setting up sites at the forefront, with one-click installations of free applications like WordPress, Joomla and Drupal, along with one-click purchases of additional resources like CPU, RAM and I/O.
cPanel is included in all bundles while an optional £1.99 'Backup & Restore' service ensures that work never gets lost again.
GoDaddy even has an award-winning security team on hand 24/7 to nullify any potential breaches and deflect possible DDoS attacks.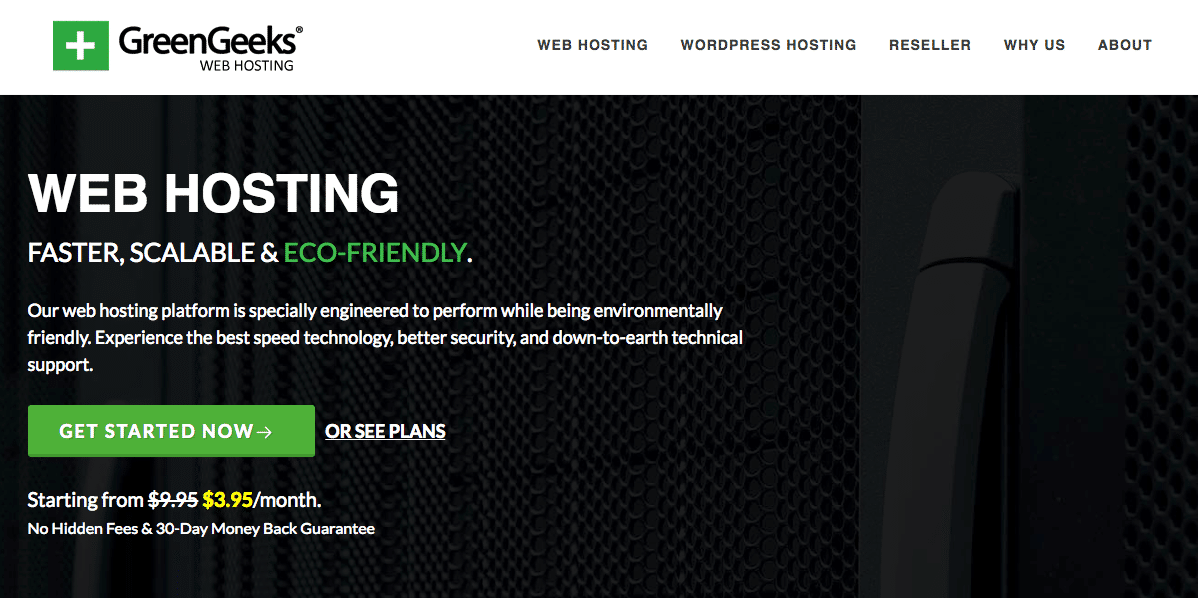 GreenGeeks are specialists in WordPress-based hosting, but their low prices and reliable service make for great appeal to users with eyes firmly on other platforms.
The provider's name comes from their commitment to helping the environment through green solutions to their operations. As part of their philosophy, for every amperage they pull from the grid, GreenGeeks reinvests the figure three times over into renewable energy via the Bonneville Environmental Foundation. So you can gain some peace of mind that your online ventures are giving something back to the earth.
Some customers are squeamish over the increased costs that are sometimes associated with companies attempting to operate by environmentally friendly means, but GreenGeeks' prices contain no shocks, and are pleasantly low, with the monthly costs of hosting starting at $3.95 per month.
For this, customers are treated to unlimited SSD space and data transfer speeds, free domain registration and free SEO and marketing tools to boot among many other appealing features.
There's also a 99.9% service uptime guarantee along with round-the-clock tech support.
With the added perks of a free and secure email server and unlimited domains that can be registered to a single account, there's never been a better time to go green.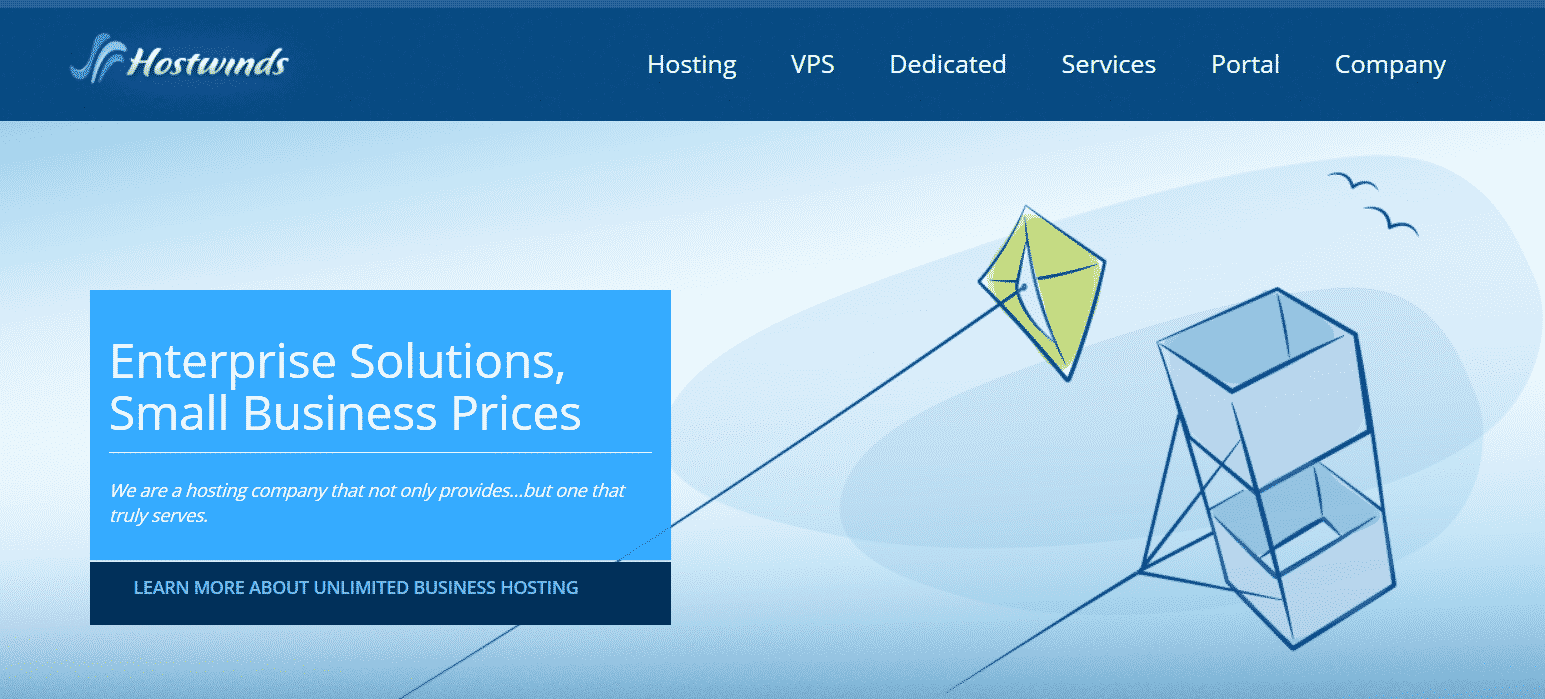 So confident are HostWinds in their service that they offer a 100% satisfaction guarantee with purchases, along with five tiered options that help customers find the level of coverage that's right for them.
HostWinds promises "unrivalled support and state of the art hardware" as standard – and their 24-hour all-year-round support and 99.999% uptime guarantee goes some way to delivering just that.
With prices starting at $3.74 per month at the time of writing, it seems that cost isn't a problem for users of all levels, either.
One of the best aspects of HostWinds is the relatively low costs of their varying subscriptions. This illustrates that the providers are dedicated to giving customers genuine choice, rather than simply creating avenues to gather bigger profit margins.
Even the most basic of HostWinds service comes with unlimited disk space, and bandwidth with cPanel rolled in for maximum usability. With the added benefits of automatic app deployment of a host of the web's best-loved names and an instantaneous setup process, HostWinds is comfortably up there at the top of the internet's best cost-effective and reliable hosts.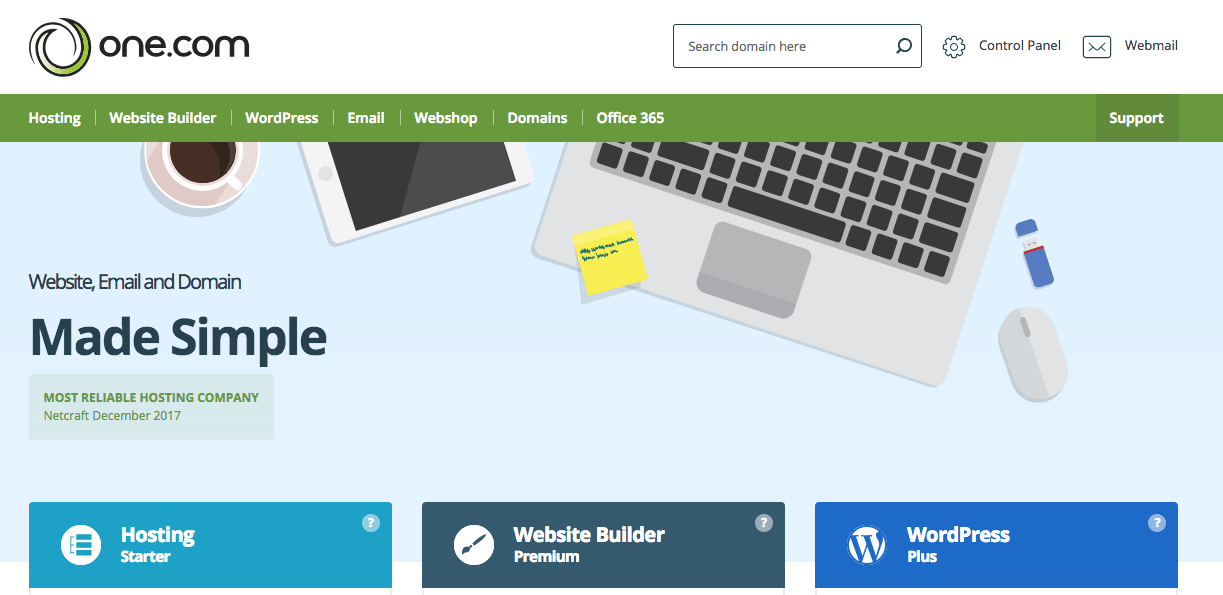 While 'free' doesn't technically qualify as a monthly-billed option, it was hard to ignore such an innovative offer from a provider. One.com's prices are virtually unbeatable, and although users can expect to pay a one of startup fee of £10.80, their whole first year while using the provider's starter service is entirely free (where it would usually be a manageable £1.89).
The price doesn't negate the quality either. Customers can expect unlimited bandwidth and 25GB of storage from the most basic package on offer from One.com. While the 512MB RAM attached to the free service is admittedly paltry, upgrade options are available at all times should users wish to take the plunge.
With the added benefits of a free website builder, personalised email and a choice of over 250 top-level domains to choose from, it's fair to say that One.com holds its own as a provider despite the super-low pricing structure. Netcraft evidently agrees with One.com's credentials – the internet services company named One.com as the most reliable hosting company in December 2017.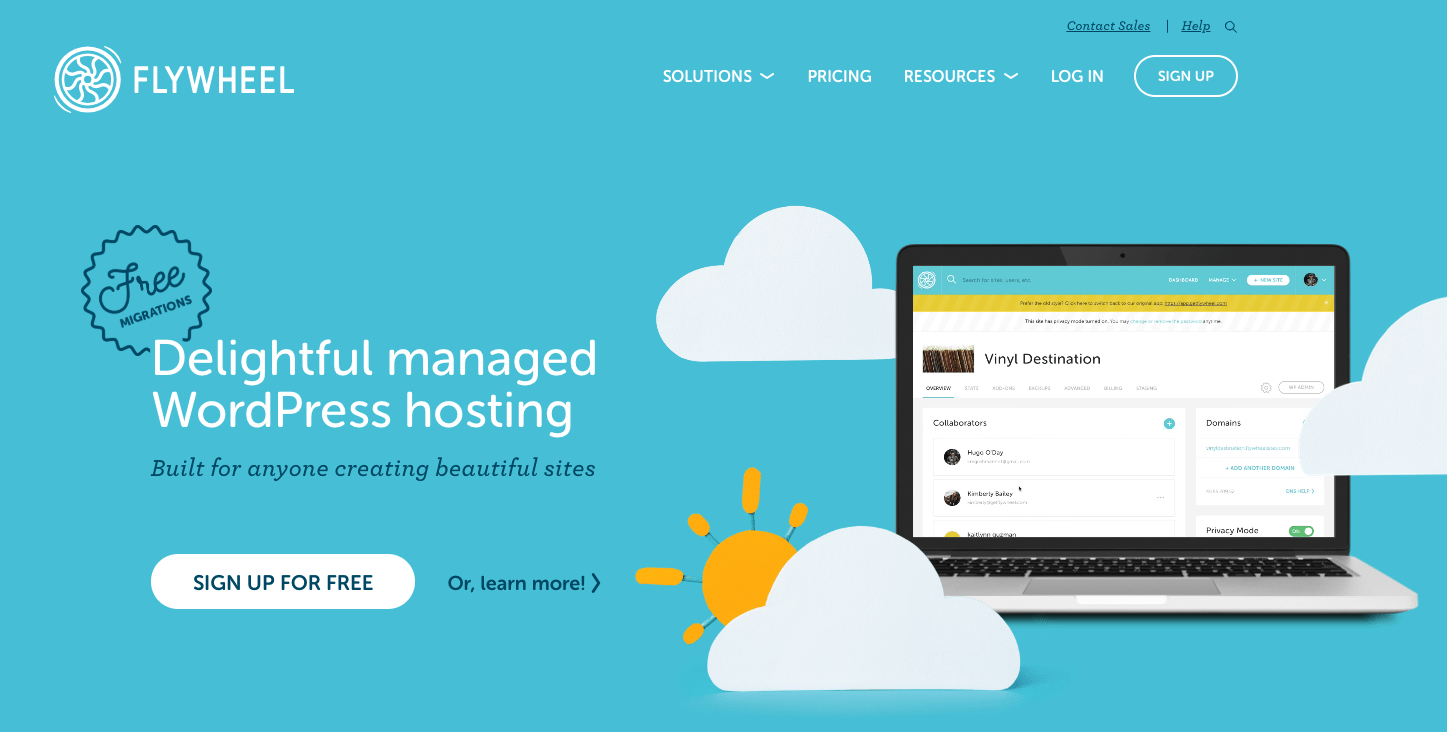 Flywheel are hosts that are exclusive to WordPress and focus all of their expertise on optimising their services to thrive on the platform.
The providers boast speedy load times, hacker-free security, nightly backups and the ability to allow customers to choose their own data centre from 11 spots across the world.
Monthly prices for Flywheel start at $15 and come with a free SSL certificate, 250GB bandwidth, 5GB disk space and no charges for sites that jump above their visitor limits.
Thanks to Flywheel's sole focus on WordPress, the providers are able to optimise their websites' performance to blossom on the platform – from custom server configurations to caching in a way that gets the best out of WordPress.
Flywheel's even built a support team that are experts in the field of WordPress as well as web hosting, and their help section is host to hundreds of articles and writings on the subject.
The user interface offered by Flywheel is well designed and aesthetically pleasing while customers can also benefit from one-click staging and workflow tools like billing transfer.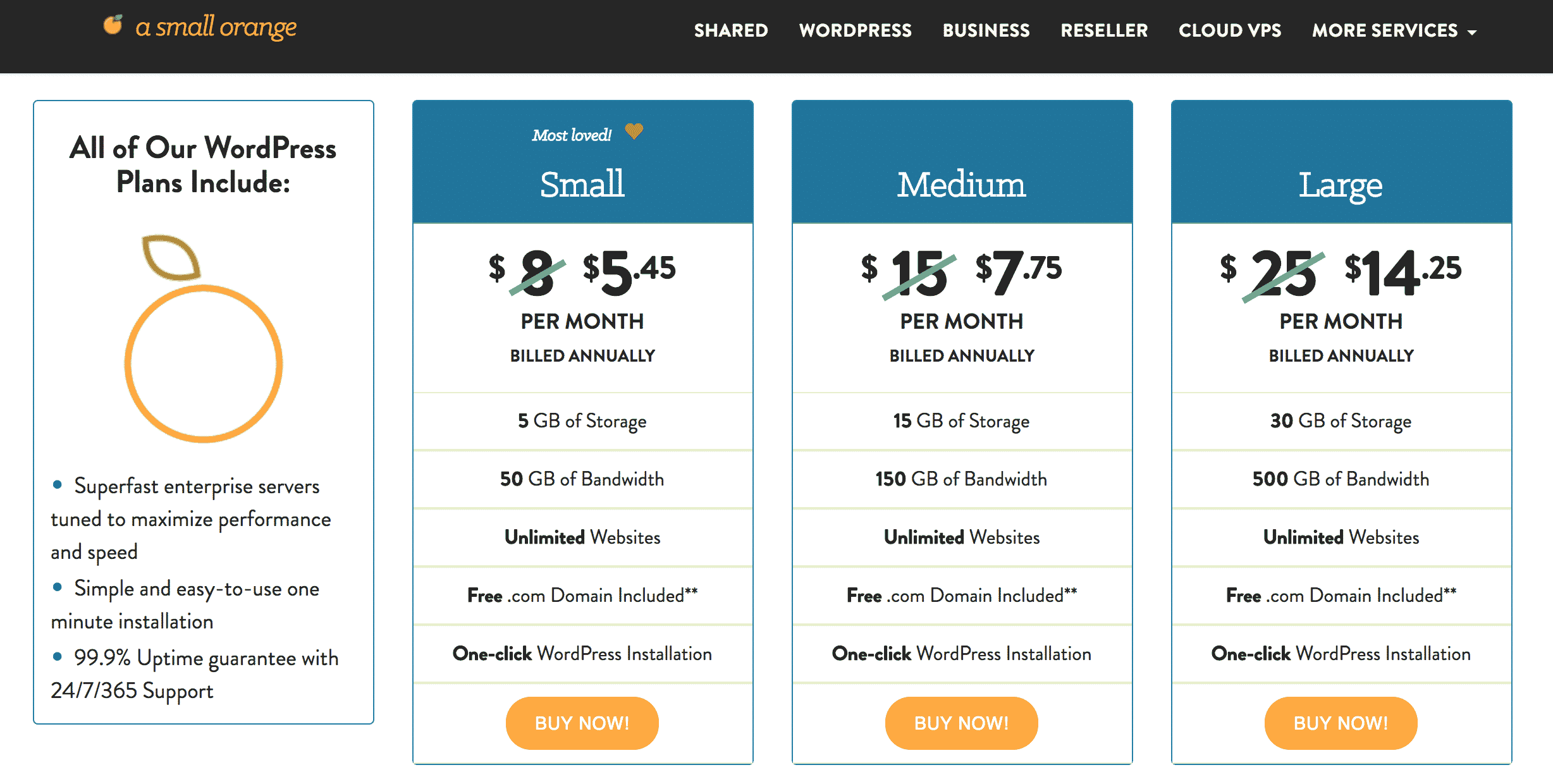 A Small Orange is a refreshingly lighthearted provider which prides itself on 'homegrown website hosting.'
Prices for monthly billing start at $15 per month and include a free domain, 15GB of storage, 150GB of bandwidth and 24/7 email and live chat support, should anything go wrong.
A Small Orange pride themselves on providing enterprise standard coverage across all of their plans, thanks to their hefty Intel Xeon E5 Dual Hex Core processors and fully SSD storage functions.
cPanel is included throughout, and sites are capable of being constructed via Weebly Website Builder – a first among providers utilising Weebly to build usable and well-formatted pages.
Servers are optimised for WordPress, and a one-click installation function is present to make the lives of users that much easier. A Small Orange also promises 99.9% website uptime, too.
For peace of mind from a security perspective, A Small Orange utilises Hotlink and Leech to keep its websites safe, with rolling daily backups made for the protection of digital property.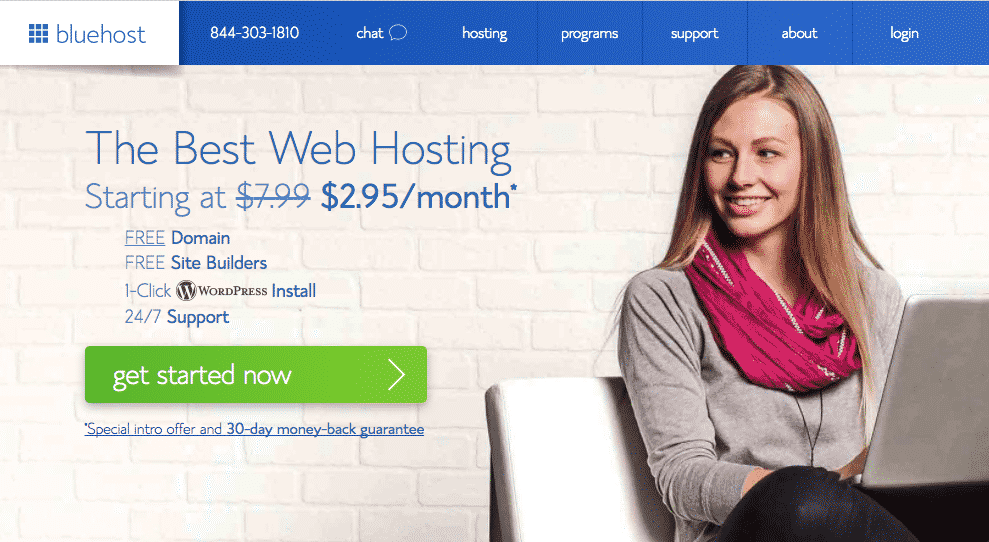 With so many monthly billed WordPress solutions out there, it would be foolish not to include the provider that's recommended by the platform itself.
Bluehost proudly operate as the number 1 WordPress recommended hosts, and with good reason – each account features one-click installations for the platform.
The costs of using Bluehost are impressive too, with monthly prices starting at $2.95. For this, users can expect 50GB of website space, unmetered bandwidth and up to five email accounts associated with the site. Though, for $5.45 (at the time of writing), customers can jump onto Bluehost's Plus or Prime solutions which offer unlimited space and websites as well as $200 worth of marketing offers to boot. Unfortunately, there're only two Bluehost hosting plans that support a month-to-month billing cycle. These are VPS and Dedicated Server hosting, which are more expensive.
Bluehost prides itself on using an advanced, optimised version of cPanel for added comfort in website management and intuitive scalability that allows your website coverage to be upgraded in a matter of clicks, should you hit the big time and experience higher levels of traffic as a result.
Of course, the security options are there to offer protection too, with daily backups taken and 24/7 support as standard. There's even a 30-day money back guarantee in place for unhappy customers. But with over 2 million websites currently operating worldwide, it seems that the free refund option hasn't been taken up by many website owners of late.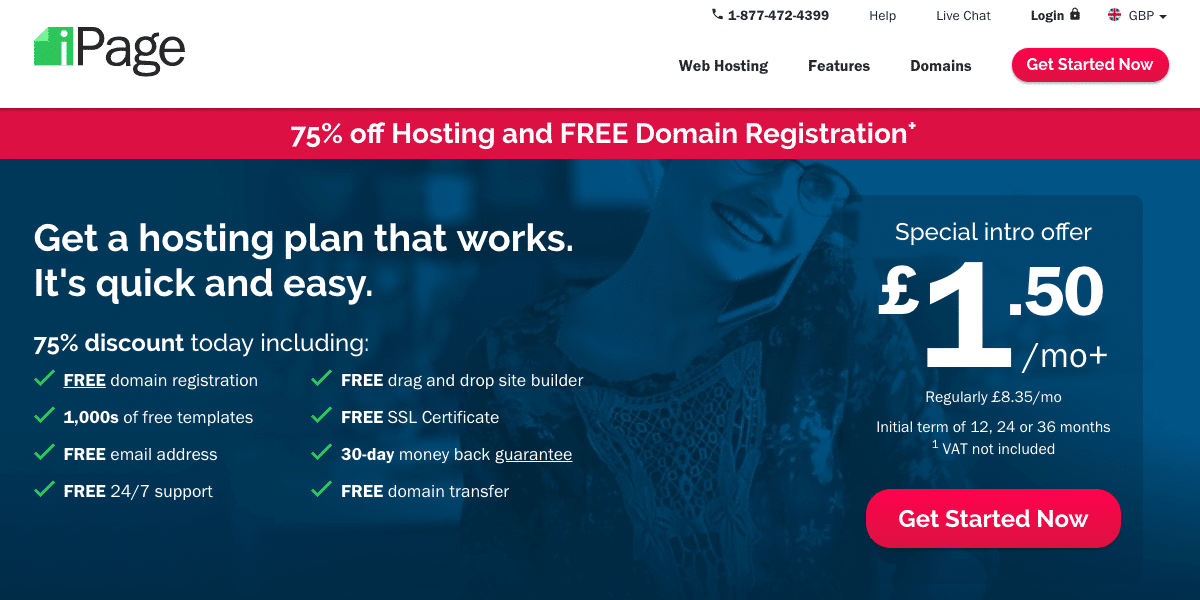 With an introductory offer in place of $1.99 hosting for new customers, iPage is a provider that commands serious attention for would-be website owners.
With all subscriptions comes over $100 in extras, iPage is keen to tell us, with free domain names, free email addresses, free marketing tools, a free website builder and free templates for an unlimited number of domains. What's the catch? Well, with a 30-day money back guarantee in place, the providers seem purely intent on providing a superior service with no stings in their tails.
Google Webmaster Tools comes as standard for subscribers and iPage's excellent eCommerce functionality makes running a store online into a simple process.
While iPage's specifications of unlimited disk space, scalable bandwidth, unlimited MySQL databases, a one-click installer for WordPress, PayPal integration and vDeck control panel sound hugely impressive, it's the fact that unlimited domains are available as standard that's curious – as it's usually a feature reserved for premium services from providers.
iPage also boasts supreme safety, with SiteLock security tools on-hand to protect users from visitors with malicious intentions. The hosts also include around the clock help and a live chat function that's on hand to deal with any difficulties that customers may have.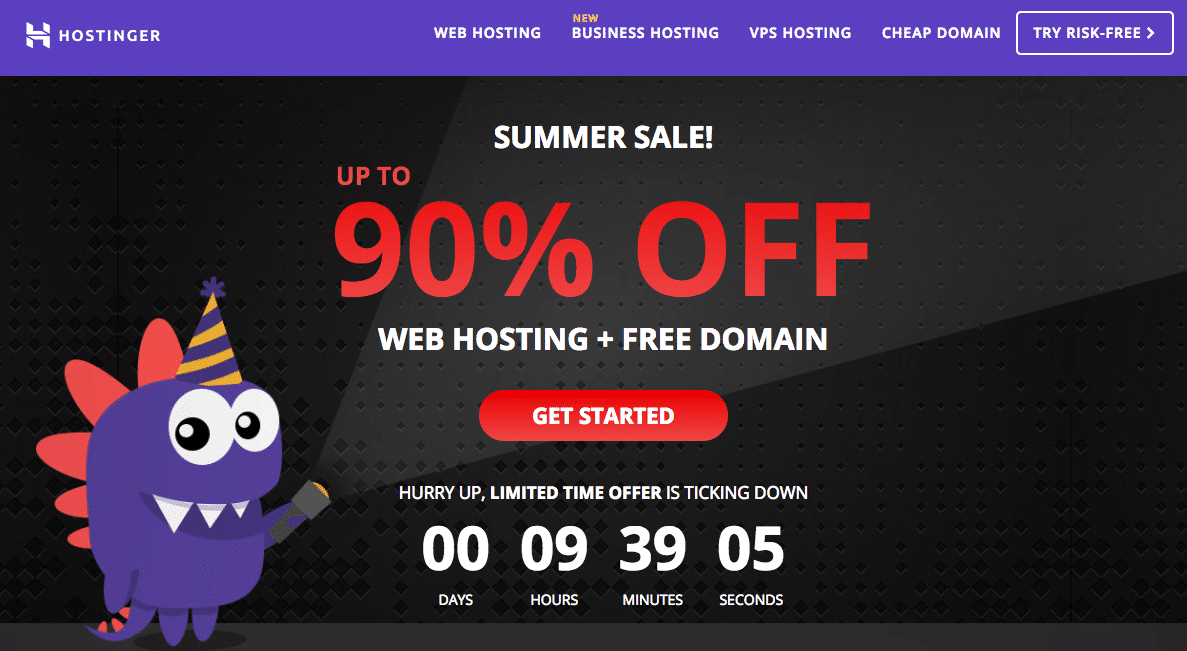 With endorsements from the likes of Forbes, Bloomberg, Medium and TrustPilot in its arsenal, Hostinger is a force to be reckoned with on the hosting scene. Their £1.45 monthly fee adds some justification to their website's bold claim that they provide the United Kingdom's 'cheapest hosting at the speed of light!'
The fact that Hostinger's most expensive platform is currently available at £4.95 per month seems to suggest that the provider is certainly a strong choice for customers looking to run their website on a budget. Away from this, the basic levels of coverage offered provide users with 10GB of disk space and 100GB of bandwidth – both of which become unlimited if the customer wishes to upgrade to the £3.95 per month 'Premium Web Hosting' package on offer.
Free SSL security is included for peace of mind and support is available for customers 24 hours per day all year round.
Users can also expect to be treated to a 99.9% uptime guarantee and the promise of getting their money back if they're not satisfied with their level of service after 30 days.