On-page keyword use is a key concept in search engine optimization. Using keywords effectively goes all the way back to day one of SEO, even if the definition of "using keywords effectively" has changed from density to keyword consistency.
But what about PPC? Will using keywords effectively for SEO do anything for your AdWords campaigns?
In this piece, we'll cover the concept of keyword consistency, how to achieve it and how it will impact your AdWords Quality Score and CPCs.
What Is Keyword Consistency?
"Keyword consistency" is, quite simply, the measure of whether or not a keyword is appearing in the most important places of a web page.
Compared to "keyword density," the number of times a keyword or phrase appears in the page content, keyword consistency is a more effective way of helping search engines understand what a page is about.
While there are many important places to use keywords, there are four major instances to maintain keyword consistency.
Keywords in your title tags
Title tags are titles for a web page and should spell out what topic the page content will cover, or what sort of information a user should expect to find in the content.
Since title tags are so important to determining page topic, they are very strong clues regarding relevance to a search keyword or query.
Keywords in your HTML headers
Search engine bots crawl headers and subheaders to learn more details regarding what exactly your page's content will cover. As in, what sort of questions will it answer or what problems it will solve.
HTML headers are broken up into two classes:
<h1> tags: The most important header tag and functions as the content title. Note that this is not necessarily the same as your title tag, although they will often be very similar. Every page should have an <h1> tag, and only HTML5 pages should have more than one.
<h2>-<h5> tags: While <h1> tags are the most important headers on a page, the other tags are also very important to add structure, readability and details about the content. This applies to both human users and search engine bots.

Keywords in your page content
The best content covers a topic comprehensively and in depth. Creating this content will naturally result in target keywords appear at the beginning of the article, the end of the article and multiple times in between.
It will also help you to use latent semantic keywords (words that are topically related to your main keyword) that further reinforce your content's relevance.
Do not try to copy other pages' content. Duplicate content is a big no-no for SEO, but it's also bad for Quality Score.
Keywords in alt text
Images are great for user experience as they break up large chunks of text and can help convey information in quick and easy-to-digest formats. And they also represent an opportunity to use a keyword on the page, in the form of alt text.
Alt text is the content found within the alt attribute of an image tag, the part of an image that is readable to a bot.
Write concise and descriptive alt text, describing what's in an image. By only using relevant images, you will be sure to have the keyword in your alt text.
Improving Quality Score with Keyword Consistency
Keyword consistency technically isn't part of the Quality Score algorithm. Quality Score and Google's organic search algorithms are completely separate beasts. However, landing page experience, which is part of the Quality Score "Big Three," can be broken down into another three factors:
Page speed
Site navigation
Relevance
Google wants to send users to relevant landing pages. No one would ever click a search ad if they didn't. And how does Google determine topical relevance to a keyword or query?
By consistent, natural use of keywords throughout a landing page.
Even if you never intend for a landing page to be crawled by Googlebot, going so far as to use the NoIndex tag, you should still consider keyword consistency to reinforce landing page relevance to your PPC ads and keywords.
Checking Keyword Consistency
So what is a good way to make sure your keyword use is consistent?
You could use a handy on-page checklist (they're everywhere online). Or you could run a website review to check your keyword usage.
Here is an audit of Amazon.com's homepage to measure that page's keyword consistency: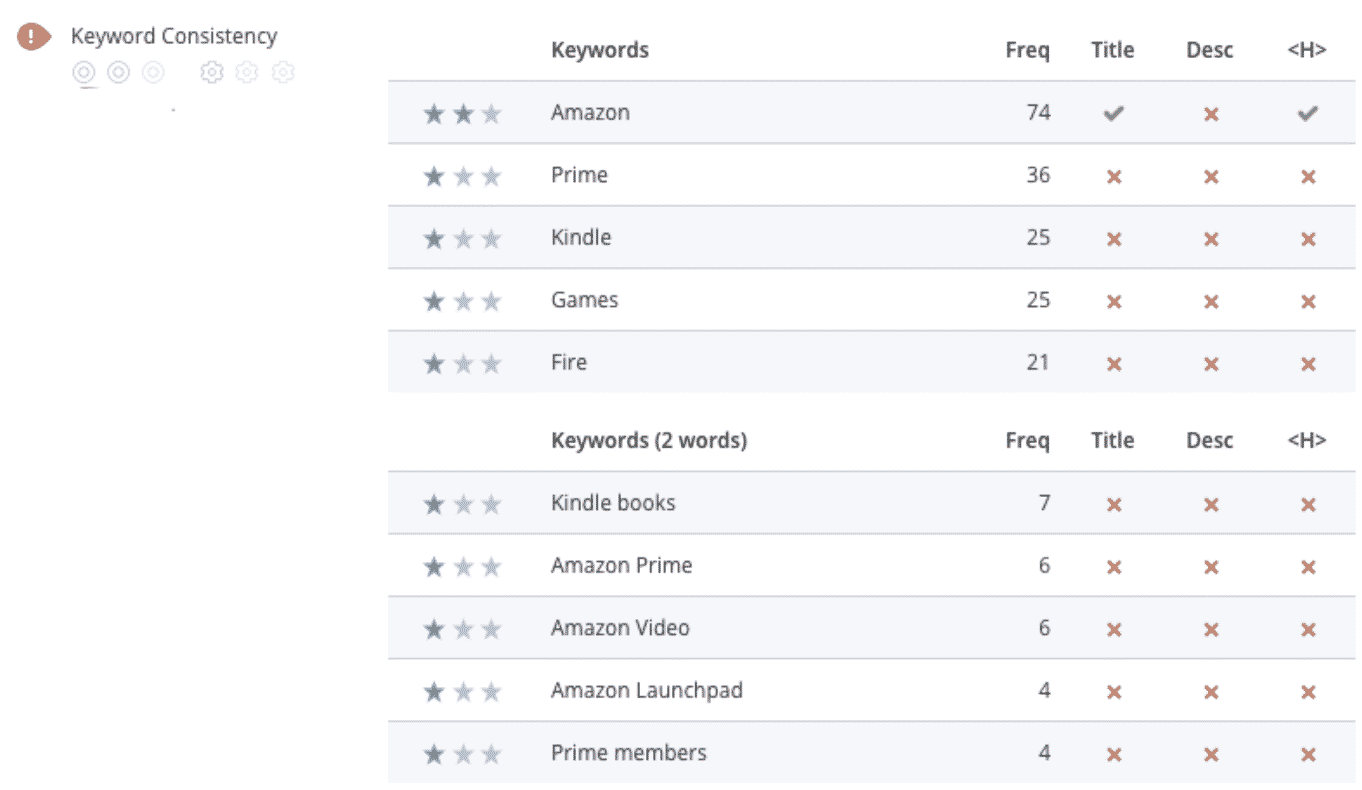 Using keywords consistently helps your site to rank higher in search results. It can also help you create more relevant landing pages for your PPC campaigns, resulting in higher Quality Scores, lower CPCs and, ultimately, higher ROI.
This guest post is published by Greg Snow-Wasserman. Greg is the Content Maestro at WooRank. He has more than 7 years experience as a reporter, market researcher and digital marketer.