A little bit of perspective goes a long way.
Have you ever wondered how your website is performing in its niche compared to your competitors?
Gaining an insight into how likeminded competitors are fairing regarding traffic and backlinks is a great way of understanding where you stand in your industry, as well as enabling you to learn about where you can improve on your content and how to craft posts that build backlinks.
Here we explore seven ways in which you can check how much traffic any given website receives.
1. Using Ahrefs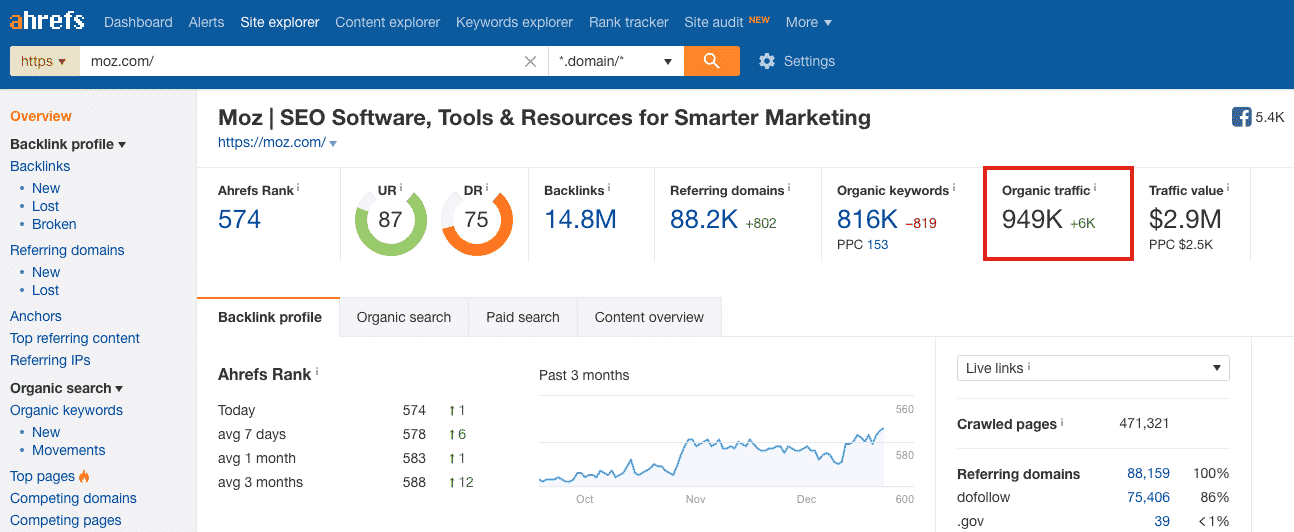 Ahrefs are the masters of domain statistics. By using their service, you can check how many organic visitors a website generally gets, exactly how many backlinks a site has, what their estimated domain authority is and much more. The list goes on.
The website features many options focusing on relevant topics like 'content explorer' and 'keyword explorer', as well as useful utilities like 'Alerts' – which is on hand to inform you whenever an article has been published elsewhere featuring a specific set of keywords.
But where Ahrefs really excels is in its 'Site Explorer' function. This is where you can take virtually any URL and scrutinise its performance. It's backlinks, and where they're sourced is a popular function. You can also see what pages are the most popular from a site based on traffic and shares. Ahrefs goes to the lengths of categorising visitor share by country, too.
Of course, it's worth pointing out that the figures conveyed in Ahrefs are estimations only. This is because it mines its data by sending a 'crawler' out across the internet looking for backlinks that have been positioned. It's a process that attempts to recreate Google's own process for finding links – the 'Googlebot', and it's widely accepted that Ahrefs methods of estimation are the most accurate available today.
This may go some way to explaining Ahrefs subscription costs, which start at $99 per month for a streamlined service, and range all the way to $999 p/m for agency-level coverage. But on a brighter note, there's a seven-day trial available at the price of $7.
2. Using SEMRush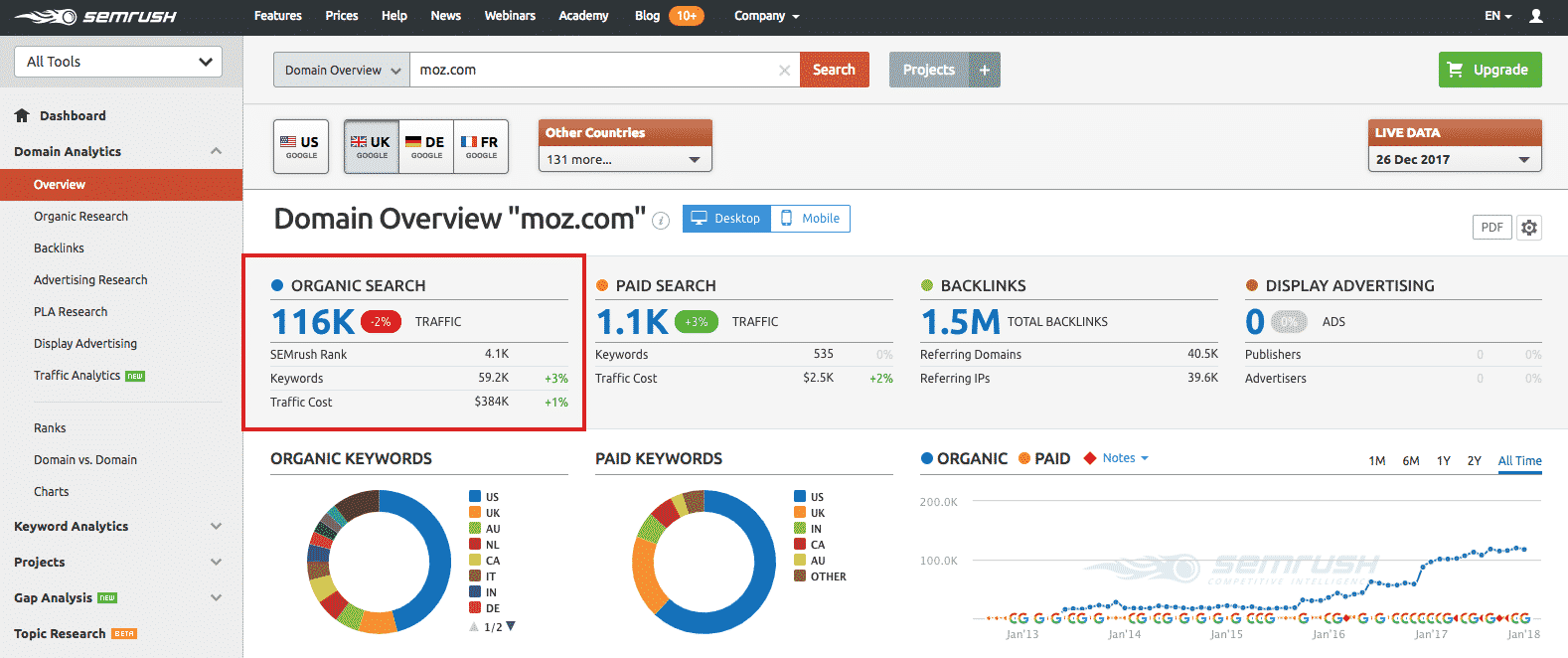 SEMRush is another site that's at the pinnacle of SEO tools and traffic monitoring. While it carries less of an emphasis on backlinks compared to Ahrefs, it excels in different areas.
The service allows you to investigate your competitors' most effective keywords, as well as any fluctuations in their domain ranking. SEMRush also enables you to discover any new potential competitors.
SEMRush also carries a huge emphasis on advertising statistics, with the website boasting that you can 'uncover your competitors' ad strategies and budget'. Additionally, you're able to analyse other ad copies and keywords, as well as localising your own campaigns.
The pricing doesn't differ greatly from its competitors, with subscriptions ranging from $99.95 per month to $399.95 p/m depending on the level of coverage.
3. Using SimilarWeb

SimilarWeb is an excellently laid out web analysis tool that provides you with well-calculated page traffic and ranking estimates in user-friendly graphs and tables. The main difference between Similar Web and other tools is that Similar Web shows total traffic (including social, paid & search) – not only organic traffic.
What immediately stands out about SimilarWeb is its willingness to supply a free, streamlined version of their service, that allows users to get a feel for the site and some of its basic features – such as five results per metric, a month of mobile app data and three months of web traffic data.
The features conveyed in the fuller versions are much more intricate, however. With premium subscribers able to check a website's traffic based on unique visitors, location, what pages are being accessed and whether visitors are accessing sites on the web or on mobile. You're also able to monitor mobile app engagement, too.
Paid subscriptions to the site are bespoke and generally range from $199 to $799 per month.
4. Using Alexa

Here we have Amazon's entry into the traffic analytics game. The pricing system for this service is something that immediately stands out – with the services split between 'Marketing Stack', 'Website Traffic Analysis', and 'Certified Alexa Rank'. Having the subscription costs structured in this way enables users to handpick the features that they want without paying for the ones they don't necessarily want (there's even a seven-day trial, just to help you make your mind up). However, unlike many other providers, you should be on a paid plan to see the actual traffic of a website.
Alexa also promises to help you find out more about your competition, offering an 'overlap score' to your search results which points you in the direction of reputable like-minded websites.
A useful function is Alexa's ability to compare and contrast your site's performance with that of your competitors, then display the results in easy-to-digest graphs. There's even a 'competitor keyword matrix' thrown into the mix to help you understand why you may not be keeping up with your rivals.
The intuition of Alexa is also a great asset to have – with the site working to identify relevant keywords aren't often used by the competition – thus presenting you with a niche to exploit. Alexa is also able to display a list of potential inbound linking targets that you may have missed.
Alexa's Website Analysis tool, 'insight', weighs in at a very reasonable $79.99 per month.
5. Check their advertising page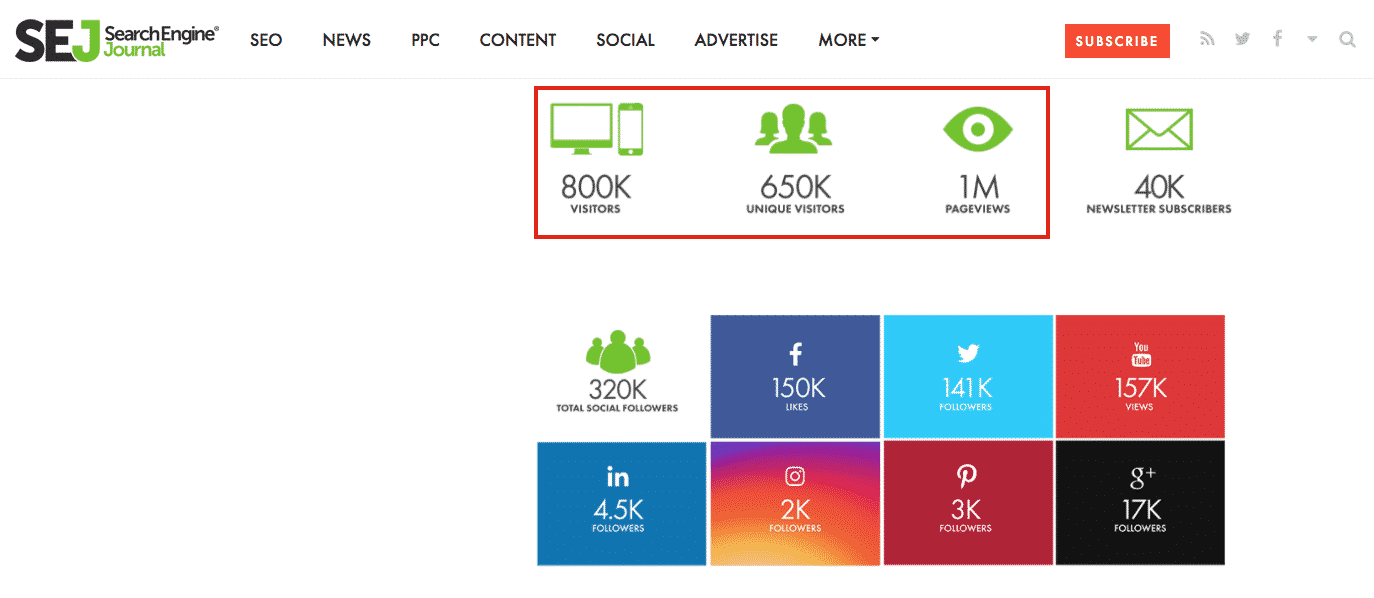 Checking out a website's traffic doesn't always have to be so dependent on third-party sites and software – some are happy to publish their figures online. For instance, Search Engine Journal lays out traffic stats on their advertising page.
Because traffic plays such a sizable role in attracting advertisers, many websites actually post their visitor share on the advertising page of their site.
This is, of course, a much cheaper option but carries more risks. For example, there are many websites that aren't interested in publishing their traffic for advertisers to see. And the figures that sites do list on their advertising page could be inaccurate or out of date.
Be sure to counter potentially out-of-date stats by looking to see if the website specifies when their figures were recorded, or by checking if the webpage was recently updated. If you feel that you're in a position to know what sites you plan to compete with, their advertising pages could be the perfect money saving strategy when it comes to keeping an eye on your rivals.
6. Ask them directly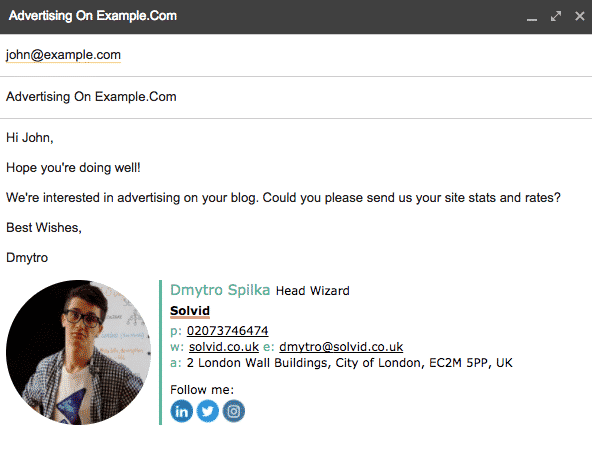 Yep, for all the traffic tools and algorithms on the market, sometimes the best way to go about your business is to get back to basics.
By asking a website directly about their traffic, you immediately eliminate the need for services that rely on estimations and approximations for figures as well as the chances of reading dated traffic levels on a site's advertising page.
Of course, this method is dependent on receiving a response email, and many webmasters would rather not waste time in responding to traffic queries. You can counter this by wording your email in a way that a potential client would – perhaps mask your enquiry by discussing advertising prices in order to provoke an informative response. While this method is effective, it's worth remembering not to become a spammer by using it too often.
While this method is the only sure-fire way of interacting with the people who are in-the-know about a website's traffic stats, it doesn't make the approach fool-proof. Some webmasters are willing to fluff the traffic figures in order to appeal more to advertisers, while others may not be using Google Analytics for their information and instead are relying on less-accurate tools.
7. Check their traffic & income reports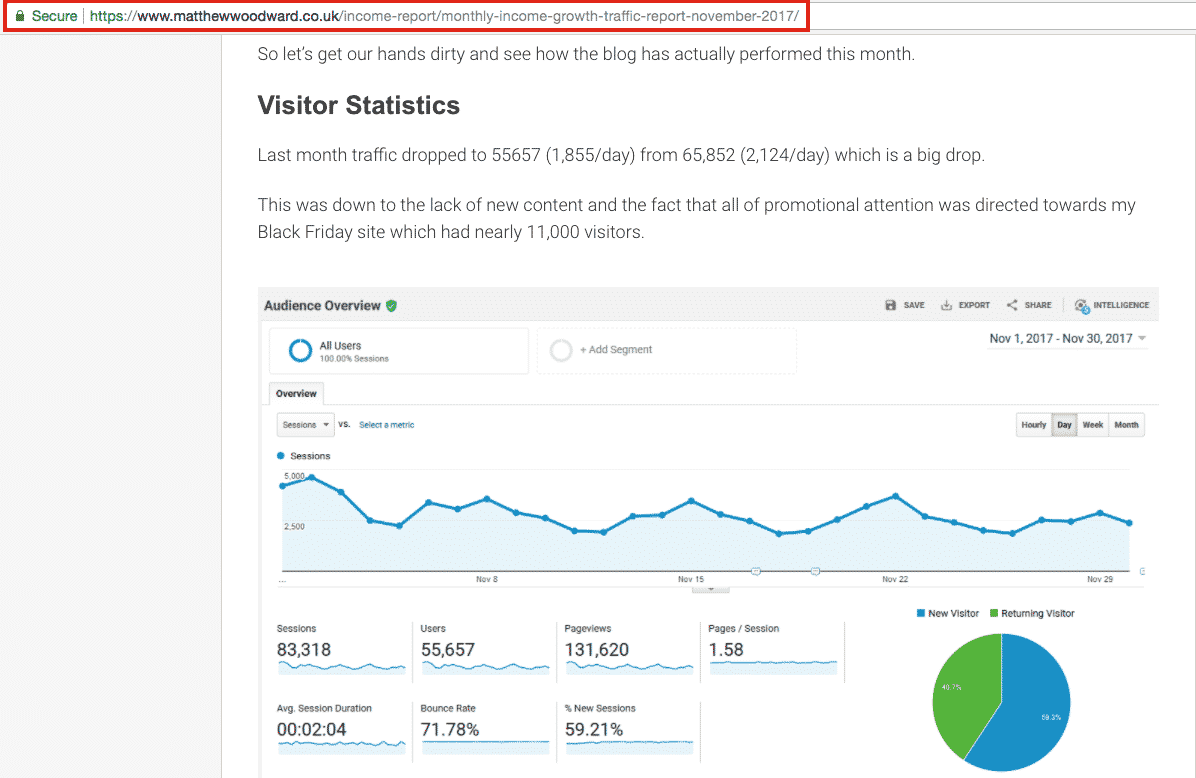 Websites and blogs that aim to run a transparent business often publish key stats along with cash flow in their monthly traffic and income reports.
For example, Matthew Woodward keeps records of all of his blog's income and outgoings for the sake of clarity in his business' processes.
This is an excellent, free, and meticulously detailed tool in learning about website traffic as well as many other processes linked to advertising revenues and external profits.
In the image above, we're treated to a detailed overview, not only of monthly traffic but Matthew Woodward's flow of visitors – the blogger even goes to the effort of explaining why he believed he's received varying levels of traffic compared to the previous month.
So there you have it. Seven diverse methods of gaining information about a website's traffic. From the free options to premium services, and from the advanced to the old-fashioned methods.
We hope our guide has helped you find the traffic tracking method that suits you best, now happy snooping!