Setting up a successful website can be tedious business. You need a unique selling point, a vision that can be shared with massive audiences, and a lot of gusto.
You also need a domain. Your very own piece of digital real estate that will become synonymous with your business' identity. Getting set up with a domain is an often overlooked part of the process of getting set up online.
Domains can be acquired through dedicated registrars. The business of selling websites is a competitive one, so we've decided to create a list of the best registrars available online – as well as a guide on what to look out for when building a brand new domain.
Table of Contents
Why You Need a Domain Name
Your domain name marks your presence online. Without one, your customers, audience, subscribers or stakeholders won't be able to find you on the World Wide Web.
Domain names fulfil a very important purpose. Every computer that's active online has its own Internet Protocol (IP) address, which takes the form of a series of numbers, such as 78.125.0.209. Since a range of numbers is a pretty tricky thing for users wanting to access a specific website to remember, domain addresses were designed for sites to use memorable words by which to list their name for visitors to find.
But domain names have a much more intricate purpose than just acting as an address. An informative and memorable name has the power to single-handedly increase the reach of your brand and keep visitors coming back. It's for this reason that picking a creative, but descriptive title for your site is imperative.
The problem is that the World Wide Web is a crowded place. There are a lot of websites out there – over one billion, in fact. So finding the ideal name can be tricky business. You'll need to ask yourself whether or not your domain name will be easily found on search engines, and whether it succeeds in effectively summing up your site or brand.
When you feel that you have the perfect website name, it's time for the domain registrars to work their magic. In terms of online real estate, registrars manage website addresses and their distribution throughout the internet.
Through domain registrars, you're able to search for your chosen domain names, and if nobody else online is using it, you can purchase the address for a fixed price contract. The industry of registering websites to users is a competitive one, so finding the best deals is essential.
Because domain names cannot be secured permanently, there's plenty of opportunity to pick up expired addresses at a cut-price from registrars – just remember to renew your website name whenever required to save your address being snapped up from under your nose by someone else!
Sometimes when you look to register a website name, the registrar will inform you that the name is already in use and unavailable for purchase, but thanks to domain extensions (aka TLD), the same name might be available with a different code at the end of the prospective URL. This is known as a Top Level Domain, and the most popular in use is the '.com' extension to site addresses – but there are many more country-specific and business-specific codes to use at a lower cost. However, due to the widespread use of '.com' websites, it's much harder for pages operating with a different extension to become visible to target audiences.
What To Look For In a Domain Name
Your domain name is fundamentally the most important part of your website. While layouts and designs have the potential to keep visitors glued to your pages for hours, and content lures them into regularly coming back for more, it's your domain name that does the work in bringing them there in the first place.
Your name needs to be easy to remember and easy to understand for when it appears in search engine results pages. Any misleading words risk giving off the wrong impression of your site before a user even clicks on a link.
Before you've settled on your name, it's advisable to look for domains with a '.com' extension – in the modern era of Web 2.0, there are plenty of alternatives to the classic .com website, but the fact remains that 75% of sites today still use .com domains, and as such, online audiences are used to them.
It's also advisable to optimise your website with keywords. To understand the influence of keywords in domain names, RootOrange conducted a case study into the effects that ambiguous names had regarding the clicks they receive from search engines. They found that www.divorcelawyer.com received 298% more clicks than www.vladimirlaw.com, thanks in no small part to their sharp, informative domain name. However, this doesn't mean that you should be chasing every single keyword that's relevant to your niche – pick an appropriate, easy-to-remember name.
There are no written rules to adhere to when creating a domain name for your new website, but certain approaches have been observed to be more effective. For example, shorter names generally perform better; the top 100,000 domains worldwide average nine characters in length of their name – as such, it's accepted that one or two words as a maximum is best practice, for ease of memory and simplicity.
However, there aren't many rules on the words to use in your domain name itself, either. In many cases, chopping and changing and even combining words works wonders in creating a unique online identity. For example, Groupon connects the words 'group' and 'coupon' for a catchy name that's memorable, while Google used an obscure term, 'googol' – a number proceeded by 100 zeros, to appealingly reference its huge scope of results.
It's also important to consider the cost of buying the rights to a domain name while figuring out the ideal title for your website. Many premium single-word domain names can cost £1,000s to use, so it pays to be tactical in finding a short URL that will suit your goals and appeal to the right audiences.
Your domain name can also be adapted to suit the scale of your business. If you aim to attract local traffic, then it could be worth using your location name in part of your address, however, if you're angling for a global reach, this risks undermining your site's appeal to larger audiences.
What To Watch Out For
Acquiring a domain name is a necessary step that can't be taken lightly, and there are many things to watch out for when you're venturing into digital real estate.
Remember to think of the bigger picture when considering your name, and don't forget to consider the long-term viability of ideas you come up with. Avoid picking a name that pigeonholes your site in a way that hinders any future expansion. For example, deciding on a name like 'Garstonkennels.com,' is fine for a small local business that's interested in creating homes for dogs. But what if, in five years time, you're able to take the step of becoming a regional business, or capable of incorporating more pets into your model?
It's also important to stress that you don't necessarily need to look elsewhere if your ideal domain name is already in use. Many registrars carry a function that enables prospective buyers to contact website owners at the click of a button in order to enquire directly to them and make an offer for the website.
An important factor to take into account is the potential legal issues attached to purchasing a name that's close to breaching trademark or copyright laws. If your name is deemed to be too similar or to be plagiarising the names of existing businesses or organisations, then it could lead to a UDRP (Uniform Domain-Name Dispute-Resolution Policy) claim, which may result in a steep lawsuit. It's for this reason that a little creativity goes a long way.
While there are a lot of great and inspirational ideas to be found through using a thesaurus as a tool to come up with a suitable and vacant domain name, be sure only to use words that are easy to find on search engines. By running a thesaurus search for a hypothetical travel website, we found 'wend' to be a synonym, and while a title along the lines of 'Weekendwend.com' is available, alliterative and not too many characters long, how would anyone be able to find such an obscure word on Google?
It would also be a good idea to check your future domain name's past reputation. If your prospective address has previously been used for a site that dabbled in illegal or X-rated content, then this would create a lasting negative effect on the domain's reputation, even if your website is squeaky clean. You can check a website name's previous reputation by visiting Archive.org.
Finally, we advise that you read your chosen domain name over and over again to check for any unintentional words that have been caught up in your future URL. If your name is made up of more than one word, then there's a chance that there'll be more than just the intended wording visible in the text. While owning a website called Speedofart.com may seem like a cool and alluring name at first glance, it illustrates the importance of quality checking your names when written down.
17 Best Domain Registrars For 2020 – Comparison Table
In order to get the annual price of a .com domain name, we searched for www.dmytrospilka.com to get an idea of the cost from each of the following providers for 1 year. Here's what we got.
17 Best Domain Registrars For 2020 – Detailed Overview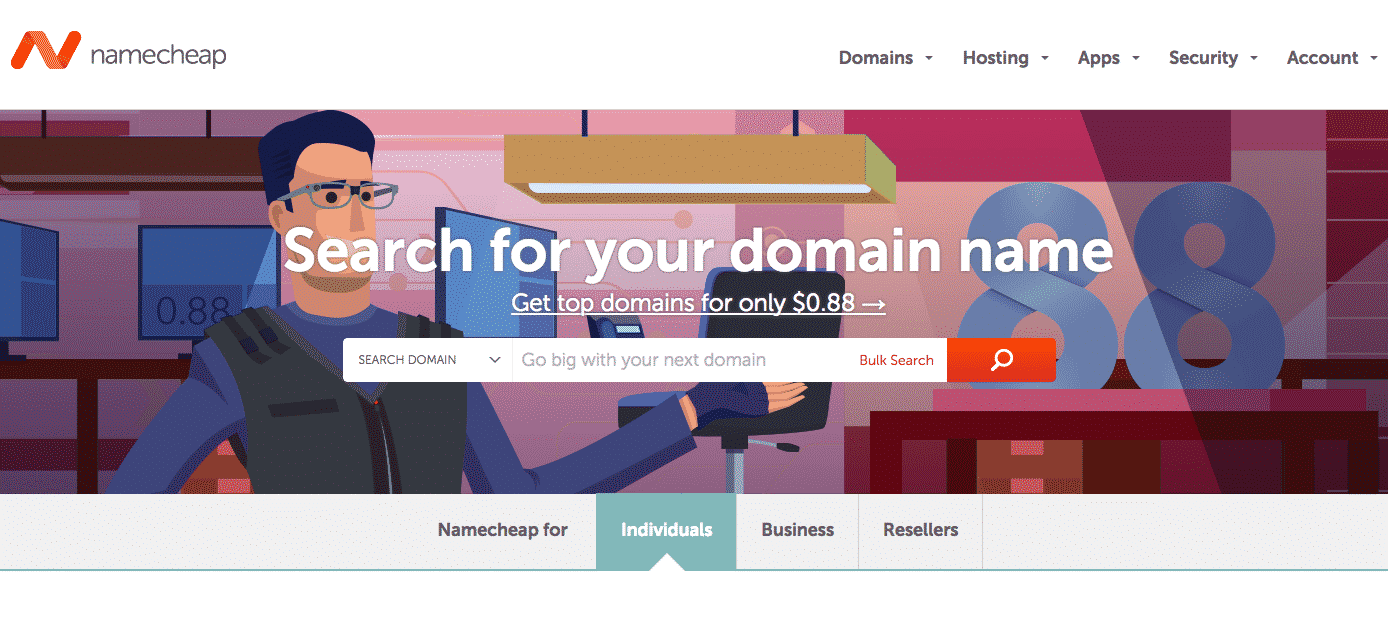 The number 88 features heavily on the Namecheap homepage – in fact, the domain registrar has created an entire persona themed on it: Agent 88. The agent is so called because $0.88 is the price of some of the websites Top Level Domains – though what this has to do with Agent 88's backstory as an undercover spy remains somewhat less clear.
The great thing about Namecheap's low priced TLDs is that they come with a year's free subscription to WhoIsGuard – a service that keeps your information as a webmaster private online.
Namecheap's pages are straightforward, with an extended support base that can be accessed via thumbnails that sit next to any information that the site anticipates may need explaining. It's this level of customer care and usability that may go some way to explaining the site's 4.6/5 rating at Shopper Approved.
The service is split into three categories to cater to the needs of individuals, business, and resellers, and the site features a dedicated app store for users to subscribe to add-ons and plugins for their website with ease.
The icing on the cake is Namecheap's compatibility with WordPress, with the site boasting that, thanks to their EasyWP service, users can set up a functioning WordPress website 'in less than 30 seconds.'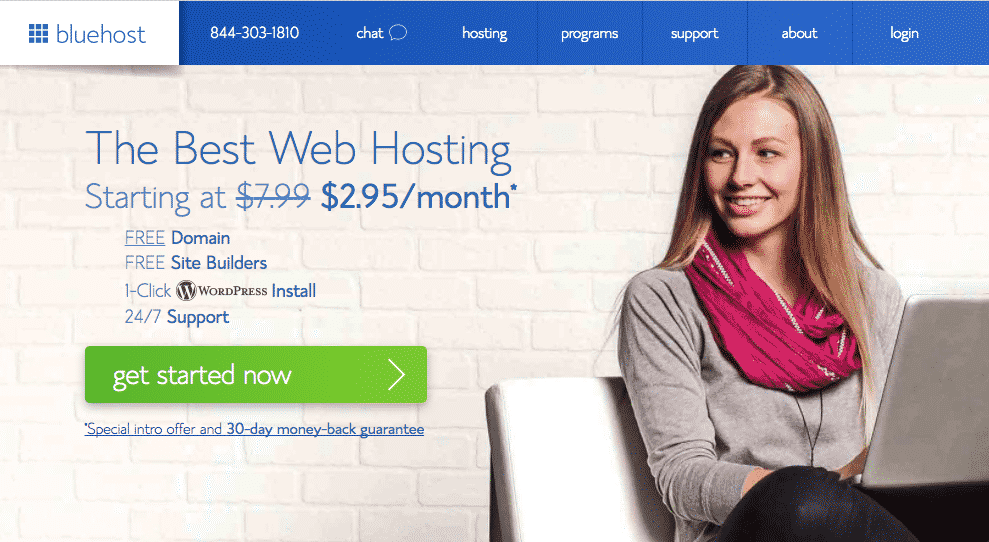 BlueHost have opted for the quality approach to their registrar service, with their secure and well-supported domains available for purchase from $2.95 per month. In fact, you're purchasing website hosting and domain name comes free.
If you're new to the world of domain ownership, you could benefit from BlueHost's trained in-house experts that offer 24/7 support for customers. While the site's 1-click WordPress installation feature makes running sites via the platform simple.
BlueHost's unique selling point is their Cloud Hosting platform in what the site is calling a 'revolutionary Cloud solution.' Statistically, this drops website loading times to a fraction of their competitors, while the hosts claim that content is safer thanks to sites being mirrored across three devices – ensuring that if anything should go wrong with one piece of hardware, there'll be plenty of backups on-hand.
While there are plenty of cut-price registrars around, the dedication in support that BlueHost shows is exemplary, with regular backups being produced every day and resource protection services as standard it's hard to doubt that you're getting value for your money.
BlueHost also offers four levels of premium coverage designed to appeal to all users from different professions: basic, plus, prime, and pro. The differences in price are minimal, though, and the most comprehensive, pro service is listed at $13.95 per month, at the time of writing.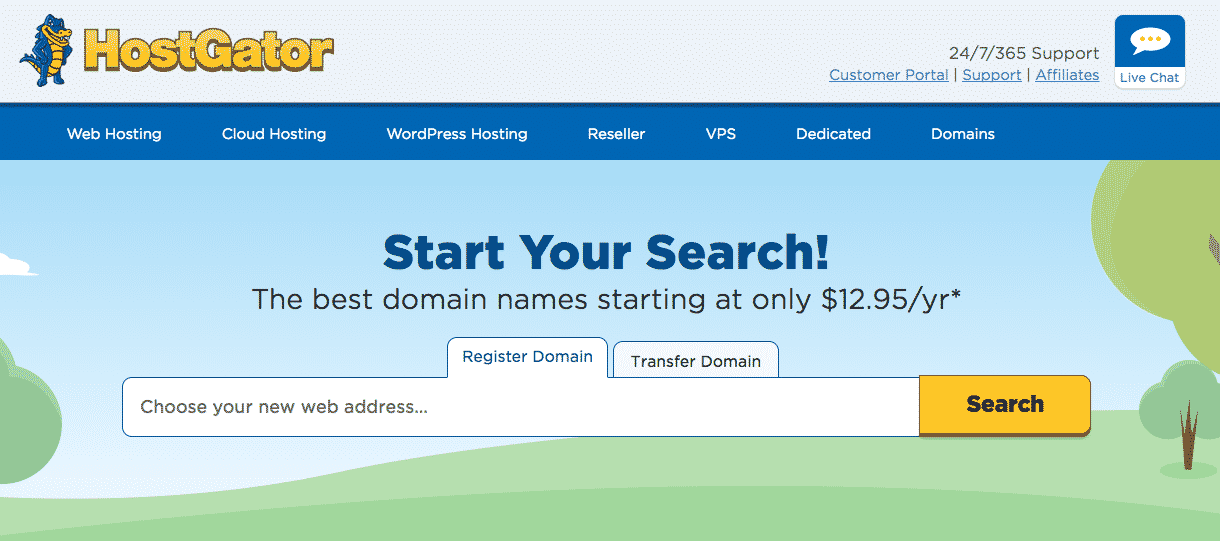 Another registrar that boasts an ever-ready support system is HostGator – who proudly claim that they have personnel ready to take on any issues "24/7/365." Furthermore, all accounts with the hosts come with access to a LiveChat function and email support.
With domain starting at only $0.95/year, HostGator is also one of the most popular WordPress hosting providers. With over 4,500 free website templates to choose from and the meticulous cPanel control panel, the chances are that you'll be able to create a look that suits both your site and domain name alike.
HostGator's hosting performance is bolstered by its strategic partnerships that offer a $100 discount on Google AdWords as well as free WordPress blogging tools and a Yellow Pages business listing. Users can also enjoy the option of add-ons in the form of a SiteLock powered security service and daily automated backups (at $1.67 and $2 extra per month respectively).
Uncertain buyers can also enjoy the privilege of a 45-day money back guarantee if they're not satisfied with their coverage.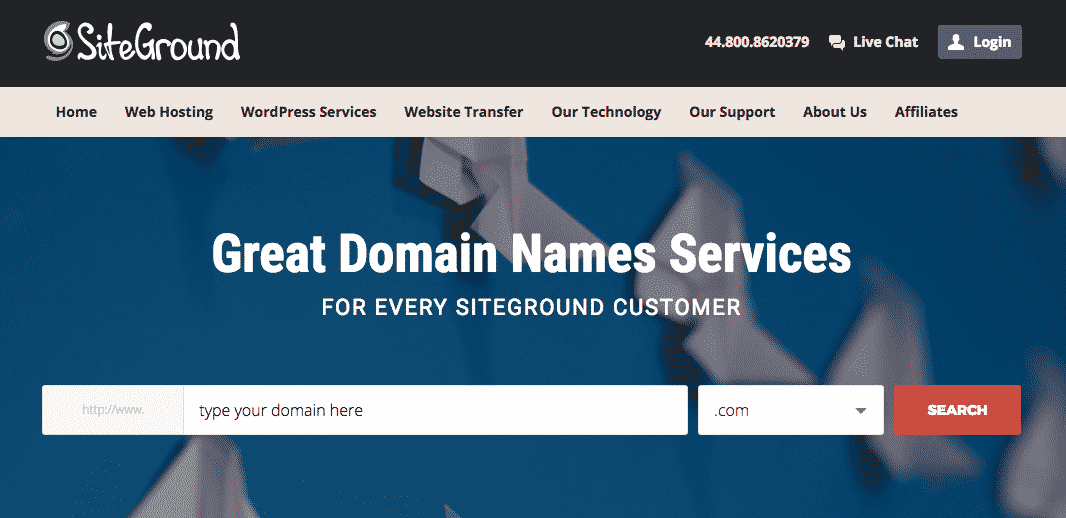 SiteGround is a registrar that puts its customers first. Unline most host homepages that show off their prices above-the-fold, this site begins by explaining how their services can be of use to different types of customers – from bloggers to businesses to developers.
Incidentally, SiteGround's hosting prices start at $2.75 per month for a service designed for start-ups and range to $7.95 for coverage that's "crafted for real web geeks." You can expect to pay at least $11.95/year for a domain name.
It appears that the types of subscription offered by SiteGround aren't centred around one service having more features than the other, cheaper ones. They claim their middling coverage is optimised to enable web growth. The descriptive nature of their site makes the decision-making process effortlessly easier for customers.
With servers positioned across the world in the US, Europe and East Asia, users are guaranteed to have a website that users can access swiftly without hassle – especially when taking their 99.996% yearly uptime averages into account.
SiteGround also has the option of using the super-fast, super-premium (prices start at $48 per month) Cloud Hosting service that promises to handle the most demanding traffic to a website without breaking a sweat.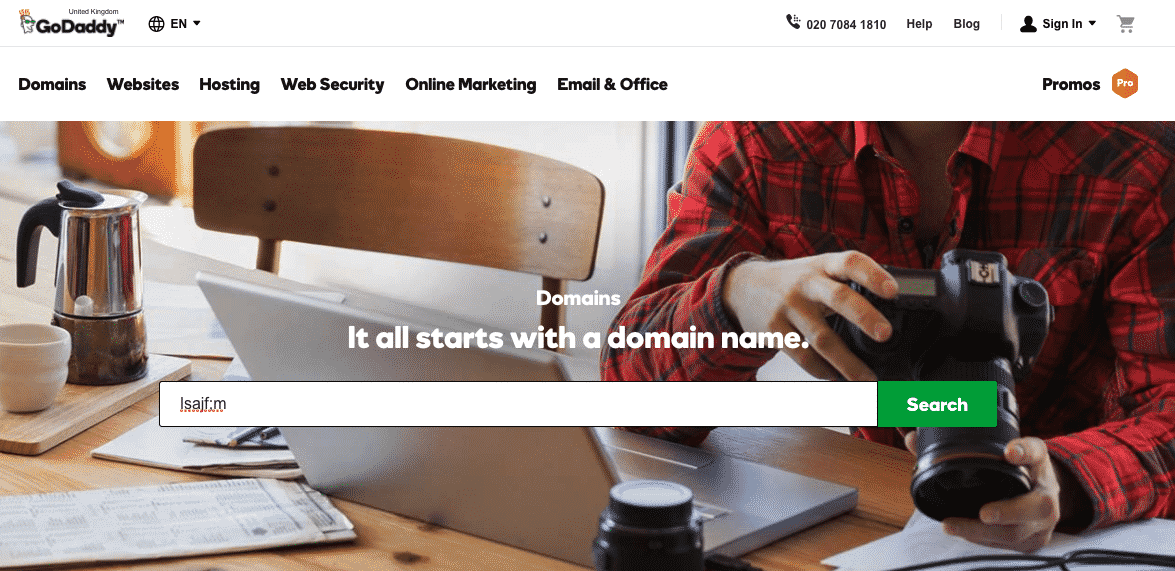 GoDaddy is a behemoth among registrars. With over 17 million customers, 73 million sites under management and 6,000 employees, GoDaddy's prowess in the field speaks for itself.
As with many market leaders, GoDaddy can afford to offer great cut-price deals on websites, and their domain name search engine is incredibly helpful. It not only returns results with instant quotes on prices but also lists numerous variations, suggestions and options for filtering results. This is definitely the site for any soon-to-be webmasters who are yet to fully make up their mind on what domain name to go with.
Speaking of prices, GoDaddy's costs are simple – each domain name is scrutinised and valued according to how powerful its wording is. An available single word .com domain name can be valued at thousands of dollars, but their alternatives can start as low as $0.99 per year.
Another perk of GoDaddy is the option of adding an SSL certificate to a website. Incorporating this security measure into your domain is an ideal way to boost your SEO ranking as well as eliminating the prospect of visitors receiving a warning message over your site's security before accessing your homepage.
GoDaddy really comes into its own with the wealth of domain tools on offer. Users can search for a domain name, or explore domain extension and even enter auctions for vacant names that are in high demand.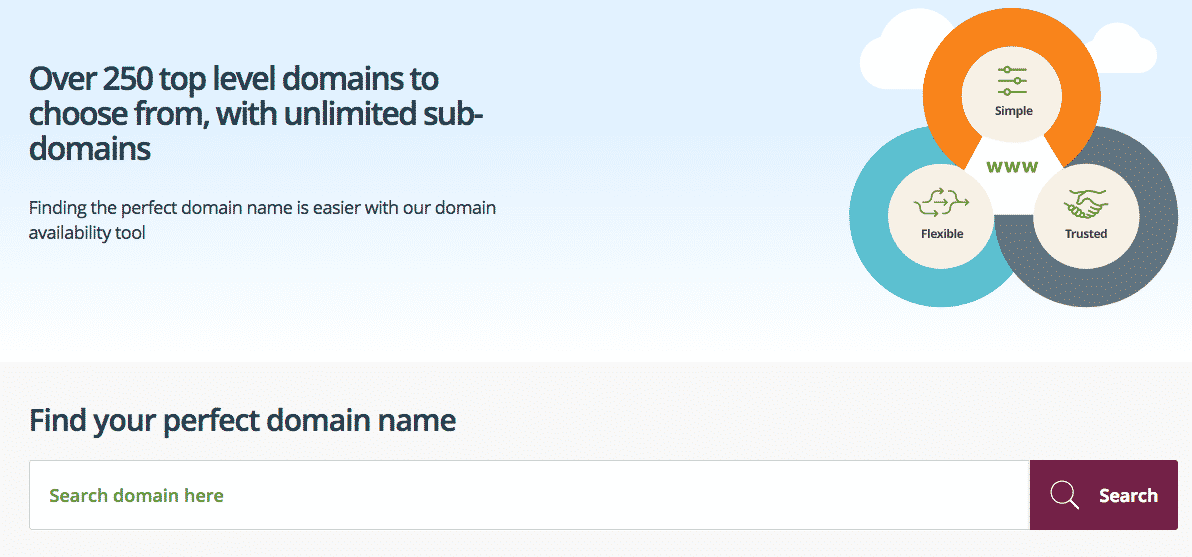 Nothing beats free. And with One.com users can enjoy registering a domain at zero cost for the first year. However, there's a setup fee.
For such competitive prices, can users expect the same level of service as the many other registrars out there? Well, with over 1.5 million customers and a four-star Trust Pilot rating, it appears that there's a lot of quality despite the minuscule price structure (though it's worth stressing that there's a fixed setup fee attached to all domains).
One.com boasts a simple setup process for getting your chosen domain name up and running as well as DNS management and a range of website publishing tools to help the process. Subscribers are even gifted a voucher for Google AdWords so that you can start running paid search ads.
There's a risk-free element embedded into purchases thanks to a 15-day money back guarantee and One.com boasts over 250 domain extensions so that you can create the perfect URL for your site.
To top it off, One.com has a highly intuitive domain search filter that helps visitors locate a great name before deciding on making a purchase. Not only does it search for your naming ideas but it also automatically creates suggestions by picking vacant words that are similar in meaning to those searched – all with real-time estimates in accompaniment.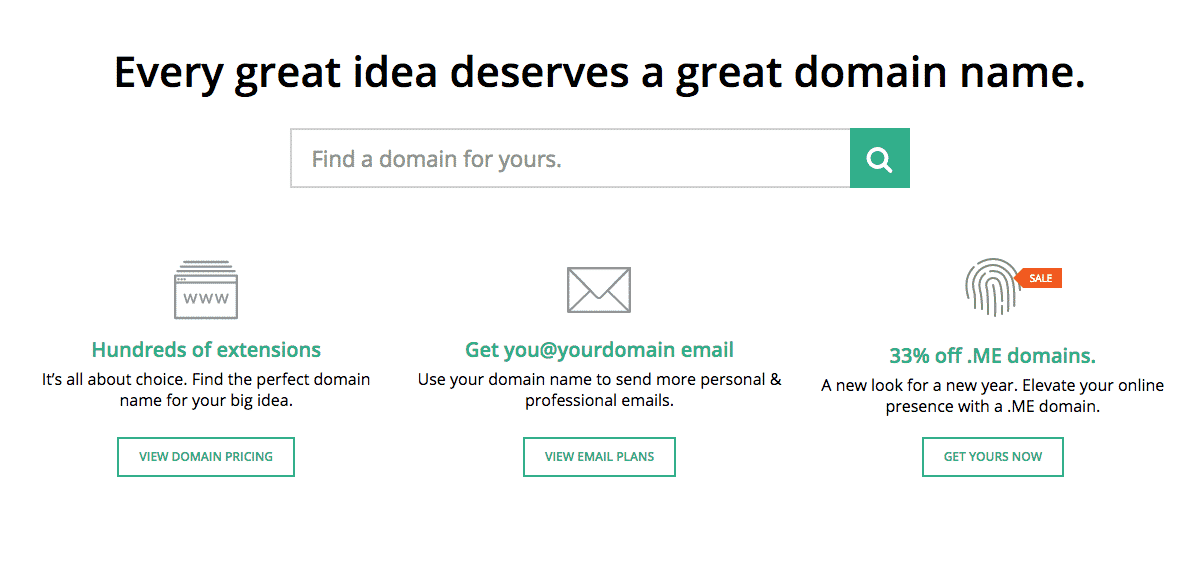 Hover domains are compatible with a range of platforms to enable users to integrate their accounts on Facebook, WordPress, Twitter, Google+, LinkedIn and Tumblr among many others.
The registrar's domain name search is extensive and easy to follow, with results broken down into categories like 'top picks', 'featured', 'suggestions' and with field-specific extensions. This creates the risk of accidentally spending hours scrolling through hundreds of ideas without even noticing where the time has gone – a testament to Hover's usability.
Away from the search engine, Hover has a great page dedicated to providing price lists for all of the extensions covered by the site, and even has a sale section that shows which extensions have been discounted for users and by how much.
Their cheapest extension at the time of writing is on sale at $4.99, and prices can range into the hundreds for a bespoke extension like '.hosting' or '.audio.'.
A handy feature of Hover is its affiliation with DomainAgents, which enables users to make bids to website owners if their site name is already in use. When clicked, you are presented with a popup that contains a quote and a guarantee that your offer will be handed to the website owner – a great tool for users that are keen on their ideal name.
What's especially heartening about Hover is their intentions to give back to society, with the registrars supporting meaningful campaigns such as 'She++', 'Electronic Frontier Foundation' and 'The Day We Fight Back.'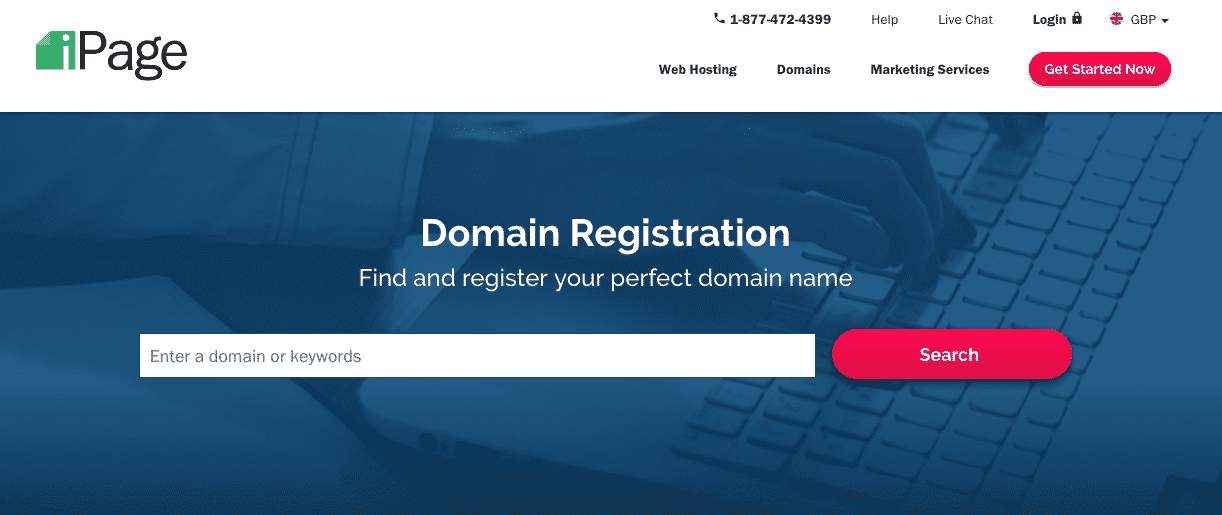 Founded in 1998, iPage has been bringing domains to users for over 20 years.
iPage now has 318 domain extensions for users to choose from so finding an address for your favourite name has never been easier.
The registrar operates with different registration phases to help bring the right domains to the people who want them most and can potentially make for a great tool to keep ahead of the competition.
As well as 'General Availability', iPage has 'Pre-Registration', 'Early Access Period', 'Priority Pre-Registration' and Trademark Holder.' These varying phases allow users to get ahead of the game and reserve their prime digital real estate before the domain name has even become available for purchase.
The Domain Registration service offered by iPage is great for prospective buyers who are still undecided on a name. Here you can type your ideas on what type of name you're looking for, and the search engine will brainstorm for a range of combinations and similar .com URLs that could be of use.
Prices for domain names vary depending on the quality of address you're looking for – but typically range from around $1.99. The service also offers the opportunity to prioritise security with an optional DomainPrivacy add-on for $9.99.
iPage carries a wealth of support options, with around the clock telephone help and a live chat function for peace of mind as you're making your purchase.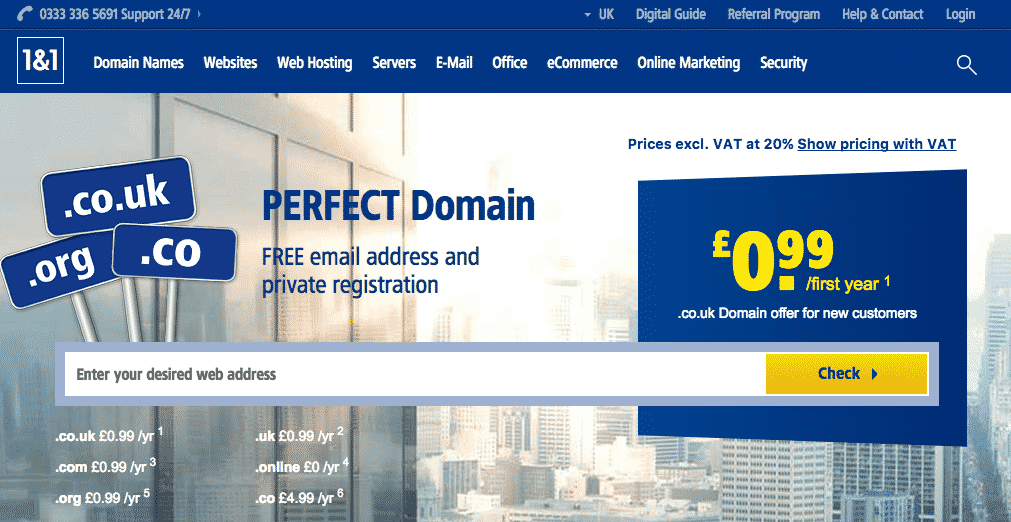 1&1 takes the business of getting domain names seriously. Affiliations with WhoIs means that domain lookups and private registrations are seamless.
The registrar cuts no corners in providing options for prospective buyers, with pages in place to not only register a domain name but to look up ideas for addresses, to investigate the latest extensions and to explore the best offers in a dedicated price list.
1&1 is also a site that cares about its customers. With their dedicated Digital Guide section, users can access hundreds of articles on not only domains but hosting, servers, websites in general, and even small business ownership.
The pricing of 1&1 is certainly not to be sniffed at either – with many domains costing $0.00 for the first year of their use and excellent low cost hosting subscriptions and SEO tools to boot, like professional listings for directories and navigational systems. With so many brightly advertised cheap offers 1&1's homepage can feel a little bit like a jumble sale – and it's never long before you find something that you didn't realise you need.
Even when building your new domain via their MyWebsite service, 1&1 presents you with unique offers like online business cards and online newsletters for customers as well as the more traditional array of site design templates and a bespoke email address.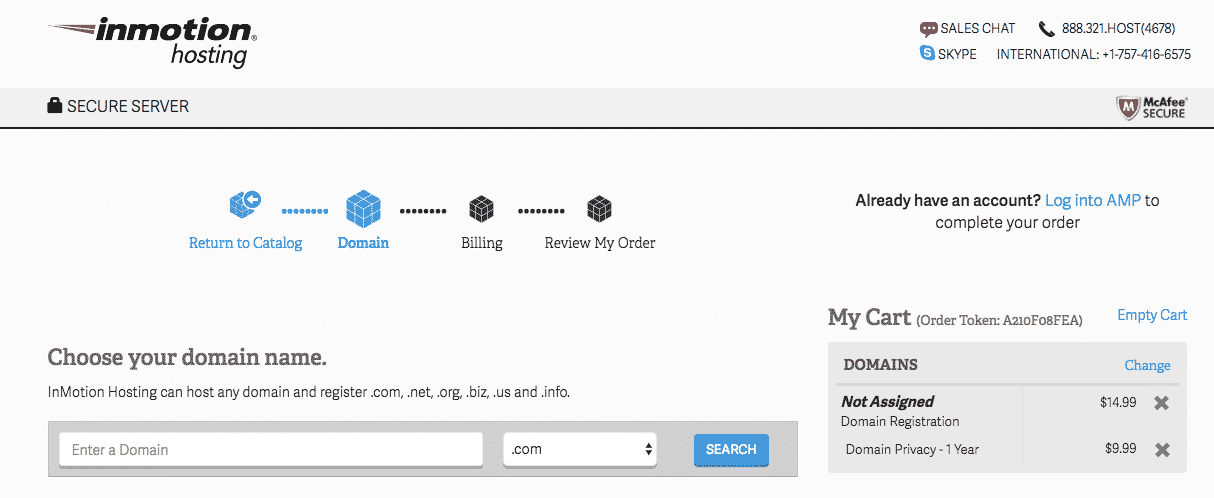 InMotion is a great no-nonsense registrar that makes purchasing your new domain name very straightforward.
When deciding on your domain, the site sends you to a secure server where total costs are shown on a yearly basis with no pesky hidden charges lurking.
While InMotion has a limited range of domain extensions on offer, the essential selections are covered. Domains start at $14.99/year. Customers are also offered the chance to purchase a year's domain privacy protection for a reasonable $9.99.
The registrar also features 24/7 support, along with live chat and a helpful option for interacting via Skype. There's also the highly useful Support Centre, which offers tutorials, FAQs, guides, tools and resources for anyone wishing to have a query resolved.
As hosts, InMotion offers free SSL, hack protection and custom firewalls for their domains, while custom service caching enables speedy web hosting. What's more is that InMotion sponsors a host of open source programs that create a thriving community around their services.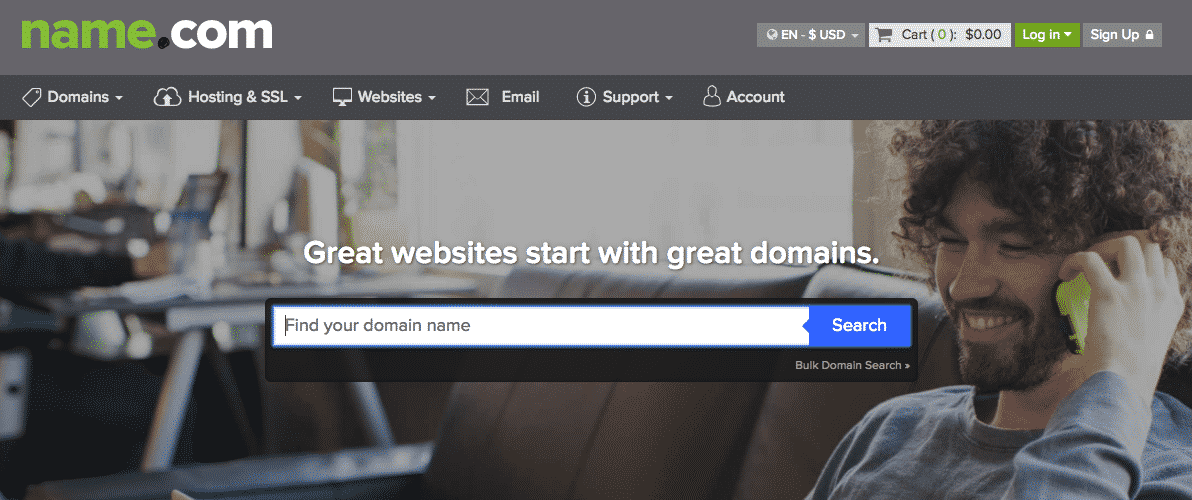 As you may guess from the brand, Name.com prioritise the business of domain names above all else. This enables the site to act as one of the most useful tools when it comes to finding the perfect address.
Users are able to conduct domain searches, bulk domain searches and premium domain searches – there's also a great function to scour the web for expiring addresses, which enables customers to buy a domain name that's about to become available.
Conducting a search for your ideal domain name is easy, and Name.com's results page features a helpful suggestions panel as well as results ranked by popularity and a premium, high-end results section.
Prices typically start at a reasonable $5 a year, while a subscription to Name.com's hosting service begins at $10.99 monthly.
If you were to acquire a domain from Name.com you'd also get to benefit from the dozens of apps that the site has available – from SEO Tools to free email platforms, there's something for everyone.
Name.com's 'Knowledge Base' section also promises to help customers out with numerous dilemmas with a solid set of FAQs and tutorials.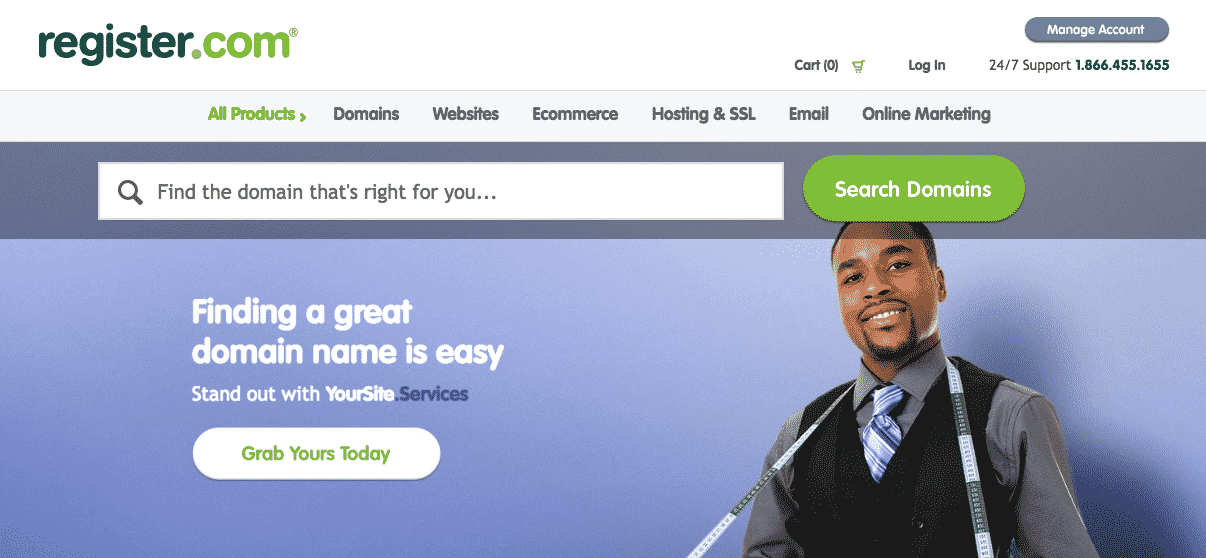 Register.com offers users the chance to get to grips with their future website immediately thanks to their domain search engine prominently positioned on their homepage.
Refreshingly, Register.com goes to great lengths to assist you in your decision in picking the ideal name. The site's results page intuitively changes words and swaps letters around to create a range of similar suggestions in a way that other registrars aren't capable of replicating. There's also a box reserved for the closest fitting premium domain to your search words and an accompanying price.
Another perk that isn't always present in registrar sites is the option to submit a bid for an existing domain to the website owner, which is a welcome function for those of us that don't want to leave their favoured domain name without putting up a fight.
Register.com also runs WhoIs through their site, so researching those occupied sites becomes a simple task.
Alongside their dedication to helping users find the domain names of their dreams, Register.com runs some great features for those looking to set up their site. For example, their affiliation with Google Partner allows the site to place your domain in sponsored listings and location searches with ease.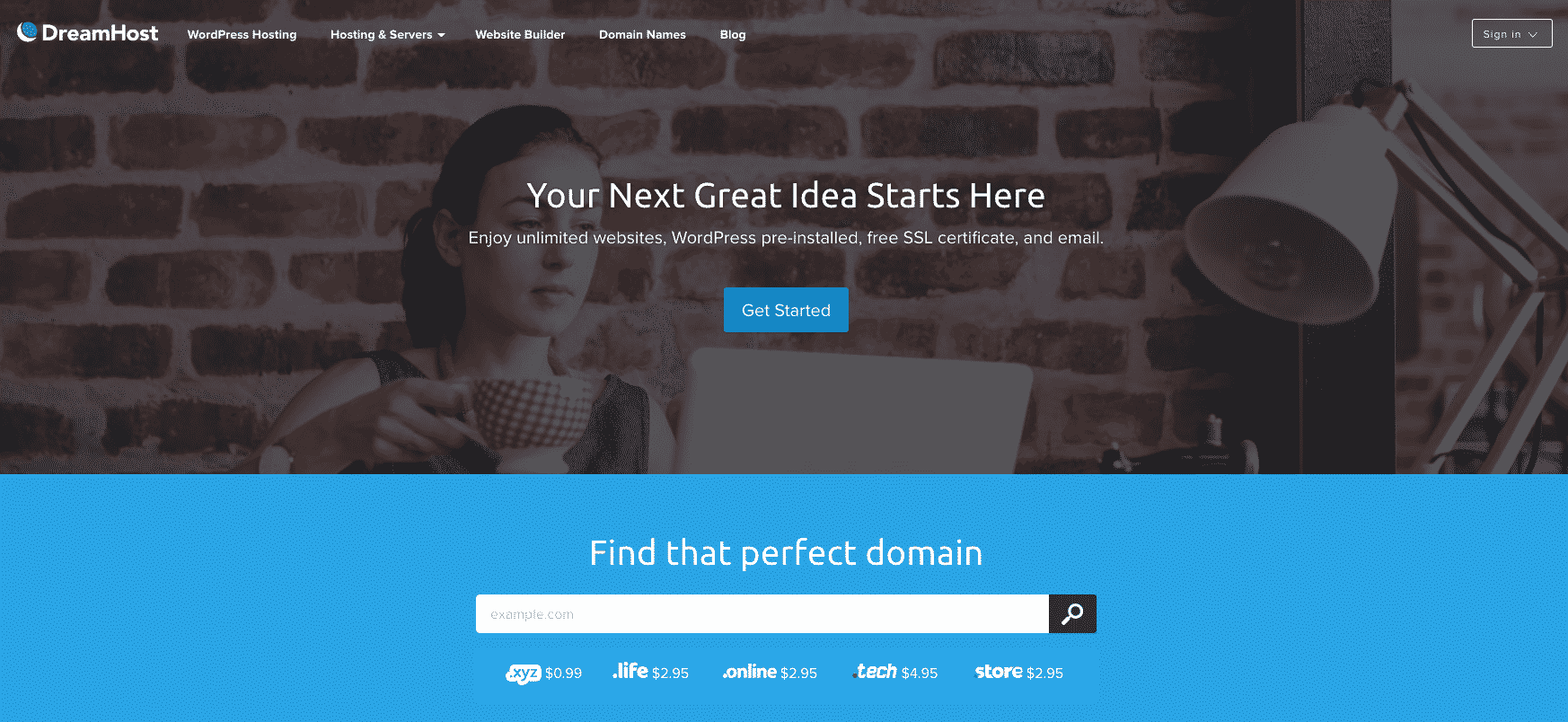 Another registrar boasting an excellent service to help customers identify their perfect domain name is DreamHost. Their easy to navigate website and search function helps return a series of suggestions listed by type – from featured addresses to popular to suggested.
DreamHost is an inexpensive company to use, with domain prices beginning at $0.99. The site is proud to feature plenty of Top Level Domains too.
The list of perks offered with domain purchases from DreamHost is impressive. Users can enjoy free sub-domains, DNS management and optional domain locking to guarantee your pages are secure.
Customers also get the useful option of utilising flexible name renewals, so it can automatically remain their property for as long as they wish.
With the added perks of WhoIs privacy protection, ICANN accreditation and DreamHost's 'Remixer' service that helps you design a beautiful website in no time, there are plenty of reasons to choose this site when selecting your domain.

The search engine giants have waded into the fray with their own entry into the domain naming business.
Still in its beta testing stage, Google Domains search offers an easy to use interface where a domain name's availability is coded with a smiley face, if vacant, and a greyed out sad face if occupied. But with seamless links to WhoIs, users can look up domain names that are in use to investigate potential future availability.
The interface is recognisable thanks to its consistent themes with Google+ and other services provided by the brand.
The domain search doubles up as a dashboard for customers to keep on top of their registered domains and manage the billing process too, which adds to the usability of the site.
Google Domains promises that packages are available from an impressive $12 a year and thanks to the popularity of Gmail, you can get a free custom email address set up with the internet's favourite server too.
Customers are able to get a great range of extensions through the site, and Google pledges that private registration comes at no extra cost.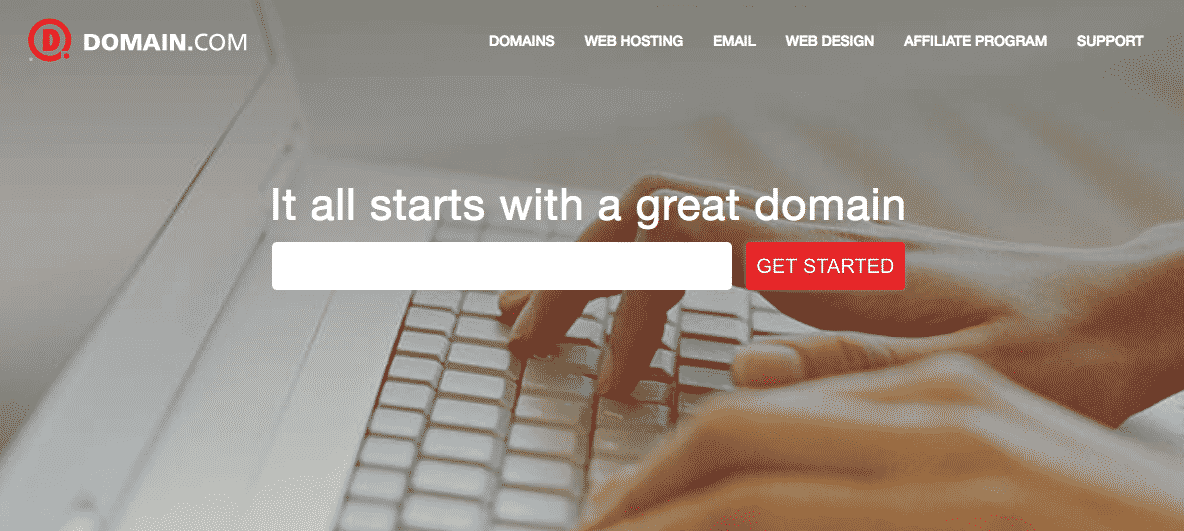 Domain.com offers a great selection of ideas based on your search words, with premium suggestions coupled with small tweaks and changes to your original terms that's bound to point you in the direction of the ideal address.
Prices start at around $3.99 with some .com domain names available for as little as $9.99. Those costs coupled with Domain.com's $3.75 basic hosting service makes for a thoroughly cheap method of getting a new website up and running.
With the perk of WhoIs lookup aiding the site's domain searching services, you're bound to find as much information as possible out about your favourite names. Domain.com also supports URL and email forwarding, DNS management and a transfer lock that protects your domain from unauthorised transfers.
Domain.com's NameSafe feature also protects your site from the advances of hackers. NameSafe prevents account ownership updates, name server updates, contact updates and the moving of domains between accounts so that your online address will never be taken away from you.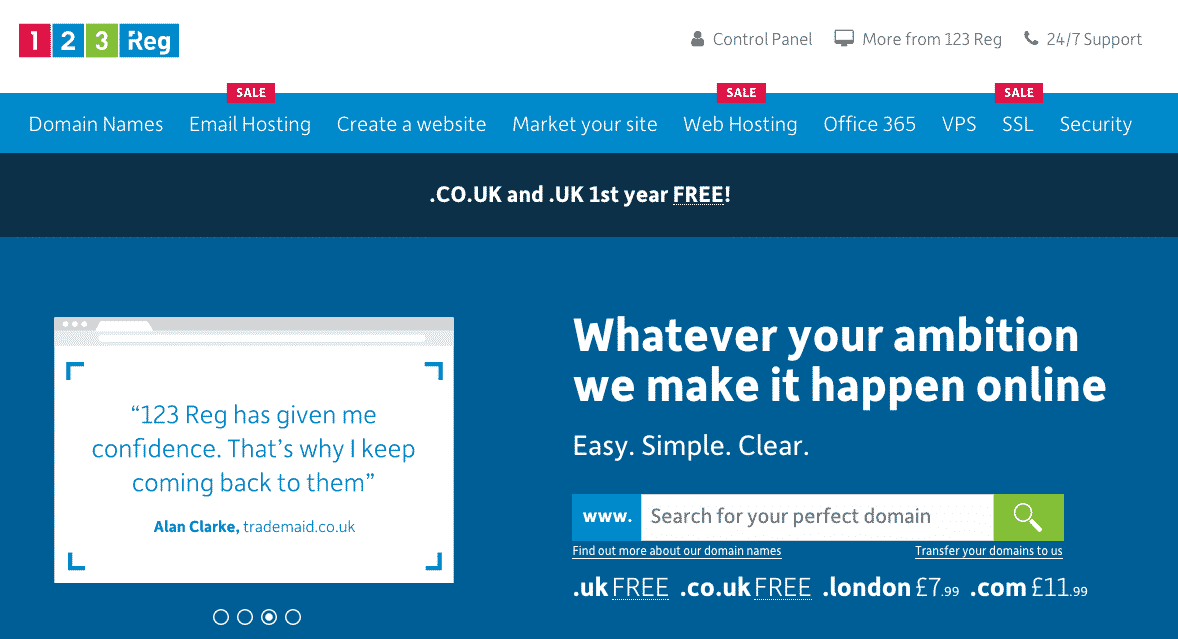 There are some fantastic options available to buyers with 123 Reg – particularly their Backorder function that allows customers to purchase a domain the moment it expires.
Prices vary based on popularity, but some domain names carry the alluring offer of $0.00 for the first year – a great way of easing yourself into the business of website management that's relatively risk-free before the standard rate of $9.99 yearly kicks in thereafter.
The 123 Reg search engine is smart, and offers plenty of suggestions in order to find a name that suits you and your brand. There is even a filter present that helps you sort results by character length, price and location, among other things.
123 Reg supports a number of features, like premium WordPress hosting, a premium website builder, SEO solutions and local listings.
With over 3.5 million customers and a 24/7 support service, 123 Reg has been able to cater to its customer base time and time again, just like it's been doing since the company was established in 2000 – making it the UK's oldest domain registrar.

Enom adapts their offerings to different types of customer, and focuses on bringing a bespoke service to small businesses and individuals, brands and enterprise, domain investors, and domain resellers alike.
This attention to individual user needs may just be the reason why Enom has continued to thrive for over 20 years in the domains market, and a simple keyword search for domain names returns a range of results that are categorised to suit the type of customer being served.
Search results are listed in order of advertised domains at discount prices, then the high-end premium options before showing a longer series of combinations between domain names and their respective extensions. The dedicated categories bar helps users to narrow their results down by the type of domain it's intended to be – for example, the Country/Location category returns domain extensions like .ca, .uk, .us etc, while the Tech category returns .io, .tech, .cloud, and .digital extensions.
Domain prices vary depending on their popularity, but appear to total up to start at around $8.98 per year – a great price for those looking to start from scratch in the digital world.
Furthermore, Enom offers a range of SSL certificates from reputable providers and strong anti-malware add-ons to boot.
Enom boasts 24/7 support as well as an impressively comprehensive FAQ help section on their site. Customers also have the option to subscribe to updates from the company to keep abreast of any announcements or widespread issues reported. All in all, a very user-friendly registrar.
How To Buy a Domain Name
Now it's time to get your domain name registered before it's gone. For the sake of this guide, we'll be using NameCheap as our domain registrar. Note that the process of registering a domain name is fairly similar between different registrars.
1. Go To NameCheap

Enter your preferred domain name and press the search icon.
2. Select Your Domain Name Extension
Browse through the tabs to select your desired domain name extension (also known as TLD). This can be .com, .co.uk, .net, .org, and many more. Once selected, click the cart button next to your chosen extension.
We'll be using itmatters.site in this tutorial.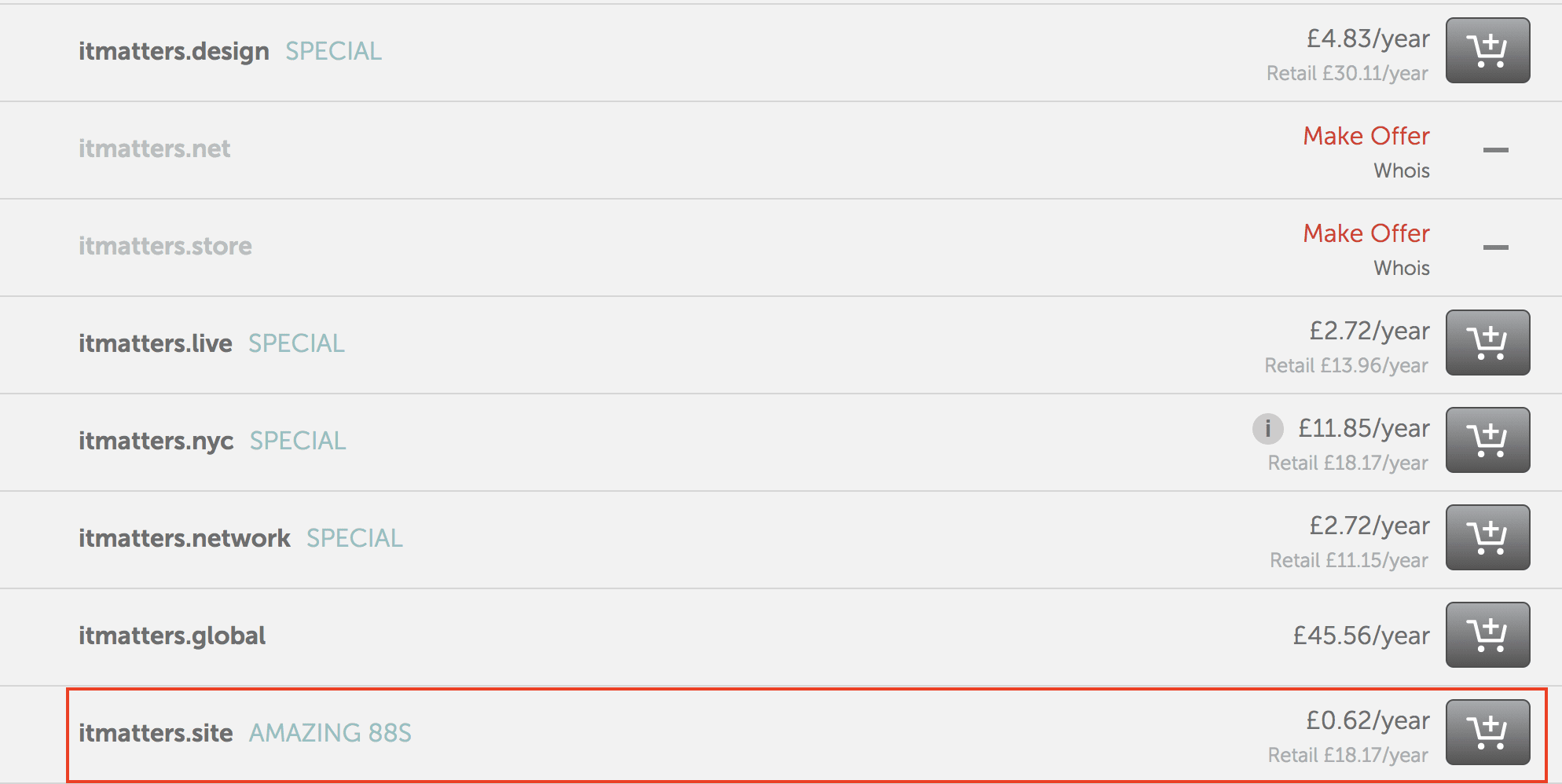 3. Choose Your Options
On the next screen, you'll be asked to select a number of optional features.
These include:
Domain Registration Period & Auto-Renewal
WhoisGuard & its Auto-Renewal – option for keeping the details of the buyer private
PremiumDNS & its Auto-Renewal – extra feature for securing your domain name and improving its uptime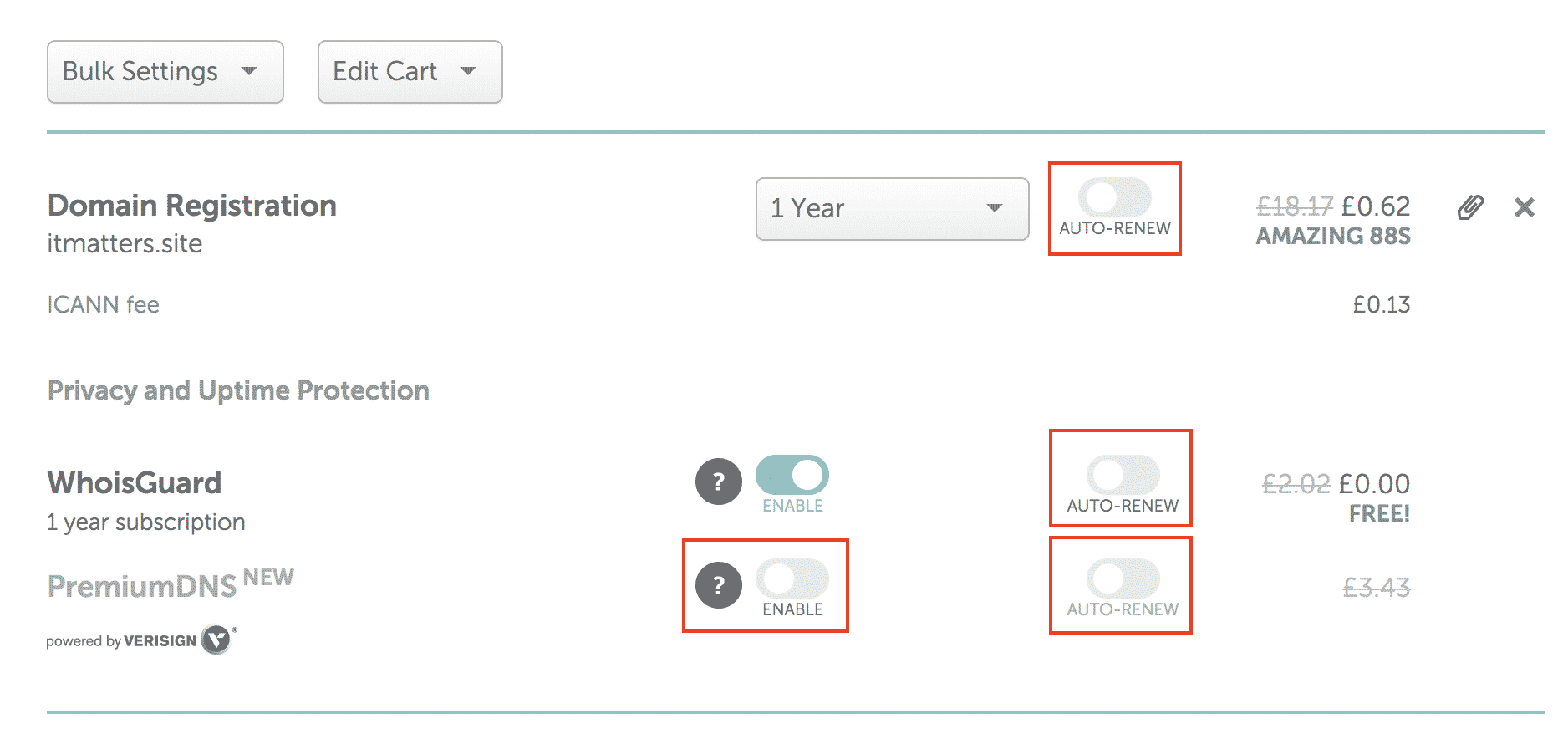 We'll go ahead and select all options.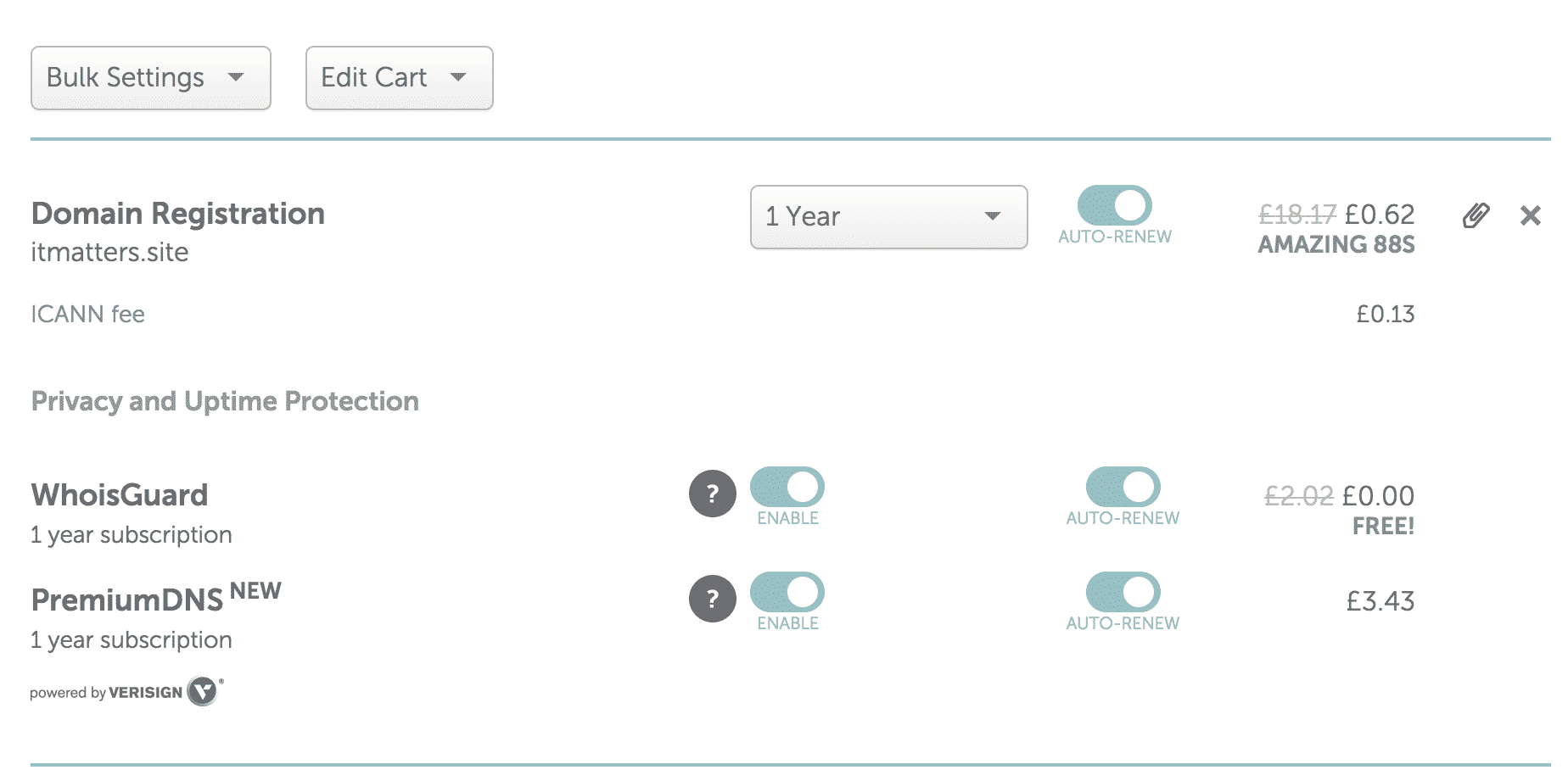 When done, check your details and selected features and then press "Confirm Order" at the bottom of the screen.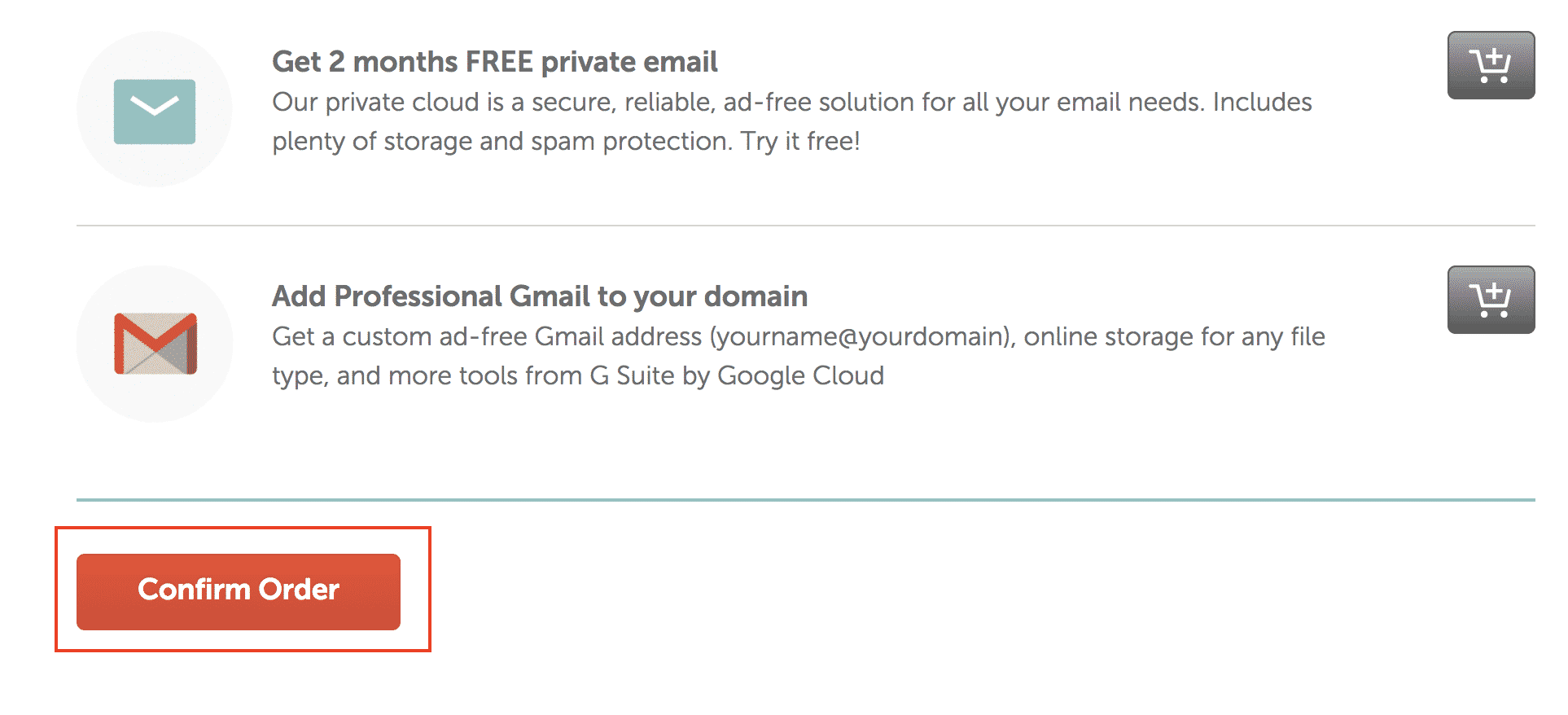 4. Register or Login
You'll then be asked to register with NameCheap (or login if you already have an account with them).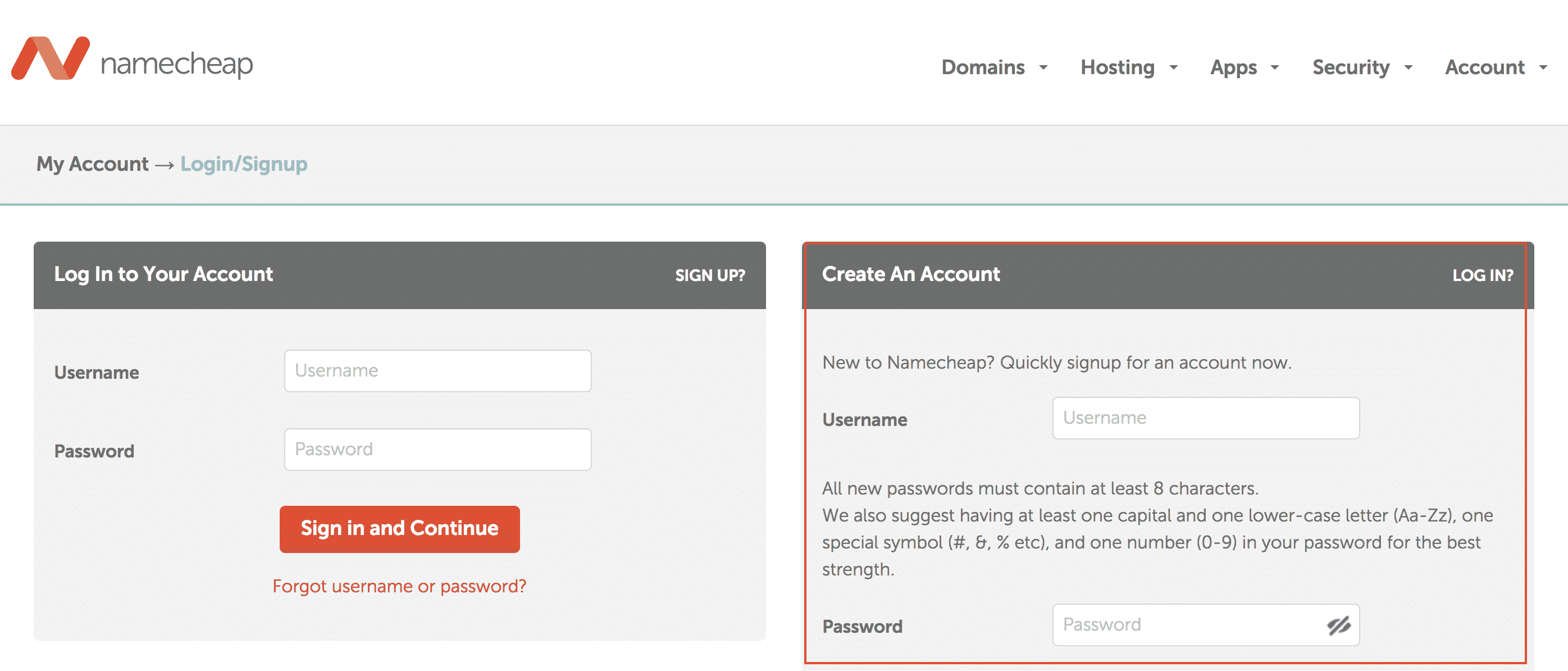 5. Checkout
Once logged in, check your order and proceed with the payment.

6. Look For a Confirmation Email
Go to your registered email and look for a confirmation email from NameCheap.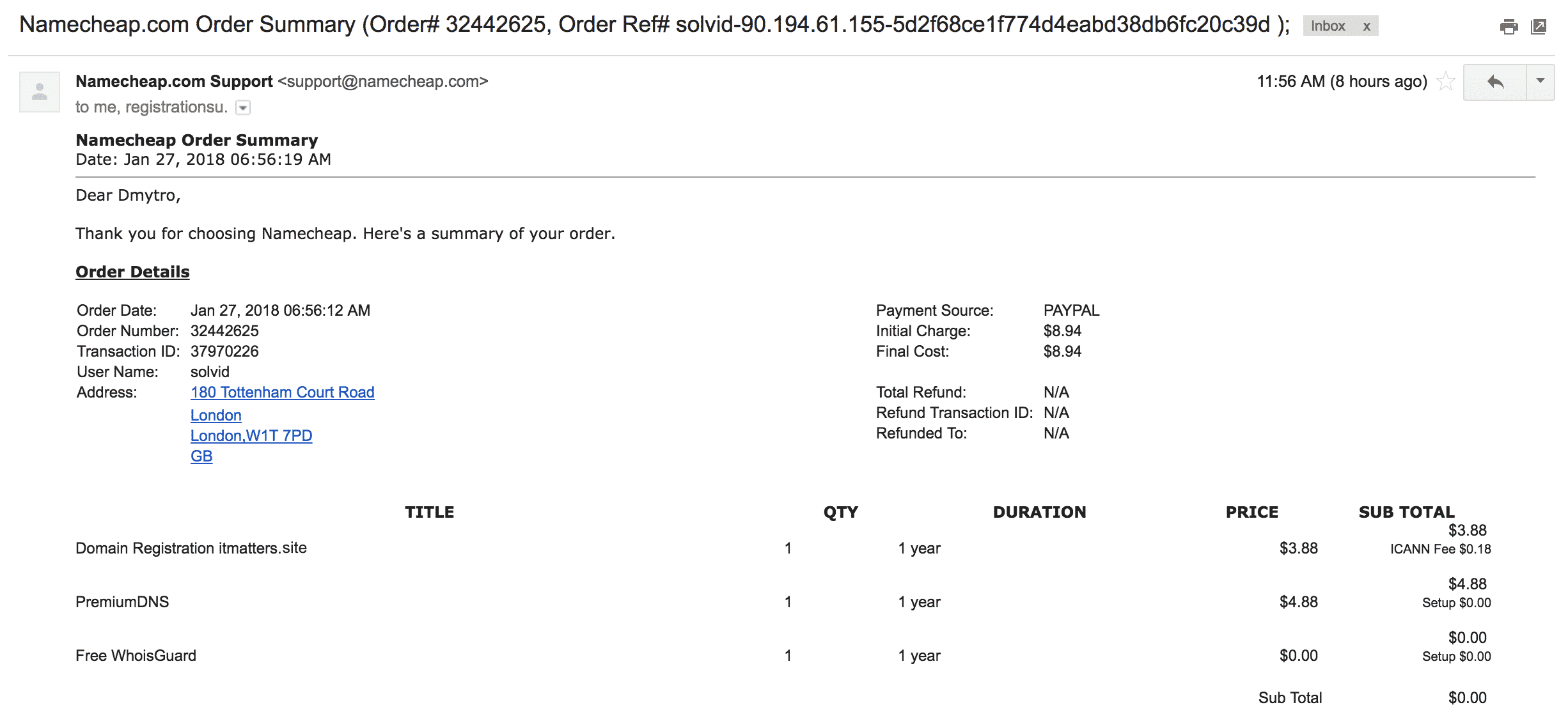 7. Point Your Domain Name To Your Web Hosting Provider
For your website to go live, you'll also need to set up a web hosting provider. Once set up, you may also need to point your domain name to your hosting provider. To do this, you'll need to change your DNS (nameservers) settings.
In this tutorial, we'll be pointing our domain name to Siteground (our recommended WordPress hosting provider). To do that, log in to your NameCheap account, go to "Domain List" and then click "Manage" next to the domain name you'd like to point.

Then, log in to your hosting provider account and allocate a section with your DNS (nameservers) details: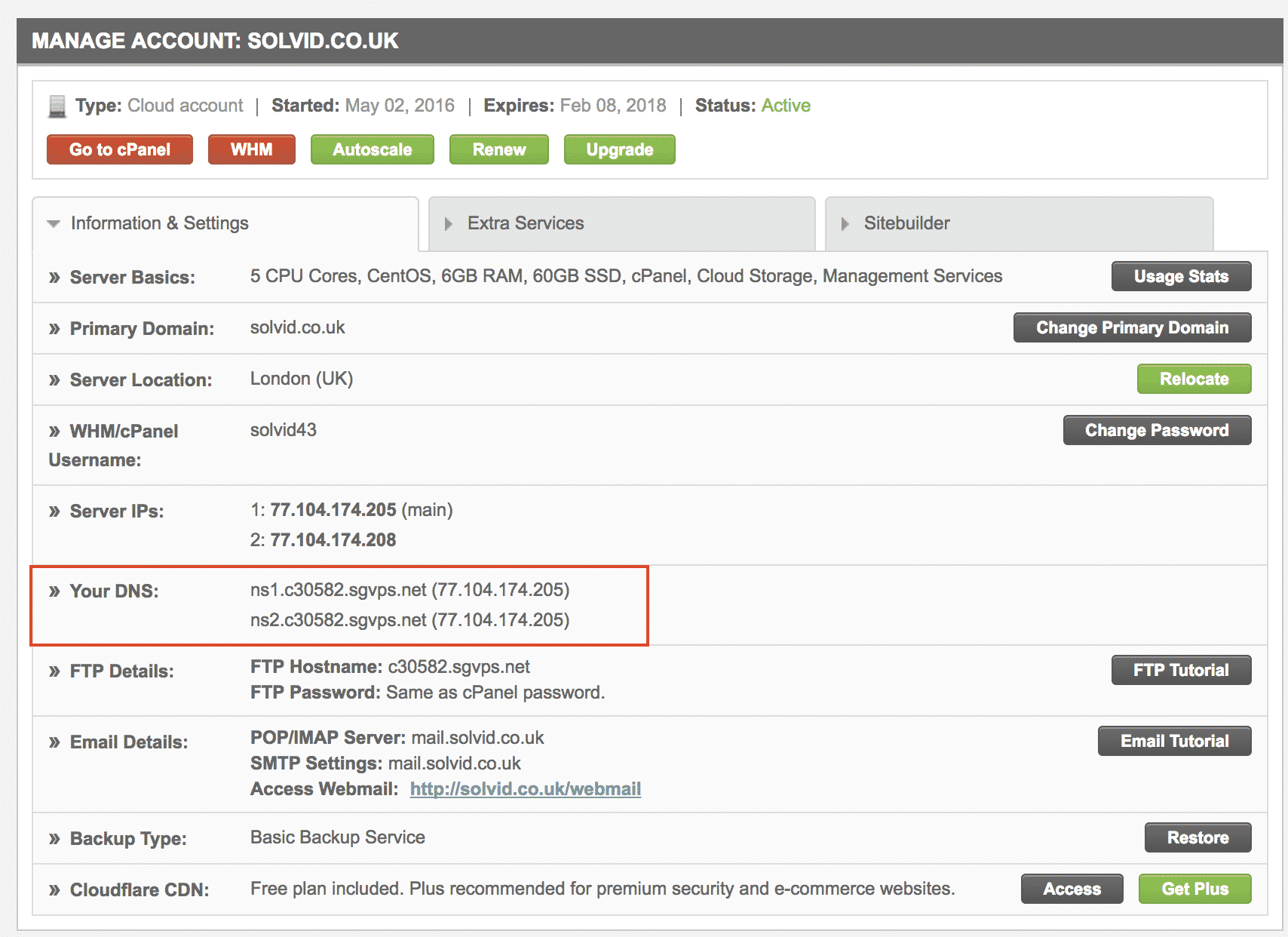 In our case, we'll need the following two lines (not IP addresses):
ns1.c30582.sgvps.net
ns2.c30582.sgvps.net
Then, go back to your NameCheap account and go to the "Nameservers" section and select a "Custom DNS" from the drop-down list.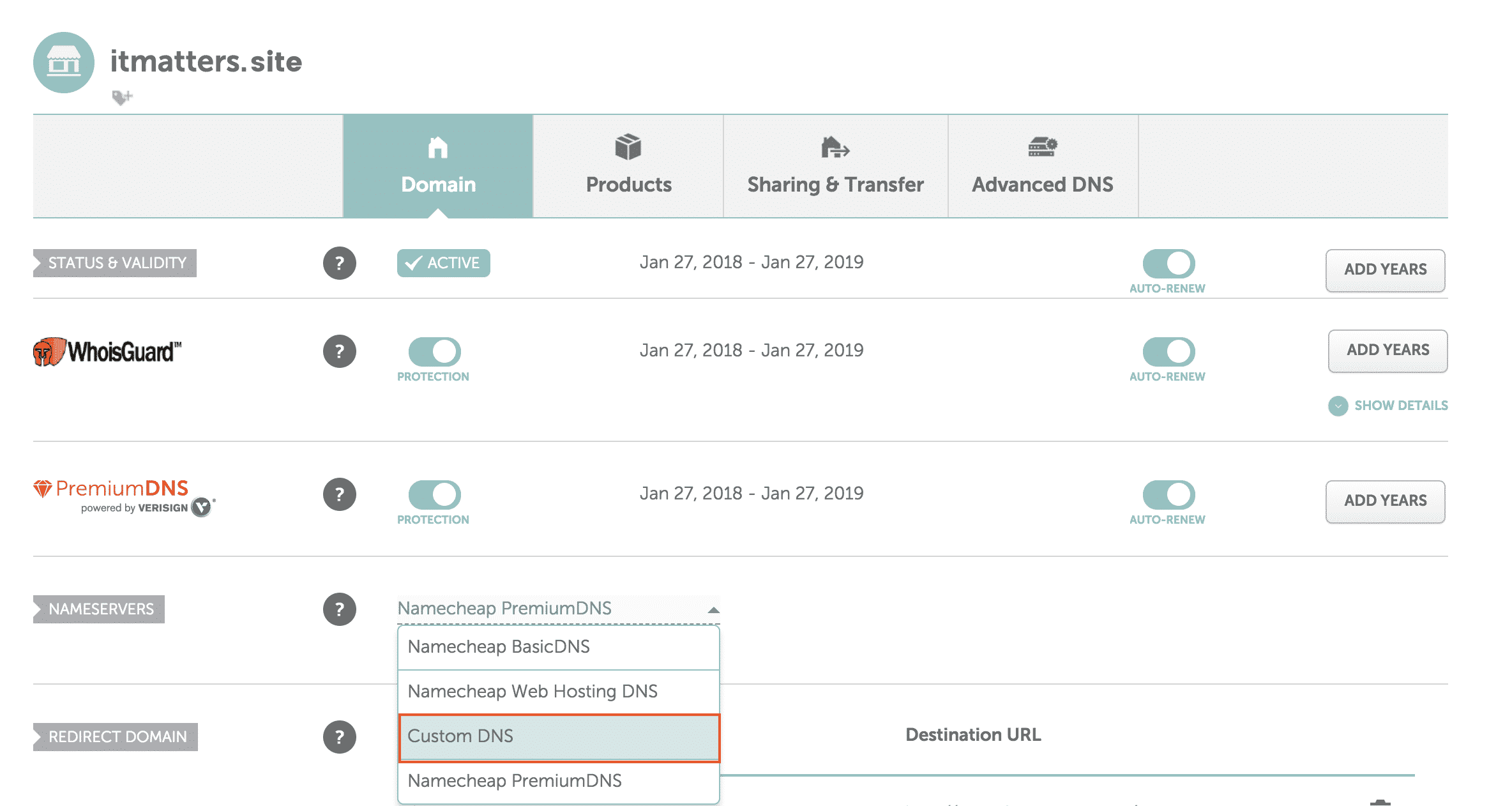 Next, input the nameservers copied from your hosting account.
Press save. Note: It may take anywhere from 24-72 hours for settings to propagate.
That's it, you're now done setting up your domain name. You're now ready to go and build the site of your dream.
To Sum Up
This pretty much concludes our review of 17 best domain registrars. If you're on a lookout for an affordable domain name, we'd recommend using NameCheap, it's cheap and easy to use.
However, if you're looking to get your domain name along with hosting for your blog/website, we'd suggest going for either Bluehost (you get a free domain name when buying one of their hosting plans), Siteground or Hostgator.