Most people have some degree of knowledge and experience that can be shared with others. The rest of us certainly have a lot to learn. Whether it's gardening tips or how to start and grow a successful business, it can be taught and learned online via learning management systems (LMS) that provide users with access to digital classes.
Online courses share a lot in common with IRL classes – an instructor provides information through interactive and engaging video, text and audio and PDF files. Students follow along, take notes, collaborate and sit exams to test their knowledge.
LMS software provides thought leaders and experts with excellent platforms from which to sell courses of high value to customers. As more people turn to the online space for learning materials and expert courses, creating and selling courses online can yield high returns.
Barriers to entry for teaching online have significantly declined. Coupled with the fact that the demand for online learning has surged; there's never been a better time to create meaningful courses for knowledge-thirsty users.
Tips for building courses and sharing your knowledge and expertise
You have some knowledge and experience you wish to share with your prospective learners. Building and sharing courses online takes time and of course, money. Establish your budget, know your target audience and use the most appropriate tools to build the right course.
Once you've established the course paths and goals you wish your learners to pass, you can build your eLearning content accordingly. Be sure to consider how you want to pace the course and whether you will 'drip content' for users to learn effectively.
Focus on quality over quantity. Often in learning environments, less is more and can ensure learners retain the small doses of important content. Be sure your delivery is intuitive and creative. Create various delivery methods by utilising videos, handouts, printables and PowerPoints.
Finally, write clear instructions. Each learner should have an acute understanding of what they can expect from the course and know precisely how to get the most out of it. Many of the online course platforms mentioned below will allow you to annotate instructions on documents to make them clear.
Hundreds of course platforms exist, but which are best for publishing and selling your course materials? Each can offer something different in terms of the user interface, customer support and provision of resources and educational content. Let's take a look at what the leading platforms in the game can offer you.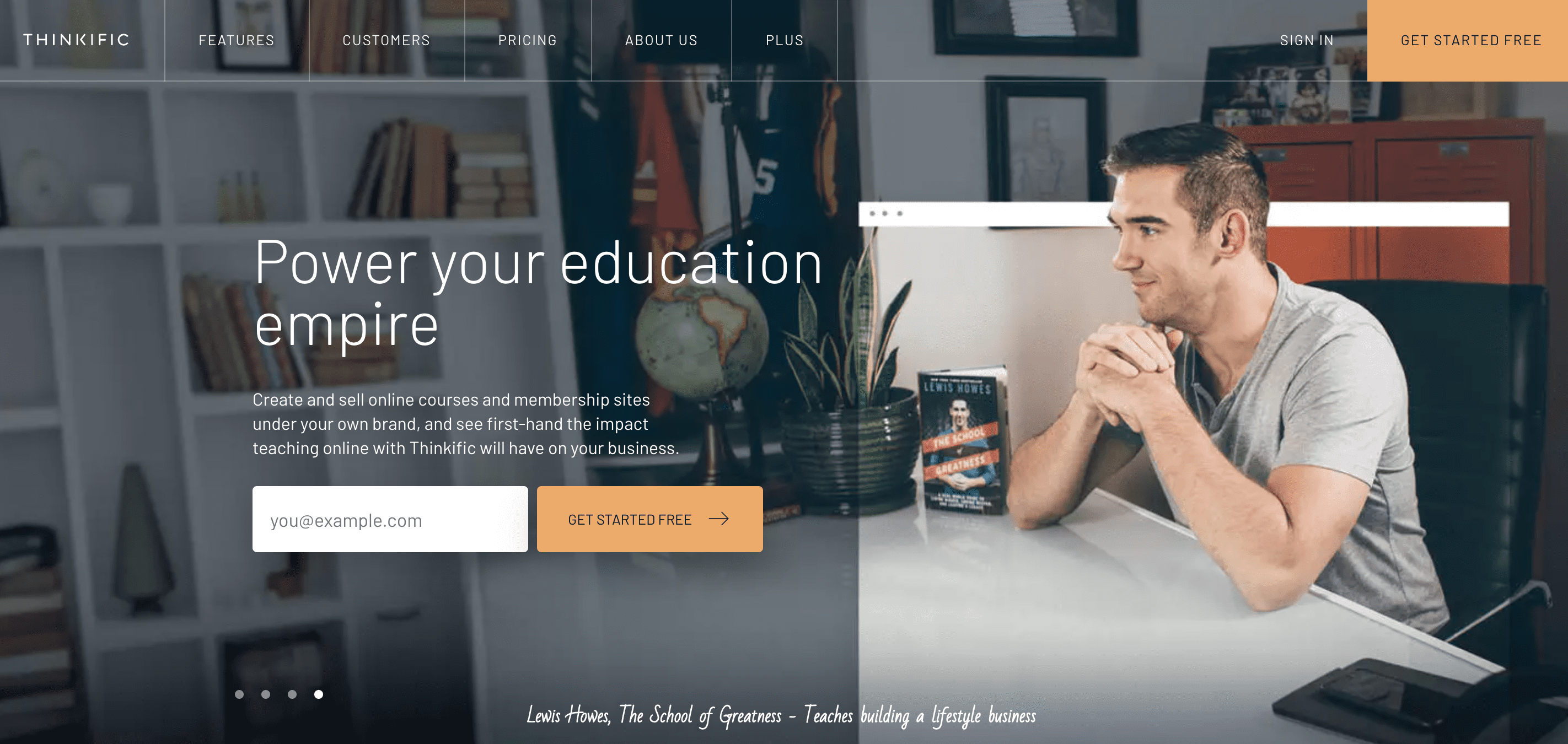 This hosted platform allows users to create and sell online courses from their own website. Meaning users can upload all types of content, structure their courses and manage payments under their own brand. Unlike other course platforms, Thinkific isn't a course marketplace; so users have complete control over their pricing strategies, user data, and company policies.
The platform is largely focused on offering core features for creating and selling online courses. Such features enable users to add multiple types of content like video, text, quizzes, PDF, audio and surveys to each course. Courses are delivered professionally through the inbuilt course player, and users can create a community forum to issue certificates and create linear learning paths with prerequisite lessons.
Whilst Thinkific doesn't include a sales funnel builder or an email marketing platform; its site building, useful tools come abundance. Thinkific offers a range of themes and site builder tools that require no coding. Users can import existing content quickly with its intuitive drag and drop course builder. Create stunning websites and sales pages with inbuilt content creation tools. Create text and HTML lessons, presentations and quizzes directly within the system.
Users retain 100% ownership over their content using Thinkific. It promotes the growth of individual brands – not Thinkific itself. It's easy to use features that allow users to create and distribute sophisticated online courses at relatively low costs.
In fact, Thinkific's core features, like content hosting, are free. Its basic plan at $49 a month can be easily upgraded to their pro plan at $99 a month for more features, with zero transaction fees across all plans.
It should be noted that Thinkific is yet to develop a mobile app. This could hinder its use in some cases – particularly for target demographics on the go. Its two-step checkout process isn't optimal for conversions – meaning particular attention to marketing and sales could be required. Thinkific doesn't support PayPal for recurring payments, which could deter some customers looking for maximum security payment options. Whilst these pitfalls can't dismiss Thinkific as an ineffective online course platform – they should be considered from a business stance when choosing the best one to host your courses.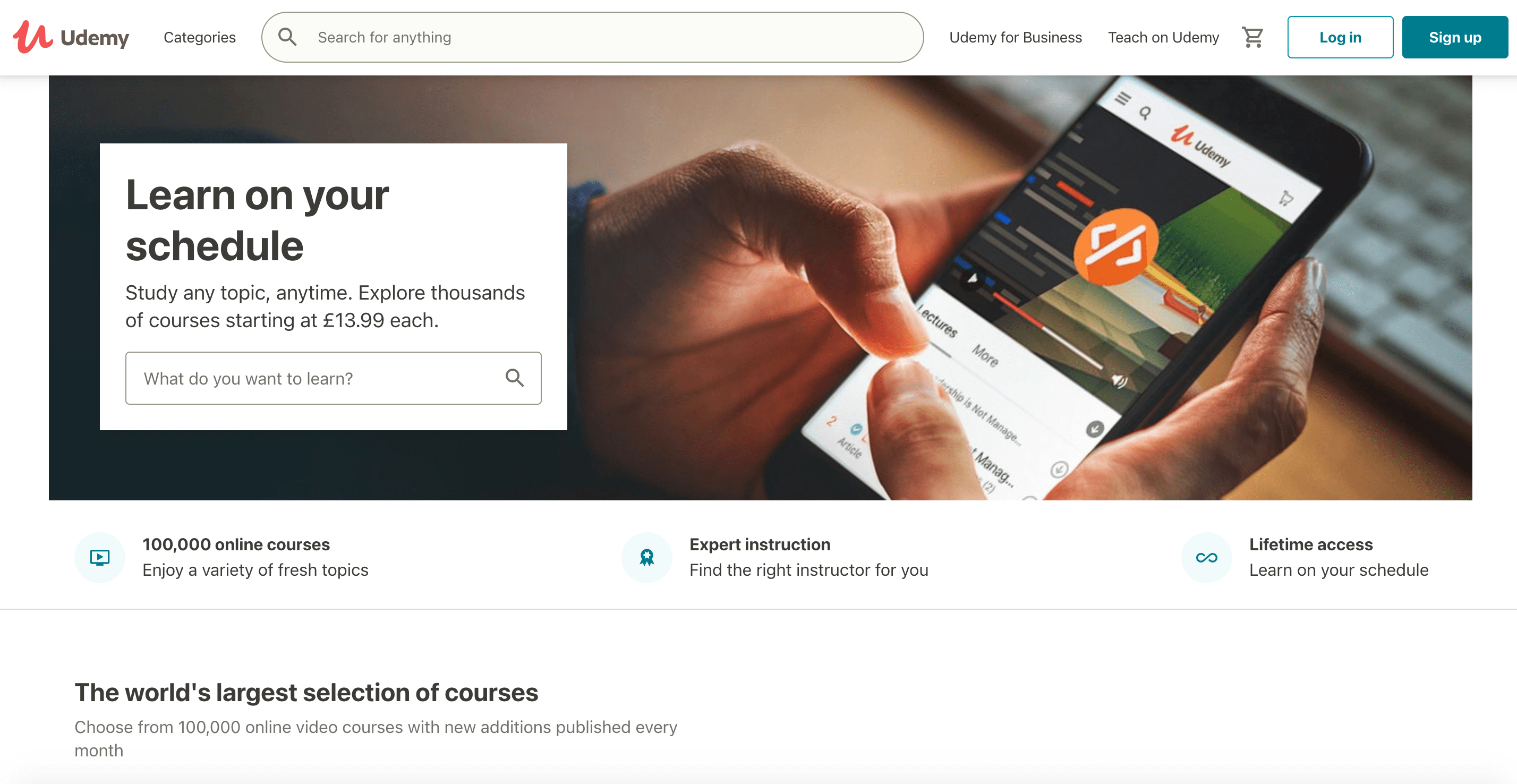 Arguably one of the largest online course marketplaces out there – Udemy is an excellent place to begin when it comes to course creators listing their material. Users can use Udemy for free to create and distribute online courses on the platform or to their own audiences. When distributed privately, users retain 93% of profits, leaving Udemy with 3%. Sales accumulated through the platform give Udemy 50% of the sales.
With a user base of 40 million + students, most course creators at least consider Udemy at some point in their careers. Owing to its large user base, many instructors have been successful on Udemy hosting multiple free or paid courses – without needing to pay a monthly fee to Udemy.
Udemy offers experts, leaders, teachers and instructions a lot of guidance and support when it comes to creating their courses. Its simple user interface takes experts through a step by step process to get their courses up and running. Begin by navigating to the 'Teach' tab where you'll be prompted to enter your course title.
Find in-depth articles on Udemy covering topics on 'how to create assignments and practice tests', to uploading videos and adding lecture descriptions. The support available is unparalleled and should give course creators the confidence they need to create courses, publish them and generate sales.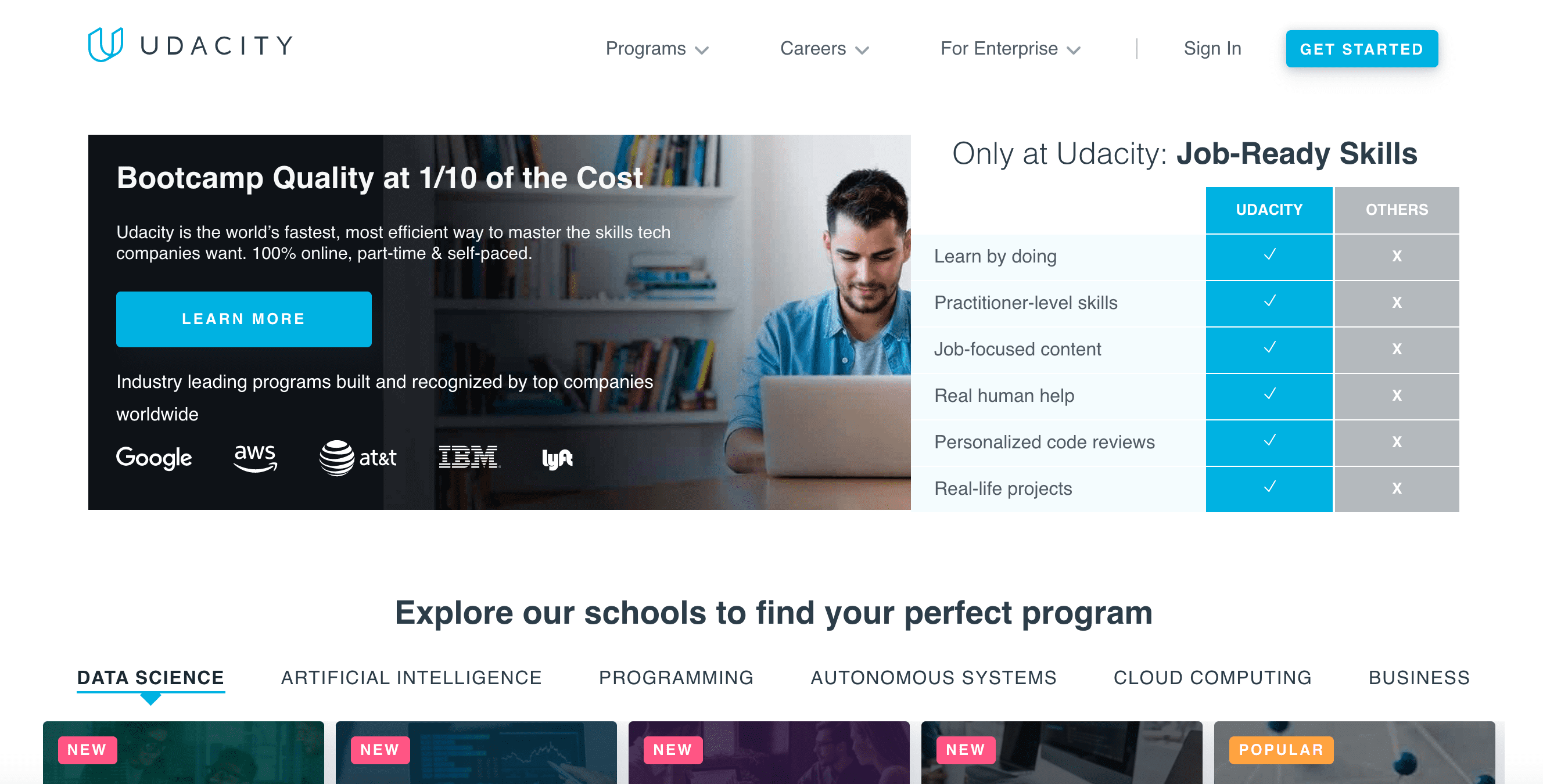 Becoming an instructor with Udacity means helping to train the next generation of tech leaders in 160+ countries and enhance thousands of lives around the world. Udacity instructors develop content over 2-3 months, using a 'backwards design' process. You'll create lessons, quizzes, projects and assessments.
Whilst Udacity isn't necessarily open as a platform for businesses or individuals to create their own courses and sell them, it does invite experts or those with interests in specific subjects to become instructors and develop courses for other people.
Udacity's instructors build projects, lessons and videos in close partnership with Udacity's Content Team. You won't generate income by selling your courses, but you'll be paid for the courses and material you create for Udacity. It's worth considering for professionals with knowledge and experience to share with others.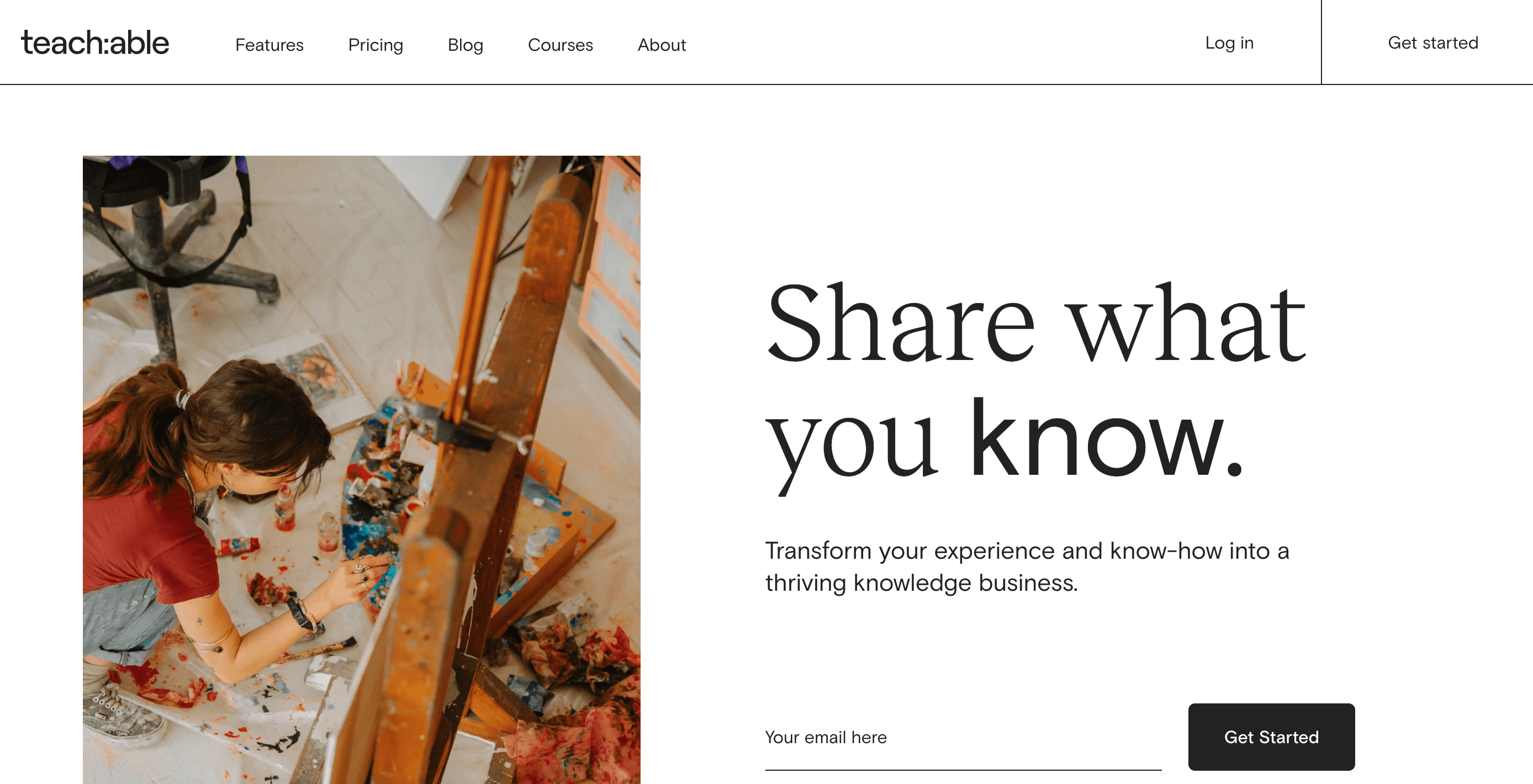 By creating an account with Teachable, you'll be joining 22,000 other instructors on the platform. It's been dubbed one of the best platforms for beginner course creators and can be used for free with $1 plus $0.10 for all transactions. Find more tools and resources with one of their plans ranging from $29 a month to $399 a month.
Get started with a Teachable Plan and find access to a premium course creation bundle. The Pro plan at $79 a month had graded quizzes, custom completion certificates, website theme customisation tools and support for up to 5 admin users. Effortlessly upload content, recreate the look of your online teaching space again and again, and engage with your students too.
Its basic features, starting at $29 a month include custom domain, email and affiliate marketing, drip course content and coupon codes for promotion. It should be noted, however, that the basic version comes with a 5% transaction fee.
Across all versions, multilanguage support is available and its integrated blog helps to improve SEO. Open discussion forums keep course consumers coming back for more, whilst Teachable's marketing solutions, like integration with MailChimp, Ontraport, and Mixpanel, help course creators generate more sales. It's the perfect solution for those looking for a comprehensive platform with many features at a low cost.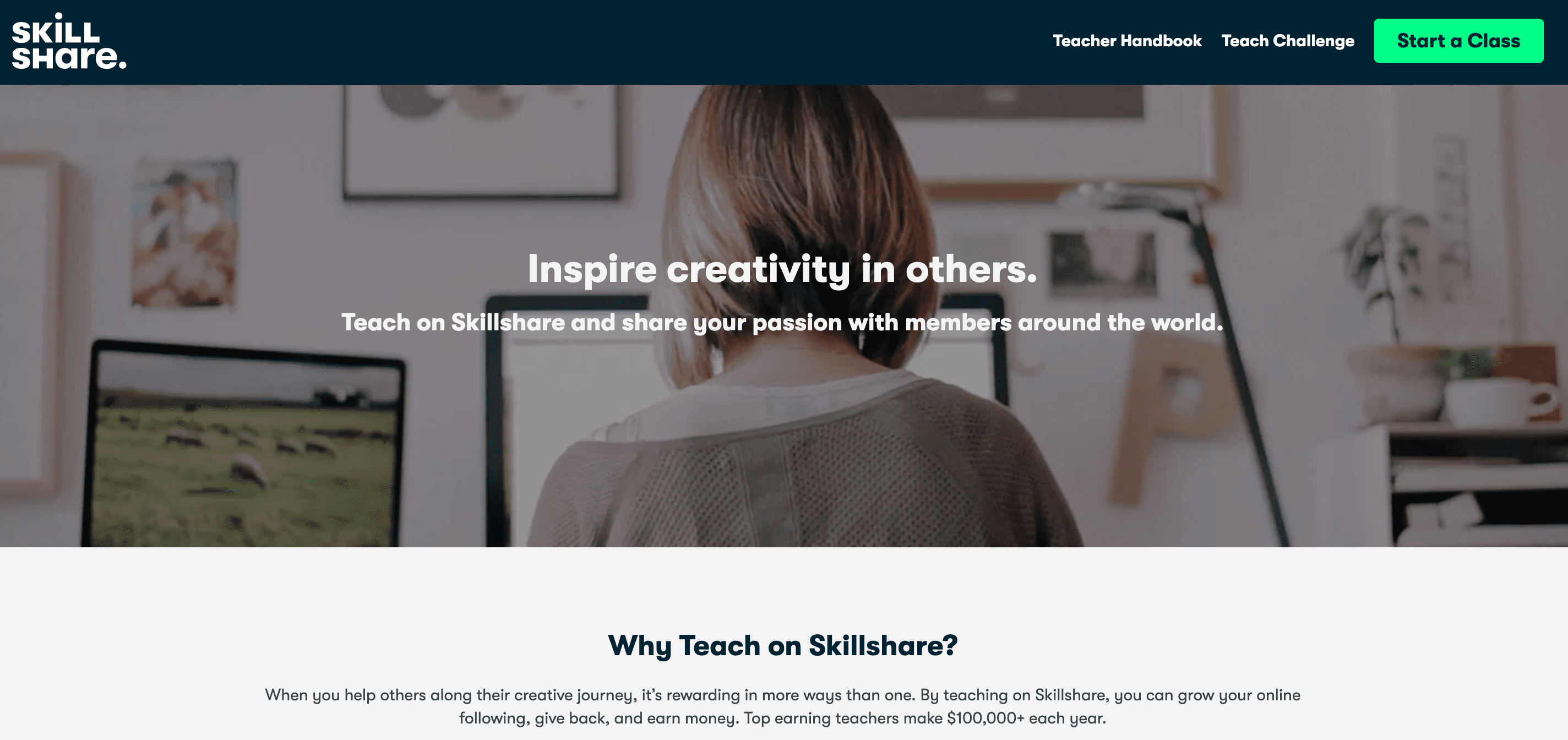 Skillshare does precisely what the name suggests. It allows users to share their skills with others by creating and selling online courses to their email lists for a monthly fee. Users can create premium classes for free but will incur an upgrade fee to earn royalties and premium membership referrals.
It's a great platform to expand your course business opportunities by providing the platform to publish course materials. It's perfect for those who want to get started immediately without having to worry about automation or email marketing tools.
Course creators are paid a royalty based on the number of minutes of their classes Skillshare users consume. Creators don't actually earn any revenue until at least 30 minutes of their content is consumed by Skillshare users in a month.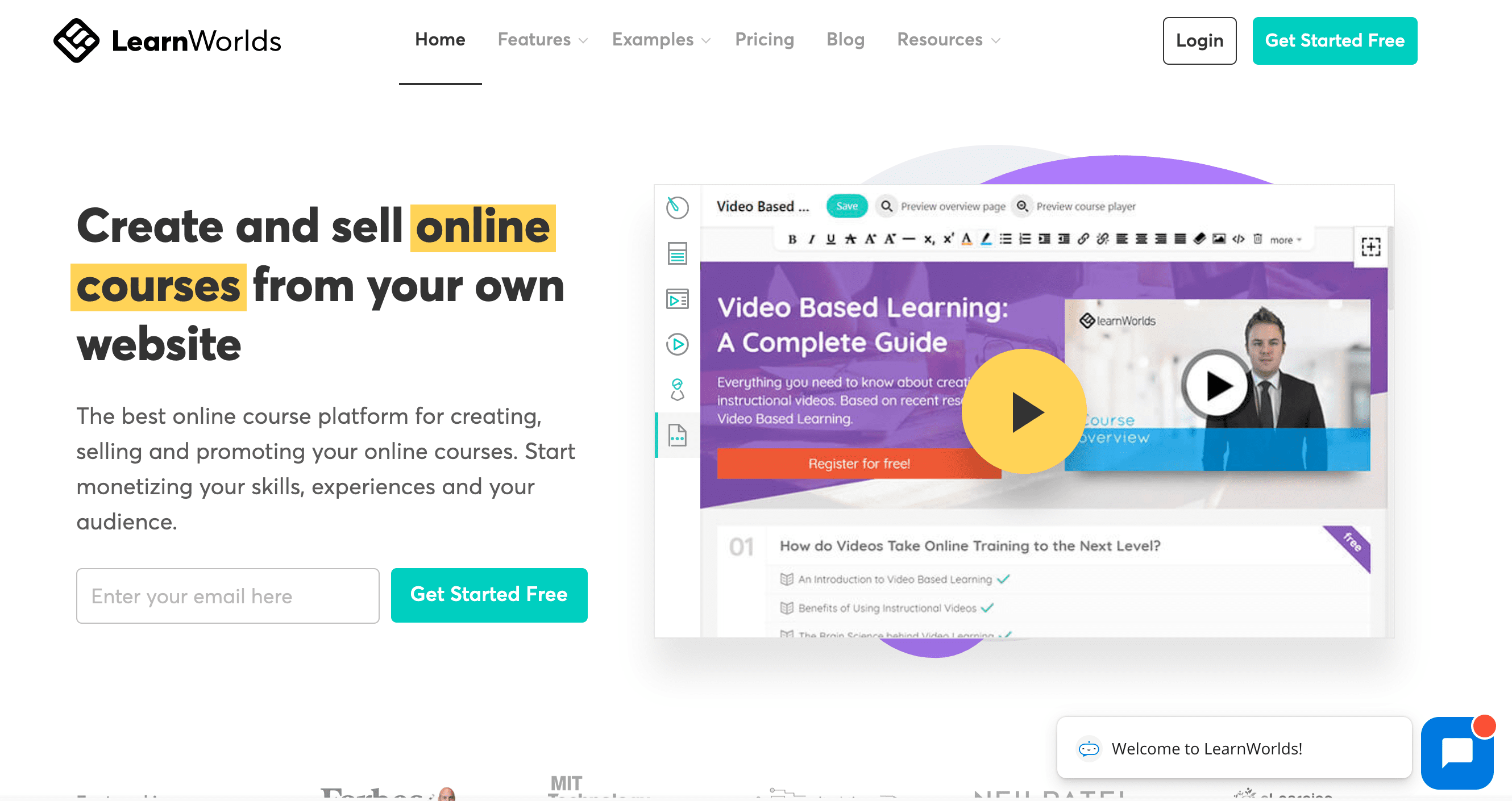 LearnWorlds allows anyone to set up an online education platform with multiple teachers and a complete course catalogue. It has everything you need to share your course material with the world and begin to generate revenue.
As one of the most comprehensive online course platforms available, LearnWorlds makes it affordable and easy to access everything you need to get teaching online, starting at $29 a month. Course curators get a custom domain, unlimited paid courses and a payment gateway.
You'll effectively be the admin of your online school and can select what you want your teachers to teach. You remain in control over the courses you wish to offer and your earning opportunities.
It's ideal for anyone looking for simplicity in the online teaching world. Simply import content from Microsoft Word, SoundCloud and YouTube; or craft your own learning material and use LearnWorlds inbuilt tools to get your courses up and running.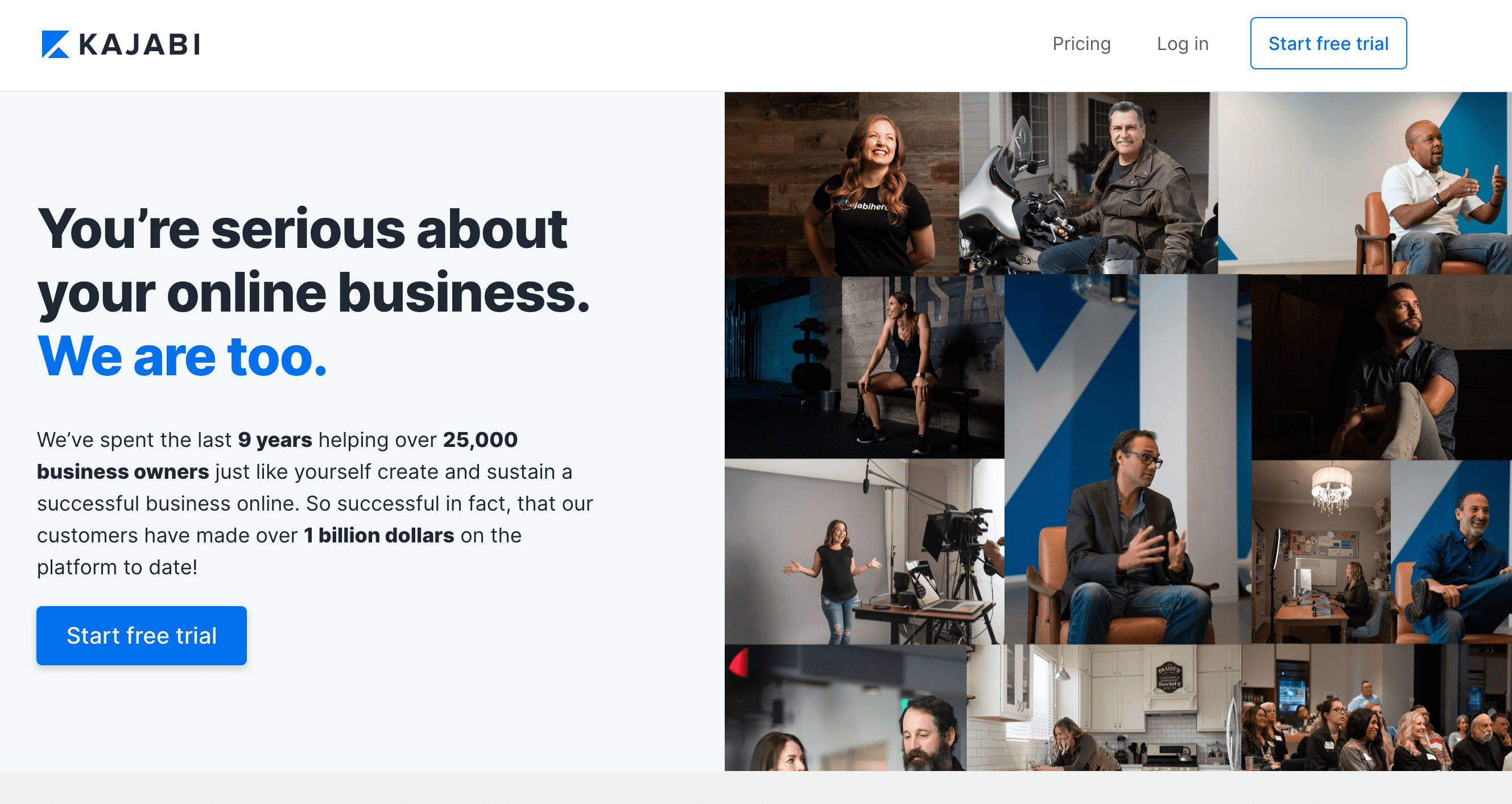 Kajabi features powerful course site themes, customisable checkouts, blogging functionality and marketing automation. Plans start at $119 a month for a single website and unlimited access to marketing emails. The platform itself provides an excellent learning experience, trusted by more than 16,000 businesses.
The best features of Kajabi are within its marketing automation tools. Admins can segment users in their lists and send professionally branded emails at certain times based on advanced triggers. Manage the entirety of your marketing campaign within the platform itself – never feel the need to sign up with a third party. Though, it can also be seamlessly integrated with Aweber and Active Campaign.
Getting your course content under the noses of those who matter has never been more effective.
It's an ideal platform for established businesses with exhaustive email lists. Kajibi does even better when it comes to creating sophisticated landing pages and sales funnels. It provides users with all the tools needed to convert customers into paying course consumers.
If you haven't created an online course before, Kajabi is incredibly new-comer friendly and offers a range of useful templates to create comprehensive courses, mini tester-style courses and training. Simply insert your content into one of the themes and add/remove elements as required.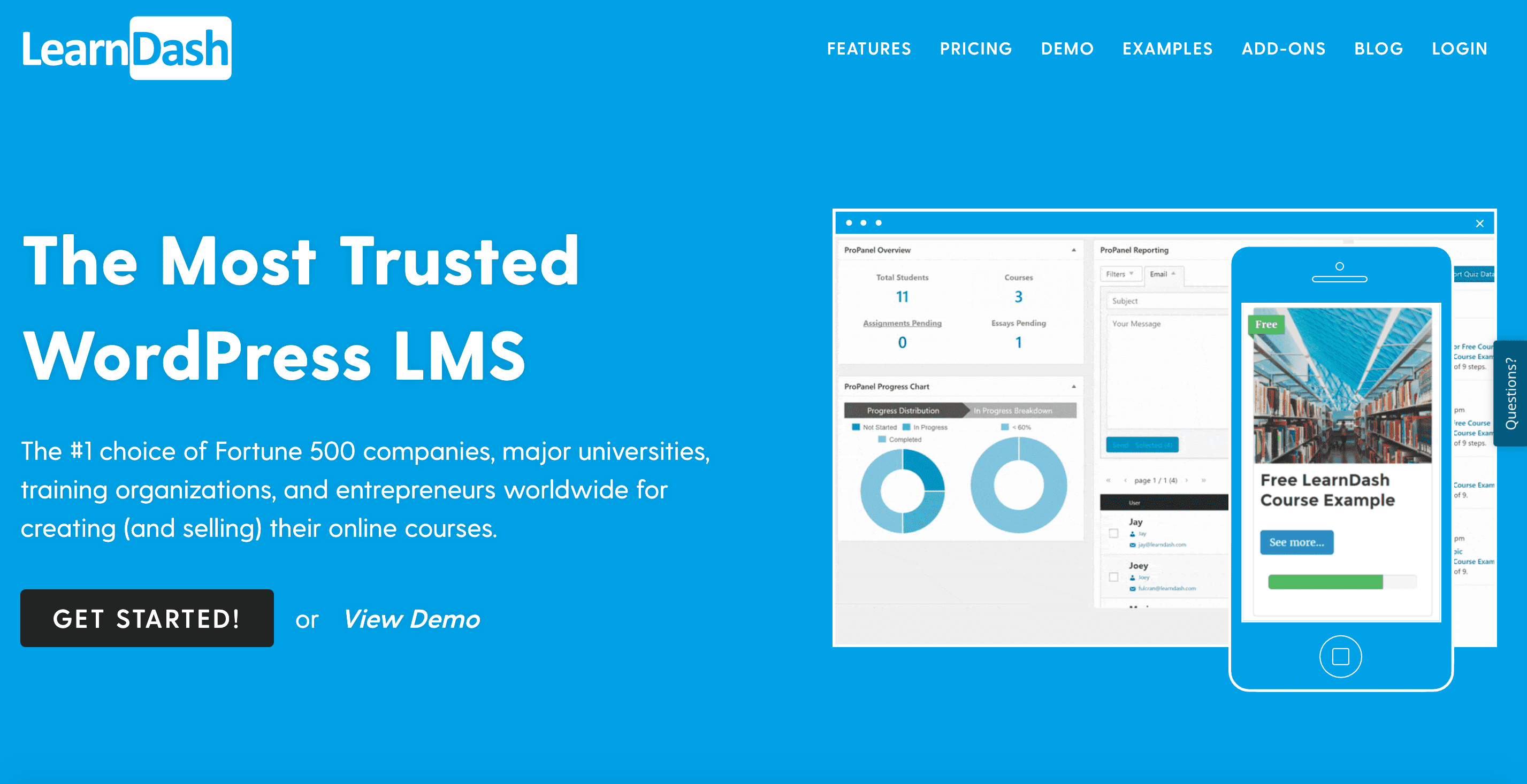 Unlike some others in this list, LearnDash isn't a standalone LMS. It's an extension of WordPress and presents a comprehensive suite of features that allows users to create and sell courses, interact with and reward learners too.
Used by countless Fortune 500 companies and leading educational institutions, LearnDash is turned to for its speed, feature set and ease of use. Pricing is available on an annual basis with a small fee to get you started. Pay $159 per year to support and maintain your website.
Add the plugin straight to your WordPress site without worrying about building an independent environment first. From here, create multi-tier courses to deliver content for different levels. Admins can also drip-feed content to learners based on a schedule, complete with lesson timers.
It's an ideal choice for those with existing websites and acts as an all in one solution with automated email marketing tools, support for different media types and the option to invite others to create courses on your site if desired.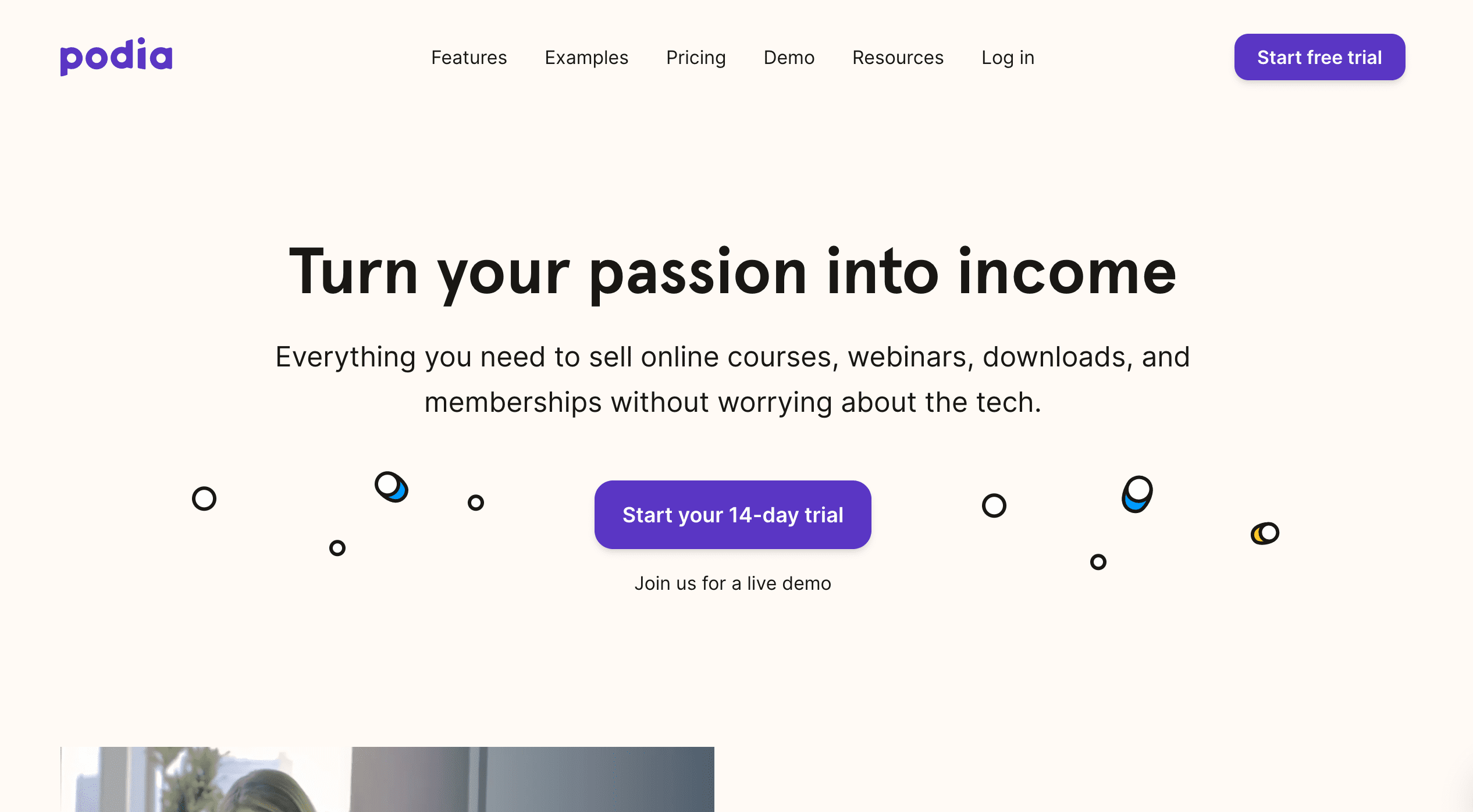 Podia is a great online course platform since it serves only three purposes. Selling memberships, digital downloads and online courses. This is great for those who want to avoid the reset of what e-commerce has to offer.
Its simple website interface is great for beginners and with no transaction fees, is a great way to start a business online. From $39 a month to $79 a month, the three simple step process to having your website up and running is perfect for beginners to online course platforms.
Add coupons and memberships, pre-launch courses, taster sessions and leverage drip courses – helping students learn by slowly releasing content in the desired manner. Admins can also run their own affiliate programs inside Podia – allowing them to view all affiliates in one place, with helpful reporting and payouts based on customised commission.
For those looking to increase sales with the help of affiliates, Podia is a course builder worth considering. Sign up and give it a test run before committing to any monthly payments with a free 14-day trial.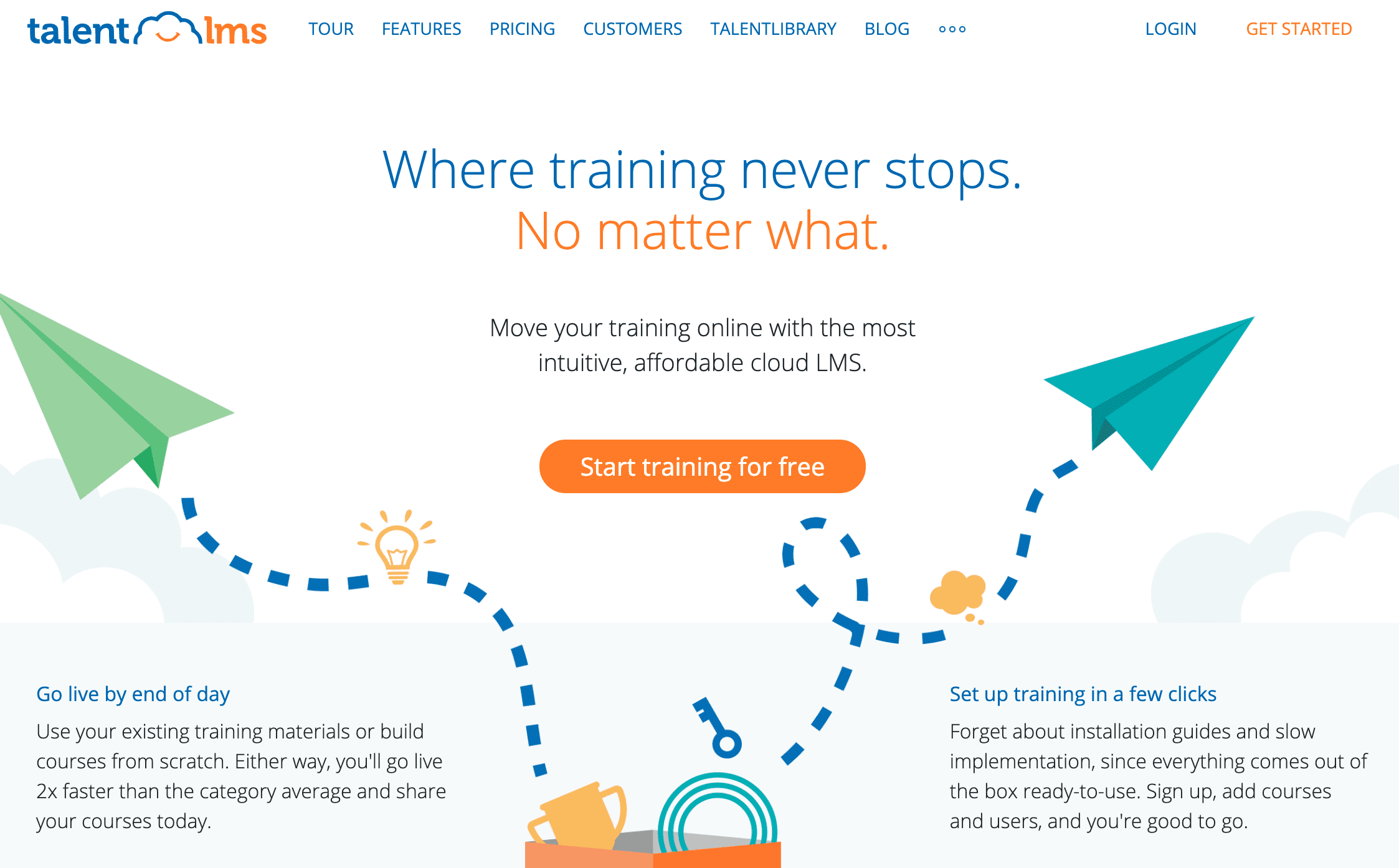 One of the most suitable for businesses looking for a simple user-friendly LMS with a company promise to make you go live 2 x faster for $59 a month. This cloud-based learning management system acts as a ready to use solution. Simply sign up and begin adding courses to start the e-Learning process.
It's flexible too – providing a free trial for all businesses and customisable pricing plans to accommodate the needs of individual businesses. Host virtual training and conduct online courses through TalentLMS and integrate a range of third party tools like Zoom for conferencing.
Adding course content is simple and can be done by building modules using inbuilt tools and leveraging existing media or through content available on the internet. Organise and amend files, share them with users and reuse them across different modules.
Its assessment engine allows you to evaluate the progress of students with different tests and analyse results through data reports – giving you the capacity to give in-depth and valuable feedback to learners.
This LMS can deliver a mixture of eLearning and instructor-led training for comprehensive and complete learning materials. It supports personal messages and discussion forums for collaboration and relationship building whilst you retain full control over content management and creation.
TalentLMS offers a free plan for up to 5 users and 10 courses, whilst paid plans start at $59 a month up to $429 a month for larger audiences.
SkyPrep LMS is an intuitive and straightforward platform for leaders and instructors to build courses. Simply put together the exams and learning materials you've created and upload them using Skyprep's inbuilt tools. These can be rearranged again and again in the precise way you want your learners to access them. You can make courses inactive and so unavailable to users when you're in the process of amending them.
Start building your course by uploading the learning content you have including Microsoft Word and Excel documents, PDFs, PowerPoints, video and audio material. Admins can create various quizzes and tests by simply choosing the exam format from a list and adding them to the course.
Sharing the course with learners is easy with SkyPrep. Simply invite users, add them individually, in bulk or allow them to self enrol by marketing your course availability online. Once enrolled, learners can annotate the documents privately and print them too. Recognise your learners' achievements by awarding them an auto-generated certificate.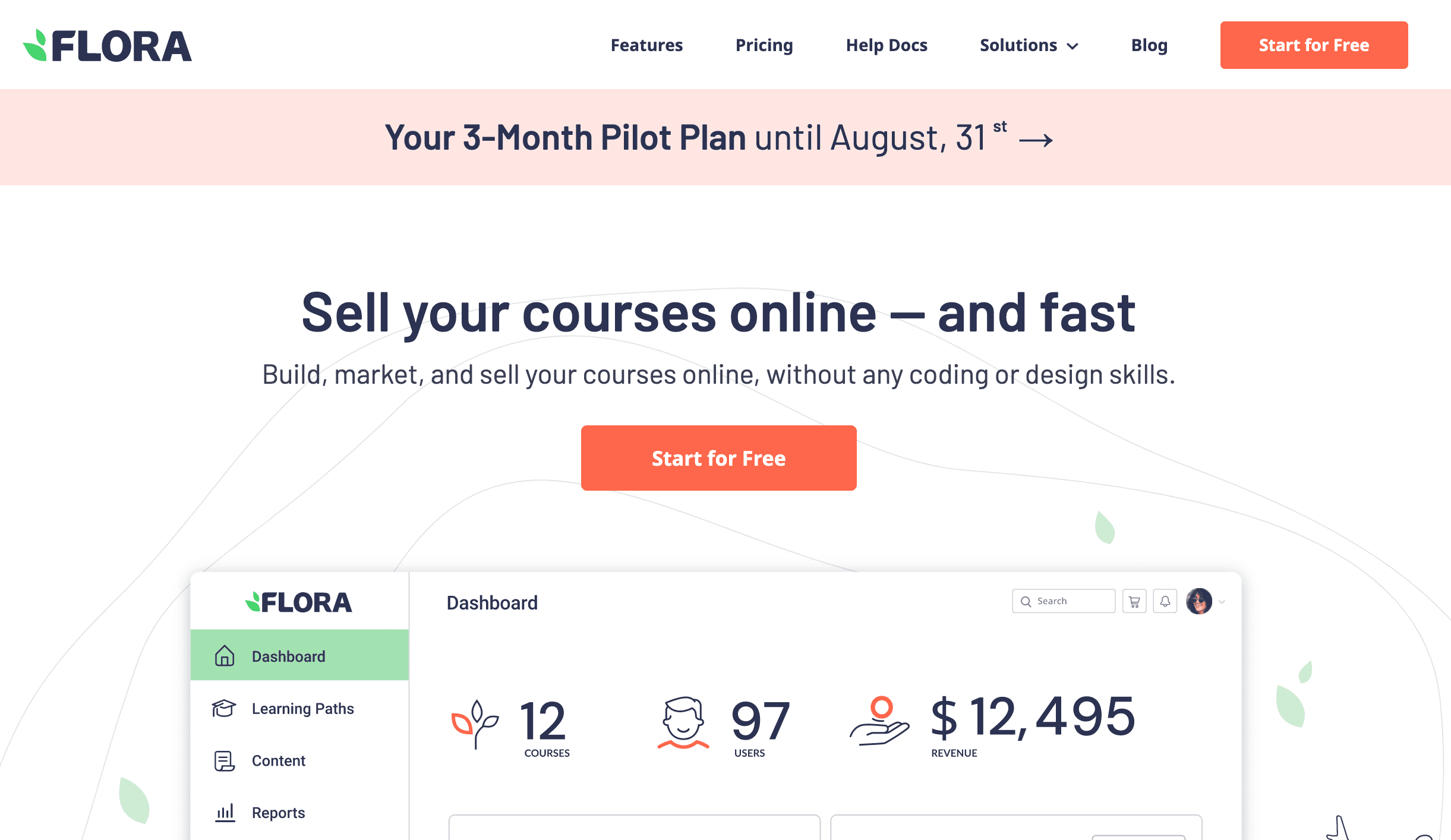 Newcomer, Flora LMS has been developed to bidder instructors in a systematic and simple approach to creating and selling their online courses. It doesn't offer a fully-fledged online school, but rather, a simplified set of online tools for creating a basic online course storefront. These courses are placed in their own individual pages – each displaying user reviews, the course program and description.
Use this LMS to deliver your courses through documents (XLS, DOC and PDF) presentations and media files. Generate tests and assignments, and let Flora LMS go ahead and automatically award certificates to those who pass the test. Admins can also set the system to award completion badges and points too.
Finding prospective learners is easy, too, since Flora LMS will grant Google access to your course pages – appearing within Flora's own search results. When new students enrol, payments can be processed through PayPal, Stripe and Auttorize.net. Flora's flexible currency system accepts all major global credit and debit cards in 30 countries.
The more students you get, the less you'll pay annually. The cheapest package to utilise this solution, accommodates 300 learners on your course. It will cost you £2.87 per user per month on an annual billing schedule – anything higher requires a custom quote.
It's an ideal solution for those looking to quickly and effectively launch an online training centre to monetise learning content.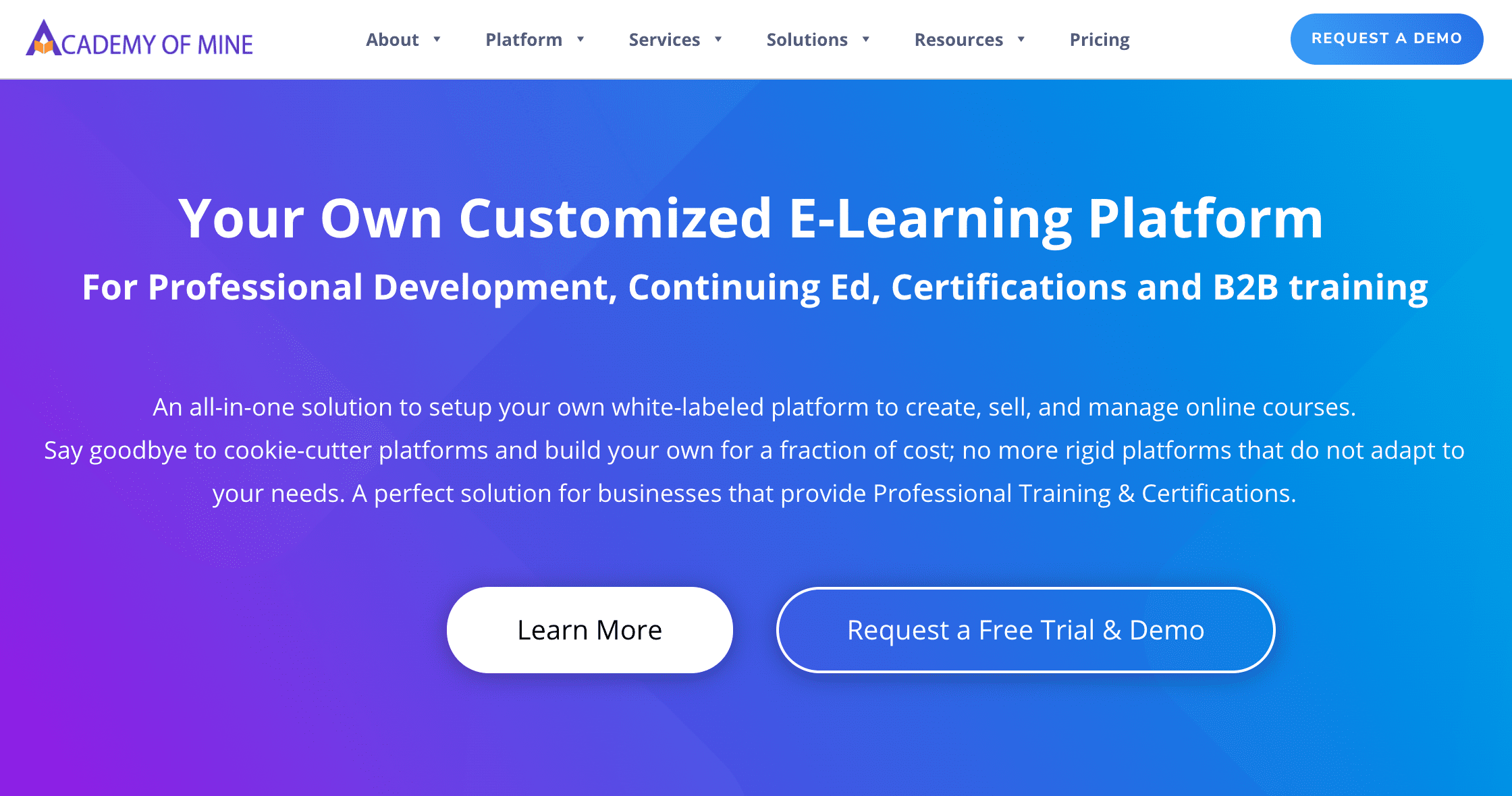 One of the most expensive online course platforms on this list, but perhaps for good reason. Starting at $499, Academy of Mine is an all in one solution that will provide you with a fully comprehensive website for you to launch your brand and start selling your courses.
A fully hosted template will provide you with landing pages, galleries and courses offering pages – removing the need to create these pages yourself. It's essentially a complete course creation and learning management system. Use the platform to accept credit card and PayPay payments and tap into several of its marketing features like the affiliate program, email marketing and live webinar to get the most out of your online school.
Academy of Mine also has on offer, custom-built solutions – with free development hours a standard feature across all plans. Meaning the LMS is always customised to the requirement of the customer.
This complete learning management system is ideal for anyone looking to find everything they need in one place to create, manage and sell online courses whilst building and maintaining strong relationships with learners. It allows instructors to nurture a community of learners with live chats, forums and marketing tools.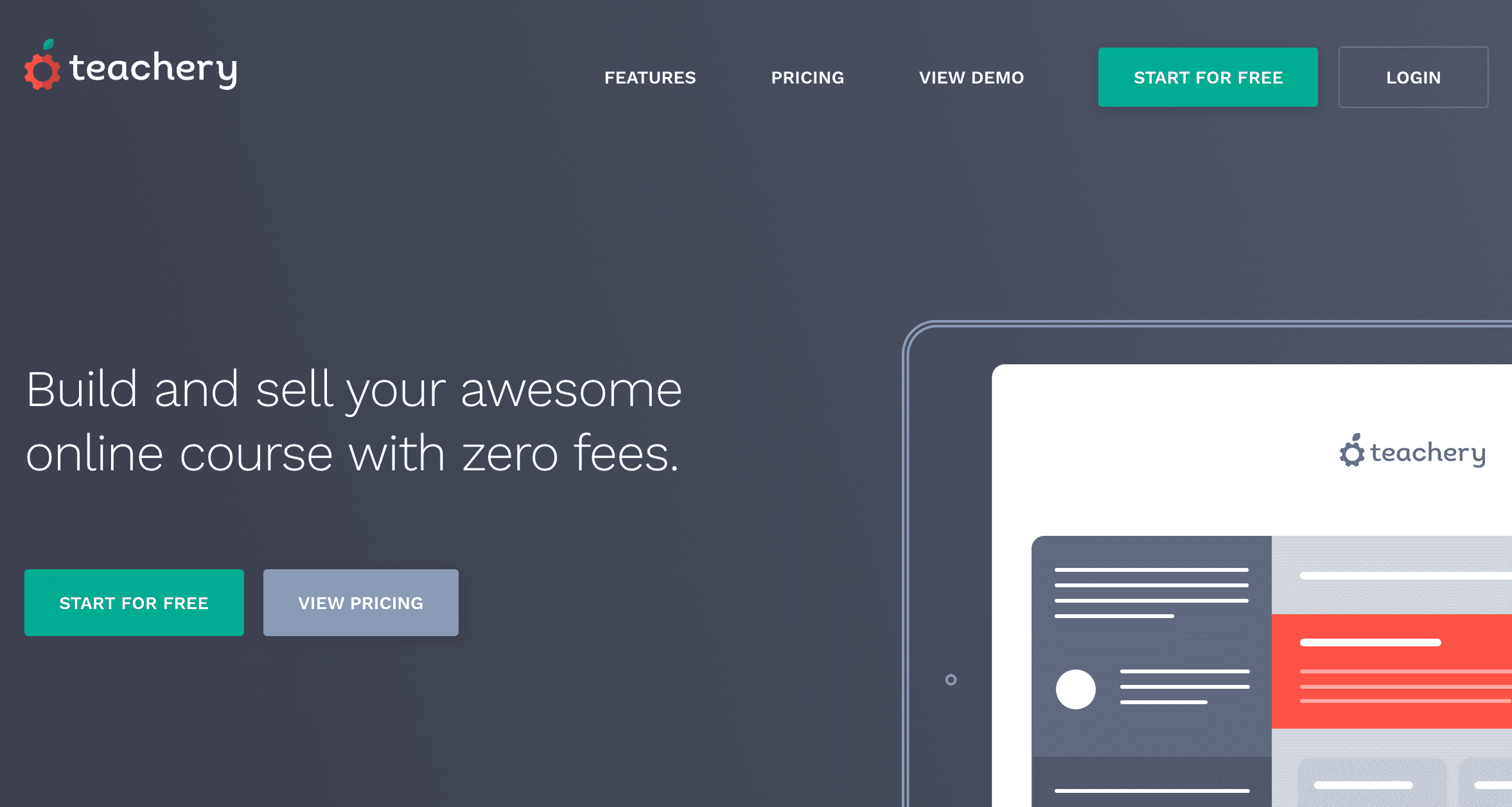 One of the best online course platforms for people on a budget, or those who want to spread the cost more – Teachery allows you to get started and pay for a course marketplace bit by bit. It offers a $49 a month option with zero transaction fees and the option to pay $470 for the entire year instead.
Whilst some other course platforms offer some basic and cheaper features; sometimes free – it soon becomes clear that you'll probably need to upgrade your plan for more advanced tools. Teachery's no transaction fee feature, combined with a set of basic tools-guaranteed to get your online school up and running, makes this a money-wise option.
In the absence of transaction fees, commissions and upgrades cutting your profit margins down; Teachery can offer full functionality, a dedicated team of support, and all future upgrades to be included in the existing plan.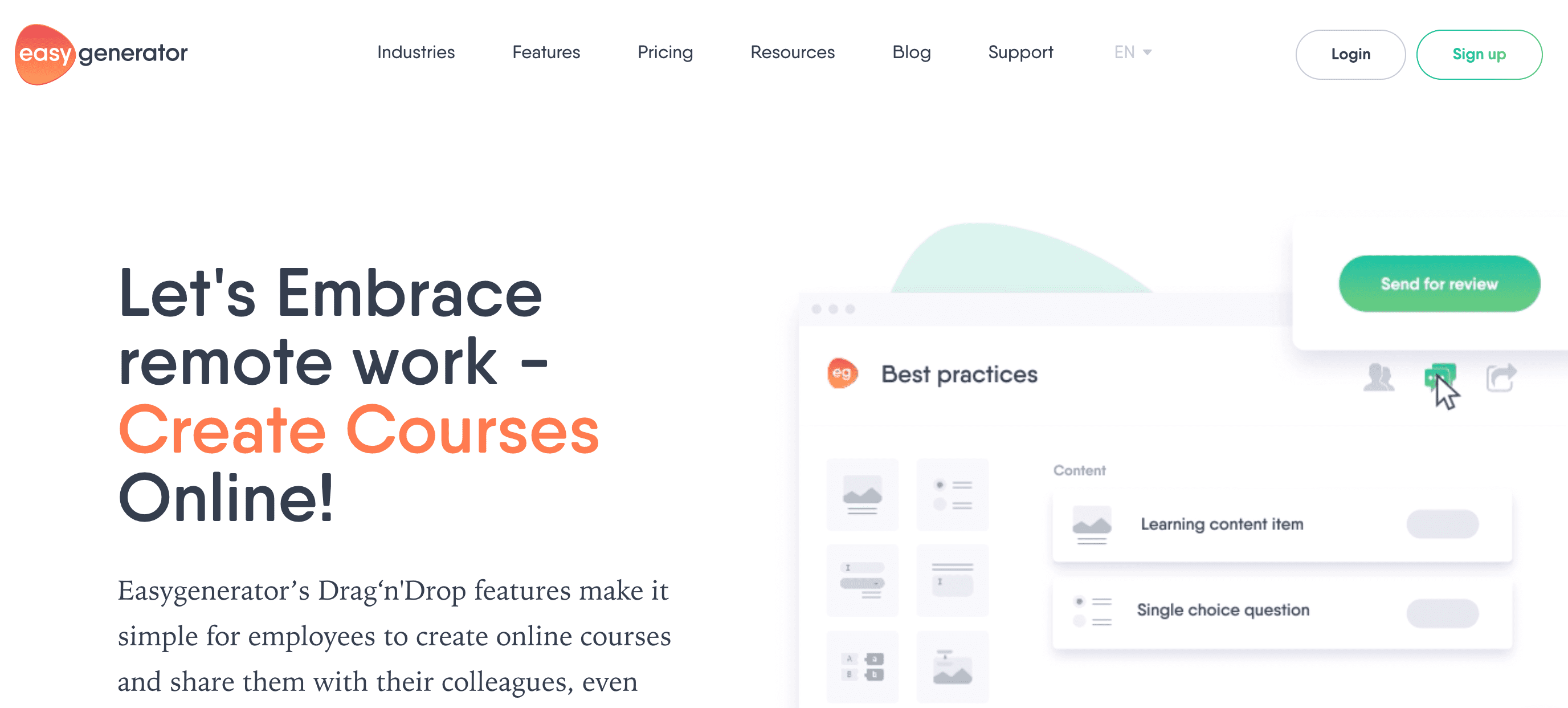 This cloud-based eLearning platform and software solution has the capacity to provide you with all you need to create, design and teach eLearning courses. Easygenerator is appreciated for its intuitive technology – reducing the brain-power to get started.
A few of its most demanded features include tools used to customise courses and tests, the ability to apply your own branding, the technical support available and security of the courses. It's an ideal option for startups who may need guidance and support from tech experts.
Its drag and drop tools allow you to choose from 11 question types and sophisticatedly designed content blocks – just drag and drop them where you want. Need guidance? Start with an example by picking a template to customise easily. Easygenerator will even check out your website to find your logos and colour schemes and present you with fitting themes to choose from.
Track your learners progress in real-time and as results come in, award them with an automatically generated certificate.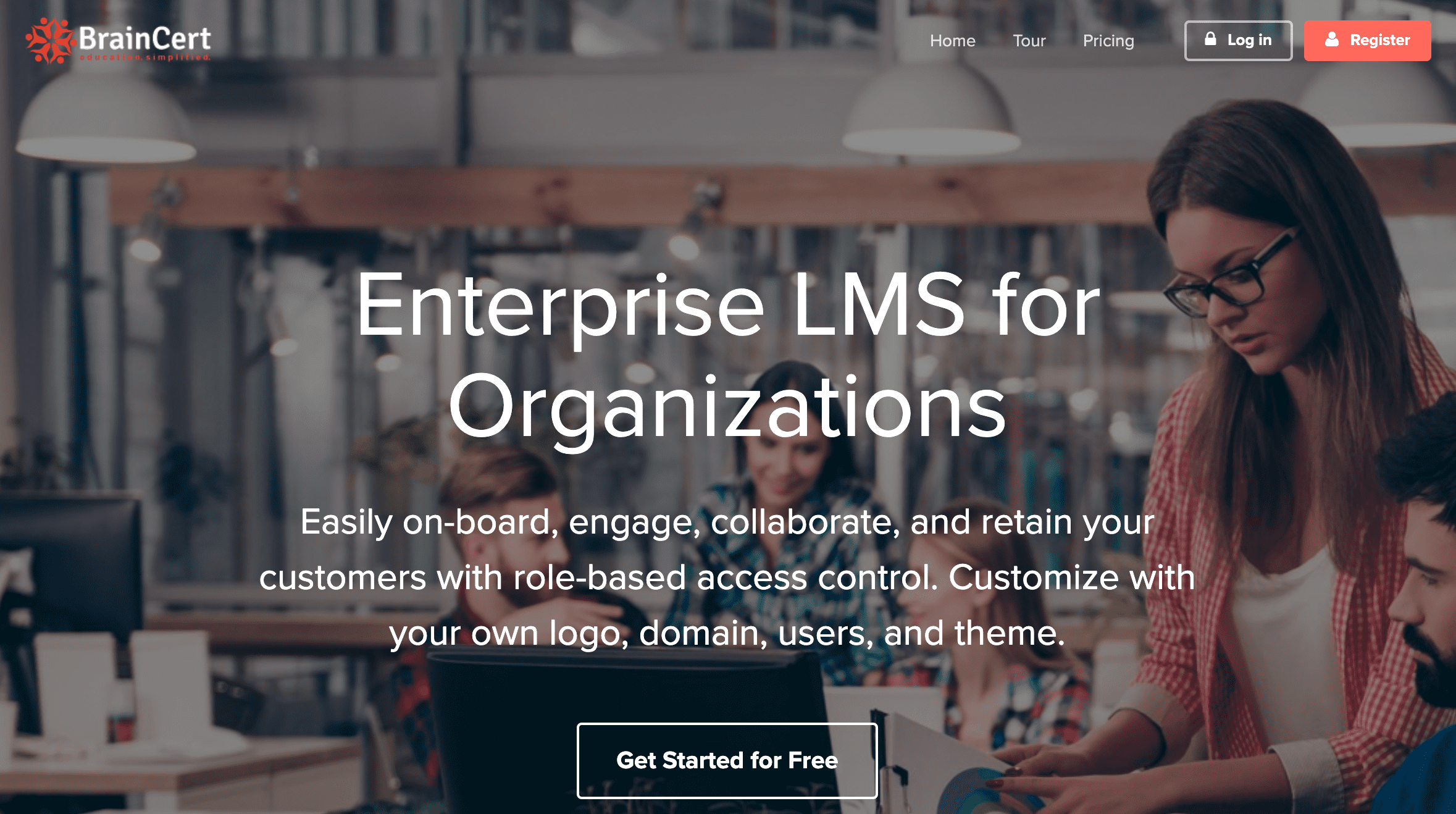 BrainCert LMS is a platform containing the tools you need to create interactive courses online. It's easy to create, manage, edit and publish courses within a few clicks. Courses can be simplistic or highly interactive, with videos, presentations and live classes. The intuitive user interface makes it easy to create course structure in minutes. Easily drag and drop chapter and lecture titles to change the order of the course.
Instructors can upload videos from practically any course, and BrainCert will convert those files into course material.
BrainCert promotes Massive Open Online Courses (MOOC) by facilitating both synchronous and asynchronous learning. Its advanced course creation wizard allows instructors to create interactive courses easily using their predefined set of customisable templates.
Upload your own background image or choose from BrainCerts image library to attract and engage with new learners. Make courses visible to all, or modify visibility to allow private access to a select few.
BrainCerts intuitive course player fits any screen resolution – a must across all distance learning platforms – and allows learners to participate by taking notes and engaging in lecture discussions, whilst the course instructor can track progress in real-time.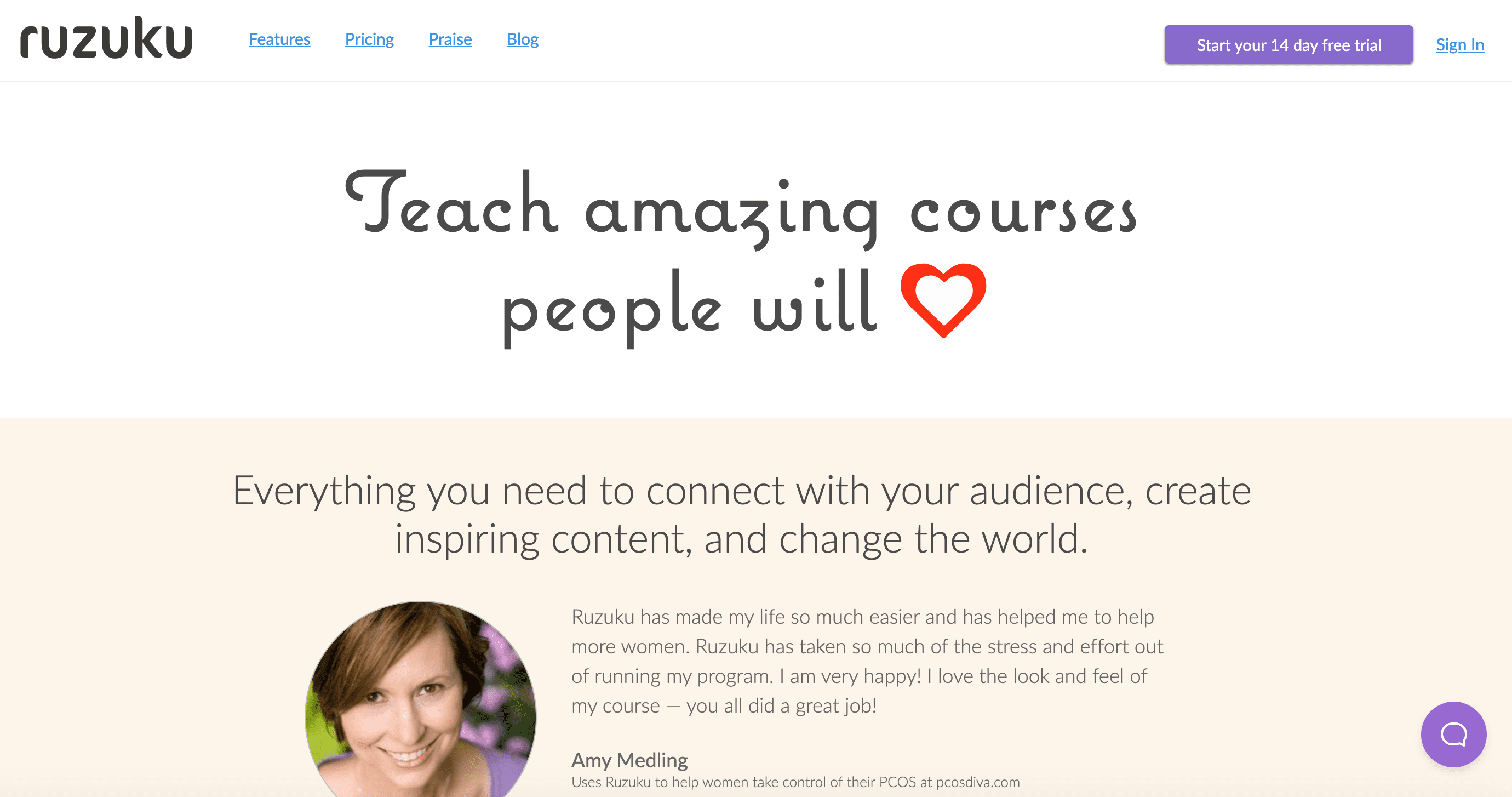 Finishing strong with arguably the simplest, most comprehensive online course platform out there. Ruzuku allows instructors and experts to easily create step by step and easy to follow courses for their learners. At $74.75 a month, you can create courses, edit them, launch and promote them, and sell them to generate revenue.
Aside from its intuitive course creation and inbuilt tools like drag and drop for ease of users, Razuku also integrates with tools like MailChimp, Infusionsoft, and payment gateways like Stripe and PayPal – with no transaction fees. These simple but effective marketing tools mean you can have everything you need in one place to build and maintain a successful online school.
Build and sell as many courses to an unlimited number of students on all paid plans with no extra fees.