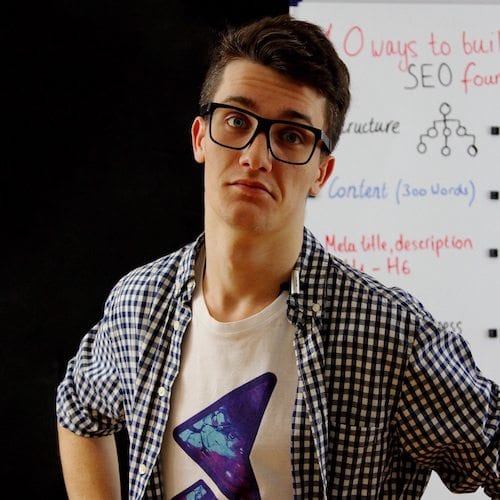 Dmytro Spilka
<link href="//cdn-images.mailchimp.com/embedcode/horizontal-slim-10_7.css" rel="stylesheet" type="text/css"><!-- [et_pb_line_break_holder] --><style type="text/css"><!-- [et_pb_line_break_holder] --> #mc_embed_signup{background:transparent; clear:left; font:12px Helvetica,Arial,sans-serif; width:100%;}<!-- [et_pb_line_break_holder] --> /* Add your own MailChimp form style overrides in your site stylesheet or in this style block.<!-- [et_pb_line_break_holder] --> We recommend moving this block and the preceding CSS link to the HEAD of your HTML file. */<!-- [et_pb_line_break_holder] --></style><!-- [et_pb_line_break_holder] --><div id="mc_embed_signup"><!-- [et_pb_line_break_holder] --><form action="https://solvid.us13.list-manage.com/subscribe/post?u=5164852564d3ba7103743bc16&id=fa1473dcff" method="post" id="mc-embedded-subscribe-form" name="mc-embedded-subscribe-form" class="validate" target="_blank" novalidate><!-- [et_pb_line_break_holder] --> <div id="mc_embed_signup_scroll"><!-- [et_pb_line_break_holder] --> <!-- [et_pb_line_break_holder] --> <input type="email" value="" name="EMAIL" class="email" id="mce-EMAIL" placeholder="Sign up for regular updates" required><div class="clear"><input type="submit" value="" name="subscribe" id="mc-embedded-subscribe" class="button"></div><!-- [et_pb_line_break_holder] --> <!-- real people should not fill this in and expect good things - do not remove this or risk form bot signups--><!-- [et_pb_line_break_holder] --> <div style="position: absolute; left: -5000px;" aria-hidden="true"><input type="text" name="b_5164852564d3ba7103743bc16_fa1473dcff" tabindex="-1" value=""></div><!-- [et_pb_line_break_holder] --> </div><!-- [et_pb_line_break_holder] --></form><!-- [et_pb_line_break_holder] --></div>
2016 can be considered as the epic season for content marketing. The sheer size of contents produced in the year, the massive amount of money expended and the aggregate sum of efforts and creativity invested clearly affirm content marketing as a foremost marketing solution today.
To by-pass so many detractions and sustain the attention of time-sensitive internet users, marketers devised creative ways to enhance the quality of their works. The result is currently changing the trends in marketing generally.
According to Michael Gerard, the CMO of Curata, 75% of marketers across the globe have increased their investment in content marketing and is presently one of the fastest growing areas in high tech. Mind you; content users are unequivocal about the amazing impacts of content marketing on their businesses and sales.
The Strategies
The strategies deployed to increase the quality of contents, deeply engage internet users and bring about massive lead conversion are as countless as they are startling.
From the use of visually appealing content that leaves readers with no choice than to keep the content on their minds days ahead, use of videos and visual materials that keep the content real and enthralling, storytelling, celebrity marketing to getting the contents optimised for compatibility on different devices and platforms, 2016 is turning out to be the year of business transformation through the influence of power-contents.
This is the reality today, and many businesses are already investing fortunes to drive compliance. But, the question now is: has the growth of content marketing reached its peak? Are there further upgrades and possibilities lying ahead for content marketing? Will it naturally freeze out or continue to drive industries?
As a content marketer, you need to be ahead of these trends and explore them to your advantage.
Daring Content Marketing Trends For 2017
2016 brought so many innovations into content marketing, and these are already mapping out a new direction for in the coming year. All market's indices suggest that content marketing is bound to continue to soar. Interestingly, there will be many changes and countless adaptations; there will be modifications and marketing supports to get the best from content marketing campaigns and strategies.
Below is the list of ideas that should drive the success of content marketing campaigns in the coming year.
Targeted and Efficient Marketing Strategy: With massive results recorded in content marketing in 2016, you may be tempted to think the best is already here. Don't be deceived, 2017 is poised to beat all the records set in content marketing for the past years put together.
Content marketing will experience new innovations that will aid precision and relevance of content delivered to digital media audiences. Forget "Push and Spam" contents; they will fizzle out in the year and become less efficient as more people, internet access providers and search engines devise better ways to protect themselves.
This year alone, tens of millions of people had installed ad-blocking software. In 2016, over 300 million people are reported to have blocked unsolicited materials and ads globally.
But, there are many effective ways of getting round these hurdles in 2017. Marketers should invest more in ensuring internet users have personalised contents that are precisely addressing their needs. This makes getting their consents for further correspondence possible.
Personalised e-mail marketing replaces General On-line advertising: To start, the traditional social media have now devised means to reduce the visibilities of unpaid posts and ads online. A good example is the Facebook's organic reach.
The reason for this is that these works are becoming more monetised and the more contents around, causing distractions to an online audience the worse for business. Ad blockers are also growing massively.
So, it is becoming harder to reach the right and the intended number of audiences with promotional content, pop-ups, banners and even paid ads online today than ever.
As a marketer, you may have to rework how and where you place your works for maximum impacts. Devise how to reach them personality with the right materials.
According to Julia McCoy, a writer, bestselling author, entrepreneur and the host, Write Podcast and Content Writing Chat:
"When you analyze the impact of different content distribution channels side by side, it becomes clear that email offers the largest overall reach: For every $1 spent, email gives back a whopping $38 in ROI, and offers the broadest reach because email is personalized, targeted, and delivered directly to a customer's inbox."
Explore Mobile alternatives: Considering that more than half of the world population has mobile phones, the percentage among cities is even more staggering and unbelievable; the need to get your campaigns and communication mobile compatible is incontestable.
According to a recent report, 2016, from Cisco, there will be more people with cell phones in 2020 than those with access to electricity. Besides, the amount of time spent on these devices makes businesses not represented at a great disadvantage.
For more clarity, the diagram below represents worldwide mobile phone internet user penetration from 2014 to 2019.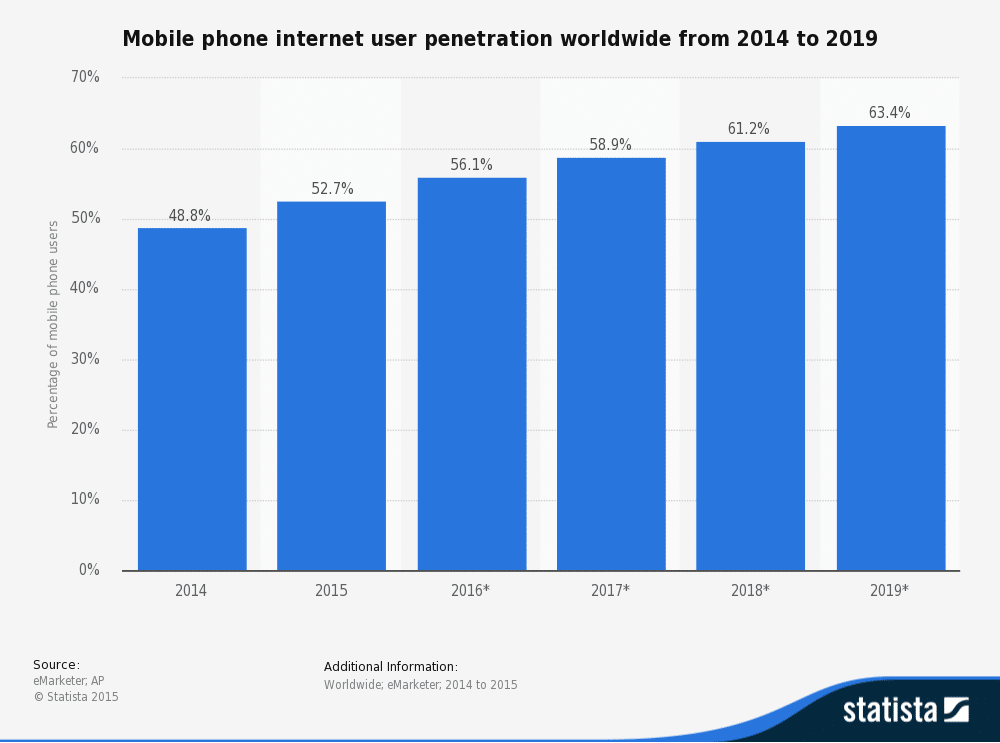 As a prudent content marketer and investor, you won't have to be pushed to know you should be investing in mobile that will drive your campaigns in the coming years.
The following discoveries are surprising but true about the mobile phone users:
If your product and services are particularly for young people, you might fancy investing in mobile games through which your contents can be promoted with no hindrance.
Enhanced Supports contents and Marketing Contents: There are many supports you can use to push your campaigns to success. In 2017, you need a lot of it as there will be a lot of information out there, and a pretty number will be good.
You might want to consider, for example, the use of mass influencers like pop-stars, celebrities, industry leaders, footballers and the like. The world is literarily worshipping these people, and their partnership is taken as a premium endorsement for your campaigns and products.
Recently, Reebok stroke a deal with Gigi Hadid and the impact on the media was massive. But, you need to be sure the celebrity you are using has a public brand that is compatible with your brand's outlook. What's his/her credibility and how attractive are they to the public?
Attractive Visual and Format: Beyond ordinary texts and blogging, content marketing will become more attractive in the way they are created and promoted with captivating visual materials.
Presently, search engines are developing materials to get more precise in image recognition and evaluation, because more people are digging in on it.
Video Marketing: This year, the amount of videos shared and watched has increased tremendously.
Beside the well known social media platforms like Facebook, Twitter, Instagram and Youtube, new sharing sites like Snapchat are coming heavily into the market.
This year, it was a surprise as Snapchat beats the big guys to the number of videos shares and their reach. As a content marketer, you can't afford to ignore this gem.
Effective Storytelling: Today, people are getting very susceptible to provoking stories. If you want to break down your audience and make them scramble to obey you, give them touching stories. It is even more effective if the story touches on their needs and desires online.
You have to brush up your skills of storytelling to promote your works and boost your campaigns in 2017.
Quality Engagement: Because so many other offers and digital marketers are hunting for their attention and patronage, you should never lose control of engaging your audiences.
If you will keep the customers you have and be able to retain the new ones, you will have to learn how to engage them actively. Do researches, speak to them, check what your competitors are doing and you will be in control of their time.
Mobile-First: Google, along with a couple of partners, have recently introduced Accelerated Mobile Pages (AMP), with the main intent to provide lighting-fast mobile experience when viewing the content. Not to forget the latest announcement about mobile-first indexing.
This is clearly an indication that the whole world (including search giants) are moving towards the "mobile-first world". Hence, making sure that your website and content you produce is adaptable to mobile screens is a necessity.
Experts
We've reached out to a number of content marketing experts and asked them to share some valuable tips & trends on how should we approach content marketing in 2017.
Let's now see what they've put for us:
Julie Graff, Social Content Liaison at Pole Position Marketing

"As more companies see the value in content marketing, the market is getting much more crowded, and that will only continue into 2017. Therefore, to get ROI from content marketing, companies will need to up their game. They will need to continuously strive to make each piece of content the best piece of content on the Internet for that topic. They will also need to think outside the traditional written content box to stand out. You will see more content leverage images, infographics, gifs, videos, etc."
Elle Morgan, Content Marketer and Evangelist at Woopra

"Marketers in 2017 should put analytics at the core of their content strategy. Leveraging an intelligent analytics platform, marketers are able to see the essentials such as which content types and categories receive the most engagement. But, they're also able to identify granular details such as what personas engage most with certain pieces, where users click before and after a post and identify content trends over time. A content marketer in 2017 must have a data-driven content strategy, fueled by analytics."
Stephen Twomey, Master Mind SEO

"Marketers should be focused on creating content with influencers. While Influencer marketing was the runner-up buzz word to content marketing, "influencer content marketing" will reign supreme in 2017. Producing content in conjunction with Influencers allows you to reach a new audience in a way that is authentic to the influencers style. You want to make sure you allow the influencer creativity, so it looks and feels like an original organic piece produced by them, but still holds value to the marketer. Measuring ROI and traffic can be tricky but once you figure it out. Influencer content marketing will lead you to the promised land."
David Hoos, The Good

"To get the best possible traffic, reach, and engagement in 2017, marketers need to be focused on two things: content quality and content influence. Content quality means long form 10X content on industry relevant topics that is practical and actionable and that will earn backlinks and social shares. Content influence means having a strong distribution and networking strategy. This includes strong outreach and guest posting with partners and influencers in related industry niches."
Jason Brewer, CEO at Brolik

"Content hubs will become more prevalent in 2017. Content hubs are a series of articles around a specific niche topic and are a great way for brands to educate their target audience before trying to sell to them. There is usually a logical progression to the content hub that creates an experience for the audience, separating it from a blog that often has sporadic and disconnected advice articles."
Dan Roberge, President at Maintenance Care

"A growing trend that I'm seeing for 2017 is live streaming. I believe this will grow in popularity as technology advances. While recorded video will of course still remain popular, apps like Facebook Live, YouTube Live, Snapchat and Instagram Stories offer user-friendly platforms that make content like product briefings, tours, tutorials, launch events and easier than ever."
Brent Pittman, Sr. Content Marketing Manager at Big Wing

"2017 will be a year that Content Marketers are no longer thought of as unicorns, but as digital marketing generalist who can use their many skills depending on the business need.

We will also take big steps in the ability to measure and prove ROI for content marketing across the board as we further unite the marketing systems running behind the scenes. This will also provide us with better data to prove or disprove who the target customer/persona is or isn't."
Jason Bland, Manager at Custom Legal Marketing

"Think Big and Small – Media rich long-form pages are becoming more popular at the top of search results. However, more than 50% of Google searches are mobile. When developing content in 2017, enable AMP on your website for a compressed mobile experience and design media-rich stories for your desktop experience. And of course, always develop content around your audience's questions."
Paige Arnof-Fenn, Founder & CEO at Mavens & Moguls

"I predict Content Marketing will grow in importance with the quality gap growing as well so that good/relevant content leveraging influencer marketing strategies will be more important than ever. If you know your subject well and can tell compelling stories, then you will build your brand and following using Content Marketing in 2017, this is your year! The good will get better, and the bad will be ignored. People are getting savvier to fake news and things that waste their time so be a brand they trust and follow."
Bianca Y. Blake, Founder and Chief Strategist at White Rose Marketing

"As the line continues to blur between consumer's personal and professional lives, content marketing will need to be evermore entertaining in order to even be noticed, much less break through. Participating in the latest viral challenge, a lifestyle interview with the founder, quizzes that leverage gifs are all in play in a way that they haven't been before. Utilising formats that are often reserved for personal or social communications will need to find a way to appropriately round out the solid base of eBooks, blog posts, and infographics."
Gary Huhn, Marketing Manager at National Funding

"In 2017 I predict that content will become much more personalised. Content marketers can access valuable data about their users, such as demographics, geographic location, desktop versus mobile devices, page views or bounce rates to create highly targeted content for a specific audience. While the goal of increasing traffic to a site will always be important, I think next year there will be more emphasis on personalising content to attract new users and retain existing visitors."
Jessica Moreno, Social Media and Brand Account Manager at Active Web Group

"Video Marketing will be the most important Content Marketing trend for 2017. The move from text to the video has already become prominent in 2016, with future exponential growth predicted. Additional opportunity will only increase for Video Marketing with the introduction of virtual reality, which will also reshape marketing as we currently know it. As Virtual Reality becomes more commonly used, people will expect to see and experience their future purchases, rather than read about them."
Vanessa Penagos-Pino, Content Marketer at 1800PetMeds

"Marketers should ensure their content above all else is valuable to their audience. Does it help solve a problem and not simply pitch a product? Further, optimising the content for organic search and social sharing is a best practice. For instance, can snippets of the content be repurposed for additional social media posts? Lastly, adding paid media to the content will help amplify its reach. When it comes to engagement, consider working with a select group of influencers who actively cover the topic your content is about to extend your reach."
Noel McCann, Marketing Analyst at HomeSuite

"While clickbait has helped generate traffic for many businesses, I believe that its effectiveness will decline in 2017. Clickbait, more often than not, tricks prospective customers into reading poorly written copy, and I expect a significant backlash against this trend. The value of thoughtful and honest content will never deteriorate, and I expect businesses will publish more thoughtful pieces on their sites and blogs in the coming year."
Ramon Chen, Chief Marketing Officer at Reltio

"In 2017, content marketers should focus on the consumerization of B2B marketing. As consumers, we've come to expect the targeted, personalised advertising and content provided to us as we browse websites like Amazon, rank and rate stores and services on Yelp, and interact with our social networks. When it comes to being marketed to in a B2B context, we find ourselves continuously bombarded by content, old techniques and methods in an attempt to engage us. In 2017, B2B marketing needs to make this shift, leveraging rich customer data and data-driven applications to successfully provide relevant and timely content to customers."
Sean Dudayev, Founder of The Thinker's Tantrum

"Content marketing has been shifting away from advertorial sales pieces into well researched, educational content. That trend will speed up in 2017, mostly because it's what converts viewers to users. Marketers need to focus on providing a USP in the form of information to their consumers. Give your customers information about your industry that they can't get anywhere else and they'll return their gratitude. My marketing mantra remains the same for 2017: if you can educate your customers, you will earn their trust and their business."
Andrea Mocherman, Marketing & Communications at Flowroute

"Businesses have created mistrust amongst their buyers by applying the "spray & pray" method to their content marketing. To gain that trust back, businesses need to get a handle on who their buyer is and what their pain points are before they even start to produce content for their next campaign. By building buyer persona's, marketers can create personalised messages and offers that resonate with their target audience, which will lead to increased interactions with the content that will result in revenue generating conversions."
Jacob Dayan, Co-Founder of Community Tax

"While detailed infographics used to be a good way to build awareness and engagement, they've fallen out of favour somewhat. I expect this trend to accelerate in 2017 because consumers, especially young people, don't have the attention span required to digest them; it's hard to make them mobile-friendly; and blog publishers and influencers have grown weary of them as strictly an SEO device. If you can't resist creating infographics, go ahead, just try to keep them simple and think mobile first!"
Emily Sidley, Senior Director of Publicity at Three Girls Media

"Brands will need comprehensive content marketing strategies that provide consumers with multiple touch points while offering the same key message. Also, because Internet users are bombarded with more and more content each year, brands will also need to create content that captures consumers' attention and drives the message home quickly."
Alex Bar, Owner at Third Temple Digital

"I think content marketing will have many more good, or even better days in 2017. More and more brands are increasing funding for content marketing and are turning away from the traditional forms of advertising.However, this could be a double-edged sword for marketers not involved with bigger brands as they will have to compete with companies with more resources. A good way to avoid being pushed out of the picture will be to target the audience on more specific criteria and to go for more niche communities. Also, the popularity of videos and expiring content will continue to rise."
Max Page, Content Marketing Director at Coupon Hippo

"People love to share and link to authoritative articles that answer common questions. Figure out what questions your audience has by sending out surveys or doing keyword research with questions. Then write 1,000+ word posts that answer the questions better than anybody else in your niche.

This strategy will get you both shares and links on all your articles."
To Conclude
Remember, 2016 came with it surprises and many businesses were crushed by the tides. The difference is the quality and application of information they had. Get hold of the wheels, and be in the driver's seat, 2017 is almost here.
---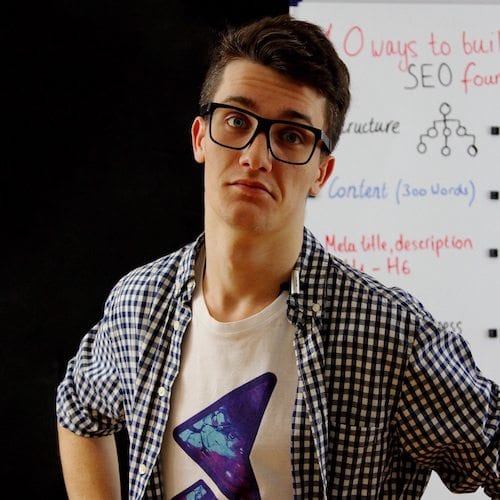 Dmytro Spilka
Head Wizard
Get free online marketing and blogging insights<br><!-- [et_pb_line_break_holder] -->Unsubscribe at any time<!-- [et_pb_line_break_holder] --><!-- [et_pb_line_break_holder] --><link href="//cdn-images.mailchimp.com/embedcode/horizontal-slim-10_7.css" rel="stylesheet" type="text/css"><!-- [et_pb_line_break_holder] --><style type="text/css"><!-- [et_pb_line_break_holder] --> #mc_embed_signup{background:transparent; clear:left; font:12px Helvetica,Arial,sans-serif; width:100%;}<!-- [et_pb_line_break_holder] --> /* Add your own MailChimp form style overrides in your site stylesheet or in this style block.<!-- [et_pb_line_break_holder] --> We recommend moving this block and the preceding CSS link to the HEAD of your HTML file. */<!-- [et_pb_line_break_holder] --></style><!-- [et_pb_line_break_holder] --><div id="mc_embed_signup"><!-- [et_pb_line_break_holder] --><form action="https://solvid.us13.list-manage.com/subscribe/post?u=5164852564d3ba7103743bc16&id=fa1473dcff" method="post" id="mc-embedded-subscribe-form" name="mc-embedded-subscribe-form" class="validate" target="_blank" novalidate><!-- [et_pb_line_break_holder] --> <div id="mc_embed_signup_scroll"><!-- [et_pb_line_break_holder] --> <!-- [et_pb_line_break_holder] --> <input type="email" value="" name="EMAIL" class="email" id="mce-EMAIL" placeholder="Sign up for regular updates" required><div class="clear"><input type="submit" value="" name="subscribe" id="mc-embedded-subscribe" class="button"></div><!-- [et_pb_line_break_holder] --> <!-- real people should not fill this in and expect good things - do not remove this or risk form bot signups--><!-- [et_pb_line_break_holder] --> <div style="position: absolute; left: -5000px;" aria-hidden="true"><input type="text" name="b_5164852564d3ba7103743bc16_fa1473dcff" tabindex="-1" value=""></div><!-- [et_pb_line_break_holder] --> </div><!-- [et_pb_line_break_holder] --></form><!-- [et_pb_line_break_holder] --></div>