As the fast-paced world of technology has picked up over the years, it has been interesting to see how businesses have changed in the face of it. Prior to the world of online marketing and digital content surfacing, the concept of it seemed so alien and so far from reach that now that we have it, it looks as if though it's come too soon and we don't know what to do with it. However, one apparent obviousness that is present today is that nearly everyone is using the web in many different ways and so for businesses, it has opened up new avenues, providing them with a platform to be heard and noticed. Businesses can now reach out to their audience in multiple ways, reaching a broader audience. 
Content marketing has become a popular way for businesses to get in front of their audience to boost their brand by sharing knowledge and expertise in specific fields or by discussing topics of interest with their readers. Although this sounds easy, content has to be crafted so that it is engaging and enjoyable for the audience to interact with as well as being factual and reliable enough to build trust with readers.
Considering the leverage content gives businesses, the importance of it has risen. This means the demands for quality content has escalated. Many businesses are not able to keep up with the constant need for new content, which is why the demand has given birth to marketplace content sites such as Copify. Copify is a content marketplace where companies can hire copywriters to produce content for various needs. As the demand for content is so high, there are many different types of content marketplaces available for businesses to choose from.
If you're looking to explore your options, here're a few decent alternatives to Copify.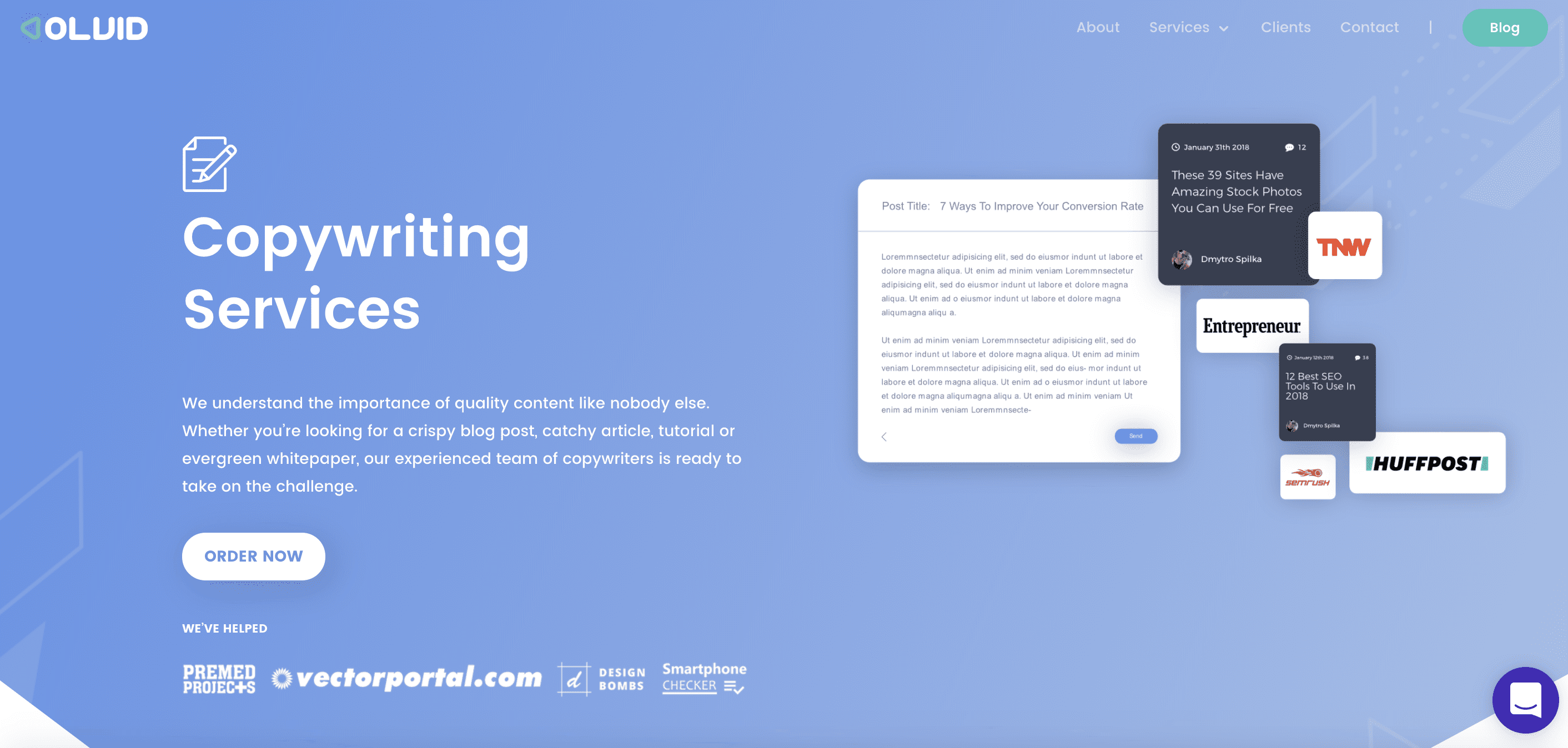 We had to include ourselves on top of this list. At the end of the day, we're here to earn that penny 🙂 And, we truly think we're your best option.
With a team of in-house copywriters, we, at Solvid, offer a wide range of high-quality content writing services. We cover everything from blog posts, articles and tutorials to press releases and web copy. Solvid offers its customers compelling and engaging content that can relate directly to its customers' audience. We learn and understand the client's needs, industry and tone before we start creating a unique experience for our clients, giving them original, personalised content. We also offer unlimited revisions to the copy until our clients give us the final green light.
Our content is also written with SEO in mind. We carry out extensive keyword and content research before proceeding with the project. We're committed to achieving an industry beating turnaround time of 3-4 days for a single, 1,000-word piece. Our easy-to-use website and handy ordering system tell our clients how much exactly they'll pay for content depending on the length of the piece.
We believe that our portfolio speaks a thousand words. That's why we offer potential clients an option to browse through the articles we've done in the past.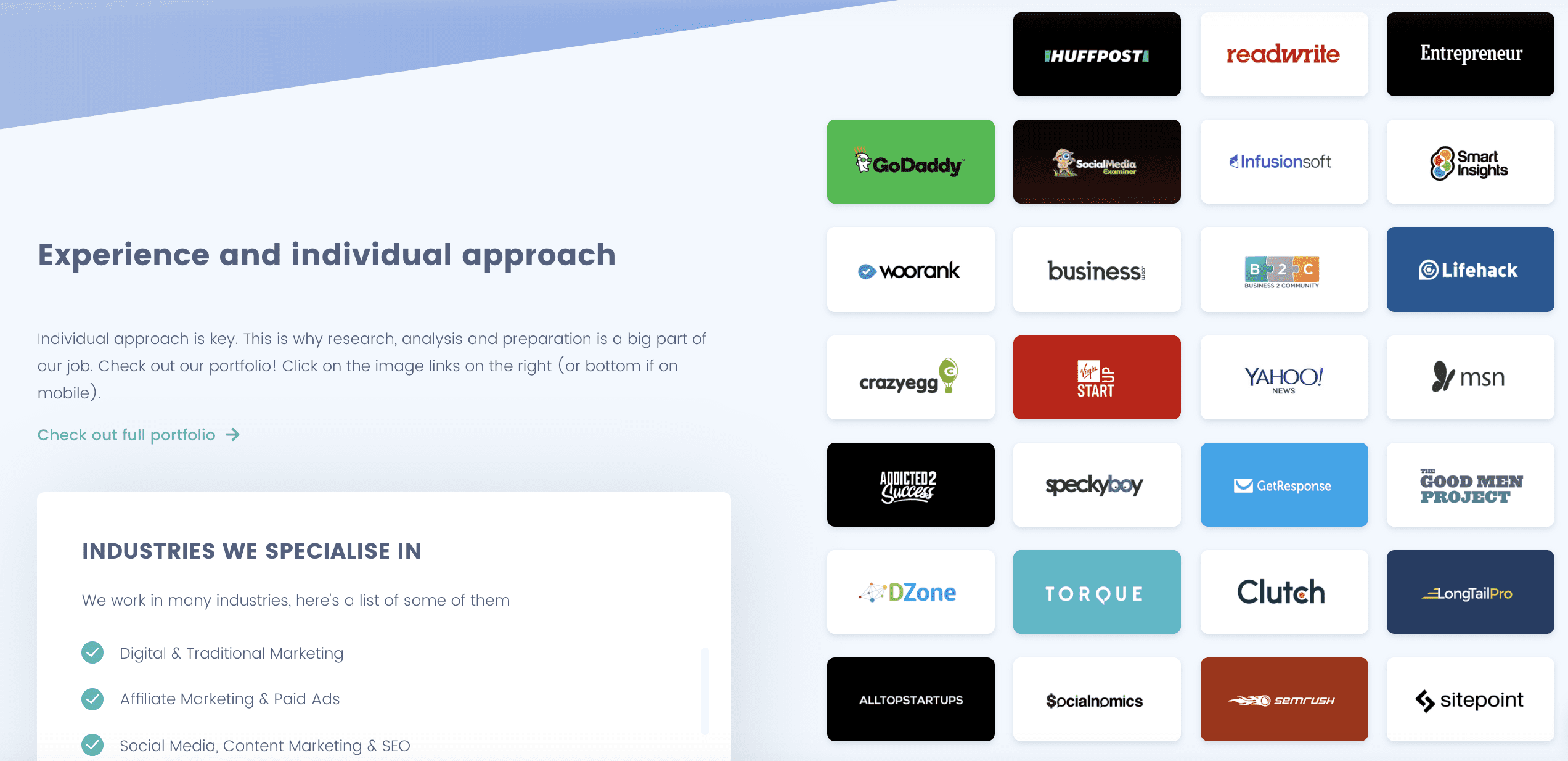 Aside from our copywriting services, we also offer a range of other services, including guest blogging, content marketing, SEO audits, link building and blogger outreach, offering our clients a wide range of options.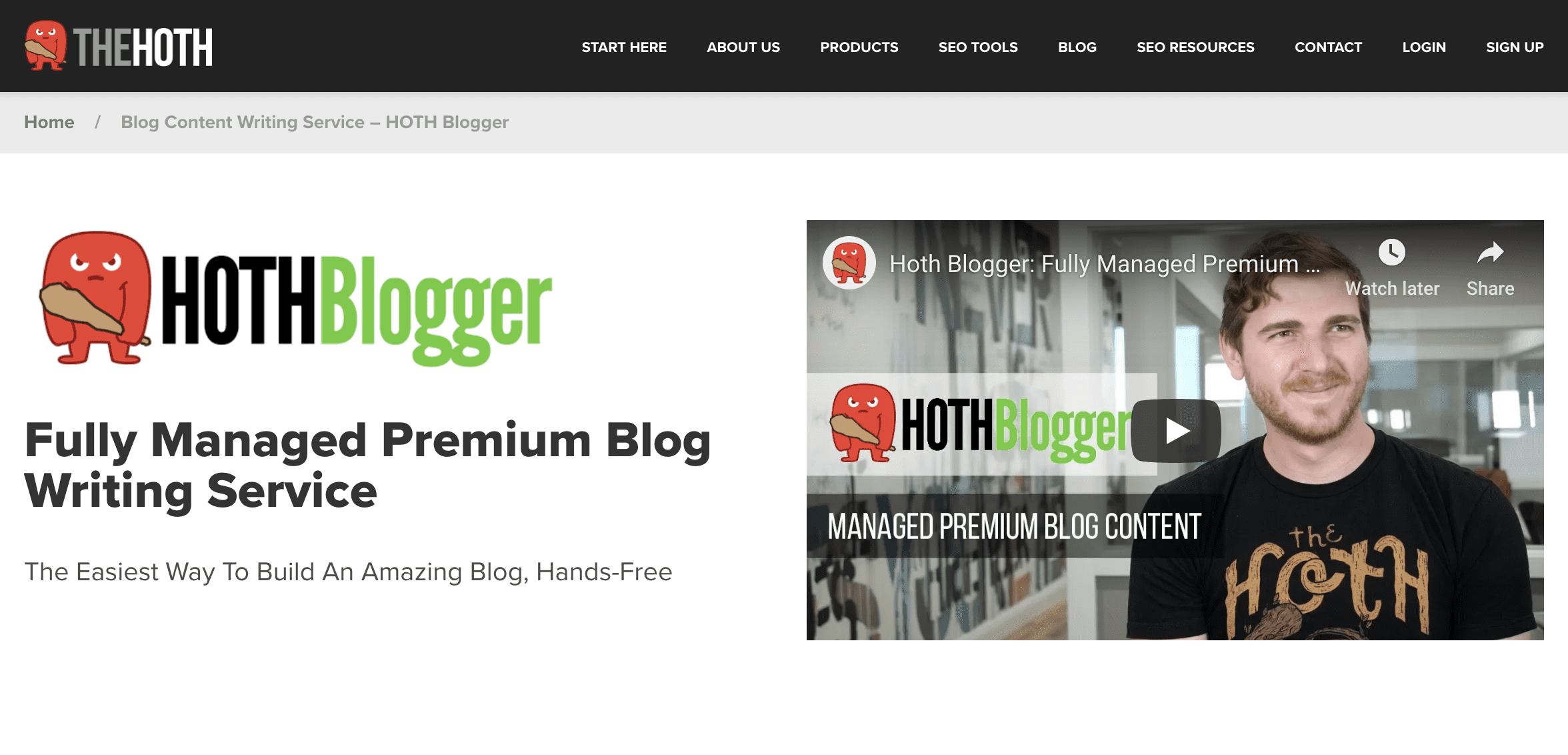 If a business is looking to improve its search visibility, The Hoth offers a wide range of services, such as fully-managed blog writing service, blogger outreach and link building, allowing their clients to create their own strategy with a full suite of SEO products. With a range of different services to choose from, The Hoth also offers its clients an option of fully-managed SEO service.
As for content creation, although the focus is more on SEO, The Hoth also offers its clients targeted and valuable blogging content surrounding topics and keywords that match their audience. Pricing starts at $40/month.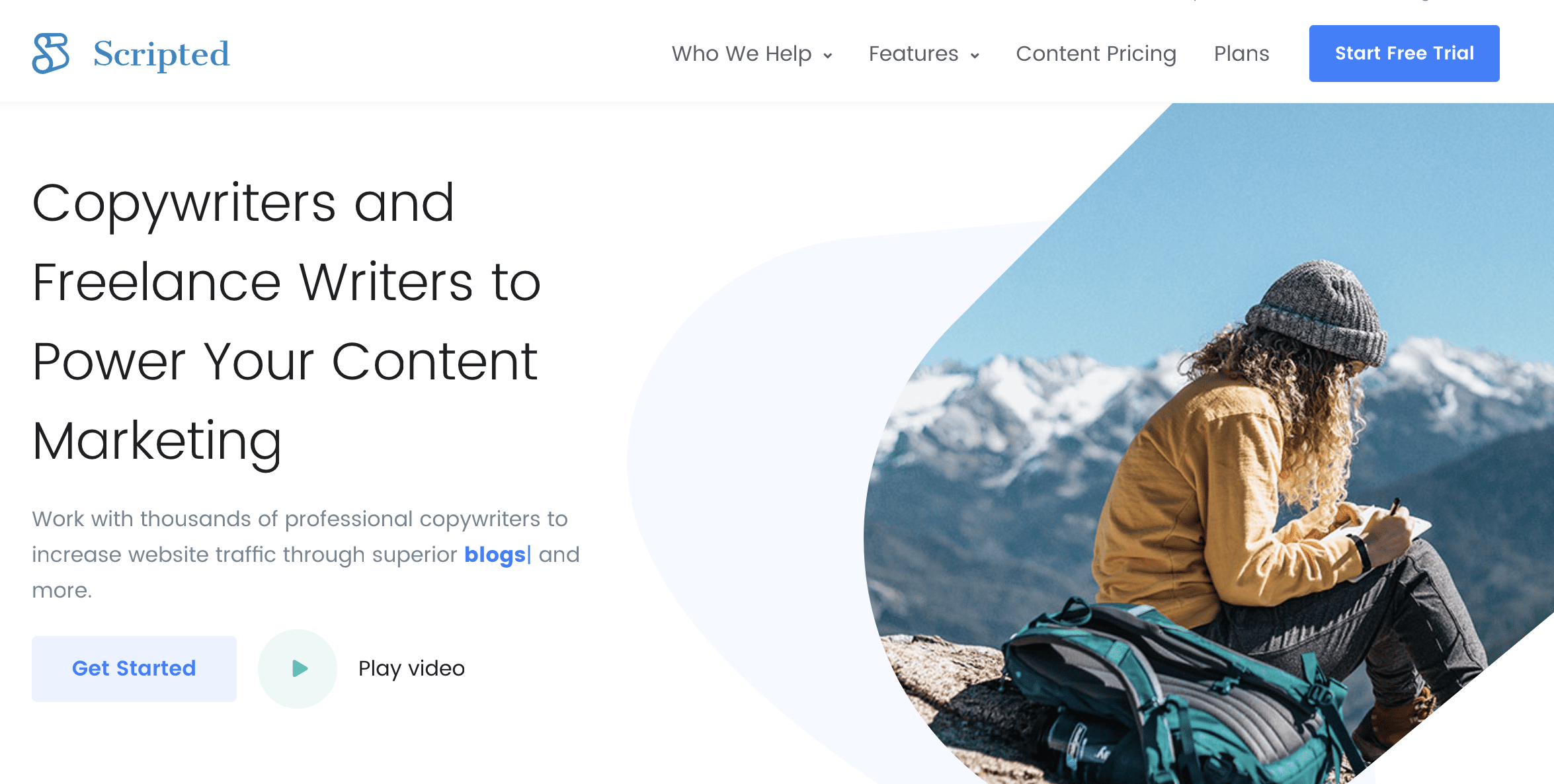 Scripted is a dynamic marketplace creation service with a range of copywriters and freelance writers. Their services include web content, video scripts, blog posts, product descriptions, press releases, social media posts, email newsletters and custom projects. Clients can sign up to one of their three-tier price plans and begin to search and hire content writers. However, to place an order, clients must first be members.
The process is fairly straightforward for clients. Once registered, clients can begin to outline their requirements for the content required, after which they are provided with a pool of writers to choose from. Once a writer has been selected, clients can then begin the process for scheduling calls or messaging the writers to build a rapport and begin the project. Clients will then receive drafts. One interesting positioning in their process is that clients only pay for writing they are fully satisfied with.
Prices can also be found on their website to give the client an outline base rate for every content format. However, factors such as the choice of writer, word count and rush delivery of the content can affect the final price. One of the services offered by Scripted is 'Blog Ideas', where clients are offered a choice to choose different blog topic ideas. If they see a topic that they like, all they have to do is select a topic and then provide feedback to the writers on how to customise it for their blog post.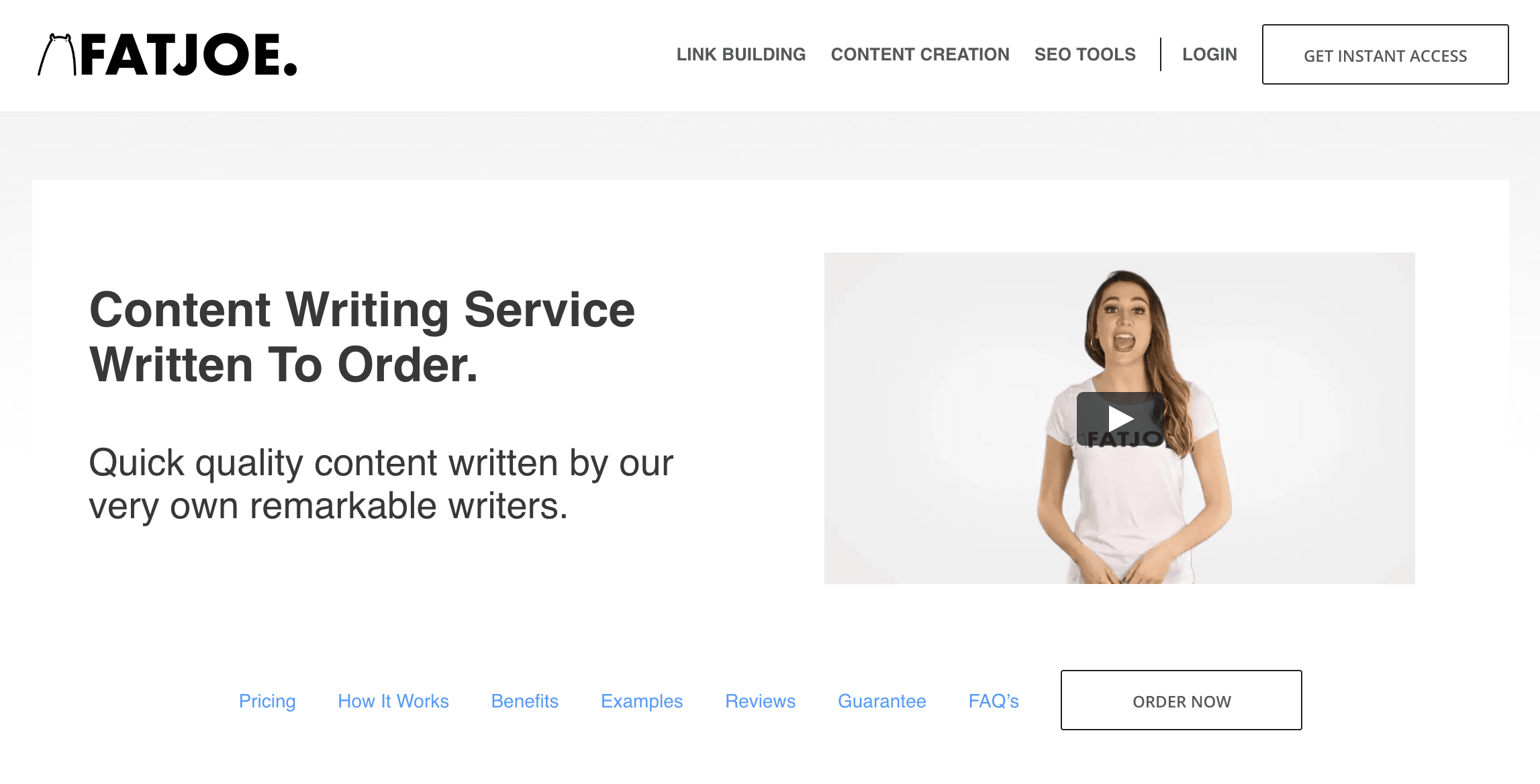 FatJoe specialise in content creation and link building services for SEO Agencies in the UK, US, Australia and other countries. They are currently offering content writing and infographic design services, both of which are used to support SEO and content marketing campaigns. Their pool of UK and US writers offer clients an advantage to choose the writers that are more in touch with the audience they are creating the content for.
Placing an order is fairly simple. Clients will need to fill out and complete a form, after which they're asked to outline their project details by choosing the type of content required and the content length. Then, the project gets allocated to the most suited copywriter on their team (many of which are freelance writers). Once completed, the copy will be proofread and sent to the client in a downloadable format ready to upload.
Prices start as low as £10($15) per article. With a range of different price plans, clients are able to see what they can expect to pay per word in either pounds or dollars. Before committing, clients are offered a few samples to see the quality of their previous work.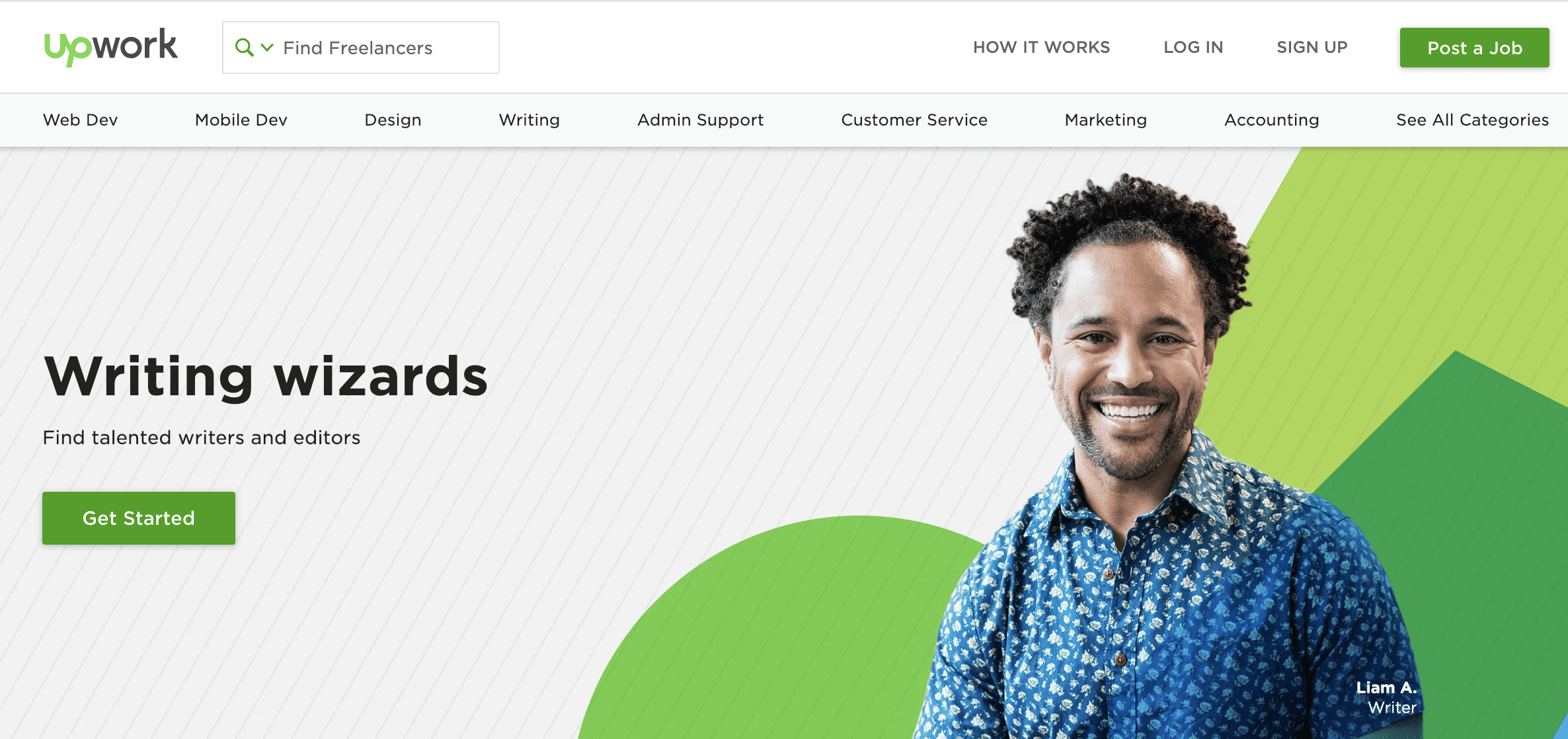 With a range of talented writers and editors, Upwork gives its clients the flexibility of hiring copywriters for any scope of work. This offers clients the ability to hire writers for either short-term tasks, recruiting projects or full-time work.
To begin, clients will need to outline the project details and explain the required skill set. Then, Upwork will analyse the skills that the client has requested and generate a range of writers based on their expertise to match the client's requirements. Once the search is complete, clients will receive a shortlist of candidates from Upwork's pool of writers.
The cost of work is dependant on the freelance writer's rate. This will be available to see for the client once they have provided the necessary information and receive a short list of writers. Upwork also offers a range of different services for a variety of different clients, including mobile development, accounting advisors, design creatives and many more.
The increase in content popularity just shows how important copy has become for a business to survive today. As we can see from the examples above, there are many different types of content marketplaces that offer businesses a tailored approach to hiring the right content writer. 
These services provide businesses with an option to hire a decent content writer without a need for hiring an in-house team member. Moreover, it allows companies to hire a copywriter that specialises in a specific niche.