Pictures are beneficial to use. They can instantly make a long piece of text look appealing to read or a marketing campaign more eye-catching and memorable. Ever since the first partially successful camera was invented in 1816, pictures have been one of the most popular ways of communicating. Although there are no words, like art, images are open to interpretation. What our minds can interoperate from a picture is how we view it. Our natural curiosity and love for visuals are why we enjoy looking at pictures. Images also offer a more transparent way of communicating. For example, when launching a new product, it is beneficial for the audience to see the product. This will help them understand it better, seeing how it works. Text alone can't always accurately convey meaning.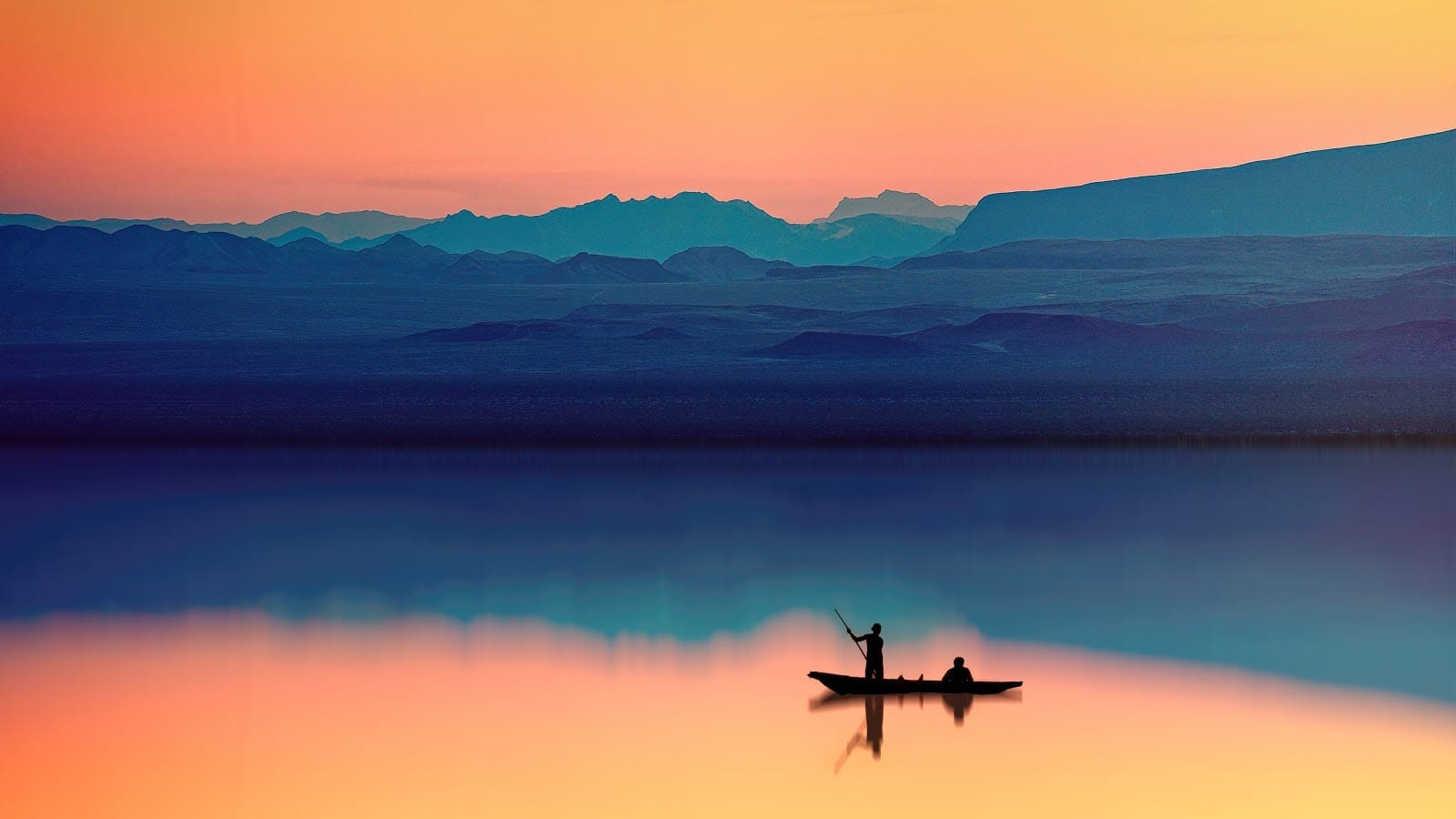 In today's world, pictures are more important than ever before, thanks to social media platforms. Sharing our lives via photos has become increasingly popular thanks to the rise of social media and its influence. Platforms such as Instagram, which works solely on image sharing, has made taking and sharing pictures, especially selfies, more attractive. Other social media platforms such as Snapchat, which again focuses on pictures has skyrocketed in popularity over the past few years. This information has painted a clear picture, indicating that using images in content today is vital as they have now become a regular part of everyday life.
Using images works wonders as they grab the audience's attention, especially in a crowded space like the internet. The increased level of usage and technological advancements in smartphones now means that audiences are more responsive to what they see. This is the reason why using striking, attention-grabbing images can help businesses stand out. A varied variety of images used by organisations can also help maintain audience interest by continually feeding their desires for more captivating images.
Infographics or memes can also leverage businesses to keep their loyal fan base by mixing it up and offering a less conventional type of imagery. One of the most significant advantages of using pictures is that they help retain the message an organisation is trying to communicate to their audience. Pictures make the message clear and effective and help to build brand identity, which is why using high-resolution images is key.
What are high-resolution pictures?
Many pictures that are featured on stock image websites are of very high quality. This is because, the better the quality, the more downloads the hosting site will receive, which is why it works in the site's favour to offer high-resolution quality pictures for free. But what is high-resolution?
High-resolution or sometimes also known as denser image quality are images that are made up of many tiny pixels which are also known as picture elements. They are usually small squares of colour that collectively make up the full image. High-resolution images contain a high number of pixels which helps to make the image look sharp. It's hard to notice an individual pixel on a picture of high quality as they all merge together to make up the picture that you can see. Pixels can generally be seen when a picture is zoomed in really close or by enlarging a photo beyond its ability. Enlarging low-resolution images can give users blurry results. This can make an image look 'pixelated' which is the term used for when the naked eye can obviously see the pixels. Although high-resolution pictures are great, there is a downside to them. Due to the higher number of pixels, they take up a large amount of storage space and can take longer to download.
A little bit of science
To understand the powerful impact pictures have on us, it's vital to understand how our brains work. As humans, it is believed that we have the capacity to process visual data at a much faster rate than we do text. Recent statistics have shown that an article that contains images is more likely to be read compared to its counterpart. There was also a higher willingness to read the piece if the visuals were in colour. Digitally the effect is the same with a higher number of views and engagement for tweets and Facebook posts if they have images. But why is this the case?
Biologically, our brains are about 20% existent for the purpose of vision, and most of the magic happens the back of our brains. Our optic nerve snakes through the middle of our brains and spread out into optical lobes. This is known as the visual cortex and does the bulk of visual processing. It then sends out information to all the other areas of the brain and combines it with our sensory information which then gets retained in our memory. This means our brains are purpose-built to process visual information at a faster rate.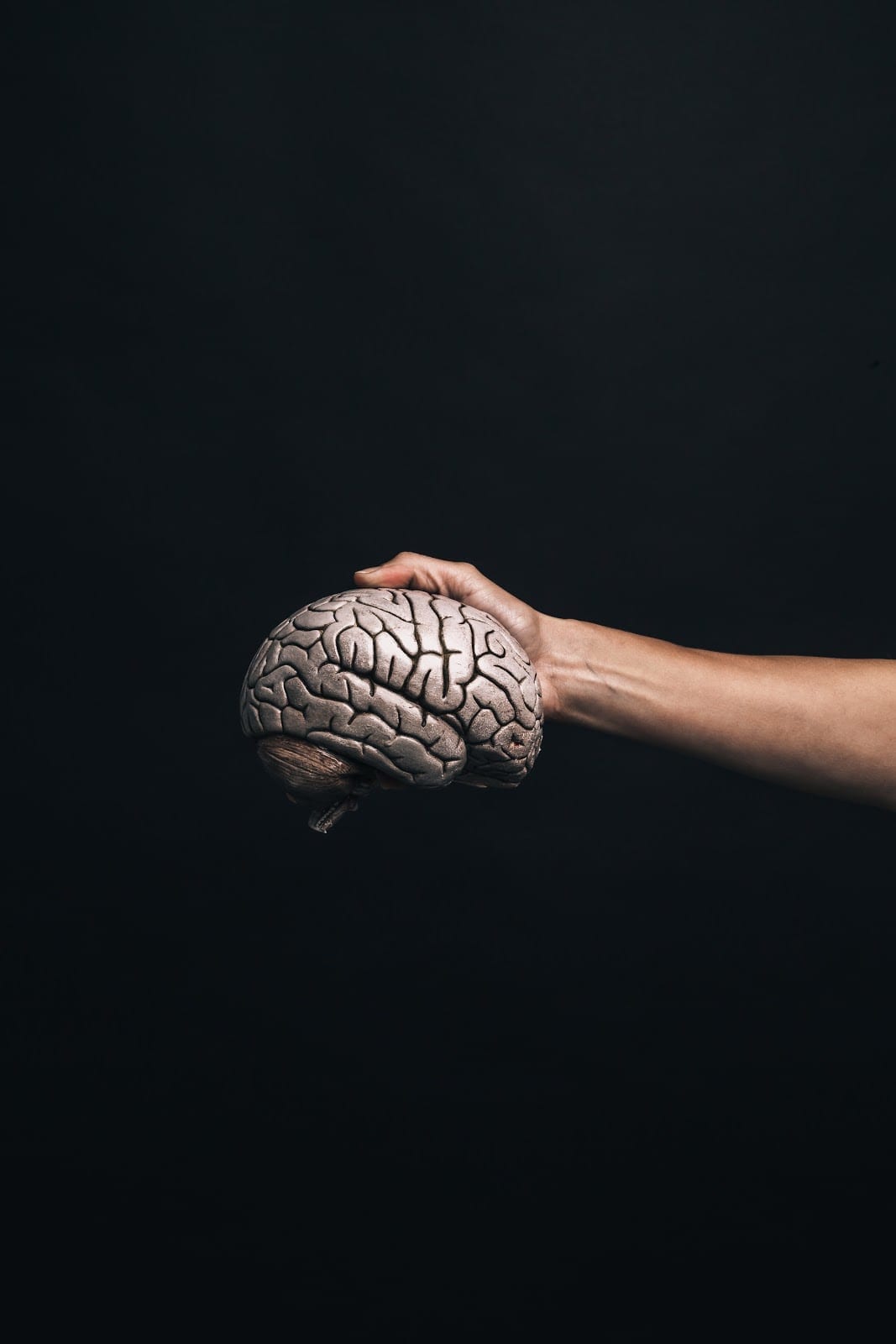 Images also help with comprehension. For example, when constructing flat-packed furniture – diagrams indicate how the pieces fit together to make the final result making it easier to complete compared to a list of instructions. Pictures give us visual content which our minds can break down better and understand. Text, although very informative, can be challenging to extract the meaning from. Colour also plays an imperative role in grabbing our brain's attention in pictures. Without realising it, our minds are drawn to specific colours such as blues and greens due to the connection those colours have with nature.
Therefore pictures play a vital role in our absorption of content which explains why using images can be beneficial. Of course, the situation was very different before because there were not very many picture sharing sites available, and those that did exist were charging for images. However, now there is a variety of different websites that offer excellent quality images with the freedom to use them for personal projects and commercially. Here's a look at 15 of the best platforms for getting free stock photos and images.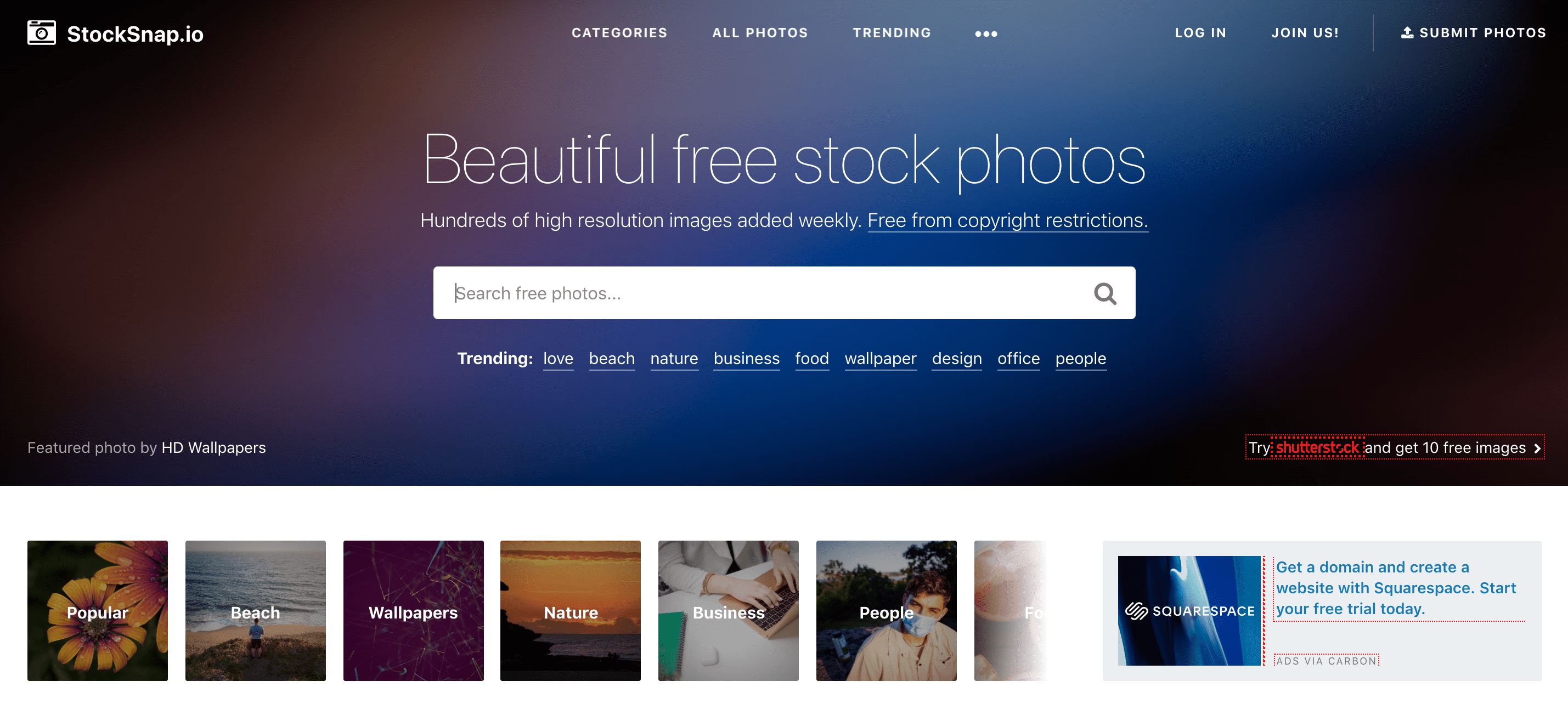 Housing a large selection of beautiful stock images, StockSnap.io offers an array of free pictures in high resolution. Users can search for images through the sites handy search feature, which makes it easy to find and browse through thousands of images specific to the user's needs. The sites convenient 'popular searches' suggestions make it even easier to find pictures. By simply clicking on a suggestion, it will redirect users to pictures tagged under that specific heading.
The site also tracks picture views and downloads, helping users find the most popular photos that are available to use. Daily, StockSnap adds hundreds of images, releasing them under the creative commons public domain licence which makes them free to use. If users do use a picture from StockSnap, there is no image attribution required, which makes downloading images from StockSnap great. The photos are free to use, no matter the purpose and hosts a range of pictures for a vast selection of different business sectors.
All images on the site provided by photographers go through a strict quality control screening processes. If approved, StockSnap uploads the photos themselves, which guarantee quality pictures for users all the time.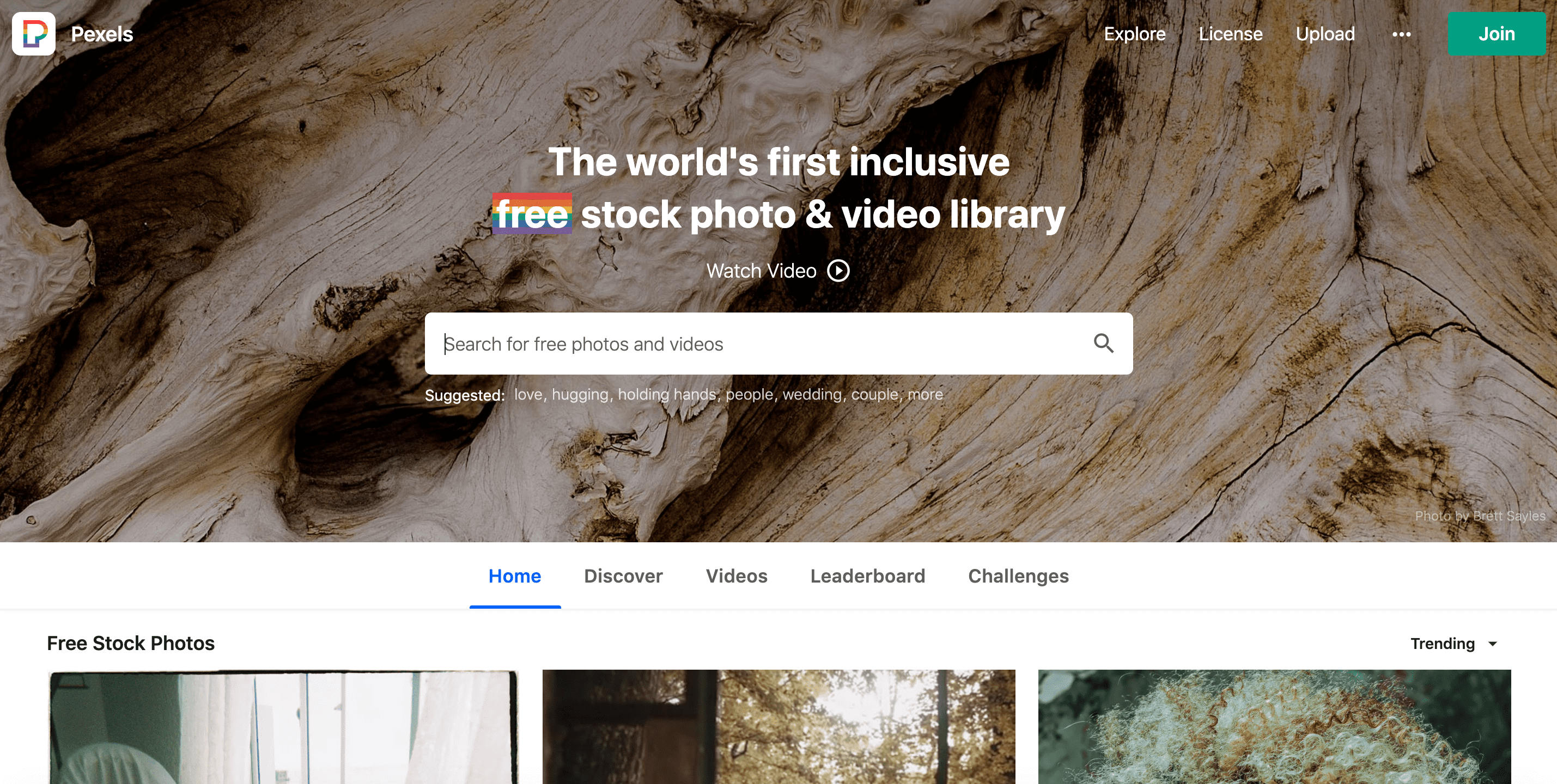 Providing a completely free service, Pexels provides users with a wide range of high-quality images which are entirely free to use. The stock images are licensed under the Creative Commons Zero Licence (CC0) which gives users the freedom to use the photos in an array of different contexts, for example, personal or commercial use.
The images are easy to find thanks to the sites handy searchable bar at the top of the page. Scanning through the sites vast library, the search provides users with individually tagged pictures. This helps to narrow down the tags, making it quick and efficient to use. The sites discover pages and blog also helps to give users an insight into photographers and the world of photography. Users can read the latest stories and trends in the photography world. Such as stories exploring where photographers of the site get their inspiration from for specific albums, creating a behind the lense insight and an insight into the photographer's mind.
Once an image has been downloaded, the site prompts users to connect with the photographer through their profile. Allowing them to say ' thank you'.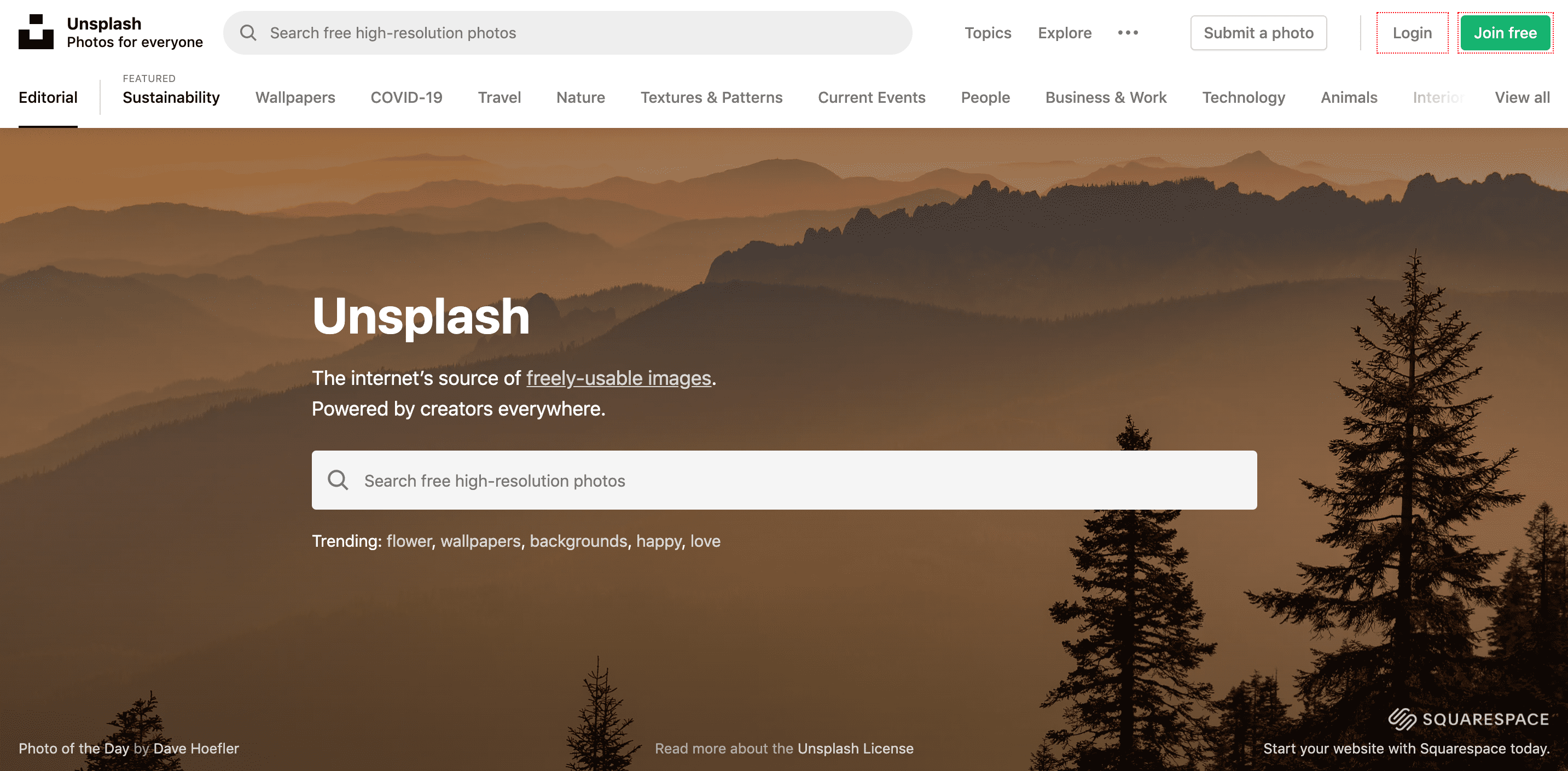 Unsplash has become one of the best sources for stock images and offers an extensive collection of free high-resolution photos. The sites easy to use interface makes it great to navigate around quickly. Just like many of the other stock image websites, Unsplash has a search bar at the top to help narrow down specific searches, but it also has navigational tabs which can help users find 'Popular searches', 'Popular collections' and 'Backgrounds'.
The site also has a 'Collections' section. Here users can find images placed together under a specific heading such as 'October Afternoon' or 'Let's Party'. This makes it easy to find a variety of pictures that share a specific similarity. The sites'  Explore' section also allows users to find popular images.
Just like many of the other websites, the team at Unsplash comb through new submissions and pride themselves on only featuring the best images they receive on their homepage. This provides users with the very best pictures they have to offer, which is why they are a popular go-to site for many. All images that are released on their website are free to use and are held under the Unsplash licence. The licence grants the photos for use in non-commercial and commercial settings without providing an attribute to the photographer.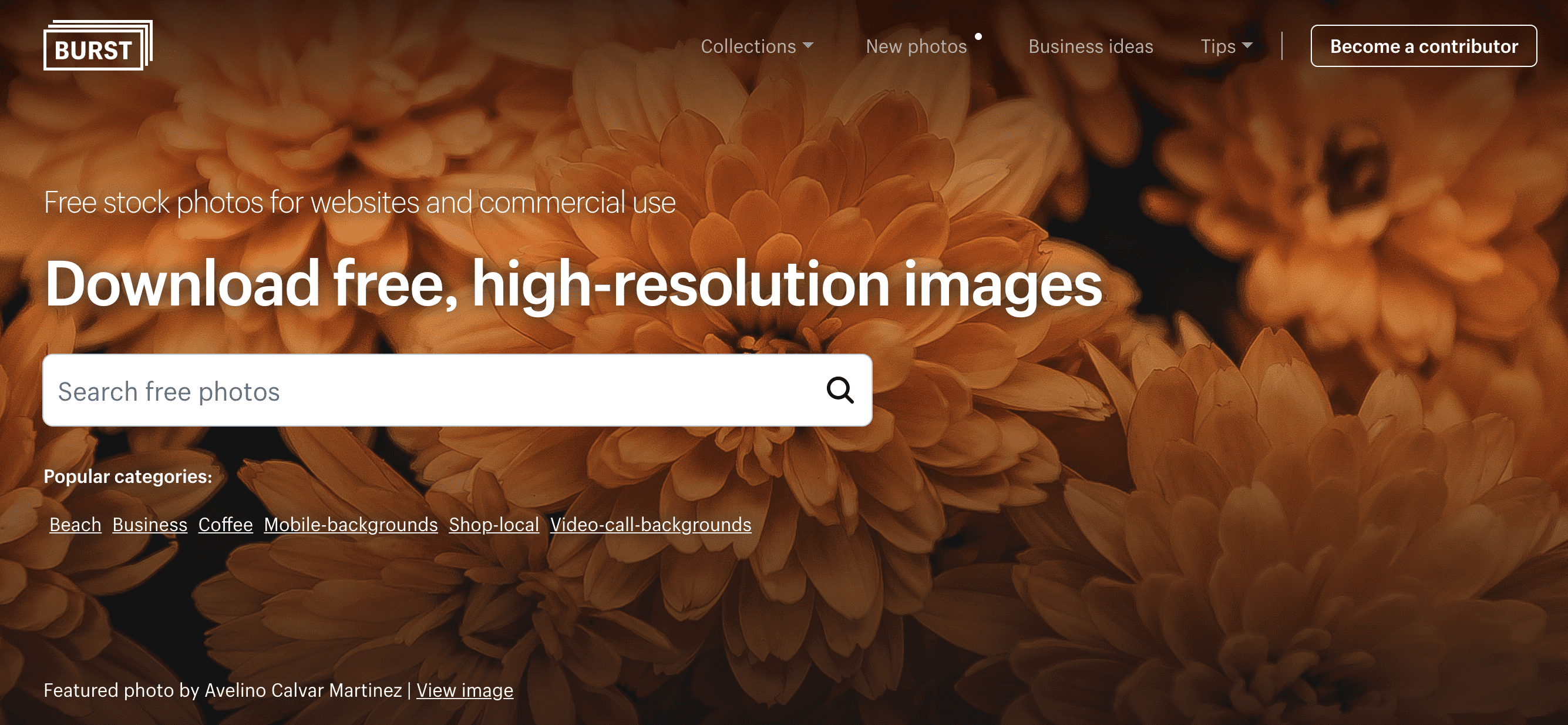 Burst is a free stock image platform that is powered by big sister Shopify. The site houses a library of thousands of high-resolution pictures provided by its global community of photographers. The images are free to use and are royalty-free. Some pictures, however, are licensed under Creative Commons (CC0) while others are under Shopify's own photo licensing.
Burst was built to provide developers, designers, entrepreneurs and bloggers access to high-resolution free stock images to be used for their business and to help elevate it. The pictures can be used in a range of different settings from websites and online blogs to school projects and social media adverts.
Images are easy to find thanks to the sites search bar and popular tags, just like other sites. The site also has a 'This week's top pick' section which provides users with trending pictures. It also has picture collections which make finding one for a specific business easy.
Uniquely, Burst also has a 'Business Ideas' page. The page houses free photo collections and case studies that are designed to make users start their own business. The collection on the page helps to identify popular business ideas that are trending in niche subjects. They bring to light popular products that are relatively easy to dropship and provides the users with the images and insights they need to get the business idea started. The free photo set includes product photography and lifestyle images. All users need to do is download the content to help them launch a professional brand for free. The goal of their 'Business ideas' section is to offer a starting point for new businesses.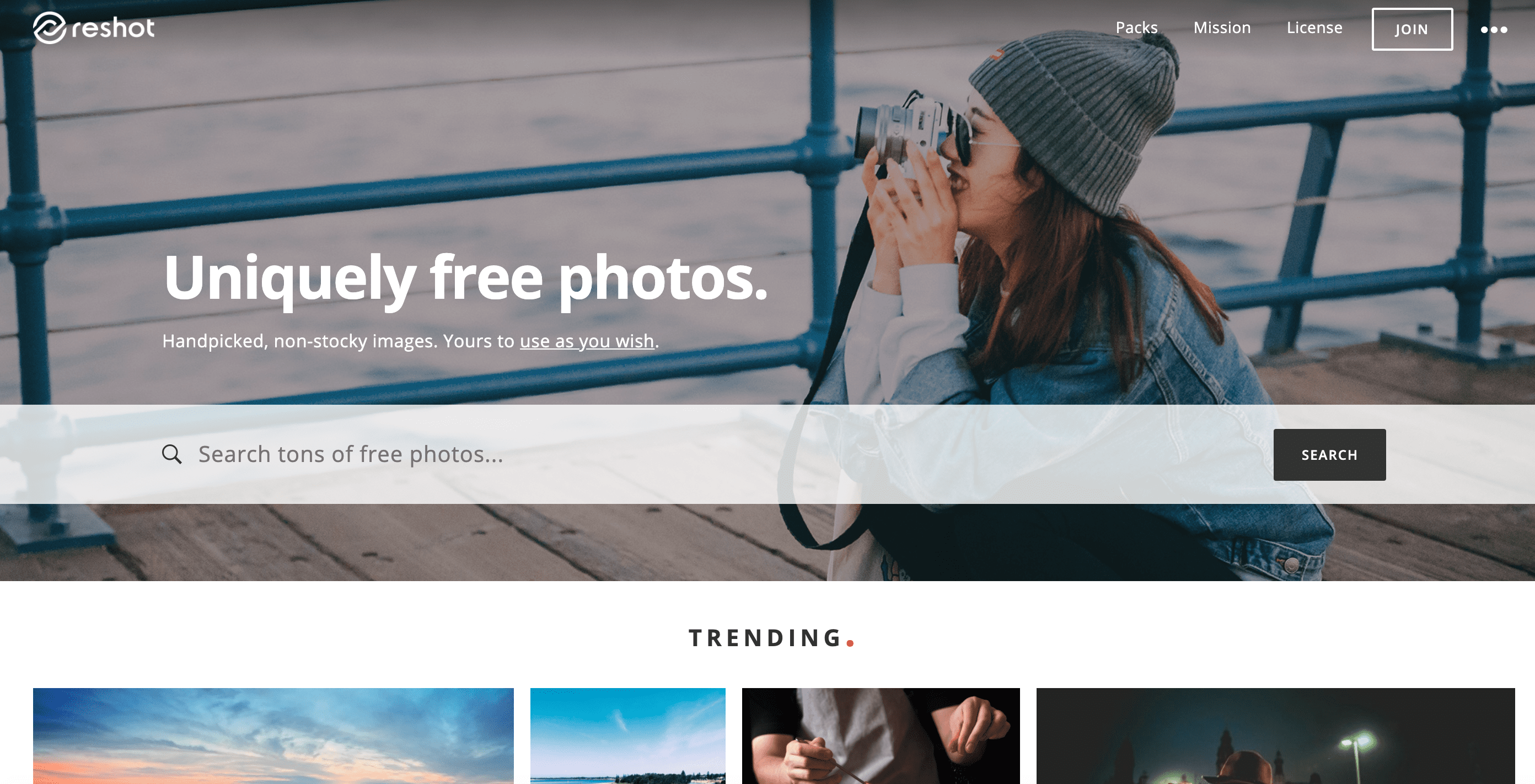 Like many other stock image sites, Reshot has a wide range of pictures that can be used for free. It has an easy to use search bar on the site to help filter images. The site is designed to have a library of uniquely free photos. They aim to create a wide range of pictures that are handpicked by the site's team that do not resemble typically stocked images. This unique approach means users would not be able to find images similar to their own on other stock image websites.
The website is unequally built for freelancers, start-up's and marketers who are looking for stock images that do not look like conventional or obvious stock images. Using images from Reshot will help marketing campaigns and websites reach out to their audiences better. This is because the photos from Reshot can relate to their audience better as they look less staged and less like stock images that have been downloaded.
The images are created with creative minds to help them look different, with an outside the box approach. They are less focused on organisational images with fewer business-like and more realistic pictures. Like many of the other sites, the images from Reshot are free to use commercially and editorially and require no attribution.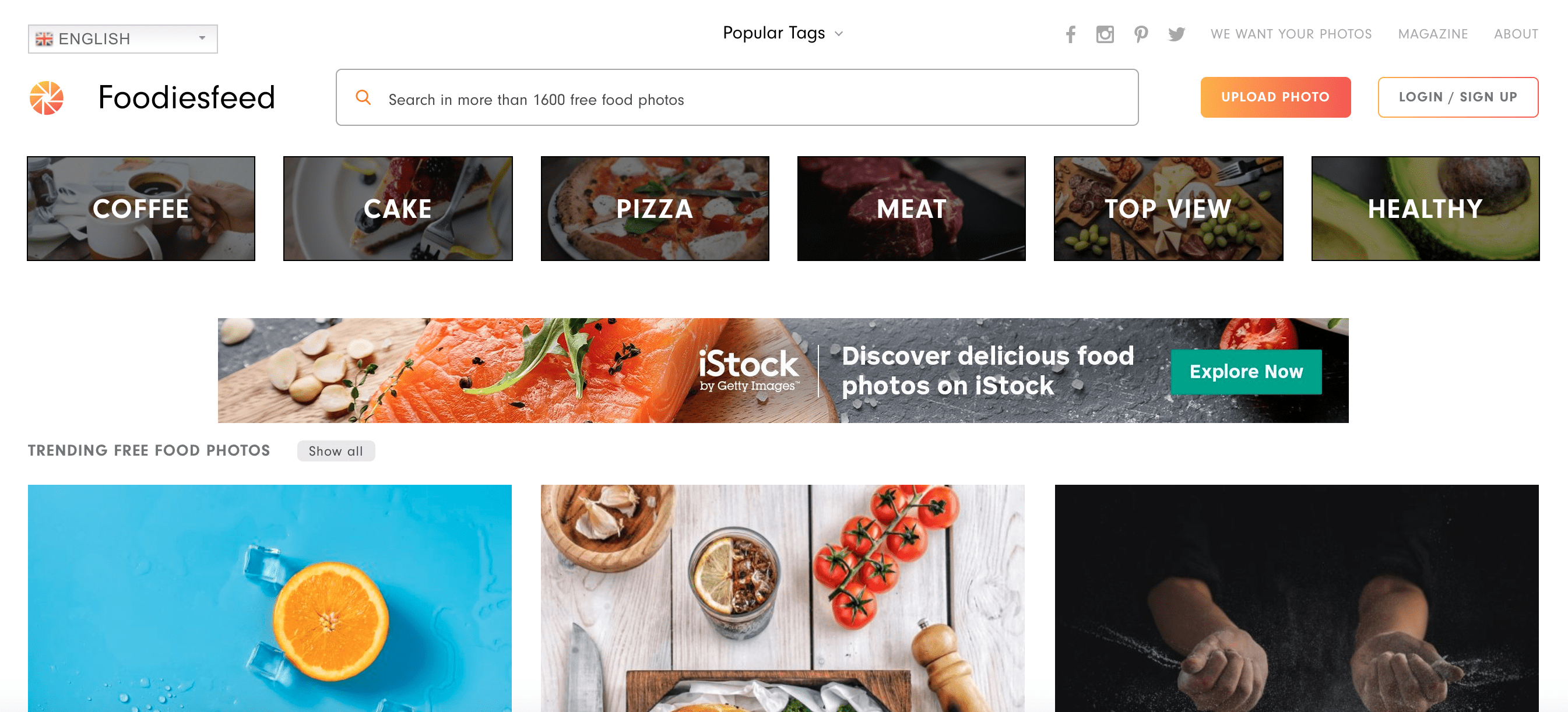 FoodiesFeed says it all its name. The site is dedicated to offering free stock images of food. Food photographers from all around the world share their pictures on the website under the CC0 license. The site has a searchable bar which helps users find exactly what they are looking for along with trending pictures to help foodies see what the latest trends are. This website is great for food bloggers and those in the food industry as it can help not only with business needs such as marketing, but it can also be a source of inspiration.
The website also has a Magazine section which provides users with the latest news in food and photography. Not only does it feature the most recent news, but it also has featured articles which explore different types of photography. For example, some of the features look at food and art, food and fashion and still-life compositions of food. The website also offers users an array of different recipes to try out, which might inspire users to create their own food and take pictures of them. The magazine section also has videos for users to download and use. This helps the website to distinguish itself from its competitors, elevating it one step further as it does not only concentrate on photography.
Styled Stock is a website that celebrates all things girly and is definitely one for the female entrepreneur. The website has a range of different, very feminine stock images from rose gold desk accessories to beachside fashion pictures. Most images are bundled into categories to help users find the specific pictures that they are looking for. For example, the sites new images are characterised into collection names such as 'Summer' or 'Home Lifestyle'. These titles make the nature of the pictures in the collection clear.
Most images on the site are free to download and use. However, Styled Stock also offer bundled packs for a small fee. The bundle packs consist of a range of stock images, between 20-30 images that are all centred around a specific theme. For example, 'Colourful Desk' is a bundle package full of desk images. The photos are of a high resolution and can be used freely.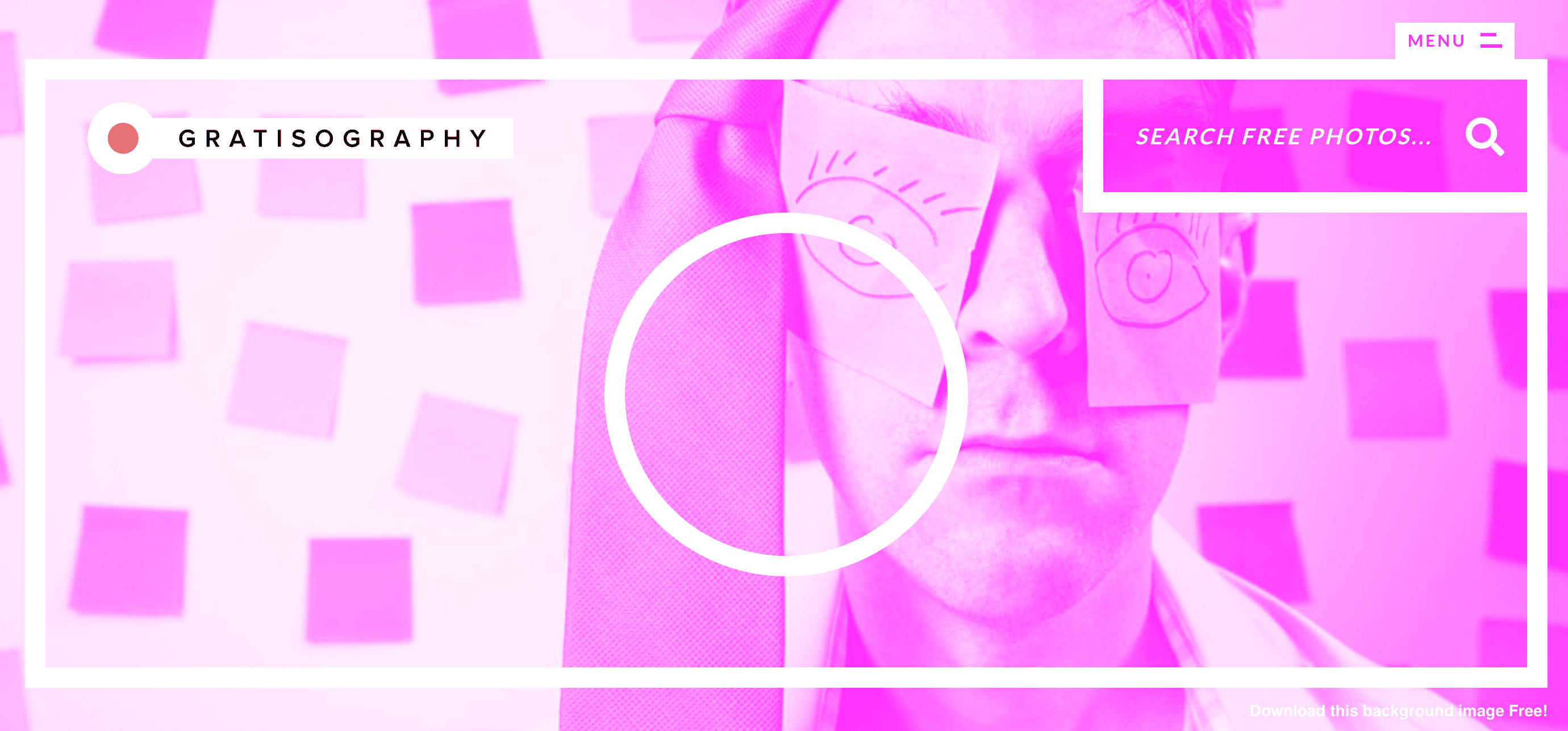 Go wild with images from Gratisography which houses the worlds quirkiest collection of high-resolution pictures. The image library is packed full of the worlds best, most creative photos which users will not be able to find elsewhere. Their photographs are meant to be thought-provoking, helping businesses to capture the minds of their audience. Viewing the images will create a memorable experience, much like our favourite adverts and why we remember them. The site has an array of pictures from the weird to the wonderful. Of course, the library is not as extensive as some of the other stock sites, but that is not their aim. They aim to offer thier audience the most unusual pictures that can be found. Especially images that are less 'Stocky' and a bit more outside of the box and creative.
The team at Gratisography are not focused on quantity and are very selective when it comes to what images they would like to host on their website. For this reason, they only curate the most interesting pictures in their opinion, which reflects either a personality or perspective or one which is telling a story. The website is quite easy to use with that all-important search bar and new featured images on the homepage.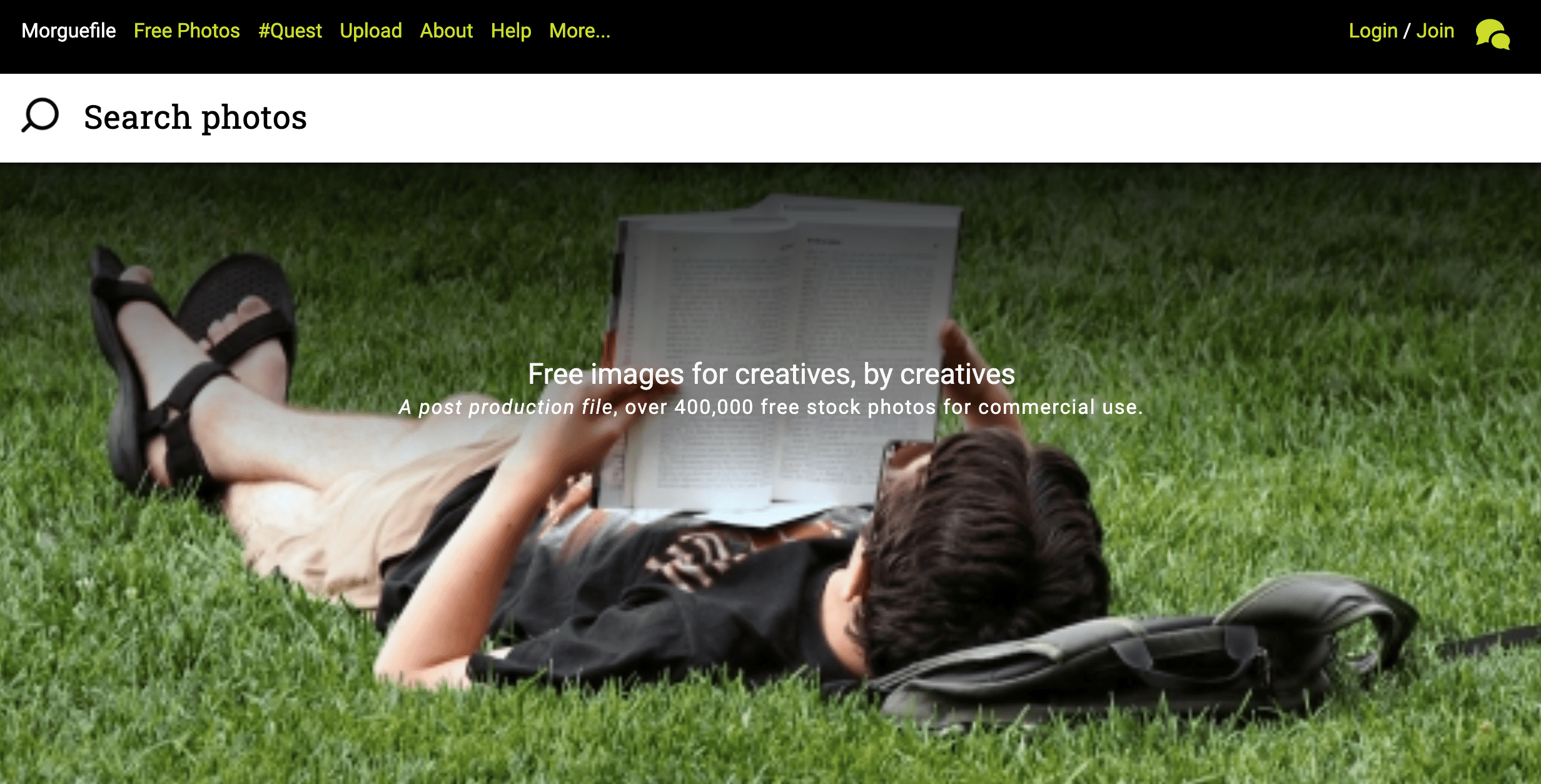 Morguefile is a little different from other stock image sites. This is because usually the images on a stock site are curated by professional photographers and are professionally produced with edits to make them look great. However, on Morguefile, the pictures are very different. The images are more likely to be based on everyday objects and random people. Photos on this site aim to reflect a real-life perspective of things rather than a polished version which is what other stock image sites offer. It is not a go-to website if you are looking for big header images or high-resolution images to use on a large scale. But, it is perfect for simple images that represent and reflect everyday life.
The website is quite easy to use and has a search bar at the top to help filter the images. The site also has a 'request an image' tab which allows users to request a specific picture they might have in mind after creating an account.
The site does not only offer its users pictures, but users can also, by the help of other stock image websites for a small fee, gain access to videos, vector images and templates to help them with their business and marketing material.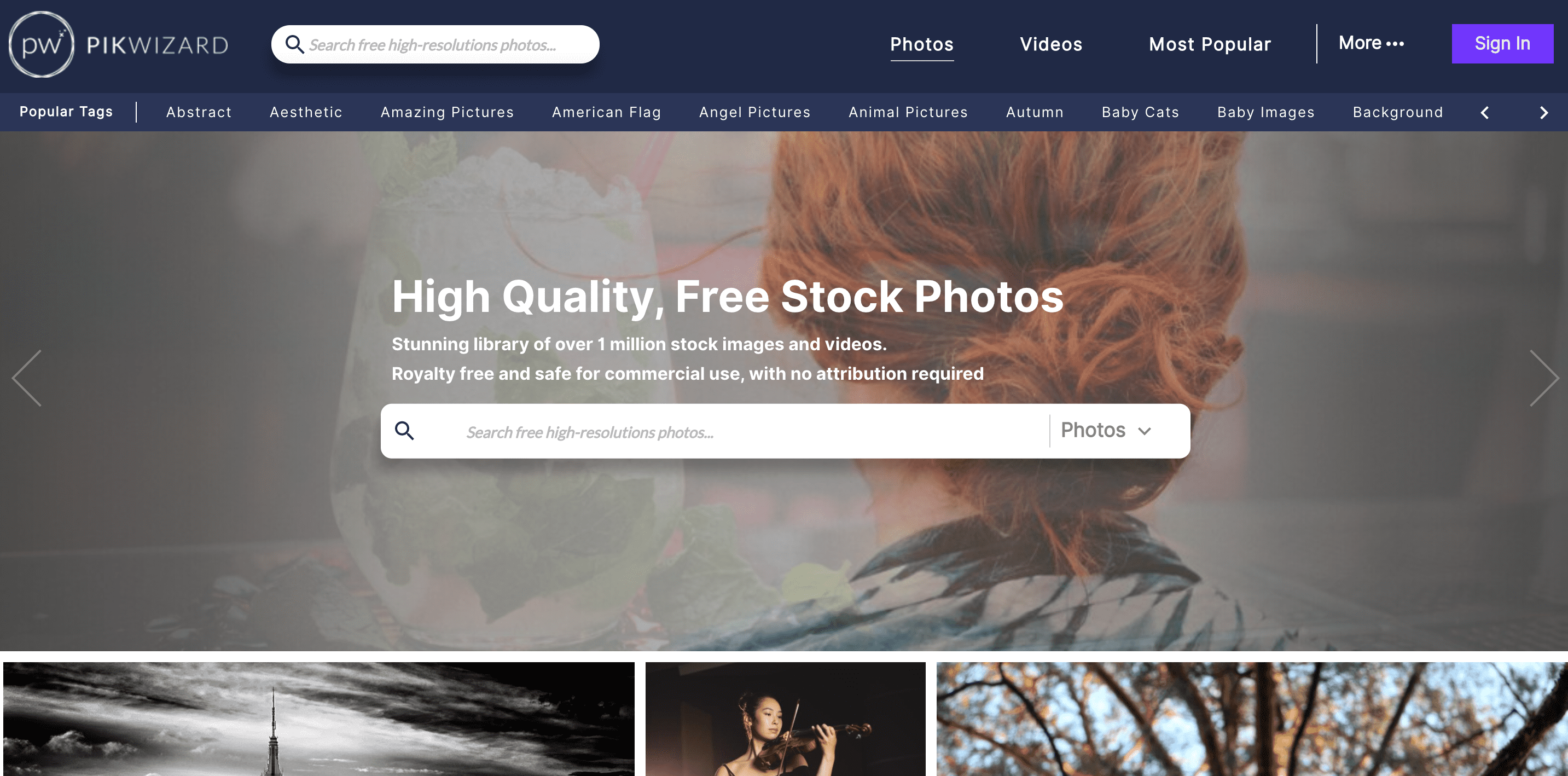 Pikwizard has a stunning library full of over 10 million stock images that are free to use. It's easy to use interface with a search tab, and popular searches tab makes it easy for users to find the images they are looking for. The photos are free to download and are safe for commercial use with no attribution required. The website also has high-quality free videos for users to download and use, which is typically tricky to find, making this website an excellent tool for any business.
The Pikwizard blog is also an excellent resource for businesses. The blog covers information about how to create content that will help a business grow as well as exploring topics such as how to create a social media strategy, how to take beautiful pictures and how to take the best nature photography. It covers a range of different topics and is very informative, giving its users the tools they need to excel.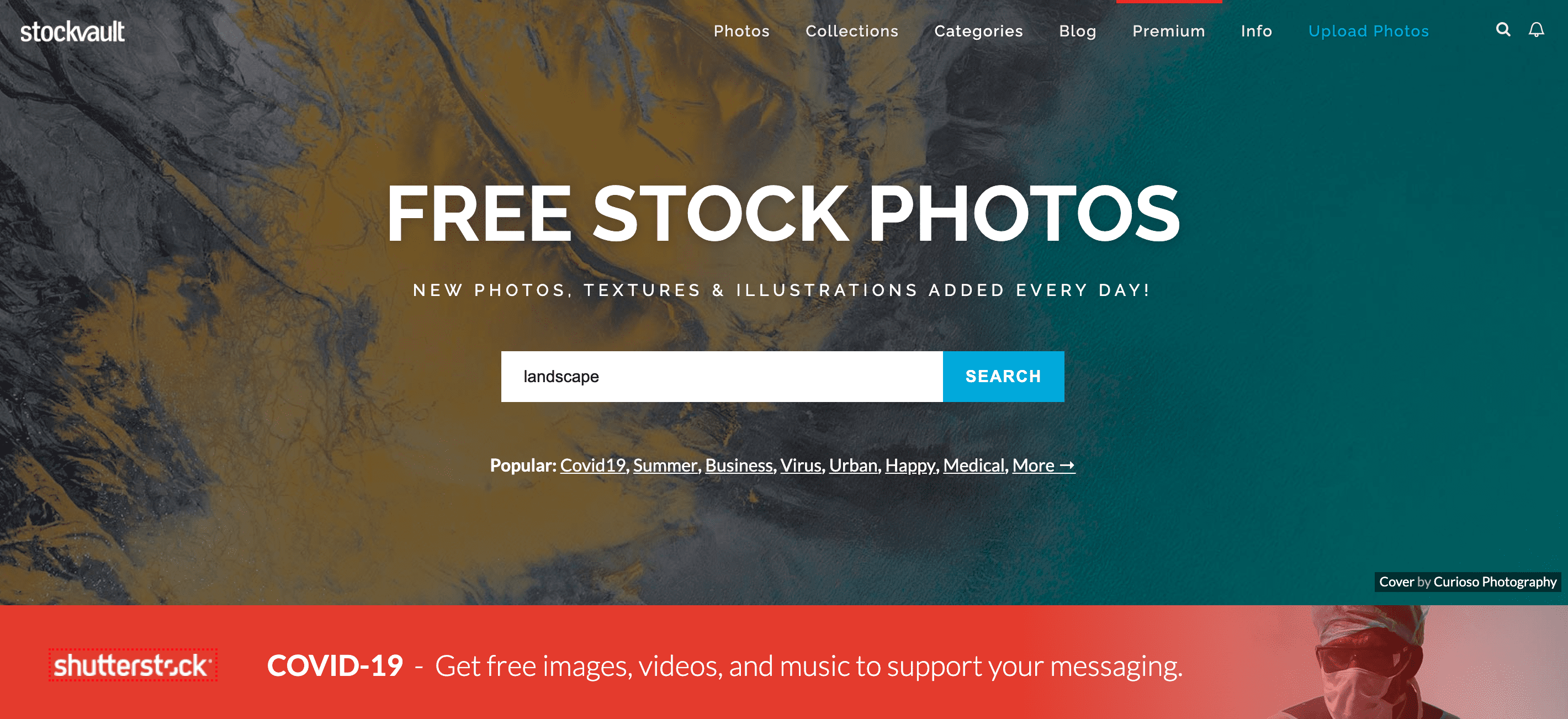 Another excellent source for images is Stockvault. Not only does this site contain free stock photos, but it also has free wallpapers and textures for users to sink their teeth into. The Stockvault library is not as big as some of the other sites we have explored at, but the collection of pictures are well-curated. The site also adds daily additions to its collection, keeping the content fresh. The site has a well-organised manner to it and has a search tab to help find images to match the user's needs. Illustrations are placed into categories which helps make browsing easier.
The sites blog section explores hundreds of photography and design articles to help inspire users. One every Friday the site shares a 'Free Texture Friday' collection of pictures. These pictures are usually pictures of specific themes that have texture, such as leather or smokey background pictures. The images are typically taken first-hand by a Stockvault team member, giving users access to original photography straight from the site.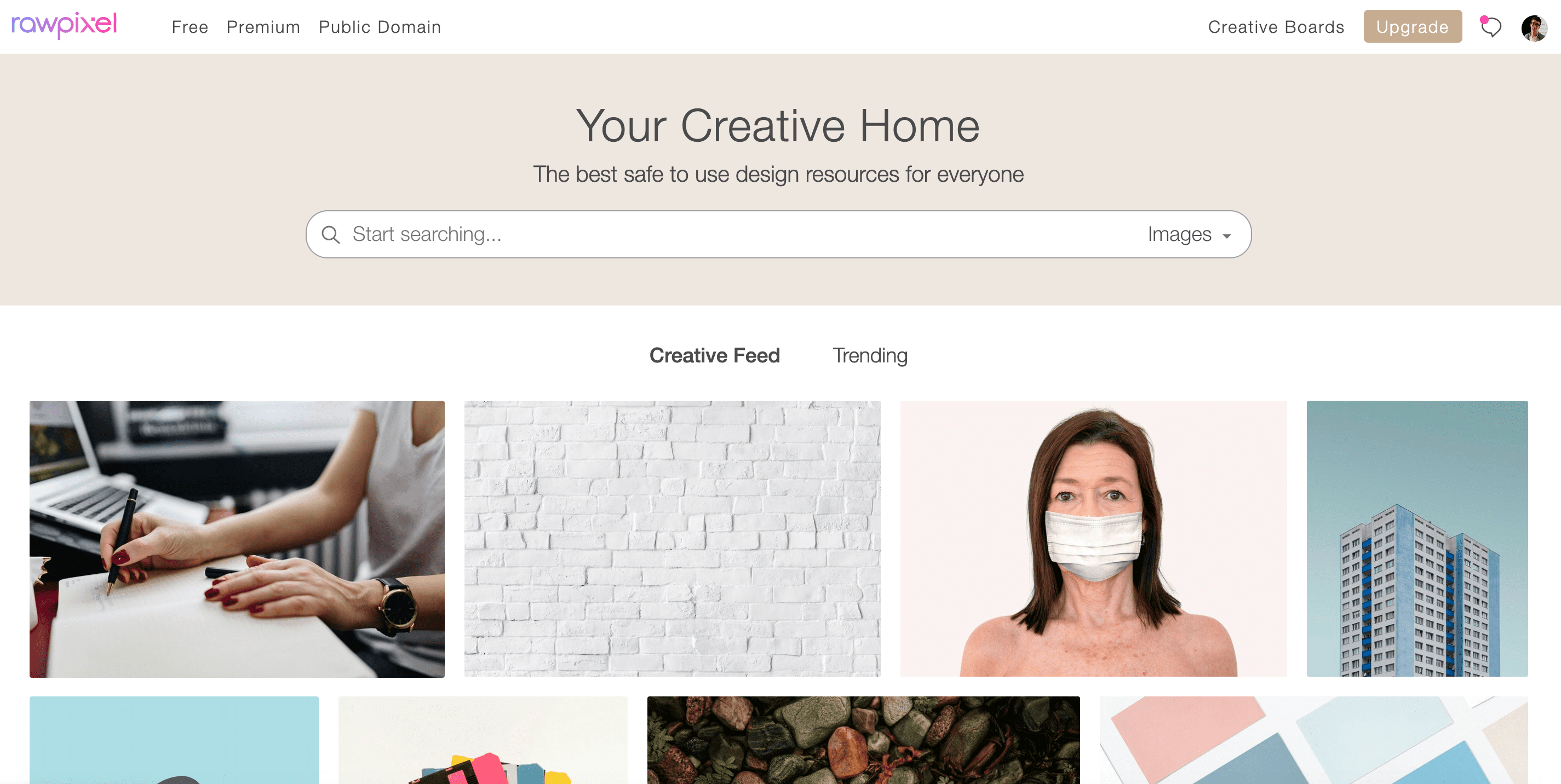 Claiming to have one of the most diverse collections of stock images in the industry, Rawpixel has an abundant amount of images to suit anyone's needs. This website is great for when users are trying to find stock images for more unique and niche requirements. Along with an easy to search tab which helps users find the pictures, the site also offers vectors and PSD mockups alongside public domain content that is available for all to use. The site aims to create a selection of stock image that reflects today's society in its reality. To do so, they have challenged themselves to explore new concepts and ideas to generate more creativity and authenticity in their images.
The site has a mixture of free to download and paid images depending on the pictures, of course. However, to make a social impact on the world, Rawpixel launched their (one) world face project. The project offers facial portraits of people from around the world in high resolution. Each face portrait states the name of the country the individual is from making it an international collection. Some images on the site are not free and can be purchased for a small fee which is then donated to Hope for Children, a charity the website works with closely.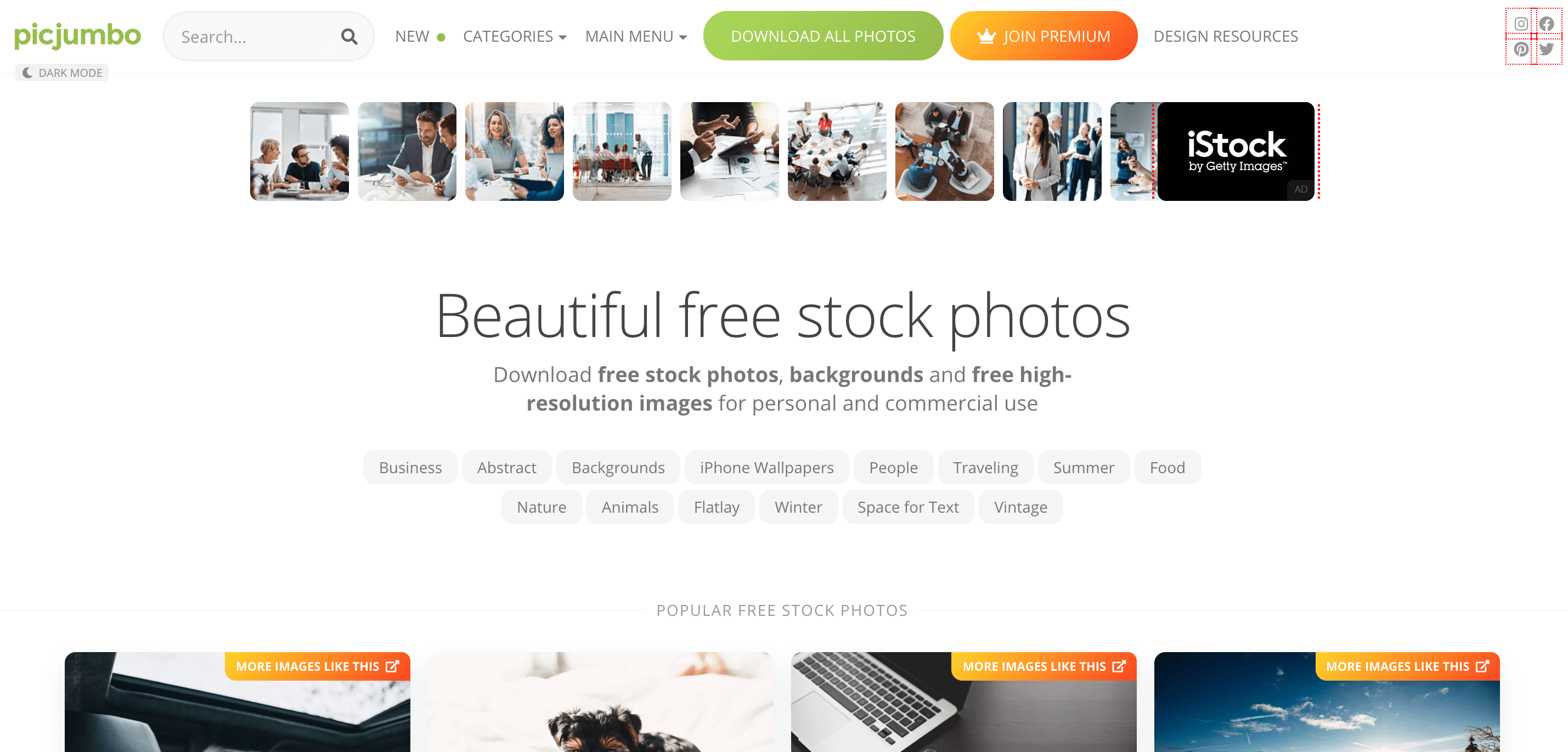 Picjumbo is a thriving stock image website with a big selection of beautiful images that are free to use. The site was started by a photographer who was tired of having his pictures rejected by other stock image websites due to poor quality. Today the site now gets more than two and a half million downloads a year, making it quite successful. The site offers users free stock images, free HD wallpapers and iPhone wallpapers. Going beyond images, the site also provides mockup services. This means they can design business cards, PSD mockups, Leather stamping logo mockups and rubber stamp mockup for businesses.
The site also has a blog which explores current trending topics of interest for users such as 'Fall photography' and behind the scenes videos. These posts give users an insight into how the stock images are taken and tips on how to capture the best pictures themselves. The blog also offers keen photographers vital editing skills to transform their photographs. Turning the images into highly sought after images and equipping the photographer with lifelong skills. Like most stock image websites which offer free images, making a living out of it can be tough. To show appreciation for their work, users can 'Buy a Coffee for Picjumbo', to help support the site.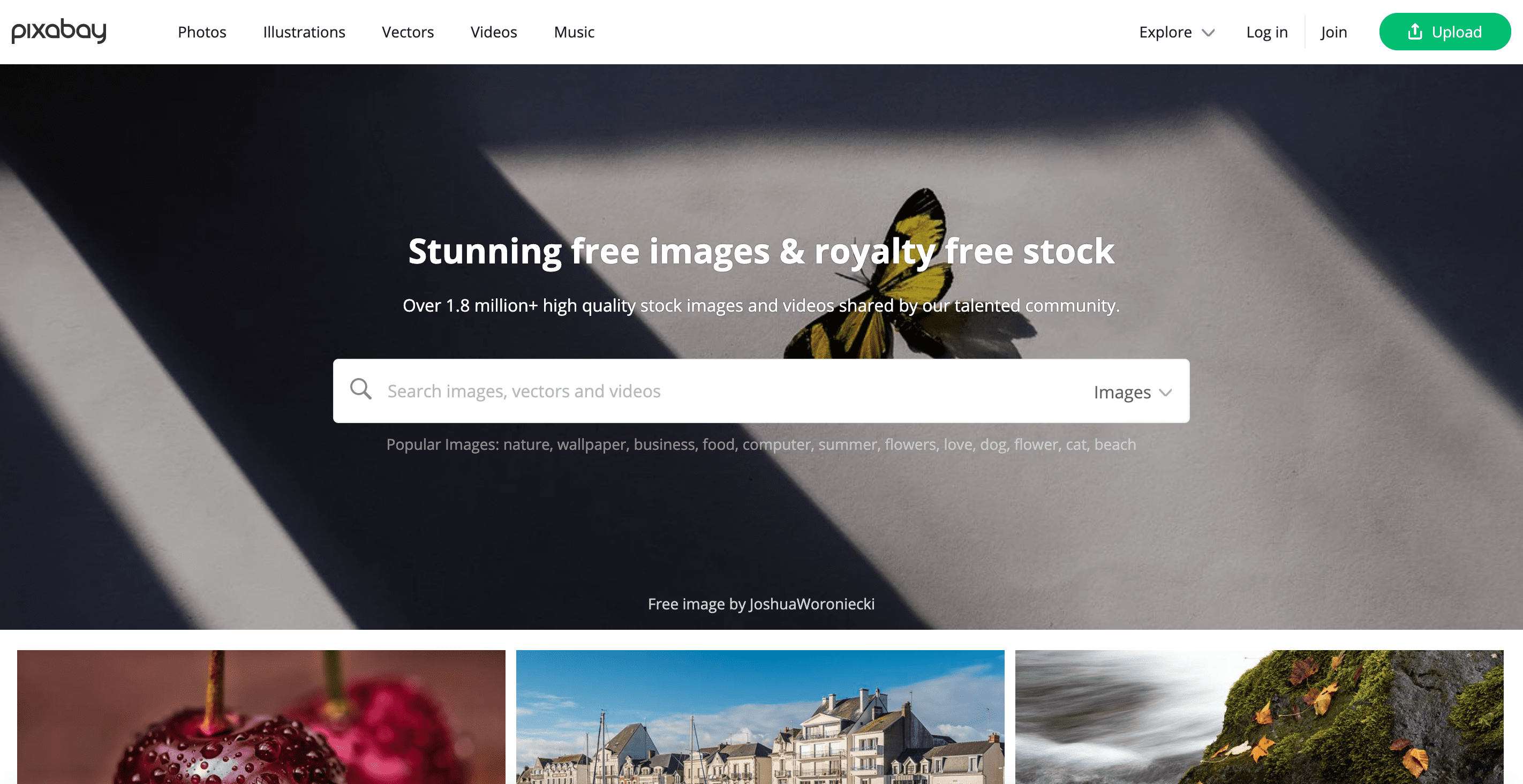 Pixabay has an extensive database of high-quality images and is an excellent place for users who are looking for images that are more oriented towards marketing and business. Unlike many of the sites that are more focused on blogger type stock images or real-life perspective stock images. Pixabay is perfect for organisational photos.
Just like the other stock image websites, Pixabay has an easy to use search bar, which helps users find specific images. It also has recommended popular searches and image suggestions from the site. These help make the website user-friendly. Pixabay also offers free Vectors and illustrations for its users, making it a great go-to site.
The Pixabay blog is a great resourceful place for users. Not only does it explore current trending topics in the photography world, but it also offers users information surrounding Web Design and Web Development. Some of the articles on the blog offer WordPress advice and tips on how to take quality pictures. For the more technical minds, the blog explores articles surrounding Javascript, PlainJS, Django and jQuery systems.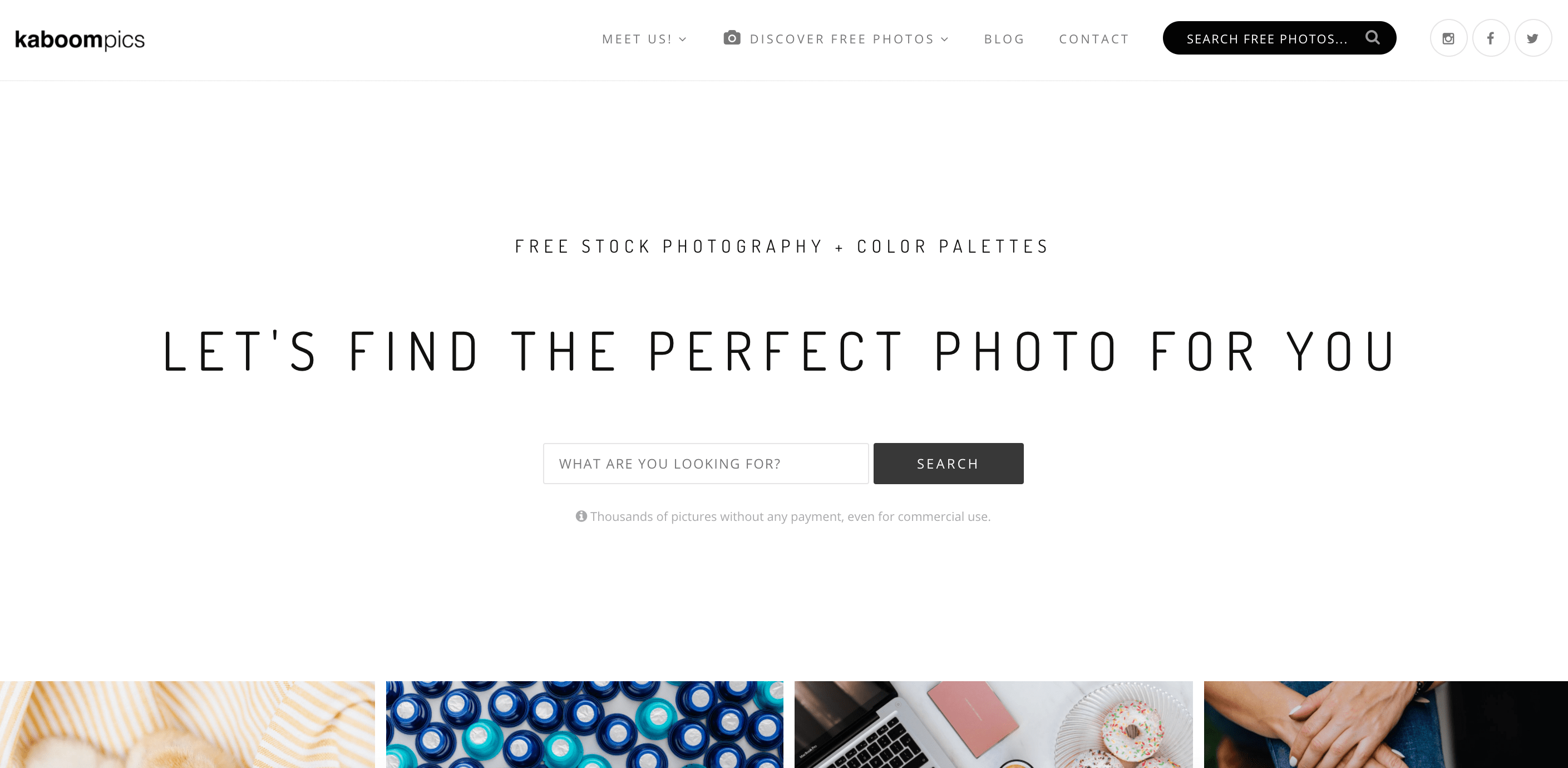 Kaboom Pics offers a wide variety of pictures that are of high quality to its users. Their library of stock images includes abstract images, city and architecture pictures, food, landscape, fashion and more. The site is easy to use and navigate thanks to the search tab and is excellent for users who are looking for pictures to fit a specific colour as their photographs are organised into colour pallets. Their images are less business and marketing focused with more of a home, blogger vibe, which means the pictures are vibrant in colour and creative in design and imagination.
The site's blog, however, explores a range of different topic ideas from marketing to seasonal trends such as summer ideas or Christmas decorating. All images on the site are free to use for personal or commercial use. Users will find on the site images categorised into two different categories. The first is free images and the second is free photoshoots. This means the site offers pictures from photoshoots that can sometimes be a better fit than general stick images.
The internet is still a relatively new concept which only recently took on a recognisable form in 1990 when Tim Berners-Lee invented the World Wide Web. Thanks to the internet, there has been a wide range of opportunities that have opened up. One of them has been the ability to take and share digital photography. The evolving technology has had a massive impact on the way we work. For example, there are no longer geographical boundaries or limitations as the digital age has made location issues non-existent. The rapid speed and the rate at which not just technology but camera technology is growing justifies the boom of the digital era. Technology giants such as Apple and Samsung continue to compete against one another for camera quality. This alone indicates how important photography has become to consumers, but what does the future hold?
Granted, this might be the period of growth for pictures, but as we have noticed, some stock websites are providing users with more than just pictures. Videos, like pictures, are more popular now than before. Not too long ago, videos were not so popular in the business arena. They were difficult and costly to create, and technology didn't really have the capacity to do videos justice. However, the game has changed every so drastically, and that's thanks to websites like YouTube. Not only has YouTube opened up the domain for videos, but it has also given consumers and businesses a platform to post their very own videos. This has lead to an increase in consumers being exposed to videos. Many now watch videos in their own time to learn, entertain or view business/company related content on.
The shift and open-armed welcome to new technology and new concepts mean that the way we work is moving at an alarmingly accelerated speed thanks to significant advances in technology. This means that in the future, there might be a higher demand for video content, just like there currently is for pictures. In the future, we may well see an increase in the number of stock websites that provide free video content and GIF. Before downloading from any of the sites above and suing the images, it would be a good measure to check the photo licensing as conditions of use continually change.