We're living in an age where content rules the marketing roost. Gone are the days of hurling out masses of cold emails in a bid for exposure, and no longer do we feel the need to hastily list our website links on far-flung directories across the web. In 2023, internet users crave something more substantial than superficial backlinks, and the world of marketing is all the better for it.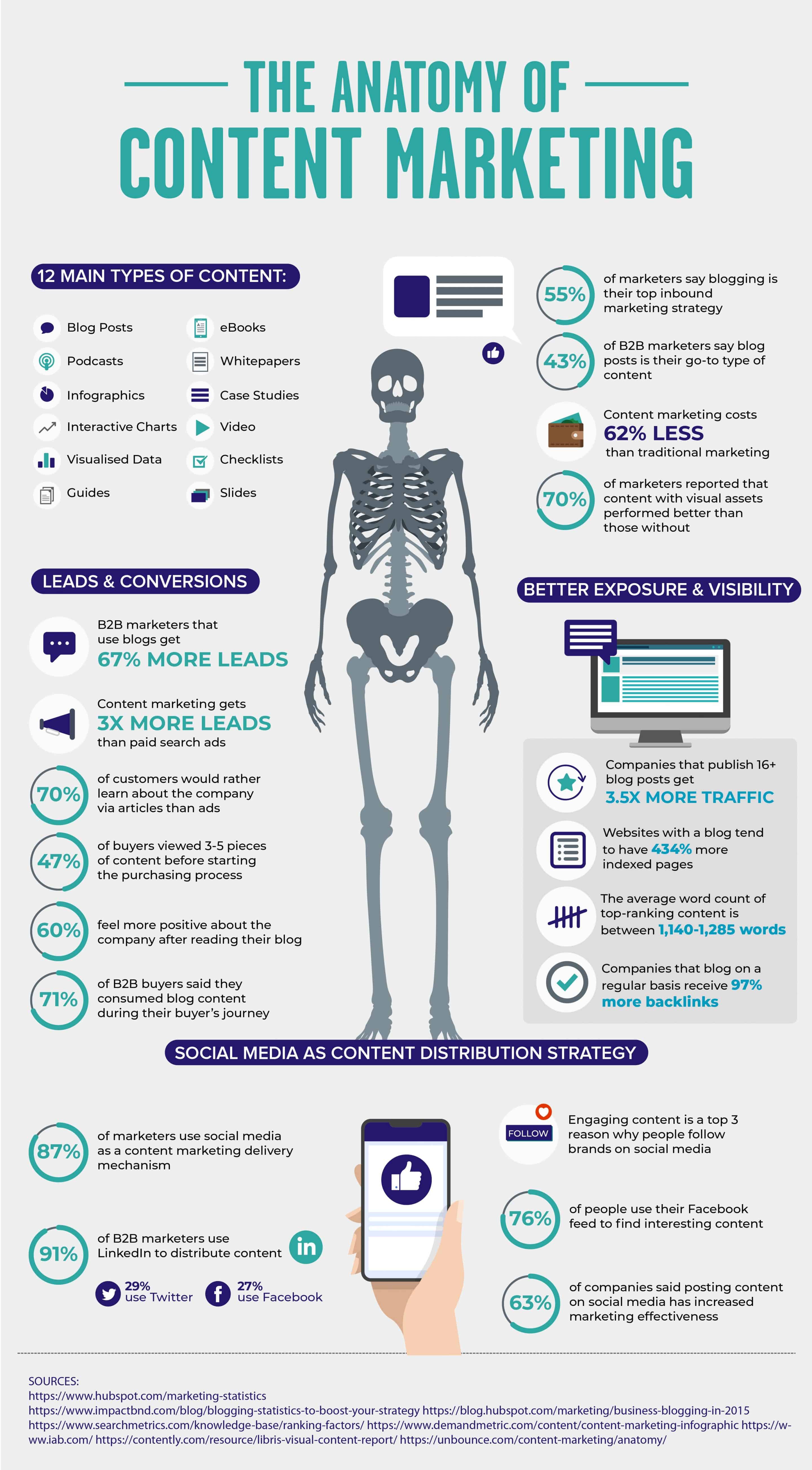 Such is the popularity of content marketing that 55% of marketers claim that blogging is their top inbound marketing strategy, and impressively, 42% of B2B-based industry professionals say that blog posts have become their go-to type of content. Despite originally being viewed as an unconventional form of marketing, blogging is a relatively simple way of bringing exposure to business. This is especially true for content with visual assets, with 70% of marketers agreeing that images, infographics and videos embedded in their posts perform better than purely text-based content.
Content marketing is profoundly cheaper than its more traditional marketing predecessors, too. In fact, the costs associated with producing content amounts to around 62% less than traditional marketing approaches.
The 12 main types of content
There are 12 main types of content. With such a healthy range of different approaches associated with this form of marketing, it's clear to see why more businesses are embracing the production of content for growth.
The more common approaches to content marketing involve producing blog posts, guides, checklists, whitepapers and infographics. The aim of these forms of content is to inform and entertain in a way that's uninformed in a traditional on-screen snappy manner – although when it comes to blog posts and guides, the content can be as long-form as the writer wants.
There's also the slightly less common approach of podcasts, video, interactive charts and visualised data. Here, marketers have the freedom to appeal to the audiences' senses. Content can be adapted to suit the brand that you're aiming to promote. Younger audiences may be more appreciative of video-based content, while prospective B2B clients may be more interested in interacting with swathes of raw data. The beauty of content marketing is that it's highly adaptable.
Likewise, the approaches of eBooks, case studies and slide-based content can be scaled to suit both businesses and audiences. eBooks are an excellent way of incentivising the process of signing up to a mailing list for customers, while case studies can provide a glance into the success of a business's services.
Leads & conversions
Statistically, B2B marketers that use blogs get 67% more leads, and content marketing typically attracts three times the amount of leads that can be gathered through paid advertisements.
When it comes to customers, an amazing 70% have indicated that they would rather learn more about a company through articles instead of advertising, and 47% of buyers typically viewed 3-5 pieces of content before starting the purchasing process with said brand.
In terms of positive branding, 60% of customers feel positive about a company after viewing their blog, and 71% of B2B have said they consumed blog content during their buyer's journey.
Better exposure & visibility
Exposure is typically the primary goal of content marketers, and this can be achieved through effective Search Engine Optimisation – a measure that ensures published content takes a position of prominence on the ranking pages of Google and similar search engines.
When it comes to content favoured by Google's Search Engine Results Pages (SERPs), the typical length of a high ranking piece ranges from 1,140 -1,285 words.
Websites that feature a dedicated blog tend to have 434% more indexed pages. This increased volume of searchable pages means that companies with a blog gain around 97% more backlinks, while blogs that publish 16+ posts can expect an astonishing 3.5 times more traffic than their blogless counterparts.
Social media as a content distribution strategy
Social media's influence in the world of content marketing can never be underestimated. A whopping 87% of marketers rely on social media as a content delivery system. Furthermore, 91% of B2B marketers use LinkedIn to distribute content, while 29% utilise Twitter and 27% opt for Facebook.
Engaging content is a top three reason why people follow brands on social media. In fact, 76% of people browse their Facebook feed in order to find interesting content.
Utilising social media platforms to deliver content has paid dividends for its adopters – 63% of companies agree that posting content on social media has directly increased their marketing effectiveness.
Sources: