Every website needs to be hosted, whether it's big or small. Whether you're planning on hosting it yourself or looking for someone else to do it for you, this guide is on hand to try to guide you seamlessly through your first steps into the wide world of website ownership.
Hosting is the cornerstone of the World Wide Web. Every website needs a home, where its contents are discoverable in the same location and its files are always accessible. This is just what hosting does. Essentially, hosting ensures that websites have their very own plot of digital real estate to settle down on and call 'home'.
When you set up a website, you want it to attract visitors. There are plenty of ways to make your pages more visible and appealing to the billions of internet users each day, and a competent host can help to supplement this need.
Good website hosting providers can power fast, safe and well-maintained sites for visitors to comfortable locate and access online. However, bad providers could lead to your pages losing their visibility online, or create a negative user experience.
Let's take a deeper look at how hosting plays such a pivotal role in powering successful websites. We'll also cover the process of setting up hosting for your chosen domain as well as point towards some of the industry's most prominent hosting providers.
The importance of hosting
Website hosts are pivotal in bridging the gap between your content and its intended audience. Hosting a website means that your website's files are placed on a server which makes all of your intended pages fully accessible to anybody interested in seeing your content.
The task that servers undertake is to receive and handle a host of incoming requests and respond by making the right webpages available to the right browser at the right time.
All websites online use some form of hosting company to make their pages accessible across the web – even industry behemoths like Netflix and PayPal – which, despite their exceptional levels of traffic, operate on Amazon and Google Cloud servers respectively.
In fact, only a handful of companies – like Google, Amazon and Microsoft host their services using internal servers.
There are thousands of website hosting platforms available online, and most offer services that start at a cost of only a few pounds per month. However, there's a significant difference between getting an entry-level server at a discounted rate and buying into a reliable and quick hosting plan. Here are some of the most important aspects of finding a good host:
Speed: The biggest appeal of buying into higher quality hosting plans can be found in the speed of the websites that they support. If a host possesses faster servers, then the loading times of the pages they power will be quicker. This is a significant advantage because of how responsive websites limit the chances of visitor bounce-backs.
Security: Website owners tend to get what they pay for when it comes to securing their content too. Better plans carry DDoS protection, the appropriate security certificates, automatic spam filtering and anti-virus protection among other highly useful services.
Reliability: Nobody will be able to visit your site, read your content, or buy your goods and services if your pages aren't actually accessible. Good web hosts tend to promise users that their websites will be online for at least 99.9% of the time – allowing for some momentary errors.
Digital sharecropping: It's important to ensure that your web hosts recognise that your domain belongs to no one but yourself. Digital sharecropping means that you'll have a host that lets you publish content online, but the company will still technically have possession of your pages – meaning that they can be taken down or repurposed without your permission. Some free hosting platforms like WordPress.com offers users the chance to create their own site whilst allowing WordPress to keep ownership of its content.
Put simply, your website will need to be backed by a competent host in order to succeed in the dynamic and hyper-competitive world of web hosting. But how can you go about finding the right host for the website that you want to create? Here's everything you need to know about getting started with web hosting platforms.
Getting started
Website owners need just two things to get their websites up, running, and visible online: a web hosting service provider, and a domain name.
While we've touched on what web hosting service providers do, we haven't covered how they actually work in as much detail. Internet solutions website, WPBeginner, categorises the service provided by web hosts thus: "Web hosting service providers offer you ready-to-use web servers to host your website. They take care of all the technical stuff and provide website owners with easy to use tools to manage their hosting."
Finding a hosting service to store your website's data is one thing, but how will visitors be able to locate your website? Domain names are an invaluable tool in making your website's location known to the masses of internet users.
Fundamentally, a domain name is the address that a user types into their browser to find the website they're looking for. To consult Google, you would type in 'www.google.co.uk', and to find our website, you would enter 'www.solvid.co.uk'.
Essentially, a domain name is just a human-friendly way of connecting a browser to the website server that they're looking for. In a World Wide Web consisting of billions of pages, domain names save an awful lot of time and hassle.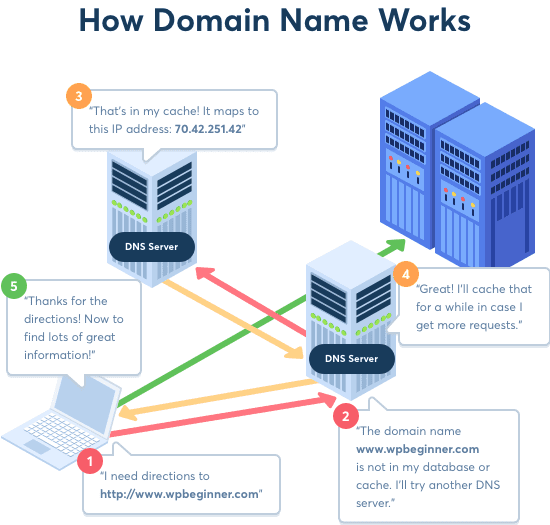 (A visual guide to domain names. Image: WPBeginner)
It's possible to get your hands on your very own domain name via a host of great registrars online. It's even possible to incorporate a domain name into your subscription package with most designated web hosts.
It's important to put yourself into the minds of your target audiences when thinking of which domain name to choose. You'll want the URL to be as succinct as possible, but ultimately descriptive and unique. In an environment where billions of domain names are already taken, it pays to be smart with the name you choose.
Types of hosting services
It might not always be obvious from the moment you navigate on to a site, but not all websites are the same under the bonnet. Smaller websites and bigger websites may take similar amounts of time to load, but they couldn't be more different in terms of the hosting plans that they're running.
Small websites need fewer resources to operate effectively, while larger websites need hosts that are going to work to action thousands of server requests every minute. To facilitate a wide range of needs, website hosting companies run a wide range of different plans to ensure that no pages are under-serviced. Here's a walkthrough of some of the more prominent hosting plans available online:
Shared Hosting
The most effective entry-level option for new website owners will likely be found through shared hosting. This type of service is ideal for small websites, blogs and startups looking to find their respective feet before scaling into a bigger entity.
The key appeal of shared hosting can be found in the price. Hosting sites are able to keep the costs of this service down by allowing multiple websites to share the same servers – hence the name.
Will this make your website slower? Maybe, but the chances are your visitors won't notice much of a difference until your traffic begins to increase.
Because you'll be sharing your servers with other small websites, the costs of this type of hosting plan are considerably lower than through, say, dedicated hosting plans – with prices dropping to as little as around £2.50 through some providers.
VPS Hosting
VPS Hosting (Virtual Private Server hosting) shouldn't be mistaken for being a bespoke server for a single website – it's still very much a shared environment, just one that offers a flexible set of resources that are designed to handle large traffic spikes.
Rather than being part of a widely shared server, your website gains part of a private server that you're capable of managing from your hosting control panel. This perk helps you to manage your website better as it grows.
If you own a blog that's gaining in popularity or a growing business, then a dynamic VPS hosting plan can act as a great way to scale as you go at a competitive price. Because of this, some platforms, like BlueHost, are offering VPS plans for as little as £15.61 per month to customers.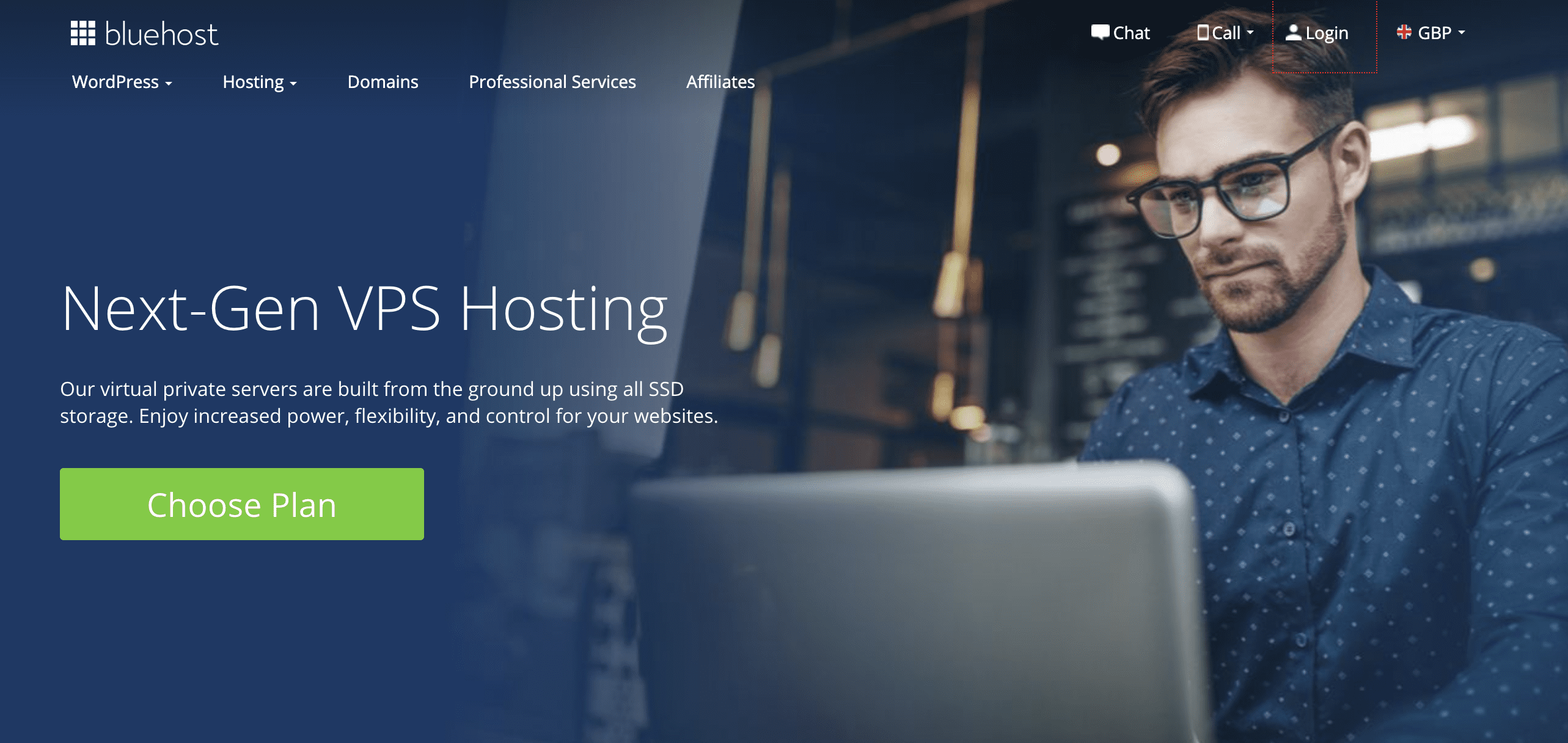 Managed WordPress Hosting
WordPress powers over one-third of the internet, so there's plenty to gain in utilising a specialised hosting solution.
Managed WordPress Hosting services are made specifically for websites created within WordPress. Think of them as a dedicated concierge service for your site.
The appeal of managed hosting platforms is that the hosting company looks after the maintenance of your website. It will take regular backups, arrange automatic updates, and will efficiently cache your pages. Having a service that picks up the slack in this way enables you to focus your time and energy on optimising your website through WordPress' impressive array of themes and tools.
Managed WordPress Hosting is ideal if you're a blog owner who's operating through a WordPress platform with serious ambitions in growing your readership, or if you're a like minded growing business.
Because of its seamless integration with the ever-popular platform of WordPress, dedicated managed solutions typically cost at least £25 to get started with. Despite the price being significantly higher than shared hosting solutions, this setup could be ideal if you're a WordPress user with a keen eye on scaling your business.
Dedicated Hosting
At the pinnacle of website hosting is an array of dedicated solutions. Dedicated Hosting means that your site is powered by a server that works for you and you only. There's no chance of experiencing slower performance when the pet food website on the same server goes viral for two hours as far as this type of hosting is concerned.
As part of most Dedicated Hosting plans, you'll gain access to all the resources of your server and the advanced tools that come with it. It's even possible to install your own software or run a personal operating system on this type of server.
It's important to say that Dedicated Hosting shouldn't be taken into consideration if you're a beginner, or just starting out online – regardless of your level of ambition. Managing your own server requires a few technical skills and isn't designed to be operated by novices. Essentially a Dedicated Hosting plan is designed for established businesses, hugely popular websites and larger eCommerce stores.
Because users will have access to their very own server, it's fair to expect to pay a high price for the privilege. Basic Dedicated Hosting plans will set website owners back around £60 per month – but could be a price worth paying if you're starting to attract significantly higher levels of traffic.
Picking the right plan
As you may be able to tell from our walkthrough of some of the different types of hosting plans available, there's no one-size-fits-all option for website owners when it comes to picking the level of service that suits your needs.
Many good hosting providers offer the flexibility of scaling to customers, which means that your coverage can grow alongside your website as it becomes more popular and attracts more audiences.
Fundamentally, making the right choice in the plan that you pick will require a little introspection. Make a conservative prediction surrounding the levels of traffic you expect to attract over the coming 12 months and cater well to them.
If you're already an established business looking to build a new online presence, or a successful blogger or social media presence aiming to capitalise on the interest you've built, it could be worth opting for a VPS Hosting plan. If you're facing the prospect of organically building an audience base from the ground up, saving money on a Shared Hosting solution is certainly a good idea.
It's worth noting that, while competitively priced hosting sites like BlueHost offer plans from as little as £2.43, they'll likely ask for payment up front for customers looking to get the most value for money. If you're bootstrapping a startup, it will be important to take into consideration – as costs could quickly rise to a single lump sum payment of over £100 before you've even registered a domain name.
Costs of hosting
Naturally, cost plays a hefty role in determining the right hosting plan for your needs. If it were cheap enough we'd all be setting up our own Dedicated Servers and would never have to worry about running a slow website.
With cheaper dedicated hosting plans costing around £750 on a yearly basis, this type of service is simply unjustifiable to most websites, so let's break down the costs to find the right plan for you on a financial level.
Firstly, we've provided an overview of prices associated with different hosting plans at an entry level – but it's important to note that most hosting companies will offer different scaling options at higher prices.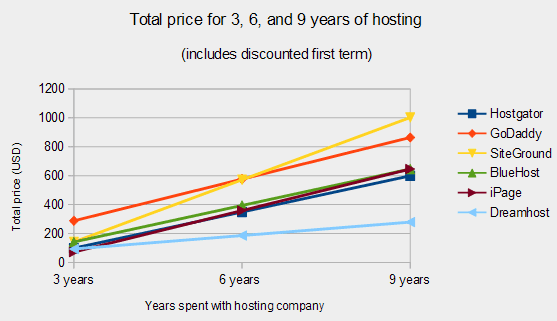 (Simple chart showing the total cost of hosting (in US Dollars) for a group of popular companies. Image: Berkaweb)
The chart above, provided by Berkaweb, may be fairly simplistic but shows that it's important to pick a hosting company that offers the best levels of value. As time goes by, costs can begin to drastically differ.
The metrics used in this chart shows that although not immediately the cheapest option for customers, DreamHost has the potential to save website owners over $200 compared to its closest competitors after a decade of usage.
With this in mind, let's take a closer look at DreamHost and the plans it offers as a rule of thumb when calculating costs.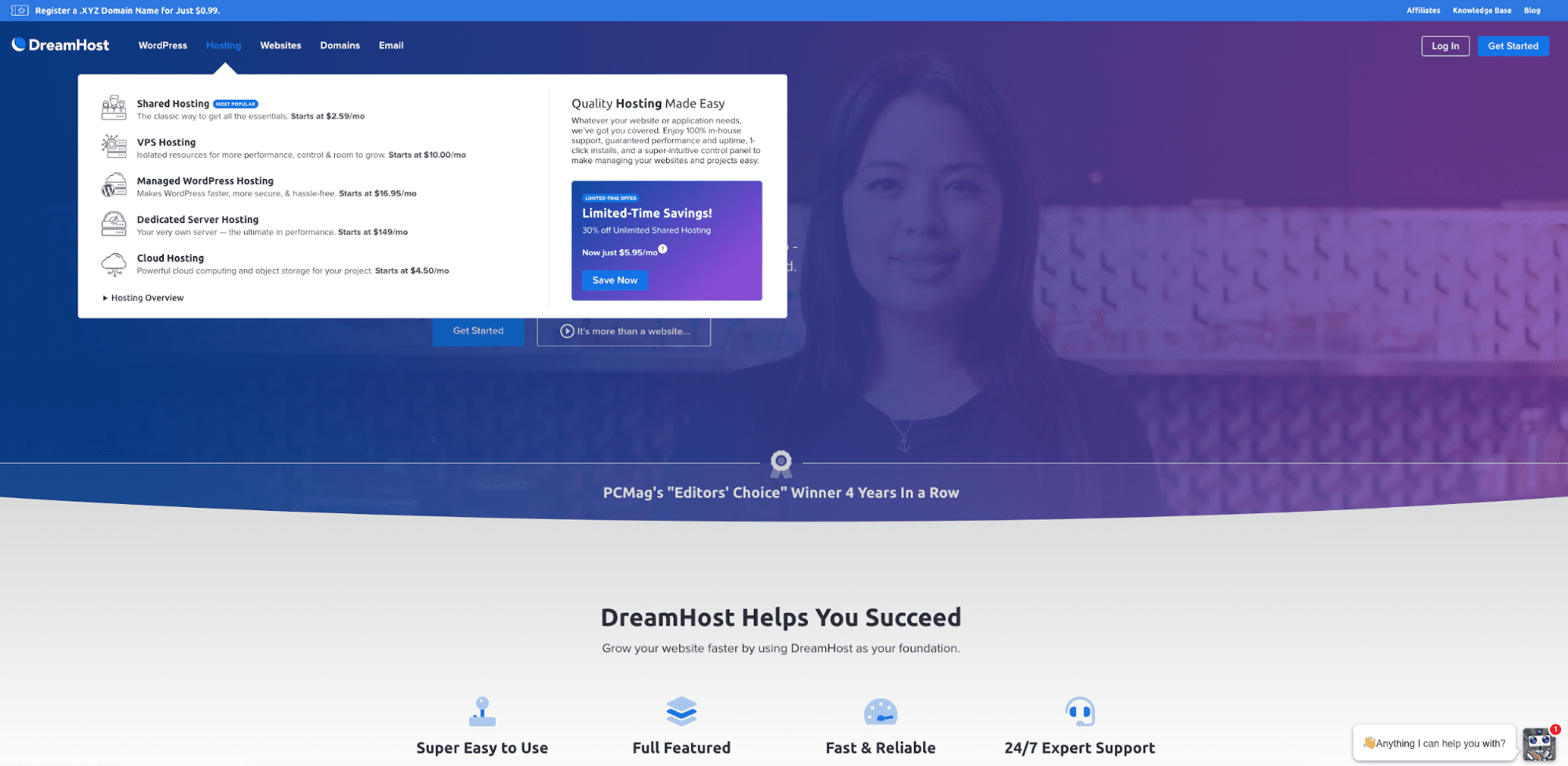 With prices starting at $2.59 per month, DreamHost's prices can be very competitive. Each plan has a variety of different options, too. For instance, users can select a Shared Starter subscription or a Shared Unlimited hosting plan. This enables users to buy additional perks and tools that helps to optimise their website and make its vistors' experience better – all while keeping the price relatively low.
You'll find that the vast majority of web hosting platforms will offer a wide variety of subscription services, so it really pays to compare the market and shop around to find a plan with all the features and perks that you could possibly want. Lots of plans also include built in scaling options, so if you expect to build traffic quickly, it would be worth paying into a plan that accommodates this.
Hosting your website locally
As this is a guide on how to host a website, it's only fair to dedicate a section to hosting your site on your own computer.
Acting as your own host is generally a bad idea, and virtually all of the tech giants emanating from Silicon Valley opt against such practices despite possessing the capabilities to run their own servers.
Firstly, hosting your own website will require you to possess a computer that will be required to stay connected to a high-speed internet outlet 24 hours a day, seven days a week. You'll also need to manually update your web server software and capture your own backup files. Your servers will also have to be capable of withstanding malware or DDoS attacks on your site as well as finding its own static IP address.
However, if you're still undeterred by the administrative and security dangers, then hosting your own website can ultimately be a good way of saving money in the long run. Here's how to do it:
Firstly, you'll need to locate your web server software's configuration file, named httpd.conf.
If you're using WAMP on Windows, then you would find it under: C:\wamp\bin\apache\apache[version#]\conf] folder.
MAMP users on Mac will find it inside /Applications/MAMP/conf/apache/ folder.
You can open this file using a plain text editor like Notepad or TextEdit. After that, you need to find the line that begins with: 'Listen 80'
You need to replace it with your IP address and port number. You can find your IP address by simply Googling 'what is my ip address' it will show you a numeric string separated by dots. Here's an example of what that code should look like with your IP:
Listen 64.233.160.1:80
Next, you need to find the following line: 'ServerName localhost:80'
Go ahead and change it by replacing localhost:80 with your IP address: 'ServerName 64.233.160.1'
Next, you'll need to find the following line for WAMP: '<Directory "c:/wamp/www/">'
If you're using MAMP, then look for the following line: '<Directory "/Applications/MAMP/htdocs">'
Below this line you'll see the access permissions, which you need to replace with the following:
'Order Allow,Deny'
'Allow from all'
You'll now be able to save your configuration file and reset your local server with the new active permissions. This means that anyone will be able to use your IP address to locate your website. Of course, it's harder for users to remember an IP address as opposed to a domain address, and it's likely that the best way of attracting traffic to your pages through this approach would be through effective usage of embedded linking.
Compare the market
Now we've fully gotten to grips with your options when it comes to web hosting, it's probably a good idea to take a better look at the market.
The turn of the millennium brought a Dot Com boom that paved the way for a hyper competitive web hosting market that's only become more intense as emerging technology has allowed for prices to fall further and further. Today, it's possible to get a website online and fully functioning for as little as around £2 per month.
With so many providers looking to showcase their services for miniscule amounts, let's take a look at seven of the better hosts on the market and explore their array of services and costs a little bit better: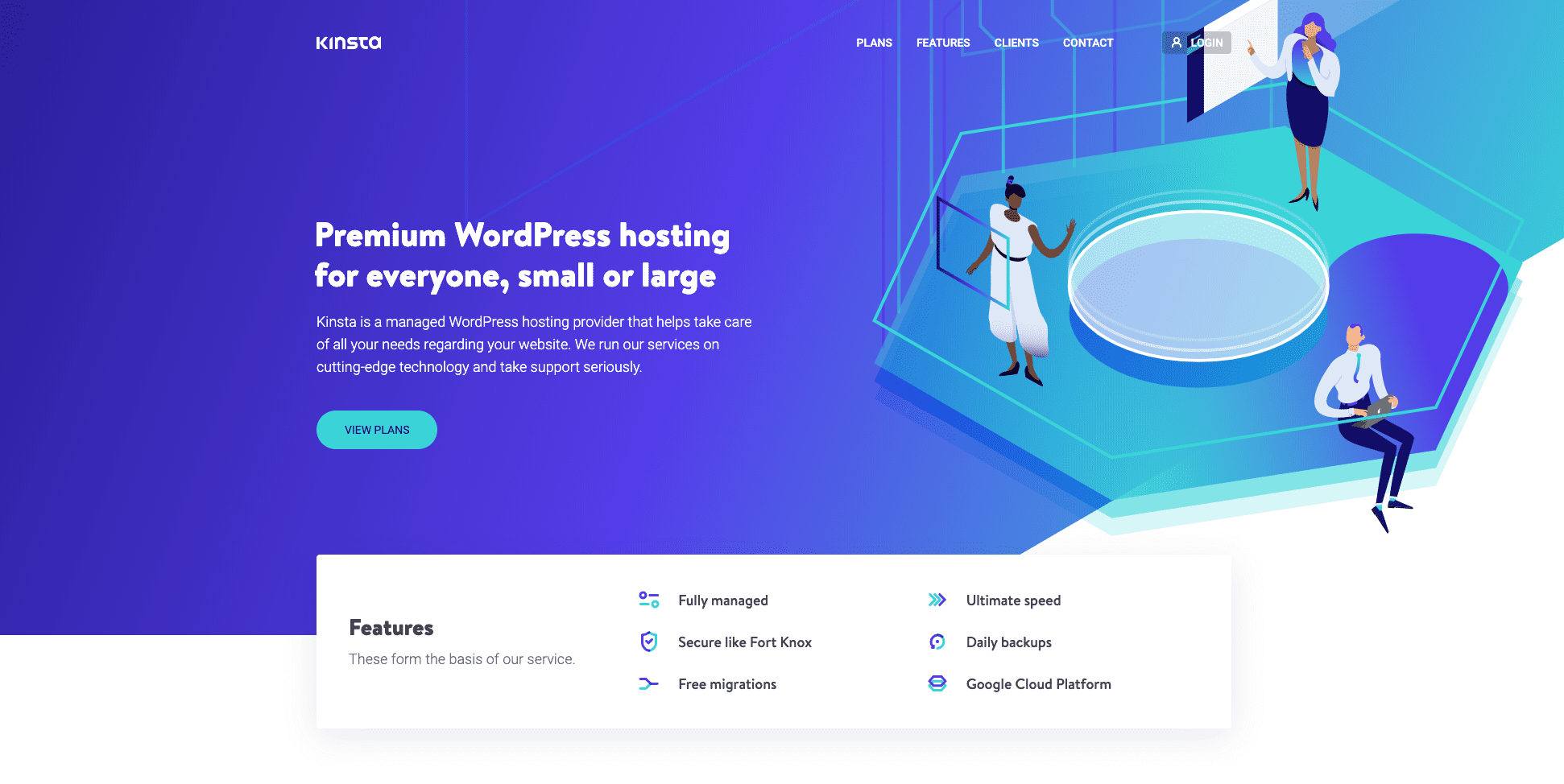 While we've talked at length about bargain basement hosting solutions, Kinsta stands in a league of its own in terms of quality and the variety it provides its customers.
When you access the website of most web hosts, you're likely to be presented with a dropdown menu that lists a range of shared, dedicated, VPS, WordPress and maybe cloud-based hosting solutions. Kinsta takes the illusion of choice out of the equation and displays one range consisting of 10 different plans.
Kinsta specialises in WordPress hosting, and all of its plans – ranging from $30 all the way to $1,500 per month – allow inclusive installs of WordPress websites. The plans offered by Kinsta are proportionately scaled, too – with the most basic plan allowing for 20,000 visits per month and most elaborate accommodating up to 3 million visitors.
Founded in 2013, Kinsta's mission statement claims that it wants to be "the best WordPress hosting platform in the world." Given the array of cutting edge technology bundles into their packages, Kinsta may well have a solid claim to the throne.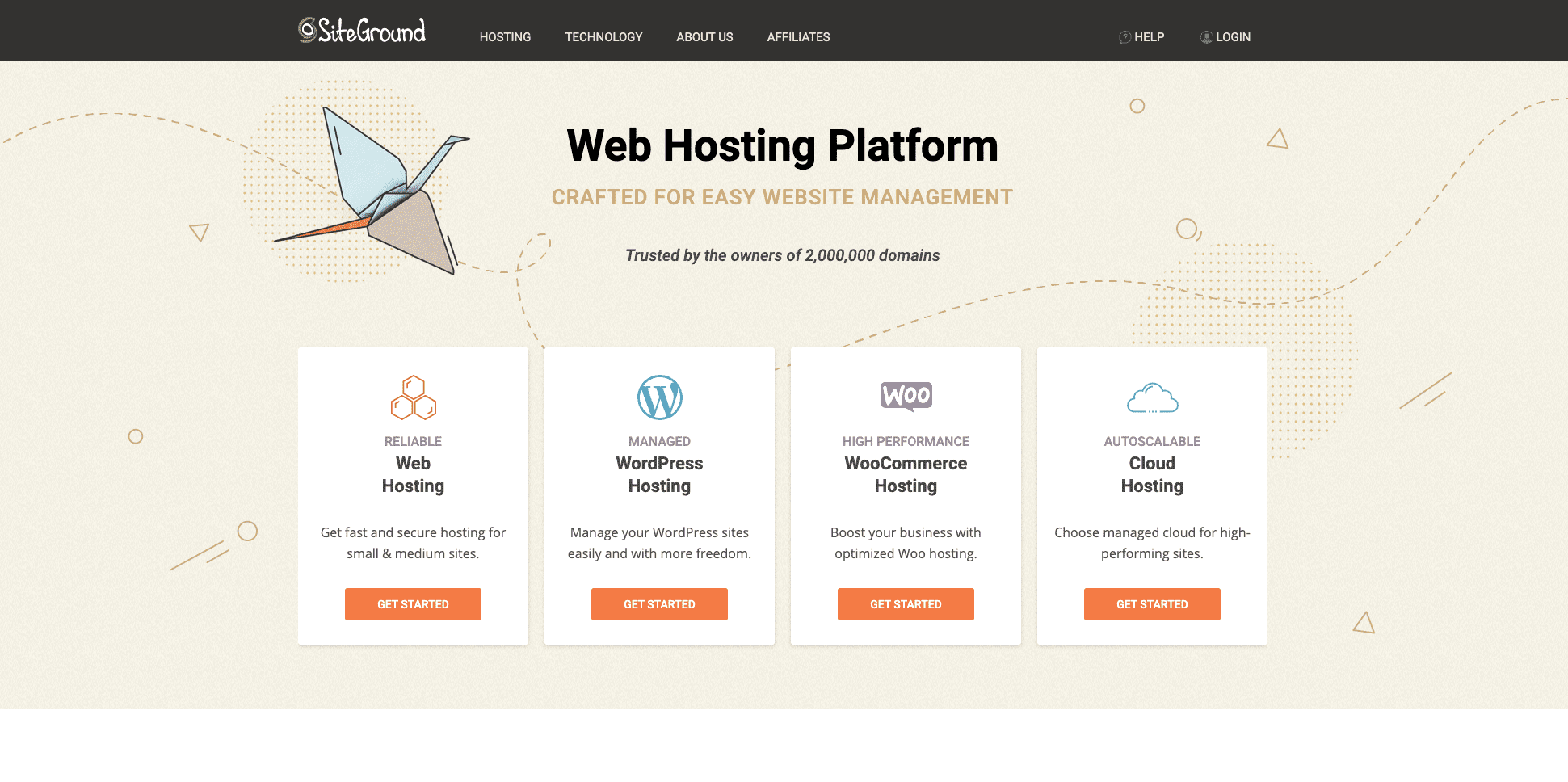 Established in 2007, SiteGround has been around long enough to know a thing or two about hosting. Offering a healthy level of integration with WordPress along with 24/7 support for customers, SiteGround is a healthy option for anybody looking to set up a website from scratch.
SiteGround enjoys a good reputation within the web hosting industry thanks in no small part to its excellent customer support framework along with good website speeds and uptime ratios.
The servers provided by SiteGround hail from the US, Europe and Asia – meaning that users will have little trouble navigating onto your site no matter where they're browsing. The hosts also have a useful SuperCacher tool which helps to boost website speeds that little bit more.
Hosting plans with SiteGround start at a competitive £2.95 per month, and entry level hosting plans are certainly effective enough for just about any new website to enter the world as comfortably as possible.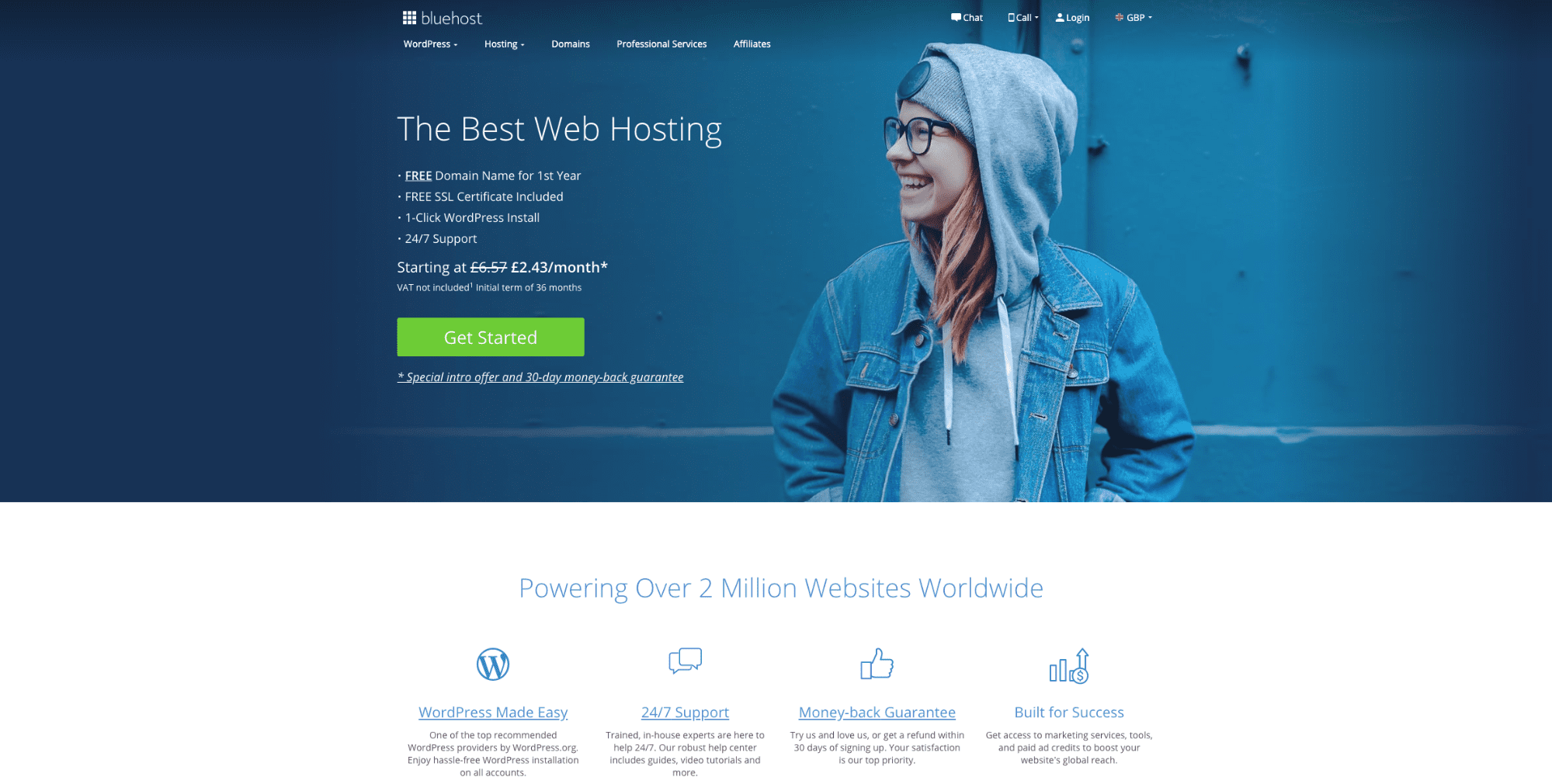 BlueHost is pretty hard to beat when it comes to price. At a meagre £2.43, you could be up and running and publishing content online for a relatively small cost on shared servers.
Of course, at £2.43 it's fair to expect that your website won't quite have the speed of, say, a Kinsta website, but if you're not anticipating large amounts of traffic to arrive on your doorstep in the immediate future, this shouldn't be a problem.
Unfortunately, BlueHost can't compete with the international presence of its competitors when it comes to server location. While some hosts can boast servers located worldwide, BlueHost's are limited to North America only.
Despite its shortcomings, it's important to remember that BlueHost makes for an excellent budget service. Its around-the-clock support even offers telephone-based troubleshooting – a feature that many hosting providers are turning their backs on today. It even offers healthy levels of CMS support alongside its subscription plans.
If you've got a website that's set to accumulate 100,000s of visitors within the coming months and years, you might be better off exploring more powerful solutions. But if you're looking to set up a piece of digital real estate that will grow steadily, then BlueHost deserves some deep consideration.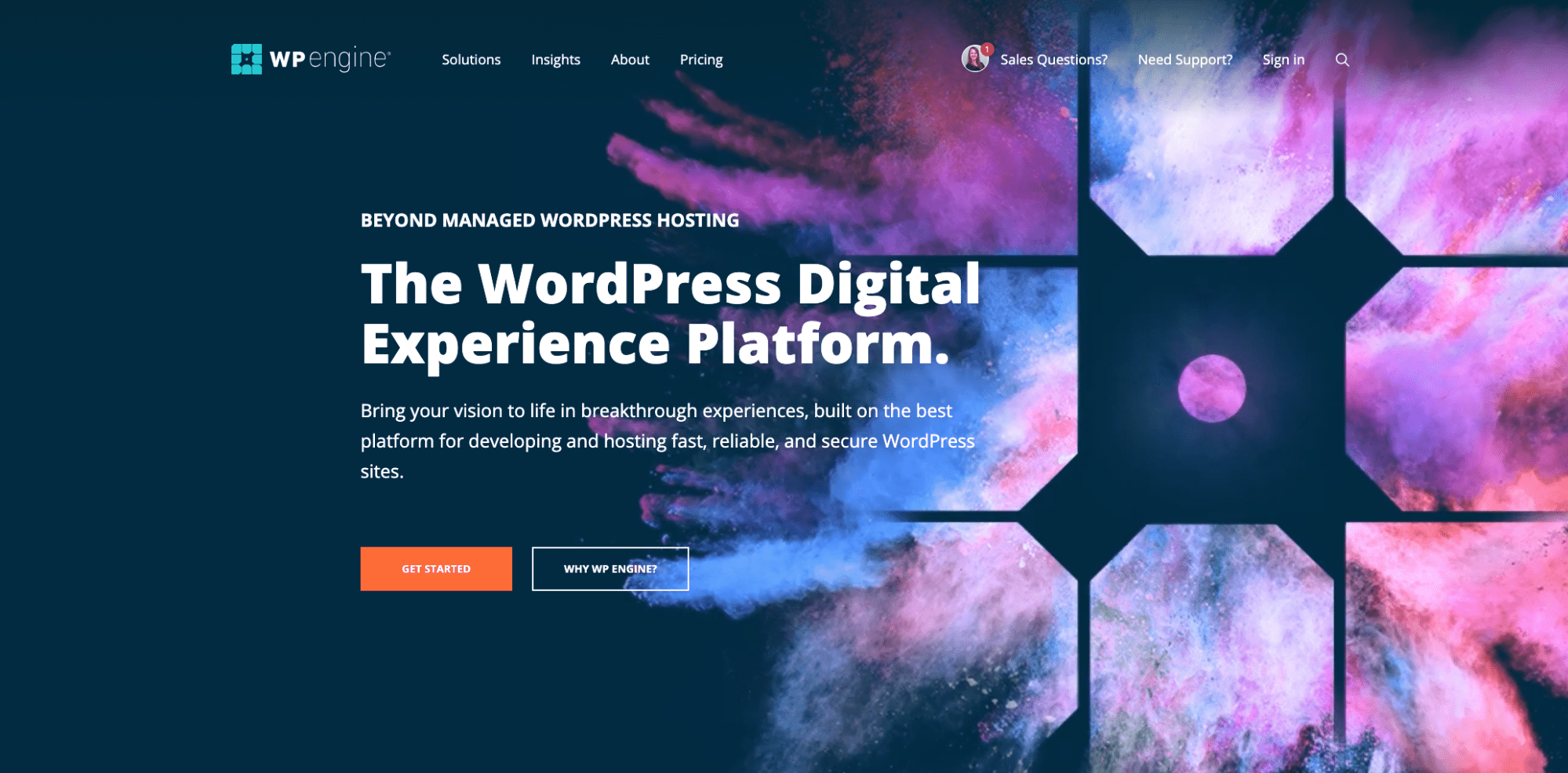 WPEngine is a high-end web host that's optimised to provide WordPress sites with industry-leading speed and performance.
The reason behind the explosive speed offered by WPEngine boils down to its Google Cloud Platform framework. With over 20 servers available across the world, life on the Google Cloud Platform will always be fast paced.
The prices match the powerful performance of WPEngine, and plans start at around $29 per month, and range towards $241. While this solution offers less options for customers, it is possible to customise your plan so that you gain access to the features that you desire most.
If you're looking to take a popular WordPress site to the next level, it's hard to look beyond WPEngine. With the power of Google Cloud Network, the relatively hefty $29 pcm cost of the service doesn't seem so expensive – especially if you're looking at regular traffic of six-figures or above.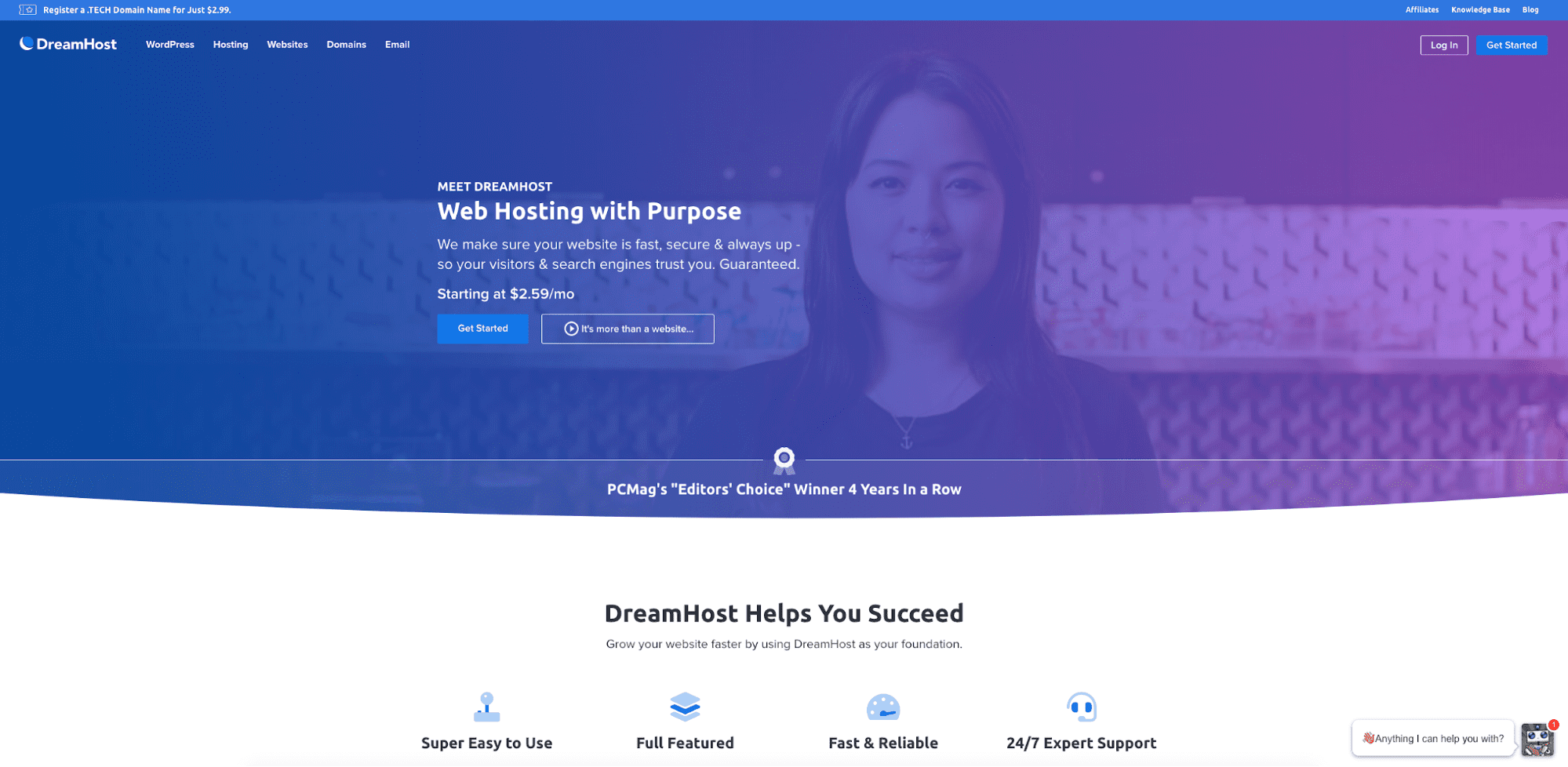 DreamHost is another host that offers simple, easy-to-follow, plans for users to get started with their own website.
Operating with a sizeable 97-day money-back guarantee and an allegedly high level of technical support, DreamHost definitely looks like an exciting prospect for new users looking to get started in web ownership.
The hosts also cater for overseas website owners, and DreamHost offers plenty of pre-installed languages for the websites they power.
With subscription prices starting at a solid $2.59 per month, DreamHost should be considered as a serious contender for users looking to make every penny count.
With the additional perk of one-click installers, DreamHost is incontrovertibly a great choice for newbies on the hosting scene.
Yes, their cost effective solutions will be limited compared to the more powerful hosting plans available within this list, but DreamHost draws strength from the fact that it has the ability to provide a great leg-up to users who are inexperienced with the often-bewildering world of website ownership.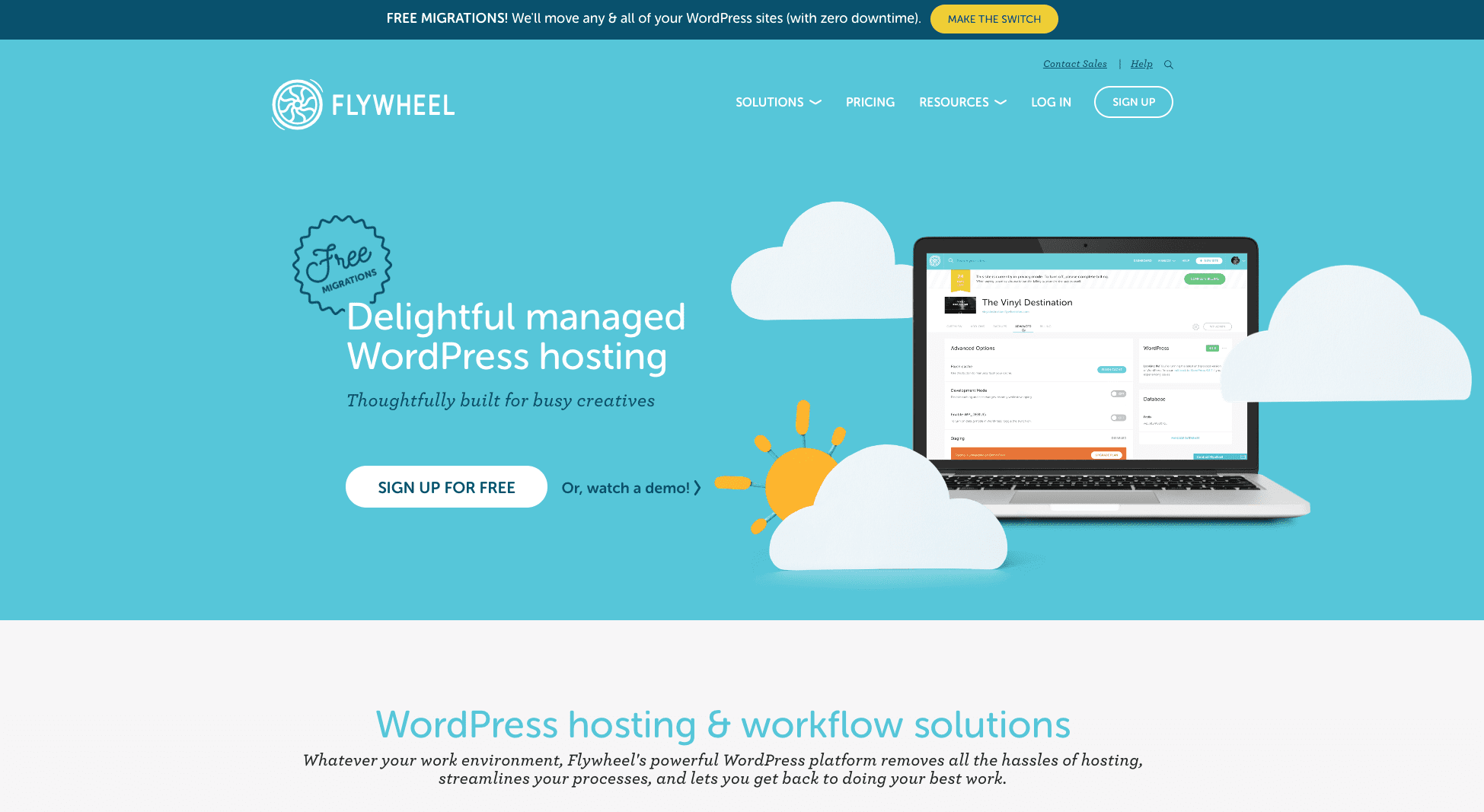 FlyWheel is a great platform for taking your website to the next level. Founded in 2012, FlyWheel is a WordPress compatible platform that offers cloud hosting solutions to help users run their websites at healthy speeds.
The costs associated with cloud-based hosting are typically high, but with FlyWheel's introductory package starting at $23 per month, it feels cheap – despite the basement prices for shared platforms available elsewhere.
The great thing about FlyWheel is that their plans cater towards different types of website owners. The 'Freelance' plan offered ($105 pcm) offers built-in support for handling and listing clients. Once again, bespoke custom services are available to users and subscriptions range from as little as $23 pcm to $266 pcm – so there's plenty of variation.
It's worth checking out FlyWheel even if it doesn't quite fit your price range. The level of service offered is fairly unique and can be worth the extra cost if you're running your own freelance business or have a small agency.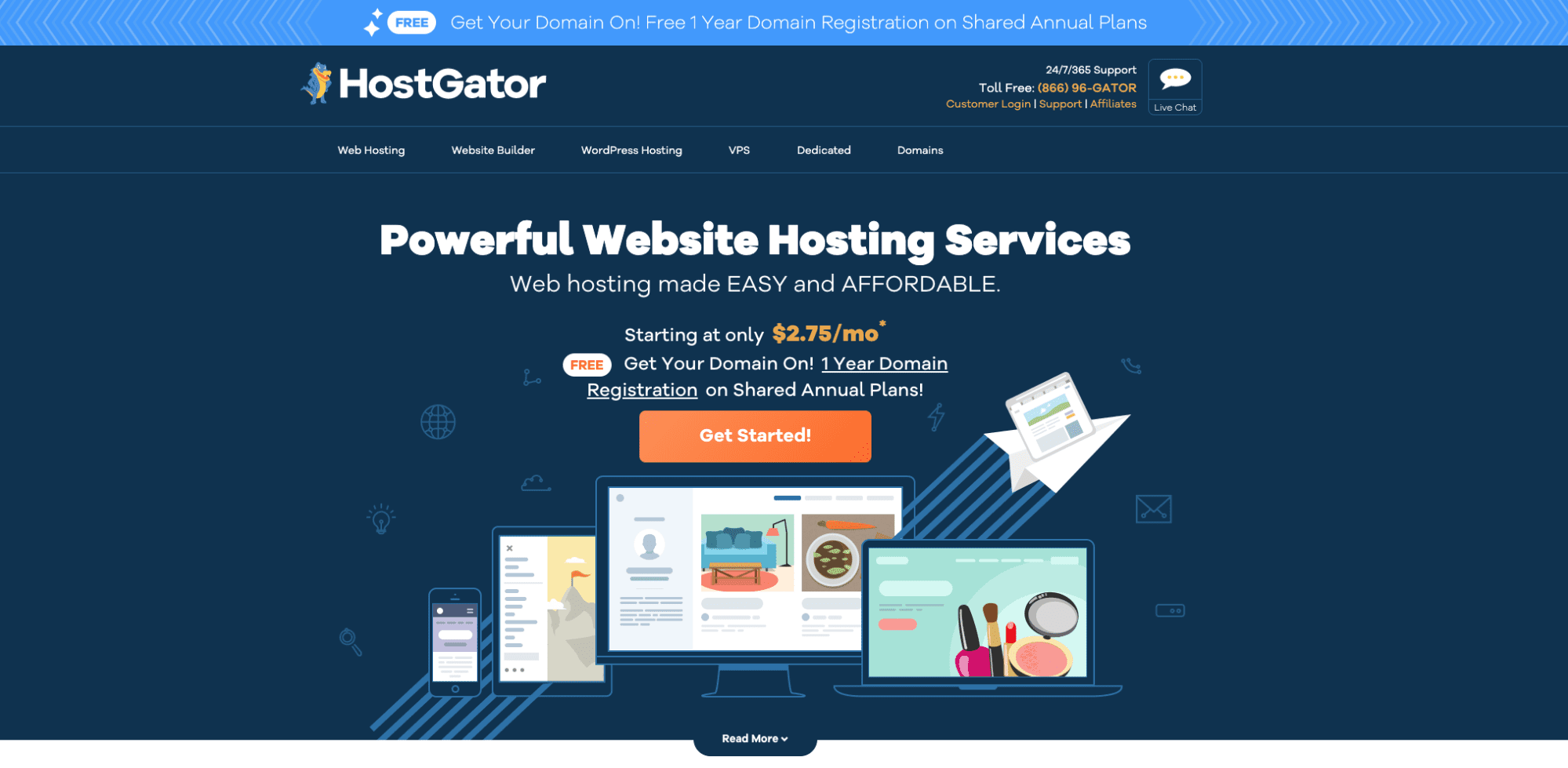 HostGator is an unmistakable name in the world of web hosting. Which is to be expected, truth be told – after all, it's hard to miss a website that has a blue alligator as a business logo.
This is a name that's instantly recognisable online, and so it should be – the business is one of the oldest in the industry, having been founded all the way back in 2002.
With HostGator, prices for shared plans begin at $2.75 – a basement rate that more-or-less matches the subscriptions offered by the industry's other good budget web hosting providers.
With plenty of embedded one-click install options alongside cPanel access, HostGator is designed to make life that little bit easier for customers. Often regarded as one of the better hosts on the market, HostGator offers a wide range of plans – from shared hosting, to VPN services, to dedicated coverage.
HostGator's service also comes with a 45-day refund guarantee and $100s of offers for advertising platforms such as Google AdWords.
There have been some traces of criticism surrounding the customer service programs of HostGator which have hurt its reputation among some users, but this shouldn't put you off of what's a well priced, solid web hosting company.
How To Host a Website FAQ
How much does it cost to host a website?
Website hosting prices vary a lot. There're numerous factors that determine the price. However, generally, you should be prepared to pay between $2.99 - $14.99/month for a standard web hosting package.
What are some of the best hosting providers?
There're many great hosting providers, among which are BlueHost, Kinsta, SiteGround, DreamHost, FlyWheel, HostGator and WPEngine.
What's the difference between Shared Hosting and Dedicated Hosting?
Dedicated Hosting means that your website will be the only website on the server, whereas, with Shared Hosting, there will be other sites hosted on the same server. Generally, Shared Hosting is much cheaper than Dedicated Hosting.
What are some of the fastest hosting providers?
It all depends on the type of the website and service. However, it's safe to say that Kinsta, WPEngine and Liquid Web are among the best performing hosting providers.