Do you ever feel like your website is underperforming? That your content isn't being discovered by the people who matter most? That your rivals appear to be getting better results with less effort?
Perhaps an SEO audit is in order. In this age of unprecedented interconnectivity, its never been more important to ensure that your business has a strong digital presence.
The notion of delving into the deeper mechanics of your pages in a bid to optimise them for prospective customers can sound like something of a daunting task, but it really pays dividends to get to grips with your website and optimise your content accordingly.
There's plenty that you can do in order to undertake a large scale audit on your pages – all of which could bring visible improvements in your traffic, search engine ranking positions, and significantly, your sales.
To help you along, we've created an in-depth list of 22 essential steps that you can take in the audit process. We also crafted a list to help point you in the direction of some excellent tools that are trusted by the brightest brains in the industry.
So without further ado, pull up a seat and make sure you're comfy. Here's our complete guide to the SEO audit process:
1. Understand your website's objectives
Before you decide to optimise your website in order to reach out to the wider world, a little introspection can come in handy.
Fundamentally, we know what websites are for and the ways in which they can help you to maximise your business' sales potential and gain exposure for new audiences.
Fundamentally, SEO will always be a means to an end, and it's vital you know where you want your business to be in the coming months and years.
Search Engine Optimisation has the ability to work wonders for business sites. You can showcase your products or services to worldwide audiences, or go more local with your efforts. You can build content that drives awareness or encourages more sales.
Before you begin your auditing process, take a moment to consider a few things about where you see your website in the future, and what you want it to be doing. Are your goals attainable? Measurable? Relevant to your business? Good. There's little reason in optimising your content if you don't know what your goals are. Let's progress with the auditing process.
2. Flush out any useless pages
If you type site:your website URL into Google, it'll show how many pages that the search engine has indexed.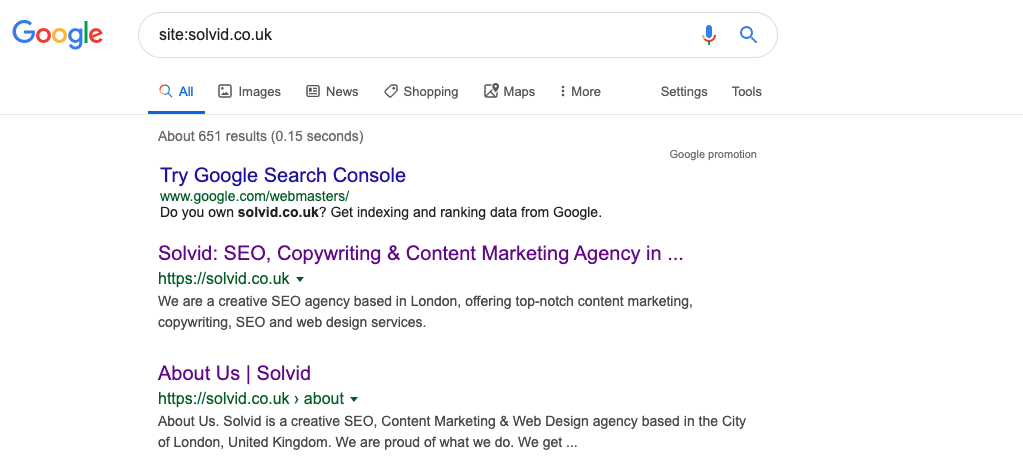 Don't panic if the search shows considerably more pages than you were expecting, this is a pretty common occurrence. In fact, according to Backlinko.com, most websites have 50% more indexed pages than they should.
These pages are known as 'zombie pages,' with apologies to anyone who thought this point was advising more preparation ahead of the zombie apocalypse.
It's been observed that flushing out your website's empty pages is actually a very good SEO strategy. Why is this the case? Well, Google often states that more pages won't make sites perform better within its results listings.
By losing your zombie pages, you're giving the search engine exactly what it wants. It also significantly improves the performance of your site as a whole – because having fewer pages leads to fewer SEO errors. It also makes running this audit considerably easier.
Common forms of zombie pages include archive pages, category and tag pages, old press releases, search results pages and thin or boilerplate content.
3. Are you ready for mobile browsers?
The world is becoming increasingly dependent on their mobile phones. In fact, 60% of the searches that Google processes now come from handheld devices – so it's imperative that your website is accommodating to visitors that are on-the-go.
Furthermore, Google now operates a 'mobile-first' algorithm which favours the use of mobile versions of websites ahead of time heir desktop-based counterparts when dealing with queries.
It's vital that your website has been optimised in a way that accommodates the growing network of mobile browsers out there.
Firstly, it's worth checking that your website runs Accelerated Mobile Pages (AMP) to help support handheld devices.
Secondly, it's worth using Google's helpful Mobile-Friendly Test tool.

The Mobile-Friendly Test is a simple way of consulting the search engine giant itself on whether your pages make the grade. Simply run a search on your URL and Google will simply let you know, in bold colour-coded letters, whether it considers your website to be optimised for mobile browsers or not.
4. Speed up your pages
Google loves websites that are quick to load, they even said so themselves.
It's vital that, after all your SEO work, that you avoid letting yourself down with slower loading pages. Luckily, it's easy to clean up your act and ensure that your website's speeds go unimpeded by clutter.
The easiest course of action is to clean up your site's HTML code. This can be done by running a diagnostics test with PageSpeed Insights. This test can potentially provide some invaluable insights on where your websites are falling short in terms of loading times. It's also worth running some tests on a few of your internal pages too. Think about the URLs that visitors may frequently click on to. Things like blog posts, service pages or contact pages.
Another great tactic is to run a speed test on your website. This can be done via Pingdom.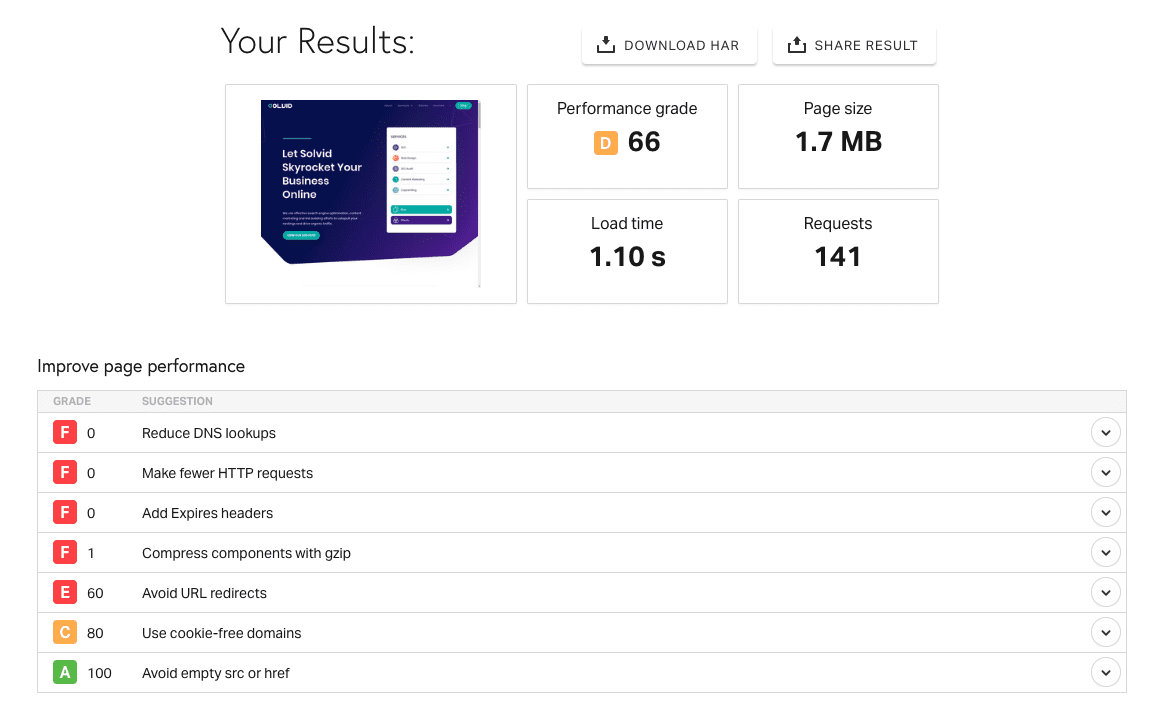 Something that should certainly be considered essential practice is crunching your images. It's great to have a beautiful well-illustrated and colourful homepage, but take a moment to consider the burden all of these rich images are having on your page's loading times.
Luckily, it's easy to compress your images into a more manageable file size while maintaining your picture quality – and platforms like Kraken is perfect for handling even the most seismic of background pictures or spreads.
5. Make sure only one version of your site is browsable
Quality and quantity are two separate things, which is why it's probably a good idea to ensure that only one version of your website is visible to Google.
Not everybody knows that it's possible to have different versions of your site indexed by Google. But, if, for instance, http://www.mysite.com and http://mysite.com could be viewed by the search engine behemoth as two completely different entities.
This isn't a good thing and risks undermining your SEO efforts overall.
Fortunately, this is an easy problem to check for and rectify if necessary. Simply type the four variations of your URL onto your browser (the four in question are http://mysite.com, https://mysite.com, http://www.mysite.com, and https://www.mysite.com). After each version loads up, the browser should redirect to exactly the same URL regardless of whichever variation was entered.
If you find that a variation of your site address isn't properly redirecting, then don't worry. You can solve the problem by running a 301 redirect to your favoured version – problem solved!
If you're a little unfamiliar with your redirects, a 301 redirect indicates a permanent move of address and, according to Moz, passes around "90-99%" of link power to the redirected page.
There are plenty of effective ways in which to implement a 301 redirect, and Bruce Clay has a particularly useful list of instructions on how to do it using Apache configuration files.
6. Resolve any indexing issues
If your pages aren't indexed by Google then you'll be unable to rank for any search results whatsoever – so it's vital that you resolve any indexing issues that your site may have as soon as possible.
Be sure to go to Google Search Console and click on 'Coverage'. Alternatively, you can use a similar process as to step two of our SEO audit guide by running the search term 'site:your website URL' into the Google to see how many results are returned.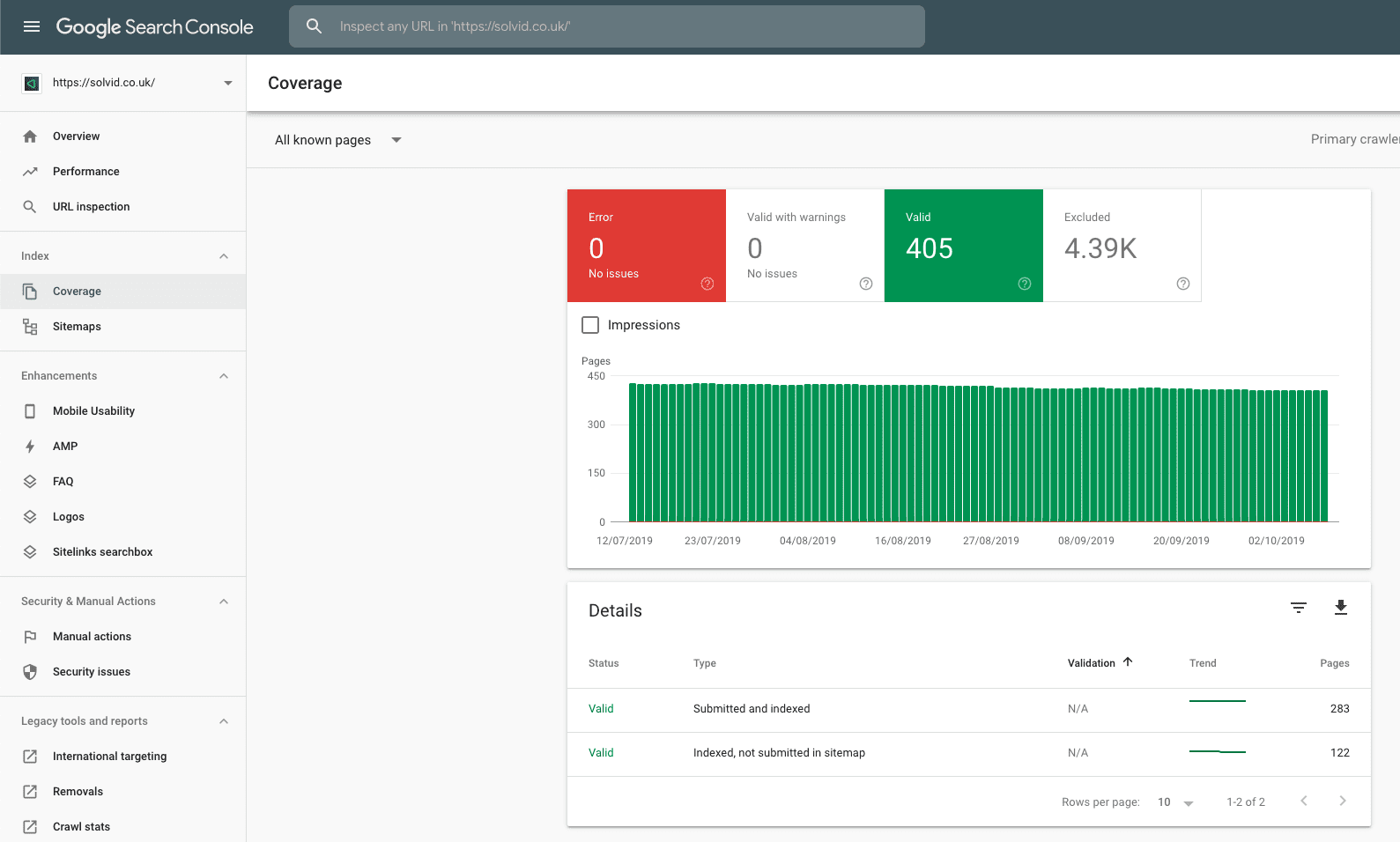 If the number of indexed pages doesn't look right then something could be wrong. It's also worth cross-checking the number of indexed sites you have with the results of your website crawl in step six.
Not seeing any pages returned in your index search? Don't panic. If this is the case, it's probably caused by a rogue x‑robots-tag HTTP header. It's imperative that you act fast in rectifying this because if your pages aren't indexed it's impossible for you to gather any organic traffic whatsoever.
Issues with the wrong x-robots-tag can be resolved in this great Yoast SEO troubleshooting tool.
7. Monitor your organic traffic
Now it's time to get down to the serious business of managing your organic traffic. The best way to do this is through utilising Google Analytics.

Once you've accessed Google Analytics, you can use the menus to go to 'Aquisition,' then 'All Traffic,' then 'Channels.' Once there, you'll be offered the option to perform an 'organic search' which will tell you exactly how many people have visited your site from search engines in the previous month.
By increasing the range of results to about half a year and beyond, you can monitor the direction in which your organic traffic is trending.
Ideally, you'll want to see some form of increase in terms of how much organic traffic is arriving onto your website. If your traffic is stagnant or declining then don't be too concerned – the whole point of this audit is so that you can begin to see noticeable improvements in the number of users who navigate onto your pages.
While a fully-fledged SEO audit can't singlehandedly draw in visitors to your pages, it can create the perfect platform to reel them in. If your content doesn't appear to be getting the attention it deserves then you might want to take a closer look at our next step…
8. Boost your on-site SEO
This step might just be the most important part of the process. On-page SEO is a massive part of bringing prominence to your site – and it's vital that all of your pages are kept in check.
If you've been running your site for some time now, it'll probably be too time-consuming to manually go back and tinker with every page you've published over the months and years – but there is a very effective way of optimising your on-page SEO in a more time-effective manner.
Firstly, make a shortlist of your most important pages. These can be pages that focus on a strong keyword that's likely to be found by prospective visitors, or they could have previously gained lots of traffic in the past but have seen a considerable drop in visitors since, or they could be popular pages that still have room for improvement.
Once you have found, say, half a dozen prime pages that could be improved, get to work on identifying a high-quality new keyword to intertwine into their titles, and then figure out a way of including them in the first 100 words of text.
Make sure to cover the following on every page:
Optimise meta titles and descriptions
Implement effective usage of H1-H6
Add alt tags to all images
Ensure there're no broken internal and external links
Make sure to add internal links
Refresh the links within the pages by adding around five new external and internal links each. Finally, review your LSI (Latent Semantic Indexing) keywords. LSI keywords are simply terms that help Google to figure out what your page is about. For example, if you're running a page that focuses on reviewing the best dog food in the United Kingdom, Google will contextualise your content by learning from semantic markers like 'pups', 'treats', 'Britain', 'pooches' – anything that points towards the topic at hand.
9. Start crawling
Running a website crawl can be an excellent way of gaining an insight into how Google views your site and how well structured it is when it comes to SEO.
Essentially an SEO crawler will spider your website in a similar way to how Google works – meaning you can see exactly how your pages link up and perform together.
There are plenty of tools that are capable of performing crawls, and if you're willing to invest more money into your endeavours, Screaming Frog is an excellent solution. However, if you're looking to work on a tighter budget, Beam Us Up allows users to run crawls for free.
Crawls take a little time – mostly because of the sheer volume of pages that they have to navigate through. So to optimise your use of time, it's worth letting your crawl run in the background while we continue our audit.
Once your crawl complete, be sure to investigate the quality of your internal links and keep on the lookout for any orphaned pages and anything that's missing. By running a website crawl you can get an invaluable overview of how your website links together – meaning that if anything doesn't look right, now could be your best chance to identify and rectify mistakes.
10. Track keywords
On a similar note, it's important to set up keyword rank tracking.
There are many excellent keyword rank tracking tools out there, and they're great at showing you exactly where Google positions your page when users run specific queries.
One of the most effective tools out there has to be SEMrush and Ahrefs. The great thing about using SEMrush is that the platform provides users with a list of all the keywords they rank for within Google's results pages.

This is a particularly useful time-saving tool and is excellent when it comes to gaining greater insights into your website.
To use SEMrush's keyword tracking tool, you simply need to input the keyword that you're interested in ranking for followed by your website URL. If you find that you're ranking lower than you would like for certain relevant keywords, don't worry – it makes for a great opportunity to gear your content towards this search term and make inroads on your SEO strategy.
11. Understand your backlinks
Good SEO is built on backlinks. In fact, it's almost certainly onee of the biggest rankings factors in getting your content to skyrocket into that coveted number one spot on Google's results pages.
With this in mind, it's important that you analyse and understand the backlinks that you gain from other websites. The best way to take an in-depth look at the links you've gathered is through tools like Ahrefs, Moz or Majestic SEO.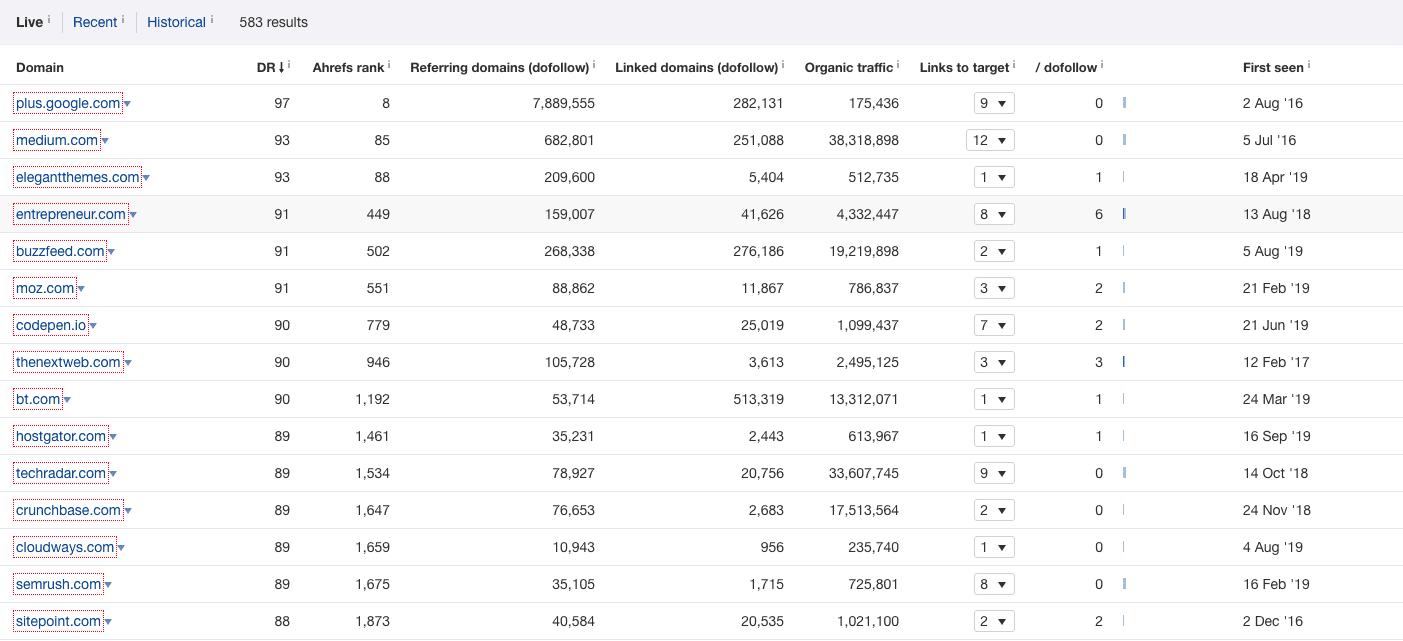 By entering your homepage URL into a backlinks analysis tool, you'll be able to see plenty of information on your site, including a handy little metric called 'referring domains.' Basically, 'referring domains' tells you the number of external sites that have included a link back to your website's pages within their own site.
The higher the number of referring domains that link back to your site, the better – generally speaking. However, there's another metric that you might want to keep your eye on, called 'domain authority' (or 'domain rating,' depending on the backlink analysis tool that you're using).
Whether you're looking at your domain rating or domain authority, the formula is generally the same = your domain authority is based on a combination of the quantity and quality of your backlinks from other sites.
Essentially, if you earn yourself a backlink from a high quality, highly rated website, it will give your website's authority a boost. However, if you've gathered a few 'toxic' backlinks it may have an opposite effect for your website's rating.
When exploring the links that you have, take a moment to study the anchor text that links back to your pages. If they appear to be relevant – such as relevant keywords or your business name, then everything's likely to be okay – then great. However, if the anchor text looks spammy, like irrelevant clickbait buzzwords, then it could be an idea to disavow your links to preserve your integrity.

12. Look out for broken links
Broken links don't directly hurt your website's SEO, but they can be troublesome for your visitors – which ultimately can have a negative impact on your optimisation model.
Essentially, broken links happen when a page you're referring to either gets taken offline or changes its URL without your knowledge – leading to 404 error messages when clicked on.
Luckily, there are plenty of tools out there to help you keep on top of your broken links, with Broken Link Check among the very best and most convenient out there. Simply enter your URL in the search box and the tool will run through your website and find all of the links that are no longer working as they should.

The onus is then on you to locate your broken links and reroute them either to the new URL of the same page or to another relevant one that fits into your content.
13. Keep an eye on the competition
Now it's time to take a look over your shoulder and have a little snoop on your competitors.
Conducting some competitor analysis is a great way of keeping your website ranking above them in a range of fields. One great technique when getting started is to use a platform like SEMrush or Ahrefs to check the best keywords that your competitors are ranking for.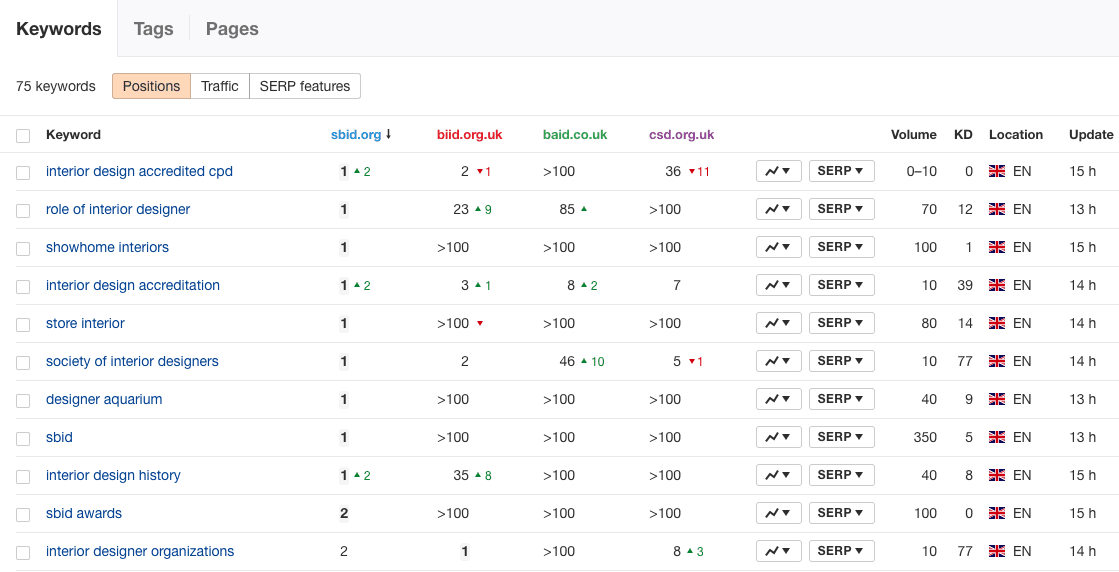 If the websites that you're competing with are of a similar scale to your own and are ranking highly on certain relevant search terms, then you can be confident that you'll be able to outperform them if you adopt a similar focus.
Once you've identified a set of keywords that you feel you could muscle your way in on, it's time to check out the pages that are ranking for those terms.
Take a look at the best-performing pages for your selected terms and investigate why they're looked upon so favourably by Google. Typically the best performing content will be around 2,000 words in length and contain plenty of relevant graphs and images along with relevant citations.
Finally, it's time to check out your industry's key influencers. Take a high-ranking article from a similar-level competitor's website and have a look at the domains that are referring to it. The referring domains with the highest level of authority will be the ones that are most valuable and most receptive to your outreach. These 'influencers' should be among your primary targets when it comes to link building.
14. Explore how to skyrocket your content
Trying to pip your competitors to rank higher for specific keywords is all well and good, but it counts for little if your website hasn't got quality content to call upon.
If backlinks are the backbone of SEO, high-quality content would be its cartilage – connecting referral traffic to worthwhile impressions on your pages.
In a digital space that's inundated with websites and industry competitors, its never been more important to get your content right.
Naturally, quality content is subjective, but Google looks favourably upon text that's around 2,000 words in length.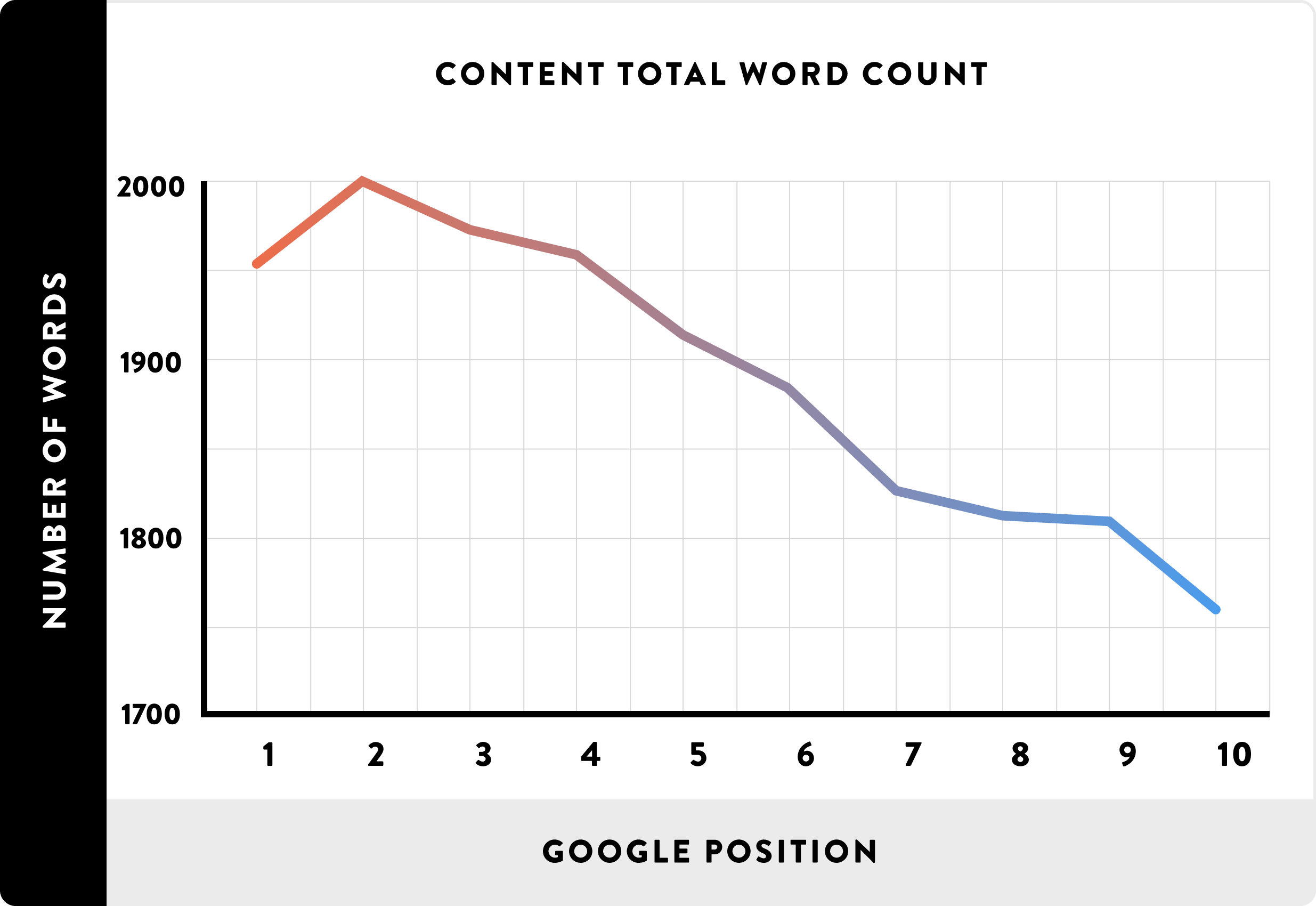 Image Source: Backlinko
Shorter paragraphs with easy to digest subheadings are all looked upon as advantageous, along with plenty of multimedia to command reader attention.
But fundamentally, it's vital that you take such blueprints for great content with a pinch of salt. Great content is always subjective, and it's likely that readers of automotive blogs will have a different interpretation of what makes content 'good' to what followers of penguin enthusiast blogs might think – for example.
Follow recommendations as rough guides, but keep true to the styles that suit your approach writing best. After all, too many cooks can spoil the broth – and if you take too much advice on board, you'll end up losing touch with the qualities that make your website unique.
15. Look at catering to UX signals
Google possesses some seriously smart algorithms. In 2015 it confirmed the existence of RankBrain, a smart little piece of AI that studies whether or not users like the results it throws up for specific searches.
Essentially, RankBrain lists query results based on what it thinks users will like and then monitors whether its decision was right or not based on how many people click on the link, how long they stay on the page thereafter and how quickly they bounce back from said page.
The arrival of RankBrain should come as good news for competent SEO practitioners because it means that high-quality content that visitors enjoy will naturally be ranked higher on Google.
With this in mind, it's vital that you avoid using headlines that are solely clickbait-based or titles that don't deliver on their promises. For example, if you publish a post entitled '15 ways to make your pet famous on social media', you'd better believe there has to be 15 points within your content.
If RankBrain notices the user experience on one of the articles it rates highly is lower than expected, it will automatically relegate the content and replace it with another result that it believes will perform better.
This means that it can be useful to keep your content fresh to satisfy RankBrain. Keep on the lookout for more up-to-date graphs and charts for your content to ensure users stay happy and maintain your post's relevance.
16. Watch out for duplicate meta tags
There are few simpler ways of optimising your site than through strong meta-tagging. If you haven't already added meta-tags to your content, it takes just a matter of moments and pays dividends in teaching Google those valuable little extra bits of information that can help to keep your pages well indexed.
It's important, however, to ensure that you haven't been using duplicate meta-tags for your content. If Google spots that you have pages with identical meta-tags, the search engine will simply ignore them.
Luckily, you can locate pages with duplicate meta descriptions and titles by running Screaming Frog (unfortunately the "HTML imporvements" report in Google Search Console has been depreciated – at least for now).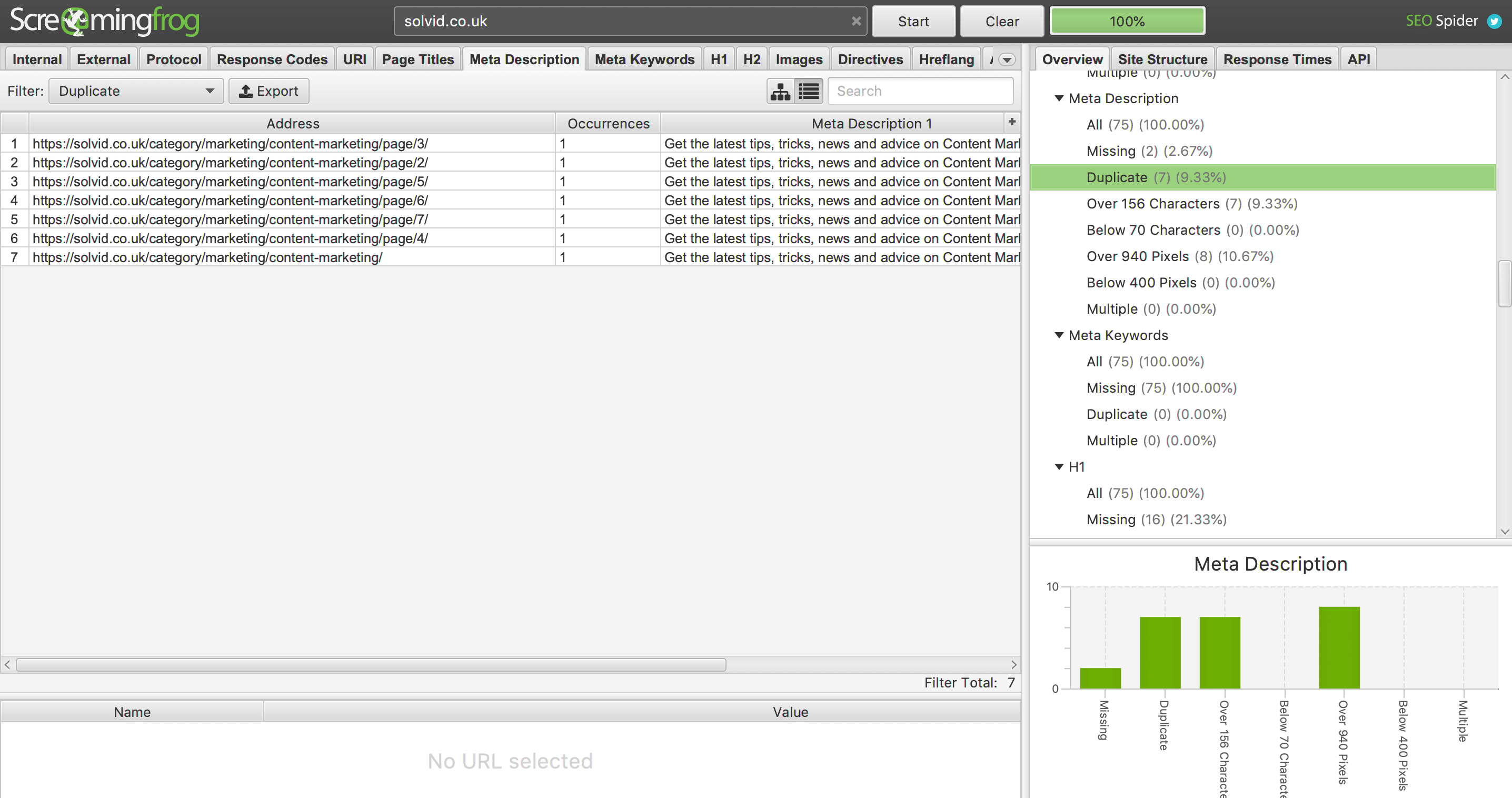 While it's a good idea to have different meta-tags within your pages, it's mostly imperative that you take this into account for your important pages. If, for instance, pages nine and ten of your website's blog have the same meta description, you probably won't need to lose much sleep over it.
17. Craft a skyscraper post
There are few better ways of outranking your opponents than through unleashing a great skyscraper post.
To pull off a high-quality skyscraper post you'll need to take a moment to look for a keyword that you'd like to rank highly for. Dog treats, for instance.
When you run a search for 'best dog treats,' the highest-ranking answer is a guide that highlights 15 of the best dog treats available along with a list of things to consider when buying dog food. To run a strong skyscraper post, you would pip the best article available by focussing on between 17 and 19 of the best dog treats available along with a do's and don't's guide on the things to look out for when making your purchase.
Suddenly, your skyscraper post is more resourceful and content-rich than the previous leader, and your page is ranking higher! Easy!
Naturally, it's worth pointing out that skyscraper posts can't simply be phoned in. Remember RankBrain? Keep your UX high here or your list will flounder.
Skyscraper posts can also help to spring Google's algorithms into action and help the search engine to understand all the changes you've made while following the steps in this list.
18. Never underestimate your internal links
Before you take the plunge and dive head-first into your newly SEO-supercharged website, there's still a little bit of house-keeping that needs to be done.
We've discussed the importance of ensuring that your website architecture is coherent and well structured – notably with no pages left isolated by being positioned more than three-clicks from your homepage. Now it's time to optimise your internal links to improve your user experience model and encourage visitors to navigate across your pages better.
Essentially, you need to never miss a beat when it comes to internal linking opportunities. Are you writing a post focussing on training your dog? Be sure to link it back to your '18 best dog treats' skyscraper post from step 18!

If the task of linking your website's vast array of pages sounds like a daunting one, don't worry, a good tactic is to make a short list of your most valuable pages and make sure you keep them fresh with their fair share of internal links.
19. Fine-tune featured snippets & FAQ rich results
When it comes to optimisation, it's difficult to gain better exposure than by getting your page positioned as a featured snippet on Google.
Google is an age-old institution given the fast-paced world of the web, but featured snippets are a relatively recent addition for the search engine giants.
Featured snippets are essentially pieces of content that Google has deemed valuable enough to showcase a preview to users as a solution to their queries.
Getting your content positioned as a featured snippet is no mean feat, and there will no doubt have been many SEO practitioners that have tried and failed to get the coveted #1 position before you even decide to have a go yourself.
Nevertheless, fortune favours the brave and the huge boost a featured snippet could hold for your organic traffic certainly means it's worth a try.
FAQ structured data is a relatively new feature Google offers. It simply displays the FAQ section in search results, making your result more visible to the searchers.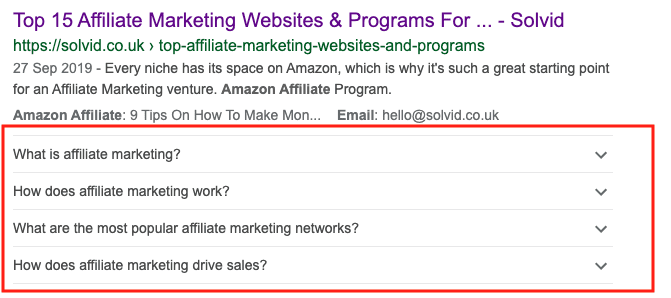 A simple WordPress plugin called Structured Content will take care of your FAQ rich results.
Make sure to use Google's Rich Results Test tool.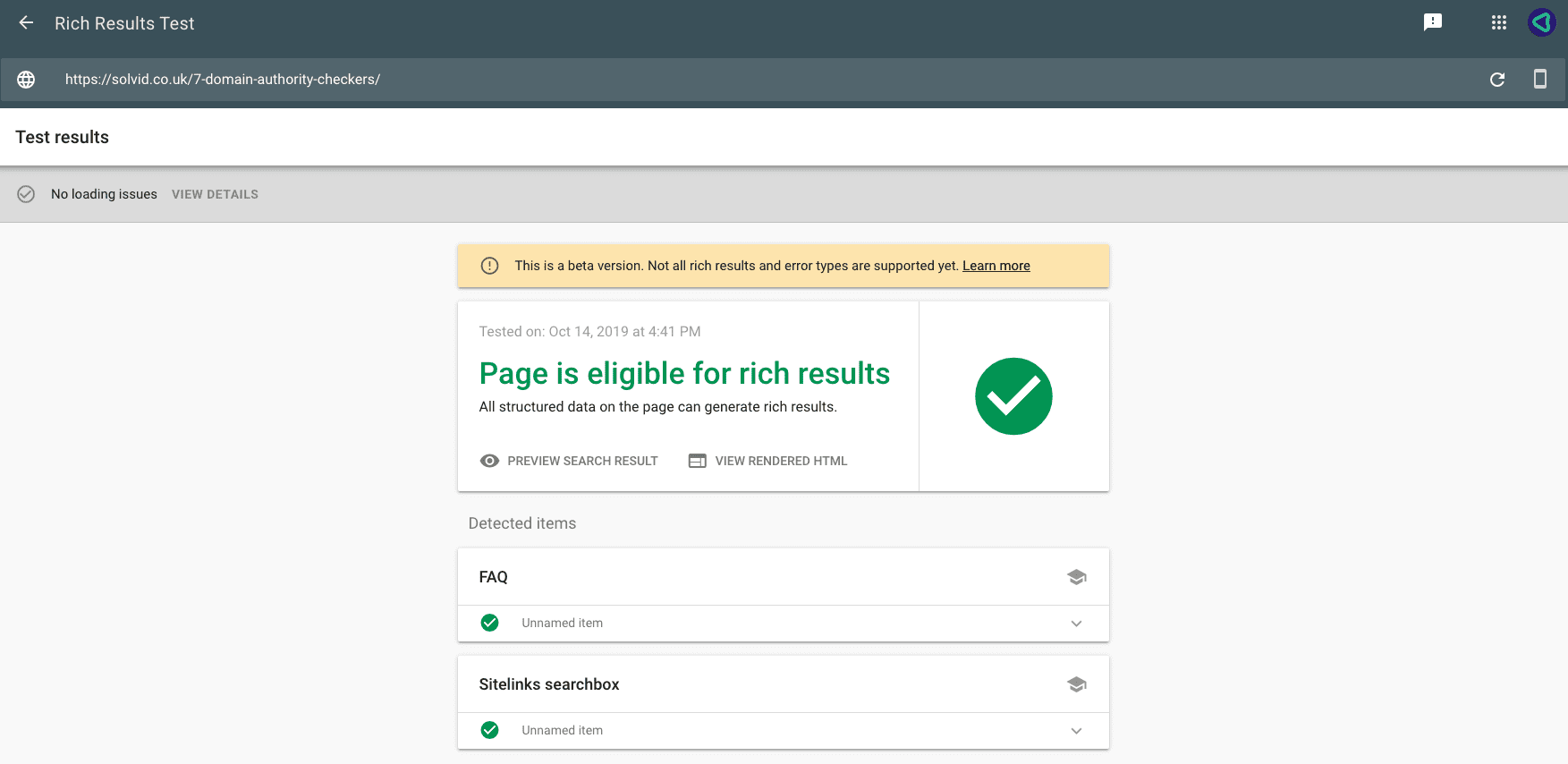 Backlinko have produced a helpful guide that provides a healthy amount of first-person detail on the matter, but to condense it into bite-size chunks:
You'll need to ensure that your content is fully mobile friendly.
You would need to have HTTPS installed
You'll need to make full use of your content's headers – paying particular attention to H2 and H3 tags along the way
You will have to anticipate the queries being entered into Google and place them into your content – offering short answers
You'll have to intertwine some high-quality, highly authoritative links into your work as a means of adding extra value
20. Go social
Social media should be an integral part of any respectable SEO audit. We live in an ever-increasingly interconnected world and platforms like Facebook, Twitter and Instagram provide us with a means of communication that seemed impossible just 20 years ago. So it's only right that we utilise it to help boost our traffic.
Although social media does not directly affect SEO, social networks operate in a similar ecosystem to the SEO landscape. Keywords make content discoverable through the use of hashtags and popular published pieces can reach huge audiences when more users interact with them – in a similar manner to how Google recognises the value of its highest ranking results.
Be sure to connect with users and promote your content on social media. Take a look at trending topics and check whether any of your older posts could be given fresh relevance. For example, if a new brand of dog food is released, you may have an opportunity to re-post your skyscraper list of dog treats from step 18 as a means of making users aware of your favourite alternatives.
The beauty of effectively utilising social media is that, if done right, you'll eventually only need to post your freshly published content online for each post to gain traction and generate traffic.
21. Simplify your architecture
There's a reason why architects are paid good money to make complex buildings seem simple to build. The world loves simplicity. And it seems that Google's algorithmic bots are no exception.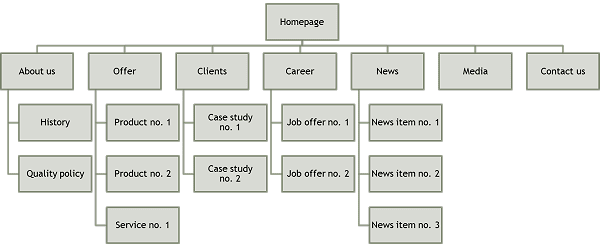 Image Source: SiteImpulse
It can seem like an unnecessarily complicated thing to do when you've spent the past few years letting your website grow naturally, but having a coherent site architecture under the bonnet can make all the difference for a number of reasons.
Firstly, having a logical, simple architecture helps Google's bots to map out your pages with no fuss or trouble in locating each and every page you've built. Secondly, your architecture helps search engines to understand how important your pages are.
As a rule of thumb, it's worth structuring your website in a way that any page within your site is no more than three clicks away from your homepage. This ensures that all of your pages are as accessible as possible without hurting its layout with cluttered links.
22. Get tooled up
The world of SEO can be a daunting place, and no audit would be possible without the use of some very smart and insightful tools – many of which have already been mentioned repeatedly within our list.
We would hate to leave you high-and-dry now that you've come all the way to step 22. And in a bid to avoid any Catch-22-esque dilemmas as you start to unload your newfound knowledge onto your website, here's a (slightly shorter) list of our favourite SEO Audit tools to keep you ranking as highly as possible long into the future: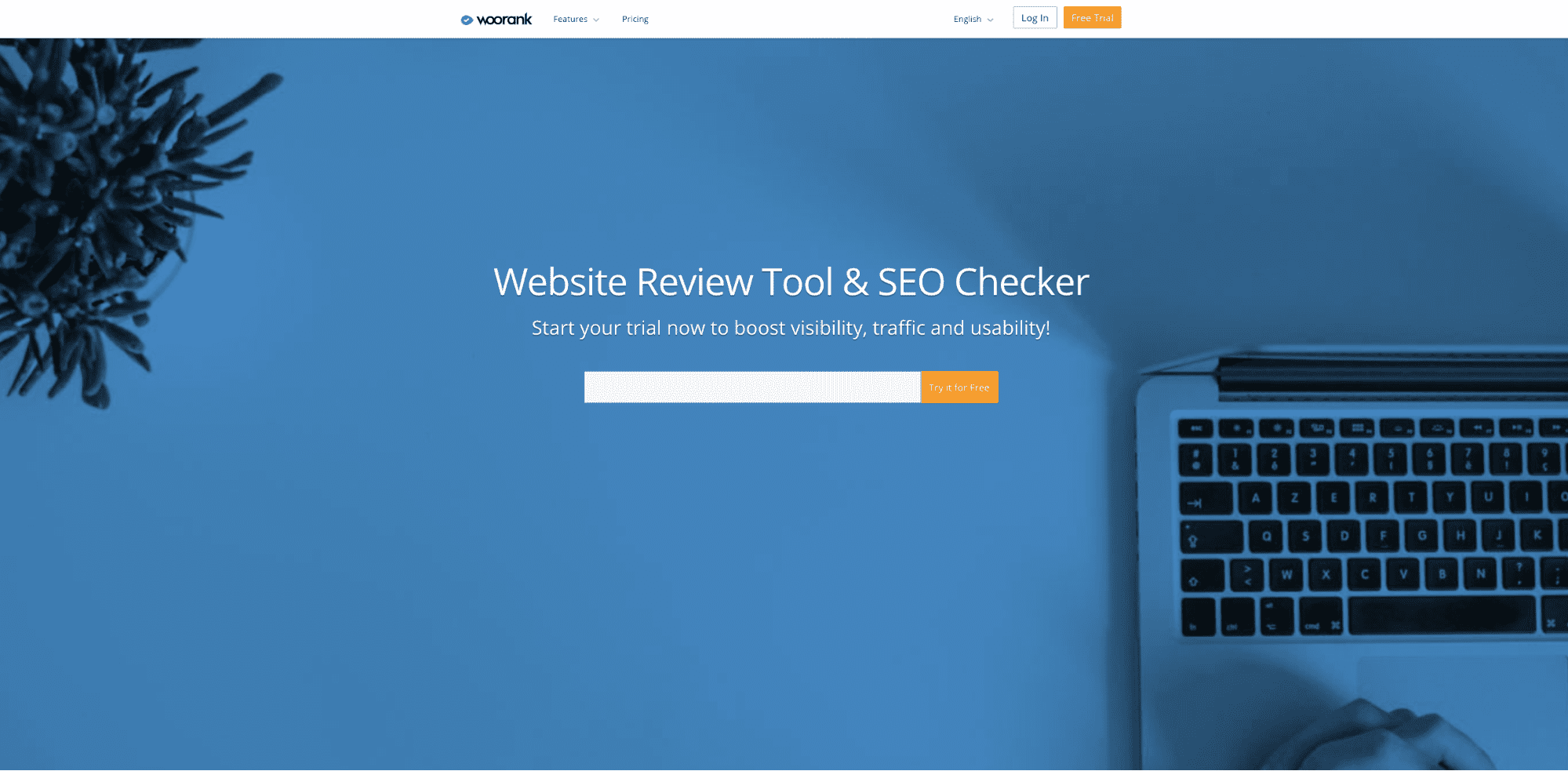 We make no apologies for positioning Woorank at the top of our list of SEO audit tools. Woorank's intuitive website analysis is highly useful for website owners, SEO Agencies and digital marketers alike.
Woorank offers users a heavily detailed level of analysis regarding On-Page SEO, Off-Page SEO, backlinks, lost links, defective internal web pages. The audit tool also provides insightful recommendations based on its analysis as a means of helping to improve site visibility and its ranking within Google's results pages.
Reports are available to be downloaded in a PDF format. Woorank's reports are simple and easy to understand and the platform offers both free and paid versions of their service – with prices starting at £59.99 per month.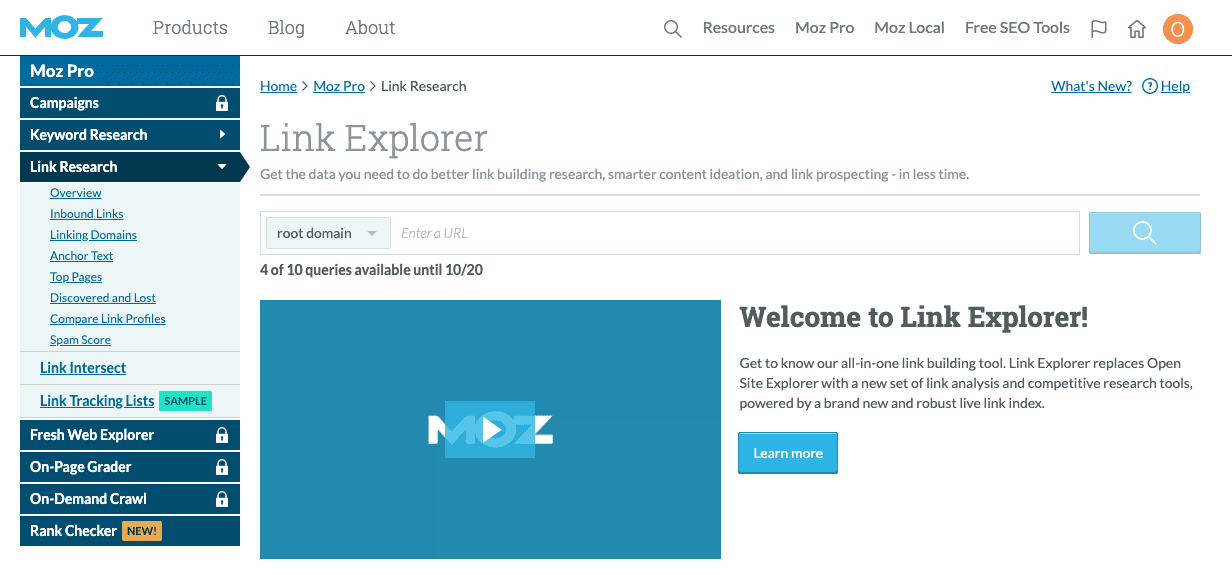 When it comes to SEO, Moz are the masters. Their domain authority ratings are renowned across the industry and their auditing suite promises to leave no nooks and crannies unturned as the service gets to grips with your pages.
Moz offers an enviable set of free tools, including a slick open site explorer, keyword explorer, MozBar, business listing, business console and research categories.
Moz is one of the most trusted SEO resources out there, and some of the industry's biggest experts use Moz rank, domain authority and page authority metrics throughout their link-building strategies.
Weighing in as both a free and premium service, Moz's prices start at $99 per month.
Screaming Frog leaves no stone unturned when it comes to the auditing process.
The tool analyses your entire website before providing useful insights into any SEO problems that you may be encountering.
Screaming Frog crawls your website from top to bottom, before delivering analytics-rich results. The tool is big on data, and opts to display wafts of raw information instead of wasting time in dressing metrics up in frilly dashboards.
Through the use of Screaming Frog, users can get to grips with various parameters like site links, outbound links, meta descriptions, anchor text, security issues, broken links, page response time and ALT tags among many more insights.
What's more is that Screaming Frog allows users to crawl through up to 500 URLs for free. However, if you're looking for a little more depth, a premium version of the service is available for £99 per year.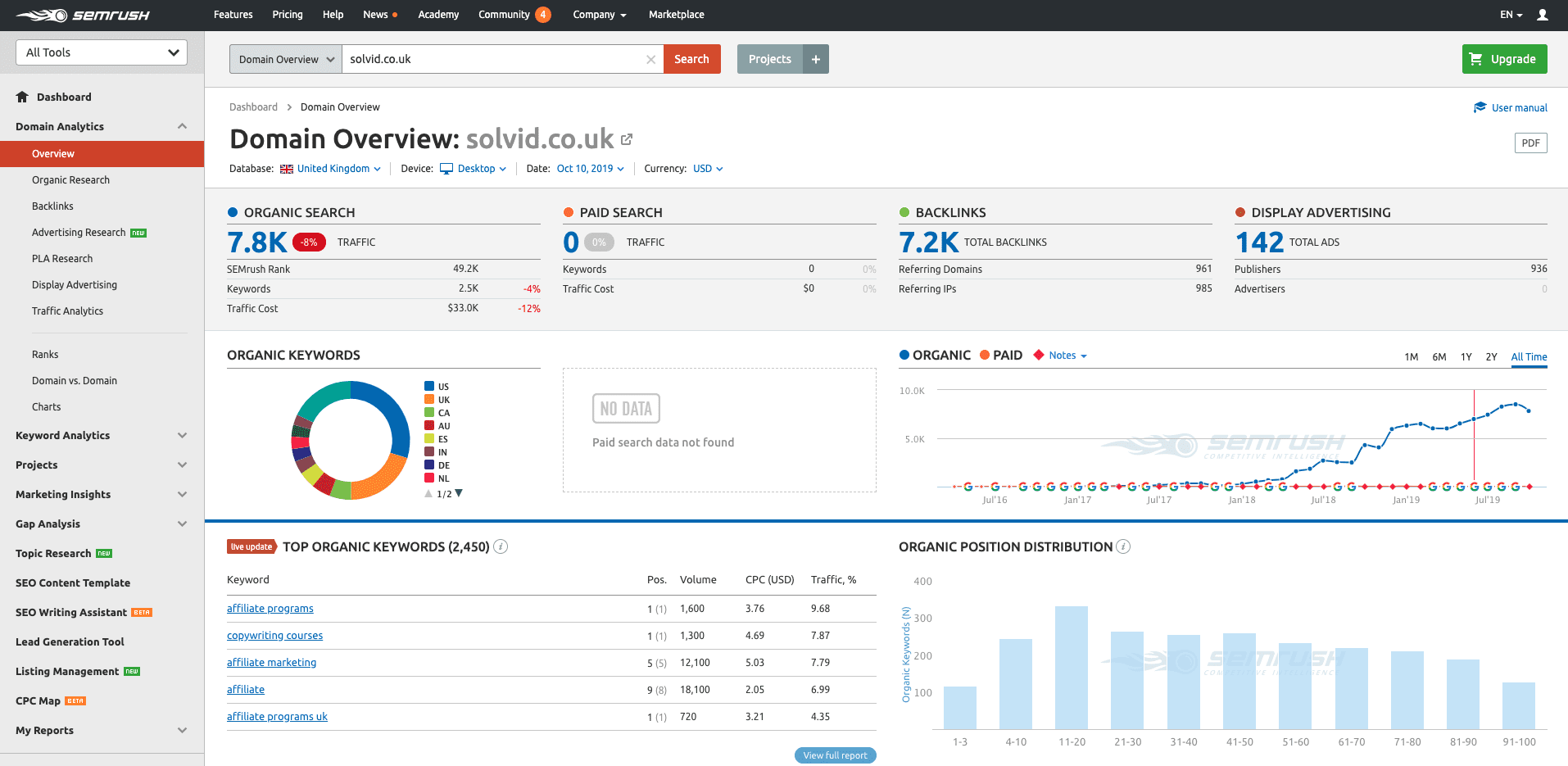 SEMrush proclaims itself to be the world's number one marketing tool – a pretty bold claim, but one that's difficult to disprove.
The SEO specialists wiped the floor with competitors last year, winning at 2018's US Search Awards, MENA Search Awards and at the Interactive Marketing Awards.
With over 40 tools and reports available and 10 years of industry experience to boot, it's hard to look past SEMrush when it comes to conducting a site audit.
Some of the main features of SEMrush include the ability to uncover competitor ad strategies, deep backlink analysis, thorough SEO and PPC keyword research, unparalleled competitor analysis and the ability to complete analytical reports in a Microsoft Excel format.
SEMrush pricing starts at $99.95 per month. Placing the suite firmly among our most costly services – but in this case, you certainly get what you pay for.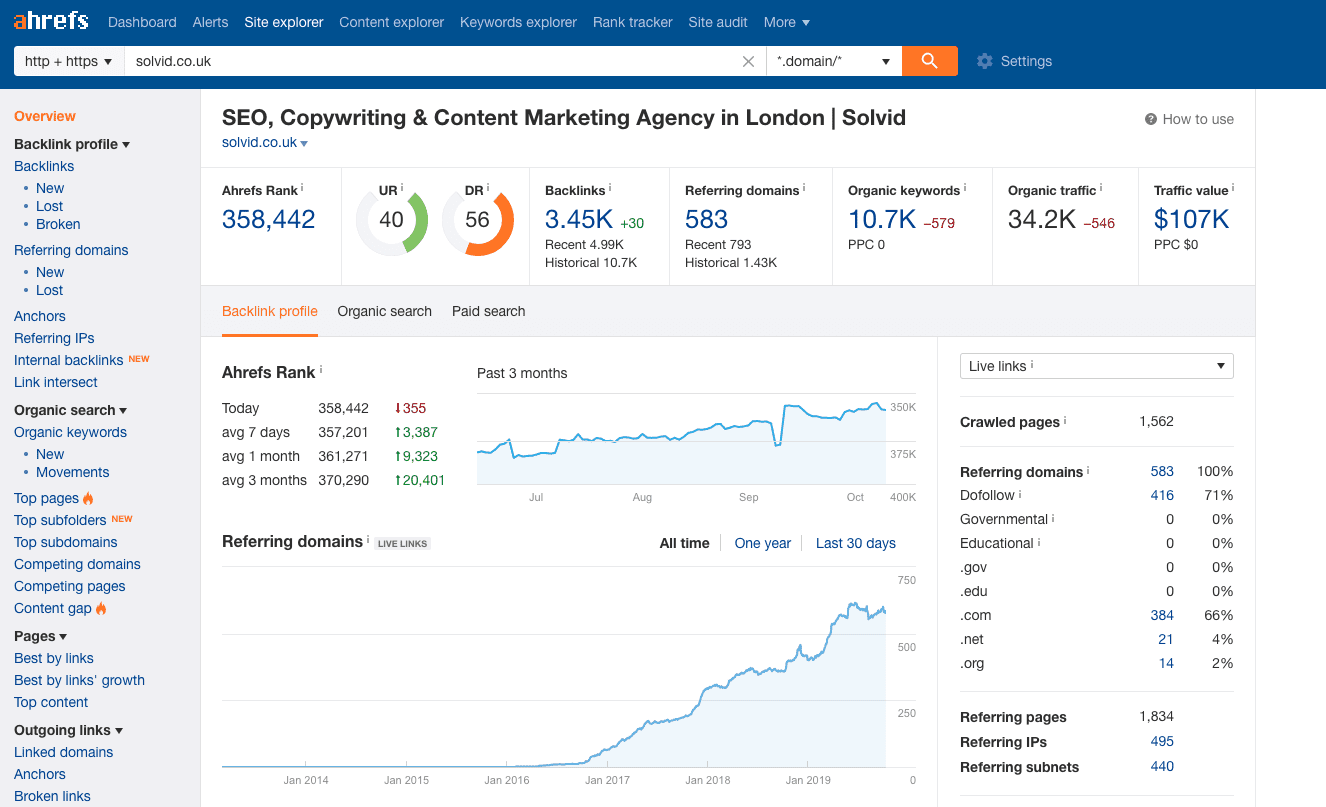 It's tricky to look past Ahrefs when it comes to SEO audit tools. Boasting a clientele consisting of the likes of Facebook, eBay, Adobe and Uber among other stellar names, Ahrefs allows users to really get to grips with their website while keeping an eye on competitors.
Ahrefs has all the popular insights that you would come to expect from a top-of-the-range suite of auditing tools, with their dedicated site and keyword explorers proving particularly useful. However, Ahrefs possesses a range of excellent and unique services that can take your site management to the next level. Content Gap is an example of such tools, which provides an insight into the keywords that your competitors are ranking for but your pages aren't.
As a leading SEO suite, Ahrefs comes at a price, and user will need to pay $99 per month to access the array of services available. More ambitious website owners can significantly scale up their access to features for larger monthly fees. But don't worry, you can try out Ahrefs for a week at a cost of $7.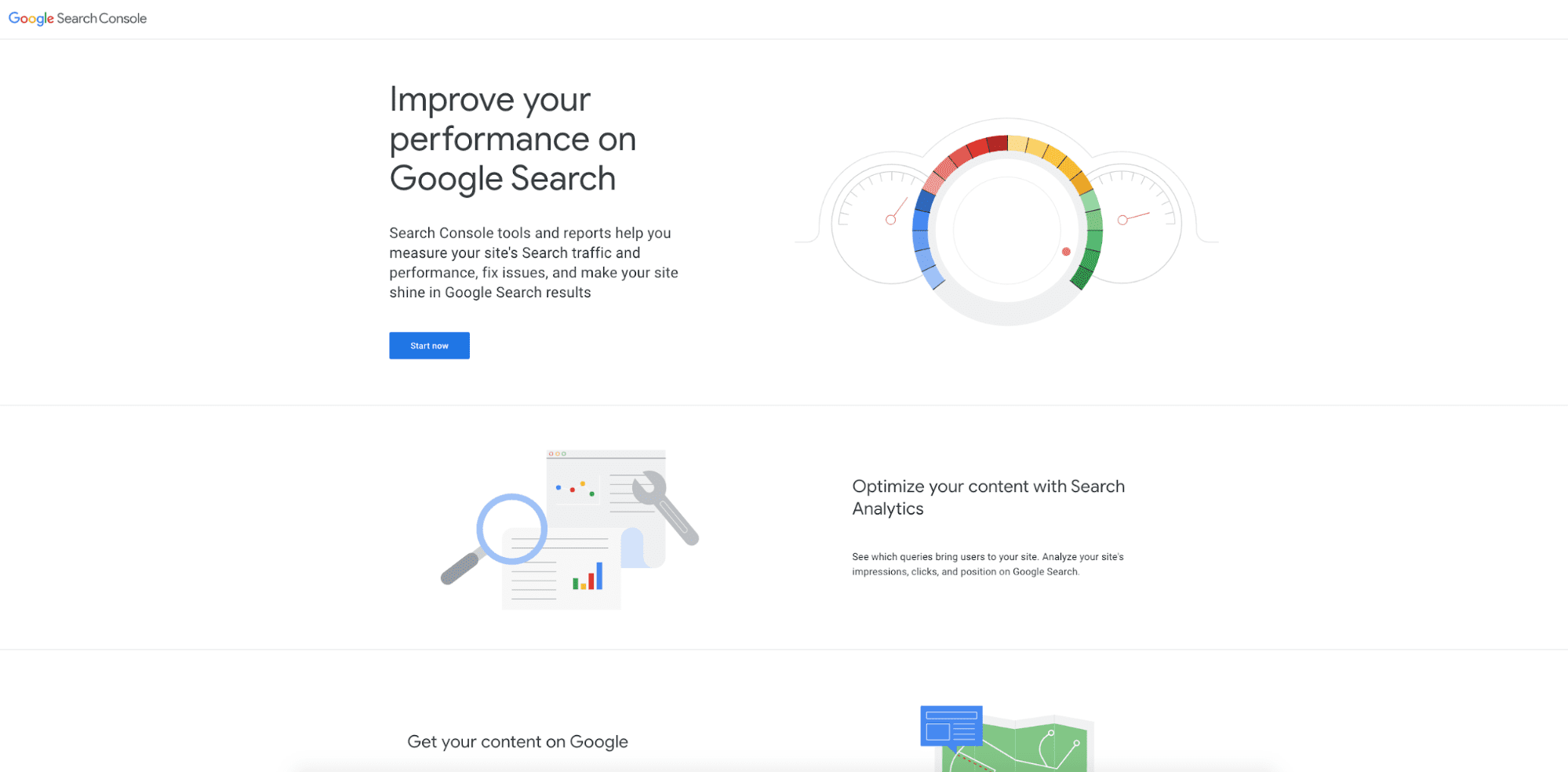 Google are the grand overlords of the internet, and have been for well over a decade – so it's only right that their Search Console gets recognised in this list.
In fact, Google Search Console has been mentioned numerous times throughout our 22-step guide, and the simple reason for that is because it's so helpful when it comes to the auditing process.
Firstly, Google's Search Console is entirely free. And secondly, it provides users with the level of insight that only the world's biggest search engine could muster.
Your first port of call has to be Google's URL inspection tool. This nifty bit of kit provides richly detailed crawl, indexing, and serving information surrounding your pages – all of which is lifted directly from the ever-resourceful Google Index.
This audit tool offers thorough insight into how capable your website is in handling mobile-based visitors and even offers email alerts for whenever Google subsequently finds issues on your site.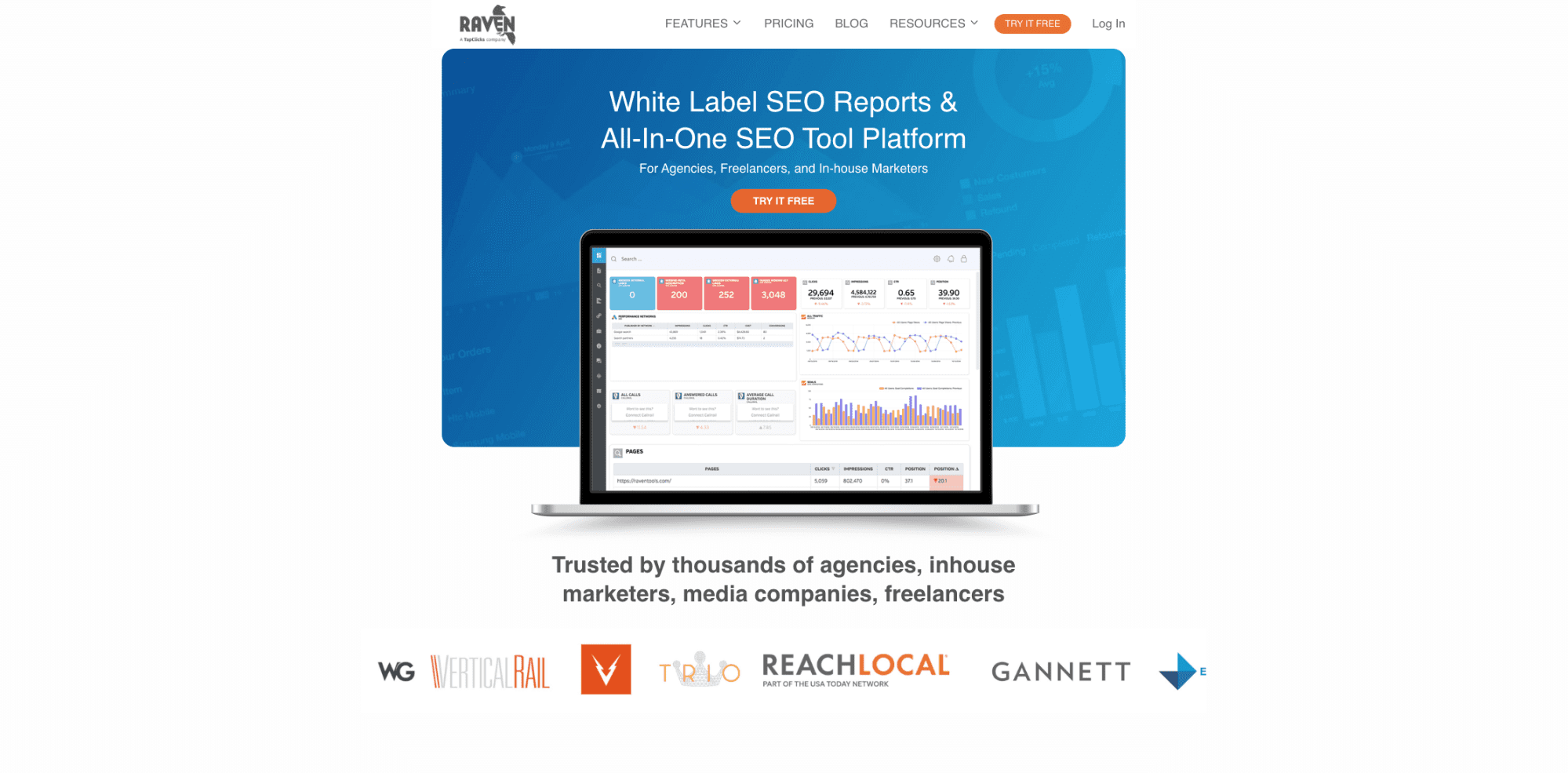 Raven Tools is one of the most powerful audit tools out there, and is especially useful for digital agencies and SEO consultants in providing them with quality reports on any prospective technical SEO issues and their subsequent recommended actions.
This particular tool is excellent when it comes to monitoring your website speed, the quality of your backlinks, your social media reputation and page design.
Much like Kissmetrics, Raven Tools offers to cater to website owners who are eager to market their website or its service to users online as well as boost their digital authority.
Raven Tools offers a free trial to users in order to test their full suite of services – and if you're looking to enter into a premium subscription with the SEO masters, prices start at around $79 per month.
There's something comforting about WebCEO's logo. Something that takes us back to the glory days of the post-www. boom golden age of the web.
Creating successful websites may well be more difficult than in the hazy days of the early 2000s, but WebCEO endeavours to make the task of building your SEO credentials as easy as possible through its intricate insights.
WebCEO's Site Audits are excellent, with expert level keyword analysis, internal linking optimisation, broken link investigations, content optimisation and even site map generation.
Users can also tap into excellent SEO performance reports as well as continually monitor their competitors' attempts to boost their own profile.
It's free for users to sign up to WebCEO, and at $39 per month, their premium service seems reasonable value too.
SEO Website Audit FAQ
How important is an SEO Website Audit?
Very! Understanding the strengths and weaknesses of your website is a vital step in any SEO campaign. Figuring out what needs to be fixed and improved before the campaign will save money and time.
How long does an SEO Website Audit takes?
It all depends on the size of your website. SEO Audits can take anywhere from a couple of hours for simple blogs to weeks for complicated eCommerce systems.
What are the best SEO Website Audit tools?
While doing the audit, you should definitely look into Google Search Console, Google Analytics, Ahrefs, Screaming Frog, Moz and SEMRrush. Depending on the nature of your website, you may have to use 'issue-specific' tools (e.g. Panguin Tool for checking penalties).
Are there SEO Website Audit services?
Absolutely! Most SEO agencies should offer an SEO audit service. At Solvid, we have three different types of SEO audit service.