Gone are the days of intrusive and forceful advertising as a means of getting your audience's attention. In fact, 47% of consumers today view 3-5 pieces of content before engaging with a sales rep and 94% of people who share posts do so because they think it might be helpful to others. Ultimately, consumers are much more interested in learning about their products and services more than ever before. 
Blogging keeps you competitive. Companies that blog get 97% more links to their websites than those who don't. Those who stay on top of industry news and post regularly generate a sense of credibility and leadership. They are more likely to be thought of as industry leaders and in turn, generate more leads. 
Blogging, however, is a timely pursuit. Many company owners understand the virtues of maintaining an active blog, yet lack the time and expertise to create one. Thanks to digital advancements, the web is now saturated with professional blog writing services.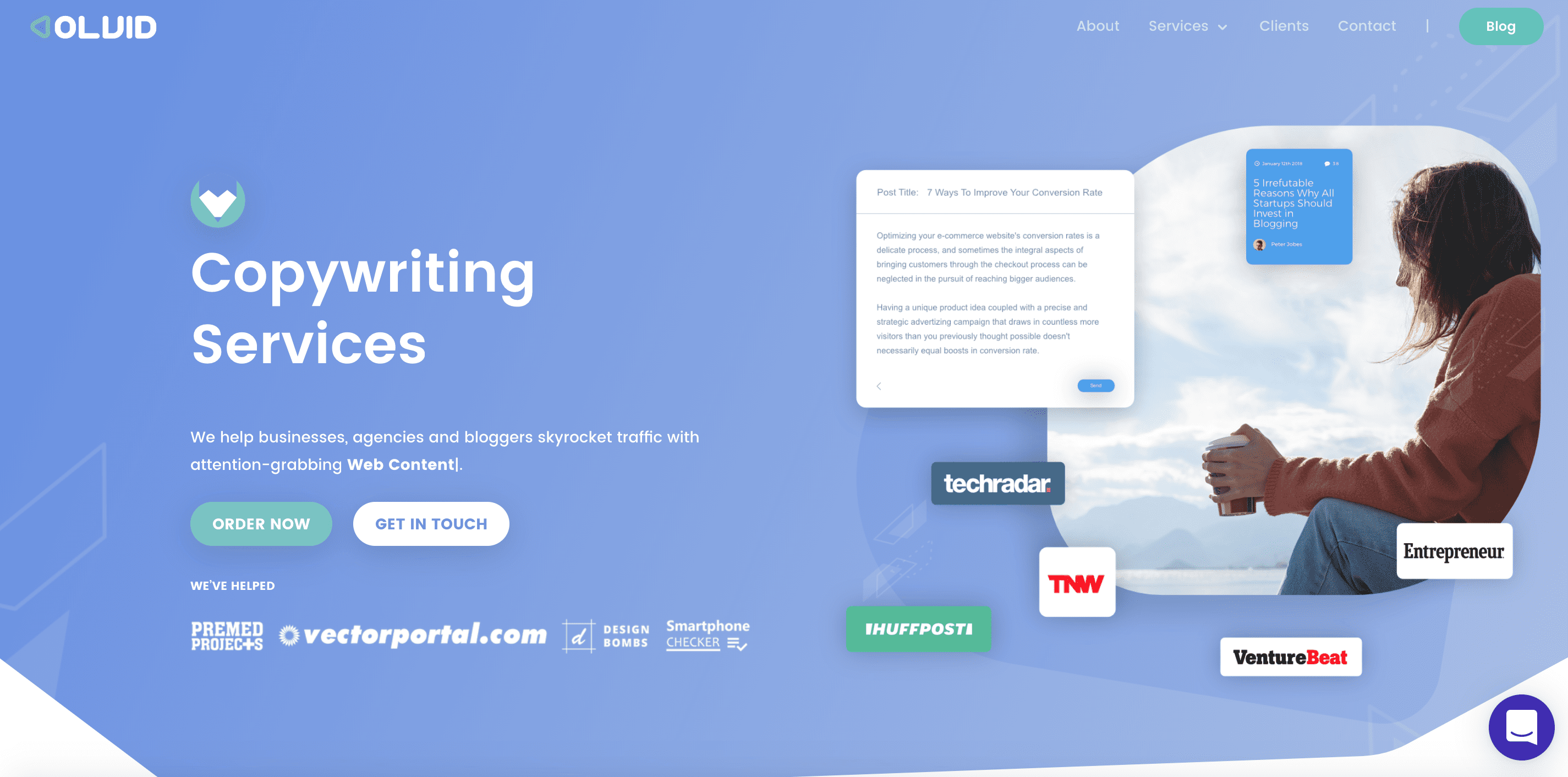 We had to include ourselves on top of this list. At the end of the day, we're here to earn that penny 
 And, we truly think we're your best option.
Whether you're looking for a crispy blog post or a continuous flow of guest blogging services, we understand the importance of effective content. Our experienced team of copywriters at Solvid have a proven record of writing compelling, engaging copy that relates to the client's audience – and we are ready to take on any challenge. 
We're all about crafting articles that get people thinking, asking questions and wanting more. We understand all too well that the backbone of a good blog post depends purely on research and experience. Creative articulacy comes in at first place. 
We take the time to fully understand the client's needs in order to produce effective content that brings value. You won't find any two articles the same. To achieve this, we go out of the way to find what works in your industry and then shed light on new findings using different angles. When we find an exciting topic, our research doesn't stop there. We proceed with extensive keyword and content analysis to appropriately select the tone, style and format of your blog post. It is our boundless personalisation that differentiates us from the rest. 
All blog articles created at Solvid are done so with SEO, traffic and conversions in mind. They are naturally written with search engines borne in mind. Perhaps the most important aspect of doing so is keyword research. Bottom line is, we refuse to create and nurture an article which won't be found by your audience. 
When you receive your blog post from us, we are open to unlimited revisions and edits. We'll proofread, edit and amend the copy again and again until you are fully satisfied with the final product. Whilst we are sure that you will be satisfied with the outcome the first time round, we are committed to achieving your satisfaction in an industry beating turnaround time of 3-4 days for a 1,000-word blog article. 
Our extensive portfolio of articles, published on numerous influential blogs and publications, across all industries, makes it difficult to find an industry where we haven't had experience in. Our blog posts have been referenced by Rand Fishkin, Brian Dean and Syed Balkhi.
Our simple pricing method makes it easy to know exactly what you're getting. At £0.15 per word, you can expect a carefully structured, well thought-out and engaging blog article of 2,000 words for £300. Simply place your order in minutes and receive your article in a matter of days.
Upon ordering, you will be asked a series of questions relating to your company blog, target audience and target keywords. Simply checkout and let us get down to the nitty-gritty process. Rest assured, you will be kept in the loop with regards to the topics and writing progress.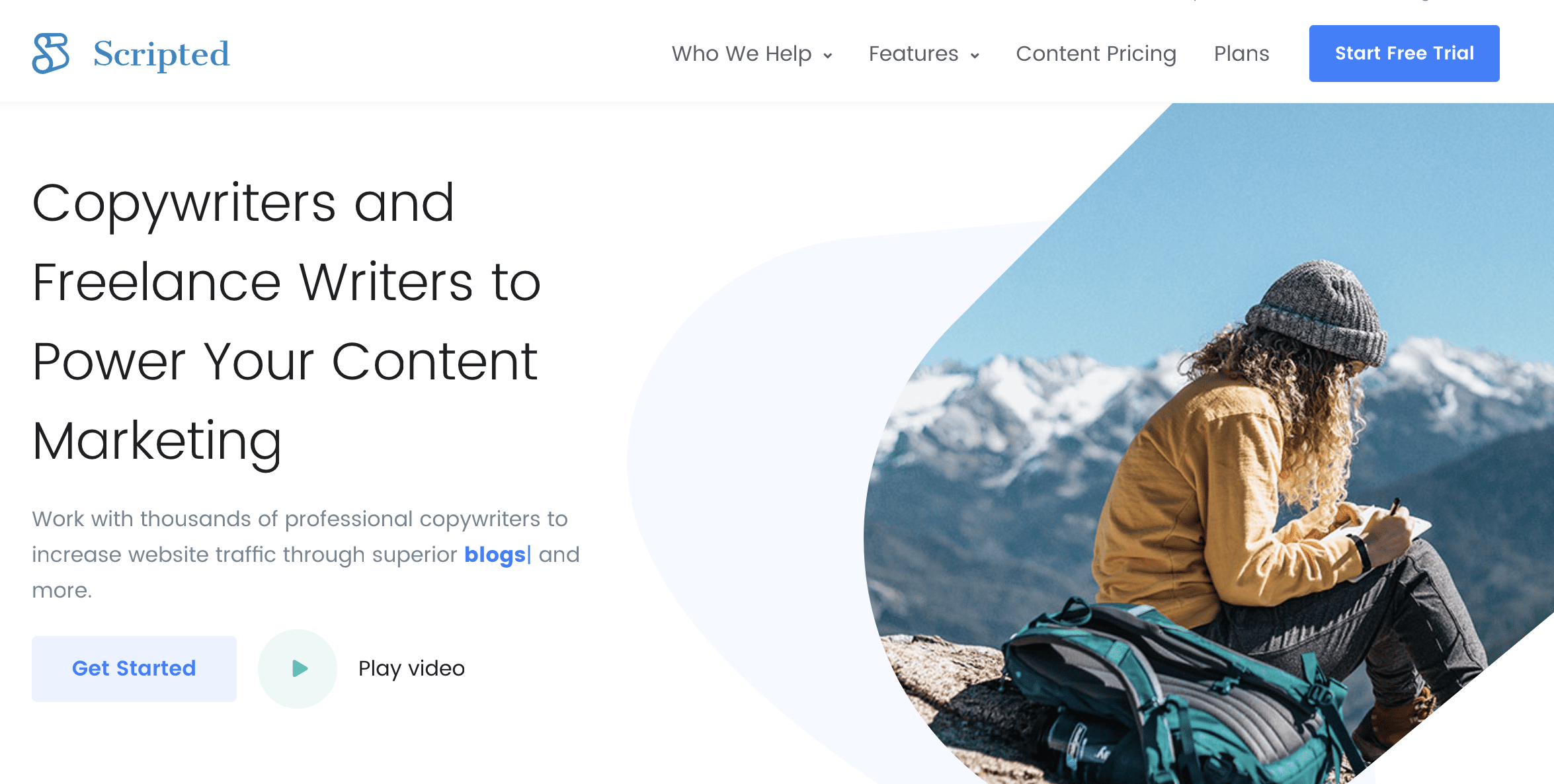 This third-party platform provides an interface for clients and freelancers to interact. Thousands of freelance writers await on the other side of the sign-up process for your blogging requests. Upon signing up, you can begin to share your blog project briefs with potential writers. Incorporated into Scripted's order process is a free strategy quiz to help ensure your brief is coherent and complete. One of the niceties here is its templates for users to share their vision with writers in the most understandable way possible. 
Scripted is fully aware of the importance of mobile-friendly content for blogs. A 'standard' blog post of 550-650 words lets you explore a topic in more detail that you would be able to with a short blog post. Yet standard blog posts are short enough to still be mobile and reader-friendly. Longer blog posts at Scripted tend to be between 850-950 words – certainly enough scope to provide unique value to your readership. However, since long articles are set at a standard rate at Scripted, if you require a longer article for your blog, you will invariably be charged an additional fee, making it difficult to know where you stand in the ordering process. 
Upon receiving your blog post from Scripted, it is time to put it to good use. Scripted's services do not stop at writing the content for you. They continue to help, making sure your content is performing at the highest ROI. Further paid options allow the client to arrange a weekly discussion with accounts manager to monitor content strategy. All this is encompassed within a personalised content calendar designed to maximise SEO and traffic. 
Driven by the marketplace of freelancers, prices at Scripted are based on basic economic principles of supply and demand. They are sensitive to availability, word count and the writers' level of expertise. Generally, short blog articles of 350-450 start at $47.00 and extend to $98.00 for standard and longer blog posts. It is important to note that Scripted's non-negotiable membership fee of $149 per month is due prior to purchasing any content. This makes it less appealing for those who require occasional one-off blog posts. However, don't fret, there are alternatives to Scripted where you can find quality blog writing services without membership fees.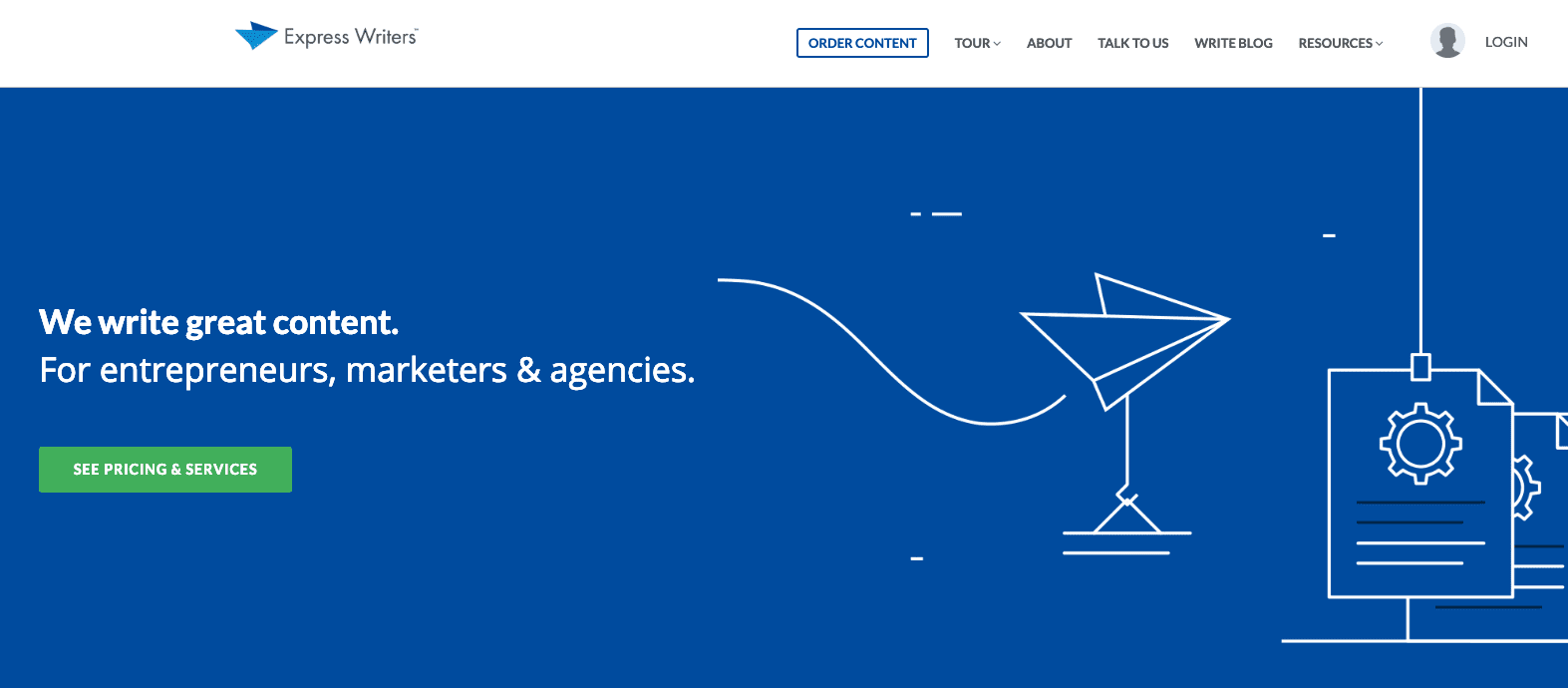 This marketplace for content introduces clients to the most competent writer on their team for a specific project. Express Writers have a team of over 90 copywriters, specifically trained strategists, and social media managers. Each of which has been hand-selected from expert industries and vetted- through which only 2% of applicants pass. 
Express Writers know that writing persuasive and entertaining blogs requires Google-savvy writers and a steady flow of regular writing. They claim their blog posts to have been written with your web content keywords in mind by writers with time and SEO knowledge on their hands. Express Writers blogs articles all aim to have eye-catching headlines, answer questions, address problems and include creative content writing. 
This service offers add on packages that are exclusively available from their team of content strategists to offer a monthly editorial calendar, ongoing SEO keyword research, and a monthly meeting between you and your strategist. With the help of this add on feature, you can predict the best days to post what categories of topic for the month and analyse competitors. If you lack the time or know-how to build your blog, Express Writers content curation team can help do that for you. 
Within your Express Writers blogging package, you can expect to receive the following: 
An expert writer assigned to create original blog posts
Topic creation (SEO and headline research for an additional fee)
Proofreading 
Posts to be published on your schedule 
Direct posting to your blog
1 image selected to match the topic
Monthly blogging package options start at level one blogging for $390 which includes four 500-word blog posts per month. Level two blogging at $550 gives you four 850-word blog posts added to your blog each month. That's a $190 difference between the two packages for a 350-word difference – a bit excessive some might say. Level three blogging at $1000 will provide you with eight 1000 word articles a month for your blog. This seems to provide better value for money. Whichever package floats your boat, do bear in mind that these rigid prices can be averted by acquiring your content elsewhere.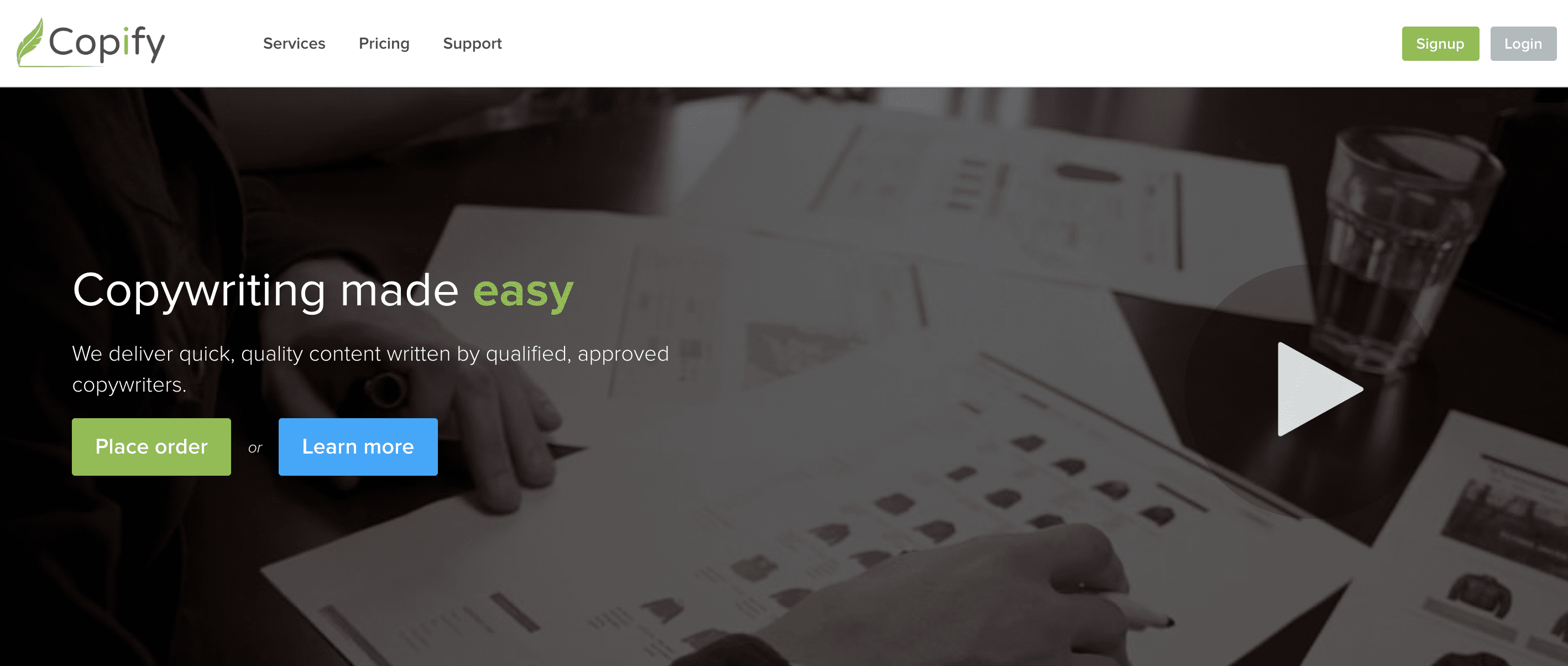 This content writing service exists as an online network of hundreds of approved writers. All of whom are native English speakers and undergo a vigorous testing procedure to be approved. Simply select your package, indicate how many posts you would like and what subjects you would like to cover. Copify will then begin the creation process. Based on your instructions, the most qualified and available freelancers will be chosen to write your posts to your specification. Finally, Copify offers an easy publishing service. Posts will be delivered regularly to you throughout the month and are ready to be uploaded to most blogging platforms. 
You can order content on a one-off basis or in bulk and request changes to your order before accepting the work. If you don't have the time to regularly update your blog, Copify can supply you with regular quality posts. The monthly packages for this service range from startup, business and premium and cost £69, £129 and £249 respectively. The business plan is the most popular plan and includes 8 posts per month, auto-publishing and social media shares. The prices of blog posts at Copify are significantly cheaper than alternative content providers. Do keep in mind that you often get what you pay for. Given the importance of blogging for your company growth, this is not the best time to be skimping.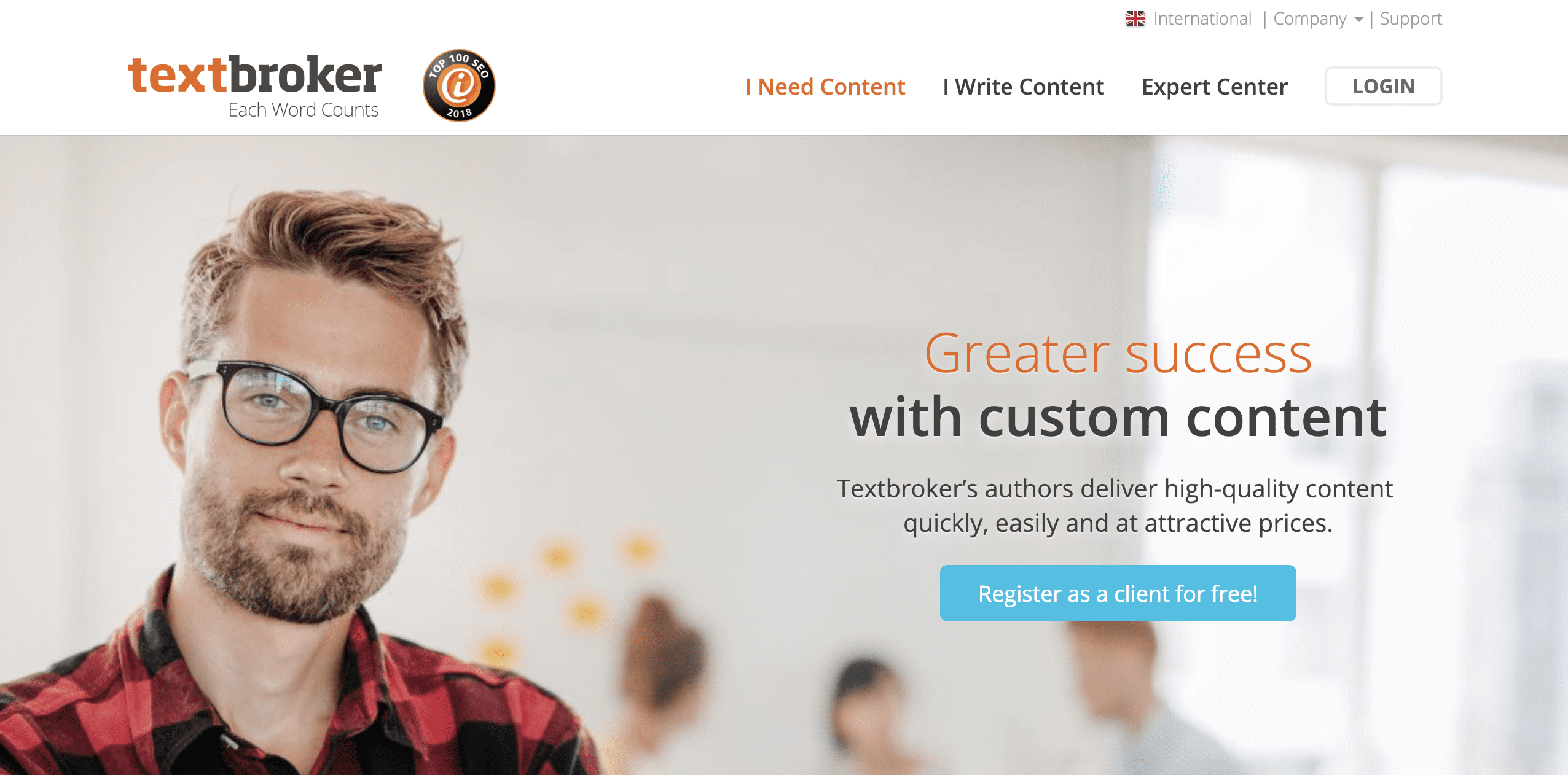 This content provider allows clients to choose the writers they wish to create their content based on their ratings. Users can choose a writer to whom to delegate a project, or they can select the 'managed service', whereby TextBroker will take over the entire administration process for you. Clearly, this may leave you with significantly less control over your company blog but is an effective way to save time if need be.
If you want to maintain an active blog with regular updates of relevant posts, TextBroker offers a recurring service, whereby the system automatically places orders for you, at your preferred quantity and interval. This service seems most convenient for businesses that wish to maintain an active blog. However, consider using this function with caution as it generally involves giving lost of control and authority to the external content provider. 
Self-service prices at TextBroker vary depending on the level and expertise of the writer. Starting at €1.3 cents per word, and €6.5 cents per word for a more qualified writer. Typically, for a 1,000-word blog article, you can expect to pay € 65.35. This pricing system based on the level of quality or expertise of the writer. Accordingly, TextBroker may be a good option if you are looking for a quick piece of content, which you plan to rigidly edit in-house before publishing.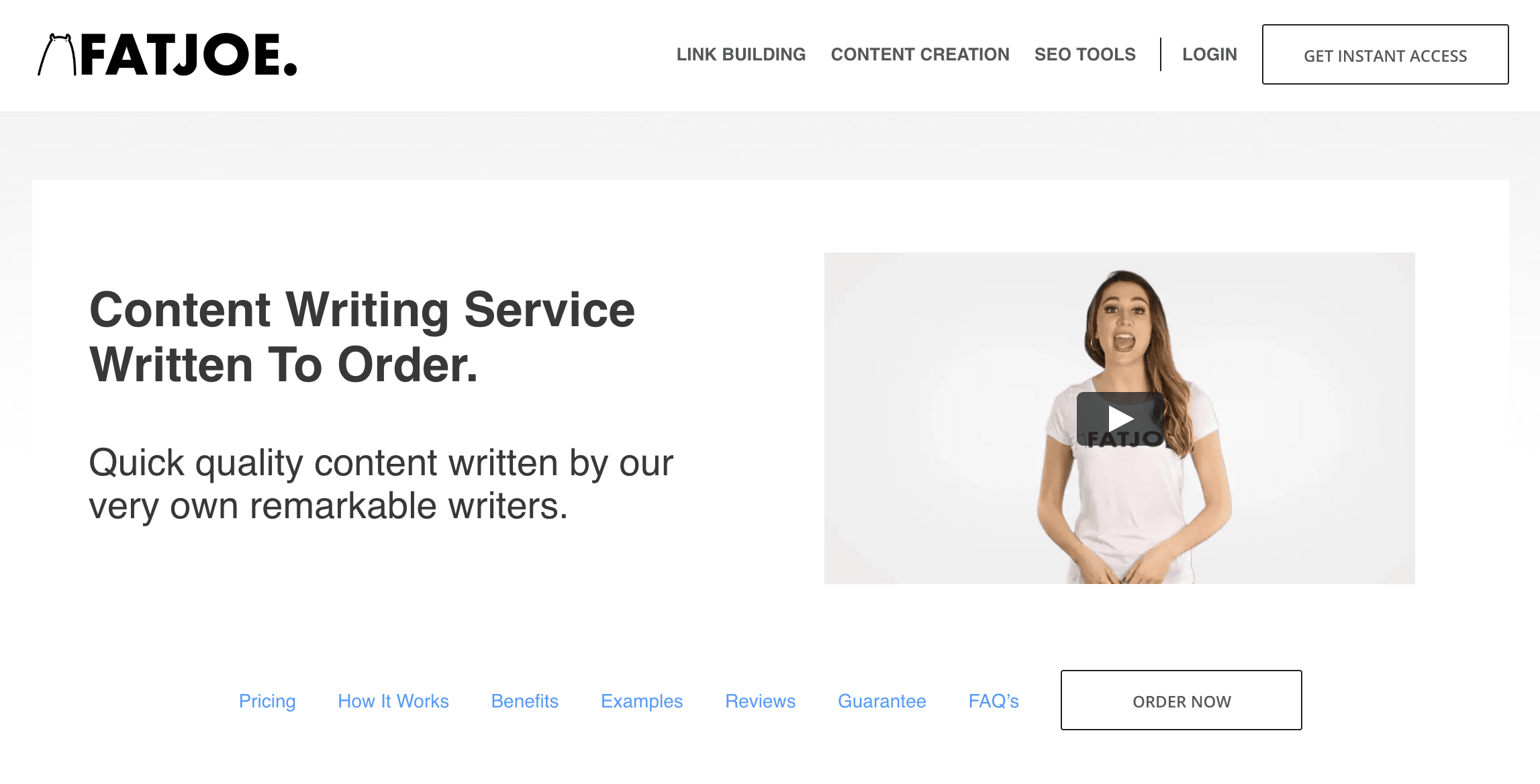 FatJoe offers a complete copywriting service. It is a good place to start for those who have a limited budget and do not require complex pieces. 
To place an order with FatJoe, simply select the length of the piece, create an account and pay for your order. From there, FatJoe will begin the work. It normally takes around 3 days for FatJoe to complete a 1,000-word article.  
You can keep track the progress of the order from your FatJoe dashboard. 
The pricing is for a 1,000-word article stands at £30. Whether this is a case of quantity over quality is down to the client. However, it can't be all bad though, considering 97% of customers that buy from FatJoe give them a 4-5 star rating.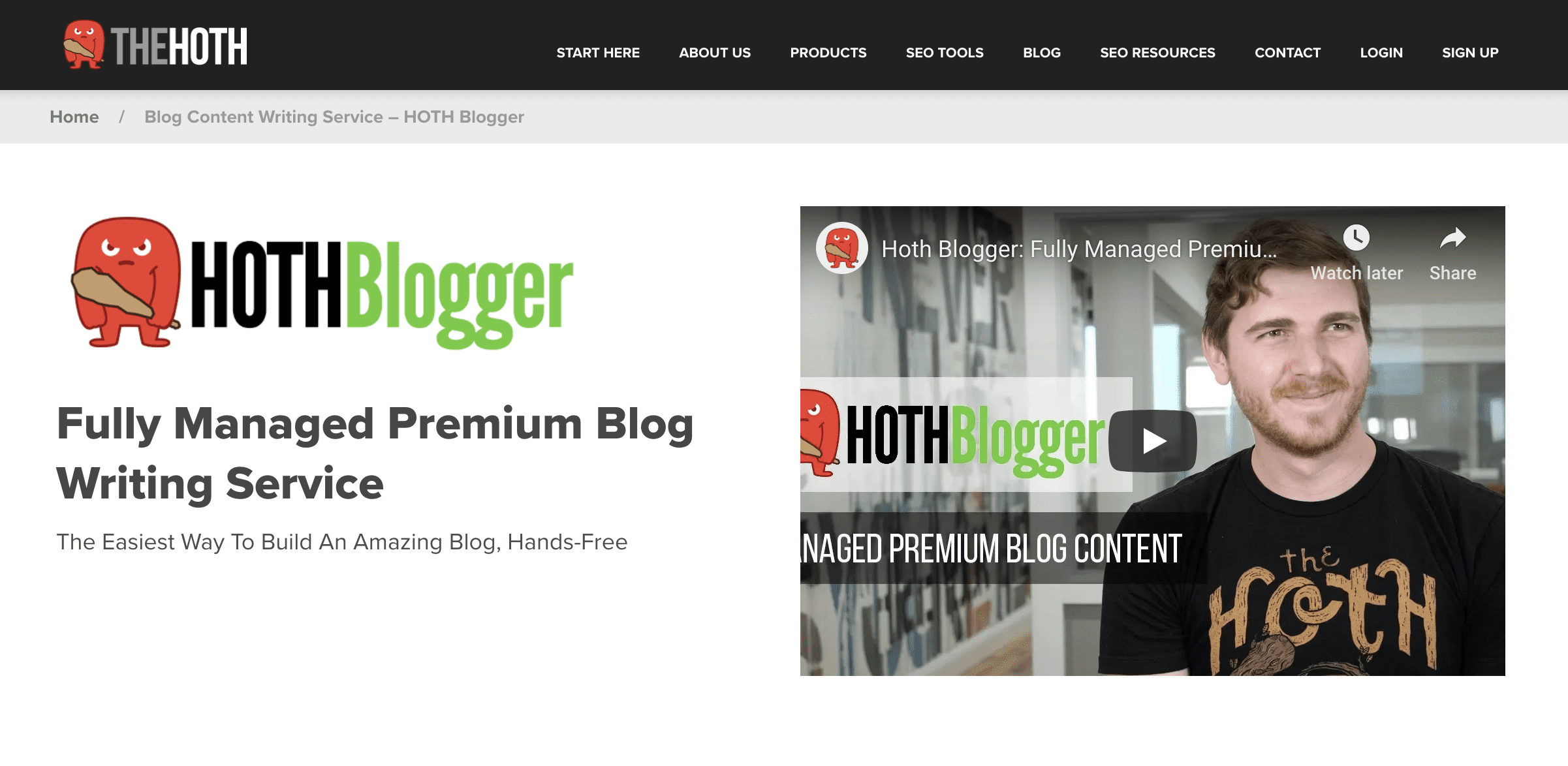 Put your blog on autopilot with the fully managed blog writing service from The Hoth. They will take over the entire process from topic ideation, content creation and publication and distribution. The Hoth aims to provide highly relevant, researched, professionally written content to clients blogs as an A-la-carte service or based on your monthly needs. 
The Hoth's premium service – Blogger Pro gives you access to expert niche writers who can match your brand's style, tone, and speak expertly to your target audience. The Hoth Blogger Pro offers higher quality blog posts, topic ideation, SEO optimisation, unlimited revisions, stock images, option to post directly to your blog and use of their comprehensive order form. 
In a simple process, simply sign up and choose between Blogger and Blogger Pro, explain a little about what you want to create, and that's it. The Hoth cracks on with researching your niche and generates blog post ideas. Once you approve the topic, The Hoth writers will craft the article, then it's time to post to your blog. Before this, you can approve or recommend changes. Only with the client's permission will The Hoth post directly to your blog.  
You can expect to pay £240 a month for four 1,000 word articles on Hoth Blogger. Alternatively, Hoth Blogger Pro at £520 per month will give you four 1,000 word articles a month and exclusive access to their comprehensive order form and expert writers from your industry.
Blog Writing Services FAQ
What is a blog?
A blog is a website or platform within a site that allows writers to publish content regularly. The tone can be either formal or informal and could be text-based or incorporate multimedia.
How can blog content help businesses?
If a business features a well-maintained blog section, its content has a great chance of having its keywords picked up by Google - enabling the website to rank higher within its results pages.
How can blog writing services help?
Regularly maintaining a blog can be tricky for small businesses. Blog writing services pick up the slack on behalf of website owners and use their expertise to produce content that's fine-tuned to ensure the company gets discovered by their target audience.
What are some of the most popular blog writing services?
Solvid, Scripted, Express Writers, Copify, TextBroker, FatJoe and The Hoth.