Founded in 2011, Scripted is one of the world wide web's most prominent marketplaces for finding unique content tailor-suited to your business.
Scripted was quick to establish itself as a leading resource for users looking to get quality content quickly and efficiently, and the company's vast network of countries served from across English-speaking countries and Europe has won plenty of customers.
However, Scripted's $149 per month membership plan that users are required to subscribe to before even purchasing written work coupled with recurring poor customer service has drawn some criticisms. Luckily, there are some excellent alternative organisations that are continuing to make impressive progress throughout cyberspace, and if you're looking to switch the platform and ad lib your way to quality content, we thought we'd create a short list of four great organisations to get quality content done.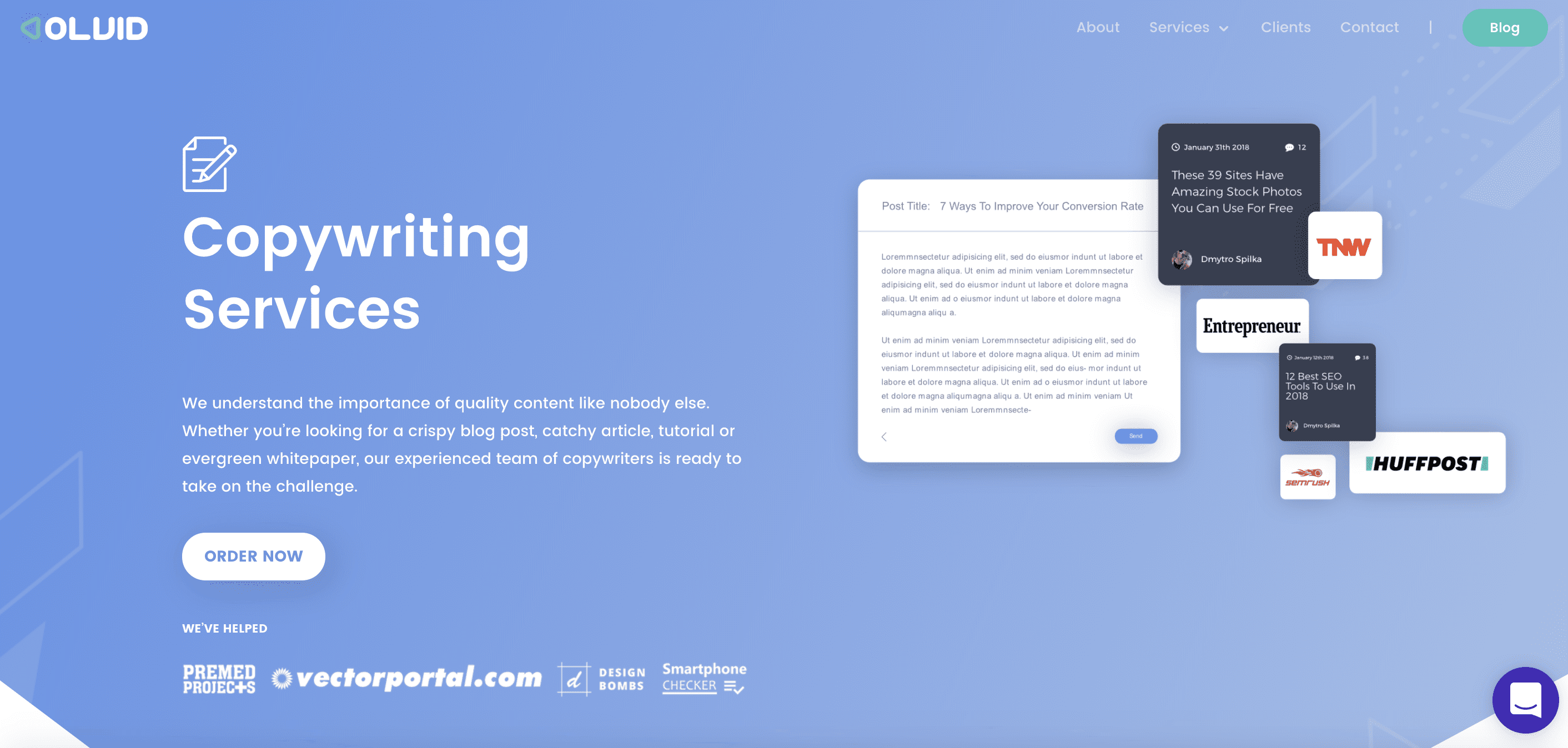 We had to include ourselves on top of this list. At the end of the day, we're here to earn that penny 
 And, we truly think we're your best option.
At Solvid, we pride ourselves on running an agency that focuses on producing the highest quality ethical content using effective and non-intrusive SEO practices. There's no cold calling or pandering to gambling, political or shady pharmaceutical organisations within our repertoire, just excellent content from a dedicated team of in-house writers.
In our ever-expanding portfolio, Solvid is proud to have had published content featured in the likes of Entrepreneur, HuffPost, BuzzFeed and The Next Web to name just a few.
The services available at Solvid extend well beyond content creation, with guest blogging, web design, fully managed SEO and website SEO audits all available for clients.
As part of our content creation process, we promise 'top notch' quality content crafted by a team boasting a healthy range of industry experience.
At Solvid, we are committed to providing a competitive 3-day turnaround time for a standard 1,000-word article.
We pride ourselves on providing unparalleled convenience when it comes to ordering content. Our website is filled with 'quick order' portals that allow you to instantly get yourself a quote and place an order for a predesignated quantity of articles – with no need to pick up the phone or send an enquiry email, saving plenty of time in the ordering process.
Learning is a beautiful thing, and at Solvid we're delighted to share our knowledge on the best SEO practices of the day and offer our insights on a range of content-related topics for free to our visitors. Our blog contains a wealth of industry insight as well as a jargon-busting glossary of SEO terms – just in case you've ever had any questions that have gone unanswered for too long. We're not one for hogging all of our secrets!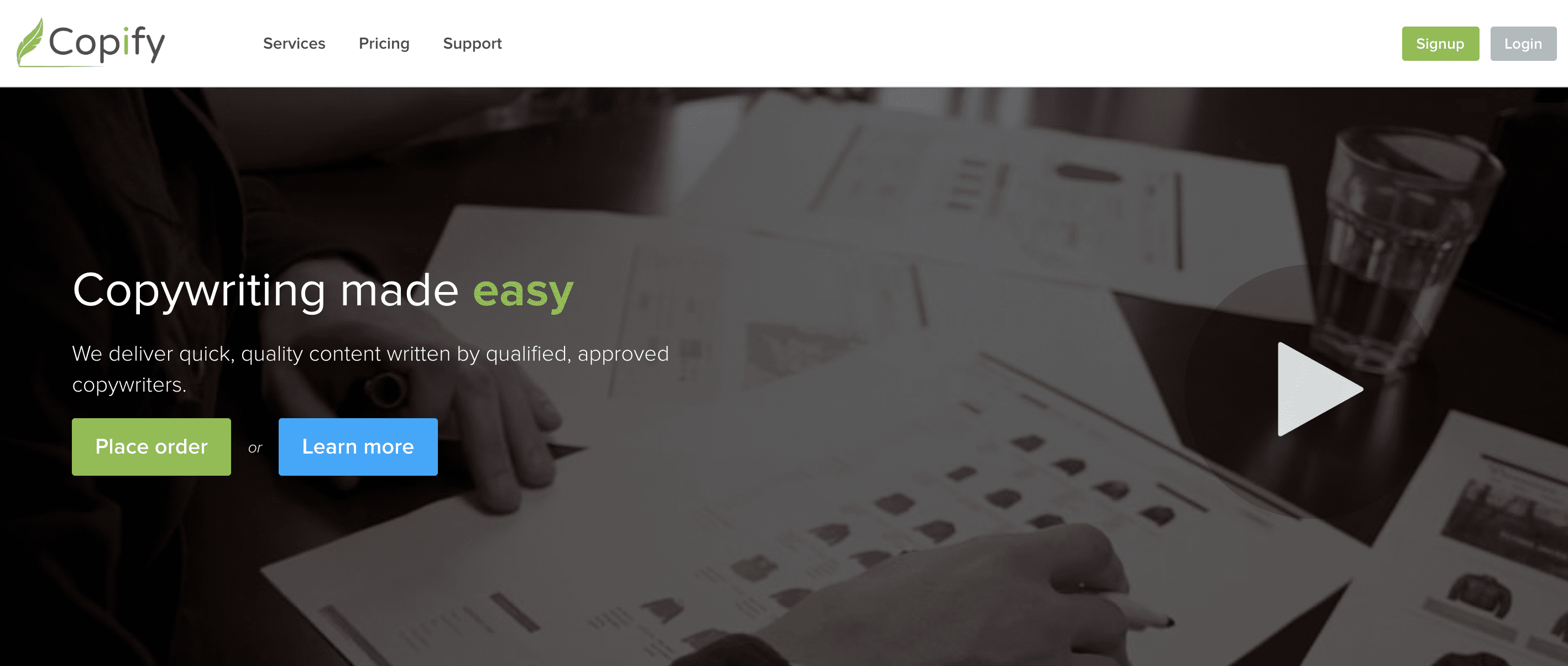 Copify has positioned itself as a market leader when it comes to content creation, and with a vast team of credible writers, it's no surprise that the efficient agency has found itself in such an enviable position.
All of Copify's writers go about their business remotely across the United States and the United Kingdom, and Copify is keen to ensure that all customers' writing projects get assigned to a dedicated 'native' writer, depending on the geographical location of either your business or target audience.
Copify have all bases covered when it comes to the type of content that's available for customers to utilise, including article writing, blog posts, press releases, product reviews, e-commerce content and SEO copywriting.
Because of the vast network of remote writers that Copify has the ability to tap into, you can have your own assigned worker making themselves available to commence work on your order within minutes, and the organisation pledges that 'most' of its orders are complete within 48 hours of submission.
Copify's content-on-demand attitude has made the company a market leader for businesses aiming to outsource written work while navigating tight deadlines.
One of Copify's best functions is its matchmaking algorithms that aim to provide the ideal copywriter for the project at hand. Their website promises that users 'simply fill in a quick form and we'll do the rest. We identify the most qualified, available copywriter for you.' Such an approach enables the customer to save time in reviewing bids and milling around proposals, and orders can be crafted instantaneously thanks to Copify's built-in 'brief builder.'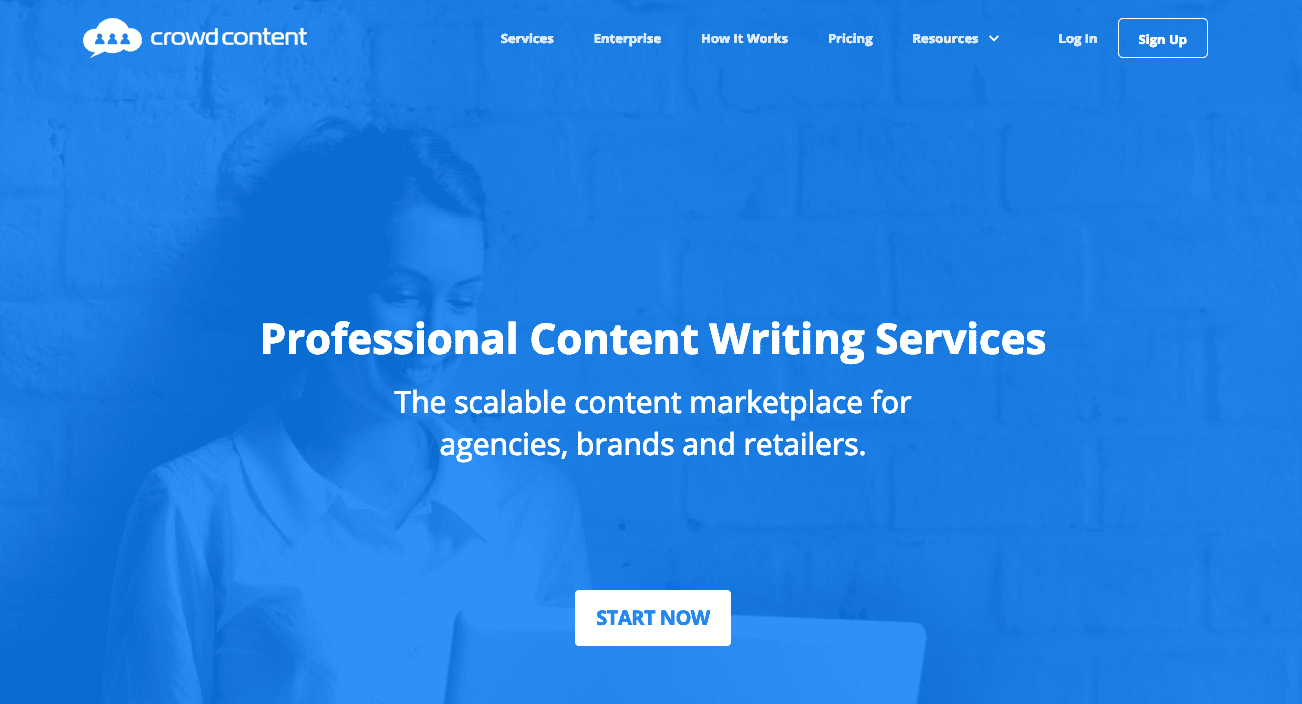 Crowd Content is a platform with a wealth of experience in producing content for its clients. With over 100 million words written by their remote team of US-based writers, it's fair to say that there's a healthy level of expertise within the company.
This agency isn't afraid of building up ahead of steam, either. Crowd Content has served over 6,000 businesses thanks to the 5,000 accomplished authors on their books.
Crowd Content also prides itself on providing a healthy level of convenience to clients. The platform's dedicated matchmaking services help to identify its writers' styles and approaches and pairs them up with the tasks that suit both them and the customers best. There's also an excellent 24-hour turnaround rate for 'most' orders – meaning that you'll be able to see your fully fledged content in next-to-no-time!
Despite the highly competitive turnover times, Crowd Content doesn't skimp on the quality. In fact, only around 15% of applicant writers pass the company's rigorous vetting process – with skills and attributes like creativity, spelling, grammar and organisation deeply assessed.
Crowd Content's also a richly diverse platform in terms of the type of content that its team of writers are capable of producing. Whether your business needs a 2,000-word blog post or a Local SEO City Page built, Crowd Content is on-hand to help. Other services covered by the agency include article writing, copy editing services, copywriting, eBooks, Facebook posts, ghostwriting, metadata, newsletters, press releases, product descriptions, review writing, SEO content, technical writing, tweets and white papers among much more.
It's clear to see that Crowd Content has the resources to handle just about any sized request from any company. If you're an ambitious e-commerce business that's looking to add keyworded product descriptions to your website as well as create compelling content for your pages, Crowd Content could well be one of the very best resources on the internet for getting the job done.
A lovely bonus for customers is Crowd Content's dedicated blog section, which offers a refreshing level of insight into SEO theory and practices – just in case you're itching for a peep behind the curtain to see just how the magic happens!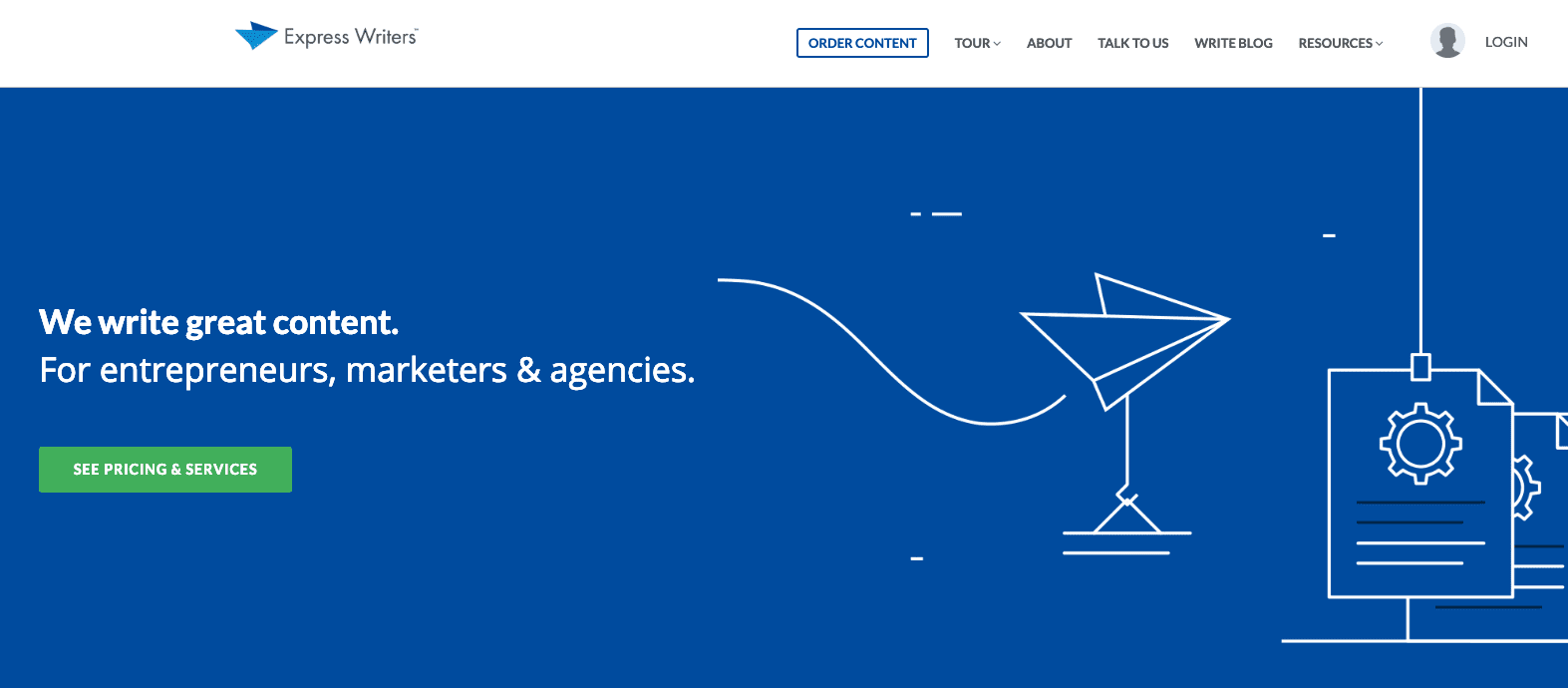 Express Writers understands the importance of customer satisfaction in the world of content creation. "We care about you, your brand, and your content needs," is the pledge that sits below the fold on their home page, and given how Express Writers hires only the very best authors in the industry it's a fair claim.
So stringent is Express Writers' selection process, that an astounding 2% of applicant writers ever go on to work for the company.
Highlighted as a 'thought leader' in content marketing by Forbes, Express Writers' CEO Julia McCoy knows a thing or two about getting quality content done. Back in 2011, McCoy decided to build a copywriting startup with a difference. Looking to hire only the most passionate and skilled staff, Express Writers experienced steady growth with an emphasis on prioritising the production of only the finest content.
Today, Express Writers has a team of over 90 copywriters, specially trained strategists, and social media managers.
The beauty of the services that Express Writers provides is how customisable clients' orders can be. The company's price list reads like an SEO menu for fine diners – clients can purchase authoritative 1,500-word content, intensely researched and edited short-form content, content strategy sessions, blog & web keyword research, topic analyses, email sequences, social media posts, social plans, blog plans and eBooks among many more tailor suited options.
The turnaround times for Express Writers' content ranges from 3-4 days for one to five pieces of 'general content' to 13-16 days for 25-50 pieces of 'expert content.'
Since its inception, Express Writers has prided itself on providing an excellent customer experience, achieving a '98% success rate with thousands of clients.'
To start working with Express Writers, you'll need to 'request an account' on the company's website. Once your business's account is approved the checkout process commences before management gets to grips with addressing your needs. Once the project is complete you're free to request up to two revisions at no extra cost.