Please Note: We can't speak for the quality and accuracy of the services provided by other companies. This article is based on our assumed popularity of the following service providers. This is not an endorsement of any particular service outside of Solvid.
Today's economic climate is not one for businesses to compromise time and monetary resources. Rather, time is money, and generating frequent blog posts can be a timely pursuit for many companies. To beat the clock and focus efforts on other areas of the business, companies have reached out to guest blogging services to have their company featured in popular, influential publications. This, in turn, leads to a flow of organic traffic to the linked website, resulting in better visibility and a boost in search engine rankings.
Guest blogging has generated a disturbance among the digital marketing community, dividing opinions on whether it has a place in the marketing mix at all. This derived from the surge of poor quality guest blogging that wreaked of spam. However, there are many services today that offer genuine guest blogging, and each differs in their capabilities and strategies – from FatJoe, to names like Solvid, The Hoth, OutreachMama, Webris and GuestPost.com.
Finding the right service for you is made easy with this comparative guide that highlights exactly what you can expect to find and where to find it.
FatJoe offers a comprehensive guest blogging and blogger outreach service that is suitable for SEO's and agencies. Upon placing an order with FatJoe, simply provide the anchor text or the URL you wish to circulate, and decide on your content length, DA, and a number of guest posts you wish to create. At this point, FatJoe will begin to reach out to bloggers and evaluate the opportunities available to them. Once a placement has been secured, FatJoe's team of copywriter will craft expertly written blog posts which relates both to the blog audience and includes a natural in-content editorial style link to your site. Job done.
From within your FatJoe dashboard, you can keep track of each placement as it is secured. The same dashboard provides information on full Domain Authority metrics and allows you to export an unbranded plain text copy for white labelling. Aside from this, all that's left to do is sit back and watch the traffic to your site increase substantially.
Paying for guest blogging at FatJoe is considerably cheaper than what one might expect to pay elsewhere. For low to mid-tier DA guest blogging, the cost is between £35 – £50 per article. DA of 30+, 40+, and 50+ cost £17, £180, and £360 respectively. It should be kept in mind, however, that you get what you pay for. It can't be all bad though, considering 97% of customers that buy from FatJoe give them a 4 or 5-star rating.
If your website is in need of a traffic boost or an enhanced ranking on SERPs, and you come across FatJoe, don't stop there. There are plenty of alternatives that might be more compatible with your requirements. Here are four to name a few: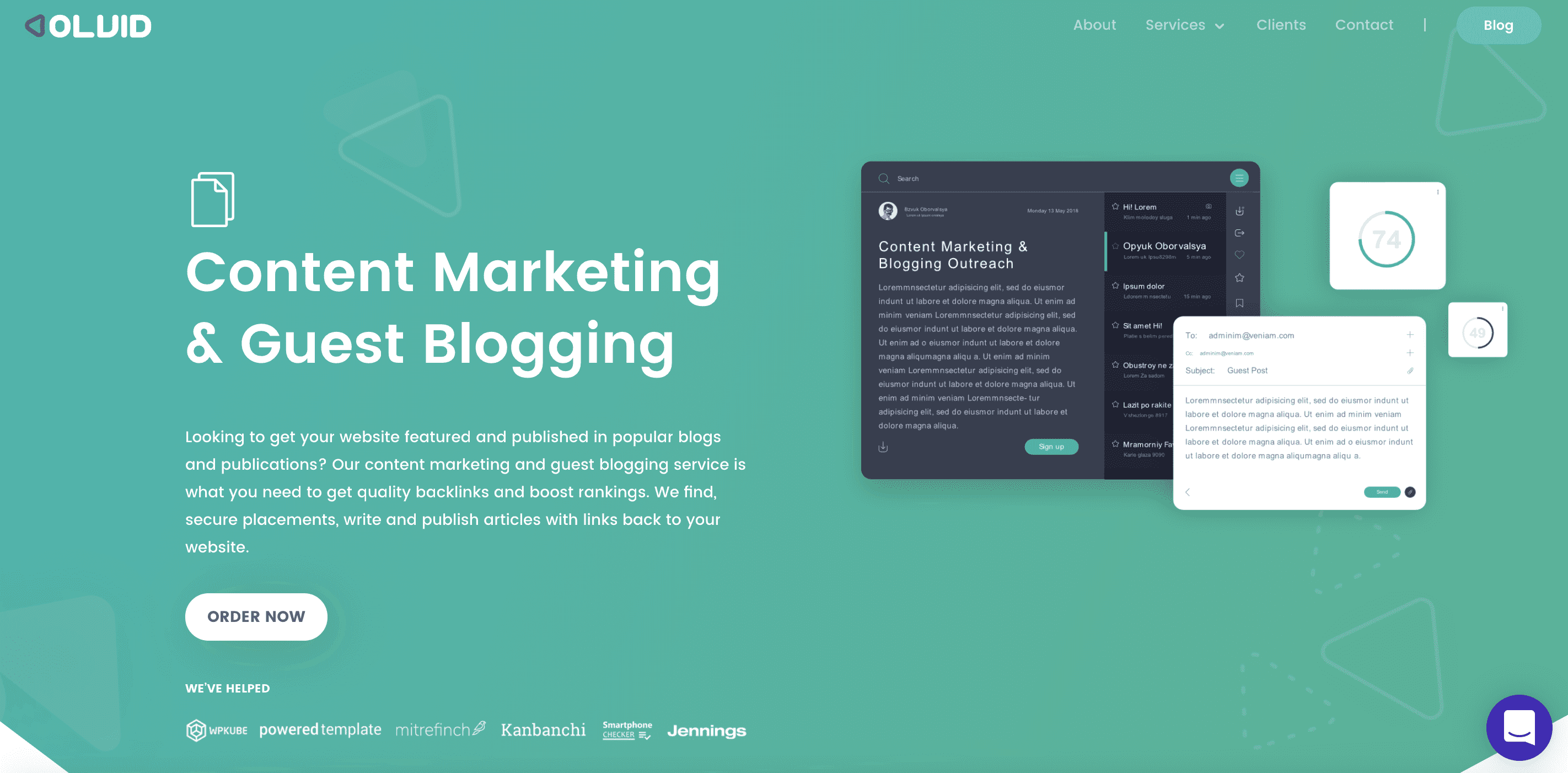 We had to include ourselves on top of this list. At the end of the day, we're here to earn that penny 
 And, we truly think we're your best option.
Guest blogging at Solvid is made simple and effective by the combined efforts of our professional content writers and outreach specialists. Our services are perfect for anyone looking to get their website featured and published in popular blogs and publications. We understand the importance of getting quality backlinks and the valuable implications of ranking well in search engines. Our comprehensive service finds and secures placements, and writes and publishes articles with backlinks to your website.
Our team of experienced in-house content writers at Solvid ensure that each piece of content is well researched, well written and infused with the latest trends in your industry, to make sure that your website is affiliated with expertly written copy.
When it comes to securing articles in highly desirable and influential publications, Solvid's track record says it all. We've written for numerous authoritative websites, including HuffPost, Entrepreneur.com, VentureBeat, TechRadar, Business.com, TNW, GoDaddy, BuzzFeed and more. Our work has been mentioned by a number of influencers like Rand Fishkin, Syed Balkhi and Brian Dean.
You won't find any bio or low-quality links that drive no value at Solvid. Our guest blogging service is the most effective way to get the finest, editorial in-content backlinks to improve traffic and boost rankings. Just check out our portfolio for evidence of this.
We believe in the granular selection and 100% manual outreach. No single step of the process is automated. This way, we are in full control of where your website URL is published, and we make sure they are genuine, relevant sites for your niche. These are never PBNs or low-quality blogs.
The cost of Guest Blogging at Solvid varies depending on the minimum Domain Authority of the blogs and websites you wish to pursue. Generally, the higher the Domain Authority, the more referral traffic you can potentially get and the stronger the link is. Consequently, you can expect to pay between £395 – £595 for a mid-high DA published article. Alternatively, make use of our 'quick estimator' tool to determine the price of multiple articles at different DAs.
Placing your order online only takes 5 minutes to complete. Once you receive your order summary and confirmation, you can be sure the work is well underway on our side. Right away, we start researching, outreaching, pitching, producing and publishing articles. We utilise pre-existing relationships with numerous blogs and publications to get you noticed. We're committed to achieving all of this in an industry beating turnaround time of 15 days.
When the work is done, you'll receive a plain English report that outlines the work completed.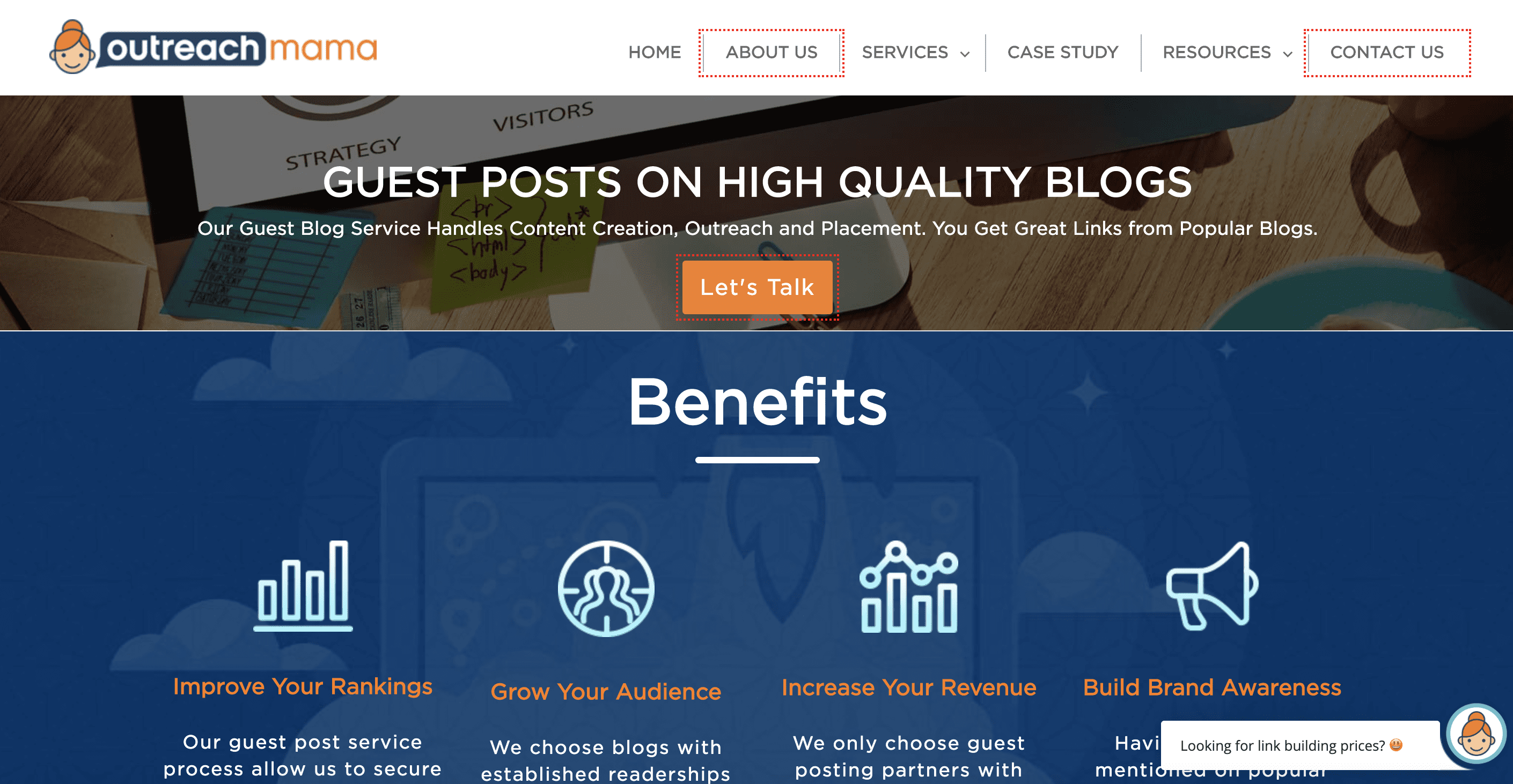 Content is king, but as there are many alternative content writing services out there, OutreachtMama believes that promotion is their biggest differentiator. Therefore, great SEO at OutreachMama starts with great content and editorial promotion. They use their relationships with online publishers to ensure they provide their clients with high-quality backlinks and brand mentions.
The team is comprised of content writers, SEO experts and PR professionals that offer years of combined expert industry experience. Their guest blogging services promises to work closely with you to develop the content and link building strategies that work best for you, in order to grow your audience, build your brand, and increase your SEO and revenue.
OutreachMama understands the importance of reliable communications, and takes pride in keeping clients up to date. Upon collaborating with this guest blogging service, you can expect to receive weekly reports on updates and progress.
To begin with, OutreachMama will identify the best content on your website to link in your guest post. If you don't have the perfect piece, they will create a story for you. Then comes the pitching. They reach out to blogs and websites to secure guest posts on blogs with a readership that is relevant to your industry, and you get to approve this list.
OutreachMama's typical turnaround period for a standard project is around 30 days. During this period, they keep you updated on the process with weekly messages and recommendations for other link building opportunities. It should be noted, that whilst they attempt to build links and provide reports in less than 30 days, high-end editorial links can take much longer, due to the busy content calendar of the most influential and popular sites. Such high-quality links might take several months to process. However, all good things take time. The best results in guest blogging and link building are seen over a period of time of consistent efforts. Patience is key.
One of the niceties of the services of OutreachMama is their link replacement guarantee. It is not always guaranteed that blogs and websites will remain active for any given period. You might buy 100 links and at the end of the year, half of them no longer exist. If a link does disappear within the first year of its initial purchase, for whatever reason, OutreachMama will try to get it reinstated. If this is not possible, they will replace it with a new link on a different site for free.
OutreachMama does not display their pricing on their website. Rather, clients are encouraged to make contact and discuss pricing with their sales team. A few factors determine the price, such as the complexity of your industry, the quality of your existing site and what services you require. On average, you can expect to pay around $80 per link they build for you.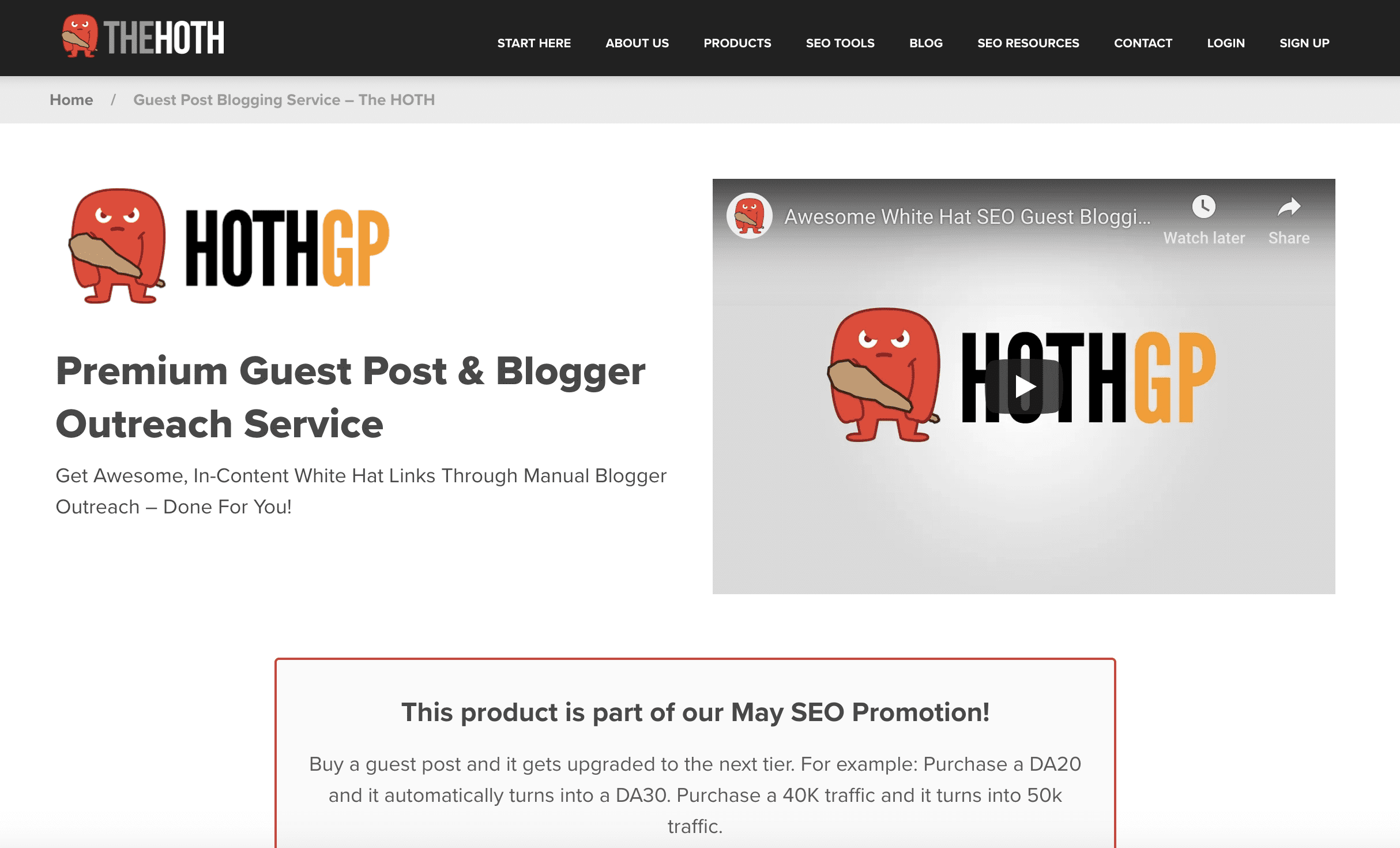 The Hoth offers a range of services to help clients gain backlinks to their websites, improve traffic, and boost rankings. These differ in price and range from the HOTHGuestpost – for in-content links on authority sites, HOTBlitz – which offers DA 15+ permanent homepage backlinks, and HOTHLocal – which gets you listed in the top local and industry directories to increase your local prominence.
The Hoth guest blogging utilises manual outreach to quality sites, secure a placement, craft unique and industry engaging articles with links back to your website, ready to be published. They claim there will be no cramming in junk keywords, but rather, writers at Hoth are dedicated to creating quality articles geared toward providing value to the audience for the target site specifically.
Ordering guest blogging articles from the Hoth is simple to do and massively convenient, yet there are some apparent limitations with regards to customising your order. Begin by choosing your criteria. Pick between a guest post with a minimum Domain Authority ranking, or a guest post with guaranteed monthly traffic. When it comes to customising your order as per DA strength, content length and quantity of articles; they are limited at DA50, 1,500 words and 100 posts respectively.
Pricing at the Hoth, like most other guest blogging services, depending on the customisation of the client's order. The price factors in the product, quantity, length, and DA ranking. A 500-word guest post on a 40+ DA website will cost $400. You can expect to pay $200 for a guest post on a site with 1,000 organic monthly traffic.
Clients using the Hoth for their guest blogging services cannot see or approve the article before it is published. Rather, the Hoth relies on its positive reviews and experience in writing guest blog articles to gain clients. Whilst this is a nice sentiment, it reduces the level of control clients have over their online presence.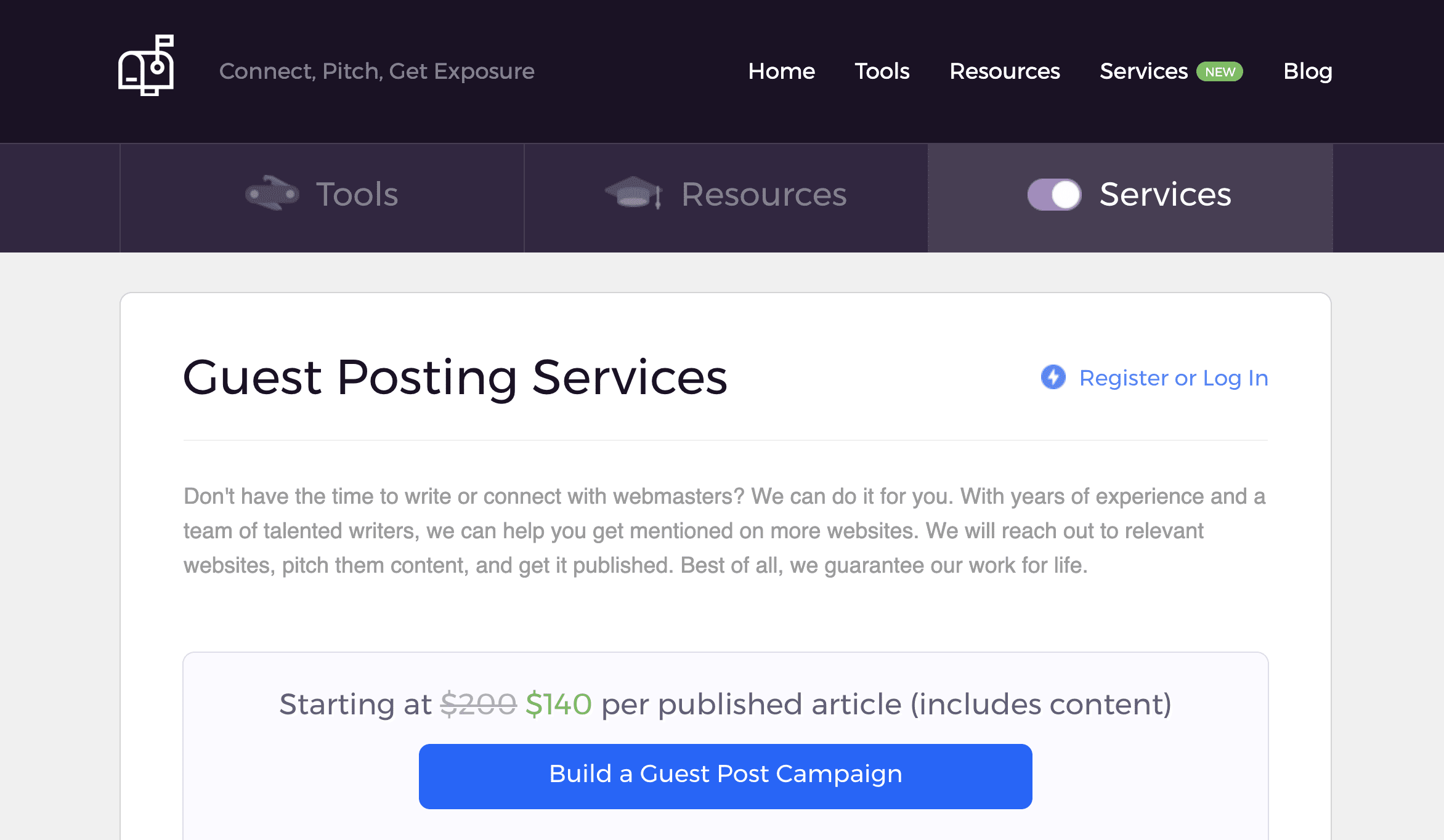 GuestPost.com is essentially the Swiss army knife of link-building resources. It comprises a set of tools that writers and marketers alike can use to plan, organise, research ideas, find editor email addresses, and pitch their content all in one place. It also doubles up as a service provider of guest blogging, whereby GuestPost.com writers use the sites comprehensive toolkit to help clients with their link-building and traffic boosting needs.
The process by which this comes to light is simple. GuestPost.com receives your order, and starts searching for websites that match your criteria. Next, they reach out to websites and blogs to pitch creative ideas, with the aim of securing placements. Upon approval, their team of content writers begin to write the articles and notify you when it has been made live.
Ordering guest posts on GuestPost is simple and flexible. Use the online form to order one off posts or being to build a guest post campaign. First, indicate the number of articles per DA you require. For example, you can choose 4 articles of AD40 and 3 of DA60. This flexibility is almost like DA 'Pick n Mix'! The next step allows you yo leave optional comments for each article you order. If you don't have any, just move on and GuestPost.com will assume the rest. Finally, review your generated total cost and expected completion dates and place your order.
GuestPost.com is clearly less personalised than alternative guest blogging services. They require very limited information on you and your website. This, and the lack of open communication services, leaves the client with very little control over the guest blogging process. This provider is most suitable for those who lack the time to dedicate to its content marketing strategy. Guest post campaigns are perfect ways to continuously drive traffic to your site, with very little effort on your side.
Starting prices at GuestPost.com sit at $140 per published article on websites of DA 10 – 20. You can expect to pay $190 per DA20 – 30 article, $250 per DA30 – 40, and $600 for 'premium' sites of DA 40 – 60+. The comprehensive online order form GuestPost.com makes calculating costs simple.