Please Note: We can't speak for the quality and accuracy of the services provided by other companies. This article is based on our assumed popularity of the following service providers. This is not an endorsement of any particular service outside of Solvid. 
Today, digital innovations have changed the way businesses interact with their audiences. Consumers are better informed and have a platform to voice their opinions. This is mainly due to numerous platforms and social media sites that have changed the marketing game completely. Businesses are forced to think outside of the box and advertise more creatively. The need to capture their audiences' attention has become increasingly harder, considering the amount of content being published on a daily basis. That being said, one of the most effective and efficient ways of promoting a business is through quality guest blogging.
Due to the variety of content that can be placed online, blogging and vlogging have both had a positive effect on businesses. Although both consist of different types of content, blogging is naturally text-heavy, whereas vlogging primarily involves visual content. 
As consumers, we relate and choose content that we wish to engage with. Some prefer watching videos, whereas others prefer reading text copy. Because of the way that people pick up on the content, it's important to realise that even though businesses are given the opportunity of producing different content formats, written content should never be neglected.
One of the main challenges organisations are faced with is the inability to do produce copy that engages, attracts and ultimately sells. Let alone when it comes to pitching and publishing that content outside of their own website. These difficulties have given rise to the service known as guest posting (A.K.A. guest blogging and blogger outreach). Guest posting is the process of producing a piece of content and placing it on a 3rd party website (e.g. blog or publication) with the main aim of driving referral traffic, increasing brand's reach, improving organic search rankings and driving backlinks to the website.
Some companies, The Hoth being one of them, have noticed the demand in such services.  
The Hoth helps businesses increase traffic by offering a full range of services, including guest posting, content writing, analytics and other SEO services.
Due to the popularity and demand in guest blogging, The Hoth is not the only business to offer these types of services. Here is a list of alternatives to The Hoth's guest posting service to help you excel and find the service that you're most comfortable with.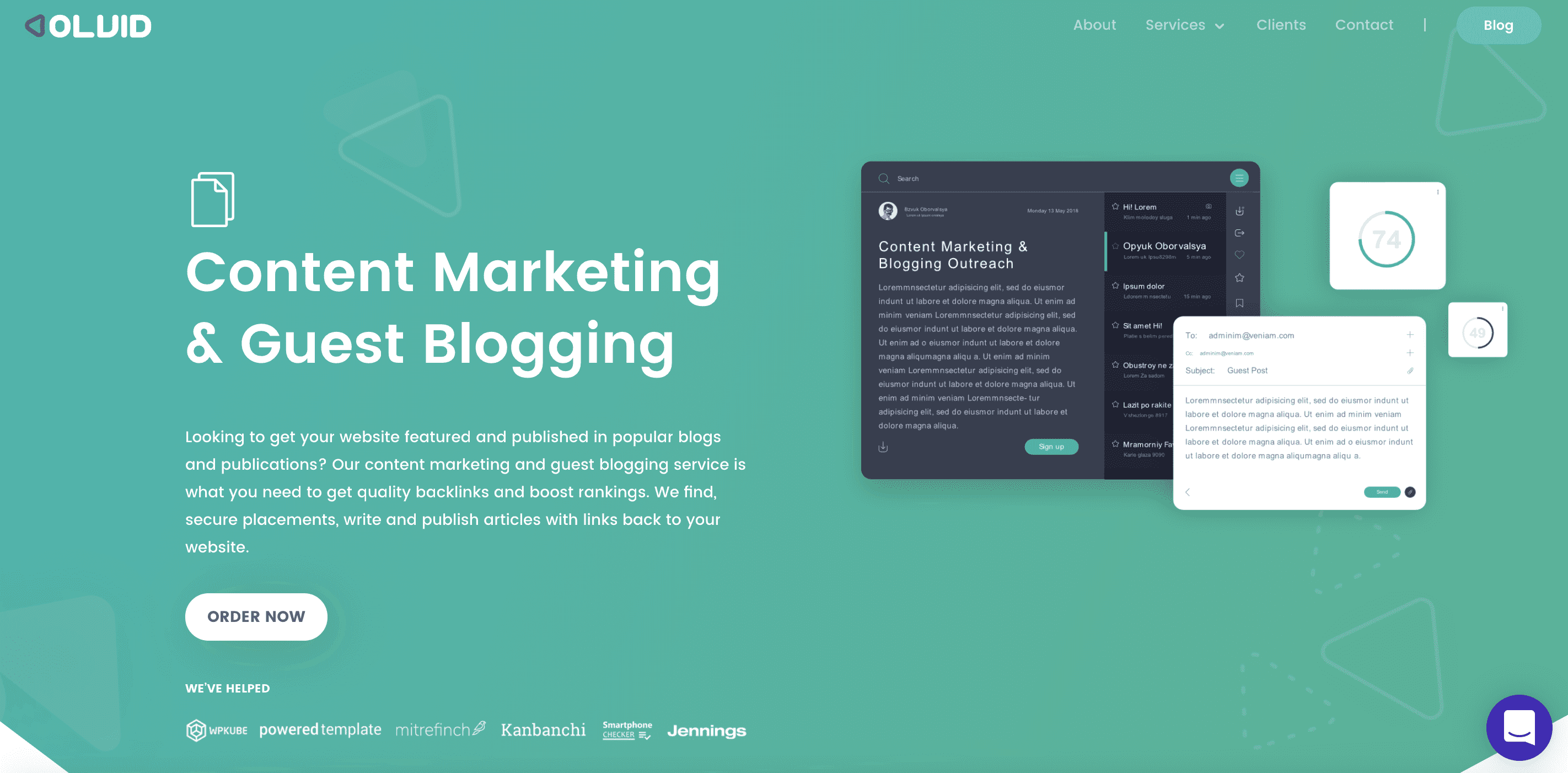 We had to include ourselves on top of this list. At the end of the day, we're here to earn that penny 
 And, we truly think we're your best option.
With a team of in-house copywriters, Solvid offers a wide range of high-quality content solutions. From copywriting to quality guest posting, we thrive to provide the best result for our clients.
We offer our customers tailor-made content that directly relates to their target audience, creating connections and conversations. We start by analysing the client's industry, needs and objectives. 
Our guest posting services cover a wide range of industries. From accounting and law firms to blockchain and fintech startups, we can help most businesses gain online coverage they deserve. 
The entire process is 100% manual – no single step of our guest posting service is automated. Our team hand-picks genuine, relevant websites to your niche – these are never PBNs or low-quality blogs. Then, our team proceeds with the outreach (contacting bloggers in order to secure a placement). As soon as the placement is secured, our copywriting team produces the piece according to the editorial guidelines of the blog and publishes the article with a clean, genuine link back to your website. 
This careful approach ensures that the article is relevant to your niche, genuine and fits in perfectly with the audience you're trying to reach.
Our pricing plans are structured in a clear and competitive manner: 
Domain Authority 20+ – £145/placement
Domain Authority 40+ – £395/placement
Domain Authority 60+ – £595/placement
Domain Authority 80+ – £895/placement
Each package includes a 700-word article and at least one link back to the client's website.
Getting a quote couldn't be easier. We've built a convenient ordering system to save our clients time and frustration. Once the order is placed, you are sent access to our CRM where you can easily track the progress.
We're committed to achieving an industry beating turnaround time of 15 days for single article placement.
We aim to offer our clients ease along the content creation process, taking suggestions and turning content into a masterpiece. 
Our guest blogging service can work wonders for all businesses, agencies and bloggers that aim to increase the online presence of their websites or the sites of their clients. 
Our content portfolio speaks a thousand words!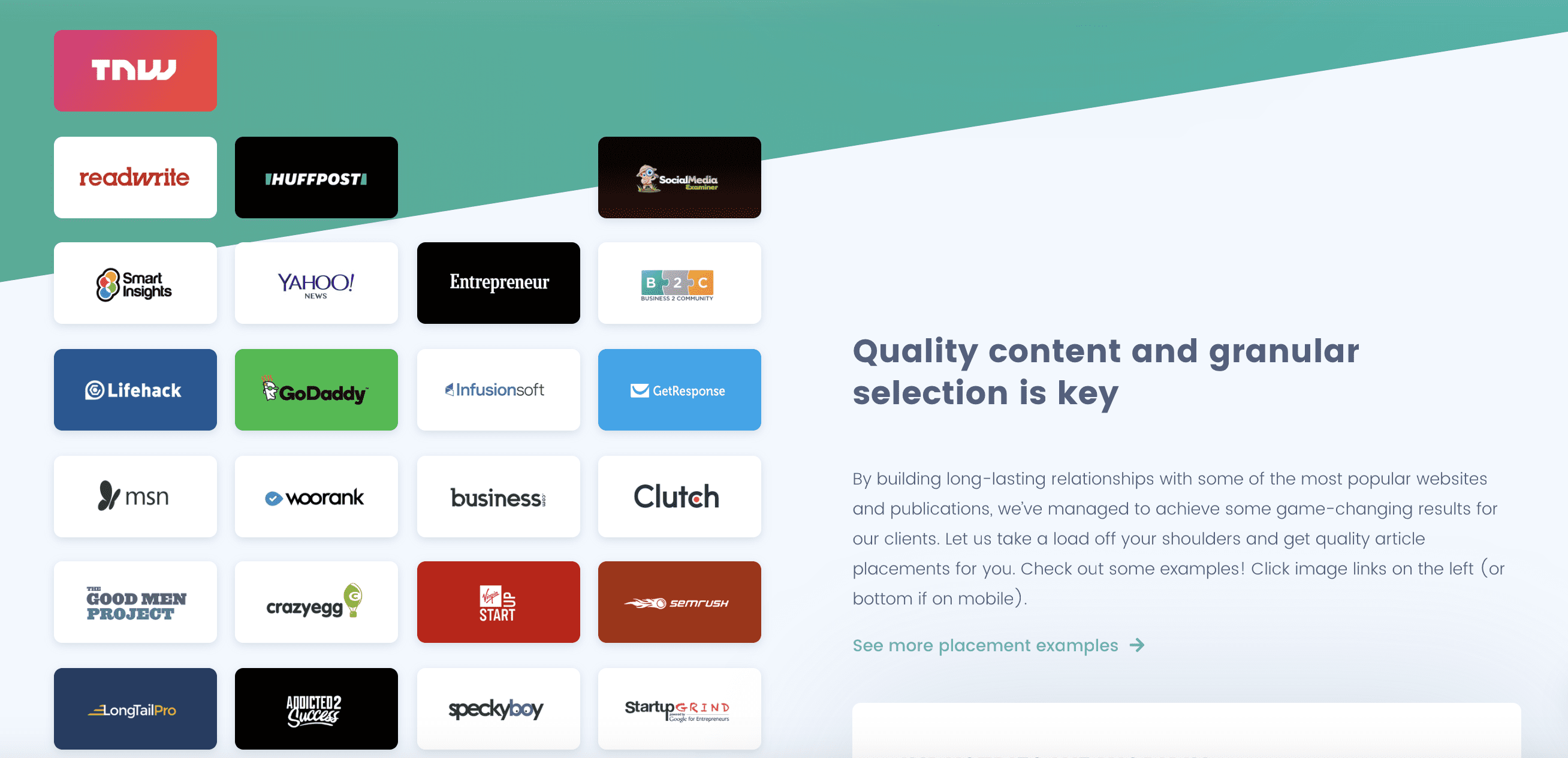 Aside from our guest posting services, we also offer a range of other services, including copywriting, website SEO audits and fully-managed SEO service.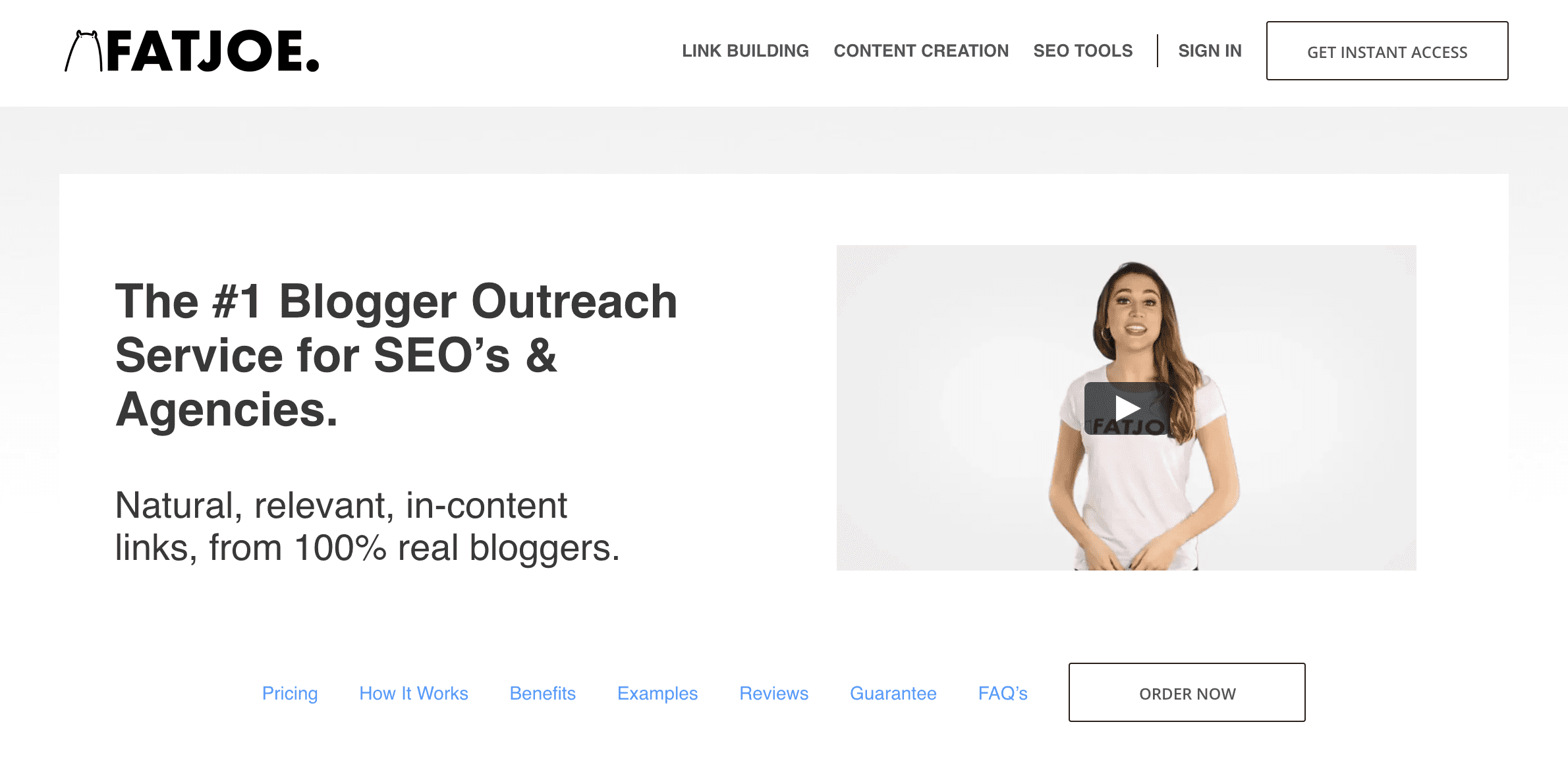 FatJoe specialises in content creation and link building services for SEO agencies in the UK, US and Australia. Their pool of UK and US writers offer their clients plenty of choice and flexibility. 
FatJoe's blogger outreach services start at only £35 for a single placement on a DA10+ blog/publication. 
Their online portal makes placing an order easy and straightforward. Clients are required to fill out and complete a form, outlining their project details, including target URL and anchor text. Then, the project is allocated to the most suited writer on their team. Once completed, the copy is proofread and published on a suitable blog. The turnaround time for a single placement is usually ~10 days.
With a range of different price plans and packages, clients are able to see the exact cost of the project. Before committing, make sure to check out some of their placement and content samples to ensure it's your best fit.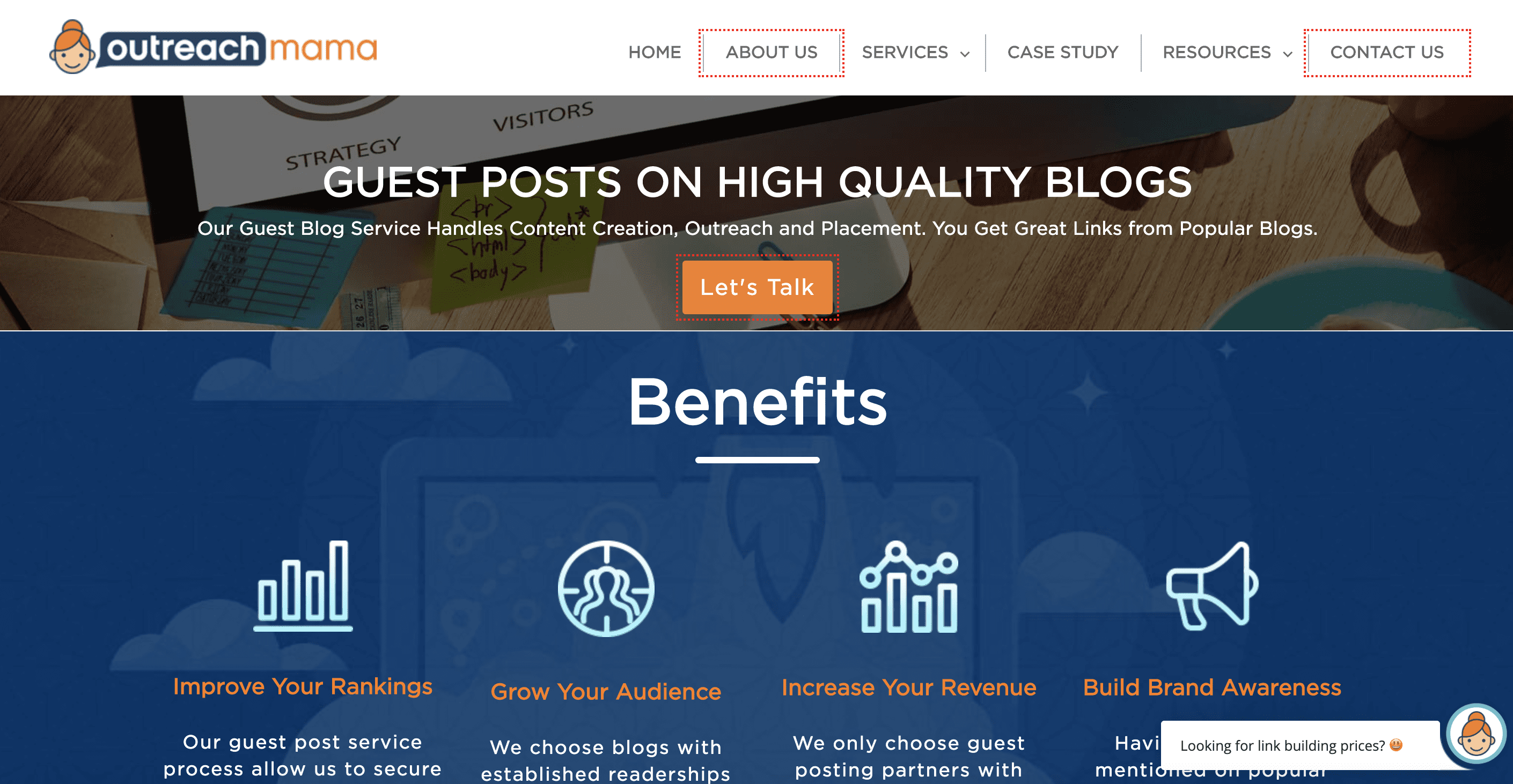 OutreachMama handles content creation, blog outreach, and guest post placements. They start the process by developing pitches, identifying targets and reaching out to bloggers on your behalf. Because not all businesses are well equipped with the right know-how, OutreachMama can be a good option to outsource your guest posting needs. 
They go through their inventory and reach out to industry blogs to find, pitch, and secure guests posts on blogs with a readership that is relevant to your industry. 
Once targets are identified, they will put together content ideas that fall in-line with your guidelines and then proceed with the pitch.
Once the placement is secured, their content writers produce the copy for publication. When the post is published, OutreachMama will reach out with a report.
It's currently unclear how much OutreachMama charges for the guest posting service and what kind of authority level you can expect.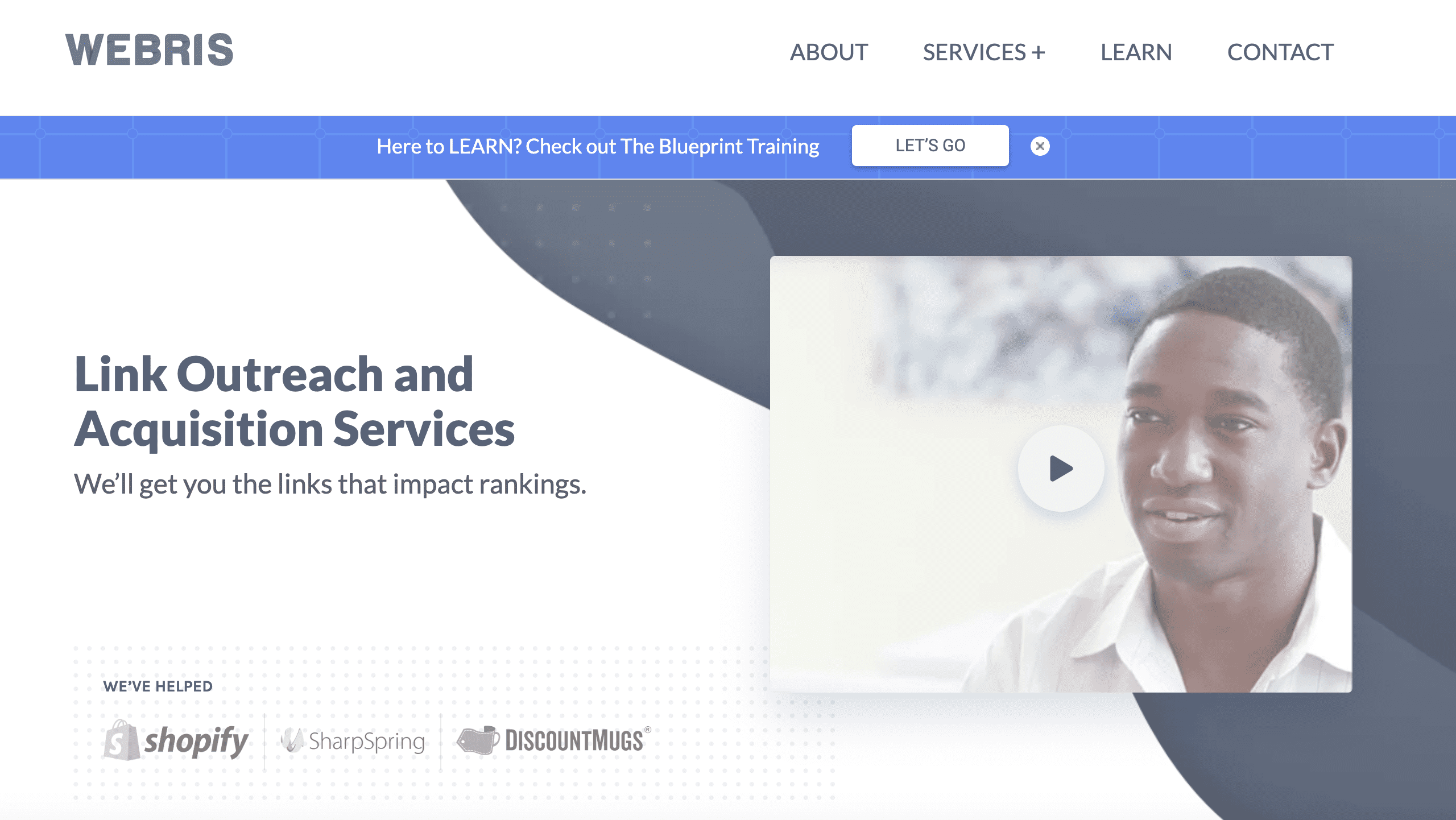 Although Webris do not directly offer guest blogging services, what they do provide is link building services that partly consist of guest posting. 
Webris provides white hat link building based on manual outreach campaigns that are tailored to client's business.
They begin with a strategy where a dedicated link building consultant creates an acquisition approach tailored to your business. This strategy includes a competitive audit, existing link audit and details of the outreach tactics they will use to secure links.
Once the planning stage is complete, they'll begin prospecting using advanced search engine operators.
Moving onto the next stage of the service, email pitching begins. Depending on the nature of the business, an appropriate pitch will be used in a campaign, be it a guest post or resource page inclusion pitch. At the end of every month, the client receives a full report with all links acquired throughout the campaign. 
To start your campaign with Webris, all you have to do is schedule a consultation by filling out a form.