If you want to make your website more visible and accessible online then there are few more effective ways to propel yourself into the limelight than through content marketing.
Content marketing is important because it instils a level of confidence in a brand by demonstrating industry expertise, authoritativeness and trustworthiness through satisfying the searching needs of a target audience.
Since its rise to prominence as a more earnest and transparent form of brand-promotion, content marketing has become an omnipresent feature among successful websites online – with organisations willing to invest increasingly large chunks of their budgets in the production of informative and entertaining copy that can act as a draw for readers.
Express Writers is one of the earliest and most reputable success stories in a vast field of content agencies. The company's rigorous vetting process means that only 2% of applicant writers are accepting onto the decorated team of industry experts.
Founded by Julia McCoy, a best-selling author and Forbes 'thought-leader', Express Writers is not only capable of supplying customers with varied and high-quality content but also capable of strategising SEO plans and the company even provides a dedicated podcast to help audiences peek behind the curtain.
Express Writers is certainly a strong resource for users looking to build a solid content strategy for their business but in such a competitive industry that's increasing alongside client demand, more and more capable alternatives are cropping up around the world. If you're looking to get quality content done, and at a competitive rate, then here are three leading alternatives to try out: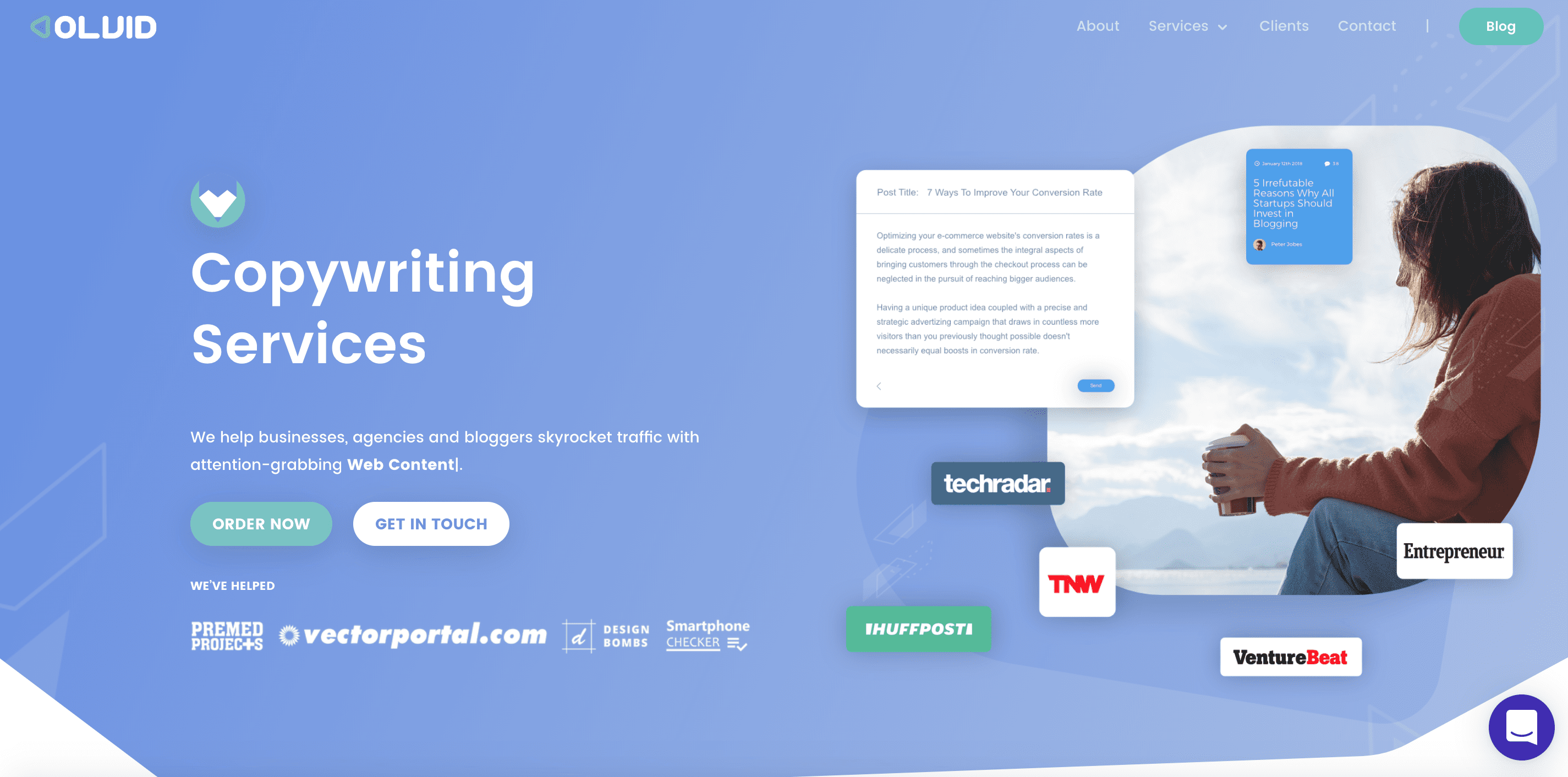 We had to include ourselves on top of this list. At the end of the day, we're here to earn that penny 
 And, we truly think we're your best option.
At Solvid we don't like to blow our own trumpets too much, but we wouldn't be a very good SEO agency if we didn't list ourselves as one of the best alternatives to Express Writers on the web! Our company takes as much pride in producing the finest written work for clients as we do in operating an ethical business model.
Clients will find no gambling, radical politics or shady pharmaceutical organisations among our clientele, and we make sure that no jobs are taken on if the requested work appears to take an underhanded or exploitative tone.
Our in house team of professionally skilled writers bring us the utmost confidence that even the most esoteric of orders can be completed with satisfaction assured. From long-form content to guest blogger outreach – all of your SEO needs are in safe hands with Solvid.
We specialise in catering to all of your quality content needs. However, it's important to point out that there are more strings to our collective bows than that. Customers can call on Solvid to carry out thorough website audits, or design an entire business site, carry out high-quality content marketing or copywriting among plenty more implementable SEO approaches designed to boost your virtual visibility.
At Solvid, we're aware of the true value that meaningful content brings to your organisation in the eyes of target audiences and clients. Every part of our projects is thoroughly researched and edited while we look to build a deeper understanding not only of your brand but of the potential customer base that you're aiming to attract through high-quality output.
We've enjoyed building a healthy and diverse network of clients that include The Society of British Interior Design, V-Tennis, Smartphone Checker and Mitrefitch among many other excellent organisations from around the world.
We're certainly no strangers to bringing the high-quality exposure for our clients, and we're delighted to have had our content featured in esteemed outlets such as Entrepreneur, HuffPost, VentureBeat, TechRadar, BuzzFeed and The Next Web to name but a few.
At Solvid, we're focused on bringing unparalleled convenience for our customers when it comes to purchasing content. Our website contains numerous 'quick order' portals that enable customers to swiftly calculate quotes and place orders instantaneously for a specific number of articles. With no need to pick up the phone or send any emails, you get to save plenty of time in ordering your quality content.
Prices start at £0.15/word.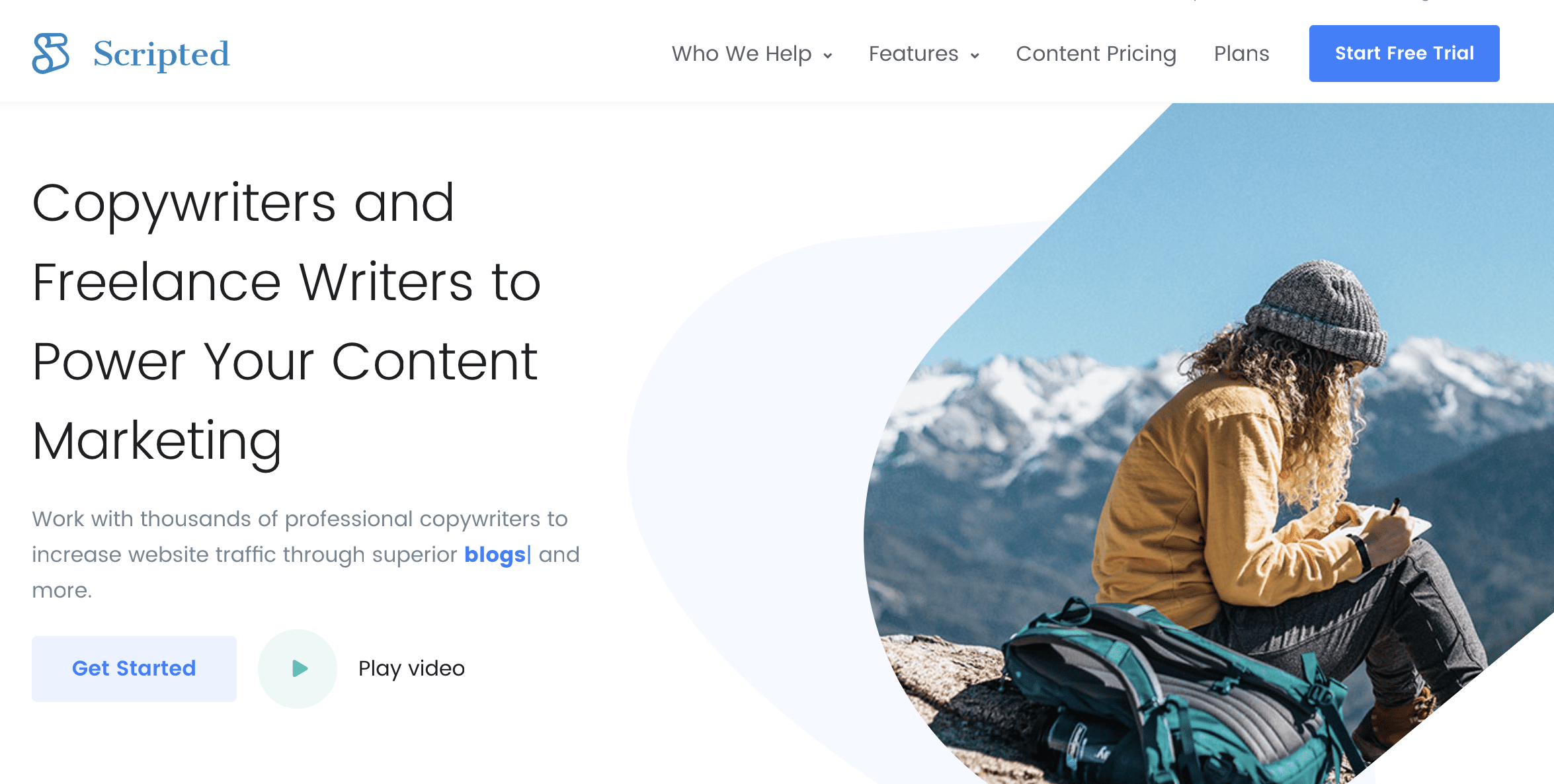 Scripted is an agency that really cares about its output, and with clients like LinkedIn, L'Oreal and Eventbrite regularly returning for more content, it's fair to say that they're not alone.
Scripted's service works by enabling clients to connect with its team of skilled freelance writers. While many copywriting marketplaces opt for using a more automated system, here, users benefit from communicating directly with their designated author – enabling you to effectively share your vision.
Clients can rest assured that there's a 100% satisfaction guarantee accompanying any work they receive, which adds to great customer experience. However, considering that only 2% of applicants ever make it through Scripted's rigorous vetting process to become associated writers, the chances are that you'll be very much content with the finished article – every time.
Scripted also offers users a vast collection of intuitive online tools that help them to analyse their content once it's complete.
Another great feature for all of Scripted's userbase to enjoy is SmartMatch. Here, customers are prompted to submit a short brief on the type of content that they're looking for before the tool takes the reigns and matches them with the ideal author to tend to their requirements – and given that Scripted boasts a large network of freelance writers on-hand to deal with your requests, it won't take long before you find the perfect content creator to suit your needs.
The level of client care offered by Scripted can potentially give just about any other member on this list a run for their money. Capable of creating powerful blog posts, social media content, newsletters and website copy, Scripted utilises a series of intuitive tools and technology to ensure that clients work with writers that fit the bill perfectly on a stylistic and technical level.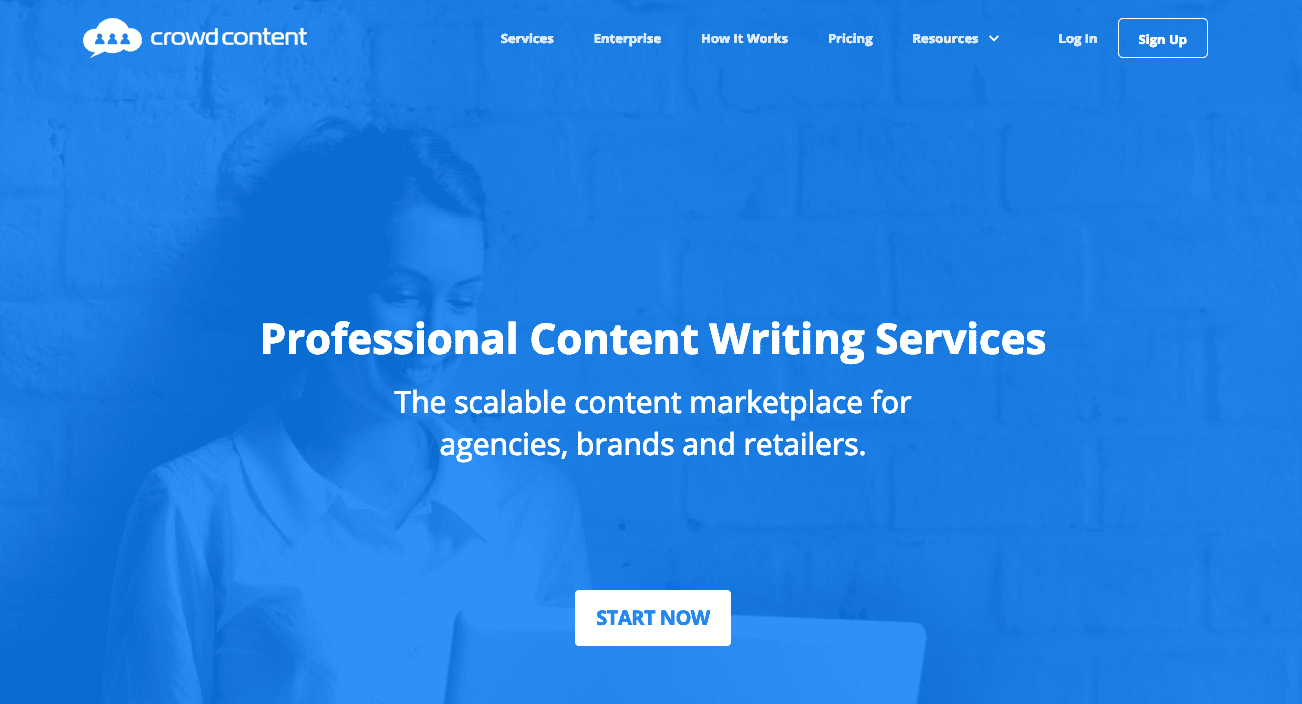 Crowd Content is a platform that's brimful of experience in producing content for its clients. With over 100 million words written by their dedicated team of US-based freelance writers, it's fair to say that there's a considerable level of expertise floating around the company.
This agency certainly has no fear of building up ahead of steam, either. Crowd Content has worked with over 6,000 businesses thanks to the 5,000 professional writers on their books.
Crowd Content also prides itself on bringing an unmatched level of convenience to its clients. The platform's built-in matchmaking services help to identify its writers' styles and approaches before pairing them up with the jobs that suit both themselves and the customers best. There's also a great 24-hour turnaround rate for 'most' orders – which means that you'll be able to see your fully fledged content in next-to-no-time!  
Considering the highly competitive turnover times, it's worth noting that Crowd Content doesn't skimp on the quality. Only around 15% of applicant writers pass the company's strict vetting process – with skills and specialities like creativity, spelling, grammar and organisation heavily tested.
Crowd Content's also a deeply diverse platform in terms of the type of service that its network of writers is capable of providing. Whether your company requires a 2,000-word blog post or a Local SEO City Page constructed, Crowd Content is on-hand to help. Other services offered by the agency include article writing, copy editing services, copywriting, eBooks, Facebook posts, ghostwriting, metadata, newsletters, press releases, product descriptions, review writing, SEO content, technical writing, tweets and white papers among plenty more.