There are many methods of reaching your target audiences in this day and age, but amidst many attempted coups in the marketing world, quality content has remained rightfully atop its throne throughout.
It would take a brand new heavyweight fighter of a marketing approach to topple content from its perch, and plenty of in-your-face campaigns have tried. Popup advertising came and went, cold calling was banished to the dark and desperate outreach underwaters and directory stuffing died the day that Google was founded.
Fundamentally, we live in a world that craves information – and convenience, for that matter. Google has 1.17 billion users, and they're all looking for answers that are digestible and informative.
Content marketing and SEO taps into this gigantic market, with a comparatively well-intentioned aim of providing search engine users with the answers to their questions. Companies with content that's featured on the top results pages of Google not only get to help solve user queries but benefit from the added exposure that it brings, leading to higher audience interaction, awareness and, ultimately, sales.
Many businesses have already identified content as the key for building sustained levels of traffic online, and have begun to look to external organisations in order to create engaging articles on their behalf. The outsourcing of content has already grown to the point where companies like Crowd Content has amassed a reach of over 6,000 clients being served by a network of 5,000 US-based writers.
Crowd Content's model is simple. Their range of freelance writers craft high-quality content en masse, before editors review the work and make the finished article available to clients.
Having developed a reputation for only accommodating the most accomplished of remote writers, Crowd Content has developed a client list featuring esteemed organisations like WordPress and 3M. But if you're looking at enlisting a more cost-effective and localised agency to get quality content done, there's plenty of alternative choices out there. Here, we've crafted a list of four of the very best Crowd Content alternatives that you can trust: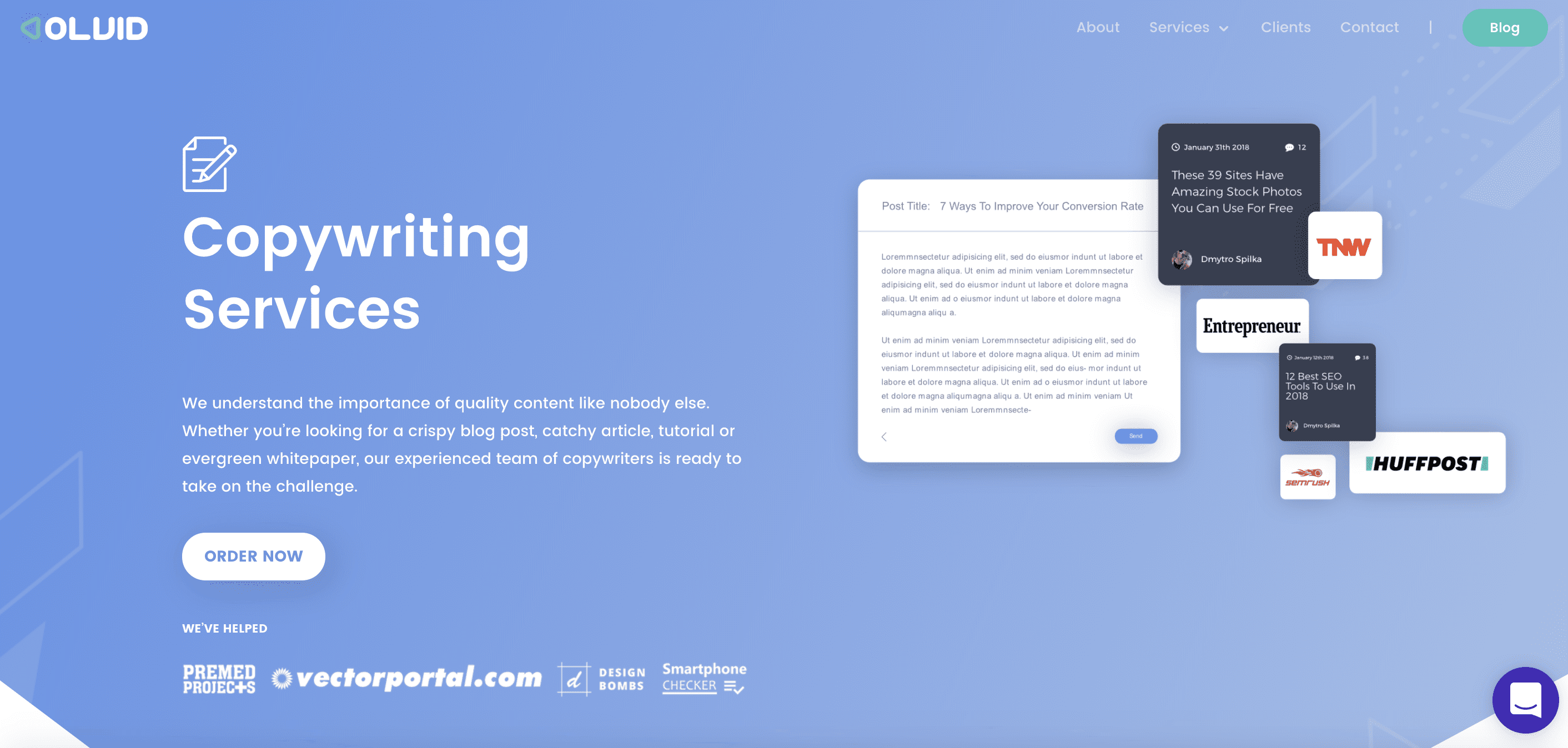 We had to include ourselves on top of this list. At the end of the day, we're here to earn that penny 
 And, we truly think we're your best option.
What sort of company would we be if we didn't have the confidence to back ourselves as one of the very best quality content organisations out there?! At Solvid, we pride ourselves on producing excellent written work for clients almost as much as we pride ourselves on our ethical business model.
You'll find no gambling, radical politics or shady pharma organisations amidst our clientele, and we never take on work that appears to be underhanded or exploitative.
Solvid's dedicated in-house team has a collective wealth of industry experience and relevant higher education behind them that enables the company to demonstrate fluency in just about any SEO-infused practice popular today – from feature-length content to effective guest blogger outreach.
At Solvid, we specialise in getting your quality content needs done, but there are plenty more strings to our collective bows than that. Clients can call on Solvid to conduct a thorough website audit, design an entire business site, carry out content marketing or copywriting among other SEO techniques designed to boost your visibility online.
Here, we understand the value of a meaningful piece of content, and the value it can add to your business in the eyes of prospective customers and clients. All of our projects are heavily researched and edited while we look to gain a deep understanding not only of your brand but of the target audience that you're intent on reaching through engaging content.
Solvid has enjoyed building a healthy client base that includes The Society of British Interior Design, V-Tennis, Smartphone Checker and Mitrefitch among many other esteemed organisations from around the world.
No strangers to bringing the right kind of exposure to our clients, we've had our content featured in marquee publications such as Entrepreneur, HuffPost, BuzzFeed and The Next Web to name but a few.
At Solvid, we aim to provide unparalleled convenience when it comes to the content ordering process. Our site is littered with 'quick order' portals that enable customers to instantly calculate quotes and place orders for a predesignated quantity of articles to go on certain Domain Authority websites. With no need to pick up the phone or send an enquiry email, you get to save plenty of time in ordering your top-tier content.
Learning can be a beautiful thing, and here at Solvid, we're delighted to share our knowledge on the best SEO practices of the day and offer our insights over a range of content-related topics for free to visitors. Our website's blog section contains a wealth of relevant insight as well as a jargon-busting glossary of industry and SEO terms – just in case you may have had any questions that have gone unanswered for too long. We're not one for hogging all of our secrets!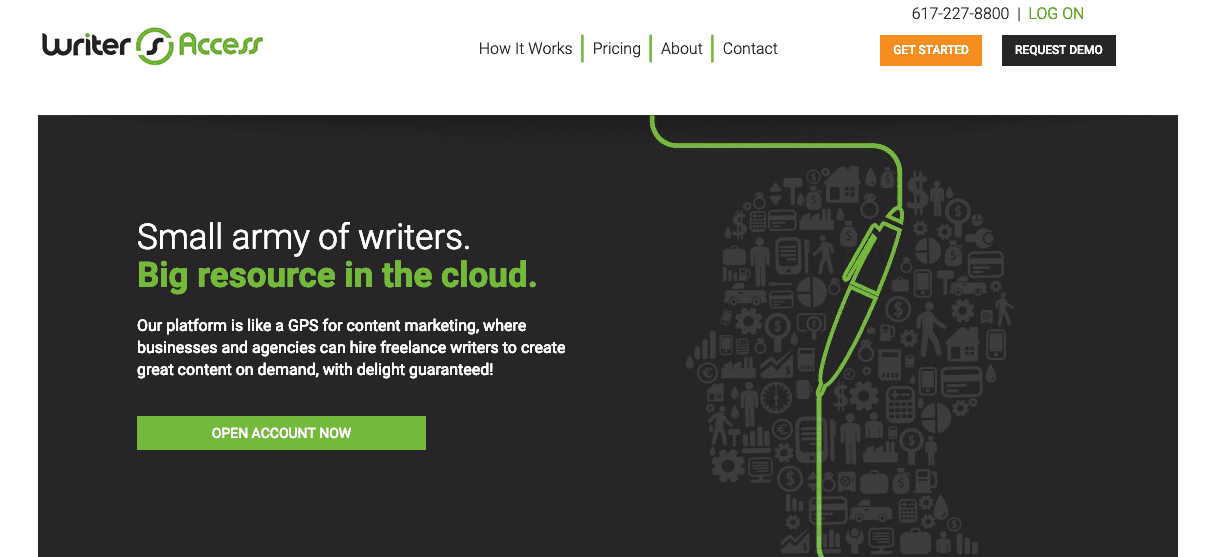 Writer Access is an Inc. 5000 company, and with a user base of 25,000 members, it's clear to see why.
One of the most striking things about Writer Access' service is the Uber-esque rating system that their network of 15,000 freelance writers carry with them. Although it may seem reductive to convert something as creative and diverse as written work into a 1-to-5-star rating system, it does provide a uniquely efficient way of vetting the capabilities of the authors at your disposal.
Writer Access pledges to take any kind of content style in its stride, with copywriting, articles, social media posts, case studies, blog pieces, white papers and technical papers all available from the company's impressive range of remote staff.
There's also an appetising range of cloud-based resource tools available for registered members to sink their teeth into. Through this Internet of Things portal, users can enjoy relevant keyword optimisation insights, content analytics, content distribution and journey management functions in measuring their SEO performance.
Writer Access is without a doubt one of the most technologically advanced quality content organisations on the internet today, and its dedicated 'StyleMetrics Matcher' underlines the strides that the company has taken towards providing an unparalleled service for clients.
The StyleMetrics Matcher listens to your company's content requirements before determining exactly the type of expertise, tone and style that you need and matching you with a writer that's tailor suited to delivering just what you're looking for. This feature is the brainchild of both IBM and Cambridge University and works by deeply analysing the text of all registered writers with Writer Access. Pretty nifty.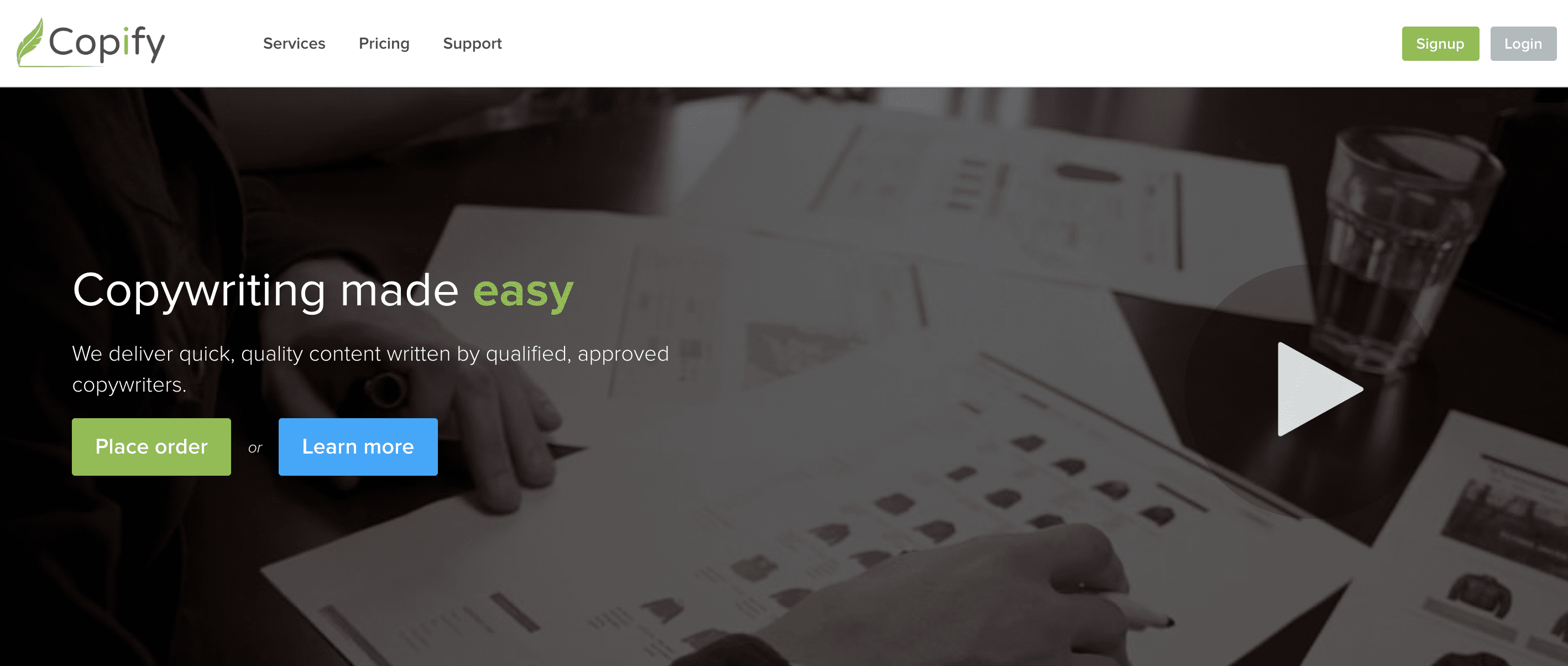 'Great copy from great writers' beams the Copify home page, and with a client list that features names like eBay, Amazon, Deloitte and ao.com it's hard to doubt that they regularly deliver on such a statement.
Copify's a company that enjoys custom from all around the world, and getting great content from the company is much easier than some of its competitors due to the ability to order on-demand work that doesn't require a subscription or membership beforehand.
The rates that Copify offers are competitive, too. With prices starting at 4p per word, you could feasibly get your hands on a 1,000-word blog post for £40.
Copify possesses industry masters in producing not only website content but blog posts, e-commerce content, formal article writing, press release writing and email crafting. Essentially, Copify's team of writers will never come up short for you no matter how demanding the task at hand may be.
When it comes to ordering with Copify, customers are not only allocated a local 'native' writer that's guaranteed to be familiar with the lingual quirks and differences between, say, the UK's use of English and the United States' interpretation thereof, but also assured a 48-hour typical turnover time from the moment the order took place to completion.

Behind a beautifully crafted homepage sits an impressive summary of the services that ContentWriters specialise in. If it wasn't enough that the fledgeling New York-based company has the ability to effortlessly produce quality blog posts and website content, ContentWriters also believes that no job is too big or small for its team of writers, and is more than happy distributing product descriptions, Facebook posts and whitepapers for its network of authors to undertake.
In short, if you want a thorough scrub of your digital presence, ContentWriters could be the place to go in order to give all of your content a makeover – from your e-commerce Facebook page to your retail website's sale item descriptions.
Ordering with ContentWriters takes a friendly format. Customers simply complete a description of the type of order they would like to make, along with the supplementary relevant details and ContentWriters springs into action. A particularly helpful feature for new customers is the company's 'a la carte' option for a one-off content order. With no long-winded registration processes to get in the way, you can simply order your work and relax. Turnover time varies depending on the price that customers are willing to pay, but a three-day-turnover is possible at a small premium.
With ContentWriters, every order placed comes with a money back guarantee, free topic pitching, fully unique content from the author, editing and proofreading as standard, unlimited revisions and a content writer that's 'perfectly matched for you.'
If you decide to make an order with ContentWriters, you'll be in good company. Having worked with the likes of Forbes, Mercedes-Benz, Adobe and Expedia, ContentWriters is certainly working its charm among some of the world's biggest organisations.