The internet's a big place. In fact, the World Wide Web is populated by over 1.5 billion sites at the time of writing, and it's only expanding further.
In such a competitive climate, it's vital that website owners keep ahead of their competitors to gain exposure and continually drive traffic back to their pages. Much of Search Engine Optimisation is designed to strategically boost a website's Domain Authority (DA) as a means of making its pages significantly more discoverable for users. But what is DA? And why is it so important?
Let's take a deeper look at Domain Authority and explore the options we have for checking ours and our competitors' DA ratings:
What is Domain Authority?
Fundamentally, Domain Authority stands as a metric that was founded by Moz (SaaS company), as a means of charting the quality of a website based on a series of variable metrics on a scale of 1 – 100 (100 signifying the highest mark and 1 being the lowest). As a rule of thumb, the higher the Domain Authority of a website, the more likely it is to appear at the top of search engine results pages, like Google.
It's important to adopt a bigger-picture outlook when considering your Domain Authority. Unless you've launched your website alongside some kind of seismic guerilla marketing campaign, the DA of your fledgeling website won't seem like much compared to online giants like Google, Yahoo or the BBC. Instead, it's useful to identify your competitors early on and chart your progress alongside them – if your Domain Authority is calculated to be higher than your rivals then your site is likely to appear higher on search engine results pages.
DA uses dozens of factors in its calculations like the number of links pointing to your site and the number of linking root domains that reference your pages.
Domain Authority is a metric that measures the overall ranking of your whole website. Another measure consisting of similar factors is Page Authority (PA), which ranks the quality of your individual pages – and can be a great tool in helping you discover which pages are performing better than others and where there's room for improvement.
Why is Domain Authority important?
When Moz devised their Domain Authority ranking system, the technology was algorithmically designed to work in tandem with Google's PageRank system of discovering which pages deserved to be featured highest in return for search engine queries.
Essentially, if two websites publish similar articles, both focusing on reviewing the most nutritious cat food available in supermarkets, yet one site had a PageRank of 2 and the other is 8, then Google will attribute greater value to the piece posted by the higher ranking domain. This allowed it to be ranked considerably higher which, in turn, will make it much easier to find for people looking at what cat food to buy.
Good use of SEO naturally helps strong content in becoming discoverable to audiences, but if your competitors are deemed to have a better level of Domain Authority to you then you'll find yourself having to fight extra-hard to win over traffic and grow.
Domain Authority and links enjoy an intrinsic relationship. High-quality external links that point directly to your products or services can be like gold dust in improving your DA. Links from less-influential sites that don't enjoy many inbound links themselves may still help to improve a website's DA but to a significantly lower extent.
Speaking to SmallBizTrends, Moz's Principal Search Scientist, Russ Jones explains: "Keep in mind, Domain Authority is a comparative metric. DA means very little on its own. When looked at through the lens of a competitive set, against competitor domains, DA is a very powerful metric."
Today, the marketing world is in love with content and a driving factor in our obsession with the production of high-value articles is the potential value it can bring to our websites through strategic backlinks on external websites. The whole world is desperate to boost its Domain Authority online, but how do we know where we stand amidst a crowd of competitors? Here's a list of the eight most effective Domain Authority checkers available online:
Please Note: Neither Domain Authority or any other website authority metric listed below is an official ranking factor used by Google. We'll be using the term "Domain Authority" throughout this article (even when talking about different tools) simply because we're used to this specific term and aren't specifically referencing Moz's "Domain Authority" – please don't get confused 🙂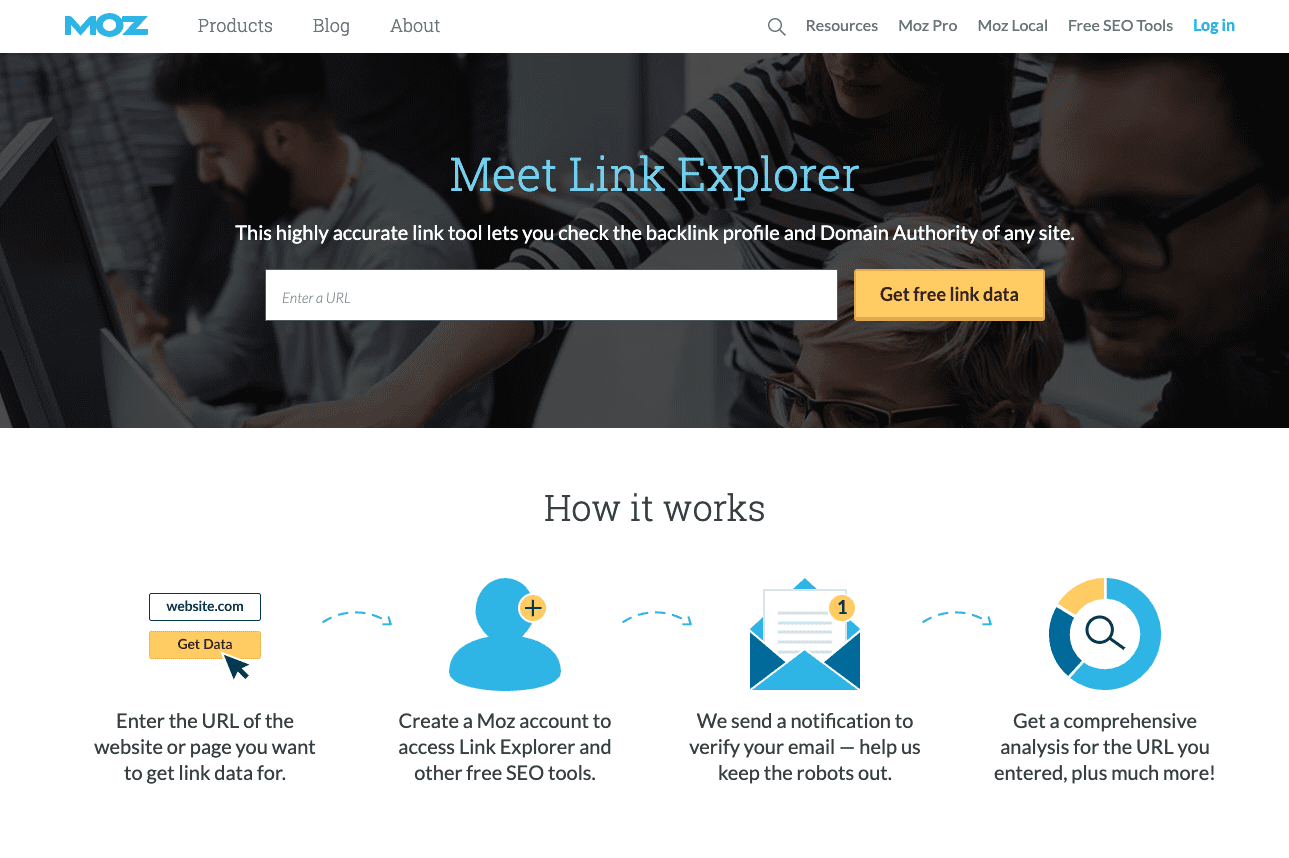 Formerly known as Open Site Explorer, Moz's Link Explorer is undoubtedly the most powerful tool available for checking a website's Domain Authority. Actually, the term Domain Authority has been coined by Moz – it's the official name of their metric.
Link Explorer was developed by Moz, the SaaS giants that kicked off the DA gold rush – so it's fair to assume that the company knows a thing or two about how websites rank in terms of authority.
While some Domain Authority websites are overly simplistic in the information they provide, Link Explorer offers users a comprehensive look into their pages, and leave very few stones unturned in the process.
One particularly nifty feature is Link Explorer's relentless tracking of DA and PA rankings over time. In the fiercely competitive digital landscape, sometimes trial-and-error can reign supreme for websites battling for prominence. With Domain Authority tracking, it's possible to investigate up close and personal the effects of the links you build and how they've influenced your website's prominence.
The ability to measure DA and PA ratings is also an excellent tool for agencies looking to show clients tangible results for their marketing campaigns – as well as developing a better idea of which tactics are working and what's failing in terms of SEO.
If you're intent on boosting your Domain Authority and Page Authority, it's imperative that you keep an eye on the links you've already built. With Discovered and Lost Links, users can automatically use Link Explorer to search for URLs that had been previously referring back to your website, but no longer hold active backlinks to your website's pages. The tool also sheds light on any acquired links over a given period of time.
The ability to find any links from external websites that have been lost in recent months and years is great in giving you the chance to reach out to re-establish broken backlinks.
One of the best ways to regularly run health checks on your pages is through Link Explorer's Top Pages Report. Through this tool, you're able to filter results by status code. It's also possible to use Top Pages Report to locate broken links – making for another great means of choosing where to target your outreach.
If your website is set to undergo a redesign, there are few better tools than Top Pages Report when it comes to effective benchmarking.
The aim of the game when it comes to Domain Authority is competitor analysis. Moz Link Explorer's Link Comparison feature allows users to compare their backlink profiles to check metrics like the number of linking domains that each site in question has. Such a level of competitor analysis can be a great way of website owners conducting deeper investigations into their rivals' strategies. If a competitor is regularly gaining high-quality links from a credible website, perhaps it's time for you to outreach to them?
Of all the Domain Authority checkers within this list, it's hard to look past Moz when it comes to performance, the accuracy of results and the range of features available to users. The Link Explorer's interface reads well, with helpfully colour co-ordinated performance indicators embedded within an impressive dashboard.
The tool's most significant drawback, however, is the fairly hefty usage limits for non-paying users. Unlike some of the alternatives within our list, users need to create a Moz account before beginning their DA searches, and only 10 link queries are permitted per month – unless you sign up to a Moz Pro account.
Nevertheless, Moz's Link Explorer remains an excellent choice for ambitious website owners who are eager to keep ahead of their competitors when it comes to link building and building on their digital presence.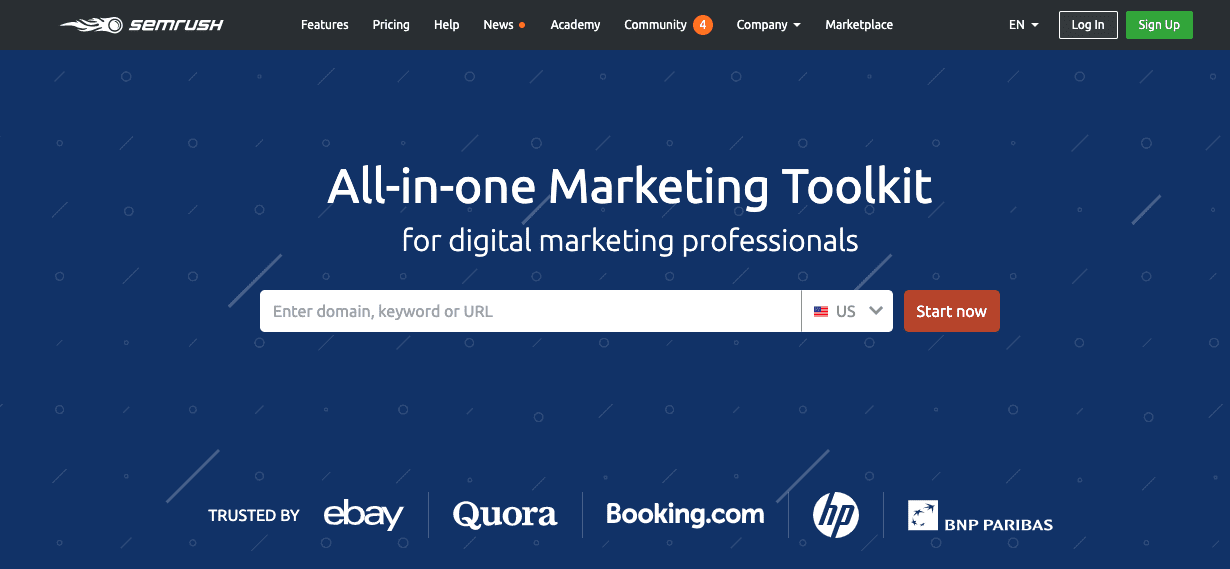 SEMrush proudly markets itself as 'the world's no. 1 marketing tool' and with a portfolio that consists of eBay, Disney, Hewlett Packard and Booking.com among many other big players it's clear to see why they have confidence in their abilities.
Last year, the organisation was recognised as the best SEO suite on the market at the US Search Awards, MENA Search Awards and SEMY Awards – and SEMrush has shown no signs of slowing down since.
No less than 490,000,000 domains have been viewed within SEMrush's services from their impressive accumulation of over 4,000,000 users.
When it comes to Domain Authority, SEMrush offers up its very own 'Authority Score', which marks website's from 1 to 100 based on the strength of a site's organic reach based on the quality of its links.
Writing for SEMrush's blog, Ian Cleary delves deeper into their nifty metric: "The Authority Score is a proprietary metric which utilizes machine learning to calculate. The model is taught to evaluate the domain based off of specific metrics which we consider most important in determining the authority of a domain. Included in those metrics are the domain's backlink profile, organic search traffic and positions, and other website traffic data," Cleary explained.
One of the best features that SEMrush possesses when it comes to analysing Domain Authority comes from its intuitive Domain vs. Domain tool. Here, users can take a deep dive into how their website matches up to its key competitors and find where potential shortcomings may be.
Alongside the accumulation of a strong understanding of how your website's authority has been scored, you'll also benefit from comprehensive charts that analyse the quality of the keywords that you're using in comparison to other competitors.
As SEMrush explains, "Gathering competitive intelligence seems complex, time-consuming, and expensive. However, with the SEMrush Domain vs. Domain tool, you're an in-house expert in a day-to-day competitive monitoring. In a few clicks, you can independently evaluate the competitive landscape in desktop or mobile index. Just enter up to five domains you'd like to compare, per attempt, and click Go."
With over 10 years experience in the dynamic world of SEO, SEMrush has developed a hefty range of over 40 relevant tools for website owners. Beyond the realm of website authority, users can monitor their organic traffic, check their on-page SEO, build relevant ads, audit their content and much more.
SEMrush is a serious tool for seriously ambitious website owners, and as such the prices for its comprehensive service starts at $99.95 per month and range to $399.95 – with further custom plans available on an enterprise scale.
As an industry leader, SEMrush naturally offers one of the very best Domain Authority tools available online. However, its excellent suite of over 40 tools helps you to delve way beyond the simple act of finding your domain's rating and enables you to look into the metrics that have contributed to your score, and enables you to look into how to improve your performance. The level of competitor analysis may well be the very best within this list, and as a result, investing in SEMrush's services could ultimately pay dividends for your business.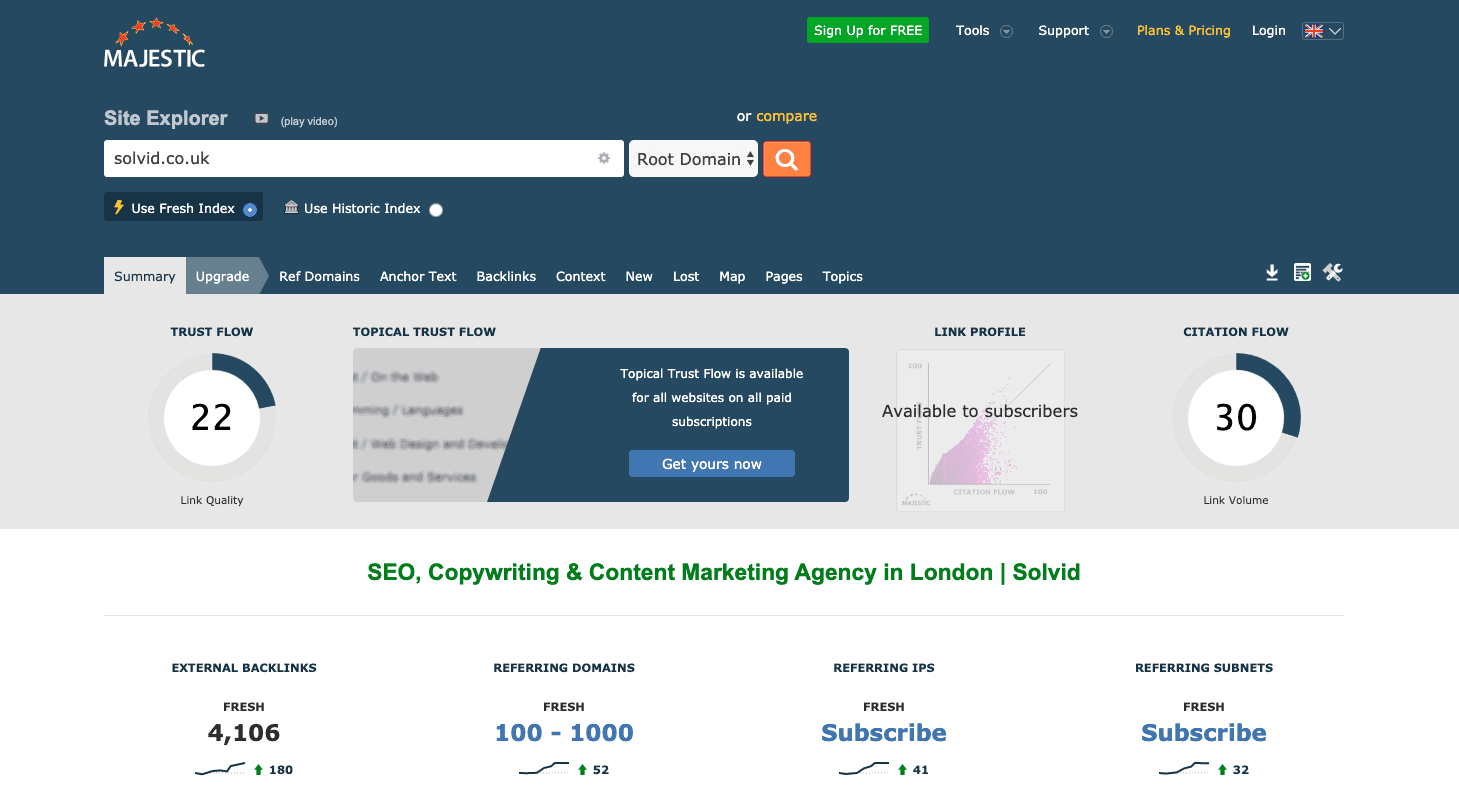 Majestic is a relatively cheap suite that offers a competitive level of insight into the dynamic world of domain performance.
Entering the fray with the informatively named 'Trust Flow' (Link Quality) and 'Citation Flow' (Link Volume), Majestic analyses websites based solely on the quality of the links that they possess.
The use of Trust Flow means that a website's links are rigorously critiqued by Majestic before being graded on a scale of 1 to 100. The more trustworthy your site's links, the higher your Trust Score will be.
The way a Trust Flow is calculated is more comprehensive than many other Domain Authority sites, too. Essentially, Majestic collates many trusted 'seed sites' based on a manual review of the World Wide Web. Subsequently, sites that are closely linked to a recognised trusted seed can expect to see higher Trust Flow scores in return.
The great thing about Trust Flow is that it varies based on the industry your website focuses on – this helps to provide a greater insight into the relevance of your site among your target audience.
If, say, your business was focussed on selling pet food, your Trust Flow would be based on that area of the internet. If your website covers multiple subjects, this will be reflected in your Trust Flow also.
Alongside your respective Domain Authority ratings come handy metrics that focus on your website's 'fresh' and historic backlinks, with an added stat that displays your relative increase in new links. Users can also find plenty of data pertaining to their referring domains, referring IPs and referring subnets.
Recently, Majestic has added an excellent feature called 'Link Context' which offers far greater insights into each backlink your website has accumulated.
Majestic has been offering fresh insights into the performance of websites since 2004, and its range of features puts its service firmly among the best available online today. Majestic's top notch levels of insight has seen the organisation win recognition from Deloitte's 'Technology Fast 50', the Queen's Awards for Enterprise, and the Princess Royal Training Award.
Billed as a reasonably priced suite of SEO tools, subscription costs for Majestic start at competitive £39.99 per month. However, users signing up to Majestic's 'Pro' service at a cost of £79.99 per month will be treated to a brand new feature called 'Rank Tracker' which operates as a Google verified system of monitoring your website's ranking performance within the search engine with deeper insights into the quality of the keywords that you use.
If you're looking for access to all of the services that Majestic offers and you operate as an ambitious agency, you can buy into the API subscription service, with prices starting at a somewhat heftier £319.99.
Fundamentally, if you're looking for a fresh take on your website's Domain Authority alongside a wealth of information surrounding the quality of the links you've gathered, then Majestic represents an ideal, reasonably priced, solution.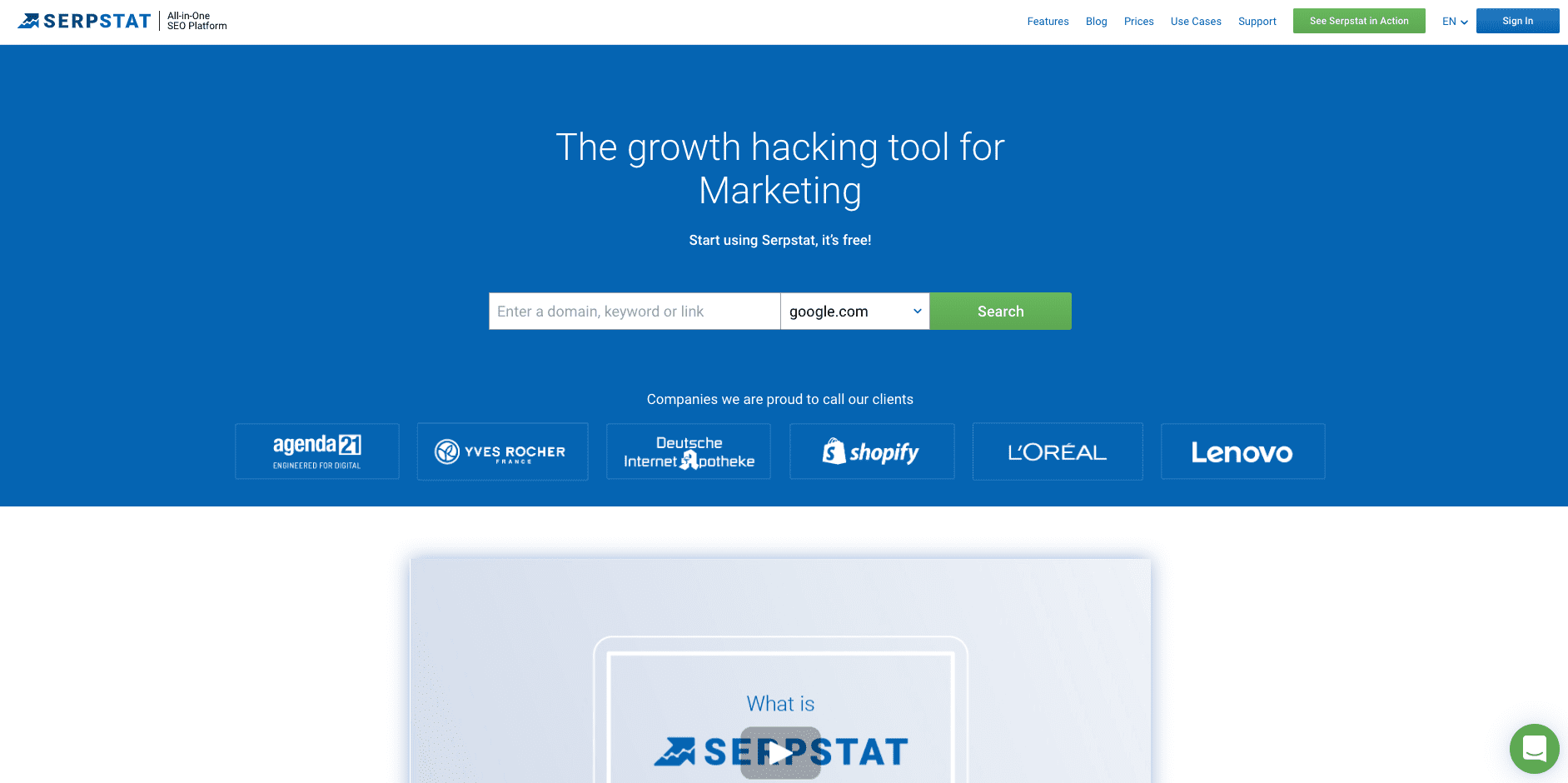 Serpstat's an excellent free option for small-scale website owners who are after an insight into their pages' performance.
Users are welcome to run 30 queries per day completely free of charge, though if they're ready to scale their service up, Serpstat offers premium plans that range from $69 to $499 per month – depending on your business needs.
When you run a query using Serpstat's impressive Domain Analysis tool, the wealth of insight available is enough to rival that of top-of-the-range premium services.
At the foot of a huge array of easy-to-follow graphs and charts comes Serpstat's Backlinks Overview. Here, users can gain an insight into both their 'Trust Rank' and 'Page Rank'.
Notably, both DA metrics here are based on percentages as opposed to the 1 – 100 scale that's commonplace elsewhere online. Serpstat explains that their Trust Rank is "a number predicting how trustworthy a page/domain is based on how trustworthy sites tend to link to trustworthy neighbors."
One of the very best features within Serpstat stems from how each metric displayed carries a small 'i' symbol which offers plenty of information that explains what each stat means and how it is calculated. While some DA checkers on this list make the mistake of assuming that each user is an SEO expert, Serpstat takes all levels of knowledge into consideration.
Your DA results are presented within an extensive dashboard that covers plenty of other insights, including your online visibility, estimated monthly traffic, organic keywords, keyword distribution and visibility trends among many other helpful figures and visualisations. Serpstat even offers up a list of perceived competitors in your field as a means of automatically comparing and contrasting your performance levels.
It seems important to bare in mind that Serpstat is a service that's free for casual users who just want to check up on their domain or that of their competitors. The wealth of insight available can truly match the likes of SEMrush and Ahrefs in places, and the quality of information conveyed in accompanying charts is easily digestible even for first time users.
What's more is that non-subscribers even have the freedom to download Serpstat's dedicated browser extension – available for Google Chrome, Firefox and Opera. The extension enables users to receive quick and easy information surrounding any website the navigate to – ensuring that competitor analysis is as simple as possible to conduct.
No, the service isn't as extensive, and yes, there are better performing options showcased within this list – but if you're a website owner who simply wants to monitor your performance on a regular basis with a healthy amount of competitor and backlink insight, then Serpstat is the DA checker for you. Sometimes you really can get everything you need free of charge.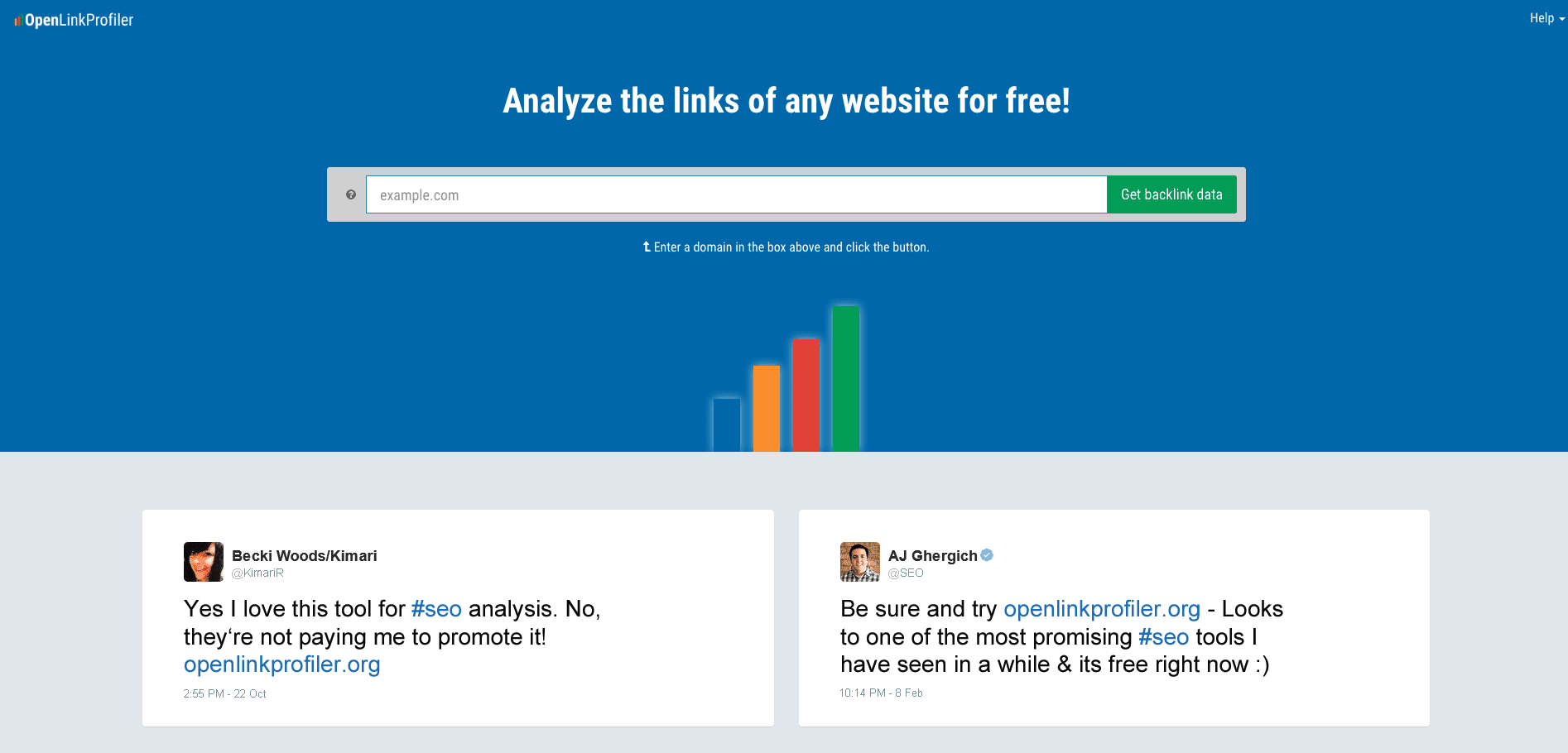 Another nifty tool that provides a fresh level of insight into your domain's authority can be found in OpenLinkProfiler.
Although OpenLinkProfiler's website operates on a largely 'no thrills' basis in terms of aesthetics, the level of insight that the service provides is excellent.
Users simply enter the name of the URL they're looking to check out and are transported to an extensive dashboard that firmly delves into the nitty gritty of the links you've accumulated and lost.
We're used to seeing Domain Authority scores and other metrics that follow a similar format to Moz's widely popular approach to website assessment, but OpenLinkProfiler takes a slightly different stance.
Link Influence Score (LIS) is how OpenLinkProfiler rates the quality of the domains that are queried on their pages. Operating on a percentage basis, LIS is calculated based on the quality and quantity of the links that your website accumulates. Essentially, the higher the quality of links you have, the higher your LIS percentage will be.
In turn, the higher the LIS of a website, the higher its influence will be on the rankings of its linked pages.
OpenLinkProfiler relies on using percentages to illustrate a queried website's performance. At the top of its results pages, users are treated to an array of percentage scores that pertain to the quality and quantity of unique links, homepage links, trusted links and of course, LIS.
It's also possible to tap into a healthy array of filters in order to get to grips with the links that your website has. Users are able to filter their links based on their source domain, destination and level of trust – among many other metrics.
The great thing about OpenLinkProfiler is that its Link Influence Score system can extend way beyond that of the website you've queried.
Using the helpful side menu on OpenLinkProfiler's dashboard, users can gain a free insight into the LIS score of the websites that link to the URL in question. This helps users to understand much more about the quality of the backlinks they attain, as well as the volume.
Beyond the use of Link Influence Score, OpenLinkProfiler also provides helpful insights into metrics like the locations of linking domains, their respective industries, anchor texts, sub domains, link age and contexts among many more features. There's even an option to 'disinfect' suspicious looking backlinks.
It's hard to envision another Domain Authority checker offering anything near the level of insight free of charge that OpenLinkProfiler provides. So much so that you can be forgiven for feeling that you're imminently about to hit a paywall with every extra page you visit on their dedicated dashboard.
OpenLinkProfiler is certainly a recommendable service for SEO beginners or website owners who are simply interested in learning more about their website's performance as well as looking for simple improvements.
Of course, the insight available isn't quite up to the standards of Moz or Ahrefs, but sometimes it can be nice to bypass all the superfluous metrics and get to the nitty gritty of your website's backlinks – and that's where OpenLinkExplorer stands out from the crowd.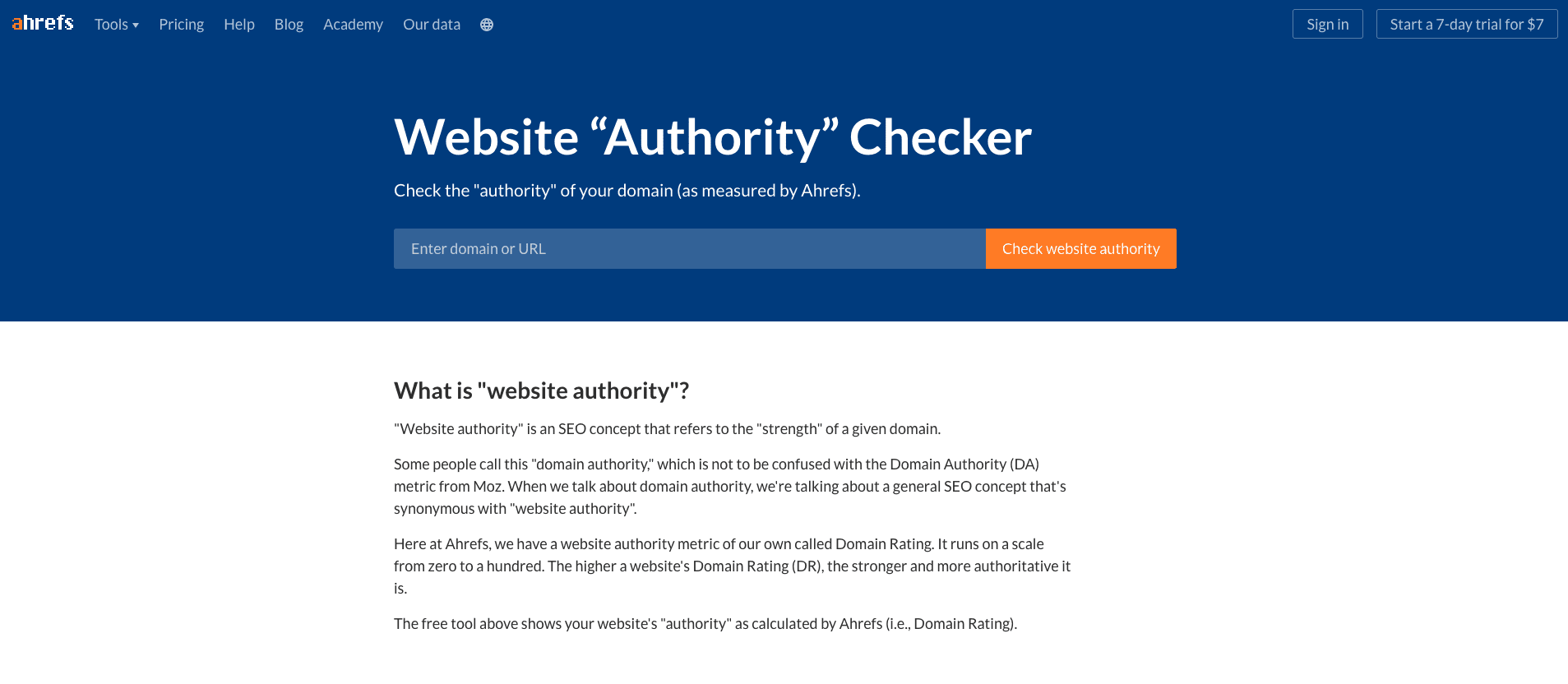 Ahrefs know a thing or two about domain authority, after all, their own DA is consistently upward of around 90/100.
While Ahrefs is an SEO suite that boasts bucketloads of premium features and added metrics, it does offer a free, albeit limited, website authority checker.
Firstly, this Website Authority Checker is extremely handy for those who prefer to manually type in the domains they're looking to investigate – Ahrefs doesn't require full URLs to be copied into their search engine, and there's no need for a 'www', either. Simply remember the name of the site you want to check out and its extension and you're good to go.
Ahrefs uses their own metrics called Domain Rating (DR) and URL Rating (UR), which are based on a similar 0 – 100 scale.
Despite Ahrefs running a more streamlined service for non-paying users, you're still safe in the knowledge that your results are going to be presented clearly, accurately and in an easy to understand manner.
To show the authority of a website, Ahrefs has opted to use a helpful speedometer-style chart – where the fuller the graph, the higher the rating.
Directly below the score is the question 'what does this mean?,' which is promptly answered by Ahrefs alongside other frequently asked questions like 'how is it calculated?,' 'how should I use it?,' and 'how can I increase my Domain Rating?'
At this stage it's important to note that Ahrefs carries a slightly different approach to website authority than that which was pioneered by Moz. While both metrics are built to help users to quantify the authority rating of their website, Ahrefs' approach hinges primarily on the quality and quantity of the backlinks featured within the website in question – meaning the resulting score will be slightly different to that given by DA checkers that are dedicated by Moz's approach.
To further elaborate on the backlinks side of Ahrefs' checker, users can also see the quantity of linking websites to their domain – and the percentage of which that's Do Follow. Users can check out the total number of backlinks that they have, too.
As an added bonus, Ahrefs provides a link at the bottom of their results that invites you to explore your backlinks further, with the company's backlink checker.
Yes, you'll have to be a fully paid up customer to really access the full wealth of information available, and no, it's not completely the same DA construct as the other authority checkers on this list. But if you're looking to get to grips with either your own or a rival website and explore the quality of the domain using a fresh approach, then the Ahrefs Website Authority Checker is the way to go. The chances are you'll learn something that wouldn't have been as easy to spot using Moz's criteria.
It's also certainly worth noting that Ahrefs is one of the biggest players in SEO, with many practitioners regarding the website as the go-to place for industry insights. If you decide to rely on Ahrefs' authority checker then you can certainly rest easy in knowing that your results will be reliable and deeply insightful.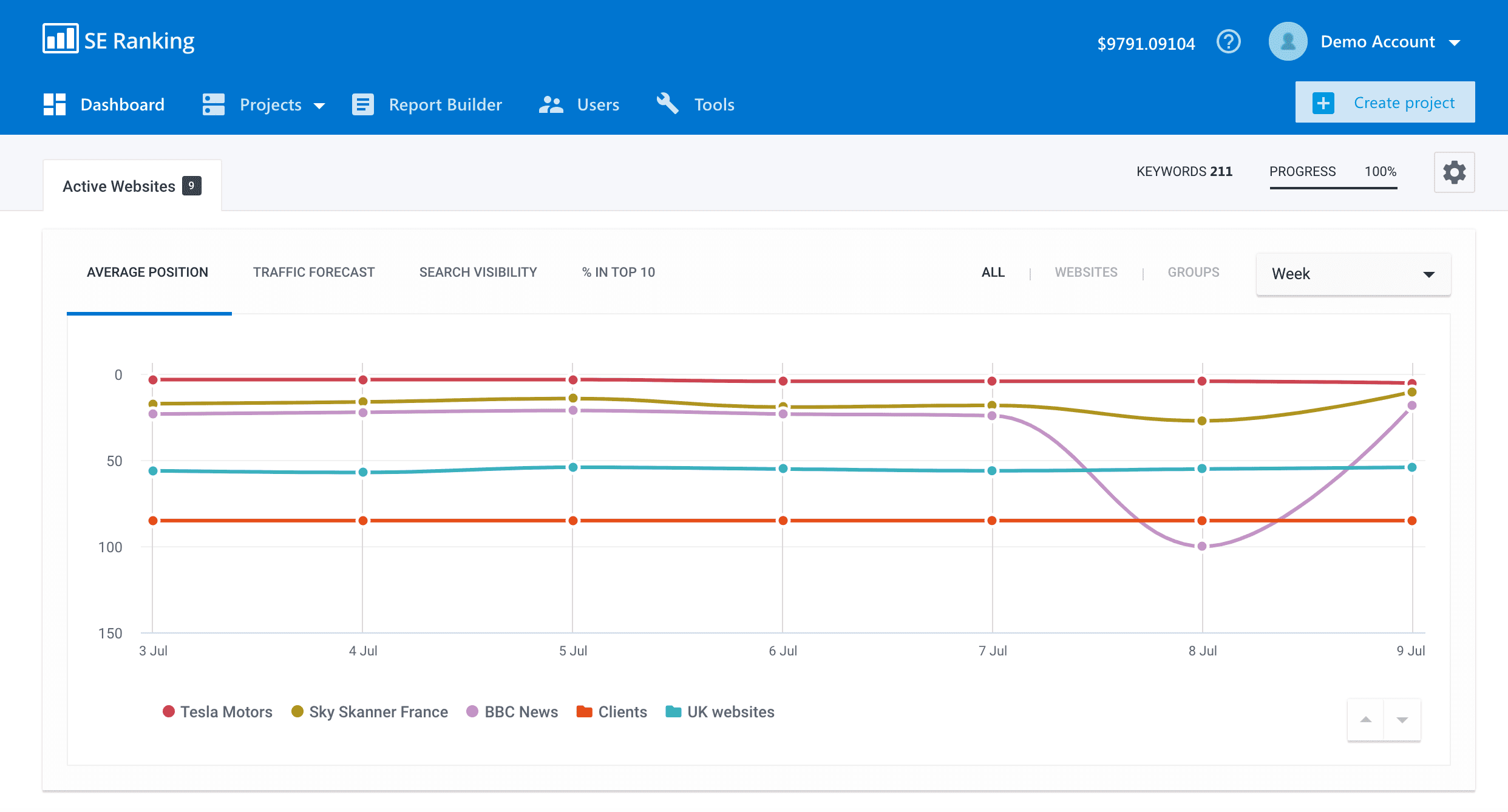 Dubbed the Swiss army knife of SEO tools, SE Ranking is a powerful cloud-based Domain Authority checker for all websites. Meaning, you don't have to worry about installing it on your PC. Rather, visit the website, log in and begin using the app within your browser. Whilst some DA-checker websites offer a simplistic overview of a site's authority, SE Ranking's all-inclusive suite of tools can help you get a better position in SERP's as well as position other websites accordingly. 
One tool of particular SEO importance is its Keyword Rank Tracker. You'll probably already understand the importance of keywords and the SEO value of earning a good rank for specific keywords. This tool shows the historical rank for keywords that are of most relevance to you. Use this timely information to see how your rank improves over time. Since you aren't limited to tracking your own keywords, the tool lets you see how your competitors are ranking with their keywords. 
The same tool in the suite delivers data by device. Meaning you'll find insight into how well your site ranks on mobile platforms. Since users of various devices interact with websites differently, it pays to identify how your visitors engage with your website. Beyond simple organic rankings, Rank Tracker will also display data on search volume and relative traffic forecasts too. 
As expected, SE Ranking offers a website audit feature that crawls your site and identifies issues and glitches that could damage your rank. When crawling your site it checks for things like:
Overall website health 

Headers and meta tags 

Parameters per page 

Image optimisation

User experience
SE Ranking's website audit will allow users to deploy multiple sources to identify the pages it should crawl. These include pages specified in the XML sitemap file, link-by-link crawling and your own list of URLs.
Want a deep crawl, or a quick check-up? You can configure the tool to your own preferences. Once finished, you'll be presented with a comprehensive report, highlighting all SEO issues, coupled with actionable recommendations. Compare your current audit with previous reports to see how your site improves.
Improve the ranking of a page further by checking out SE Ranking's On-Page Checker for a detailed report on how well it's optimised, as well as a series of more specified recommended fixes. This is a great tool for those struggling to rank a single page for a specific search term. On-Page Checker diagnoses and helps to fix the problem within minutes.
No DA website is complete without a backlink checker. Fortunately, SE Ranking makes it simple to not only check your own website's backlink profile but that of your competitors too. This is a good way to find more backlinking opportunities. The tool evaluates backlinks using a number of parameters, including backlink URL, number of external links, link status, social popularity and IP address of the server hosting the link.
Increase your social media ranking and engagement rate with SE ranking too. These tools will help you identify the best time to interact with your social audience as well as the type of content that yields the best results. Streamline your social media updates across multiple platforms with the auto-post feature within SE Ranking's suite. 
Putting all SE Ranking's tools aside, perhaps it's most useful feature is the fact it offers a variety of pricing plans – it's reasonable to expect to find one for most interests and budgets. This pricing flexibility allows the lower end of the plans to start at $39 per month to crawl up to 25,000 pages. This plan comes with fewer features, so be sure to check them all out. The highest price tag at SE Ranking stretches to $189 per month- for all features and is after all, not the most expensive option on this list.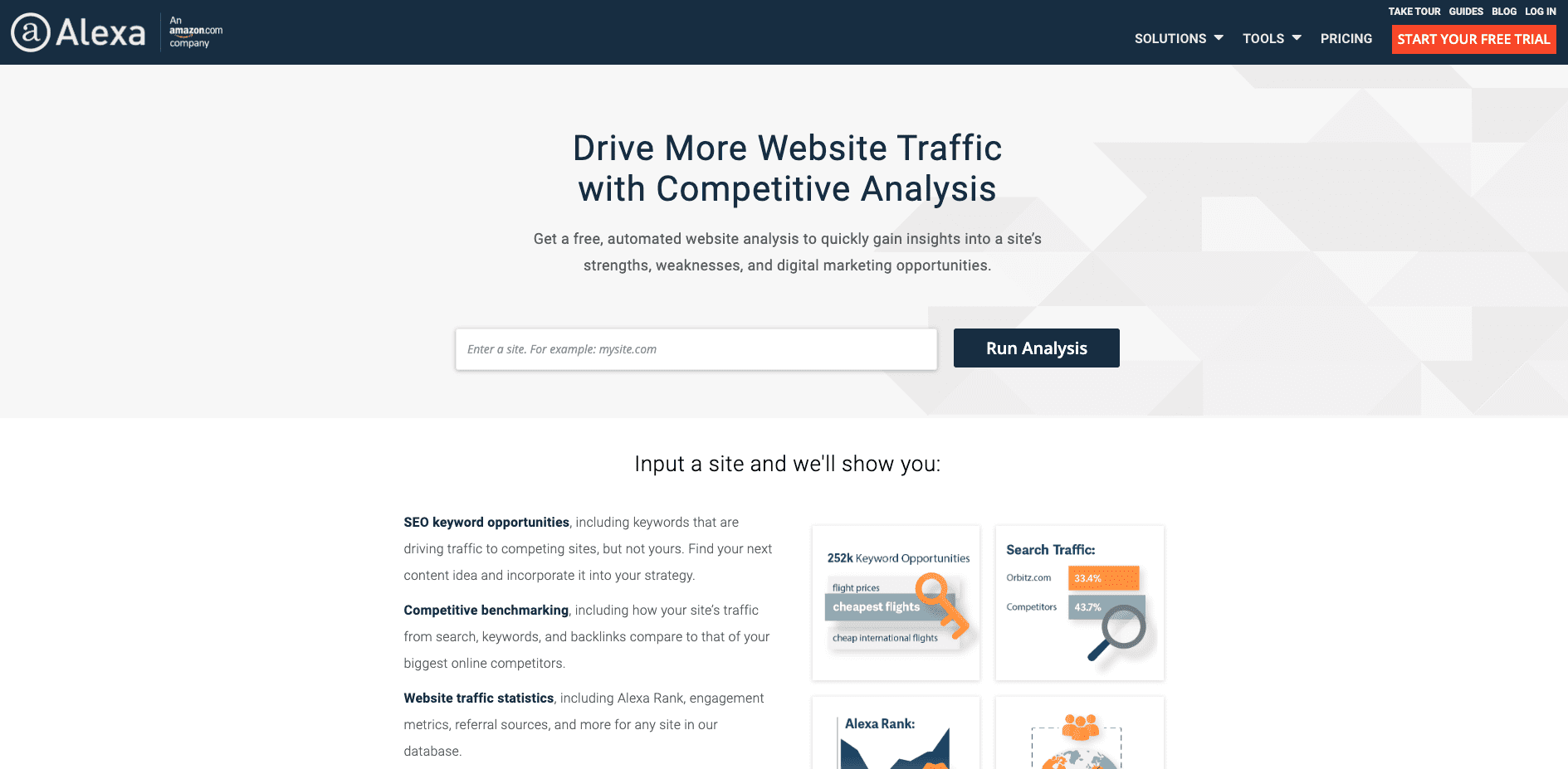 It's hard to escape the clutches of Amazon's Alexa. We hear its voice around our homes and now we can consult its helpful array of SEO insights to gain a better perspective on the performance of our websites.
Alexa offers helpful metrics that tell users a lot about the popularity of their pages, but the tools available take a significant step away from the realm of Domain Authority.
Offering an alternative insight into the perception of what brings a website its authority, Alexa offers up its own ranking system. Alexa Rank is an estimate based on global internet engagement – and respective URLs are positioned in order of how much traffic they attract in a given timeframe.
Alexa Rank is calculated using a combination of average daily visitors to the queried site and the total estimated pageviews that have been accumulated over a 90 day period. The website that gathers the most traffic combined with pageviews is ranked number one by Alexa.
Behind Alexa Rank, users are treated to a host of facts and figures that supports the ranking system, and it's even possible to see your website's rise or fall in visitors through graphs spanning the last three months of interactions.
Alongside a website's rank is its 'Daily Time' metrice. Daily Time tells website owners how long visitors typically spend on their pages. For SEO purposes, this is significant because higher levels of bouncebacks typically diminish Google's perception of a website's quality – resulting in lower results rankings.
Alexa extends way beyond its insightful ranking system, and allows users to explore specific keyword opportunities for their pages as well as the chance to compare and contrast their traffic and bounce rates with their respective industry standards.
Like a few other notable DA checkers within this list, Alexa provides an excellent level of competitor analysis too. Offering website owners the chance to see how their pages measure up against pre-selected examples of similar websites in terms of traffic sources.
It's clear that Amazon's Alexa isn't designed to blow away the likes of Moz and Ahrefs when it comes to website insights – it simply offers an alternative viewpoint for users that's significantly more traffic oriented than the more backlinks-driven approaches of other DA checkers.
Because of this, we're treated to a brand new way of looking at our pages – with new prospective solutions that other Domain Authority checkers might have missed.
Checking your website's Alexa rank is free, but for more accurate results along with greater levels of analysis users can sign up to become a certified Alexa Rank member at costs ranging from $19.99 per month.
Domain Authority FAQ
What is Domain Authority?
Domain Authority stands as a metric that was founded by Moz as a means of charting the quality of a website based on a series of variable metrics on a scale of 1 - 100 (100 signifying the highest mark and 1 being the lowest).
Is Domain Authority a ranking factor?
No, Domain Authority if only a helpful metric used by marketers and website owners. Google does not consider Domain Authority a ranking factor (as far as we know). DA is the consequence, not the cause.
How to improve Domain Authority?
In essence, Domain Authority is improved when the website is driving quality links that generate traffic, has a low number of spammy links and utilises proper on-page and technical SEO. Improving DA shouldn't be your primary goal, though. High DA with no real traffic wouldn't bring much traction to your website.
What is 'Good' Domain Authority?
Normally, websites that generate a lot of traffic and have good backlink profile end up at the top of the DA scale. There isn't 'Good' DA simply because it depends on the competitiveness of the industry. If you're an insurance company with a DA of 10 while others are at 70+, you'll find it hard competing in organic search. On the other hand, if your website is selling grooming products for sphynx cats with sensitive skin, then a DA of 10 should be more than enough to get to the top of Google.