Email outreach is a marketing strategy that allows you to forge a relationship with the people you hope to contact. There are a number of reasons to reach out to a prospect – to generate leads, convert people into paying customers, share content on new products or offers, ask for feedback or simply just to say hello.
These reasons are clear, what's less apparent, is the precise way in which we find the information we need to make effective contact with prospects. Unless contact information is stated on a website, it can be difficult to track it down. Sometimes there's no 'contact page' and in many instances, no website to begin with. 
An effective outreach strategy will allow you to hyper-target an exact audience that is relevant to your business. When done correctly, reaching out via email can be a sound way to generate leads, build backlinks and get social media and press mentions. 
The more people you reach, the more chance you stand in achieving your outreach goals. So, the aim is to reach out to as many promising prospects as possible within a limited about of time. It's the ultimate marketing tool for cost-effective lead generation, brand awareness and relationship building, for all businesses. 
In theory, this all sounds truly promising. Email as many prospects as you can, offering deals, services or content and hope for some measurable unit of value in return. Your email marketing efforts might be to encourage a purchase, subscription, link or merely just traffic to your site. 
So, you know exactly who you want to reach out to and you know precisely what you want to say. Only, you're lacking the final piece of the puzzle – the contact information. 
In practice, locating enough relevant email addresses for your campaign can be near-to-impossible. Especially in the absence of an email list, or if there's little known evidence of contact details and email domains.  
If only there were some super-intelligent software that lurks in the back of websites, scouring for traces of relevant contact information to build and suggest verified email addresses for outreach campaigns.
That's where Email Hunter comes in. It helps you to find email addresses in less than seconds and instantly connects you with those who matter to your outreaching efforts. 
Hunter Features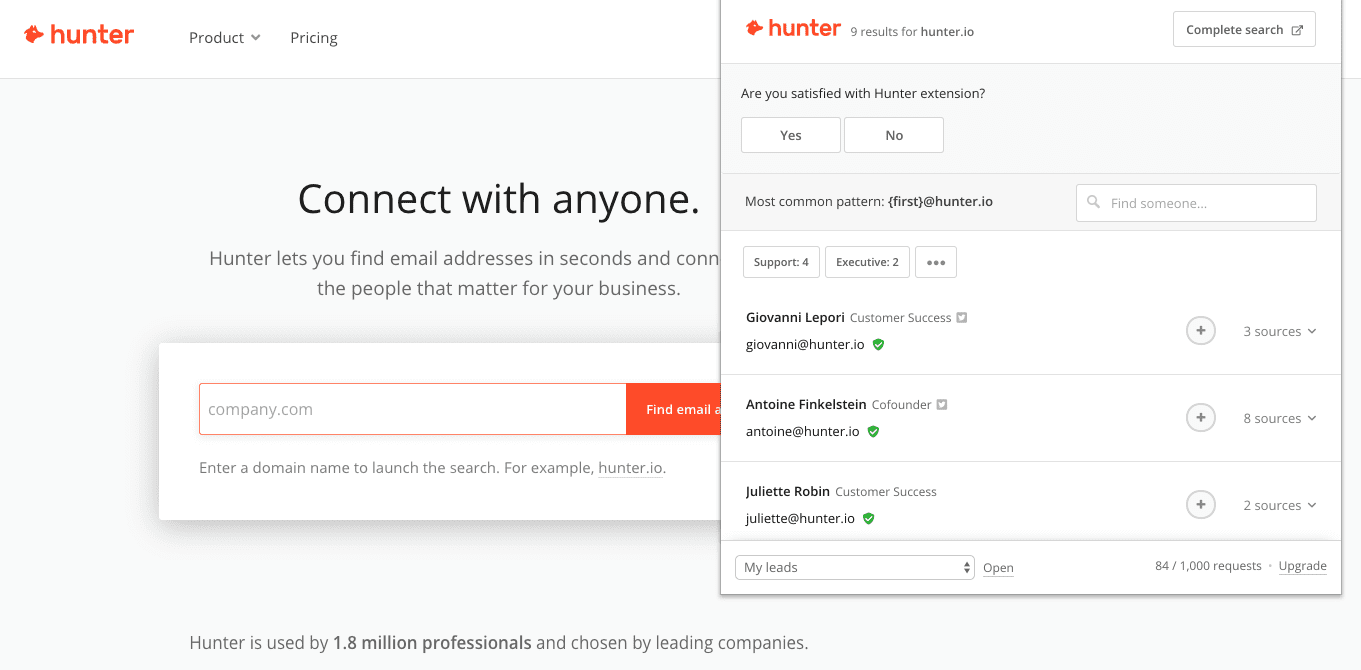 Install the Hunter extension for Chrome for instant access to all relevant emails. Simply click the extension's Hunter icon and find the list of email addresses that correspond to the website you're visiting.
The number of sources attached to each email is a good indication of the reliability of an email address. There are other ways to verify emails and ensure deliverability – including Hunter's very own verification feature. See the 'complete search page' to customise and refine the results Hunter finds you.
Email lookup and finder
This feature lets you find a specific professional email address along with an attached confidence score, simply by entering a first and last name and the domain where the person works. 

If you don't have all the information to hand, for example, you only have the first name and company name – don't worry. Let Hunter's new autocomplete feature do the work for you. It will provide email addresses based on public sources that are inferred from the domain pattern. 
Results from the Email Finder are publicly sourced, each of which is state below the email. Meaning, you'll know precisely where and when this email has been used on the web. 
Domain search
Hunter makes it super easy to find a domain in a separate search to automatically find all the available email addresses that are associated with a said domain.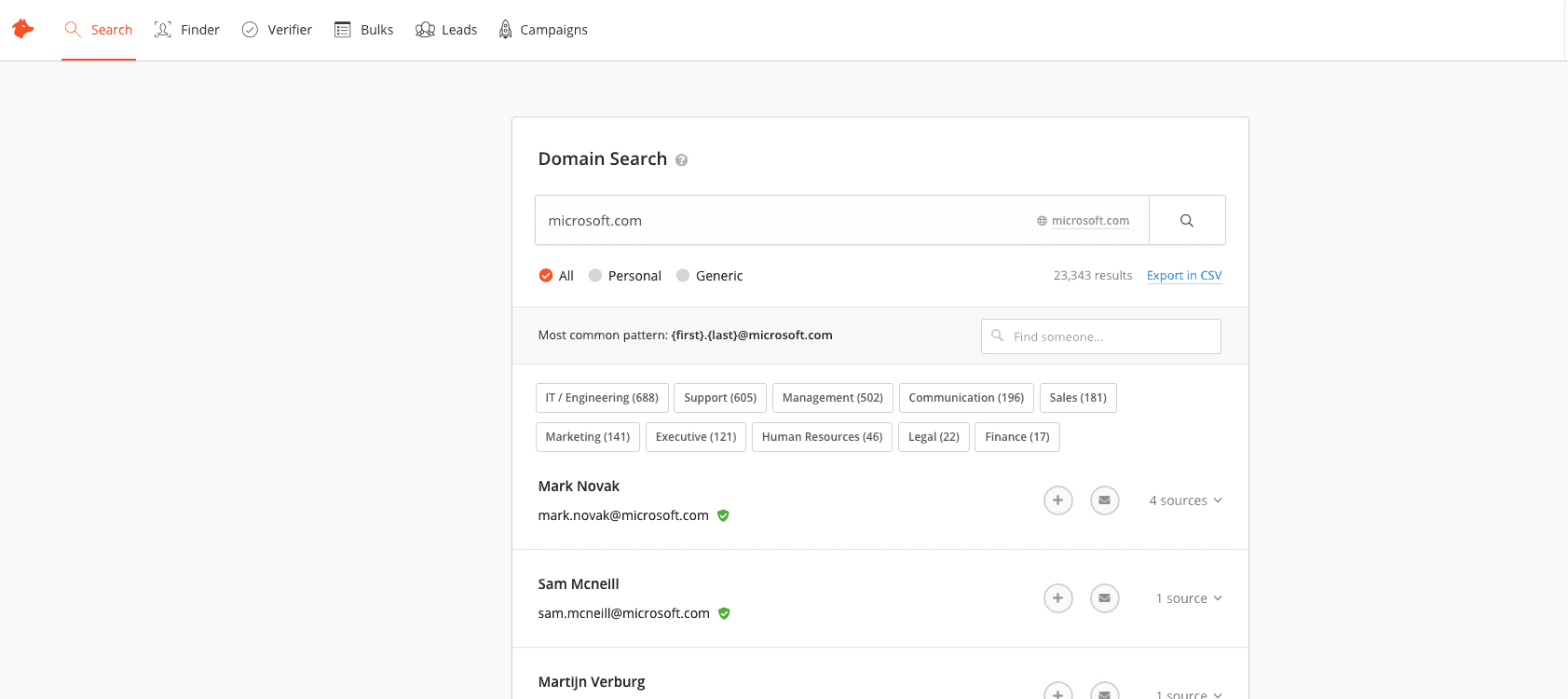 Hunter scours the entire web collecting email addresses, so when you search for a domain on Hunter, it returns all those using that domain from all corners of the web. The URLs where these addresses were sourced, along with the dates they were found are also returned in the search. 
All results are publicly sourced from the web and are displayed with a specific colour (green, yellow or red) that estimates the probability of the email address being correct. Simply hover over it to get more information on the exact probability of it being a reliable email address. The checkmark icon should verify the deliverability too. 
Additional personal information is attached to each email address where possible. This extends to full name, job title, telephone number and social media handles. 
As with the dedicated Email Finder feature, Hunter's Domain Search function will enable you to filter your search for a specific person using that domain. 
Apply filters
Domain Searches associated with large companies will probably result in Hunter finding thousands of email addresses. In such a case, users will need to filter the results to find appropriate contacts in order to reach out to those who matter. 
There are several ways Hunter enables you to filter through the results. First, if you already know the individual you wish to contact, the Domain Search, will detect the most common pattern for a domain and a 'Find Someone' box will appear for you to enter a name for a specific professional.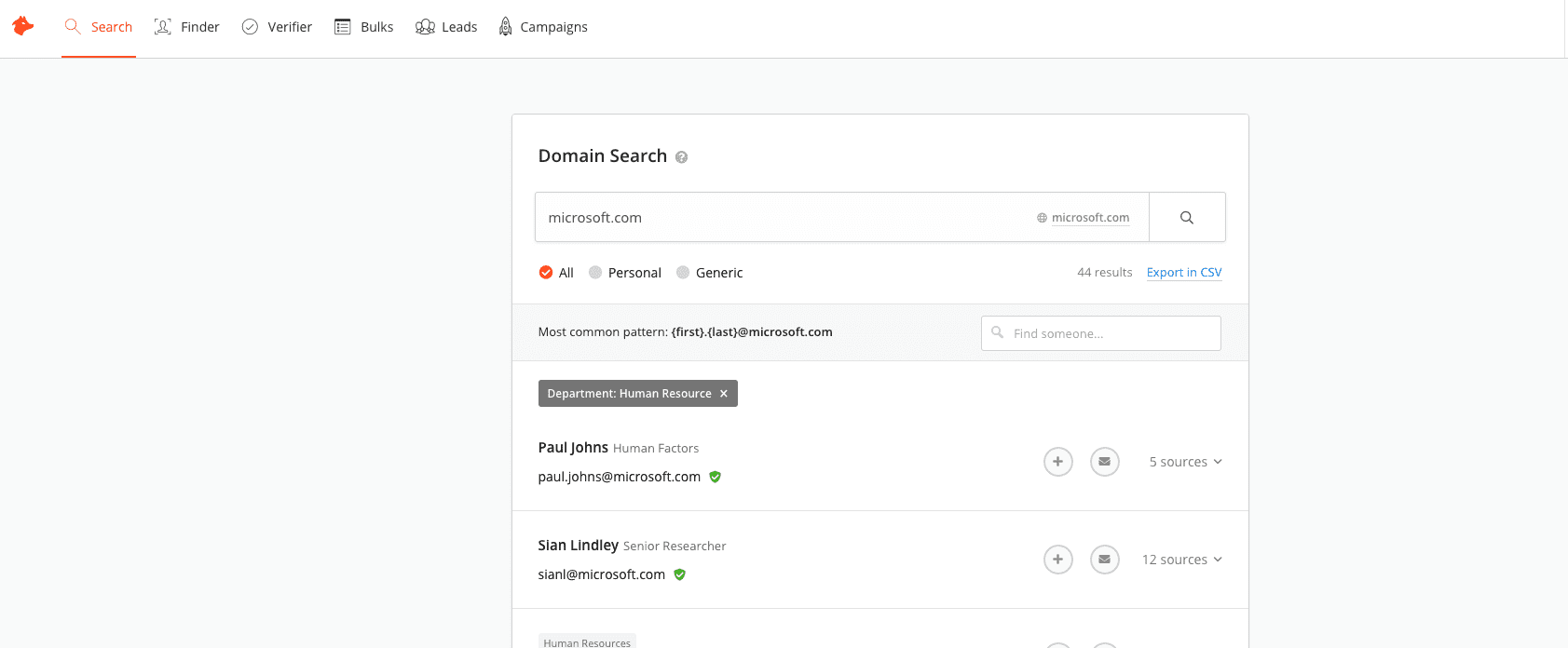 You can also filter by department within an organisation. For example, IT/Engineering, Human Resources, Editorial, Management, Sales or Finance. Selecting any number of these filters will narrow down your search to find the contact details of professionals within the selected departments. 
Verification 
Hunter's Email Verification tool processes each email address that is entered and tests it for the following: 
Gibberish – random email addresses don't pass the test. For example, those that appear loosely threaded together in no coherent format like, 8e74ufh0s7@company.co.uk will be marked as invalid. Meanwhile, well-formatted email addresses are detected as 'correct'.
Whether it is disposable – Hunter checks whether the email has a domain name that is for temporary use.
Ensure the presence of MX Records – if no MX records are detected on the domain, it cannot receive emails and will be invalid.
SMTP Check – Hunter tested the email address to see if it bounces or not; saving users time
Catch-all policy – such policies accept all domains and will flag up in this test.
Invalid Email

Valid Email

Leads
Save potential contacts for your organisation in Hunter to help keep track of those you need to contact to optimise your outreach campaigns. Use this feature to simply save professional contacts to your list for when you need them. Access them when you want, edit your lists and import them in your CRM. 
Hunter makes adding leads incredibly easy. The can be saved directly from Domain searches or Email finder by clicking on the + icon next to the email. Find your list of saved leads in the bottom left corner of the screen for easy access and editing. 
One of the best things about this feature is that if you only have a name and email address saved as a lead, Hunter will automatically enrich the lead with all the public information it finds on the web, at no extra cost.
Manage your existing leads by using the dedicated filters and organising them into specific lists. With each modified list, you can send customised emails to a group of contacts that fall under specific filters.
Download your email lists to share with others in your organisation by clicking the Export to CSV button. Open the file with Excel to view, edit and share as required. 
Bulk tasks 
Hunter's series of powerful Bulk searches allow users to complete tasks in minutes. Choose between three bulk tasks including, Bulk Domain Searches, Bulk Email finder and Bulk Email Verifier – when you need more power than individual searches allow.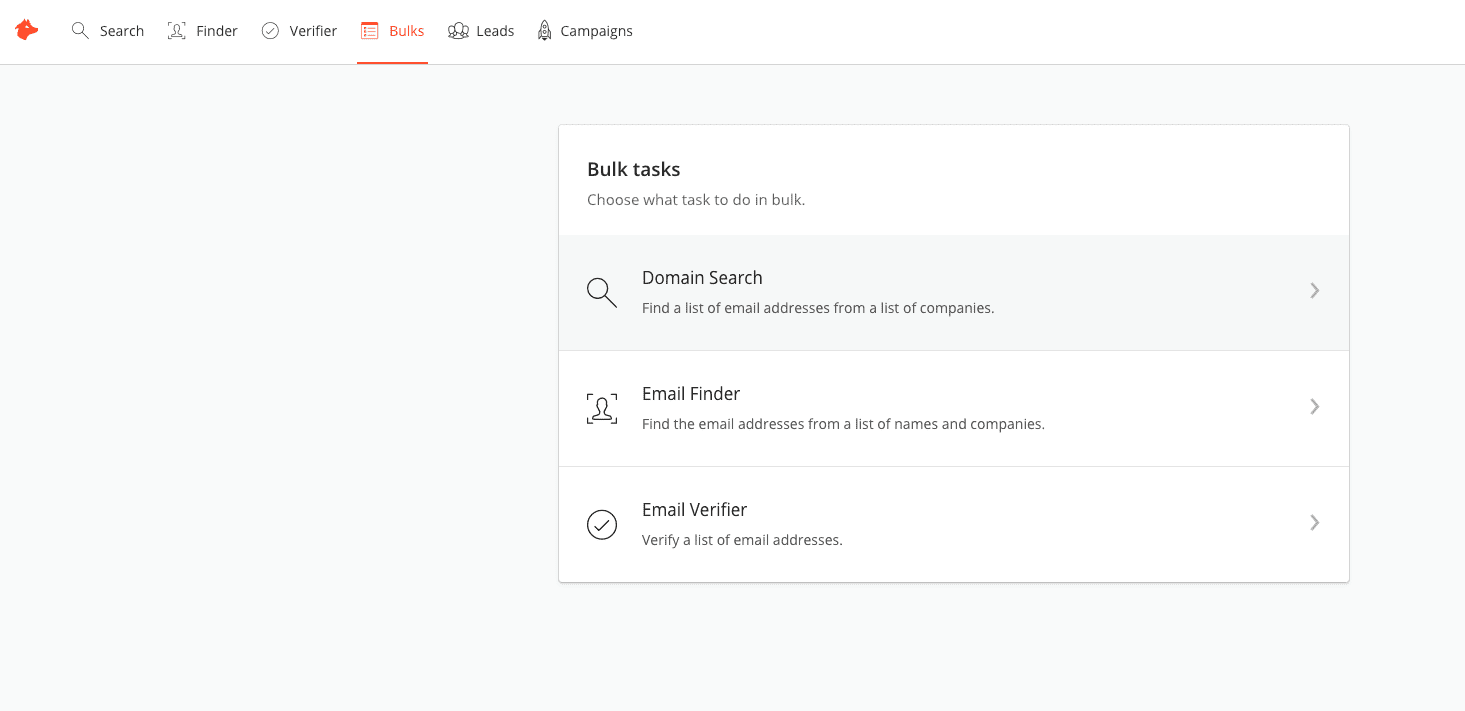 These are great ways to build effective email lists fast and find an enriched source of additional information on multiple companies in one place. The Bulk Email Finder lets you find multiple emails of names, companies and domains. 
Verifying emails on a one-by-one basis can be timely and frustrating. Especially when you want to verify results from a 'bulk search'. Hunters Bulk Email Verifier makes it easy to check and verify multiple email addresses of up to 200 emails at once. 
Hunters Bulk tools require a premium account. It is worth considering your email marketing needs. For those who are primarily focused on reaching out to the maximum number of prospects possible, these bulk tools will elevate your efforts to new heights. Do test out these functions before upgrading your account. 
Hunter allows you to upload your CSV to see the volume and quality of email addresses it finds and gives you a preview of the data before you upgrade.
Email Campaigns 
Hunter is all about making sure your carefully crafted emails reach your target audience. Essentially, all you have to do is take care of the content and Hunter will take care of the rest.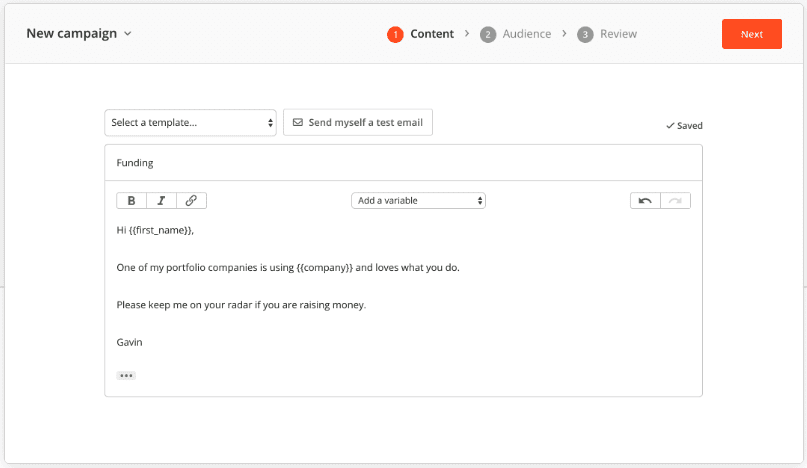 If you do find that you need some content inspiration, Hunter provides several specialised email templates with dynamic variables so you can save time and craft the most compelling email copy. 
You can send a single email or create a whole customisable campaign to send up to 400 emails a day. Users can set a daily quota and take charge of their own scheduling by deciding when campaigns are sent out. Meaning they can keep track of the volume and timing of the entire process. 
Track your progress from the moment you click send and maintain good relations with your prospects by following up appropriately. Hunter will let you know when emails have been received open and replied to. This should help determine when to send follow-up emails.
Hunter even prepares these follow up emails for you but always invited you to add a personalised message before its sent. 
Integrations
One of the best things about Hunter is users can integrate it with other online tools to make the most out of what it has to offer. Its Gmail integration capabilities let users send emails to single leads or to create email campaigns directly from Hunter. Simply hit the 'letter' icon in Hunter and link to your Gmail account within a few clicks. Reach out to existing leads or new emails from Domain Searched and Email Finds.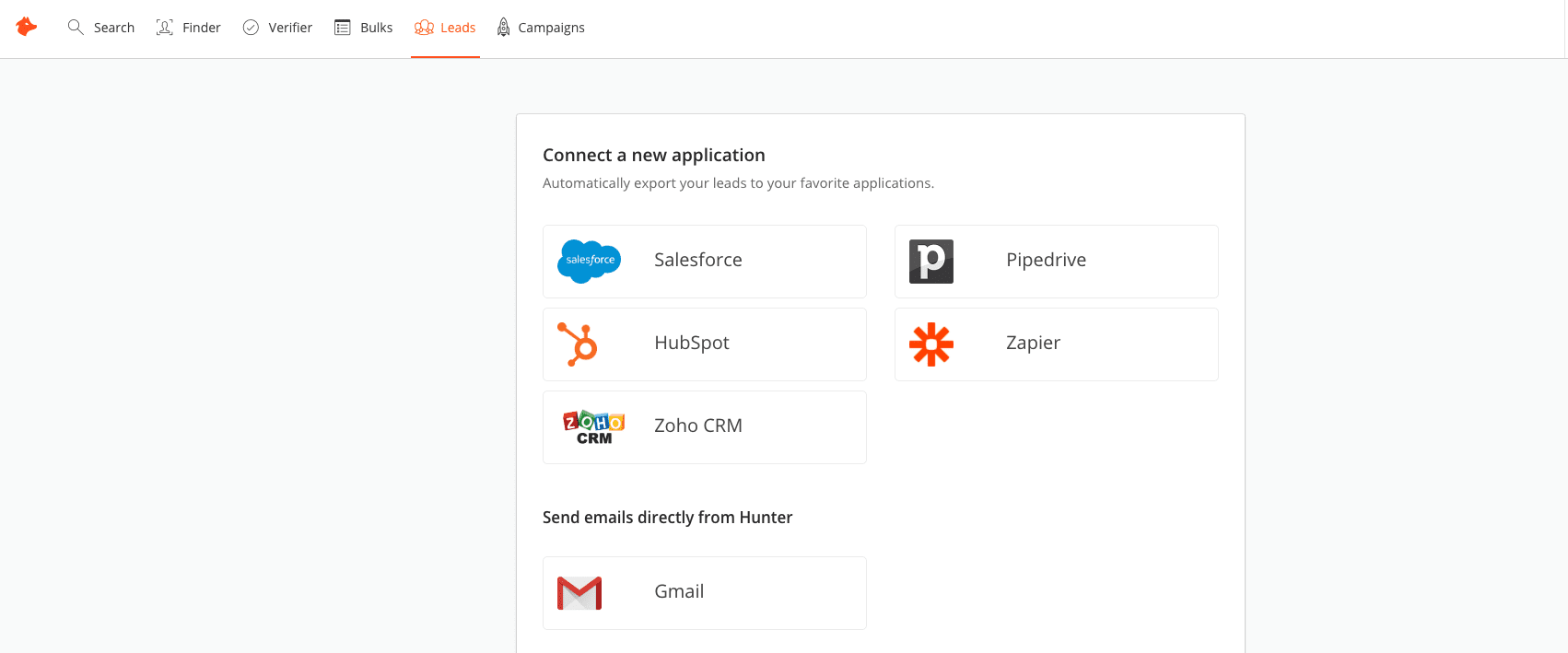 Go further by integrating it with other accounts like Salesforce, to automatically export newest generated leads; or, HubSpot to synchronise leads. The user-friendly interface makes integration easy. Just go to the 'leads' section on your dashboard and find the 'connected apps' section to add a new application.
Hunter's Chrome extension helps users to find email addresses that are associated with the website they're browsing. Hunter roams in the background and automatically generates emails with public sources. This five-star feature makes it an incredibly convenient way to access the power of Hunter without having to leave the webpage. Add this extension to Chrome for free.

Another useful feature of Email hunter is its ability to help organise searches from A to Z. Using Google Sheets Add-on helps to save all the data that's been collected on one sheet in your Google Drive. This integration makes it easier to make lists, enrich data and stay on top of email campaigns. The add-on is available for free, meaning there's no excuse not to have all leads, contacts and campaigns all in one place.
Plans and pricing 
All the features discussed above are available to different extents depending on which of the five plans are purchased. Regardless of the subscription you choose, you can share it with as many people on your team as you want, at no additional cost.
Free
Starter – 49€ /mo billed monthly
Growth – 99€ /mo billed monthly
Pro – 199€ /mo billed monthly
Enterprise – 399€ /mo billed monthly 
Save 30% on all prices when paying annually. 
The free option is a good place to start for those who want to get a better understanding of what they can achieve with Hunter on board. At no cost, make up to 50 requests (domain search, email lookup and email verification) and get started with your cold email campaigns. 
The free package doesn't allow users to download the results of their domain searches or carry out any bulk tasks. But it remains to be a powerful tool in many businesses arsenals. Regardless of the level of outreach a company undertakes, Hunter's free email lookup tool is a useful instrument even if it's for a monthly one-off search.
All paid subscription packages allow users to download results from searches. From the Starter package through to Enterprise; the number of requests allowed steadily increase from 1000, 5000, 20,000 and 50,000 respectively. 
Hunter invites those who require more functions than the existing packages allow, to contact them to arrange custom plans. 
Getting more from Hunter
The good thing about this tool is that there's always more you can get from it. Granted, it's an incredibly basic and user-friendly online tool, but it also has staggering complexities and capabilities that produce more than a mere contact email when you need one. 
1. Reduce Email Bounce Rates
Few things disrupt a perfectly well-organised email outreach campaign more than void emails that just bounce right back. It wastes time, energy and money and limits results. Hunter seems to understand this all too well and has specifically designed this function to reduce the number of emails that bounce. 
By carefully and regularly qualifying your email lists, you are automatically on the road to improving deliverability. Hunter's filters let users set the terms for the quality of their email lists. A quick way is to filter the best email addresses in your export – e.g. only accept email addresses with at least 8 public sources. Since the number of sources is directly related to the reliability of an email address, you can expect a much higher quality of leads to add to your lists. 
2. Include unsubscribe links 
So, your email campaign seems to be going well and if following the principle of "more is better" your email list is proving to be highly successful. However, it can be better for your campaign to focus less on the number of email addresses and more on quality. The latter can be measured by engagement. 
There are simply no benefits in holding onto the "ghosts" of your lists. Subscribers who don't engage and ignore your emails are more harmful than those who never subscribed in the first place.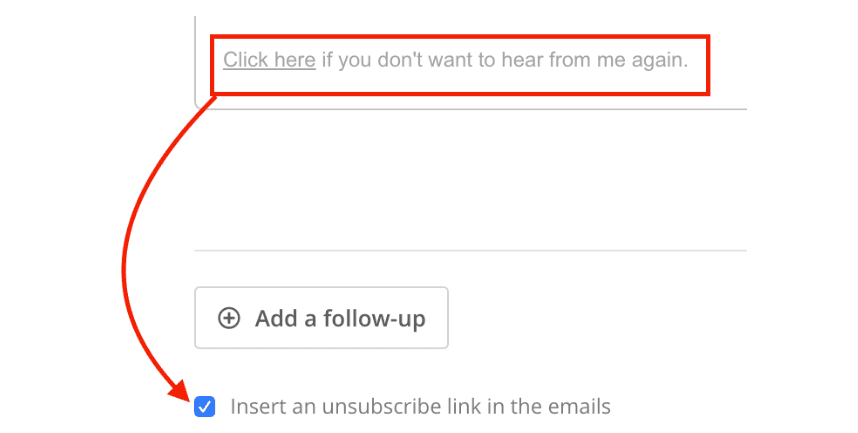 Hunter adds an unsubscribe link by default to all email campaigns so when a recipient chooses to hit the link, Hunter automatically removes them from your list of leads. 
When recipients have the choice to unsubscribe, it helps to keep your email lists clear from people who aren't actually interested in your content. This is important as results and metrics from your campaign can't account for anything if they're derivative of dead data. 
Urging uninterested users to remove themselves from your contact list can help you to maintain high click-through rates. The share of active users among your subscribers naturally increase. In the same vein, this also allows you to uphold a food sender reputation. When a larger share of your recipients have chosen not to unsubscribe, you can expect fewer spam complaints and more interaction with your emails. 
3. API for developers
You can even integrate Hunter with your own service or create custom connections with its simple API functions. Hunter's API service includes Domain searches, Email Finder tool, Email Verification and Email Count.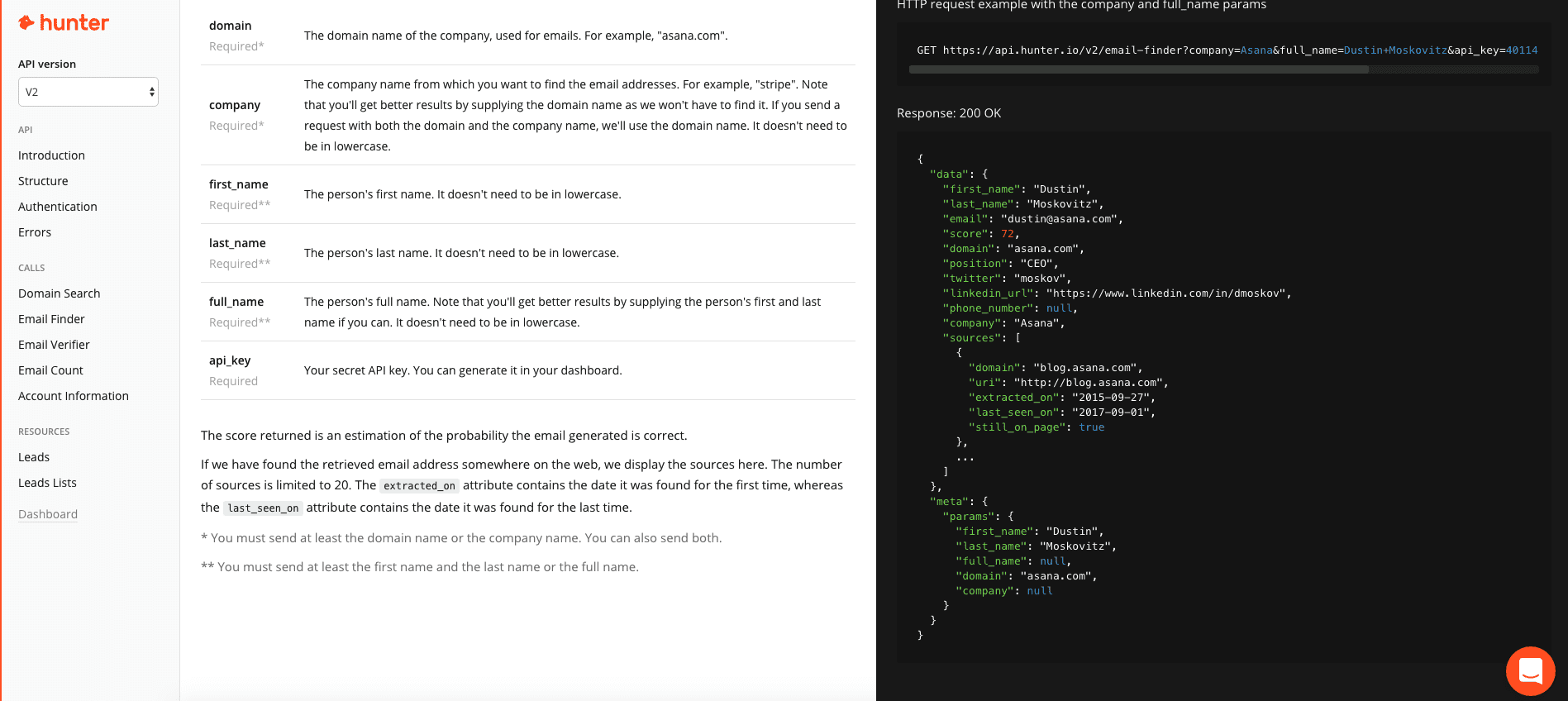 Its API structure is designed to be as simple as possible. The same basic structure always includes data, meta and errors. Users are encouraged to manage Hunters resources using REST technology to create, update and delete leads and lists.
Could Hunter be better?
Absolutely. Nothing's perfect and despite Hunters impressive range of functions, it's no exception to this rule. 
For a start, it's been pointed out that Hunter doesn't include a two in one email finding and verification service. Meaning each time you find an email address, you must run a separate test to verify it as an active email. Whilst only slight, this would certainly be certainly an updated feature that would make using Email Hunter more efficient. 
If your team currently depends on LinkedIn as its primary source of prospects, other email finding services might be a better option. Since Hunter's web extension is no longer in operation with LinkedIn, they have, however, replaced this integration with the Email Finder – requiring a search of name and company. 
Alternatives to Hunter 
Email lookup and verification services save businesses time and money by removing the need to search for and test individual addresses manually. Their importance can't be overstated, so it's worth noting how some other services compare to Hunter. 
It's somewhat true that the best email lists are those that have been grown organically. That is, subscribers actively signing up to receive your content. Naturally, these lists always tend to have the most engaged audience and lower bounce rate. 
Despite this, most businesses struggle to rely on incoming leads alone. They need a little help in building substantial lists of targeted leads. So, those email finding services that allow users to filter searches according to industry, role and technology are necessary. They can also help to discover companies and individuals that were never on the user's radar. 
With so many services out there, let's take a quick look at what you can expect to find and how they measure up to Hunter.

This email lookup tool does one of the few things that Hunter cant; it offers a two-in-one email finder and verification service accompanied by detailed scoring. Accessible both via their website and extension at an affordable starting price of only $19 per month. 
It doesn't rely on external databases for contacts, but rather uses technology to search and verify emails in one comprehensive step. Whilst there are some other services which combine the finding and verifying emails in one step, FindEmails.com provides detailed scoring and accurately curated email addresses to quickly build effective email lists. 
FindEmail.com's two-in-one features don't extend to other functions. It doesn't accommodate integrations with other applications like Google Sheets, for example. Meaning, users must switch between programs when building and editing lists. If integrating applications into one is important to you, Hunter tops FindEmails.com.

This tool effectively only charges its users for verified email addresses. It's an email finder and verifier that charges $49 per month to ensure that the emails it proposes to its users have high deliverability rates and sourcing. It's an ideal tool for those who would pay to avoid wasting time and get straight down to verified email addresses.
But, you'll have to take their word for it. Anymail Finder charges for and delivers verified email addresses but does not provide detailed scoring. Meaning, its difficult to visually compare variations of a potential email address.
Share your plan with unlimited team members at no additional cost. Since this tool is broadly focused on email discovery and puts much emphasis on verification; it somewhat lacks additional features.  
Unlike Hunter, Anymail Finder doesn't allow its users to search for emails with name, companies and departments. So, unless the most important thing to your outreach campaign is fast and accurate verifiability – you may want to look elsewhere.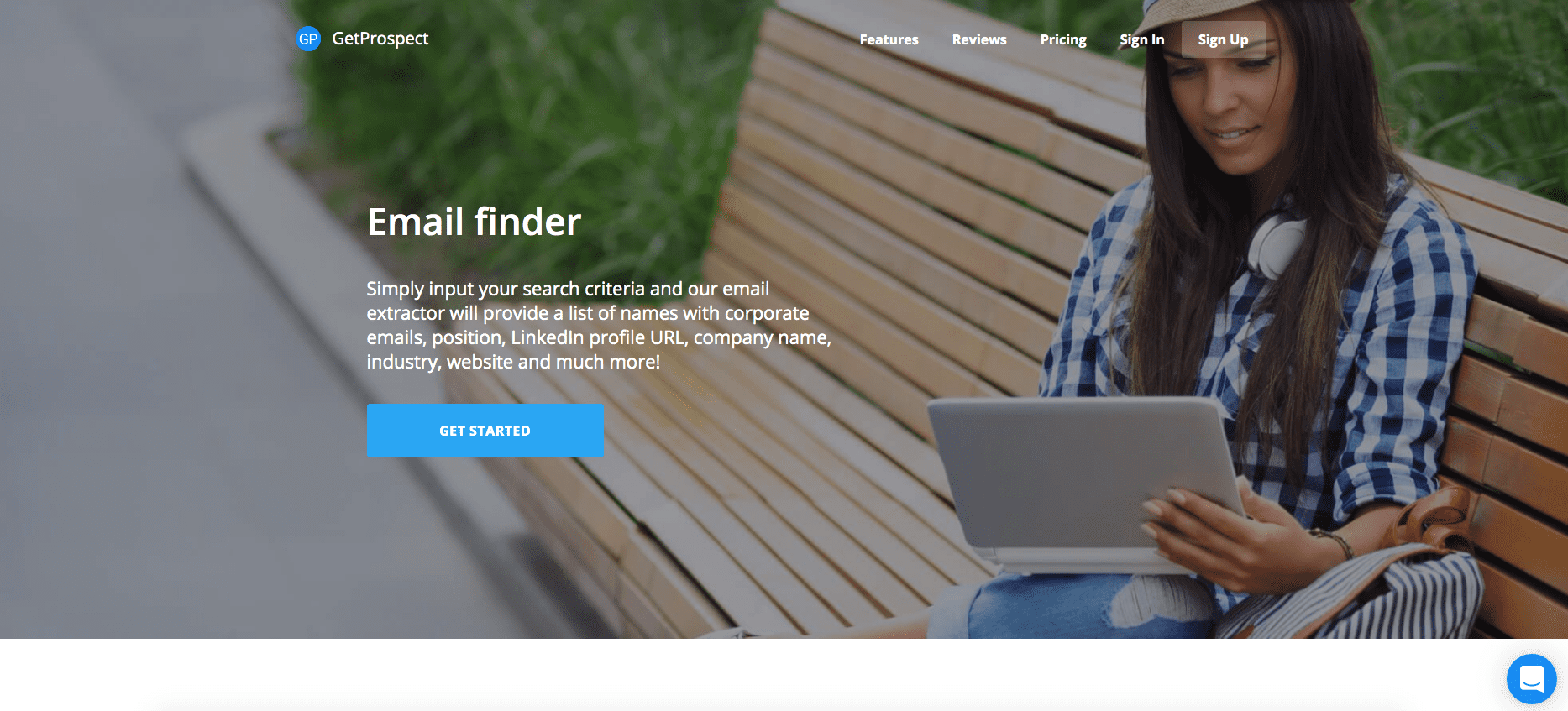 One of Hunter's only pitfalls was its inability to work as an extension to find emails and build prospect lists on LinkedIn. GetProspect is a monthly based subscription that's been designed for B2B organisations to find professional emails on LinkedIn and build prospect lists specifically. 
Its filtered search allows users to find contacts based on industry, company size, position and domain. Once a list has been created, it can be managed within the system or exported to your CRM. 
Its free plan allows users to search for up to 50 emails each month. Its email address finder service lets users look up individual contacts or bulk addresses based on different parameters. Once you've added a contact to your list, GetProspect places it in a sortable file in the clear user interface that can be integrated with other tools.
The bottom line here is, this tool simply can't compete with the likes of Hunter and FindEmails.com. In its own right, it does work well as a LinkedIn email extractor, but that's it. More rigorous checks can be found elsewhere. It should be noted that there is no way to detect the deliverability of an email found here via LinkedIn.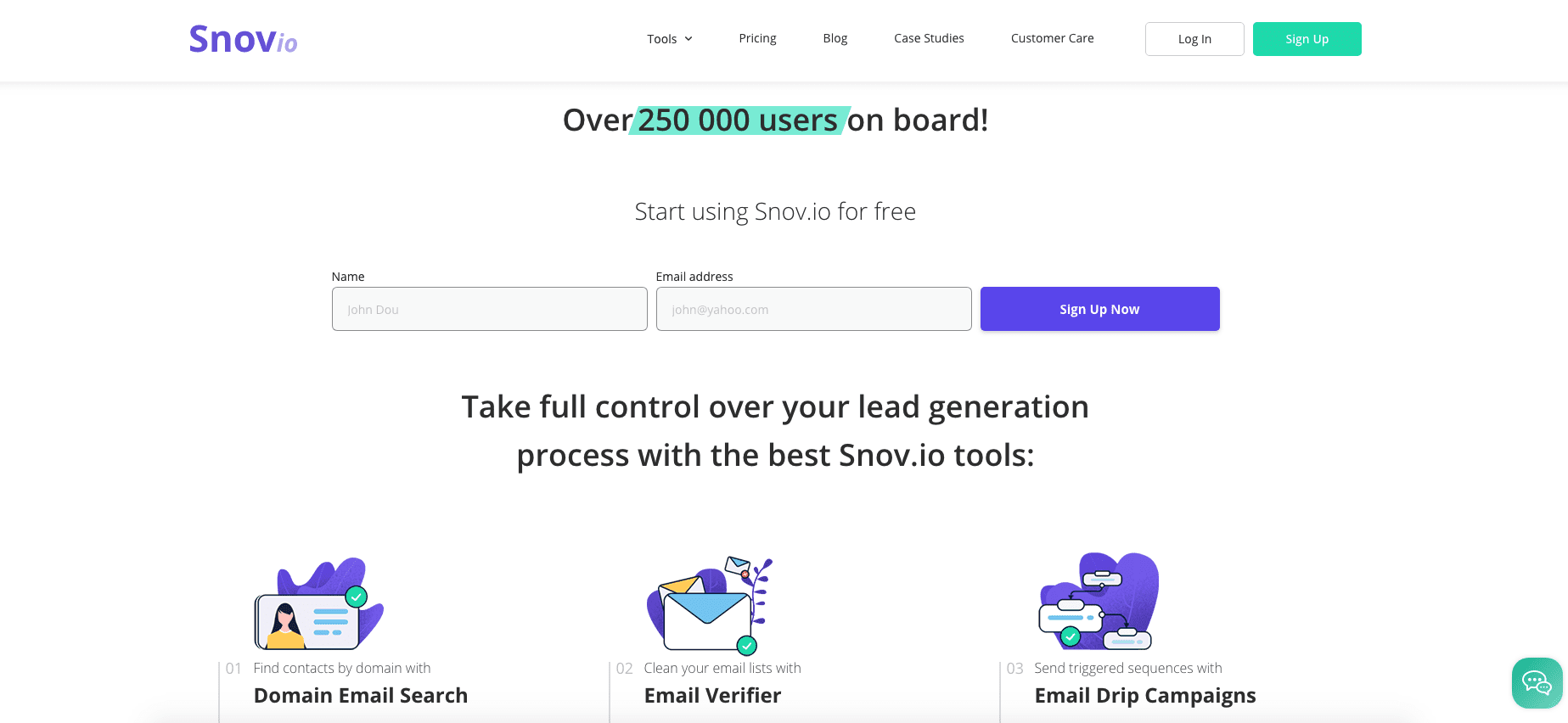 This Chrome extension email lookup and verification service happen to have one of the best 'free plans' available. The paid option gives you access to more emails, but you only ever have to pay for the verified addresses.
It's somewhat an updated version of GetProspects, since it too relied on LinkedIn for its contacts. Whilst it provides a good finding and verifying service, it's also restricted to the confines of LinkedIn's database. Still, it's a suitable option for people who need less than 100 monthly verifications for free. 
Snov.io offers some integration with Facebook. However, its current reliance on LinkedIn means it has less access to the sources of other tools like Hunter and Anymail Finder. One special feature of Snov.io that earned it a place on this list is that it offers the largest number of free searches. It's a great alternative for cost-conscious businesses and individuals. Depending less on a pattern-matching technology, this tool is best described as an 'email finder' in the most basic application of the term.
Email finder tools are an important way to identify specific contacts and grow email lists. They speed up the process and open the door to new prospects. In order to maximise and reap the benefits of these tools, they should possess a high degree of accuracy, they should work whatever you do, and they should fully accommodate other online tools via integration. 
Based on these criteria, one might turn to Hunter to fulfil these roles. Its Email Verifier function is as complete as possible. It makes validates or rejects emails based on assessments at various levels: format, domain, information, the response of the mail servers and then compares each email with their base of over 200 million professional email addresses. 
Hunter's 5 tier plans make it an affordable option for small businesses looking to grow their email lists as well as for larger enterprises' email campaigns. In addition to this, Hunter works wherever and whenever. Its Chrome extension lets users find email addresses from anywhere on the web at the click of a button.

Voila Norbert is another email lookup and verification tool used by the likes of Facebook, Airbnb and Twitter. 
You can get 50 credits for free, after that it's $39/month if paid annually or $49/month if paid monthly. Voila Norbert offers a bulk email verification tool where you can verify as many as 50,000 emails for as low as $150. 
Email Hunter FAQ
How to find someone's email address?
There're a couple of strategies you can use to find someone's email address, including using an email lookup service, advanced Twitter search and LinkedIn.
What are some of the best email lookup tools?
There're a few decent email finder tools, including Email Hunter, Voila Norbert, Snov and FindEmails.
How to verify an email address?
Use email verification features provided by tools like Email Hunter and Voila Norbert.
What are the alternatives to Email Hunter?
Find That Email, Voila Norbert, Snov, Anymail Finder and FindEmails.