Welcome to the age of quality content. In a world that's grown weary of lazy, aggressive advertising and fake news, the art of creating smart and knowledgable copy reigns supreme.
We owe much to Google for enabling content marketing to become such an effective form of building exposure for brands. Search Engine Optimisation practices almost exclusively revolve around anticipating the keywords that your target audience are using in search engine queries and weaving them into the content.
It's no exaggeration to say that the best way of placing your business under the noses of those who matter is through effective keyword infused content. In fact, the world of marketing is well aware of the power of this form of SEO. So badly kept is the secret of utilising content marketing that there are digital agencies cropping up worldwide with the aim of aiding businesses in bringing them unmissable articles, blog posts, social statuses, white papers, you name it.
One company that's been quick to tap into our growing collective needs for quality content is Constant Content. In the ten years since its inception, Constant Content has produced well over 1 million pieces of written work for clients.
The website supports both the quick and easy crafting of custom content along with the option to purchase ready-made articles on-demand.
Constant Content's army of accomplished writers serve a customer base of over 50,000 organisations, and aside for some questions over the company's customer service and staff aptitude, is enjoying an impressive period of sustained market prominence.
But as the popularity of content marketing grows, so too does both its demand and the range of options available for companies looking for some quality copy. In this day and age, failure to utilise well-keyworded content within your website's pages could be disastrous in losing ground to competitors, so with this in mind we've created a list of the four best alternatives to Constant Content available online – so you'll never find yourself hamstrung for visibility online again.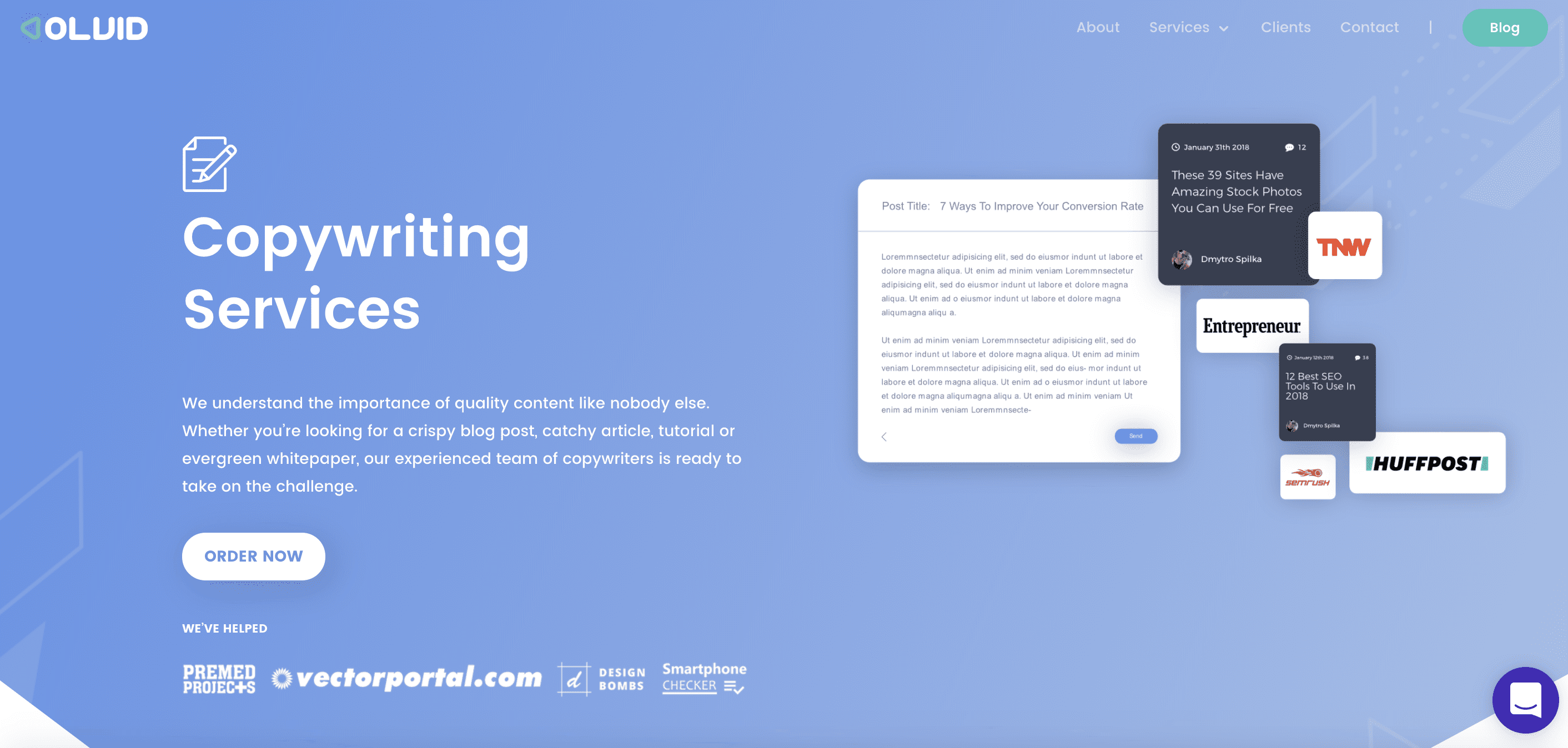 We had to include ourselves on top of this list. At the end of the day, we're here to earn that penny 
 And, we truly think we're your best option.
Well, we wouldn't be much of an SEO agency if we didn't back ourselves as one of the very best alternatives to Constant Content, would we? At Solvid we take pride in producing excellent written work for clients almost as much as we take pride in our ethical business model.
There's no gambling, radical politics or shady pharma organisations among our clientele, and we ensure that no jobs are taken on if the content requested appears to take an underhanded or exploitative tone.
At Solvid, our dedicated in-house team shares a wealth of diverse industry experience that fills us with the utmost confidence that even the most esoteric of orders can be completed with satisfaction guaranteed. From long-form content all the way through to guest blogger outreach – all of your SEO needs are in good hands here.
Let us specialise in catering to your all of your quality content needs. However, it's worth pointing out that there are plenty more strings to our collective bows than that. Clients are able to call on Solvid to carry out thorough website audits, or design and optimise an entire business site, carry out high-quality content marketing or copywriting among other implementable SEO techniques designed to bolster your digital visibility.
Here, we know the true value of a meaningful piece of content, and the value it can bring for your business in the eyes of your target audience and clients. Every one of our projects is thoroughly researched and edited while we look to establish a deeper understanding not only of your brand but of the prospective customer base that you're aiming to reach through quality content.
Solvid has enjoyed building a healthy and diverse client base that includes The Society of British Interior Design, V-Tennis, Smartphone Checker and Mitrefitch among many other prestigious organisations from across the globe.
We're no strangers to providing the right kind of exposure for our clients, we're proud to have had content featured in esteemed outlets such as Entrepreneur, HuffPost, BuzzFeed and The Next Web to name but a few.
At Solvid, we're intent on providing unparalleled convenience when it comes to the process of purchasing content. Our site features numerous 'quick order' portals that enable customers to calculate quotes and place orders instantaneously for a predesignated number of articles to go on specified Domain Authority websites. With no need to pick up the phone or send any emails, you get to save plenty of time in ordering your quality content.
We're firm believers in the power of learning, and here at Solvid, we're delighted to share our industry expertise over the best SEO practices of the day and offer our insights into a range of content-related topics for free to visitors. Our website's blog section contains a wealth of relevant guides and how-tos as well as a jargon-busting glossary of industry and SEO terms. We're aware that it can be frustrating to have your questions go unanswered, and we firmly believe that sharing really is caring when it comes to content marketing!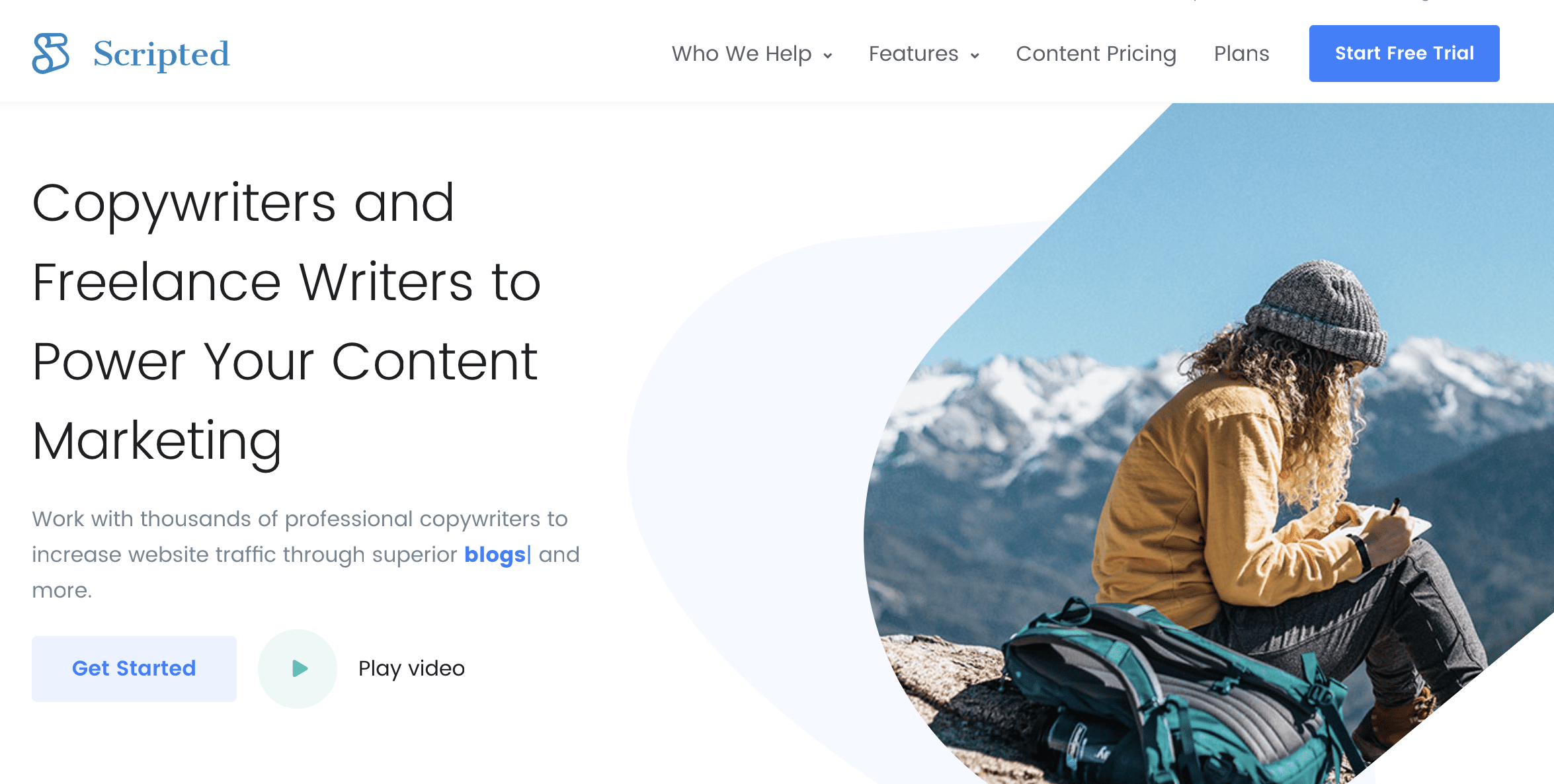 "Great marketing requires great writing" Scripted's homepage asserts, and with clients like LinkedIn, L'Oreal and Eventbrite regularly returning to their pages, 'great writing' must come as standard to customers.
Scripted works by enabling clients to connect with its network of skilled freelance writers. While some copywriting marketplaces prefer to use a more automated system, where users benefit from communicating directly to their assigned author – helping you to effectively share your vision.
Clients enjoy a 100% satisfaction guarantee accompanying all work they receive, which is highly useful. However, given that only 2% of applicants ever survive Scripted's rigorous vetting process to become associated writers, the chances are that you'll ultimately be highly content with the finished product – every time.
Scripted also offers users a set of intuitive digital tools that help them to scrutinise their content once it's complete.
Another excellent feature for all of Scripted's userbase to enjoy is SmartMatch. Here, customers are capable of submitting a short brief on the style of content that they're looking for before the tool takes control and matches them with the perfect writer for their requirements – and given that Scripted boasts a sizeable network of freelance writers on-hand to deal with your requests, it won't take long before you find the ideal content creator for you.
The quality of customer care offered by Scripted gives just about any other member on this list a run for its money. Capable of creating engaging blog posts, social media content, newsletters and website copy, Scripted uses a series of intuitive tools and technology to ensure that customers work with writers that fit the task perfectly on a stylistic and technical level.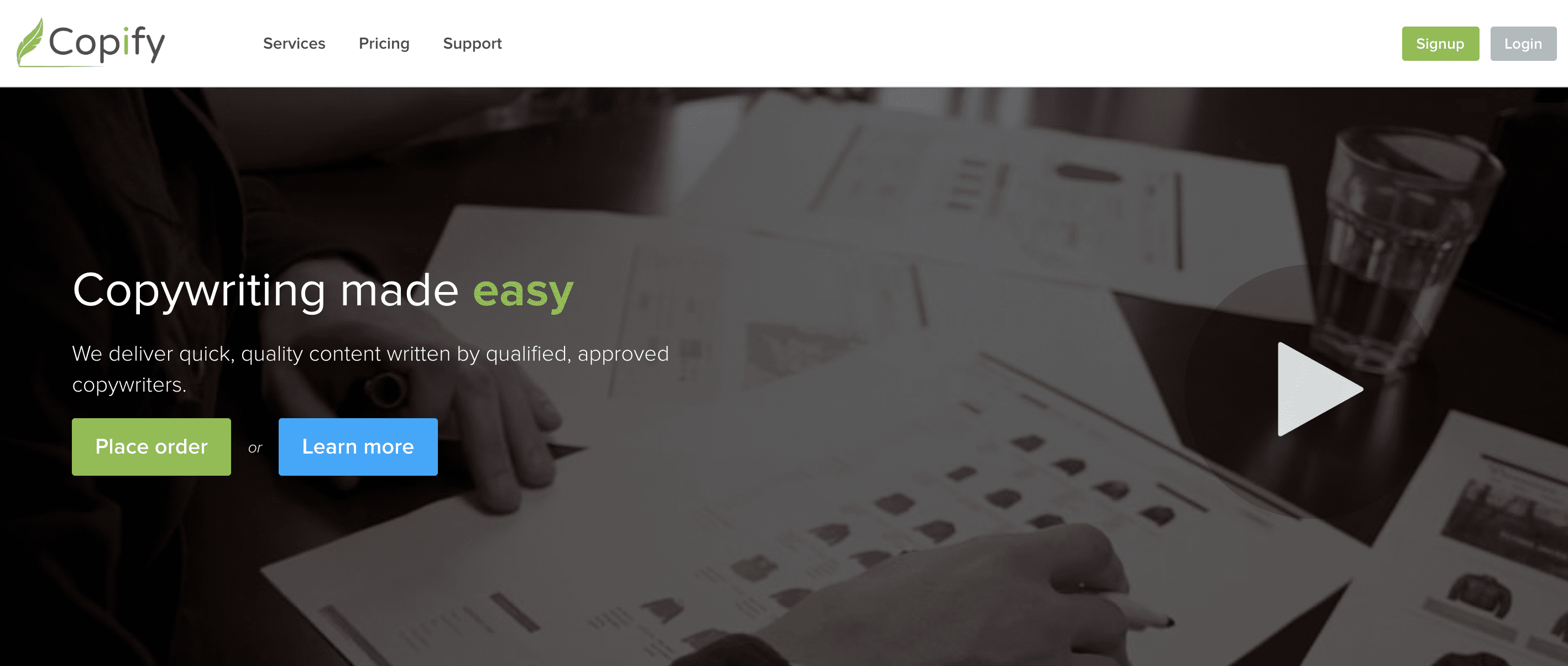 Copify is without a doubt a big hitter when it comes to content creation, and with a capable team of credible writers behind them, it's hard to look beyond the company for fulfilling your SEO needs.
Every one of Copify's copywriters works remotely across the United States and the United Kingdom, and customers' writing projects are assigned to a 'native' writer, depending on the geography of either your business or intended audience. While this approach may seem prejudice to some readers, enlisting an English-based writer to produce content for an American audience might cause problems owing to the small lingual idiosyncracies between the two mother tongues.
When it comes to the type of content Copify offers, all of the bases are covered – including article writing, blog posts, press releases, product reviews, e-commerce content and SEO copywriting.
Because of the sizeable freelance network of authors that Copify is capable of tapping into, you could have a ready worker assigned to your order within minutes, and the business promises that their orders are completed within 48 hours of being purchased.
This content-on-demand attitude underlines Copify's status as a market leader for businesses that are looking to outsource written work whilst balancing tight deadlines.
The best aspect of Copify has to be its matchmaking algorithms that focus on pinpointing the perfect copywriter for your project. The website promises that customers 'simply fill in a quick form and we'll do the rest. We identify the most qualified, available copywriter for you.' This enables the customer to save time in checking bids and milling around proposals, and orders can be set up in seconds thanks to Copify's dedicated 'brief builder.'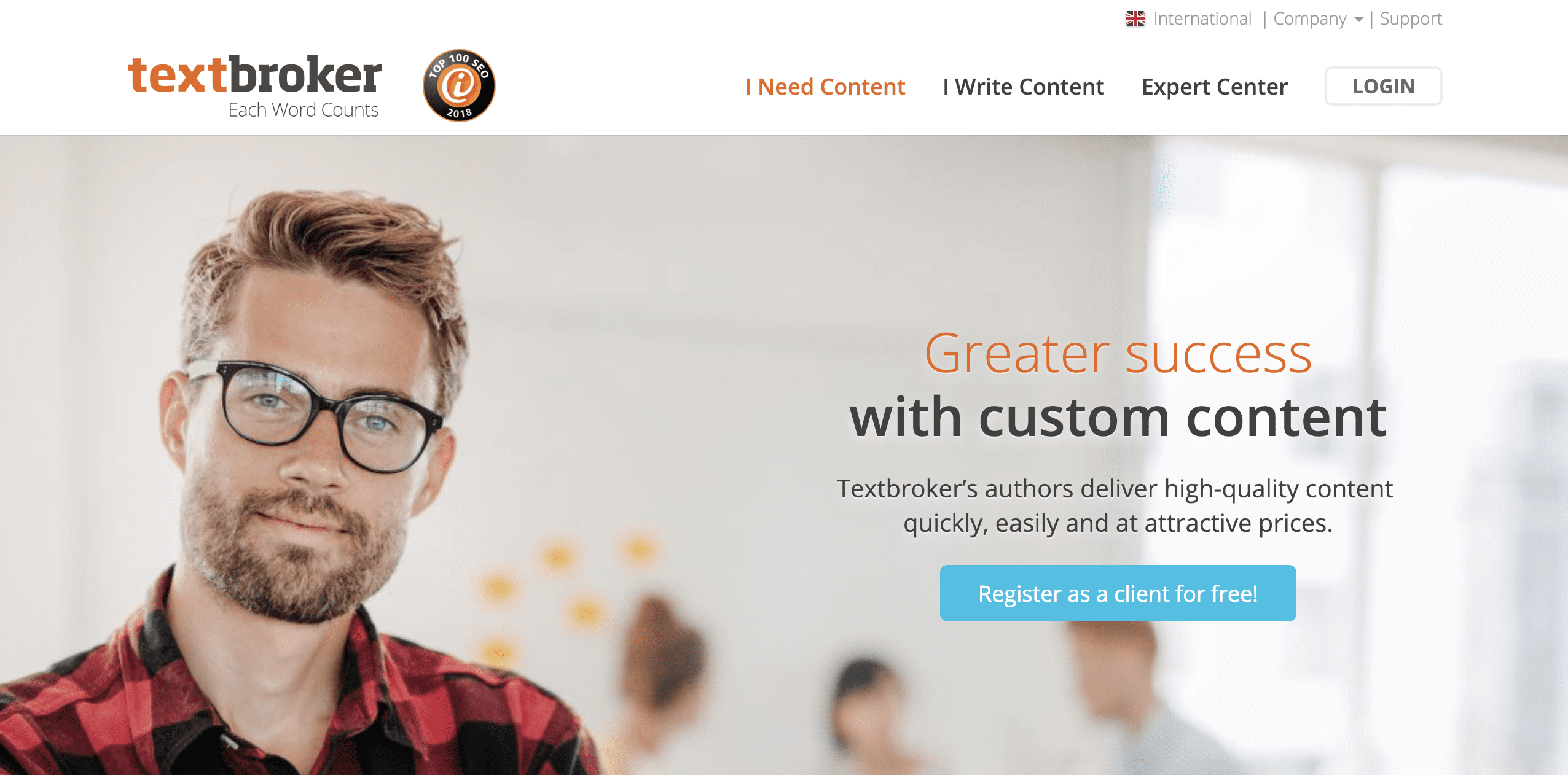 TextBroker is a smart content platform that's capable of providing clients with expertly produced content from a competitive rate of 1.3 cents per word.
In a bid to provide seamlessly easy user experience, TextBroker has implemented an intuitive'Self Service' portal that helps customers find their perfect copywriter. To use Self Service, customers simply create an account, add funds and then select the type of service that they're looking for.
TextBroker features three types of service: OpenOrder, DirectOrder and TeamOrder. OpenOrder enables you to construct a brief outlining how you want your content to be tailored, and the quality level as well as desired price before opening your offer up to available and capable native writers. Whereas Direct Order enables you to pitch to a specific author who you can negotiate a price and turnover time with individually. Finally, TeamOrder allows you to choose a team of hand-picked, capable authors to deal with larger projects.
With clientele ranging from the likes of eBay to Staples, TextBroker's pedigree is clear for all to see. The degree of control that you have in choosing the type of content you want to buy is unparalleled, too – thanks to TextBroker's convenient but somewhat demoralising 'author level' pricing system. Users can control the quality of their dedicated author by choosing between two-stars and five-stars. A two-star author will charge 1.3 cents per word, while a five-star author would cost around 6.5 cents per word.
TextBroker has a wide community of freelance authors at its disposal and is an excellent way of making money for willing writers in the gig economy. Businesses get to benefit from large-scale content created swiftly at competitive prices through a large network of writers and at a level of quality that they're able to choose.