The World Wide Web has existed in the public domain for merely a quarter century – which turns out to be plenty of time to turn its vast array of users into a very demanding information-hungry mob. 
Back in the early 1990s, if you wanted to know the screening times at your local cinema, you had to suffer the indignity of walking there – or navigate your way through human interaction on your house phone. If you were wondering how many of your fellow viewers hated the big season finale of the world's biggest fantasy drama of the time, you couldn't just browse your phones for the latest topical memes, you had to wait to buy the next morning's newspaper. 
The internet, and search engines like Google, changed all that. Suddenly we had access to all the information we could possibly need, and more. The convenience of information today means that we're forever striving for more answers, more knowledge, and using search engines at an unprecedented rate in order to get answers.
With this in mind, businesses are beginning to learn that it's not enough to possess a website. Sure, a domain can act as an excellent conversion point for your goods and services, but how will new customers find you? And why on earth would they click onto your pages if there's no motivation to? 
One of the most effective solutions for tapping into the power of Google and the demand for information online is through the production of quality content.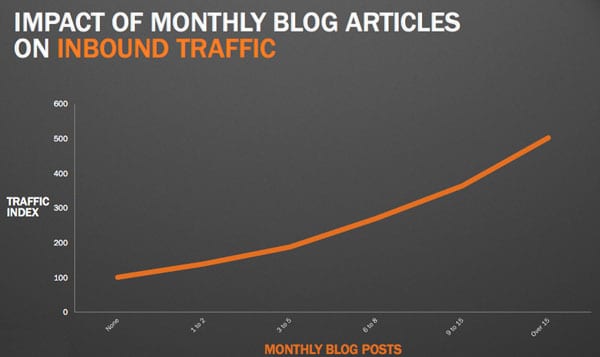 (Content has never been more important. The chart above illustrates that traffic can increase exponentially when an active business blog is maintained. Image: Small Business SEM)
By regularly publishing content on your business' website, you not only get the chance to satisfy your target audiences' demand for information and answers by showing off your industry expertise, but you can also create articles that are designed to appear on the pages of Google. 
With appropriate keywording, your content can rank highly on Google's results pages, enabling more potential customers to notice you and develop an interest. 
Of course, Search Engine Optimisation and effective keywording is hardly an industry secret, and many businesses have invested fortunes in developing content that's designed to get them noticed. If you're yet to set up a dedicated blog for your website, or feel that you're in need of improving your blogging platform to gain more exposure, hiring a freelance copywriter could be the solution. 
There are plenty of freelance writers out there – and from all over the world – so you'll have no shortage of options. But how can you find out which freelancer is right for you and your business? Here, we've decided to create a list of the 12 most important considerations to take before hiring a freelance copywriter – as well as some of the best places to find them: 
1. Quality? Or quantity?
The gig economy is extremely scalable, and freelance writers can be hired from as little as $0.02 per word, and range all the way to $1 per word. 
This means that you have full control over the quality and quantity of work you're looking for in your content. Of course, paying two cents per word will come with consequences. Many of the cheapest quotes will come from non-native English speakers – and while this isn't necessarily a problem alone, cheap labour runs a high risk of broken language and poor grammar, thus meaning that you could face a lengthy editing process. 
The advantage of hiring dirt cheap freelance copywriters does, however, come with benefits in the form of the quantity of articles you can publish on your website. While more expensive writers will likely churn out excellent articles, if you're paying too much then it will be trickier to allocate your budget to this form of marketing. 
It's vital that you take the time to consider the best move for your business as a whole when looking into the level of freelancer you hire. Quality content is certainly the best way to gain exposure for your company and engage readers – but if you're a smaller organisation and don't mind getting a little hands-on and spending more time editing, then there's certainly a case to be made for low-budget writers. 
2. Room for edits
To expand on the case for hiring low-cost, lower-quality freelance copywriters, it can potentially be an asset to your business if you have staff that's capable of reviewing text and making edits efficiently. 
You may need to perform some SEO yourself in order to get low-cost content ranking high on Google's results pages, and in some cases, editing can take as long to complete as the writing process itself. Some freelance writers will be happy to action a range of edit requests from their employer, while others may not be skilled enough to improve on their work themselves (depending on your company's niche and level of content you desire). 
Take editing into account when choosing your freelancer, and remember that cheaper writers will likely result in more hours of productivity lost through internal edits. 
3. Communication opportunities
The gig economy can produce some unusually nocturnal creatures. Freelance content writers tend to enjoy operating on their own timeframes that can often fall outside of working hours. Be sure to negotiate the best time in which to contact your freelancers for queries and suggestions and ascertain whether these communication opportunities work for you, too. 
Establishing an idyllic timeframe to get in touch with your freelance writers is especially important in they're based overseas. Freelancers can hail from all over the world, and it will only hurt your business if you continually fail to get in touch with them whenever the necessity arises. 
4. Compliment your brand
Your business is your identity. Writers will need to uphold your brand identity in their output or else you risk alienating your audience and losing track of your values. 
If you're setting up a criminal law firm, for example, it may betray your company image to churn out articles written in a chirpy conversational style. Likewise, a website dedicated to selling dog food may not win many fans through publishing literary essay-esque pieces each week. 
Take a look at your prospective freelance copywriter's portfolio and look beyond the grammar and prose; check to see that their tone matches your business – sometimes this can be the most important quality to watch out for. 
5. SEO familiarity?
Is it worth creating a blog if you have no interest in utilising Search Engine Optimisation for your content? It's debatable. Blogs breathe life into otherwise soulless ecommerce and SaaS pages, but without SEO you'll struggle to appeal to markets that haven't already taken the step of navigating onto your site.
If you're looking to generate interest amongst new audiences then it's imperative that your freelance writer is well-aware of the principles and practices of SEO. Discuss the type of keywords that you'd be looking to incorporate into any published content on your site, and whether they use keyword explorer tools like Ahrefs or Moz.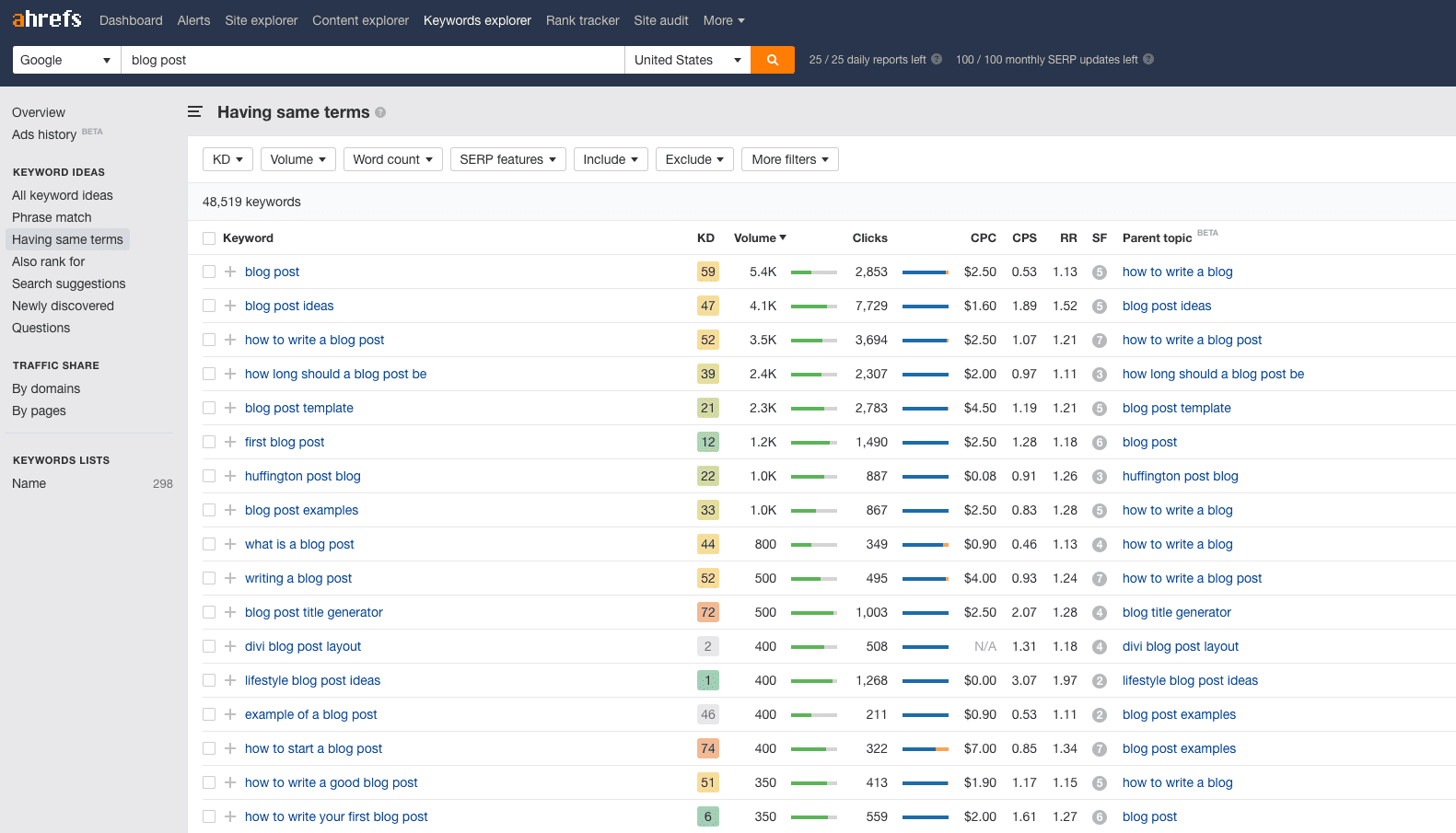 Large-scale media organisations like The Mail Online typically test prospective employees by handing them a two-minute writing exercise: the applicant is handed a hypothetical story and writes an introduction to an SEO infused story. If at all possible, it could be advisable to check whether your freelancer is well-practised in SEO – failure to do so could well lead to money down the drain. 
6. Scheduling
Freelancers treasure their freedom, and so they should – the gig economy is a haven for creative workers who like to choose their time to work wisely. 
While operational hours should be respected by employers, it's vital that you're aware of what you're actually getting in return for your money. 
By enquiring to your prospective freelance writer about their estimated working hours, you can gain an insight into not only their turnover times but their wider schedules. Your freelancer may be working for you alongside a separate full-time job. This may not be a problem initially, but what if you have ambitions to increase the quantity of the posts you publish over the next six months? You'll have to sever ties with somebody whose writing style has become synonymous with your brand. 
By creating and sharing an editorial calendar with your freelancer, it's possible to synchronise your deadlines and make your ambitions clear. 
Of course, another key aspect of scheduling is to gain assurances that your freelance content writer will respond to any urgent questions or edits in a swift manner. Any drops in communication can cost a business money. Make sure you have a rough idea of your freelancer's working hours as a failsafe in ensuring the delivery of your content. 
7. Research methodology
So you've found a well-priced writer that's capable of producing thousands of words filled with unbroken and engaging prose. Great! But have they shown any signs that they're competent in creating work that's relevant to your niche? 
If your business operates in an unconventional field, it's essential that you hire a freelance copywriter who can efficiently and effectively research your area of operation and craft well-fitting and insightful content for your prospective customers. 
Even the very best bloggers need to conduct a degree of topic research to ensure that every relevant angle is well covered, and building a level of familiarity with your business can work wonders for a long-term arrangement with your freelancer. 
With this in mind, it's important to ask your freelance writer how they plan to learn about the topics they're tasked with writing about. How do they learn about new developments, products, or services within your industry? 
Fundamentally, people use search engines to search – whether it's for answers, information, or lifehacks, they'll always click on the results that they feel will be best for answering their query. Your articles can be the most beautiful examples of literature on the World Wide Web, but if they're not relevant or informative enough, you'll struggle to build interest in your business. 
8. Americanisms, Anglicisms
Organisation, or organization? Tap or faucet? The UK and US are divided by their common language, and your audience could ultimately become alienated if they find themselves faced with unfamiliar words and phrases in your content.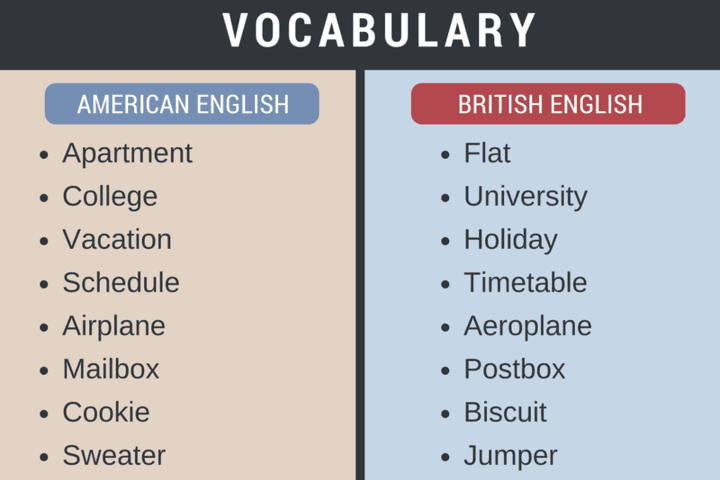 Image Source: Grammar Lookup
Take a moment to consider your target audience. Where will they be predominantly based? Is your chosen freelance writer capable and adept at creating content that conforms to the various geographical idiosyncrasies of the English language? 
Be sure to communicate how you would like your content written. While the American approach towards the English language might be difficult for UK readers to follow, Americanised words ending in 'ize' as opposed to 'ise' tends to be more favoured universally. 
It's certainly safer to adopt American English should you be looking to appeal to multinational audiences, and as such it's vital that your freelance writer knows your favoured approach. 
9. Consider the questions you need to ask
Writing for Business.com, Syed Balkhi emphasises the importance of asking the right questions to your freelance copywriter. Fools rush in where angels fear to tread, and without exercising caution in hiring your freelancer, you could find yourself throwing money away. 
Questions are a great way of determining whether your business and freelance writer are a good enough fit – in both a technical and ideological sense. Some excellent questions to ask include: 
What kind of content do you like to create?
What is your work schedule like?
How many articles/how many words can you comfortably write per day?
What are some ideas you have for content for my business?
What kind of SEO and keyword research do you conduct?
What are your prices?
Hiring somebody who's going to have difficulty adapting to your requirements will ultimately be a waste of time to everybody involved, so it's important to avoid skimping on the questions you ask.
10. Formatting issues
Sadly, working life for freelancers is rarely as simple as receiving a brief and producing 1,000 words of content. Formatting plays an important role and business decision makers will reap the rewards of setting out some guidelines for how they want their articles to be crafted.
For example, would you want your content to feature four or five images? Or would one suffice? Do you want short snappy paragraphs or longer passages of text? Would you prefer the use of numbered lists when getting your points across? Is a call-to-action essential to summarise your content?
Take a moment for some introspection and create a list of what you would like to see in your article formats. Doing so will help to create a coherent theme around your content that visitors will ultimately begin to familiarise themselves with. Transversely, if you feel like your blog is underperforming, you could look at tweaking your formatting preferences and communicating it to your freelance copywriter. 
11. Reading from the same page
It's the backbone of any successful working relationship: communication between all involved parties paves the way for productivity. 
Make sure that both yourself and your freelancer are well aware of the task at hand. Clearly communicate the payment that they'll receive for their efforts and the expected due date for their wage. 
It's also imperative that you've arranged a prospective time period for revisions to be made. If a new freelancer has just started creating content for your company, it's logical to expect a few errors. Make sure both parties are aware of how many permitted revisions are allowed. 
Take a moment to consider your expectations over deadlines and whether you would like access to rough drafts. These things can be agreed upon between your freelancer and yourself and could pave the way to better levels of communication. 
12. Looking in the right places
So, now you're all set to hire a freelance writer who conforms to your values and shares an understanding of how you would like to address your audiences, it's time to find one! Here are four platforms that are ideal for hiring prospective writers of varying skillsets: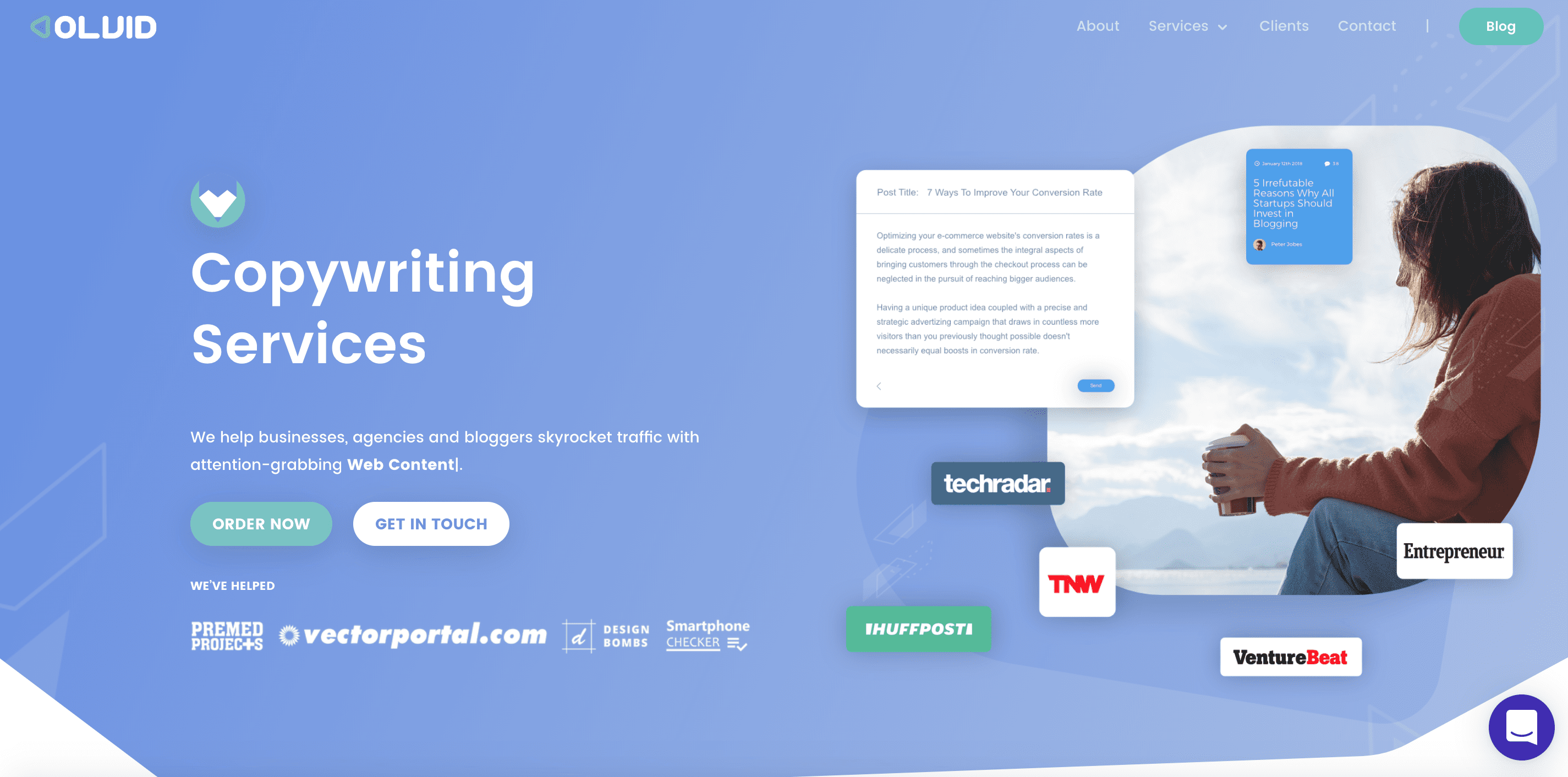 Although not a freelance marketplace, at Solvid, we specialise in top-notch copywriting. Whether you need a blog post, article or a technical white paper, we're able to fulfil any copy requirement. Placing an order is incredibly simple. We've developed a system where all orders can be placed and tracked online.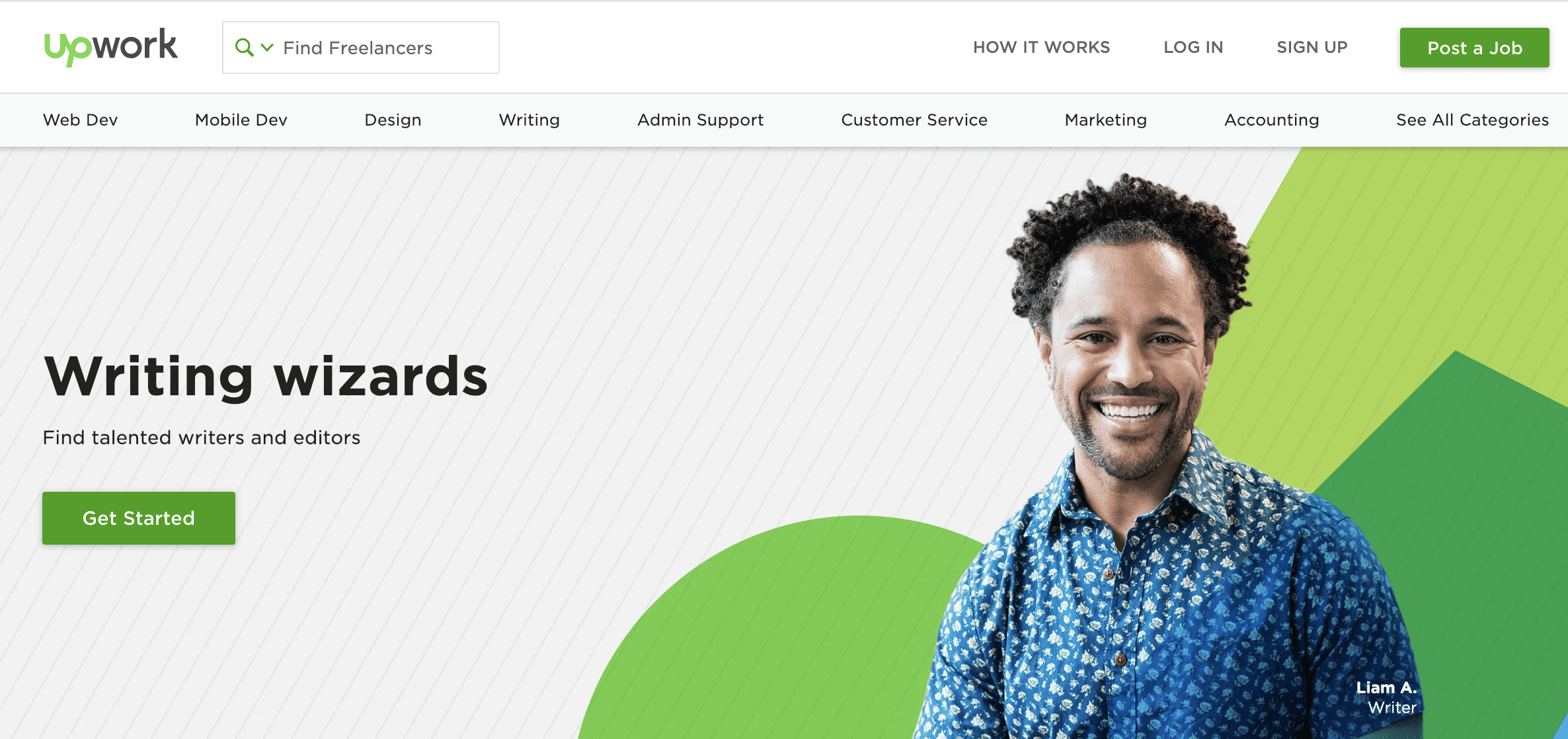 Arguably the world's favourite freelance platform, Upwork has a customer base of over five million businesses. The website operates as an online marketplace where you can submit specific jobs and industry professionals come to you with pitches. 
A strong built-in communications portal means that you can keep in constant contact with your freelancer if need be, and the payment is processed efficiently through the website.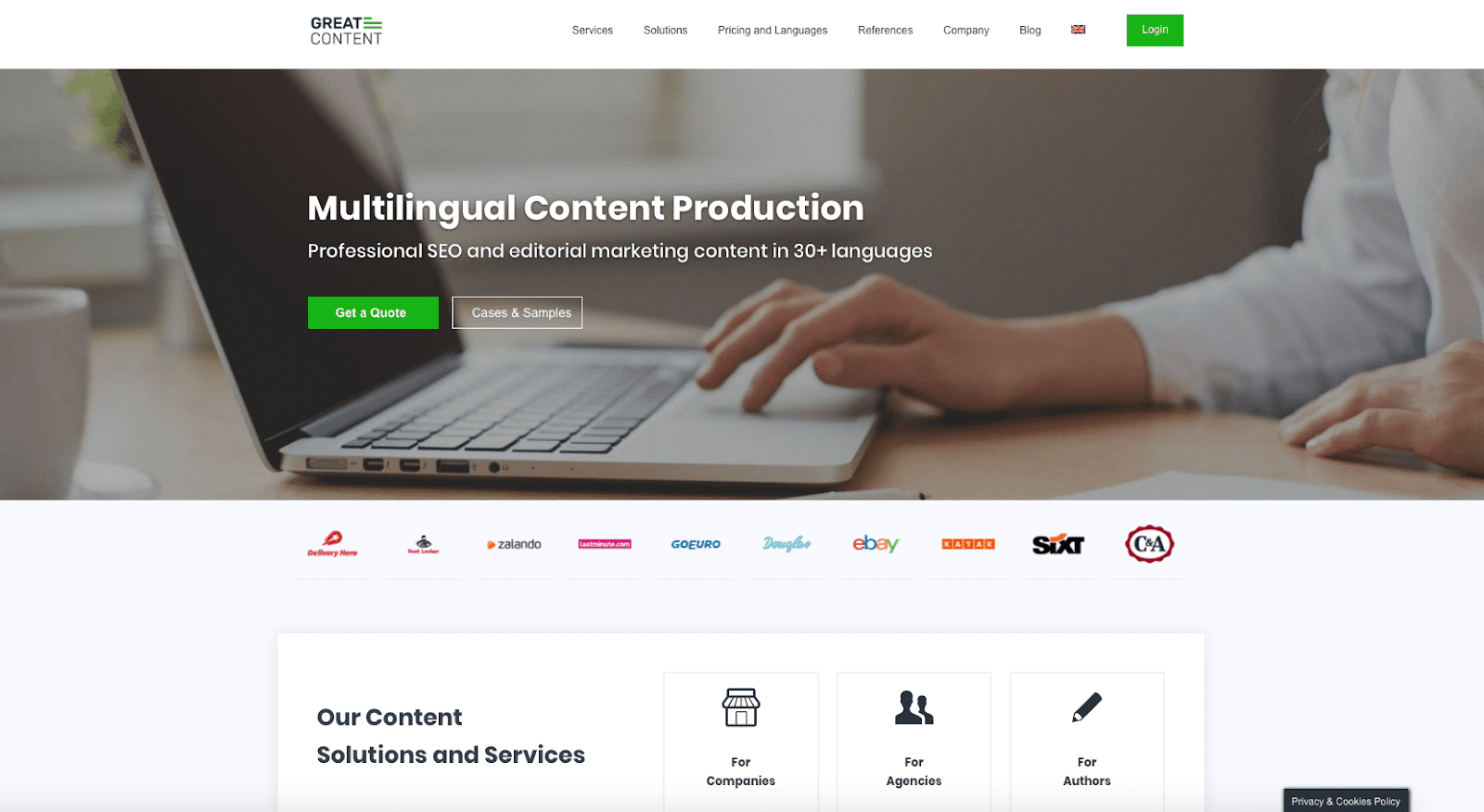 With over 10,000 budding freelance copywriters registered to Greatcontent, there's every chance that you'll find your perfect literary match. The platform is even capable of providing writers in over 30 different languages. 
Furthermore, Greatcontent provides editing and proofreading services as well as a strong SEO audit. 
You'll be hard pushed to find a better content writing platform than Contently. Billed as 'the enterprise content platform', Contently connects businesses with the world's very best and skilled writers.
Contently integrates its impressive freelance network, SEO analytics and work flow tracking software to create a behemoth of a comprehensive gig economy content website.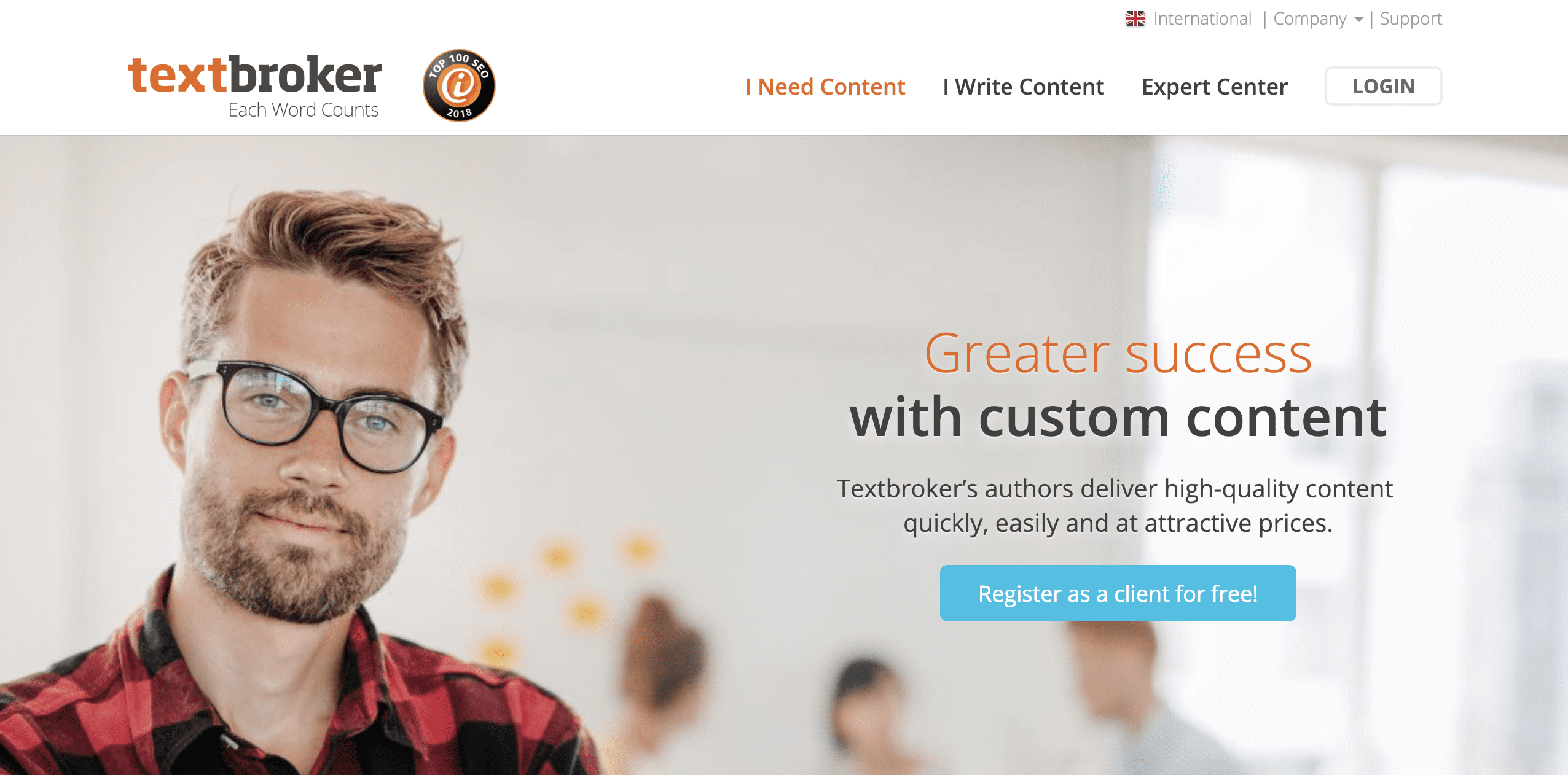 The beauty of Textbroker is how scalable it is. You could pay its network of freelancers 1.3 cents per word, ranging all the way to 7.2 cents per word – depending on the internally tested 'quality' of the writer. 
Due to the amount of flexibility surrounding your orders, you can commission, say, a 500-word piece, from a three-star skilled writer, with a set deadline of 30 days. If you have a clear idea of what you expect from your freelance copywriter, it could be fair to say that Textbroker is the way to go.
Hiring Freelance Writer FAQ
Should I hire a freelancer or agency for content writing?
Normally, agencies have greater resources at disposal to deliver quality work on time. However, most agencies are pricier than individual freelancers.
How much do freelance content writers charge?
Freelance writers can charge by word, hour or day. Rates normally depend on the experience of the freelancer, hence can range quite significantly:
By Word: £0.02 - £1.50 per word
By Hour: £7 - £80 per hour
By Day: £100 - £900 per day
Do freelancers deliver on time?
It depends. Most freelance platforms have systems built in that make sure that the freelancer delivers on time. However, you you work with a freelance writer directly, it's up to you to ensure that the work is delivered on time.
Where to find freelance writers?
There are numerous platforms, including Upwork, People Per Hour, Textbroker and Copify.