Most industries have come to realise the importance of investing in quality content for the purpose of their marketing strategy. Probably because content marketing generates 3x as many leads as outbound marketing, and costs 62% less. Small businesses with active blogs get around 126% more lead growth than small businesses without. With that said, most businesses are now looking for ways to get quality content done.
In some cases, business owners may lack the time and expertise to create content themselves. Outsourcing content creation has become a popular avenue, which many companies utilise and have made part of their successful marketing strategy.
With this in mind, the market has responded to this increase in demand by flooding the web space with an abundance of content providers. This post will shed some light on what you can expect to achieve from Contentwriters.com, and what you may find elsewhere.
Contentwriters.com is one provider that serves dozens of industries by providing a comprehensive content writing service. Ordering your content is made simple via Contentwriters' online form. To begin, simply choose a product you wish to create. The list of options include:
Short/long blog post
Website pages
Press releases
Email newsletters
Social media posts
The questions you answer in the order form help to provide the writers with all the information they need to create content tailored to you. Your order will be matched with Contentwriters' most compatible and personalised writer.
With no additional charge for editing, proofreading and unlimited revisions, you can rest assured that your content will be of high quality and meet your standards. Further to this, each piece of content is run through a plagiarism detector to ensure authenticity, and guarantee that your copy is not duplicated anywhere on the web.
Unlike many content providers, Contentwriter does not charge per word, rather the price depends on the type of content and the delivery option the client selects. For a blog post to be delivered in 5 business days, expect to pay $110. For the same content, delivered in 3 business days the cost is $120. Once you are happy with your order and have accepted the content, checkout, and take advantage of Contentwriters.com's account management service, whereby your content performance will be monitored for you.
If you come across Contentwriters.com in your search for quality content, don't stop there. Content providers online are plentiful, find out here what you can achieve elsewhere.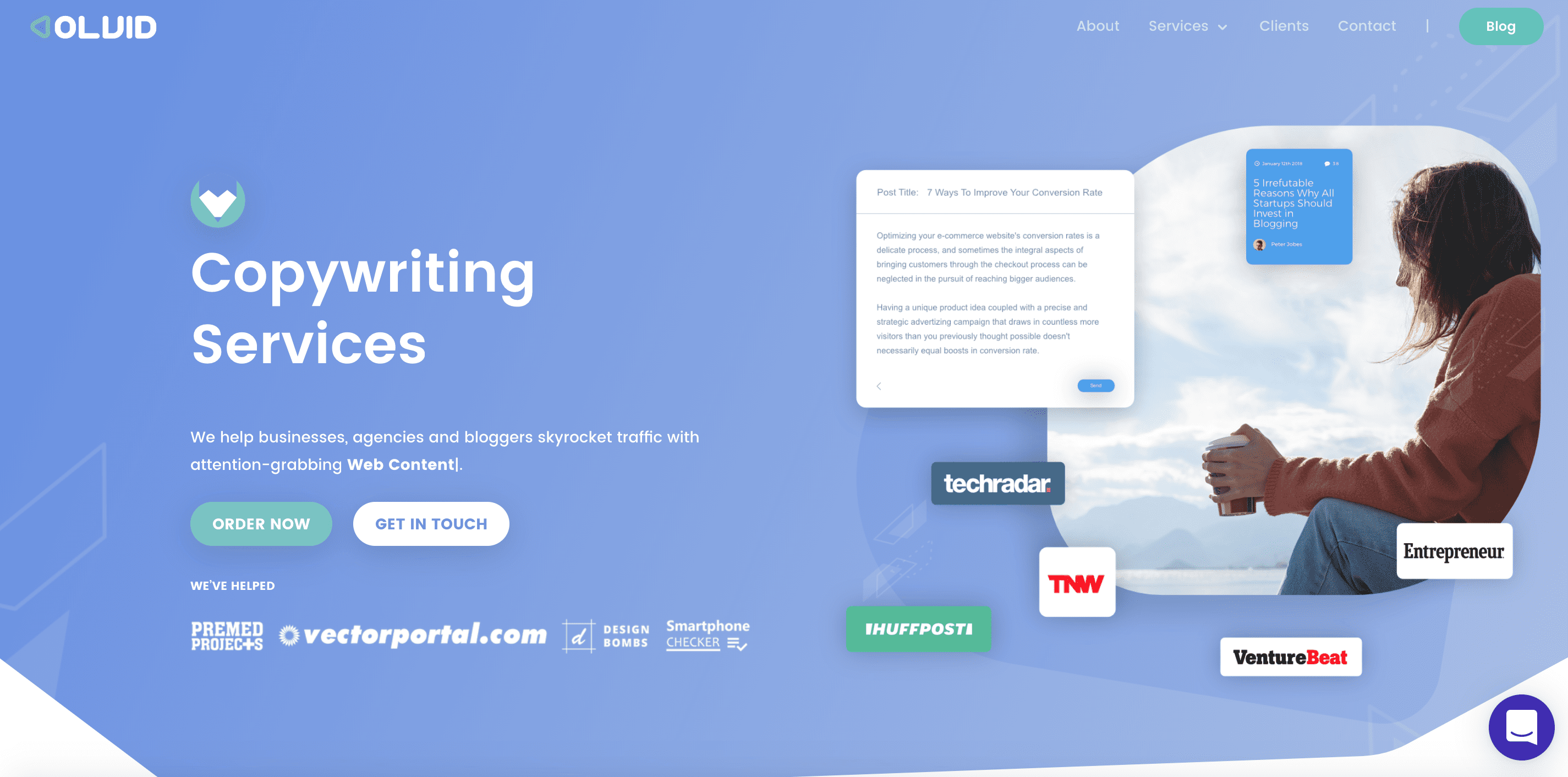 We had to include ourselves on top of this list. At the end of the day, we're here to earn that penny 
 And, we truly think we're your best option.
Our team of specialist content writers at Solvid are committed to creating and distributing quality and compelling content. Each piece of content; be it a blog post, article, web page, press release or custom content, is infused with in-depth research, audience analysis and extensive preparation. Not to mention, our acute attentiveness to SEO, traffic and conversions when writing any content. After all, Solvid has established itself as an SEO and content marketing specialist provider, so we understand just how important quality content is when it comes to ranking high in search engines.
From keyword research to SERP analysis, content created at Solvid is always done so with SEO in mind. We understand the importance of effective link-building and off-page SEO too. We aim to drive traffic to your site and improve rankings in search engines.
We cover all the angles. From tech, blockchain and digital marketing to legal, accounting and SaaS content. Our broad range of competencies means that we can cater to most company related content needs. We only ask that you keep your gambling and adult content needs to yourself 🙂
We understand the apprehensions that come with having your content created by someone outside of your company. To maximise satisfaction, our team of in-house content writers will extensively research your company and target audience to ensure an appropriate tone and to generate the most relevant up-to-date content. Take advantage of our free unlimited revisions service again and again, until you are 100% happy with the final product. We offer an industry beating turnaround time of 3-4 days for a single 1,000-word article.
The cost of our copywriting services differs and depend upon the word-count of the piece. At £0.15 per word, a 500-word piece sits at £75 (great for press releases and email copy). A slightly lengthier 1,000-word piece at £150 (great for articles and web copy). For a 3,000-word piece (perfect for long-form blog posts and tutorials), £450. Solvid's word-count goes up to 30,000 words. Generally, a 1,500-3,000 word blog post or website article possesses the capacity to rank well.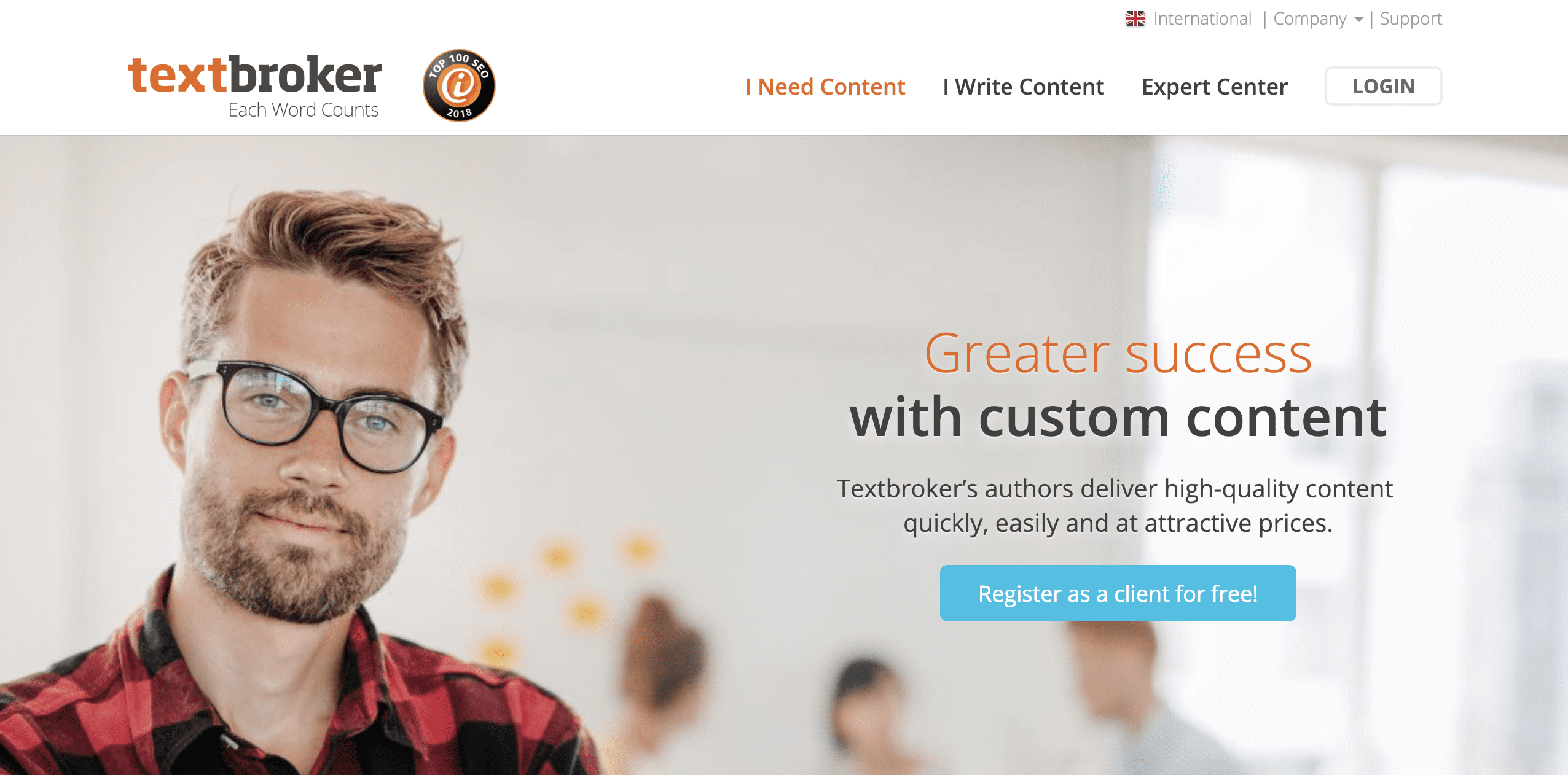 TextBroker is a content provider that allows clients to choose writers based on their ratings. The 'Self-service' option allows you to choose a writer to whom you delegate a project. Alternatively, TextBroker also offers a 'Managed-service', whereby the company will take over the entire administration of your project. This may leave you with significantly less control over your content creation, but is an effective way to save time if need be.
If you regularly require new content, TexBroker offers a recurring service, where the system automatically places orders for you, at the chosen quality and time interval. This level of service may seem convenient for companies who maintain an active blog with no time to do so. Consider using this function with caution, as it generally involves giving lots of control and authority to the external content providers. Unless you can be consistently aware of the posts being created for your company, this function should be utilised with vigilance.
The cost of 'self-service' content created at TextBroker starts as low as €1.3 cents per word, and €6.5 cents per word for a 5-star writer. You can expect to pay around €65.35 for a 1,000-word piece written by a 5-star writer. This pricing system, by which price is dependent on the rating of the writer, cannot guarantee high-quality content every time. Accordingly, TextBroker is most appropriate if you are looking for an affordable quick skeleton of a piece of content. If this approach is for you, be sure to exercise rigid quality control in-house before publishing.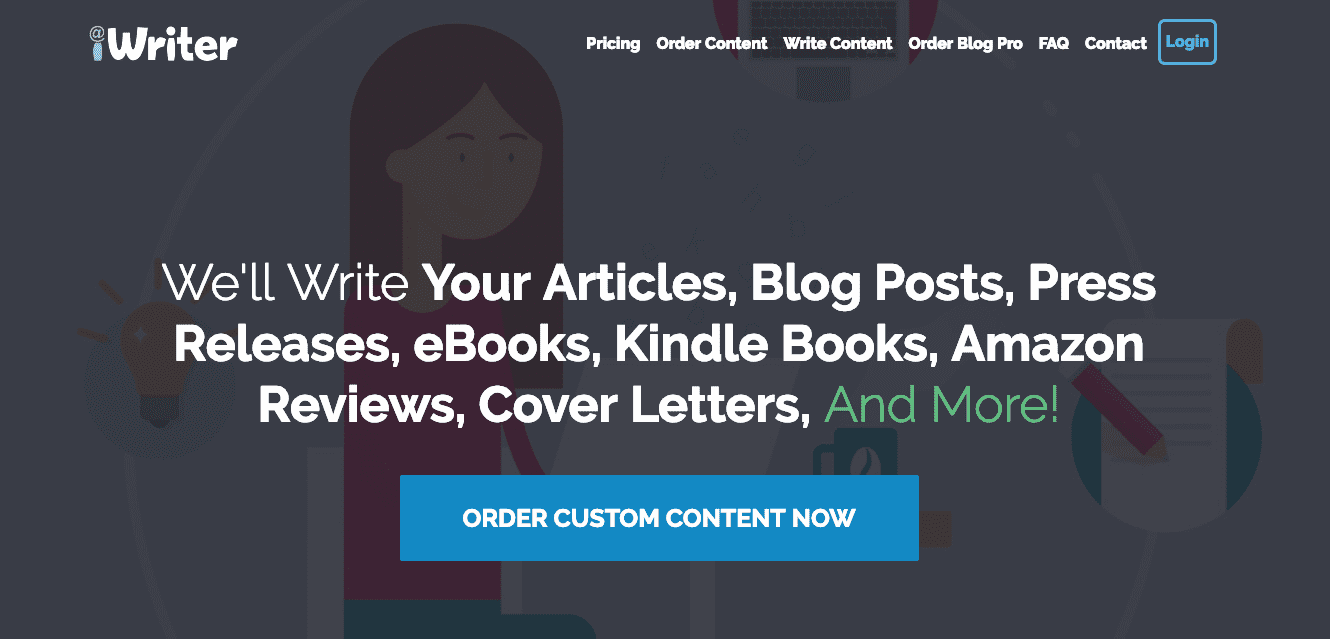 This content provider boasts over 31,000 writers, which generally means that there is a constant supply of writers waiting to produce content at iWriter. Whilst this essentially means you could potentially have an article ready in a few hours, the sheer volume of writers infers that not everyone will have good knowledge of SEO. This poses risk to the performance of your content. For businesses who are striving to generate traffic and conversions and to optimise the SEO of their sites, ensure to send your projects to experienced writers only, and be sure to indicate the importance of writing with SEO in mind.
One redeeming aspect of iWriter, is if you find a writer you are happy with, you can pick them as your "favourite writers" to get the same quality again and again. This should help to maintain a coherent company voice and save you time in the long run.
A 'standard article' on iWriter of 500 words will cost you $3.30. An 'elite article' of 1,000 words will cost $25.25. Cheap may not be so cheerful in this case. Granted, distributing relevant content regularly will improve traffic and leads, however, 'Quantity over quality' does not account for effective content marketing.
The importance of high-quality content would suggest the need to fork out more than $8 for a 1,000-word article. Although, for cheap and relatively easy to access content, iWriter is perfect for businesses that depend less on quality content for their marketing strategies – which these days, unfortunately, is none.