Over 31,000 writers on iWriter means there is a constant supply of writers waiting to write. You could potentially have an article in a few hours. Of course, this depends on the kind of instructions you give. Expect a longer turnaround period for complex and lengthy articles. The sheer volume of writers on iWriter also infers that not every writer will have good SEO knowledge.  This can be problematic and pose risks to the performance of your content.
You should take advantage of the fact that you can only promote your articles to elite writers if you want, and be sure to indicate the necessity of writing with SEO in mind. Elite writers will send you two formats of your article. One in plain text and one with spin tags.
If you do find a writer you are happy with on iWriter, pick them as your "favourite writers" so you get the same quality again and again. This will effectively maintain your company voice and will save you a lot of time in the long run.
It is cheap to buy an article on iWriter. A 'standard' article of 500 words will cost you $3.30. An 'elite' article of 1000 words will cost $20.25. Whether or not this is a clear case of 'quantity over quality' is down to the client. Ultimately, the importance of high-quality content warrants forking out more than $8 for a 1000 word article.
For cheap and relatively easy to access content, iWriter is perfect for those businesses that depend less on content for their marketing strategies- which these days, unfortunately, is none.
There exists ample providers of quality content, here are five alternatives to iWriter which may shed some light on what you can achieve elsewhere.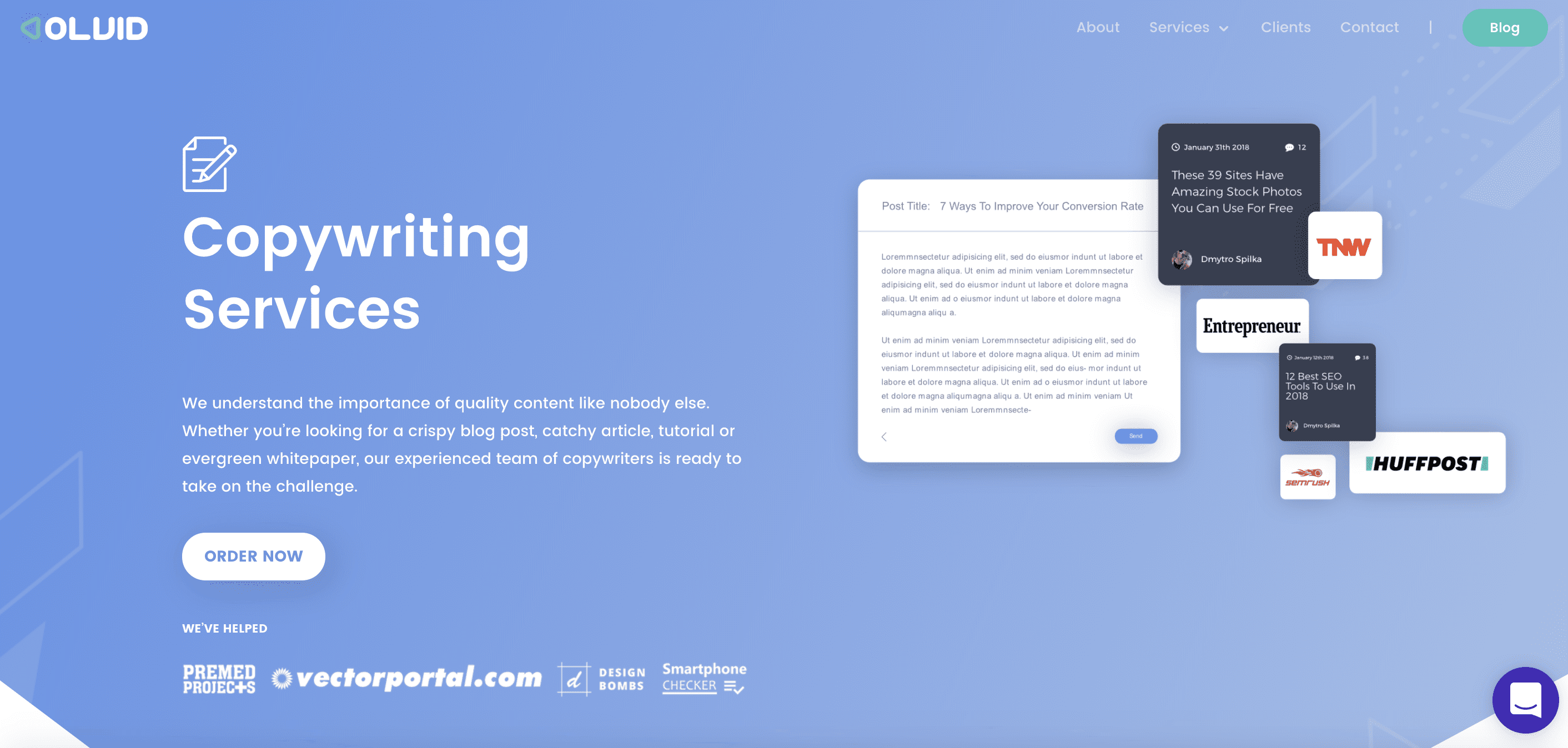 We had to include ourselves on top of this list. At the end of the day, we're here to earn that penny 
 And, we truly think we're your best option.
Solvid has established itself as a leading content provider, SEO and content marketing specialist, that is focused on the creation and distribution of content that performs well. Since the success of content marketing depends vigorously on the quality of the content, we make sure all copy is infused with in-depth research, audience analysis and extensive preparation.
With an impressive portfolio and specialities in a broad range of industries, it is difficult to imagine a company that did not identify with at least one of the industries Solvid specialises in. Such a wide spectrum of competencies means that we can cater for most content needs. Copy for various purposes including, blog posts, articles, guides, white papers, press releases and web pages, are strategically written with your company goals in mind.
The cost of Solvid's copywriting services differ and depend upon the word-count of the piece you want to create. At £0.15 per word, a 500-word piece sits at £75 (perfect for social media marketing or website landing pages). A slightly lengthier 1,000-word piece at £150. For a 300 word piece of content, £450. Solvid's word-count goes up to 30,000 words. Typically, a 1500-3000 word blog post or website article possesses the capacity to write informatively and engagingly whilst also ensuring the SEO of the content is intact.
Our emphasis on SEO, traffic, and conversions, essentially means that all content produced at Solvid is done so with SEO in mind. Here are a few ways we ensure your content is SEO ready:
Keyword Research – improves visibility and connects your content to readers

Technical SEO – to help search engines navigate your site more effectively
On-page SEO – to optimise the content or improve the meta description and title tags.
Local SEO

– to help local businesses rank well in their area

Link building and off-page SEO – drive traffic to your site and improve rankings in search engines
One defining feature of Solvid's content writing services, is its unlimited revisions system. It is understandable for a company to be apprehensive about having content created by someone outside of their business. These fears are minimised by the fact that your copy will be amended, edited and proofread again and again, until you are happy with the final edit. This process is promised to be achieved in an industry beating turnaround time of 3-4 days for a single 1000 word piece.
If you lack the time or expertise to decide the type or topic of the content you wish to create, our team of professional and expert writers will do that for you. An in-depth analysis of your company and your target audience will give us the information we need to generate engaging and relevant content.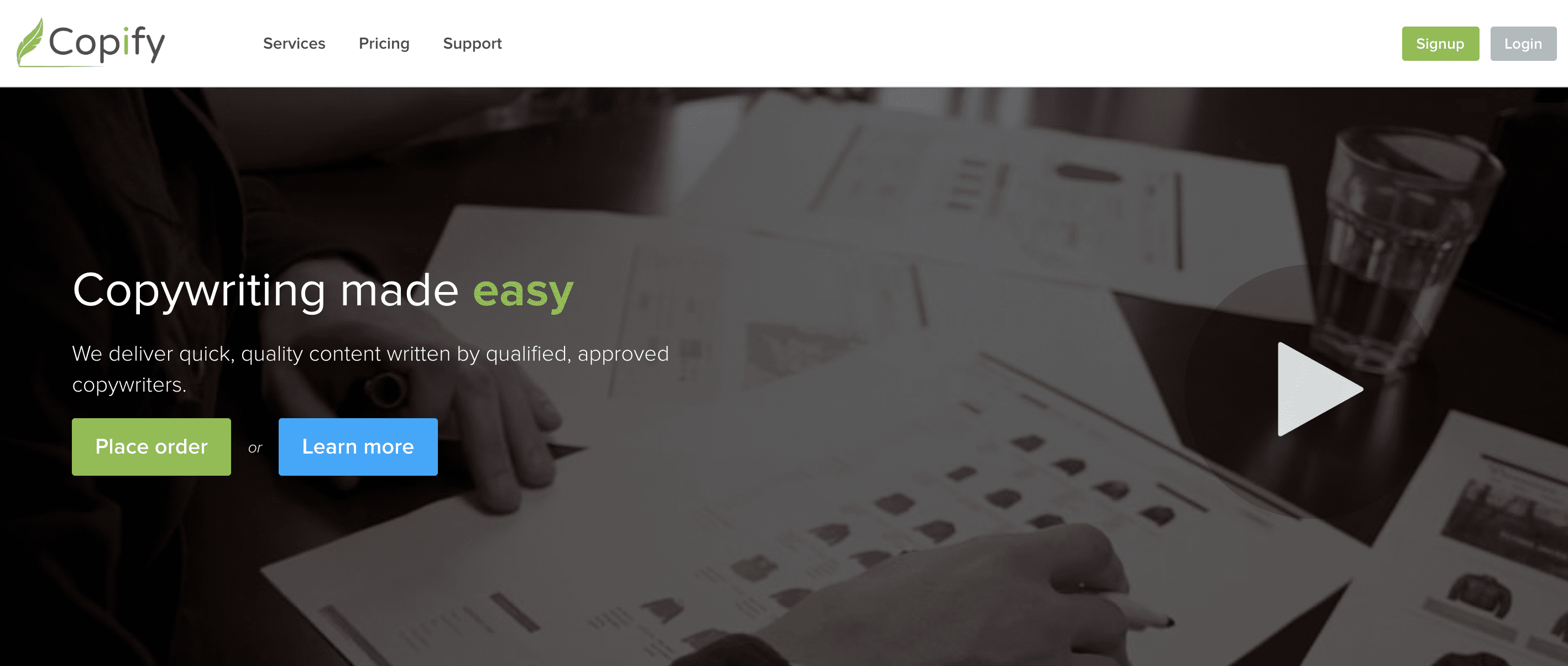 Copify sources quality content from a network of approved writers. The site will effectively identify the most compatible writer for your brief. With hundreds of experienced and approved writers at Copify, clients can rest assured that the resulting content will be of high quality. This security net coupled with their promise to format and proofread each piece, makes for an attractive source of content for your company.
Copify accommodates a variety of content needs. According to the clients brief, a writer will be assigned to work on one of the following:
Website content/blogging
E-commerce content/email writing
Articles
Press releases
Simply select the type of content you need to be created, brief your requirements and note any extras you want your writer to know, then submit. A writer should pick up this project and get back to you with a draft. Copify aims for its turnaround time to be 48 hours. This speed is expected, given its large volume of writers at hand.
All writers at Copify are native English speakers and undergo a testing procedure to be approved to join as a freelance writer. By filtering out the writers through appropriate testing, outsourcing your content to Copify's professional workforce guarantees a degree of quality. Further, you can expect each writer to have a firm understanding of your business goals.
Copify's pricing model is based on cost per word. A choice of the level of the writer is available for you to make. "Standard" copy costs £0.03 a word and "professional" copy  £0.05 per word. At these rates, you can expect to pay £15 and £25 respectively for a 500-word piece of content.
You have the option to order content on a one-off basis or in bulk and request changes to your order before accepting the work. There is less emphasis placed on SEO. This is understandable because a lot of the work on Copify focuses on product descriptions or short web copy. Copify is a good alternative for businesses that require shorter pieces of content.
Retaining your content writer for the future may be problematic. There is no guarantee that you will be put back in contact with the same writer you had before. Even if you do have their direct contact details, there is still a chance the writer will be unavailable when you need them. Changing content writers too often, can be problematic for your 'company voice'. Copify is a perfectly suitable option for a company that does not blog often and requires less frequent content.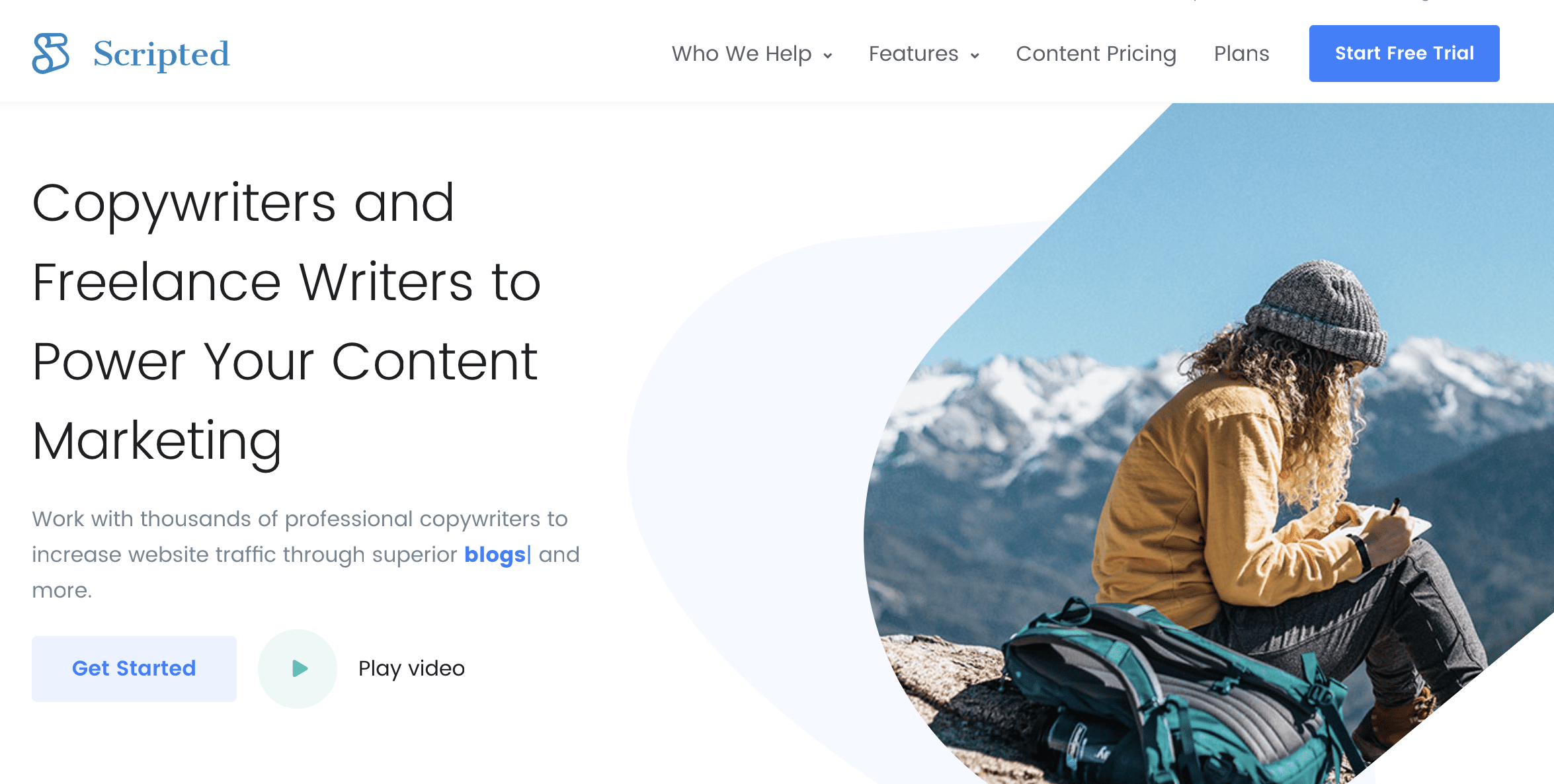 This third party platform provides an interface between clients and freelancers. Scripted opens the door to thousands of expert freelance writers. Once you've signed up, you can begin to share your brief with writers. The site's tools make it easy to do this, and also include a free strategy quiz to ensure your brief is coherent and complete. Use templates to share your vision with prospective writers.
You will find your freelancer by using their SmartMatch technology, or brows freelance writers by subject expertise, or user rating. Ask for sample writing to assess the quality, style and readability of the writing. Ensure their style compliments your company tone of voice. Thanks to Scripted's rigorous vetting process, only 2% of applicants become Scripted writers. Quality control is clearly very important to Scripted and is the foundation of their satisfaction guarantee. When you find the writer you love; add them to your favourites for next time.
Once you receive your final edited draft, it's time to put it to work. Unlike many content writing services, Scripted incorporates a number of functions to help to make sure your content produces the most value:
Content Marketing Strategy: Scripted will create a content calendar designed to maximise SEO and traffic
Account Management: Meet weekly with your representative to discuss your content strategy.
Analytics and Reporting: Track performance
At Scripted, base rates apply and are driven by the marketplace of freelancers. In other words, the price can depend on availability, demand, actual word count, rush delivery and the writers themselves. Website pages of 350-450 words start at $47.00. Standard blog posts of 850-950 words begin at $98.00.
Companies in specific industries with defined content requirements, for example, those needing writers who excel in research and has experience in finance, will find Scripted particularly useful. Its filtered pool of experienced freelancers, of which you can choose and tailor to your needs, makes it an ideal content provider for companies in niche industries, who perhaps lack the time and writing skill to create content in-house.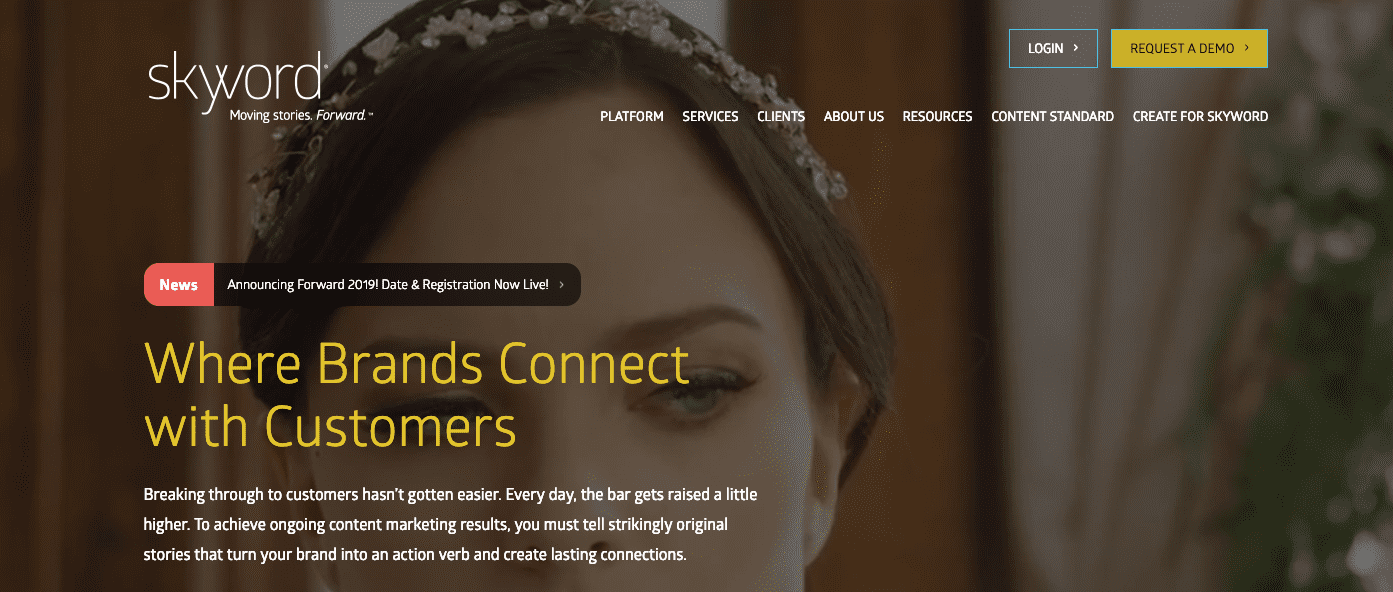 With 1 million published stories, supported in 14 languages, and 250,000 hours saved through increased efficiencies, Skyword has a lot to offer. This online community of freelancers and creatives is designed to assist in the creation, distribution, and performance of content for your business. Skyword helps its users by providing the tools needed to improve the scalability and longevity of their content marketing programs.
Hire out of a pool of international content creators who are organised based on their social influence, language and expertise. This is especially useful to businesses sensitive to social influence, for example, NGO's. This can be materialised through persuasive writing techniques.
One prominent feature of Skyword is its Ideation Management. This function allows users to collect ideas from contributors, program users and Skyword staff, and convert these ideas into assignments for freelancers to work on. In many cases, thinking up interesting and relevant content material for your business can be challenging. This function operates as a source of ideas.
The growing importance of images, infographics, and videos in content marketing has reached a peak in the digital age and continues to grow. Skyword functions as a digital asset management solution. It allows users to organise their digital assets securely, and allows users to easily reuse files or embed them into content quickly and easily.
Skyword boasts an exhaustive list of features through which to optimise your content strategy. Along with hiring freelancers, Ideation Management, and Digital Asset Management; more notable features include:
Content amplification tools
Measure and analyse the performance of the content
Content marketing calendar
Content distribution
Flexible editorial and review services
Given its incredibly broad range of services, Skyword does not list pricing on its website. Like most content providers, the cost varies depending on content requirements. There is a subscription fee associated with its premium feature, Skyword360.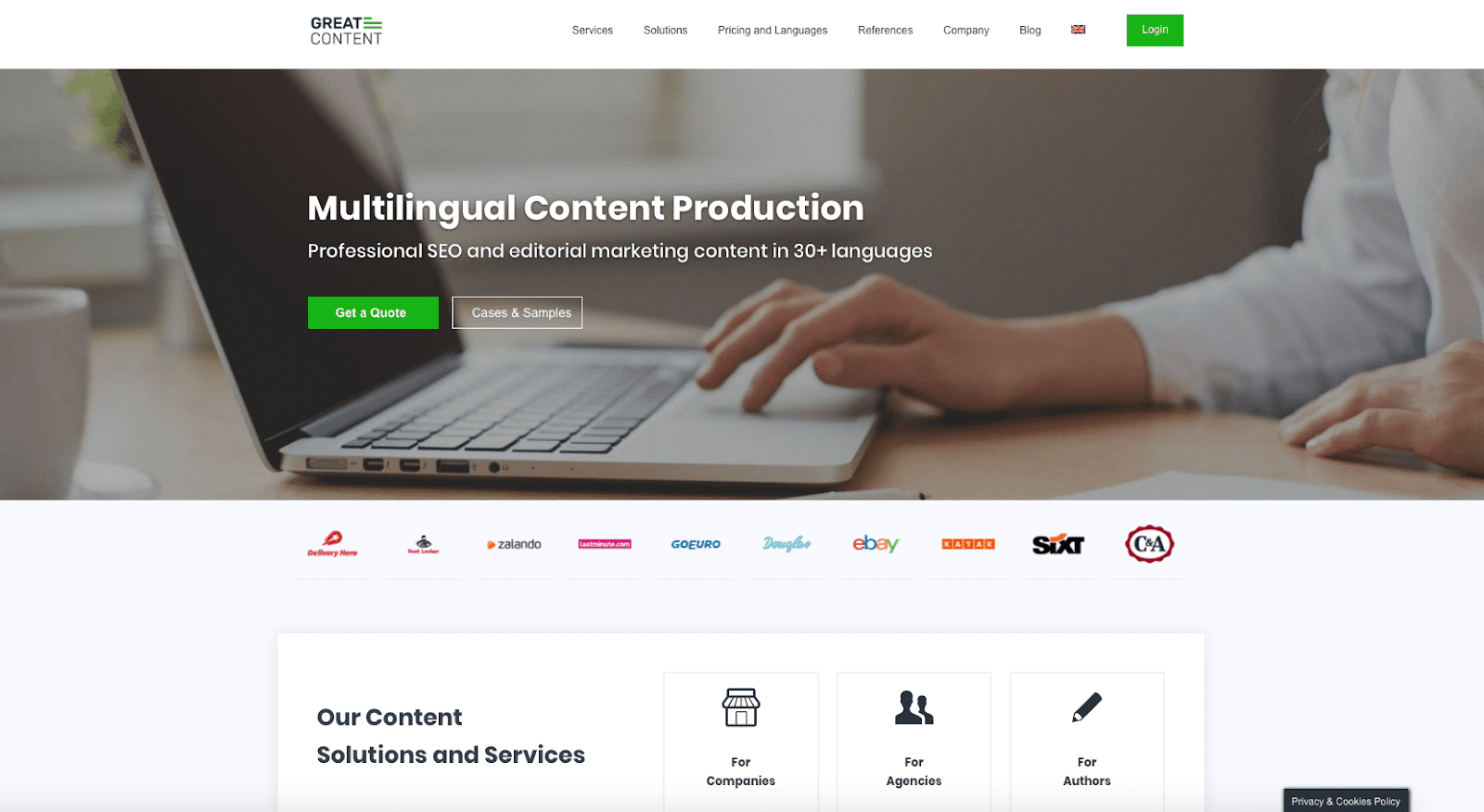 GreatContent established itself as an online crowdsourcing platform, allowing clients to connect with, and order content from, professional freelance writers. Today, GreatContent has evolved into a content production agency that offers all-inclusive production and management services.
GreatContent's search and filter tools enable users to find the most suitable writers for them, based on, subject area, expertise and quality- these determine the rates of pay. Take advantage of the communication channels between yourself and the writers. Direct and better communication will improve the process of creating exactly what you envision.
Operating in 30+ different languages, GreatContent is perfect for businesses operating in different locations and who aim to frequently distribute content for their online presence. Each writer has been carefully selected by GreatContents internal content and quality assurance experts. They are also thoroughly crosschecked by translators to guarantee the creation of high-quality content.
Each writer is awarded a quality level ranging from 4 to 6+ which determines the rate of pay per word. This easy-to-navigate rating system makes hiring a freelancer from GreatContent simple. However, do remember that quality content is essential to the success of your content marketing strategy. There are alternative content providers that only deliver the highest quality content every time. Whether you are a startup or a firmly established company, poor-quality content will not do your business any favours.
Prices vary between services. Generally, you will pay about 0.03€ per word for simpler high volume SEO content, produced by writers rated at levels between 4-6+. Content by experienced authors with additional training on a project basis will cost more, starting at 2.500€ per project. These relatively low rates warrant remembering the importance of investing in high-quality content.