Not all articles can help educate audiences, enhance your visibility online and increase traffic to your site to build authority within search engines. In fact, in practice, only a few do. Whether you are looking for an article writing service to produce the content for your blog, ebook, website or contribution; each should be created with a particular thought-process and infused with in-depth research and audience analysis.
Whilst ample article writing services can be found online, it is worth exploring the following seven for an idea of what you can expect to get from a professional service.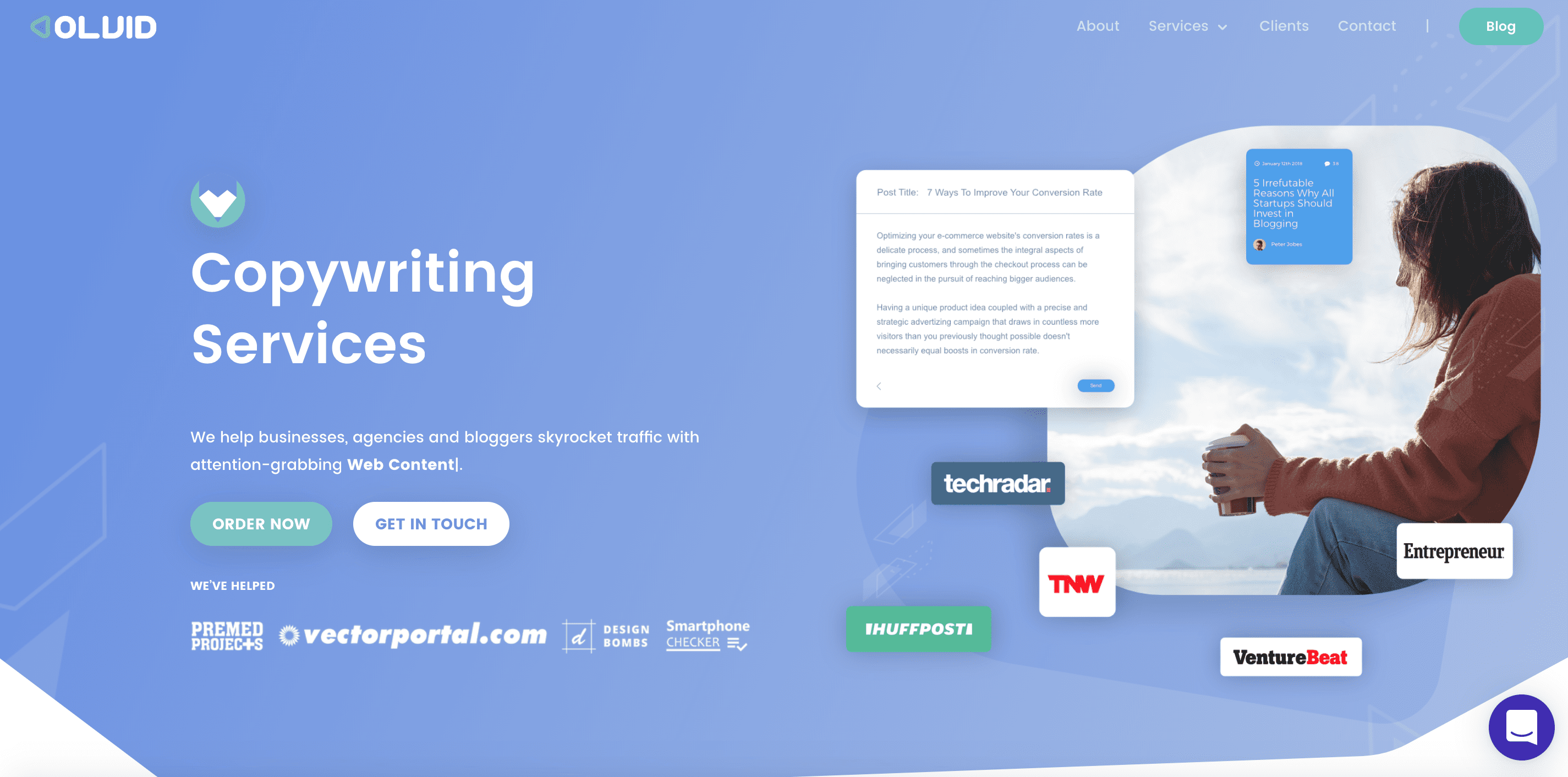 We had to include ourselves on top of this list. At the end of the day, we're here to earn that penny 
 And, we truly think we're your best option.
Our content team at Solvid has a proven record of writing compelling, engaging copy that relates to the customer's audience. We're all about crafting articles that get people thinking and wanting more. We know all too well that the backbone of a good article depends on strategising and researching. Creative articulacy comes in at first place too, but we'll touch on that in a moment.
When we take the time to fully understand the client's needs, we do so in order to produce copy that inspires and educates. Further, we go out of the way to explore what has already been covered in your industry to shed light on new findings and different angles. Once we find an exciting topic, our research doesn't stop there. We proceed with extensive analysis of your audience, industry and competitor research, and selection of tone, style and format. Our boundless personalisation is what differentiates us from others.
Along with our article writing services, we specialise in SEO, traffic and conversions. But we don't separate these services. Articles created at Solvid, are naturally written with search engines in mind. Keyword research is perhaps the foundation of an article written with SEO in mind. Before commencing, we conduct comprehensive keyword research to identify relevant, low difficulty and high volume keywords people use to search. Essentially, we refuse to write an article which won't be found by your audience.
Unlike many article writing services, we don't put limits on revisions and edits. In other words, we will edit, proofread and amend the copy again and again, until you are fully satisfied with the final product. We are committed to achieving this in an industry beating turnaround times of 3-4 days for a 1,000-word piece.
Our extensive portfolio of articles, published in a number of influential publications, across all industries, making it difficult to imagine a company that did not identify with at least one of the industries Solvid specialises in. Our articles have been referenced by Rand Fishkin, Brian Dean and Syed Balkhi. They have also been mentioned by numerous publications, like Entrepreneur, Huff Post, ReadWrite, TechRadar, VentureBeat, TNW and Business.com.
With simple pricing, at £0.15 per word, you can expect a carefully structured, well thought out and engaging article of 2,000 words for £300. Place your order in minutes and receive your article in a matter of days.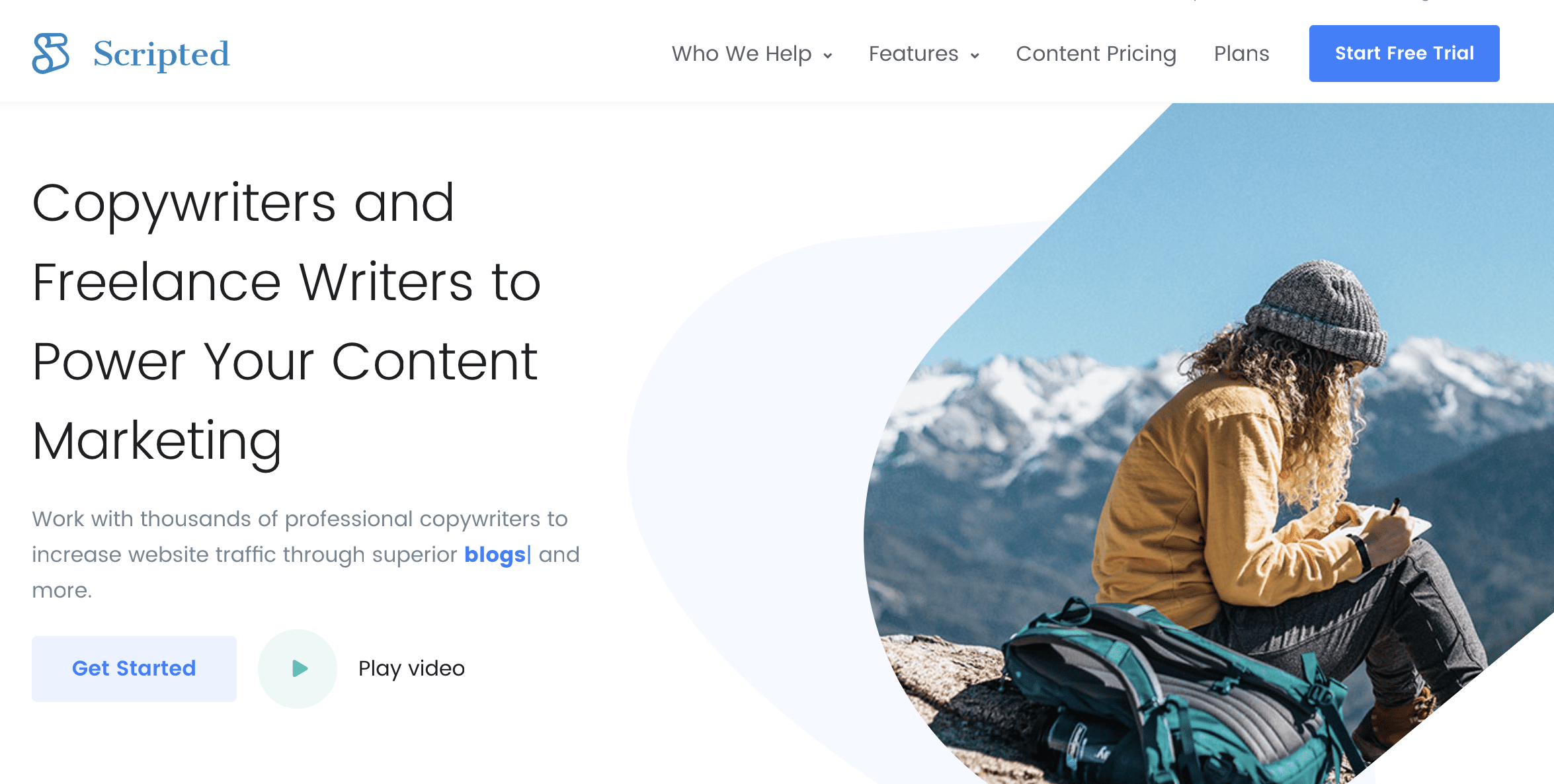 This third-party platform acts as an interface between clients and a pool of freelance writers. Signing up instantly gives you access to thousands of writers with which to share your article brief. Their systems SmartMatch technology will automatically pair you up with a compatible writer based on your brief. Alternatively, you can manually browse freelancers by subject, expertise or user rating.
The sheer volume of writers available at Scripted makes it difficult to gain an appreciation for style, tone, and quality of their work. Despite their vigorous vetting process, whereby only 2% of applicants become Scripted writers; it remains troublesome to ensure the writer's style coincides with your company or personal voice. Whilst it is possible to request samples of writing, there are simply too many freelancers for this to be a viable option. However, if you are lucky enough to find a writer you love; you can simply add them to your favourites for next time.
The price of an article at Scripted is driven by the marketplace of freelancers. By basic economic principles, this depends on availability, demand, wordcount, rush delivery and the writers themselves. Typically, articles between 850-950 words begin at $98.00. It should be noted that Scripted's non-negotiable $149/month membership fee is due upfront prior to purchasing any content. This additional fee has generated some criticism, however, there are alternatives to Scripted to get quality content done.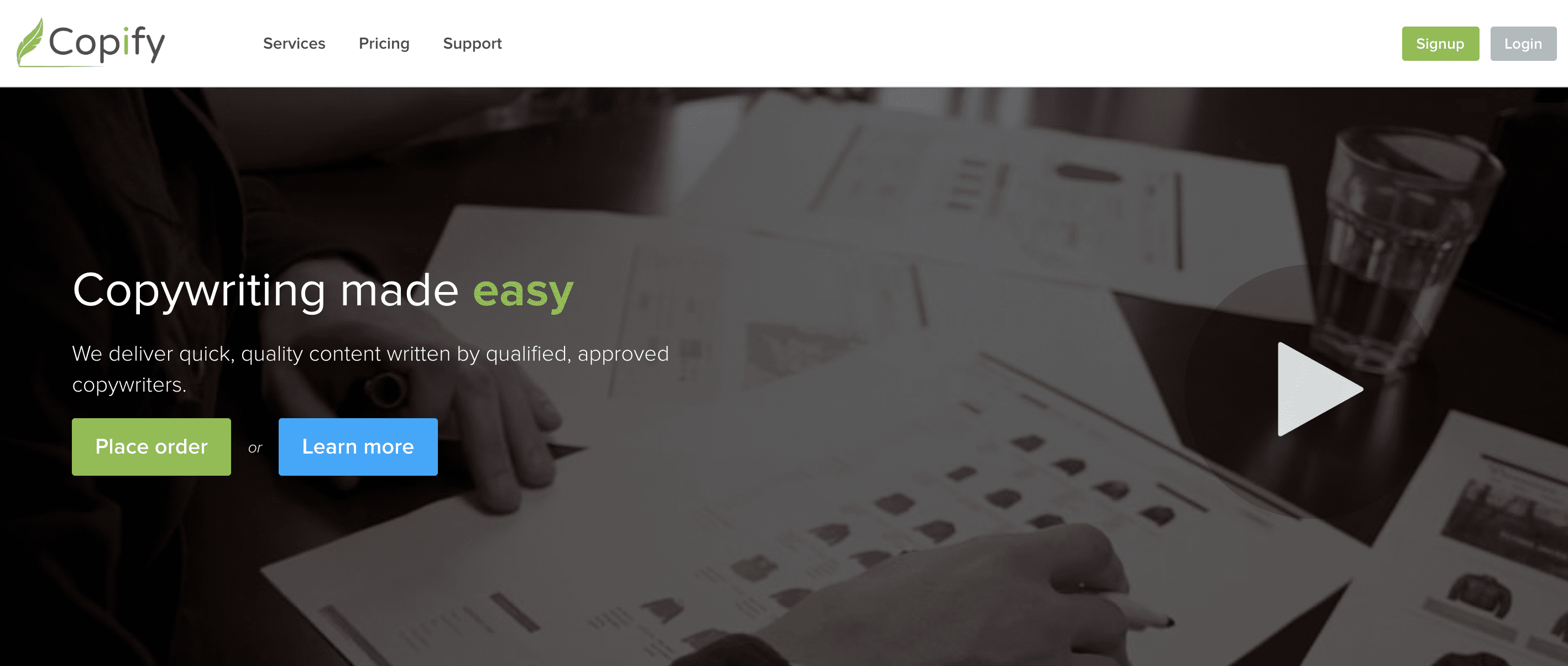 Copify sources its content from an online network of hundreds of approved writers. All writers are native English speakers and undergo a vigorous testing procedure to be approved. In a fairly straightforward manner, simply select the article writing service, brief your requirements and make a note of any extras you want your writer to know and submit. A writer will pick up the project and get back to you with a draft within 48 hours. This speed is expected, given the large volume of writers available at Copify.
Retaining tour article writer for the future might be challenging. There is no guarantee that you will get the same writer you had before. Despite the fact that you may have their contact details, there is no guarantee the freelancer will be available. Changing writers too often can pose as a threat to the success of your business or personal endeavours. Consistency is key when it comes to your 'company voice'. Copify is by no means a poor option for a client who requires only a few articles.
Copify's pricing is based on cost per word. A choice on the level of expertise of the writer is available to make. "Standard" copy costs £0.03/word and "professional" copy £0.05/word. At these rates, you can expect to pay £15 and £25 for a single 500-word article. This appears to be significantly cheaper than the alternatives. Remember, you most certainly always get what you pay for.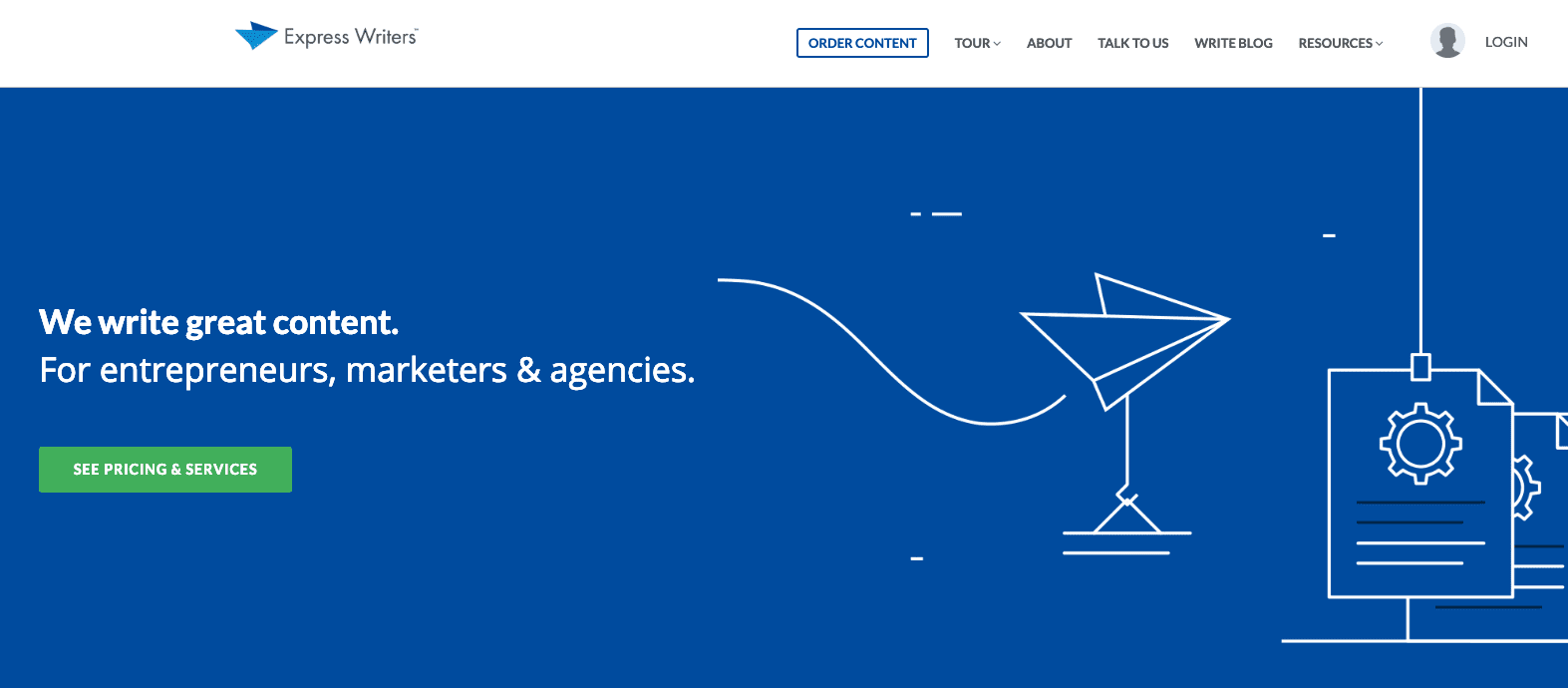 This marketplace for writers introduces clients to the most competent writer on their team for a specific project. Express Writers have a team comprised of over 90 copywriters, specially trained strategists and social media managers. Each of which has been hand-selected form expert industries and vetted; through which only 2% of applicants pass. Simply create an account, select and checkout with your products. They will assign, create and edit your article, and leave you welcome for up to 14 days to request revisions.
Expert writer provides different article writing services. Its 'all purpose' articles consist of 500 words, with around 1 keyword of your choice. This service includes the option to have Express Writers come up with your topics based on your keywords. 'Website' articles consist of 600 words of SEO optimised article content, whereby possible styles include how to guides, informative tutorials and service articles. 'Landing page' articles are 800-900 words of SEO optimised quality content. They feature calls to action and focus on encouraging visitors to become customers. Finally, the 'custom' article allows the client to customise the word count, keyword density, and language.
You can expect to receive 1 to 5 pieces of general content in 3 to 4 days. When the number of copy increases, expect the turnaround time to do so respectively. A no-frills long article with custom images will cost $450. Additional services on offer can see this figure increase.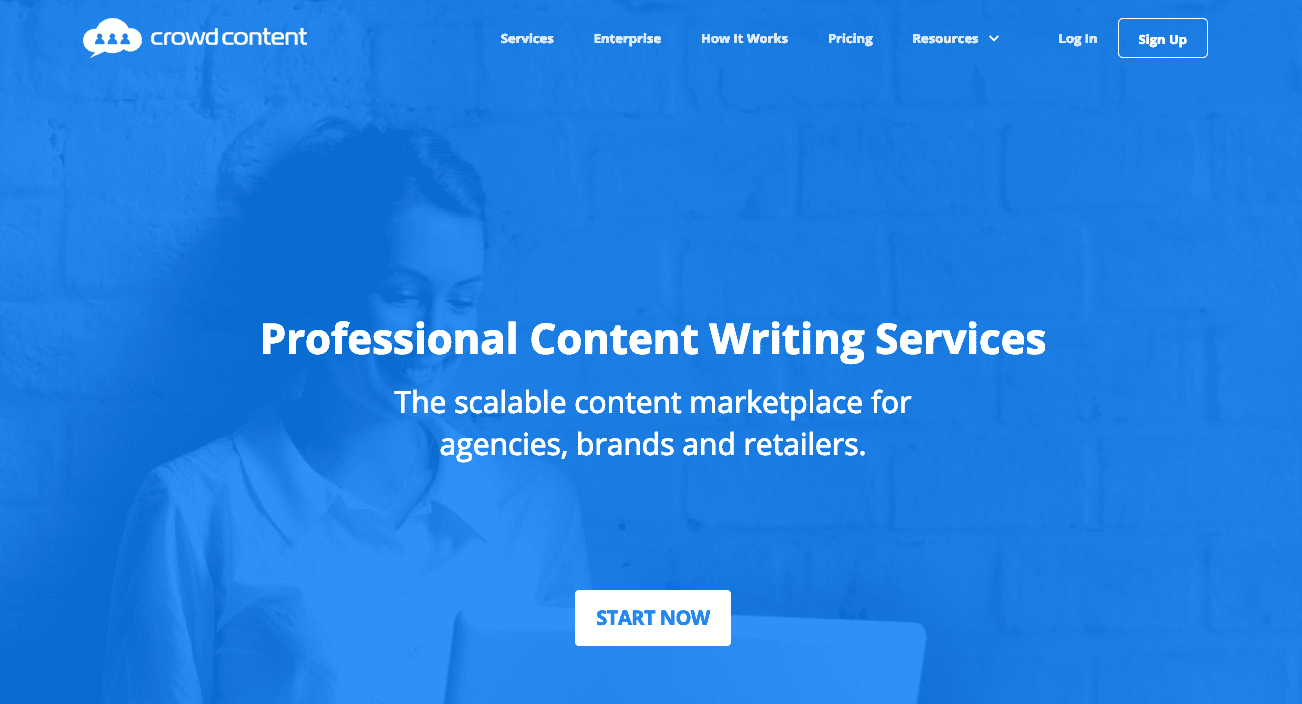 Crowd Content exists as a scalable content marketing place for agencies, brands, retailers and bloggers. It is essentially a self-service platform that connects clients with over 5,000 professional writers. Alternatively, you can partner with an experienced enterprise team for a fully managed solution. Crowd Content quite literally has a crowd of content writers that constitute only 15% of total applicants to pass the vetting process.
This source is a particularly useful one for those who require a number of articles at a constant pace. Its campaign tool allows you to plan, schedule and automate your articles. If time is your most valuable resource, and the creation of your articles is up high on your priorities list, you can use Crowd Content to build, schedule and edit your content strategy from a single dashboard on the go. This content calendar automatically places your scheduled orders in with Crowd Content, with the teams you've selected and on the dates you specified. It is all done for you and you are notified when your articles are ready. Lovely.
Most article orders are completed within an impressive 24 hours- meaning you could potentially receive your article the following day. Obviously, this depends on your order requirements, and may well reflect poor and rushed quality. However, Crowd Content writers are all ranked by ratings received from clients. So, for a 1,000-word piece written by a four-star expert writer, you should expect to pay £120. This is significantly cheaper than some alternatives. If you do choose to source your articles from Crowd Content, simply do so with caution and carry out tight quality control in-house.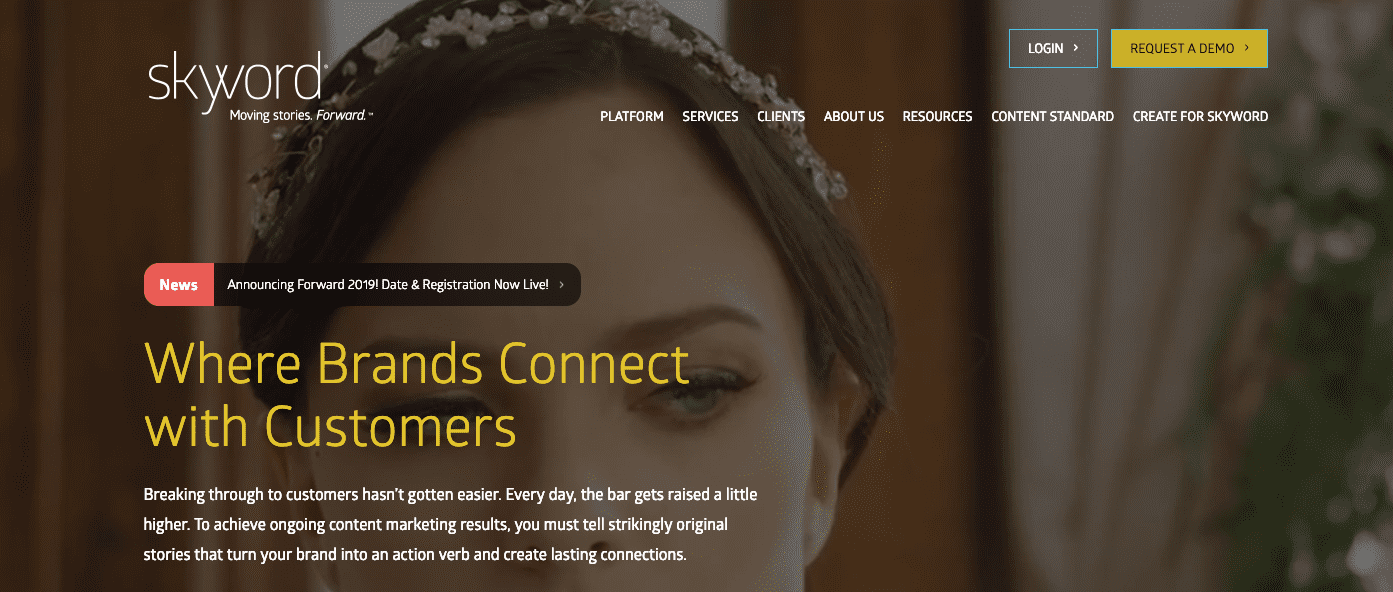 Skyword is an online community is specifically designed to assist in the creation, distribution and performance of content for your business. Supported in 14 different languages, its pool of international writers offers the perfect source of articles to improve the scalability and reach of your marketing strategy. International expansion is made easier when you can create content that fluently and accurately reflects your business abroad.
Their article writing services coincide with their ideation management tool. This option enables users to collect ideas from contributors, program users and Skyword staff, and convert these into articles for their own use. In many cases, thinking up relevant and engaging article headlines can be challenging. Especially within the content jungle that is the internet.
Writers at Skyword are organised based on their social influence, language and expertise. This is an important feature for businesses that are sensitive to social influence. If you require an article that is to engage in a specific way within a specified industry to a states audience, it is highly probable that Skyword will have an experienced writer in that field to create this for you.
As a result of its extensive list of services on offer, Skyword does not list pricing on its website. As with most content providers, the cost varies depending on content requirements. The website is not dissimilar to a 'Pick n Mix' station of content goodies. There is, however, a subscription fee associated with its premium feature- Skyword 360.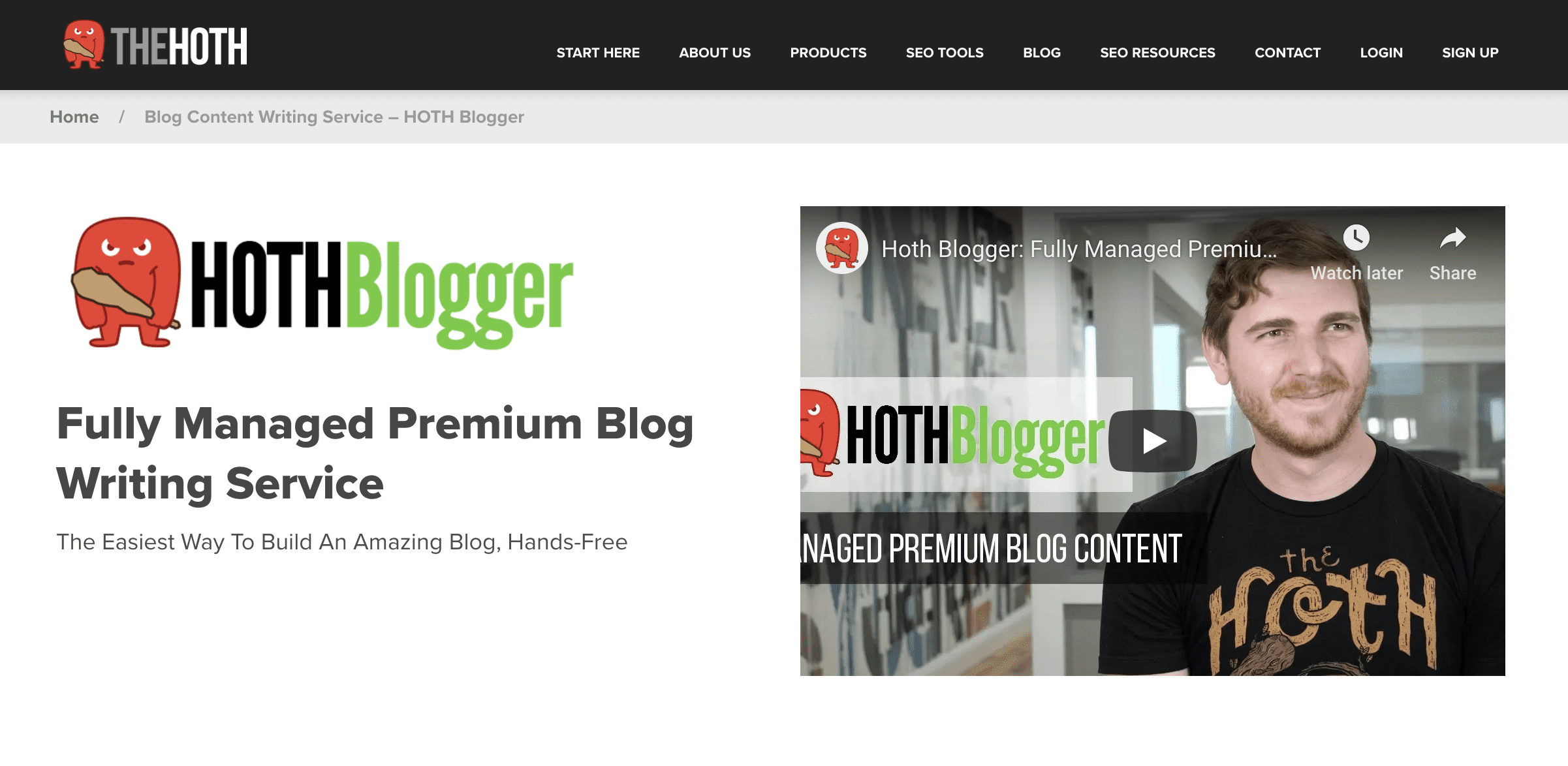 The Hoth offers a range of different content creation services, from articles to video content. Perhaps the most relevant service on offer is the Hoth Blogger – it's an effective way to get a number of articles written on your schedule. This service includes topic ideation, professional writers and unlimited edits. You needn't stress thinking up article headlines, contracting writers or go through the editing process to gain quality articles.
Take advantage of the ala-carte option if you so wish. Simply use the website to place a one-off order for an article that informs, educates and draws in your prospects. The Hoth's well-defined process enables them to deliver a consistent flow of high-quality articles or individual one-offs. Once completed, The Hoth will send drafts for approval, which you may send back for edits as many times as you'd like.
This should come as no surprise, pricing at The Hoth is dependent on the customisation of the client's order. The price factors in product, quality, and length. Typically, 2 articles of 15,00 words will cost you $180 per month.
One of the few downfalls of the Hoth is its size. Clients are unable to request the same writer again and again for the creation of their articles. It is simply not feasible. As we know, the consistency of the tone, style and readability of your content across your strategy is key and plays a big role in your customer's perception of your brand.