Amazon is the king of online retail. It makes billions of dollars a year. A lot of people out there believe they'll be the first trillion-dollar company ever.
What does that mean for you?
They have something called the Amazon Associates program. It gives people like you a chance to get a piece of that billion-dollar pie.
How, you ask? Two words:
That means you'll sell, promote, or recommend Amazon's product to your target market.
Does it work? Is Amazon actually a viable option for making money? Let's find out.
Table of Contents
Proof That Amazon Works
There are hundreds of people out there who earn a living by selling Amazon products.
If you're someone who needs visual proof before becoming a believer, then here it is…
First, there's Spencer Haws of Niche Pursuits. This guy has done the affiliate website thing for a long time and has proven that it's a viable and reliable source of monthly income.
Below is a screenshot of Spencer's Amazon revenue generated from one of his niche sites: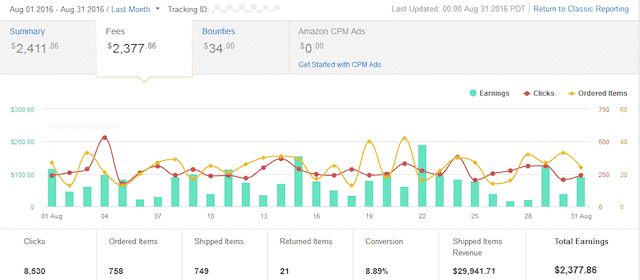 Let's look at another…
How about Chris Guthrie from Up Fuel?
A few years back, he generated just over $90,000 from the Amazon affiliate program in just 2 short years.

Think about it…
What if you had the formula to create something that generated $45,000 per year.
I know it's not much, it's basically "regular job money."
But since you have the formula, you'll have everything you need to repeat the process.
What if you build 3? Or 4? Even 5! An army of Amazon affiliate websites can boost your annual income significantly.
Think about it…
5 sites, each making about $20,000 a year. That's easily 6 figures annually. And with that income coming in, you'd have the funds to be able to invest into your business, where you can scale it up and make even more money.
Exciting, isn't it?
But the question remains…
How do you make money with Amazon Associates?
The Amazon Affiliate Roadmap
Amazon's affiliate program is just like every other one out there. You sign up, pick out a product, get your affiliate link, and start promoting.
If you already have a live site, you're essentially ready to promote products and make money. But it isn't that easy.
However, if you do have a site and Amazon has products your audience would genuinely find helpful, and therefore buy, then, by all means, go for it. You can sign up right here.
But if you're here starting from scratch, then let's have some fun. Here's what you're looking at:
Step 1: Find Your Niche
If you're not sure what the term niche means, don't worry, you're not alone.
A lot of marketers have their own different meaning for the term…
…a target audience, the main topic of your site, a small-to-medium sized group who are interested in a certain type of product…
They're all correct. But don't mistake it for a whole industry.
When it comes to Amazon affiliate marketing, the less "industry" you go, the better shot you have at a successful website that generates income on a monthly basis.
For example, let's say you like video games. Particularly, console gaming like Xbox One or PlayStation.
When a niche is too broad, you'll have to deal with problems like competition. Like a lot more competition.
So, instead of just console gaming, you might go with controllers (gamepads). Amazon has some nice customised controllers: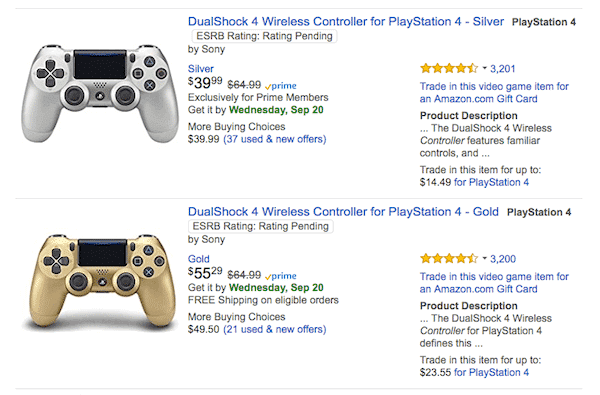 "So, is it that simple," you ask? "Should I just go with anything specific?"
Well, yes. But not just anything.
There are a couple main factors that go into niche decision making.
The first is your interest. Meaning you'll have to be at least a little interested in it.
There are people out there, expert marketers, that say this isn't necessary. But talking from experience, it's a big must.
If you go into a gaming related niche and you hate it, it'll be like having a pet you don't like. There will be some neglect and a lot of procrastination.
One of my first sites were about helping men lose their man breasts.
Well, I wouldn't really call it a site. All it had was a contact page and some introduction content on its homepage. Nothing else.
It sat there for a whole year collecting digital dust until the domain and hosting expired. Total waste of about $100.
Key Takeaway: Pick something you're interested in.
The second factor has to do with the products. If Amazon doesn't have a product your future readers would love, then there's no point in reading this guide. You know?
Here are some things to keep in mind:
Products should be problem solvers. That's mostly why people buy stuff.

If you yourself would never buy it, don't promote it.

If Amazon has it rated 4 stars or up, it's a decent product.

Do not worry about pricing. If it solves their problem, they'll buy.
Key Takeaway: Find high-quality products you can promote (that will actually sell).
Further Reading: 1038 Awesome High-Potential Amazon Niches
Step 2: Build Your Site
BAM!
So you've found a niche. The next thing on the list is the website.
In this day and age, whipping up a website only takes a minute. All you'll need is a web hosting service, an idea for a domain name, and about 20 bucks.
The process is simple…
1. The Web Host
For a beginner site, a cheap shared plan is good enough for your first 6 to 12 months. This will typically cost you around 3 to 10 bucks a month.
I'd recommend SiteGround or maybe BlueHost. But there are dozens out there that offer great services.
Here's a list that covers some of the best of the best: 11 Best WordPress Hosting Providers For Under $7.99/Month
2. The Domain Name
A lot of web hosting providers offer domain names in their plans and packages. Sometimes for free, sometimes at a discounted price (.com's are usually about $15/year). Namecheap is a great place to start.
Now, domain names are important. You can't pick one that doesn't make sense. A domain name like www.catsareawesome.com for a website about dogs isn't going to attract any relevant visitors.
If you'd like to learn some of the best practices for choosing a great domain, you can find more info here.
3. The WordPress Setup
All the top hosting companies will install WordPress for you with a click of a button.
If this is your first time using WordPress, you might need some time to learn how to setup, configure, and customise your website.
And like with any new program, there's also the getting-used-to.
Here are a couple guides that'll bring you up to speed:
Step 3: Sign-up For Amazon Associates
The Amazon affiliate program has this rule where you will have to earn your first sale within the first 3 months after signing up.
So if you're not confident you can, don't worry, most people can't, then I'd recommend holding off the sign-up for at least your first couple months.
When you're ready, the process is rather simple. Not as fast and simple as most, but still. It'll take you about 5 minutes to complete your application.
It's like most application processes. Your name, your address, etc.
One thing they require, though, is your tax ID. Such as SSN, SIN, etc.
After that, you're ready to start making some money.
Step 4: Promote Your Product(s) Properly
When you hear the marketing terms "advertise" or "promote," you might be thinking of stuff like placing ads on your site or sending out tweets and Facebook posts.
In affiliate marketing, those tactics rarely work. They might have worked years ago when online marketing was in its infancy, but today, they've become heavily outdated.
Modern affiliate marketing strategies revolve around content. You can't really successfully and effectively sell your affiliate product without web content.
This can be in the form of:
Product Reviews

Product Roundups

Product Comparisons

Buyer Guides

And more.
You can use content delivery channels like video, text, and even sometimes audio.
With that being, you will most likely start with text (blog posts).
If you're wondering how you're going to drive quality traffic to your affiliate content, the answer lies in search engine optimisation (SEO).
If you're unfamiliar with SEO, it essentially means optimising your website so search engines like Google can come to your site, put it in its database, and rank your pages in the search engine result pages (SERPs).
To rank your content high up in the SERPs, you will need to learn how to properly optimise a page.
There are about a dozen or so boxes in the WordPress SEO checklist. Some are one-time actions, others require to be completed before publishing each post.
For instance, the one-time "optimisations" are tasks like setting up tools such as Yoast SEO, Google Analytics, and Google Search Console.
The tasks you must complete before hitting the publish button are usually considered on-page SEO. Some tasks include topic + keyword research, writing long-form copy, use of multimedia, and about a dozen more.
Don't worry. With time and practice, this all will become second nature to you. Every time you write a new post, you'll optimise your content for SEO without even thinking about it.
So, in essence, you'll find a product you want to review, find the perfect keywords, create an optimised post, and hit publish.
However, getting a spot on the first page of Google isn't as simple as that. There is a ton of competition out there. People like you are also trying to make a living on the web. Some already are.
When you're ready, you'll have to step up your game and beat out the competition. This will require a lot of work.
First, you'll have to create content that is better (and I mean better) than everybody else.
And second, you will need to get into content promotion. Particularly, you'll have to learn what are backlinks and how to build them. A good way to start is by guest posting on quality websites.
In the eyes of the search engines, backlinks are like votes. But, instead of quantity, they are usually measured through quality.
This means the more relevant and the more authoritative the site, the more juice the backlink will give you.
For example, if you're in a weight loss niche and sites like Fitness Magazine and WebMD gives you links, they'll weigh 100x more than those you would get from sites no one really knows.
So, to recap…
Pick a type of blog post – review, comparison, etc.

Find the perfect keywords.

Write the best post – try to make it better than the competitions', so it may require some research.

Optimise content for SEO.

Publish and promote – build backlinks to increase the likeliness of getting first page rankings.

Rinse and repeat.
Now…
You've learned how to build a proper website and you know what you'll need to do to generate traffic.
There's still a lot to learn. If you keep reading, you'll find…
9 Money-Making Tips For Amazon Affiliates
Now that you've learned about the Amazon Affiliate Roadmap, it's time for some tips that'll get you from step zero to money in the bank.
Let's get started.
#1: Always Prove Products Work
Here's the deal:
When a user goes online and searches for something to purchase, they will typically start with a problem. Perhaps they would like to shed 10 pounds or need new bedspreads for their guest room.
Whatever the case, they have their wallets ready for something that will solve their problem. No matter how big or small it may be.
That's where you come in.
If you find the perfect problem solver, all there's left is to provide real-life proof. And since you've just created a website, you have the perfect channel to show them the perfect product.
How do you exactly provide proof, you ask?
First off, you will need to get your hands on the product and try it for yourself. Amazon shipping typically takes a day or two to get the order to your doorstep.
Once you've seen that it works, you have a couple options:
If it's physical, you can use a camera to show it off.

If it's digital, you can use screen recording software like Camtasia for video or Skitch for screenshot images.
Note: If you opt for video, you can upload it to YouTube and embed it within your content.
#2: Get Into Email Early
I know your first priority is to get your visitors to the Amazon checkout page. But when you add email marketing into the mix, your affiliate income can skyrocket.
Some of the email's statistics are mind-blowing. For instance, it has an ROI of 4,300%. Also, 91% of all consumers will check their email inbox at least once per day.
Exciting, isn't it?
Here's another one where Stuart Walker from NicheHacks made over $6,700 in just 5 days (from one affiliate product).
With all this said, don't go thinking it's going to be easy. There's a lot that goes into this marketing strategy.
First, you'll have to set up your lead generation system. You'll need an email marketing provider, a list building tool, and a way to get your visitors to sign up.
From there, there's a lot of lead nurturing, email funnels, product promotion, and more.
Here's a nice little starter guide from Shopify.
#3: Add Affiliate Links in Images
Here's the deal:
Images are a lot more engaging than plain text. People tend to look at them before reading.
So when you're creating content that features products you're promoting, adding your affiliate links within the images is considered a best practice.
If you're not sure how to do this, you can add a custom link after uploading the image.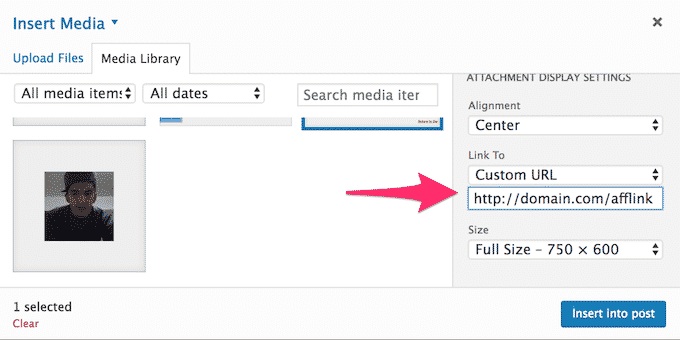 #4: Have a Solid Content Strategy in Place
Don't be intimidated by the word strategy. All I mean by it is to use all the different types of affiliate content.
If you're not sure what they are, take a look at these:
1. Reviews – Example: (Should I Buy a DJI Drone? A 2018 Review)
Reviews are for single items. If you create a high-quality post and optimise it for SEO, you can generate a lot of sales with this one.
Also, you won't have to review products you're promoting. You can write about products that are shady and scammy and redirect that traffic to your money pages by linking to them within.
(You can also do this with mediocre products.)
2. Roundups – Example: (Top 10 Drones Under $100)
Product roundups are great at driving traffic. Particularly from search engines. People search for things like "best drones 2018" all the time.
These roundup posts will likely be one of your first blog posts. When you're researching for the top X products, you're researching for future product review posts, also, without even realising it.
3. Comparisons – Example: (Drone Wars: DJI vs Autel Robotics)
Comparisons are where you bring two or more products (or parties) together and compare them to one another. This type of post usually works if the two or more things you're comparing are popular/well-known.
Should you declare a winner? You can,  but it's not necessary. Sure, naming a clear winner out of the two (or so) will generate some sales (if the reader trusts your opinion).
But there's another way to spin this. You can do something like this:
Choose PRODUCT A for the absolute best experience.
Choose PRODUCT B to save money and lose some quality.
4. Buyer Guides – Example: (How to Buy a Drone)
A Buyer's Guide is typically for first-time buyers. Usually, they'll look something like this:
What is a Drone?

Learning to Fly

All the Top Brands

Top Drones Under $XXX

Our #1 Recommendation
I'd have to say that a Buyer's Guide is a must. It should be one of the first pages you create.
5. Expert Roundups with a Twist – Example: (43 Pros Share Their Favorite Drones and Why)
Expert Roundup Posts are group interviews where you get the top people in your niche and ask them one specific question.
For affiliate marketers, this is perfect for asking a product-based question. If you nail it, you can see some sales.
6. Product Tutorials – Example: (How to Setup a DJI Phantom 3)
I know you probably realise that there's no way to make a sale with product tutorials. When people search "how to set up a DJI Phantom 3" for example, it means they already have one.
So what's the point, right? Sort of, I guess.
But what if they bought it because of you? If that's the case, then it would be a great opportunity to build more trust. And that would be great in the long run.
Also, if you bring in new visitors, maybe they'll sign up for your mailing list. You'd be able to sell them something in the future.
#5: Consider a Monthly 'Bestseller' Roundup
Amazon has this 'best sellers' category that is updated every hour. You're allowed to see the best-selling products in all of Amazon's departments and subcategories.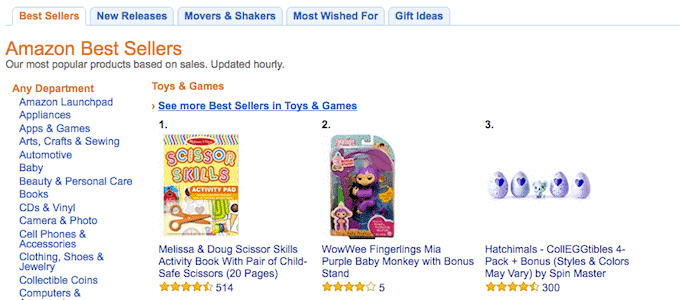 A monthly roundup could work nicely in either an email newsletter or perhaps even a blog post.
Oh! Quick tip…you can also view Amazon's new releases and the most wished for. So maybe you can work on something else with that.
#6: Become an SEO Master
When it comes to driving traffic, especially for free, search engines (Google) is the way to do it.
If you want a spot on the first page, where all the traffic is, your website and content will have to be perfectly optimised. And that's only the beginning…
To compete in the ultra-competitive Top 10, you'll have to be great at link building, copywriting, content creation, and advanced SEO.
So, after you've got your website all set up, learn everything you can about SEO. Enroll into training programs if you have to.
#7: Save Time With EasyAzon
EasyAzon has become essential for a lot of Amazon affiliate marketers. One of the reasons why is because of its affiliate link feature. Instead of spending minutes going back and forth from Amazon to your site for your links, you can take seconds.
Aside from that, there's another feature the plugin offers. Geo-targeting/localisation.
You know how Amazon has sites or extensions targeted for just about every country? .ca for Canada and .co.uk for the United Kingdom, for instance.
EasyAzon's geo-targeting/localisation feature will let you get affiliate links from any Amazon extension.
So if you're in Canada, for instance, and your default site is Amazon.ca, but most of your website visitors comes from the US, you can get Amazon.com links with ease.
#8: Consider Getting the Thrive Architect Plugin
Visually appealing content plays a big part in conversions and engagement.
When a product roundup, for example, looks nice and professionally designed, it can grab your reader's undivided attention, which can result in more clicks and higher conversion rates. To do that, check out the best landing page builders.
So, what makes Thrive Architect so special?
Ever since before the major plugin update (it was formerly Content Builder), I've had nothing but great experiences with it.
In fact, I created every single blog post and landing page using the tool. I still do today.
Anyway, it gives you the ability to edit your pages any way you want.
The plugin has elements the default WordPress content editor doesn't. It comes with elements such as:
Columns – ex: 2 columns: ⅓, ⅔. 3 columns: ¼, ½, ¼.

Styled lists – dozens of icons to choose from.

Buttons – several styles and unlimited colours.

Star ratings – you'd have 4 layouts to choose from.

And much more. There are 30+ elements in total.
It also comes with landing page templates for just about every situation.
#9: And Last But Not Least…Use Summary Boxes and Tables
If you've been to any top review site, most of them use tables for their product roundups/comparisons. That tells you they work.
If you decide to use Thrive Architect, it has an element that lets you create tables that are very customisable.

Thrive Architect is paid tool. If you can't add $60 to your budget, there is a free option. Tablepress. It's a decent table creator. It'll give you tables.
Here's a quick table I made in 5 minutes: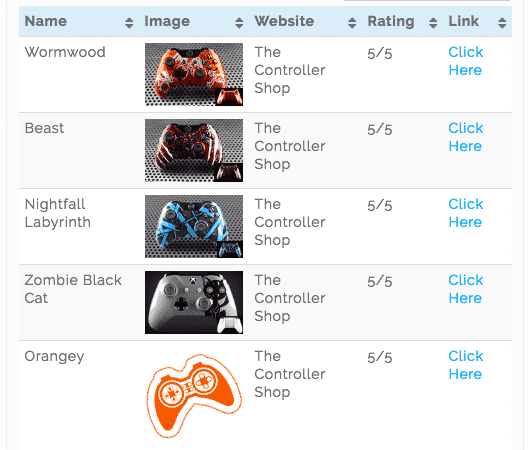 For summary/review boxes, you can use tools like WP Review.
But if you do get Thrive Architect, you can create boxes that look like this: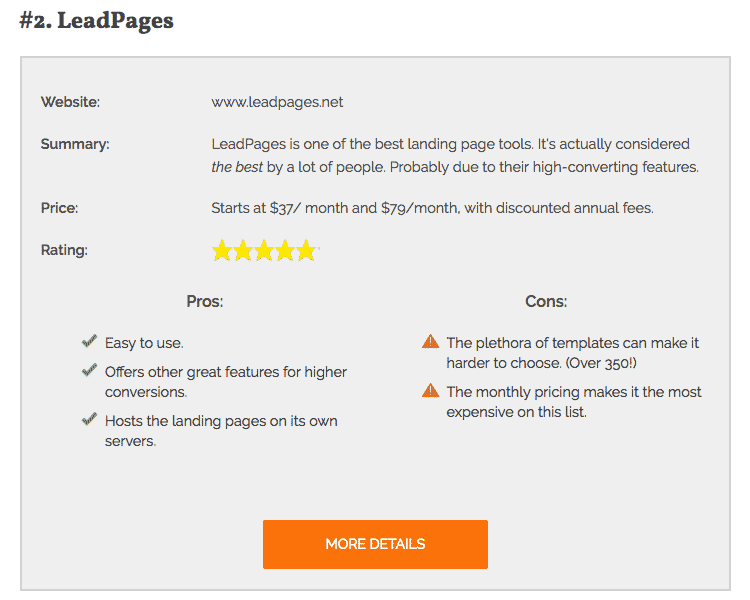 These boxes are great for both product reviews and roundups/comparisons.
Wrapping it up
Making money with Amazon will be tough. There's a long journey ahead of you. If you can build a website that drives traffic, you can definitely get there.
When you do, you'll know what to do to create more sites that generate (passive) income. And before you know it, you're seeing 6 figures!